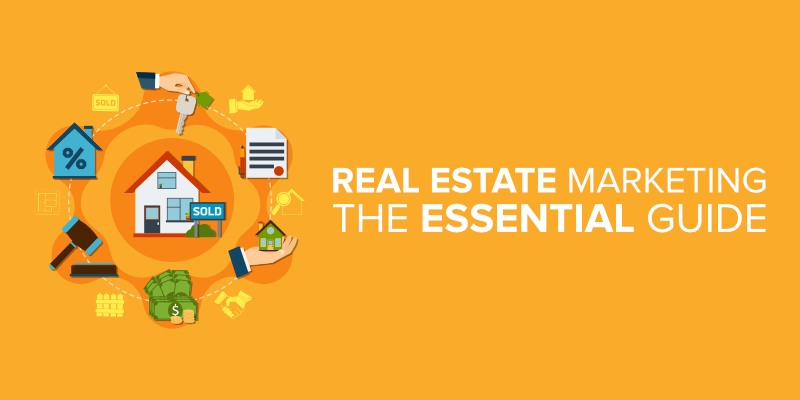 As the leading real estate agent in your market, you're bound to encounter prospective homebuyers and sellers on a regular basis. However, this doesn't mean you should shy away from promoting your services. Nowadays, a lot of traditional marketing tactics — like newspaper ads and flyers in your neighbour's mail have become outdated strategies to promote your business because of the digital era. So better to turn to digital marketing, as it will work wonders for your business because huge numbers of people are already searching for the same products or services online. Following are some digital marketing strategies that can help you generate more leads for your real estate business.
Create a mobile app
In an effort to engage with your target audience, create a mobile app for your business. This can help you better engage with your target market, drive traffic to your website, and boost lead generation efforts. Additionally, you can use your mobile app to schedule a back-to-back appointment booking service. This can help you better manage your workflow and boost lead-generation efforts. You might wonder how it will help you and how to create it, let me tell you in detail –
What is a mobile app?
A mobile app is a software that runs on mobile devices like smartphones and tablets. You can use it to access and interact with your business's digital operations and data in a completely different way than on a computer.
Why build a mobile app for your real estate business?
When it comes to real estate, there's no limit to what you can do with a mobile app. From tracking properties to managing your listings, a mobile app can make your real estate business run smoother than ever. Plus, it's a great way to connect with potential buyers and tenants.
"In the age of decentralized digital era where technological changes are happening so frequently, and audiences are scattered, the mobile app for real estate business has become a very significant tool to acquire and retain existing customer engaging," says John Myers, a real estate agent from Albuquerque, New Mexico.
Here are a few reasons why you should consider building a mobile app for your real estate business:
1. Increased Efficiency – A mobile app can help you track and manage your listings more efficiently. Not only that, but it can also help you connect with potential buyers and tenants.
2. More Connections – A mobile app can help you connect with potential buyers and tenants in ways that a website can't. With a mobile app, you can easily send out alerts about new listings or updates on your current properties. Plus, you can keep buyers and tenants up-to-date on your availability and pricing information.
3. Increased Revenue – A mobile app can help you increase your revenue by connecting you with more potential buyers and tenants. Not only that, but it also helps to engage and retain existing customers.
How do you build a real estate app?
Real estate agents are a crucial part of the housing market, and there is a growing demand for their services. Building a real estate app requires careful planning and execution. Following are some considerable steps to follow while developing a real estate app:
=> Define your app's purpose and features: Determine what your app will do, such as helping users find properties, connecting buyers and sellers, or providing market data.
=> Choose a development approach: Decide whether to build a native app or use a cross-platform framework.
=>Design the app: Create a wireframe and user interface design that is user-friendly and visually appealing.
=>Develop and test the app: Write the code and test the app on various devices to ensure it works properly.
=>Integrate with APIs and third-party services: Integrate your app with real estate data sources, such as MLS or Zillow, and other services like payment gateways.
=>Deploy and launch the app: Publish your app on app stores like Google Play and the Apple App Store.
=>Monitor and maintain the app: Keep updating the app with new features and fixing any bugs that arise.
Moreover, in order to make your app successful, you'll need to make sure it's easy to use. You'll want to include features such as map tools, contact information for landlords, and directions to homes. You should also make sure your app is mobile-friendly so that visitors can use it on the go.
A Few Things to Keep in Mind When Building a Mobile App
While building a mobile app, first of all, you should research your audience. It will help you to Know your target consumer and their needs and ultimately to develop a better design for your app. Make sure you have a clear understanding of your app's purpose. Is your app solving a real problem? If not, then you might want to rethink your design. Be sure to include a back button so that the user can go back to any page easily. Be sure to consider the user experience when building a mobile app. If a user has to scroll down a page just to view the navigation options, then you need to make sure they don't have to scroll too far back.
Create a blog
If you're not already publishing blog posts regularly, you're missing out. Blogging can help you connect with your target audience on an emotional level. It allows you to expand your brand by sharing your expertise, insights, and strategies with your readers. Through blogging, you can also generate leads by seeding your leads with information, like your latest news and trends. In addition to connecting with your readers, blogging also helps you connect with other businesses and brands in your market. This can expand your network of potential clients and increase your exposure.
There are many ways to create a successful blog for your real estate business. You can use a blog platform like WordPress or Blogger, or you can create a blog on your own. To create a successful blog, you need to identify your target audience. You should do keyword research to see what type of queries people are doing regularly so that you can target them organically. As real estate agents have a physical presence so you should target the area where you have a presence.
Along with a blog, you can create videos or podcasts that discuss your topic. And don't forget to share your content on your social media platforms.
"Blogs are a great way to promote business online and generate leads. Blogs include video, audio, and text like – Vblogs, podcasts, and articles," Bobbin D'silva, Real Estate blogger
Create an email marketing campaign
To increase your lead generation efforts, you can create an email marketing campaign. This can help you reach prospects who are interested in your services by sending them emails at the right time. For example, if you sell real estate in Washington state, you can create a campaign targeting people who live in Washington state and have new jobs because the people who have new jobs in that area might be looking for permanent settlements.
You can also use email marketing to promote your blog, increase foot traffic to your website, and boost your brand awareness among your target audience. Moreover,, it can be used to send newsletters and autoresponder to existing customers.
Use social media to promote your brand
Real estate agents use social media to promote their brands, engage with their target audience, and generate leads. The best social media platforms for real estate agents vary depending on the market. In general, though, consider using social media channels like Facebook, Instagram, Twitter, and LinkedIn.
You can use social media to build your brand and increase your visibility. You can use social media to promote your services and highlight your expertise. You can also use social media to drive traffic to your website and boost your lead-generation efforts. You can use social media to boost your lead-generation efforts by using social media ads. This can help you advertise to your target audience and drive more traffic to your website.
Use a digital business card
At a time when internet users are growing rapidly and generating leads online has become easier than traditional ways, a digital business card for realtors has become more significant than a traditional physical business card. A digital business card helps you stand out in a crowded market and attract potential clients. A digital business card is a modern way to showcase your real estate business and generate leads, all while being eco-friendly and cost-effective.
With a digital business card, you can easily share your contact information, website link, and social media profiles with potential clients. You can also include a brief introduction about yourself and your business, along with any relevant awards or certifications you may have. This can help create a positive impression and establish trust with potential clients.
One of the main advantages of using a digital business card is the ability to track and analyze user engagement. With digital business cards, you can see how many people view your cards, which sections are being clicked on the most, and how long visitors spend on your cards. This data can then be used to improve the effectiveness of the card and make adjustments to increase engagement and lead generation.
Another advantage of digital business cards is the ability to easily share them with potential clients. With just a few clicks, you can share your digital card via email, text message, or social media, increasing the reach and visibility of your brand. Additionally, digital cards can be easily updated and customized, ensuring that your business is always presenting the most up-to-date and relevant information to potential clients.
Use influencer marketing
Influencer marketing is a powerful way to promote your real estate business. Due to digitalization nowadays, there are many niche-specific influencers available online who can promote your products and services among their followers.
There are many benefits to using influencer marketing for your real estate business. First, you can reach a larger audience than you would through traditional advertising. Second, influencers can help you connect with potential buyers and renters, who might be more likely to take action if they know they're hearing about your property from an authoritative source. To get started, you need to identify your target audience. Influencers are often well-informed about the latest trends and developments in the industry, so it's important to target them specifically.
Finding the right influencers for your business requires some research and planning. Here are some steps you can take to identify and connect with influencers:
Determine your target audience: Identify the demographics and interests of your ideal customer so that you can plan accordingly to increase customer engagement and boost ROI.
Find influencers in your niche: Look for influencers who cater to the same audience and share similar values as your brand.
Research potential influencers: Look at their social media profiles, website, and content to see if they align with your brand and have an engaged following.
Reach out to influencers: Send a personalized message to introduce yourself and your brand, and explain why you think a collaboration would be beneficial for both parties.
Build a relationship with influencers: Provide value to the influencer by sharing their content, commenting on their posts, and engaging with their community.
Final thoughts
Real estate agents can create great leads with just about any of the traditional marketing strategies, but it's also important to learn how to harness digital marketing as well. These strategies can work wonders for boosting your lead generation efforts and making a name for yourself in the real estate industry. Real estate agents who know how to attract more potential clients are missing out on opportunities and limiting their potential as business owners. Turn to digital marketing strategies to generate more leads for your business.