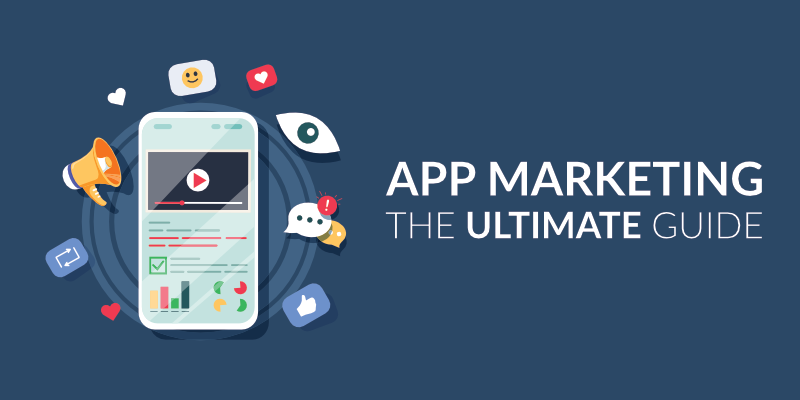 Creating a great app is just one part of having a successful launch. Your app marketing strategy and how you promote your app will also play a large part in how many people download your product.
App marketing starts well before your launch and should continue even once you have released it.
Each stage in the launch cycle requires a different type of app promotion. Because of this, we've split this guide into three stages: pre-launch, launch, and post-launch. Each section contains different app marketing techniques you can use during the launch cycle.
Many of the steps overlap. For example, it can be effective to create content both pre, post and during your launch. Additionally, building your audience on social media is a good idea at any stage of the process.
Other app promotion strategies like building a high-converting landing page or using paid ads should be done at the most appropriate time.
This is a pretty in-depth guide so if there is a particular part of app marketing you want help with, jump to it using the contents below. If not, let's dig in!
Pre-Launch App Marketing Strategies
Your app marketing strategy should begin well before you plan to release your app. This will build anticipation for your product and ensure that when you finally launch it, you have an existing group of potential customers. Here are some strategies you can use pre-launch to begin promoting your app.
Create Content Around Your App
Content marketing is an established method of marketing used by online businesses. Estimates suggest that 53 percent of businesses spend money or time on producing content.
Creating content has several marketing benefits including building authority in the industry and helping potential customers find you on search engines. It can also be used for social media promotion.
When it comes to using the content for app marketing, the strategy you use will depend on your business's existing platforms. If you already have a well-ranked site and some time to invest, it could be worth following a dedicated SEO strategy.
Alternatively, if you have a strong presence on social media, you could create content optimized for these platforms.
If you are starting from scratch and don't have any following, you could create a mixture of content to see which one is the most effective.
When you create content, you need to make sure it is high-quality and valuable to the reader. Even promotional posts should market your product in a way that focuses on benefits to the customer.
Here are three types of content you could produce.
Website Content
Website content will generally be in the form of blog posts or standalone pages on your website. You can use blog posts for a number of different reasons.
If you have regular visitors to your website, you could write a post on your blog telling readers that you are working on an app.
In the post, you can explain why it is such a great idea and how it will help them. This will spread the word about your app and can build anticipation. An example of when this would work is a news site that is creating an app to make it easier for users to access their stories.
Create Informative Content
Informative content will act as a guide for people using your product. Budgeting App Toshl has a blog full of useful pages that tell users how to get the most from the app.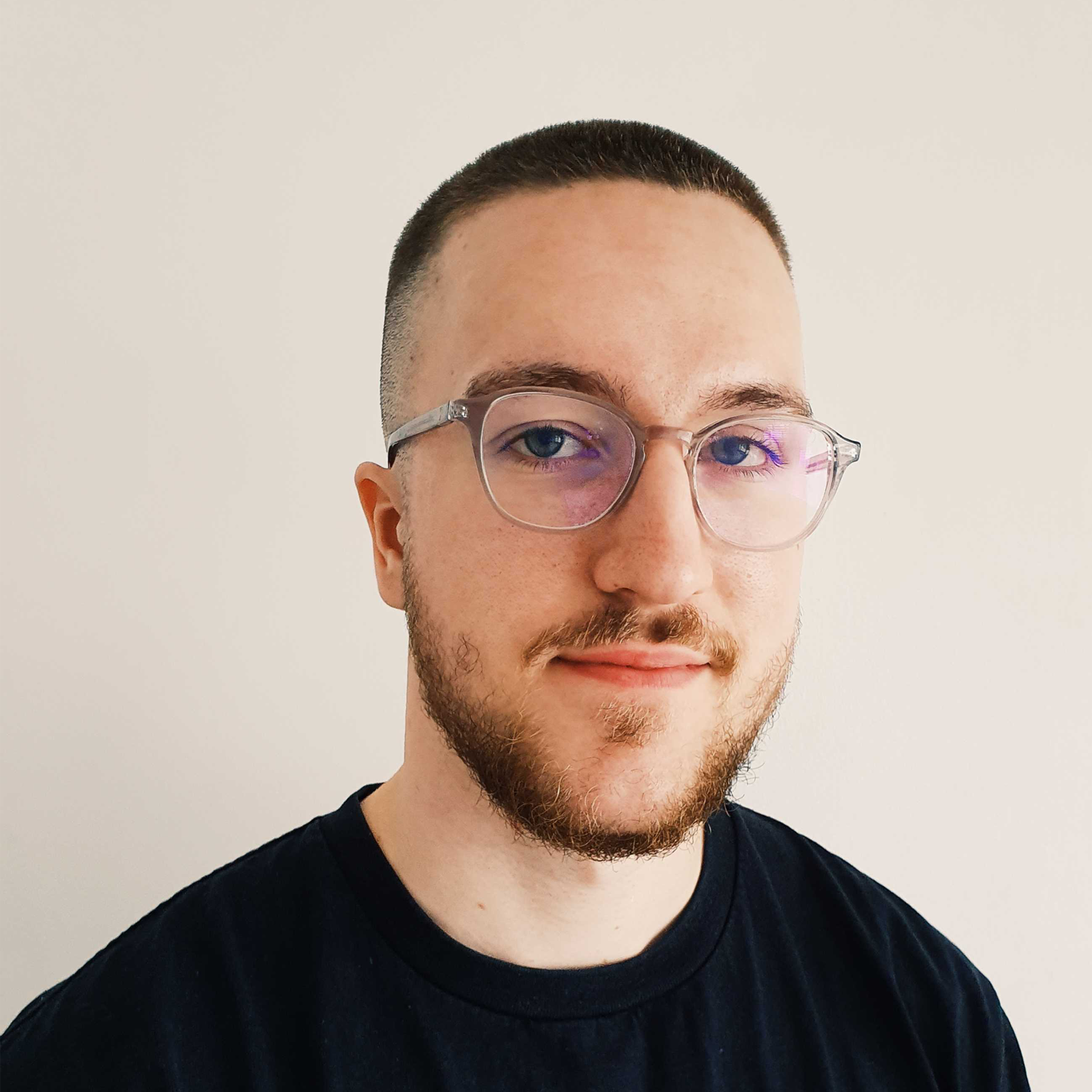 Create SEO Focused Blog Posts
If you have the resources, you could create SEO focused blog posts that target long-tail keywords your target audience may be searching for. For example, if your app is an exercise app aimed at women, you could write articles on "best bodyweight bicep workout for women."
By choosing long-tail keywords like this, you have more of a chance of ranking on Google than if you chose the more competitive, "best bicep exercises." We have a more in-depth article on keyword research you can check out here.
Video editing app Wondershare Filmora has done a good job of creating content targeting long-tail keywords, which relate to editing video on Android devices.
Check out the post below targeting the phrase "How to make a slow-motion video on Android." It currently ranks at number three on Google for the term.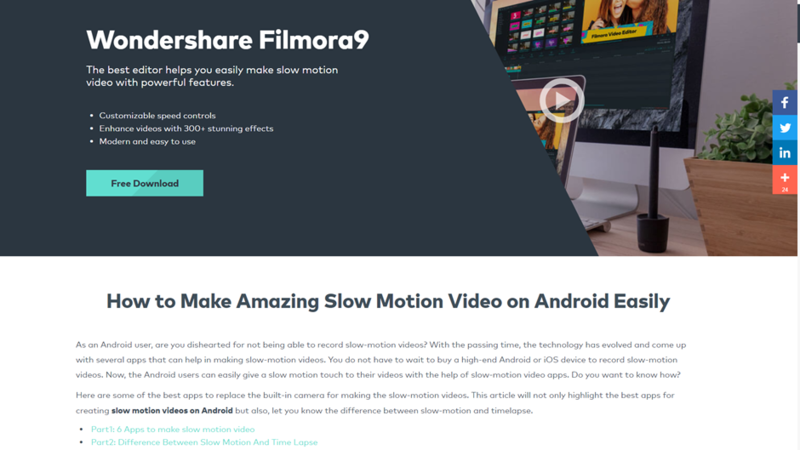 Be Active on Other Sites
As well as writing on your own site, you can spread the word by blogging on other websites. Here are some examples:
Guest post: By guest posting on websites with a similar reader-base as your target audience, you can get your website in front of a new audience. Your posts should be ones that readers will find interesting (i.e., not strictly promotional posts). However, you can always include a link to your app within the post or in an introduction.
Post on Medium: Medium is a good place to write blogs if you don't have a website of your own. Medium posts rank on Google and can be shared among your social media accounts.
Answer questions on Quora: While not strictly a blogging platform, answering questions on Quora can be a good way to promote your business, assuming your answers offer genuine value to the reader (although, this is the case for all blog posts).
For an example of how this works, check out this answer about the best way to transfer money abroad and how the person answering the question is able to promote the app TransferWise.
While in this case, the link is an affiliate link, not a post by the app developer, it nonetheless shows how the platform can be used for app marketing.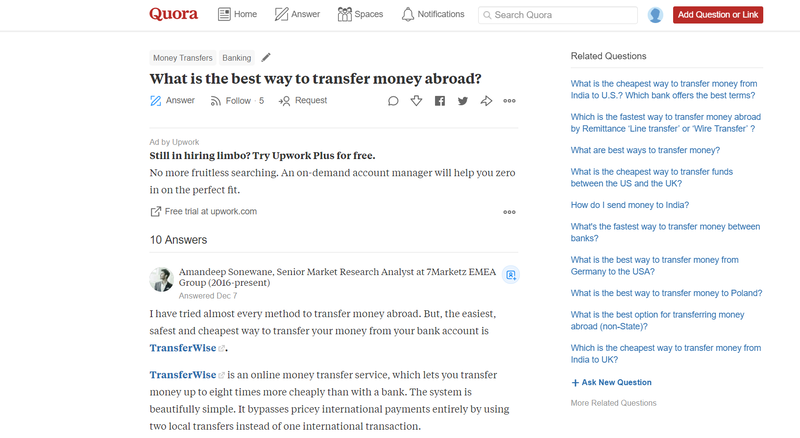 YouTube Video
Your content marketing efforts shouldn't stop at blogs. Video is also a very effective way to get information about your product in front of a large number of people. Even if you don't have many resources, creating a promo video that shows the benefits of your app can be used in several ways:
Show off your app: Quite simply, a video is a great way to show off how great your app is. By visually displaying your app's features you can quickly show how it can benefit users.
Use the video on your app store listing: We go into much more detail later in this article, but many app developers choose to include a video on their app store listing. This makes it easy for users to get an in-depth look at what your app is about before downloading.
Branding: Videos can be a great way to build your app's brand. Using consistent colors, fonts, and imagery will help you associate your app with your brand.
For an example of a video that does this really well, take a look at meditation app Headspace's promotional video. The video is really on brand and uses visual elements that make it instantly recognizable as a Headspace video.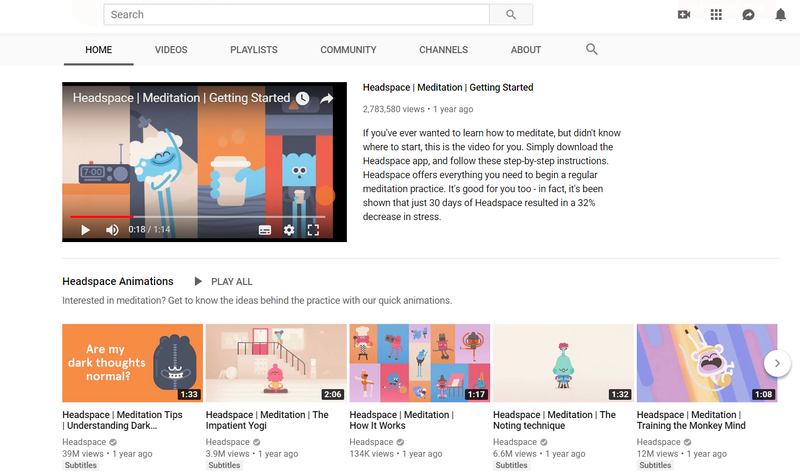 It does a great job of explaining to the viewer what the benefits of Headspace are. Additionally, anyone searching for "What is Headspace" will find the video at the top of YouTube.
Beyond the introductory video, Headspace's YouTube channel is an excellent example of how app developers can use videos for marketing. The app's channel includes a good mix of videos including ones that:
Inform the viewer about the benefits of the app.
Answer questions they may have about meditation.
Offer free content from within the app so people can get an idea of what the app is about. If they like it, they will be more likely to download.
Provide social proof using case studies showing how people have benefited from the app.
Build a High-Converting App Landing Page
The point in all this content is to get users to actually download your app. In order to do this, you'll need to create a page on your website for your app that you can direct readers to.
You can use this page to collect pre-registrations before you release your app, then to send people to your app store links when your app goes live.
When it comes to building a landing page, you can either do it yourself if you have access to a developer, or you can use a landing page builder to do it for you. Some excellent landing page builders are Instapage, Unbounce, Leadpages, and Pagewiz.
Elements of a Good Landing Page
There are many elements that go into a high-performing landing page. Most landing pages will use some of the following:
Headline: The headline will be the focus of your landing page. It should succinctly spell out the main benefit of your app.
Images: These not only make your page look more attractive, but they are also a great way to show off your app's features. Make sure your images are high-quality.
Subheading or introduction: These can explain the benefits of your app in a little more detail.
Benefits and features: Many landing pages have a section dedicated to explaining the features and benefits of the product. In this section, potential customers get more in-depth information about how the app can help them.
Testimonial: App developers can use testimonials to offer social proof that their app works as it says it does. You'll obviously have to give this section a miss if you haven't published your app yet.
Call-to-action: You can use your call-to-action to either direct customers to your app store links or ask them to sign up for pre-registration.
Video: Many landing pages have a video that introduces the app or certain features.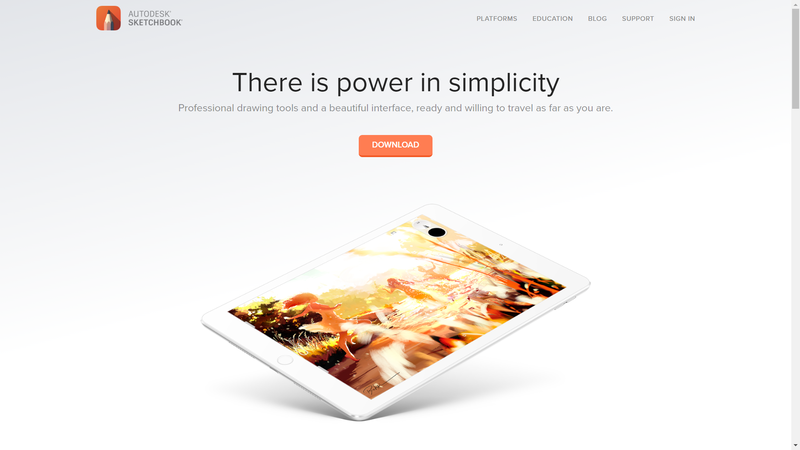 For reference, look at how the above example by Autodesk Sketchbook uses all the elements in its mobile app landing page.
Collect Pre-Registrations
Before launching your app, you can use your landing page to collect pre-registrations. This is a great way to gauge interest in your app and also to ensure you have an audience for your app when you release it.
The easiest way to let people pre-register for your app is to collect email addresses on your landing page. You can then keep these people updated about your app's progress and email the download link to them when it is ready.
Beyond this, you can also let people pre-register for your app on app stores.
Collect Pre-Registrations on an App Store
Both the Apple App Store and Google Play allow developers to make their app available for pre-order.
There are some restrictions. For example, developers will need to upload an APK on Google Play and they must be able to release the app within 90 days on both platforms.
Once your app is available for pre-registration, users can sign up through the app store of their choosing. They will be notified when you release the app.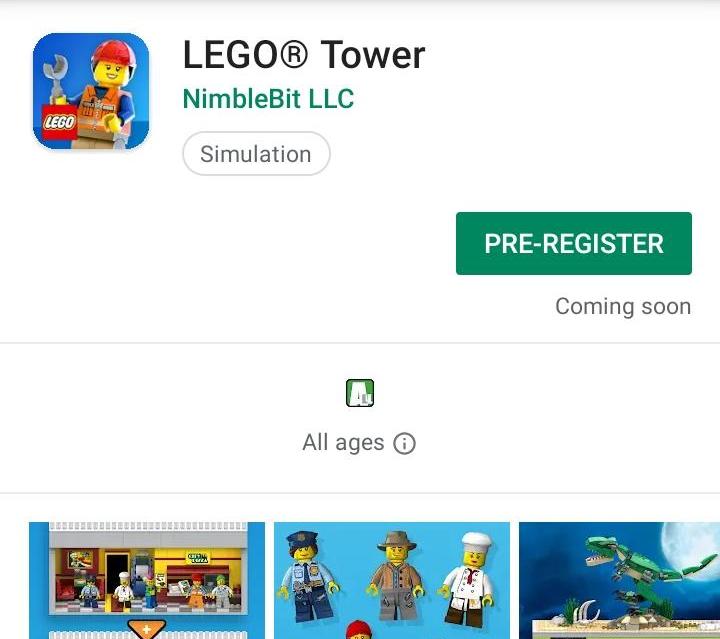 Use Offers to Encourage Pre-orders
App developers can offer benefits to encourage people to sign up for pre-registration. Examples of benefits you could offer include:
Discounts on the cost of the app.
Subscription free trials.
In-app freebies.
The chance for access to a beta version of your app.
Create an Optimised Google Play and App Store Page
One of the final things you should do before launching an app is to create optimized app listings on both Google Play and the App Store.
You'll want to optimize your listing to make it easy for people searching for an app like yours to find it, and to increase the number of people who download your app after seeing the listing.
Optimize Your Listing for Search
When creating your listing, you should remember that many people will come across your app after searching for it. Because of this, you should think about the types of keywords people will use when looking for an app of your kind.
You can use a tool like keywordtool.io to get keyword search data for the Play Store, as well as keyword suggestions. Although, it's worth pointing out that we have no way of knowing how accurate this data is.
For example, a video editing app could choose to target the keyword "video editor." The issue here is that this is a highly competitive keyword and as a new app you are unlikely to rank for this term.
Another option could be choosing a less competitive keyword, for example, "video editors for vloggers" and attempt to target that.
Hopefully, your app will have a good enough unique selling point that coming up with a keyword to target won't be that hard, even if it doesn't have as many searches as the term "video editor."
Once you have decided on your search terms, you can place your keyword in the app's title, subtitle (on the App Store) and description. The App Store also allows you to choose specific keywords for your listing.
While you may not want to include the search term in the title, you should know that it is common practice. Even video editors with a strong brand like PowerDirector include keywords after the title.

A final thing to do is list your app in the relevant categories. It's important that you choose a category that best represents your app. You can also choose multiple categories on both the App Store and on Google Play if your app fits.
Unfortunately, keyword optimization on its own isn't enough to make your app show up on either app store. Other factors are used by both Apple and Google to determine the rank of your app including:
Your app's rating and user feedback.
How you respond to user issues.
How often you update your app.
How people who download your app use it.
We'll go into detail about how to encourage reviews and respond to user issues later in this article. Arguably the most important thing you can do is ensure people who download your app love using it.
Optimize Your Listing for Conversion
When people find your app listing, you want to ensure that it makes them want to download your app. There are a number of things you can do to ensure this is the case.
As most people will view your app store listing on their smartphones, you should optimize your listing for those visiting on mobile devices. To that end, the most important parts of the listing are:
Your title.
Images and/or video.
The first line of your description (on Google Play) or the subtitle (on the App Store).
You can see how app listings are displayed on Google Play in the image below.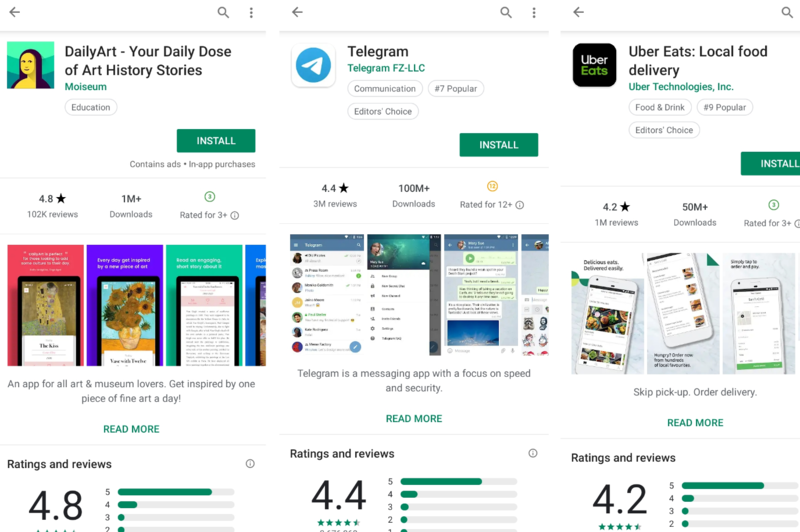 The other important parts of your listing are the star rating, number of downloads, and call-to-action. However, you can't edit any of these things yourself so we won't focus on them in this guide.
Here are some notes about the things you can change.
Headline
Your listing headline should contain the name of your app and make it clear what it is your app does. Some great examples from Google Play include:
Uber Eats: Local food delivery
Six Pack in 30 Days – Abs Workout
Learn Python
Snow – Beauty and makeup camera
Booking.com hotel reservations
Not only does this help with SEO (as mentioned above), but it also lets the user know exactly what your app does which can help them make the decision about whether to install it.
Choose Great Images 
Your images need to be of great quality. Here is a look at some common types of images.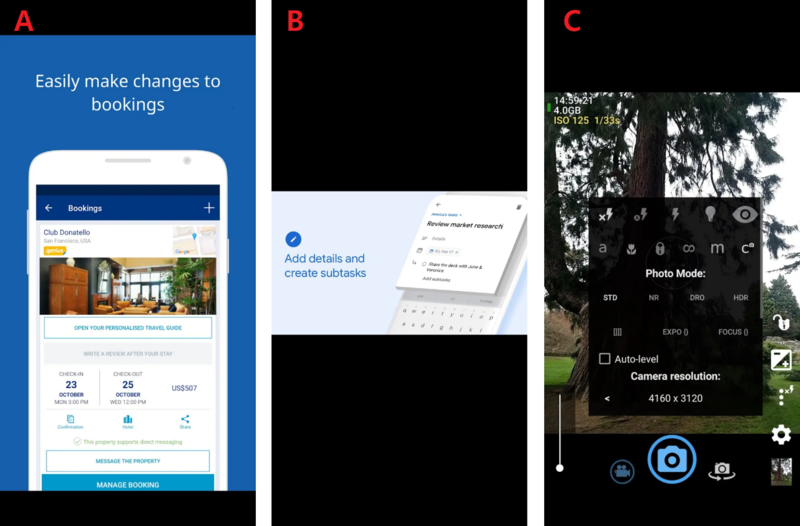 A. Most apps use benefit-driven screenshots. These show a screenshot of the app with the benefit of that particular feature written on the image. The image is in portrait orientation. If you need a tool to help you make beautiful app screenshots, then give App Institute's screenshot maker a try
B. Some apps do something similar but instead of using a screenshot to illustrate the feature, they use an illustration or photo. These images can be landscape or portrait.
C. Additionally, some apps just use plain screenshots, although they will often include at least one descriptive image (or video) at the start of the gallery.
Use a Video
Both Google Play and the App Store allow developers to include a video on their listing.
However, there is a major difference in the way the video is displayed in each store. On the App Store, the video auto-plays while on Google Play users who click on a video will be taken to the YouTube app. This means many more people view the video on the App Store than they do on Google Play.
Your video should be short. It should also contain captions that explain to the user what is happening as people often watch videos on their phones without sound.
As with images, the video should focus on explaining the benefit of your app to the user. A final point is that you should ensure your video has an attractive thumbnail. This is especially important on Google Play as the lack of Autoplay means that unless someone chooses to play the video, it is essentially just another image in the gallery.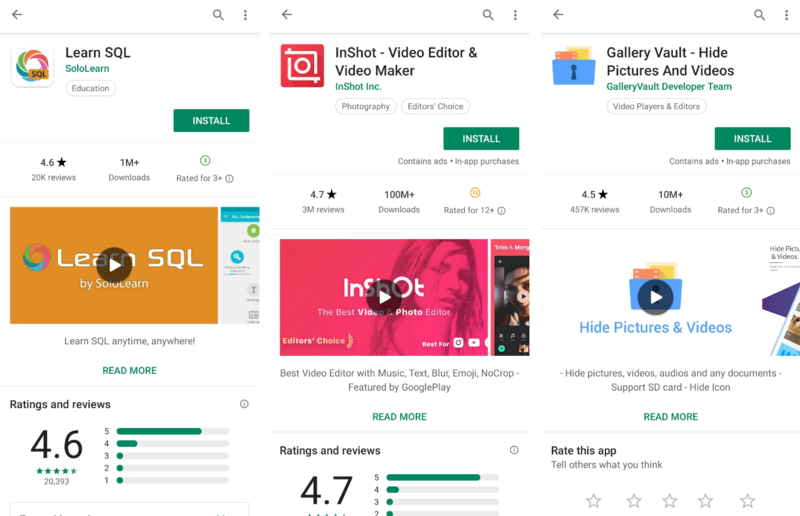 Subtitle or Description
The final part you should focus on is the subtitle (App Store) or the first sentence of the description (Play Store).
Both these sections have the same aim: tell the user a little more about the app. As you can see in the screenshots above, the best descriptions tell the user the benefit of downloading the app.
Developers can use up to 80 characters for their description on Google Play but only 30 characters on the App Store.
Don't Forget the Description
As well as the main landing page, you should spend some time ensuring the long description is well optimized. Users will see this if they ask to read more on the app listing.
In the description, you'll want to convey to the reader how installing and using the app will benefit them. Your description should be error-free and easy to read. If you aren't confident about your writing ability you can outsource the writing using a freelancer.
Release a Beta Version of Your App
Many app developers choose to release a beta version of their app before releasing the full version. Releasing the app to a small number of testers can help you work out any faults with your app before unveiling it to the general public.
Releasing an app to beta testers can be a way to build anticipation for your app. For example, you could use the opportunity to get early access as a way to drive pre-registrations. Additionally, the people who use your app may be inclined to talk about it on social media, or their blogs.
It's accepted that beta versions will have some issues so your testers will likely be understanding of this. Nonetheless, you should ensure that the product you release is usable as if it's not, it could put the testers off when it comes to using the full product.
Additionally, releasing an app beta should not be only about promotion. In fact, the main reason is to make your app better.
Because of this, you'll have to have a system set up that makes it easy for beta testers to let you know what works and what doesn't. You should also be ready to take their opinions into consideration and improve your app based on these suggestions.
App Marketing Strategies to Use During Launch
Hopefully, the pre-launch app promotion strategies you have been developing will put you in a good place to launch your app. However, there are still many things you can do upon launch to help your app be successful.
Utilize Your Social Audience
When you release your app, you want to get it in front of as many people as possible. One way to do this is via social media. Here are three strategies you can use to increase your app's exposure on social media.
Contests
Contests are a great way to build excitement about your app. When done properly, they can increase your customer base, spread the word about your upcoming product, and grow your social media followers or email list.
First, you'll have to come up with an interesting prize and a budget. When Snapchat launched, they held a contest giving away $10,000 dollars' worth of camera equipment. While you may not have quite such a large budget, you'll nonetheless have to find a way to provide something that people will find enticing enough to enter the competition.
Once you have a prize, you'll need to decide how people will enter the contest. The method you choose should be the one that best aligns with your goals. Here are some contest examples:
Share or retweet the post: These contests are simple to run. The entrant just needs to share the post to be in with a chance of winning. This will spread your post throughout social media, although it is quite a passive way of entering a contest and may not provide much impact.
Tag a friend: These posts work because the person entering the competition is choosing a specific person to share the contest with. While this means it might not end up with as many total views as a share this post contest, it creates a more personal bond.
Photo contest: Photo contents, or video, essay, caption contest, etc. require a large amount of effort on behalf of the entrant. While this may result in fewer entrants overall, it does mean you know the people who enter are really passionate about your product (or your prize).
Sign up to the email list: Choosing a winner from a list of people who sign up to your email list has the obvious benefit of being an effective way to build your email list. However, people have no reason to interact with the post on social media which means you may struggle to gain an overall increase in your audience.
Influencer Marketing
Another way to build your audience on social media is to get influencers who share a target audience with your app to talk about your product. There are several ways you can do this.
Pay influencers to promote your app: This is perhaps the simplest way to use influencers, with the obvious downside of it costing money. While costs vary, estimates by Digiday suggest a good place to start is to budget $10 per thousand followers. When choosing an influencer, be sure to choose one that has a similar audience to the one you want to target.
Utilize micro-influencers. If you don't want to pay for influencers to share your product, you may have some success using micro-influencers within your existing audience. If there are people you know who love your business, you could provide them with advanced previews in the hope that they will talk about your product on their platform. While these influencers may not have as many followers, if you can get your product in front of a few of them you may be able to build a decent size audience.
Audience Swaps 
Another free way to use social media to gain exposure for your app on social media is to agree to promote another company's product to your audience if they do the same for yours.
When choosing an account to cross-promote with, you should choose one that has a similar number of followers with a similar interest to yours. Ideally, the product will be related, but not competing.
Attract Press Attention
Perhaps the best way to get your app in front of a large audience that isn't your own is to gain coverage in the press. Two ways app developers can do this is through press releases and reviews.
Use a Press Release
Creating a press release for your app can be a good way to get some media coverage. When creating a press release, you should focus on something that makes your app exciting or unique. Simply saying that you are releasing an app is unlikely to be exciting enough for your product to get coverage. Instead, focus on how the app benefits those using it.
In this news story, the article focuses on how the app helps young people with mental health issues. While we don't know if the story came about due to a press release, it would make sense if that was the case.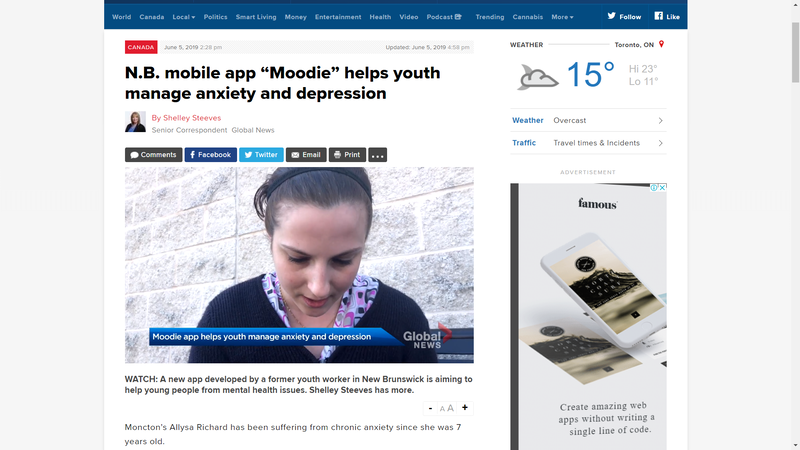 You should ensure your press release is well written. If you aren't confident about doing this yourself, you could use a service like Upwork or Fiverr to find a professional who can write the release for you.
You also want to make sure the publications you send the release to have everything they need to write an article. You should include:
High-resolution images and screenshots.
Videos or video embed links.
Links to your site and your app store download pages.
Information about your company.
Relevant quotes from people at your company.
Contact information.
Many people choose to include this content in a sharable folder. You could also add a note saying you are available for an interview so sites can write more in-depth articles if they choose.
Reviews
Reviews on websites that share an audience with your app's target audience can be a great way to get your app in front of other people.
The first step is identifying sites your target audience is likely to visit. A smaller site with a more targeted audience may be a better option than a larger site with a broad audience. You may also find that smaller sites and blogs will be more likely to review your product.
Once you have your list of target sites, you'll have to write a short message selling your app. Most sites don't want to be used for free advertising so you'll have to tailor your pitch to make it about why a review for your app would be interesting to the site's audience.
You'll also want to make it as easy as possible for sites to check out your app, so provide direct links to the download page. If your app is paid or subscription-based you may find that providing a way for reviewers to gain free access to the app can increase your chances of getting a review.
Some sites may ask for payment in order to publish a review. If this is the case and you have the budget available, you should be sure that it will be worth it for your site.
Ask for information about the number of visitors a site has as well as the number of people likely to visit the specific page with the app review. You could also ask for viewer analytics figures to ensure the site's audience is the audience you want to target.
A final note regarding reviews is that there is no guarantee your product will gain a positive review, so you should be willing to take this risk. If you are confident your app provides a useful function and a user-friendly experience, there is no reason to think you will get a bad review.
Paid Ads
If you have the budget, paid ads can be a good way to get your app in front of potential users. In fact, even if you don't have a particularly large budget, the way ads work on sites like Google and Facebook means it can be affordable to get your ad in front of a small yet highly targeted group of people.
Advertise on Google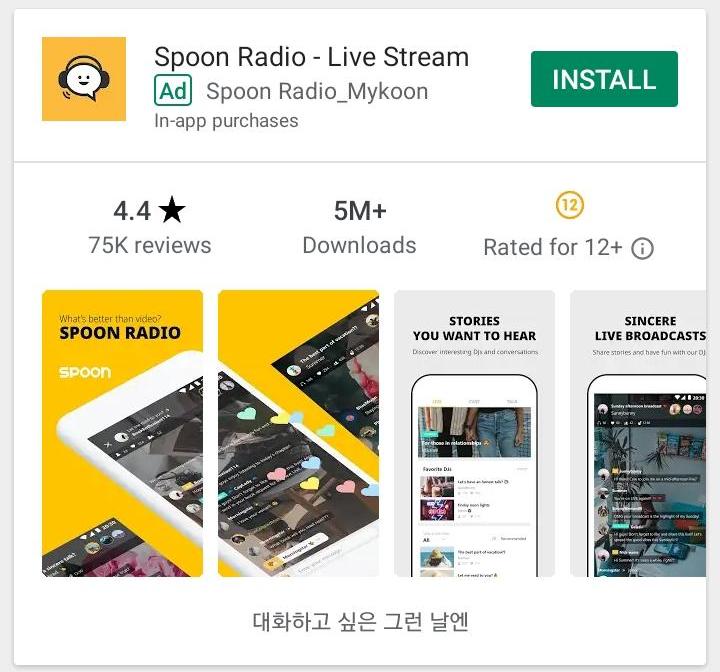 You can create a Google campaign for your app via Google Ads. It's easy to set up budgets using this service as well as select who you want to target your app at. By placing your ads on the Google Play homepage or within specific search listings, you'll be able to put your app in front of people who are actively looking for an app like yours.
Social Media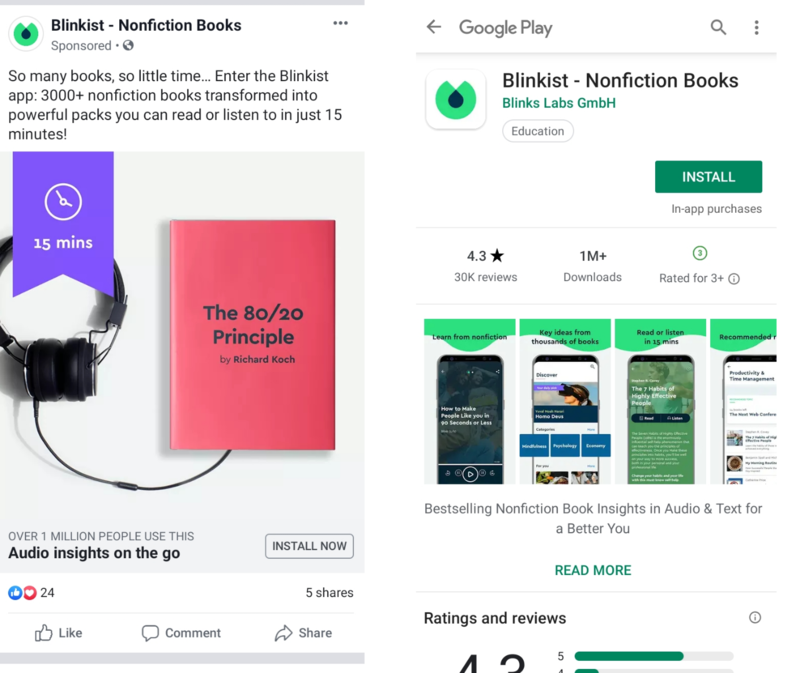 Social media can be a good way to advertise your app as it's possible to not only target your exact buyer persona, but you can also only target people using social media on their mobile devices, meaning they are just one step away from downloading your product.
In the above advert, you can see that Blinkist's Facebook ad contains a simple image, an introduction, and title that make it obvious what the product is, and an install button that takes the viewer straight to the Play Store where they can download the app. Super effective!
App Marketing Strategies to Use Post Launch
Just releasing your app doesn't mean your app promotion efforts are over. There are still plenty of things you can be doing to get your app to as many people as possible, as well as continuing with some of the strategies from previous sections.
Request Reviews
Anyone who has ever used mobile apps will likely be familiar with the "Have you enjoyed using our app?" popup.
As annoying as it can be, it is widely used because it is an effective way for app developers to get existing customers to review the app. This is something that can make a big difference in app store rankings.
To request that users review your app, you'll have to build the functionality into your app itself. This can be done by your app developer or through the use of a plugin. When requesting reviews, you want to:
Ensure the Request is Done at a Good Time 
You don't want to ask for a review straight away because the user won't have had a chance to use the app.
Instead, a good time to ask for a review could be when the user has accomplished something. For example, a game could ask for a review once the user has completed the first level, or a podcast app could ask for a review once the user has added a certain number of feeds.
Make it Easy for the User to Leave a Review
Many apps allow the user to select a star rating without ever leaving the app. This could increase the chances of a user leaving a review. Additionally, many apps will continue to ask for reviews until the user either leaves one or asks the app not to show the message again.
Encourage Positive Reviews
Many apps encourage positive reviews by asking a question along the lines of "Have you enjoyed using our app?"
If the user says yes, they are given the chance to leave a review. If they say no, they are given the chance to talk to the app's customer service team. This has the dual benefit of decreasing the chances of users leaving negative reviews while allowing developers to be notified of and fix potential issues.
Engage with Customer Reviews
Reviews are useful not just because they are used in the algorithm, but also because users look at a review rating before downloading an app.
Research by Apptentive found that only 15 percent of people would consider downloading an app with a two-star review, while 96 percent would consider downloading a four-star app.
This is made even more important by the fact that your app's overall rating has a prominent position on its listing. Any negative reviews could, therefore, have a real effect on how many people download your app.
If you receive a negative review, don't despair. By reading negative reviews you can find out if there are things people don't like about your app. While you may not like what they have to say, if a lot of people are saying the same thing, it could indicate a problem.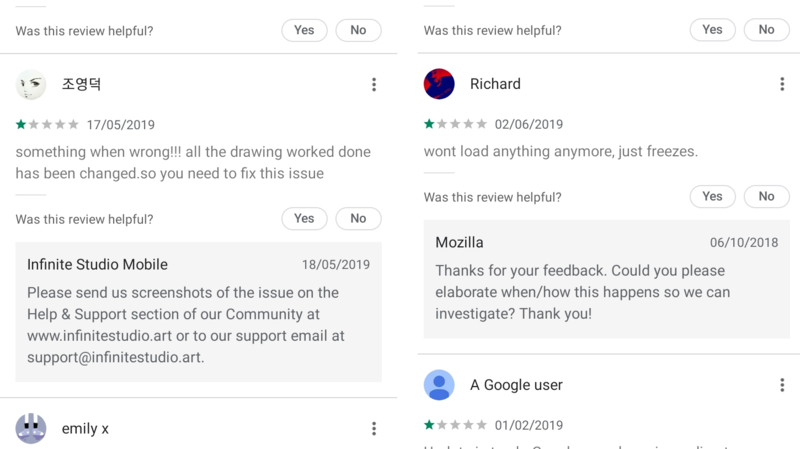 Additionally, users can edit their reviews. If someone has posted a negative review about a specific part of your app, you could offer help or fix the issue in an update. If you do this, the user may upgrade their rating.
Use a Referral Scheme to Spread Your App
Once you have a solid base of users that love your app, you can encourage them to spread the word about it by creating a referral scheme. The referral scheme will usually work by offering the referrer a benefit for recommending the app to a friend, and offer the person receiving the referral a benefit for signing up.
There are a ton of different types of benefits you could offer, here is a look at some of them:
A discount or money off can be a powerful referral incentive: In 2015, Amazon introduced an offer where referrers receive $5 for every person they refer who also makes a purchase through the app. Additionally, the person who receives the referral also got $5 off their first purchase. Uber has also aggressively used a similar referral system to drive signups for both its car-sharing and food delivery services
Freebie-based referrals: Some apps offer users freebies for recommending their app. This can come in the form of free trials (Evernote) or increased storage (Dropbox).
Invite friend button: Some apps don't even bother with an incentive. Instead, they ask users to invite their friends. This can be particularly effective if your app improves when more people use the service. Examples of apps that do this include social networks, PayPal, and multiplayer games like Pokémon Go.
App Cross Promotion
Ads can be a great way for you to get your app in front of a large number of users. However, showing ads can be costly which might not be ideal for indie developers with small budgets.
One way around this is to sign up for an ad cross-promotion platform. With these services, you show ads on your app. Every time you do so, you gain credits which you can then spend on advertising on other apps that have signed up to the service.
Platforms like Tappx make it easy for the user to sign up for their service. The biggest benefit is that app developers don't have to spend a thing. Of course, the downside is that if you don't already have at least some people using your app, you may struggle to build up credits which could result in you not being able to show many ads.
Additionally, you'll have to decide whether the disruption brought by the ads you place on your own site is worth it for the number of downloads you get.
Conclusion
Creating a great app is just a small part of a successful launch. Your app marketing efforts should begin long before you plan to release the app to ensure you are in a great position when you release it. They should then continue once the app has been released to ensure a steady stream of downloads.
By following the tips in this guide, we hope you will have a successful app launch.
---