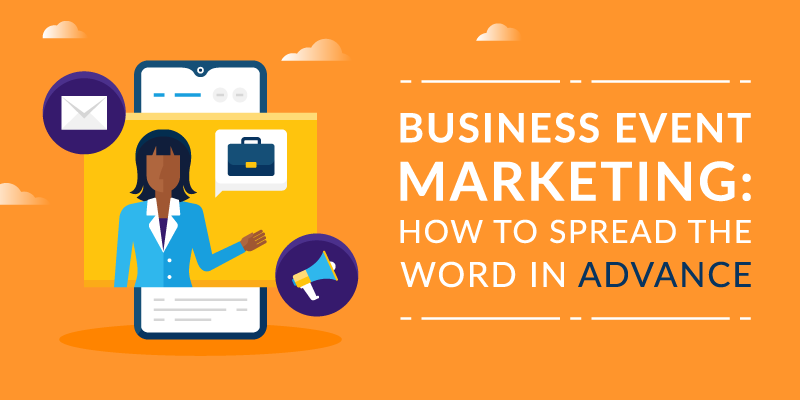 For many organizations, event marketing has become one of the most effective outbound strategies. The warm interactions experienced at events help businesses gain and retain clients for their brands, products, and services. However, the hard work lies in reaching, attracting, and convincing target audiences to attend a business event.
Many planners host business events, or virtual summits and the likelihood that your event is up against other important events are high. Therefore, you should start your campaigns early and put forward a strong value proposition to attract and secure a commitment from your target audience. Here are some tips to help you spread your messages early and quickly:
Continue reading to learn more!
Connect with a Wider Audience Using Multi-Channel Marketing
Business people are busy and have limited time and attention. Therefore, you'll need to use a multi-channel approach in order to reach them. This requires marketing to them on the channels where they are most likely to respond to your message. Consider spreading the word through the following channels:
Email Marketing
One of the fastest ways to reach your target audience directly is through email. Create compelling marketing emails and send them to your existing contacts. You can also get new contacts by organizing free webinars offering valuable learning experiences within a short time. Once new contacts sign up for your webinars, you can continue to build your email list to increase your reach.
Social Media
The vast majority of your target audience uses one or more social media apps on their mobile devices. Clearly, social media is vital to your marketing strategy. Post and share your event on Facebook, Instagram, Twitter, Pinterest, and LinkedIn. You can also create an event on Facebook and promote it to reach your target audience. Both organic and paid promotion on social media can turn in great results.
List Event on Popular Event Sites
List your event on popular event sites such as Eventbrite to promote registration. Eventbrite's very strong web presence can help your target audience discover your event via online search. In addition to search appearance, the site is also a valuable tool for event registration, ticketing, and promotion.
Direct Mail
You might wonder whether direct mail still works, and the answer is YES! Sending direct mailings can help you stand out from the competition and deliver your message to your target audience in a unique way. Direct mailings are tangible and give a personal touch to the recipients. You can send a postcard, a letter, a brochure, or a flyer that carries information about your event and includes a call-to-action (CTA). This can be a request to call your event phone number or visit the event website.
Create an Event Microsite To Boost Your Event's Online Presence
In getting your message out, you need an event website that will serve as a landing page for all your marketing outreach. This should be a standalone website that is separate from your business website.
The purpose of having a standalone microsite is to keep your target audience away from other distractions on your brand's website so that they can focus only on the event. An event microsite can also give your event unique branding and focused messaging that will increase website conversion. Having an event microsite can help boost SEO and attract leads from search engine result pages (SERPs).
Your event microsite should contain convincing information about your event offering, including the speakers, sponsors, agenda, and other important features. This site can also serve as a virtual event platform if you are planning a virtual or hybrid experience. If so, your site will need to incorporate other features such as user access, video conferencing, live chats, discussion forums, and networking opportunities.
Partner With Event Sponsors and Speakers To Spread The Word
Sponsors and speakers are promotional partners in event marketing, so you can ask them to help spread your message. Send them marketing materials such as event brochures and event-branded graphics that can be shared on social media. Ask your speakers to post the event on their social media platforms and tag your event page or social media handle.
In addition, you can create a branded message for each speaker and use these messages as promotional tools. Consider creating a campaign for each speaker, targeting their followers, audiences, and fans. In the same manner, you can partner with sponsors to jointly create marketing promotions to use on social media and other marketing channels.
Open Event Platforms a Few Days In Advance of the Event
When the date of your event nears, open access to your event platform or mobile event app and send an email to attendees to notify them. They can use this opportunity to update their profiles, create personal agendas, and schedule meetings with sponsors and other attendees.
Opening the platforms early also gives attendees the opportunity to preview the site and get familiar with the interface. If they encounter any difficulties, they can request support before the event,setting them up for success.
Ensure Tech Outreach Is Mobile-Friendly
Ensure that attendees can view your event messages and content easily via mobile devices. To assist with this access, it is important to create an app for your business event in addition to an event microsite. Event content should be responsive, adjusting automatically to the display of mobile devices, and it should fit into different screen sizes.
You should create a separate, unique interface for the mobile event app experience, since responsiveness may not give the desired experience on mobile. An interface made specifically for mobile devices leads to a better user experience.
Maintain Event Tech or Microsite Year-Round
Every event is unique, but a successful event can be used as a springboard for future events. It takes more effort to attract new attendees than maintain current ones, so you should continue to nurture your event attendees to anticipate the next event. Keep attendees engaged year-round by making your event microsite active. Consider the suggestions below.
Provide Content On-Demand
Keep content on the site so attendees can always come back to view it on-demand. Place recorded live sessions and additional content on the site to nurture your audience and keep them engaged. You can also send a notification to attendees every time you place fresh content on the event microsite.
Keep Discussion Forums Active
If you have discussion forums on your event platform, keep the forum active beyond the event. Encourage attendees to continue to use the platform to ask questions and seek opinions from colleagues on industry topics. This also provides the opportunity to curate content ideas for future events based on popular discussions on the platform.
Use the Site to Build Anticipation for Next Event
As your next event approaches, begin to use the site to build anticipation by posting messages, images, graphics, and videos, and other promotional content about the upcoming event. You can also use the homepage to share success stories and important stats from your past event in order to attract new attendees.
The ideas above can only be implemented successfully if you understand what resonates with your target audience. You have to craft your messages to signify what is most essential to them, their pain points, and what they want to accomplish the most in their business.
Author Bio: Jordan Schwartz is president and co-founder of Pathable, an event app and website platform for conferences and tradeshows. He left academic psychology for the lure of software building, and spent 10 years at Microsoft leading the development of consumer-facing software. Frustrated with the conferences he attended there, he left Microsoft in 2007 with the goal of delivering more value and better networking opportunities through a next-generation conference app. Jordan moonlights as a digital nomad, returning often to his hometown of Seattle to tend his bee hives.

---