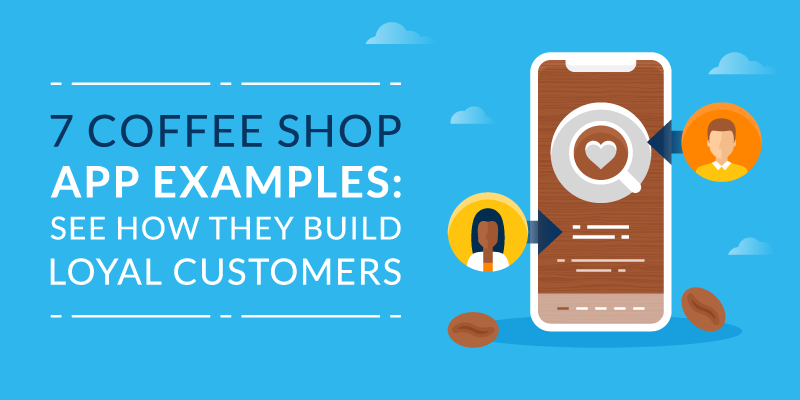 Most big coffee shops now have an app.
That's because successful brands know that apps enable features customers love, such as mobile-order-ahead, takeout, contactless ordering, loyalty schemes and coupons.
In this article, we'll look at seven great coffee shop app examples to provide inspiration for your own.
While the first five apps are from big brands, the final two show how smaller, independent coffee shops can benefit from an app and offer a similar experience to the big chains.
7 Coffee Shop App Examples
Starbucks: Mobile-Order-Ahead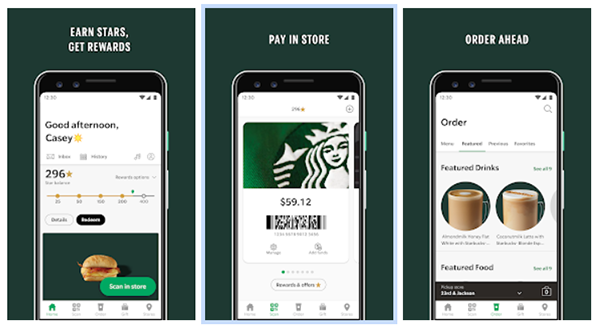 Starbucks is not only the most well-known coffee shop globally, but it also has the most popular app. At the beginning of 2020, the company announced that its mobile application had an incredible 18.9 million active members.
It's no surprise the product is so widely used. It has a ton of features customers love, such as in-app payments and a rewards scheme.
Recently, mobile-order-ahead has been getting the most attention.
This feature lets customers order on the way to one of the chain's venues—meaning the drink is ready and waiting by the time they arrive. The customer pays via methods including card, PayPal, or cash on pickup.
Customers love mobile-order-ahead because it reduces wait time—making it perfect for grabbing a coffee on their commute. It's also an excellent way to process time-consuming bulk buys for meetings or events. The customer puts in the order via the app and shows up when it's ready.
Coffee Bean and Tea Leaf: Rewards and Discounts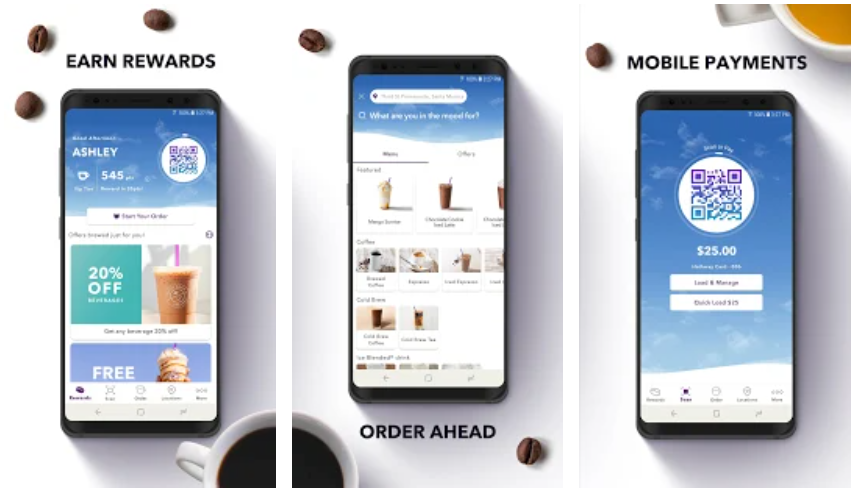 The Coffee Bean and Tea Leaf app is another great coffee shop app example. Like Starbucks, it has mobile-order-ahead and in-app payment.
Our favorite feature of the Coffee Bean app is the personalized rewards and discounts it gives users.
Coupon deals include money off, free drinks when you buy other products, and more.
This is important because coupons can significantly impact buying decisions. A 2018 RetailMeNot study of how vouchers affect the buying habits of those in the US found that:
Two-thirds of those surveyed had made a purchase they weren't planning to make after finding a coupon.
80% said a coupon would encourage them to purchase from a brand for the first time.
81% said that finding an offer or discount is on their mind throughout the buyer's journey.
With this in mind, it's no surprise that the Coffee Bean and Tea Leaf app is so popular.
Caffè Nero: Digital Loyalty Card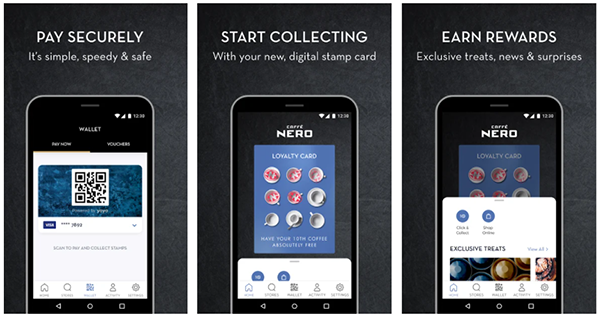 The standout feature of the Caffè Nero app is the loyalty card that gives customers a free drink when they collect nine stamps.
There are several reasons why we love this feature:
Coffee shops have long used stamp cards to increase buyer loyalty. This means the digital version is instantly familiar to most customers.
The simple way of collecting and redeeming rewards. Just buy nine drinks to get a free one.
It's a generous and achievable reward. Someone who buys a coffee every day on their commute will receive one free drink every two weeks.
The app has several other features that make it an attractive prospect.
Customers can order ahead and pick up their coffee when they arrive at the venue. Or they can link their credit or debit card to their account for fast in-app payments.
Pret A Manger: Menu Integration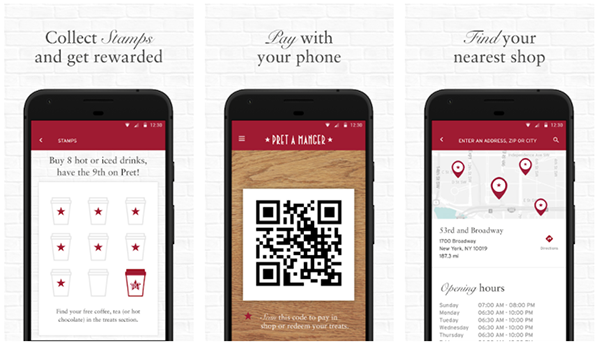 The Pret A Manger app is an excellent example of how a coffee shop that serves food can benefit from an app.
The Pret app contains the venue's entire menu so customers can browse it and decide what they want ahead of time. When at the restaurant, they can pay with their linked card to speed up the buying process.
Beyond these dining features, the app has plenty of uses in common with other coffee shop apps.
These include a rewards card that gives customers a free drink when they purchase eight drinks and a rewards section with coupons and discounts.
Dunkin' Donuts: Takeaway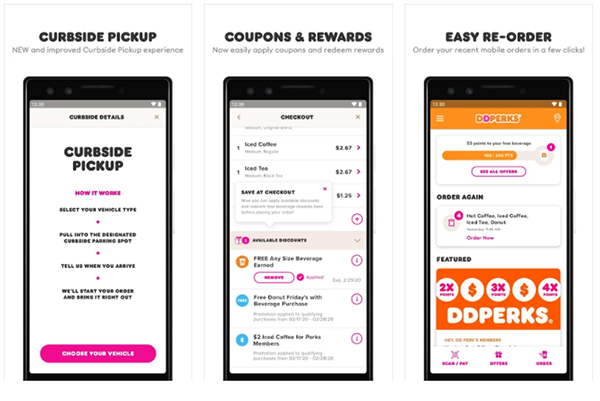 Coffee and donut chain Dunkin' Donuts has a popular app with great features. The highlight is the contactless pickup option for takeaway coffee.
Customers place an order from their phone while on their way to the venue. Once the drink is ready, they pick it up at a designated point.
The exact location varies depending on the venue. Commonly used areas include collection spots inside the coffee shop and curbside pickup.
The takeaway feature is an excellent way for the chain to increase the amount of coffee it can sell without being limited by in-venue seating.
It's also an essential feature to have during the COVID-19 pandemic. Mobile ordering enables the coffee shop to provide a contactless ordering experience, helping them adhere to local regulations.
The Dunkin' Donuts app has plenty of other features, including a loyalty scheme, in-app payments, coupons, account creation for easy reordering, and more.
The next two coffee shop app examples are from independent venues that use our app builder.
Trading Post Coffee Roasters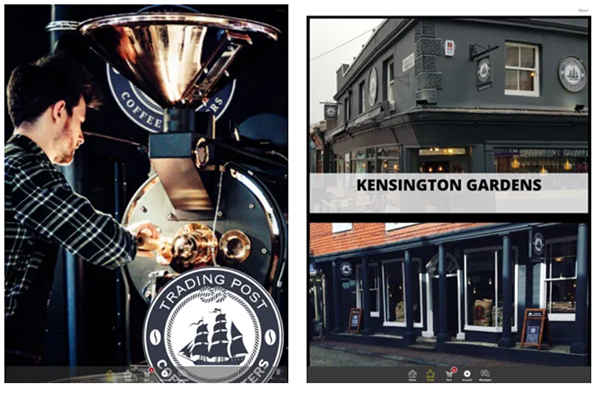 Trading Post Coffee Roasters is an independent coffee shop chain with four outlets in the UK. The app has several features that make it popular with customers.
First is the rewards program that encourages repeat purchases of coffee. The scheme has a similar stamp format to the Caffè Nero program—customers just need to buy ten drinks to get one for free.
It also has in-app ordering, just like Starbucks. First customers choose which branch they want to order from. They can then browse the full menu and order and pay from within the app.
As the chain is a specialist coffee shop, it is important that customers have the same ordering options as they do in store. The app achieves this by letting customers choose which blend of coffee they want, the type of milk they prefer, and other extras.
Once they are ready to order, customers can set a time when they want to pick the drinks up. This makes it perfect for people who want to grab a coffee (or even food) in a hurry.
The app also contains all the information customers need to know about the business, including location, contact details, and social media profiles.
Halsey's Deli: Contactless Table Service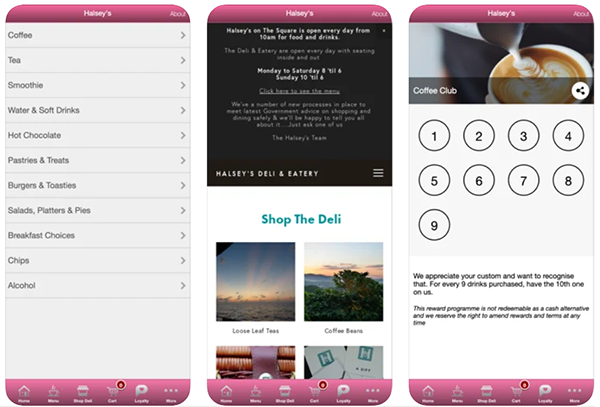 Halsey's Deli is a UK based business with a huge tea and coffee selection.
The app is an excellent example of how a coffee shop that also sells food can create a modern mobile experience.
The standout feature is contactless table service. This allows customers to order from their phones once they sit down and have staff bring their drinks to them.
This feature simplifies ordering. It also helps the business comply with COVID-19 social distancing regulations.
Customers can also use the in-app ordering system to get food and drinks to take out. They simply pay on their phone, choose the time they want to collect their order, and then show up at the appropriate time.
The app also offers customers the ability to view the entire menu, order food from the deli, and view business information.
Read More About the Halsey's Deli app in our case study.
Build Your Own Coffee Shop App with AppInstitute
If you're feeling inspired by these coffee shop app examples, you'll be happy to know that AppInstitute provides an affordable way for independent businesses to build an effective mobile app.
We have a template designed especially for coffee shops. It includes all the features you need to build loyalty, increase sales, and provide a modern mobile experience that helps you compete with large chains.
Features that our existing coffee shop customers love include:
Mobile-order-ahead: Customers can order coffee wherever they are to pick up at a later time. They can browse your entire menu, pay in-app, and select a time for pickup.
Contactless ordering: The ordering system allows sit-in customers to order and pay from their phones without interacting with an employee. Not only does this reduce staff workload, but it also helps reduce the spread of COVID-19.
Digital rewards card and coupons: Coffee shops can easily run digital rewards schemes and provide coupons from within their app. Choose a reward customers love to increase the chance of repeat purchases.
Table service: Coffee shops that also serve food can use their app to provide table service. Customers just have to sit down and order from their phone. When the food is ready, servers bring the order over.
Creating an app with these features is easy. Our app builder makes the process as simple as selecting the features you want and adding them to the app.
Then connect your website and social media profiles so our software can pull data from these resources to populate the app.
You can customize the template and add any extra information you need before publishing the apps on both Google Play and the App Store. Being available on both app marketplaces ensures all your customers have access.
---