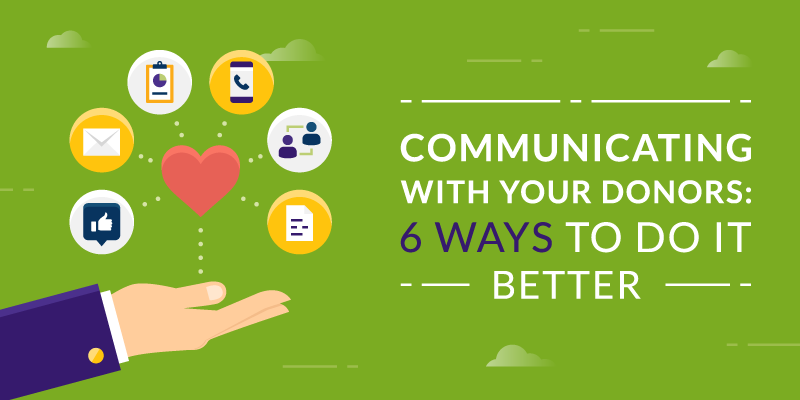 Nonprofits are unique in their goals and in their method of generating revenue. They focus on providing services for the world by relying on the generosity of good-natured people. However, there are some aspects of the nonprofit strategy that can be learned from for-profit organizations. One such aspect is marketing.
Nonprofit and for-profit organizations both rely on comprehensive marketing strategies to spread the word about their goods and services to the world.
Generally, for-profits are doing so to sell a product or service. Meanwhile, nonprofits are doing so to sell their mission and look for donors who will provide funding to support their philanthropic initiatives.
There are several ways that your nonprofit can focus on improving your marketing strategies through more effective communication with your donors. We'll cover these strategies for communication via the following platforms:
Email
Direct Mail
Phone
Social Media
Face-to-Face
Reports
Just as you use multi-channel fundraising campaigns to effectively reach various segments of your donor audience, you should also use multiple channels to communicate other messages with them. Let's dive in to learn more about how to make the most of each communication platform.
1. Communicating via Email
Email marketing is one of the most utilized platforms for communication with mass audiences. That's because it's effective! Sending a message directly to someone's inbox boosts the likelihood that they'll be able to read it and respond accordingly.
It contrasts from other platforms like your website or social media where your donors are not guaranteed to come across your message.
In order to make the most of your email marketing platform, there are several best practices that your organization should employ in this aspect of your communication strategy:
Personalize your introduction. Auto-populate information into your email directly from your CRM. You should make sure the introduction uses your supporters' preferred name, correct email address, and other relevant information. For example, be sure to include donation information in thank-you messages and event information in invitations.
Customize the message. Within the message, you should make sure to include information that will interest that particular supporter. You can do this efficiently by creating segments of supporters within your donor database so that you can appeal to each segment of supporters within your message such as inviting past event attendees to your next get together (or virtual get together).
Diversify your messages. Supporters want more from your communications than constant fundraising asks. Diversify the types of messages you send your supporters to make sure you remain unpredictable. For instance, you may send fundraising asks, event invitations, organization updates, mission information, and more.
Set up drip campaigns. Drip campaigns are a great way to lead supporters toward a specific goal. For example, you may set up a drip campaign leading new blog subscribers to donate. This means that when someone subscribes to your blog, they'll be entered into the drip stream, receiving regular communications and updates until they give to your organization.
As you can see, many of these tips are only possible if you know a little bit about your supporters. This means you'll need access to an effective donor database. CharityEngine's CRM guide explains how you can use your CRM to personalize messages and track communications to measure the effectiveness of your email messaging. This way, you can make necessary adjustments to strengthen the strategy.
2. Communicating via Direct Mail
Direct mail is formatted very similarly to email campaigns. You can use this format to express longer, text-heavy messages. There are many pros and cons to direct mail. For instance, consider the following:
Pro: People tend to remember the information they see on paper better than that they see on a computer or phone screen. 
Con: It can be difficult to convince people to open your direct mail.
Con: Direct mail can be very expensive.
As you can tell, there are many considerations to take into account before you add direct mail to your communication strategy. One of the first things you should consider is how your audience will respond to the initiative. Try sending out a survey to ask how your donors want to be contacted. If enough say direct mail, honor their preferences and send physical mail.
When you send direct mail to supporters, be sure to incorporate some of the same best practices used in email. Be sure your introduction is addressed to the specific recipient, the message is personalized for their interests and engagement history, and that you send a diverse set of letters.
For example, below is an example fundraising letter from The Puppy Advantage Foundation asking for funding to expand services.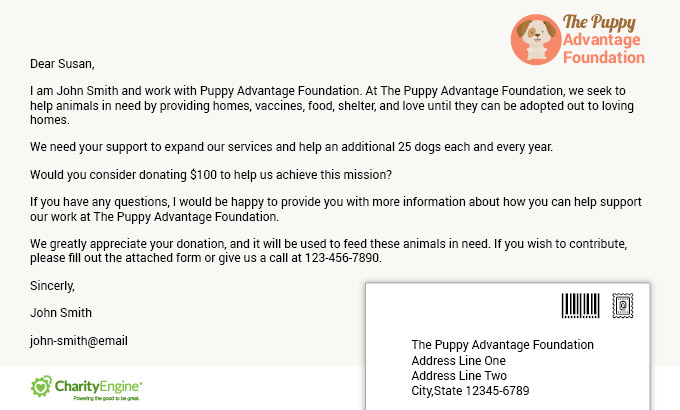 When you send direct mail, be sure to use as much you-attitude as possible. This means that your statements should revolve around the supporter rather than your organization. For instance, you might say, "Your contribution helped save 25 additional dogs this year" in a thank-you message. This resource offers several templates that use this model if you're looking for additional inspiration.
3. Communicating via Phone
Take a minute to think about where your phone is right now. It's probably by your side or in your pocket. Maybe you're reading this article on your phone! The majority of individuals are never far from their phones nowadays, making it a very reliable communication platform.
That's why it's a great idea to use mobile marketing to reach supporters via text message, phone call, and app notifications if your organization has one! 
Mobile communication is a great way to establish a personal one-on-one connection with your donors. Plan out the conversations you want to have during phone calls or texts before you dial supporters' numbers. This will help you stay on topic and direct as you converse.
While text messages are more direct and to the point, phone calls have a general process that you should follow to communicate effectively. When you call donors, you'll want to:
Introduce yourself and remind supporters of your mission
Ask questions to get donors engaged in the conversation. For example, you might ask what they thought of the recent event they attended.
Express your organization's upcoming project or needs.
Finally, tell your donors how they can get involved and invite them to do so.
Don't forget that donors use their phones for more than just calling and texting. They also use it as a tool to do research, check their emails, and conduct online business. Therefore, to make the most out of mobile communications, your organization should make sure your website, emails, and donation forms are all optimized to be read on a mobile device.
4. Communicating via Social Media
Social media is not an optional communication platform for nonprofits anymore. Your organization needs to use it effectively to stay current and relevant while marketing to your supporters.
While new platforms are cropping up regularly, the big three include Facebook, Instagram, and Twitter. Each of these platforms is used for a slightly different purpose, as outlined in the image below:

You can use these social media platforms to enhance various aspects of your communication strategy with supporters. For example, you might use them to:
Provide news updates. Use social media to provide mass updates to your supporters so that they're aware of the latest news and projects completed by your organization. For example, if you complete a new project, tell your supporters on social media and shout out to your supporters who made the project possible! 
Promote a campaign. If you host a peer-to-peer fundraising campaign, social media is the perfect platform to reach your potential supporters. These campaigns use social proof to attract new donors to give to the organization. This makes it a perfect campaign to promote on social media. It ensures your fundraisers' friends and family will see the campaign in order to give.
Attract a new audience. Social media has built-in campaign ads that allow you to reach out and advertise to the demographics that will be most likely to take interest in your campaign. Pull demographic data from your CRM to see the information about those who have already taken interest in your organization. This can provide helpful insight into the demographics to define in your campaign ads for the best results.
As you start to plan your effective use of social media in your marketing strategy, be sure to take note of the manpower you have to keep an active presence on the accounts. You don't want to overwhelm your team with more than they can realistically handle. You should only have as many accounts as your team can effectively keep up with regularly. It's better to have fewer, active accounts rather than too many inactive accounts.
5. Communicating Face-to-Face
Face-to-face communication is the most personal form of communication you can have with your supporters. That's why it's so important to schedule these meetings with your major donors.
Make sure they feel like true partners with your organization in these conversations. This means you should engage them with activities outside of just your latest fundraising campaigns. For example, you might bring up other topics such as:
Project feedback. When you finish a project, discuss it with your major donors and ask them what they think. For example, if you finish building a new program for constituents, first, thank your major donors for helping to make it possible. Then, ask them about their opinions about the structure of the program or if they have recommendations to improve it. 
Future plans. If you're planning a major campaign to raise money for a particular aspect of your strategy, run the ideas by your major donors first. See what their initial reaction is to the campaign before you get started. Securing their support first will help make for a more successful campaign in general.
Given recent events, we're coming up with new ways to accomplish face-to-face conversations on virtual platforms such as through Zoom or Google Hangouts. This provides more options for your organization to meet with donors on a regular basis.
Make sure to record these conversations in your nonprofit CRM. Keep some notes on what topics were covered in conversation and what day, time, and location you met at. These notes will come in handy as you plan future opportunities for those supporters and future communications.
6. Communicating Reports
While many of your communications should be highly personalized and relevant to individual supporters, there are some communications that should be sent out to or available to the masses at your organization.
Generally, these communications come in the form of reports. Because these communications are sent to everyone, they should be very clearly branded to your organization. Be sure to use your nonprofit's brand colors, fonts, images, and logo in your reports.
Sending communications about the latest news at your organization keeps everyone informed and ensures transparency with your supporters. These reports may include:
Annual reports. Annual reports are a deep dive into the nitty-gritty of your organization. This is an opportunity to explain your financial information, projects accomplished, and even highlight your top donors. This report should be comprehensive and complete. Don't lie or omit information. Instead, simply provide additional context or plans for the future to help your donors better understand the data. 
Newsletters. Newsletters are more frequently communicated (usually once per month) and should provide a brief overview of the latest happenings at your organization. For instance, it should include your latest projects, opportunities to get involved, and any relevant news about the nonprofit.
Transparency in communication is essential to establish trust with your nonprofit's donors. If you're curious about how to make sure you're framing the information in an appealing and appropriate way that will work seamlessly with your fundraising strategy, you may consider reaching out to a nonprofit marketing consultant.
According to DNL Omnimedia's guide about marketing consultants, the right support can help you better use resources like various communication channels and reports to build a specific strategy to improve fundraising.
The best way to engage and solicit support from your donors is with open communication networks and platforms. With these 6 platforms and associated best practices, you'll be well on your way to creating an effective communication plan. Good luck!
---
Author Bio: Leigh Kessler is VP of Marketing and Communications at donor management software platform CharityEngine and a frequent speaker on branding, fundraising, data and technology. He is a former nationally touring headline comedian and has appeared on numerous TV shows including VH1's "Best Week Ever", CNN's "Showbiz Tonight", Discovery Channel & Sirius Radio. He has overseen and informed research and branding strategies for some of the most well known brands in America.
---