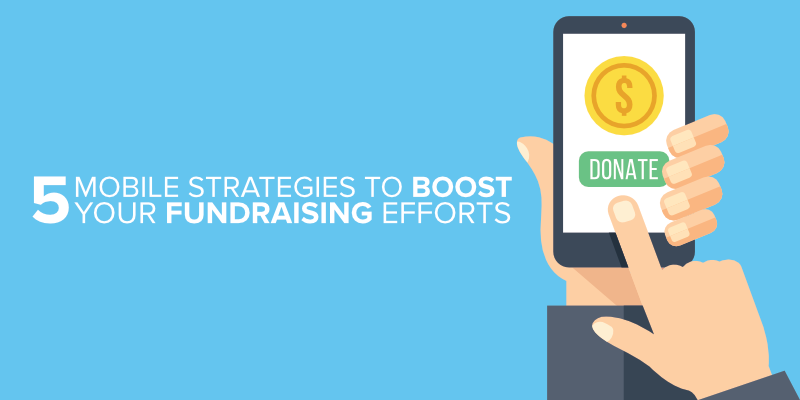 Mobile technologies have become an integral part of fundraising for nonprofits of all sizes—and for good reason! How many times a day on average do you check your phone?
Nonprofits can benefit greatly from the fact that practically everything we do on mobile devices involves engaging with content on the internet. By optimizing your web and mobile fundraising strategies, you can catch a mobile user's attention and secure a donation.
Too often, though, nonprofit fundraising strategies neglect this significant outlet for donor engagement. Follow these 5 core tips to better target your mobile fundraising campaigns:
Optimize your donation page for mobile use.
Choose a mobile giving solution that best suits your goals.
Think of crowdfunding as a mobile fundraising strategy.
Consider creating a custom app for your organization.
Provide innovative and secure login solutions for donors.
These digital fundraising tools can be easily configured into customized solutions, which is important when the worlds of technology and internet security change so quickly. Read on for inspiration on forging your own strategies for boosting your fundraising campaign!

Optimize your donation page for mobile use.
If your supporters engage with you through their mobile devices, you want them to donate there too. By opening up mobile giving channels, you can increase the likelihood that they'll donate simply by making the donation process easier.
Have you ever tried to use a website that wasn't optimized for mobile use through your mobile browser? It creates a terrible user experience!
Navigation and formatting become frustrating and lead to higher bounce rates (that is, users who immediately leave your site) if your website's donation page is not designed to work smoothly on mobile browsers.
Cut out this possibility entirely by optimizing your donation form for mobile use. There a number of key guidelines to keep in mind:
Remove unnecessary fields for donors to complete.
Provide clear labels and navigation without cluttering the page.
Provide instant field validation to ensure quick completion.
Keep donors on your site; never redirect them to a 3rd party.
Ensure your branding is consistent and clean on your form.
Most importantly, always test your online donation form in mobile view.
Consider using an intuitive payment method to actually process the donation. These services typically allow you to easily customize your form for mobile donors and automate follow-up and thank-you messages. Check out this list of top PayPal alternatives from @Pay for some options.
Having mobile-optimized giving tools and forms is a baseline component of any fundraising campaign.
They're not only essential for strong donor engagement but also can (and should) be fully integrated into the other elements of your overarching strategy.

2. Choose a mobile giving solution that best suits your goals.
An ideal mobile giving solution will be simple and easy for your donors, but choosing exactly which giving tools to use depends on the specific nuances and goals of your campaign.
Choosing the mobile giving tools best-suited to your fundraising campaign will increase your chances of not only meeting but exceeding your goals.
Consider all kinds of mobile giving strategies and weigh them against your exact needs and goals. Here are some examples of effective mobile engagement methods:
Text-to-give tools.Text-to-give solutions have become a popular form of mobile fundraising because they're unmatched in ease of use for donors, who simply send a message and then receive a direct link to donate.
Embeddable donation tools for emails. If your site is already streamlined, apply the same concepts to your email campaigns. Embedded donate buttons can make it easy for your mobile email recipients to donate quickly and effortlessly.
Online and mobile charity auctions. Auctions are a great way to engage donors and quickly raise some funds. Integrating mobile bidding tools and online charity auctions into your strategy can lead to substantial boosts in participation.
Text-to-give is particularly effective for nonprofits that host live fundraising events since donors can spontaneously donate with a text message, while embedded email donation buttons are well-suited to broader fundraising efforts since many users now interact with their email largely through mobile devices.
Mobile bidding events will significantly boost your fundraising if your organization offers eye-catching items and prizes.
The most important thing to remember, though, is that the giving tools you choose should reflect the specific needs, goals, and targeted donors of your fundraising campaign.

3. Think of crowdfunding as a mobile fundraising strategy.
How many times a day do you check social media on a mobile device? Probably several times, at least. So do your potential donors. How can you better encourage supporters to spread the word about your campaigns to those who might've never heard of you?
Crowdfunding platforms of all types can be the perfect solution for organizations seeking to target mobile and web users through social media and other outlets.
Services exist to host your campaign on a dedicated page and process your donated funds. Here you upload media and write messages to your potential donors, who can track the progress of your campaign and share it with their friends with a single click.
As with mobile giving strategies more generally, choosing the crowdfunding platform that will work best for your nonprofit depends on your exact goals. These platforms can be useful for a number of different types of campaigns, including:
Cause-based charities
Community-based projects
Creative projects or merchandise fundraisers
Schools and student groups
Faith-based groups and churches
Check out a list of the top crowdfunding platforms and think about which one might be best-suited to your campaign.
If your goals are ambitious or your project is eye-catching, crowdfunding might be a great choice. Mobile users skimming text on social media sites will be drawn to your campaign page if you consciously target it towards them.
Plus, since crowdfunding campaign pages are built to be shared, you can easily link to and integrate these pages in your existing digital materials, increasing your exposure to potential mobile donors even further.

4. Consider creating a custom app for your organization.
Building a mobile app is no longer a job for developers and specialists. Your organization can benefit from unifying all its content, tools, and information in a single piece of mobile software, increasing positive user experience and boosting your fundraising revenues.
Without ever learning to code you can create a simple app to provide your donors (and potential donors) with whatever they might need from your organization, like:
Updates on your campaigns and projects
Intuitive and simple donation tools
Schedules and maps of upcoming events
Sign-up lists for volunteer projects
News about your organization's area of concern
A mobile app will perfectly complement any of your other fundraising or marketing strategies by giving donors and supporters a self-contained digital space in which to access your information and material. They're especially useful for organizations with large volunteer engagement programs or extensive public outreach projects.
Learn more about charity apps
Most importantly, a mobile app is a great way to promote your fundraising campaigns.
If you have an ongoing crowdfunding or email campaign, for instance, directing these mobile donors to your app (and vice-versa) will allow them to stay updated on your progress and give them an easy place to find more information about volunteering or donating again later.
Mobile apps encourage your donors to become more deeply engaged with your work. For some inspiration, take a look at how one multiple sclerosis support organization made effective use of its app.

5. Provide innovative and secure login solutions for donors.
If your nonprofit consciously curates a visual brand, you know that one of its greatest benefits is the sense of identification that it encourages in supporters. By presenting a consistent image, you can assure donors that their time and information are secure.
Branding is just one way of communicating your responsibility and professionalism to donors, but innovative, secure login and payment processing tools are how you can show them that you take stewardship seriously.
One way of doing this is to offer passwordless login systems. How many passwords do you have to remember to access your regular web services? Most people would answer, "too many."
Using innovative authentication methods, you can provide your donors with secure ways to make donations without having to remember yet another password. Here are two login methods that will impress your donors while saving them time:
Email authentication. When a mobile user wants to login to donate, a button will generate an email. All they'll need to do is press send to confirm their identity and be granted access. This method can be especially useful with a text-to-give campaign!
Token authentication. A mobile donor simply supplies some of their information and receives a text message containing a code, a one-time password to their account. Using this they quickly make a donation, and their account will be secure when they're done.
Alternately, if your organization sees a number of recurring donors for your fundraising campaigns, you might choose a two-factor authentication system for your site and mobile app. These function essentially as a combination of the traditional username-password and token login methods.
To get a better feel for these systems and how they can improve your donors' user experience, check out @Pay's guide to two-factor authentication.
Integrating these innovative login methods across your mobile fundraising strategies, including your optimized website, crowdfunding page, mobile giving options, and mobile app, can make donating even easier for your supporters and give your fundraiser a crucial boost.
Mobile devices have easily become one of the most central points-of-contact between nonprofits and their donors. As such, it's important that organizations understand all the ways they can configure their own customized strategies and discover new opportunities presented by mobile web browsing, the rise of social media, and the prevalence of apps.
By creating an overwhelmingly positive mobile user experience, you can boost your chances of turning one-time donors into recurring donors and push your fundraiser to the next level.
Author Bio:
John Killoran is CEO of @Pay, an exciting new fundraising technology that makes it easy for people to donate in two clicks from text, email, web and social media sites. John pioneered SMTP payments and has been a major innovator in the mobile payments space for the past 5 years. When he is not running a company, he is cooking food for his family and telling his dogs to stop barking.
---
You might also like: Why Nonprofits Need Google Analytics