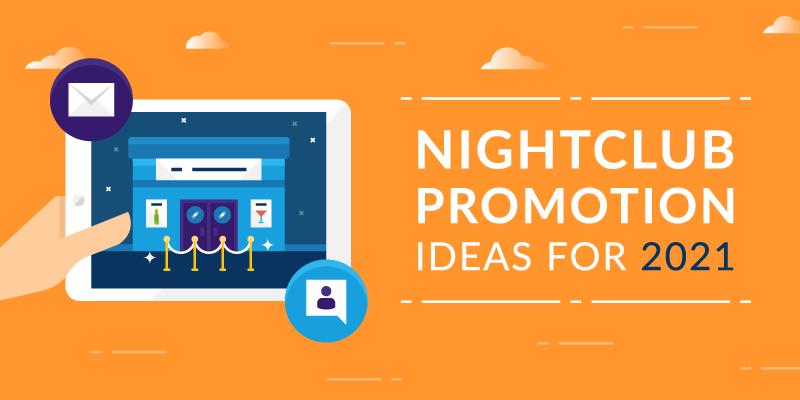 The nightclub industry is going through a challenging time due to the COVID-19 pandemic. After months of social distancing, lockdown restrictions and vaccine uncertainty, many nightclubs have had to close their doors for good.
Others have managed to stay afloat through crowdfunding initiatives or by adapting their offering to account for safety restrictions.
For example, this New York City cocktail bar began serving speciality drinks through curbside pick-up and delivery until restrictions in the state were eased.
Additionally, the decline of city centres as shopping spaces means there is a renewed focus on the nightclub economy as a way to revitalize these areas.
Whether you consider the current situation good or bad for nightclubs, one thing is for sure: there will always be those that do well. Part of this success comes down to the right nightclub marketing strategy.
In this article, we'll look at nightclub promotion ideas you can take advantage of when COVID-19 regulations allow for safe reopening.
Strategy #1: Get Social Media Right
As with everything in 2021, social media will play a large part of your nightclub marketing strategy. However, you'll need to do more than throw out the odd post with information about the latest nightclub events. Here are some of the elements a great social media nightclub promotion strategy will contain.
Which Social Media Platform Should You Use to Promote Your Nightclub?
The answer here is obvious: it's the ones your ideal target audience uses. Facebook and Instagram are musts due to them being by far the most popular social media platforms. Twitter may provide an excellent way to connect to users, especially if your club caters to affluent 18 to 25 year-olds.
Additionally, younger clubbers may be more likely to use social media sites like Snapchat or Tik Tok. If you run a bar that specializes in beer, you may find value in signing up to Untappd.
There are social media networks out there with varying degrees of popularity for pretty much every type of user. Just Google your customer type along with the phrase "social network" to see what you can find.
The most obvious type of content is promotional material for your nightclub. Providing potential customers with information about your latest events via social media is an excellent way to spread the word.
However, if the content you put out is solely promotional, customers won't have a reason to interact. Mix up promotional posts with images or videos from your most popular nights before the pandemic.
This marketing idea can be used to remind your customer base about how enjoyable your events were before COVID-19 and get them excited about your reopening or a future event.
The Instagram account for The Warehouse Project does a great job of combining promotional content with professional quality images and videos of the nights they put on.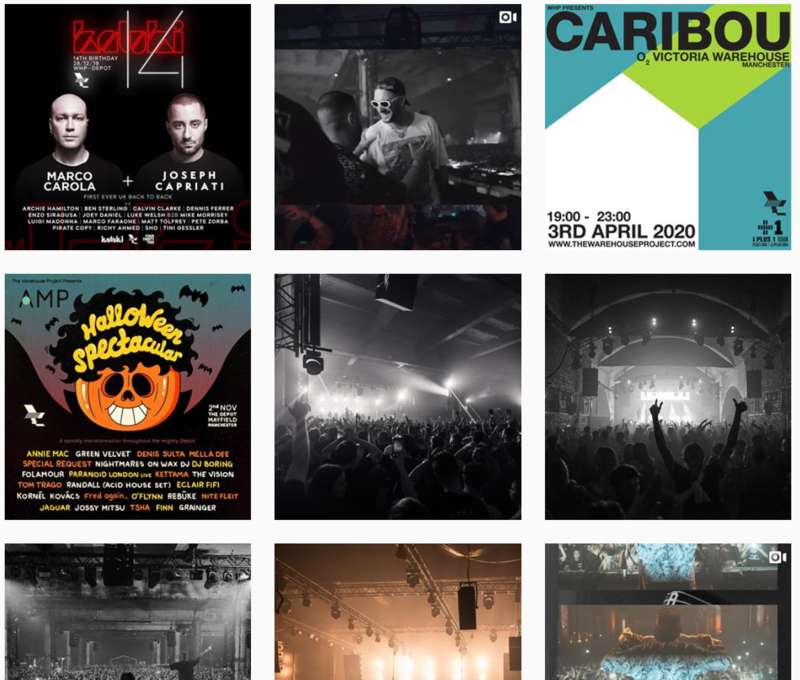 Use Social Media to Encourage Signups
Social media can also be used to encourage people to sign up for future events. You can send out Facebook event invitations with links to your ticket provider so customers can buy tickets in advance.
Beyond buying tickets, another way to get people to sign up in advance is to provide an offer to those that do.
For example, in this Facebook post, 42nd Street Nightclub promises to give free entry to anyone who comments on the post.
The nightclub posted about the same event twice, once saying the guest list was opening and once to say it was closing soon. The two posts generated 16 comments and a guest list total of 103 people – not bad for a Thursday night.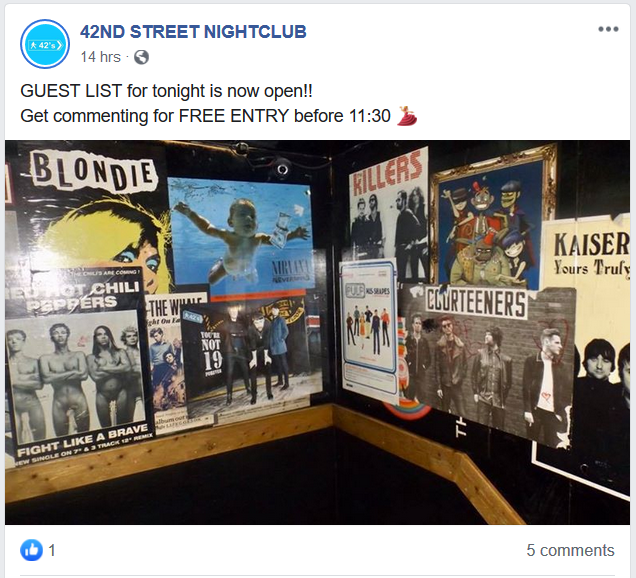 Hire a Photographer to Take Photos of Customers 
A final nightclub marketing idea for social media is to hire a photographer to take professional photos of customers and share them on social media. This has several benefits:
Customers will be more likely to look at the social media page following their night out, which may lead them to follow the page.
Customers may share photos with friends or on their social media accounts. This can result in micro-influencer or word of mouth marketing that gets your nightclub in front of a larger number of people.
People who haven't been to your club yet will be able to see what a night out there is like. While many people have access to great cameras on their phones, not many people have access to professional photographers.
People may be encouraged to visit your club to get their photo taken by a professional, especially if the night out is for an important event.
Bounce Ping Pong does a great job of sharing photos of nights out on their Facebook page. The images they share are all high quality which makes it more likely that people will share them. Additionally, the action shots of the people playing table tennis make for some fascinating photos.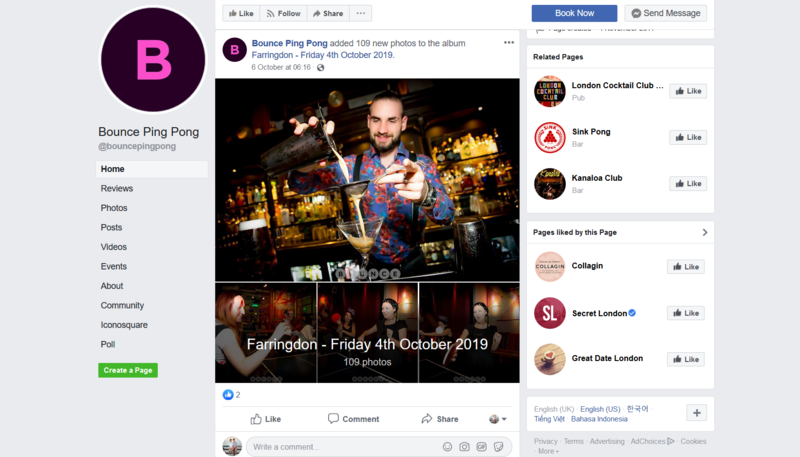 Strategy #2: Build a Mailing List 
Alongside social media, one of the best nightclub promotion ideas is to build an email list. By creating an email list, you will be able to contact customers with information about events. You'll also be able to include direct links to places where they can buy tickets.
The biggest challenge of getting an email list is collecting email addresses. Here are some methods you could try.
Collect emails when selling tickets to theme nights, for example.
Ask for emails when signing up for guest lists.
If you take customer photos as per the example above, offer to email customers high definition versions of the picture.
Offer discounts to nightclub members and require an email as part of the sign-up process.
When collecting emails from customers in the EU, make sure you also receive permission to contact them, so you stay compliant with privacy regulations.

Strategy #3: Create a Varied Events Calendar that Different Customer Types Will Love
Events are a great way to increase the number of customers that visit your nightclub.
There are two ways you can use events as part of your nightclub marketing plan. The first is to put on events that your existing customer base will love to encourage them to come out more often.
This type of event works if your existing target audience is broad and you are situated in a city with enough people from this audience to keep you busy several nights a week.
A club that plays top 40 dance music in a student area of London, for example, may be able to get away without a ton of variation in the nights it puts on.
The second nightclub marketing idea is to put on events that widen the appeal of your club to new groups. A nightclub that puts on heavy metal nights for an older crowd on weekends could expand its reach by putting on nights during the week that target, for example, students or people interested in other types of music.
Here are some types of event you could consider:
Concerts, either from known bands or unsigned acts.
Fancy dress nights.
Theme nights – 90s, 80s, emo, Motown, etc.
Foam party.
Drinks offers.
Guest DJs.
All-night parties.
Nights based around events in the calendar. For example, NYE, Halloween, the end of exams in student towns, Freshers Week, Día de Muertos.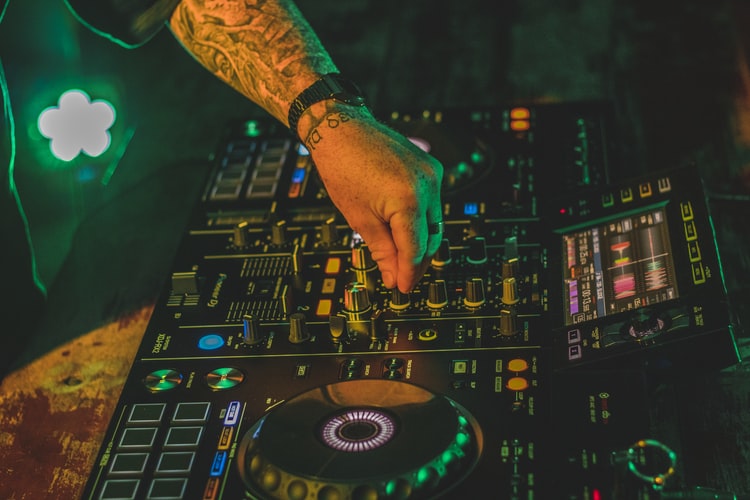 Image: Zac Bromell/Unsplash
Strategy #4: Create a PR Plan 
Creating a PR plan should be at the forefront of your nightclub promotion ideas. While social media is a form of PR, another aspect is building relationships with those in the media. Here are some ways you can use PR to promote your nightclub.
Put on Events and Invite Media
The media is unlikely to be interested in your average nightclub event. However, special events may be more newsworthy.
If your club puts on concerts, think about giving local media representatives access to the event. It doesn't have to be major acts; giving young local artists a chance is also an interesting story for the right publication.
Alternatively, you could approach your local media publication about a story of how your nightclub will ensure that it meets the necessary COVID-19 safety protocols.
Concerts aren't the only thing you can do to generate marketing and PR opportunities. A quick Google news search shows that media outlets across the world have published nightclub-based stories about:
The key is to do something interesting that you think is newsworthy, pitch the story to a suitable publication and watch it spread by word of mouth.
Choose Suitable Publications
Unfortunately, a national newspaper is unlikely to be interested in your event unless you have somehow bagged a world-famous name to perform at your nightclub.
On the other hand, local nightlife or music bloggers that specialize in your area may be more interested. Some of these blogs will have big audiences.
Find these publications by Googling your area plus "nightlife magazine" or "music blog." There is a surprising number around. For example, here are sites that cover Liverpool, Manchester, East London, Leeds, and Birmingham.
Ultimately, it's just a case of reaching out to the people who have an audience similar to the people you want to attract and present your marketing ideas to them.
What to Include in a Press Release
When looking for press coverage, there are several things you can do to increase the chances of being successful and attracting more customers. These revolve around making it as easy as possible for publications to publish your story.
When sending out a press release, be sure to include high-quality pictures that publications can use. Also, add quotes that publications can easily use. Consider making yourself available for interviews and mentioning your availability in the press pack.
Be sure to include as much information as possible in the release and do so using the inverted pyramid structure. This is a way of writing stories used by most journalists in which you include the most critical information at the top of the story.
Strategy #5: Get an App 
Apps provide several nightclub promotional possibilities that other forms of marketing can't replicate. Here are some of them.
Build Customer Loyalty
Apps help build repeat business through customer loyalty programs. A common type of customer loyalty program nightclubs can deploy is a stamp program.
In these programs, customers receive a digital stamp every time they perform a particular action. For example, buying a ticket to your club or purchasing a drink. When the customer has performed this action a certain number of times, they will receive a predefined reward. For example, free entry or free drinks.
Cruz 101's reward program is a great example of this. The nightclub gives users a stamp every time they pay to enter the nightclub.
When the customer collects nine stamps, they get free entry. However, this isn't the only reward the club offers. To keep customers interested, users receive a free shot on their third time at the nightclub and a free drink on their sixth entrance.
This type of program is great because it is simple for staff at the venue and customers to understand.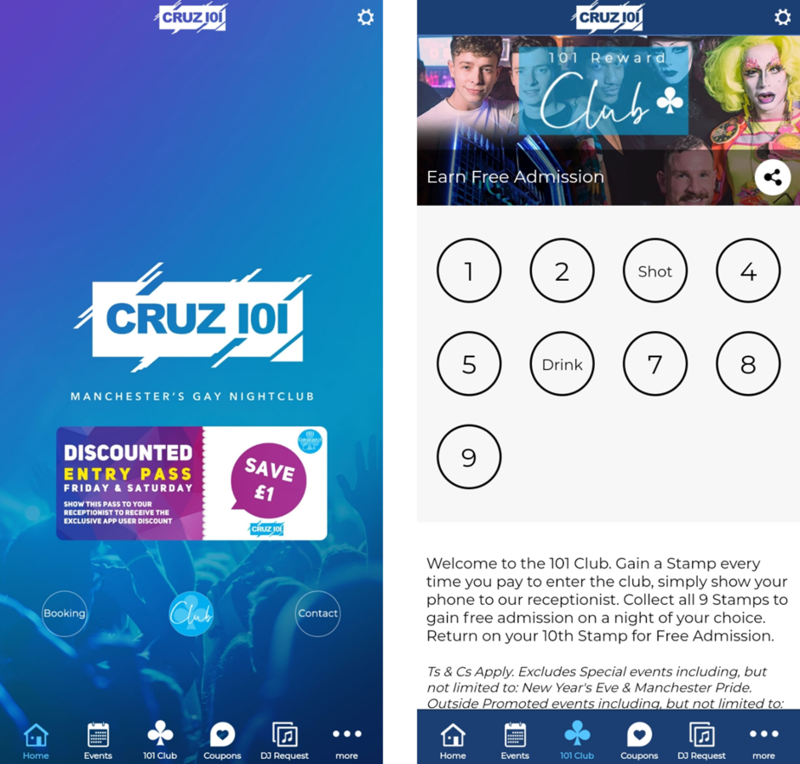 Use Notifications to Advertise Events
Apps can send out notifications that nightclubs can use to promote events.
A well-timed notification, for example, sending out important updates or information about a Friday night event on a Friday afternoon, is a good way to engage potential customers. These notifications can be sent using geolocationwhen app users are within a certain area.
Notifications can be even more effective when combined with the next point.
Send Out Offers
Nightclubs can use apps to send customers offers. There are many ways you could do this. One is by tying the offer to the event. For example, you could encourage people to come to specific nights by offering buy-one-get-one-free drinks.
Sell Tickets Directly to Customers
Another way apps can be used to market nightclubs is to sell tickets directly through the app.
An effective way to encourage ticket purchases is to combine the request to purchase tickets with an offer.
For example, say that anyone who buys a ticket with an app will get a free drink, or will be able to avoid queues on the night. This is bound to bring more customers through the door and encourage them to promote your event through word of mouth advertising.
Provide Easy Access to Information About Your Nightclub
Nightclubs can also use apps to provide customers with all the information they need about the club. For example, drinks prices and menus, social distancing regulations, addresses and directions, events calendars, opening hours, and contact details.
Giving customers easy access to this information will make it more likely that they have a great experience at your nightclub.
The great thing about apps is they are easier to create than you may think. Check out our article here for information on how you can build an app for your nightclub.
The nightclub business can be competitive. However, an effective marketing plan can help ensure a steady stream of customers. When creating your strategy, consider using some of the points mentioned above.
---