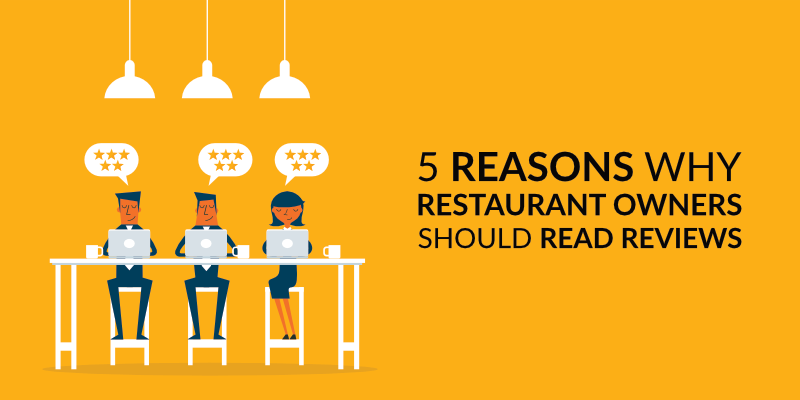 "I don't understand how they allow these sandwiches to be served at the airport. Bread is worse than chewing gum. Service is nefarious, coffee is ok, exorbitant prices. It's a pity there are no other alternatives. The best would be to take your own sandwich with you from home."
It's likely that the late La Dehesa de Santa Maria, a restaurant at Barcelona Airport, ignored its customers' reviews, like the one above.
The franchise boasted a score of 1.5/5 before closing permanently (fortunately to passengers, we presume!).
Just like La Dehesa, pretty much all restaurants are susceptible to being reviewed, be it on social media or a specialized site.
If you are a restaurant owner, it's worth paying close attention to what your customers say about you online: 94% of diners choose a restaurant based on online reviews, according to a recent survey by TripAdvisor. In other words, a review can be the difference between a new customer or no customer.
This article explains the 5 reasons why paying attention to your online reputation is an essential part of running your business if you're a restaurant owner.
1. Reviews Help You Get More Customers
Word of mouth is a powerful way to get new customers. We know that happy customers tell their friends about their experience. Online reviews work similarly to friends talking about that great new restaurant they went to.
Even though you don't know the person who wrote them personally, you trust their review as honest — especially when it's written on a specialized site like Yelp or TripAdvisor. If the review is positive, it's likely that it'll encourage others to try it out.
Reviews that help you get more customers aren't necessarily written on a site like Yelp. Even positive reviews on an Instagram story or a post can help get diners through the doors.
Restaurants can gain even more benefit from this user-generated content by commenting on the post, or sharing the story with their own followers, including relevant local hashtags to improve findability.
As long as readers trust the reviewer, it can have an impact on your business. That includes encouraging potential customers to try your restaurant for the first time. According to TripAdvisor, reviews published on the site were a major influence for diners, both locals and travelers, to try a restaurant for the first time.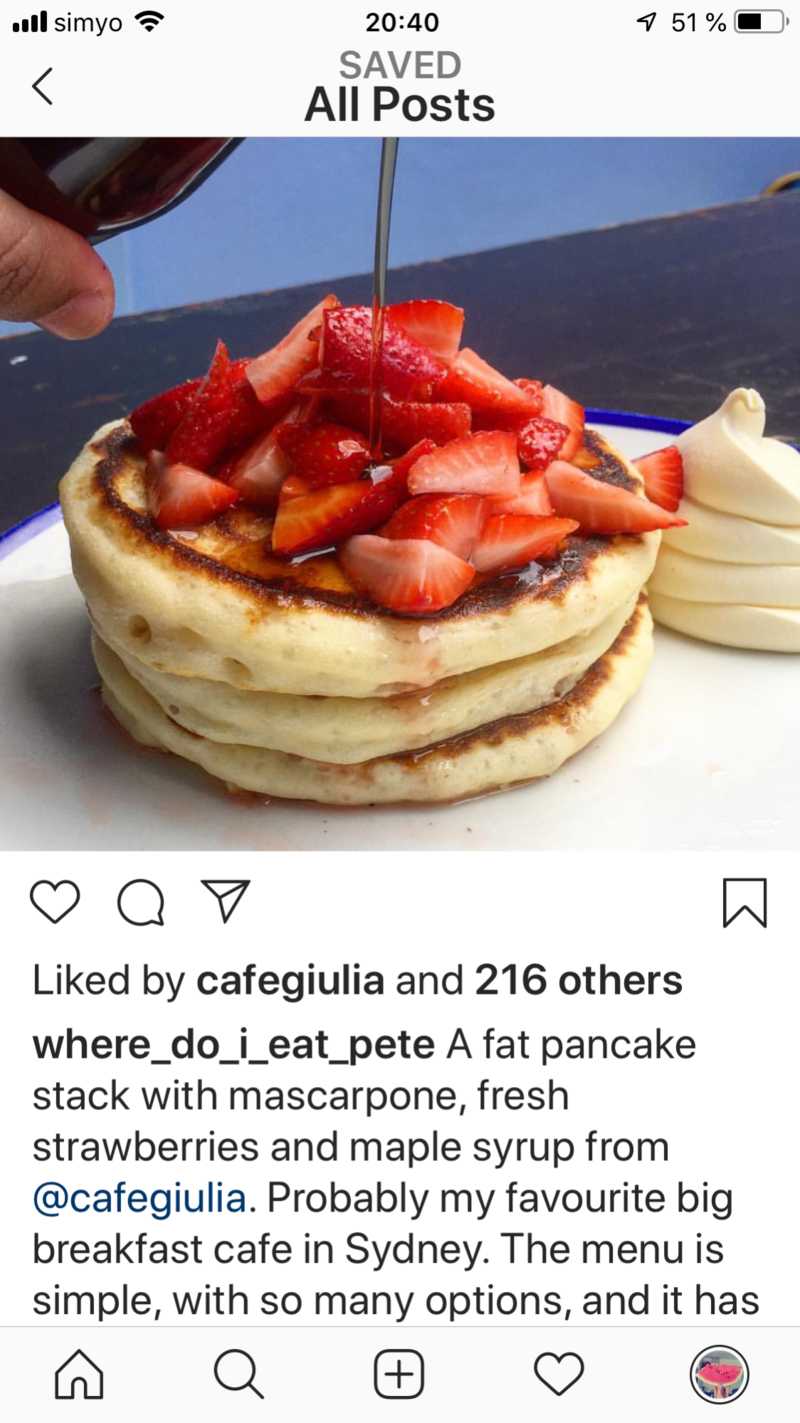 Small gestures like a positive review on an Instagram post can help a restaurant get new customers.
2. To Learn About Overlooked Business Opportunities
Usability testing is a great way for you to learn about your customers and how they use your product. As a restaurant owner, you can learn a ton about your customers by reading their reviews.
Because feedback from diners on review sites is so unfiltered, it can give you a glimpse into details that might go otherwise unnoticed. There can be a huge number of insights hidden in some reviews.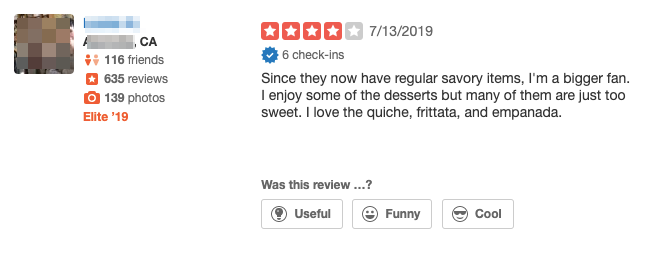 Who knew that having savory options mattered to your existing customer base?
Reading regularly your customer reviews can help you gain more insight than actual face-to-face feedback from conversations with customers. For a lot of people, it's easier to give feedback to a screen than to your face.
3. To Know When You Need to Address a Negative Experience
The impact of a single bad review could turn almost 22% of potential customers away from stepping into your restaurant, according to Small Business Trends.
What's worse is that the effect is cumulative, meaning that the consequences of having four or more bad reviews can be fatal — as many as 70% of customers could decide not to go to your restaurant based on those bad reviews.
However, a bad review doesn't mean your restaurant business is over. It's not unheard of that people who leave a poor review end up becoming a loyal customer after they see the length at which a business will go in order to make it right.
It's all about using the fact as an opportunity to show your potential customers that you're willing to improve.
When addressing a negative review, first thank the reviewer for their time they took to share their feedback and be personal: make sure your response is sincere and doesn't sound robotic or automatic.
Respond to the issue straight-on and tell them about any actions you've done to take care of the problem. Of course, you should only apologize for those things that you're responsible for.
Every once in a while, you'll come across a troll. Comments that are irrational don't need to be addressed as your response will most likely only magnify the problem.
It's ok to ignore those unreasonable comments as they are not coming from a serious customer.
4. Reviews Strengthen the Relationship With Your Customers
Showing interest in what your customers say and showing that you're actively listening to them can go a long way in maintaining a positive relationship with them.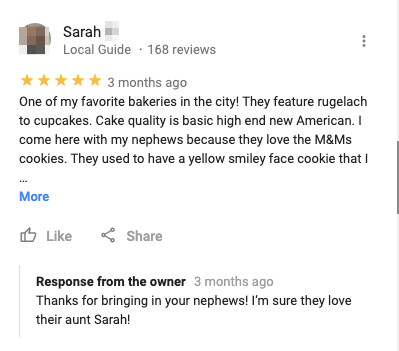 The thank you message to your customers' review should be personalized to the one they wrote.
Positive reviews make potential customers 68% more likely to trust a local business (BrightLocal). Make sure you use this fact to its full potential by showing gratitude to those who share, using positive reviews as a chance to engage with your customers and appreciating the time to leave a good review.
Using the customer's name whenever you're thanking them for a positive review is also a good idea: people love the sound of their own name, and like knowing that their comment was read by the person that was ultimately aimed to — you, the restaurant owner.
Here's an example from Chatra's guide on responding to customer reviews: "instead of saying 'Thanks for reviewing your meal' elaborate with 'We're glad you enjoyed the vegetarian lasagna, it is our owner's favorite, so we can promise it'll stay on the menu for next time!'."
Adding details to your review tells your customer that you're really listening and makes your response more engaging.
5.  Use Reviews  To Find New Ways to Improve Your Restaurant Business
The life of a restaurant owner can be hectic: recruiting and training of staff, planning menus, ordering supplies, managing budgets…and while you're probably on top of most things happening at your restaurant, it can be easy to miss out on some details. Regularly reading reviews can provide new insights to improving your business.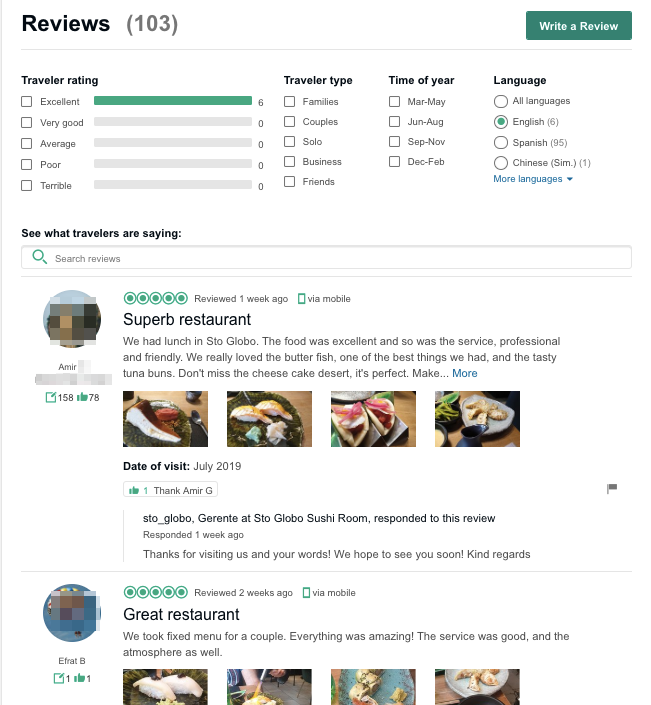 What's not to love? A restaurant with a 5-star rating on TripAdvisor, such as Sto Globo in Madrid, will likely attract new customers.
Especially if you don't regularly work at your restaurant, reviews give you a chance to gather feedback that you might not have the chance to collect any other way, from the performance of your staff when you're not around to see them at work to most popular meals.
Aim for the (5) stars: Use Reviews to Your Advantage
Yelp, TripAdvisor, Facebook, Google, Twitter, and even Instagram — more than ever, people are taking their phones to check out reviews to find the restaurant with the highest ratings.
Why take the risk of ignoring them? A good review is usually a good indicator of the quality of a place and so most people dining in your restaurant will have checked your reviews before stepping through the door.
More than half of consumers won't use a business if it has less than a 4* rating. It's as simple as that: if your restaurant has negative or no reviews there's a high chance you'll be losing business.
Make sure that all of your efforts to offer delicious food and great customer service translates in getting positive reviews: it'll be one of the cheapest and most effective ways to build trust and loyalty with your current customers and attract new ones.
Of course, those now loyal customers will also share their experience, maybe the old way, by simply telling their friend or colleague. Or grabbing their phone and writing a stellar 5-star review for everyone to see.
Author Bio
Yaakov Karda is the co-founder of Chatra.io and a slow coffee enthusiast. When not brewing or working on the startup, he helps his wife with their art projects or explores Tel-Aviv on a bicycle.
---