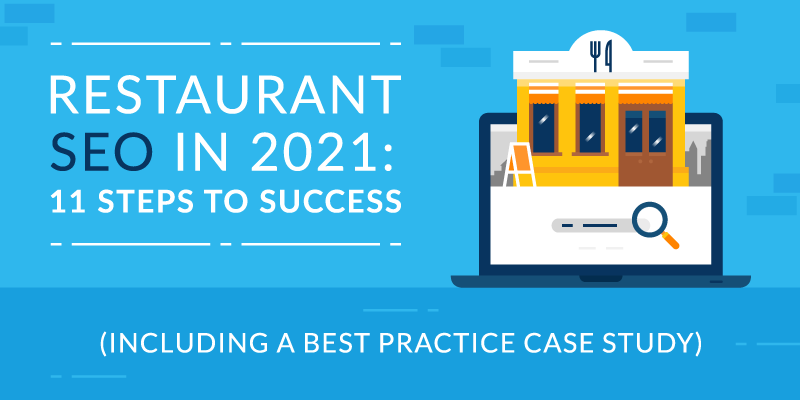 In our article, Restaurant Marketing Ideas: The Top 31 Ideas to Grow in 2020, we took a look at Search Engine Optimization (SEO).
In this article, we take a closer look into how you can optimize your restaurant website to begin ranking on Google and other search engines.
Restaurant SEO tactics are used to help websites show up in search results. The higher your ranking, the more likely it is that people will see your business when they use Google and drive traffic to your website.
In this article, we'll look at several restaurant SEO tips that you can begin to implement today to supercharge your online presence.
Each point is illustrated using the example of how a sushi restaurant in Seattle would try to rank for relevant terms.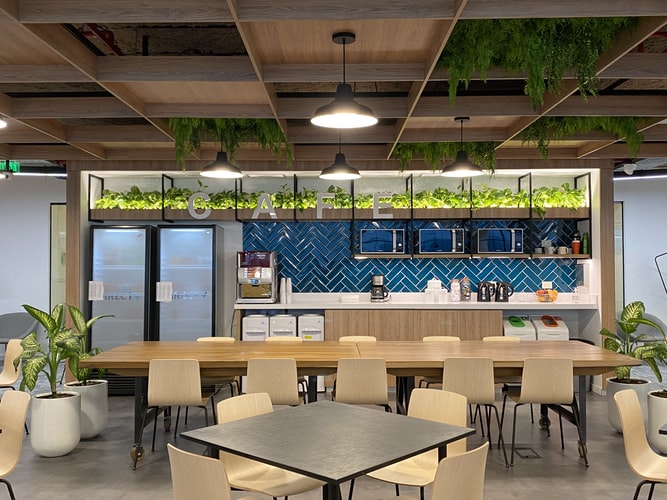 Image: Carolina Marinelli/Unsplash
Research Which Search Keywords to Target
Restaurant SEO is all about showing up on Google. However, it's only useful if you appear in relevant search results.
To create a good strategy, you need to come up with a list of keywords you want to target on search engines. You can then put a plan in place for each of them.
Many of the keywords you want to target will be obvious—they will relate to the type of food you serve at your restaurant and your area.
For example, a sushi restaurant in downtown Seattle will target keywords such as:
Sushi restaurant Seattle
Sushi restaurant downtown Seattle
Restaurant Seattle
Best sushi restaurant Seattle
Once you have this initial list, there are ways you can find more search terms.
The easiest is to type one of your keywords into Google. The search engine's autocomplete feature will then give you tips about relevant terms you could target.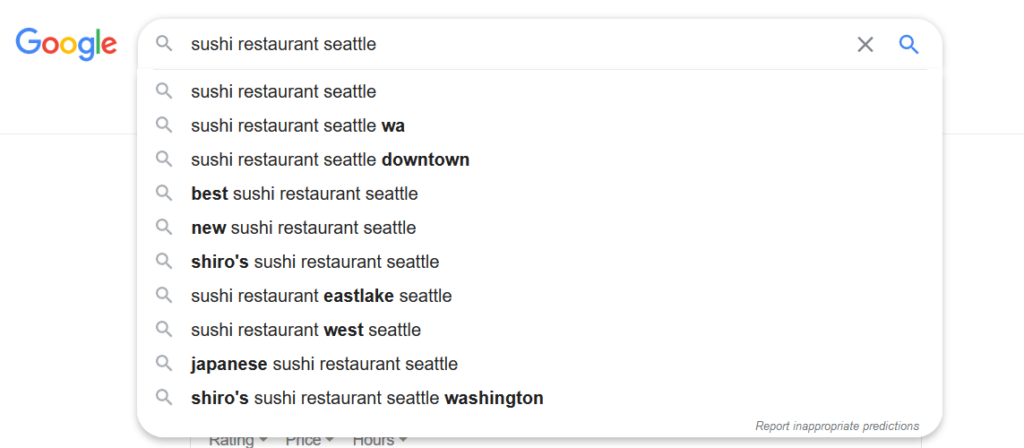 If you press enter, you will see some more tips at the bottom of the page in the related searches section.

Do the same with each of your keywords and make a note of the most relevant ones to target.
SEO for Restaurants: Competitor Research 
Another keyword research strategy is to see what your competitors are ranking for on search engines. You can use the Moz Keyword Explorer tool to do this.
While Moz is quite pricey, you can sign up for a free account which gives you ten free searches per month. This should be enough to find some keywords to target—at least initially.
Shiro's Sushi is the top-ranking restaurant website for the term "Sushi restaurant Seattle." It's ninth overall after sites such as Yelp, Eater, and CNTraveler.
Analyzing the restaurant's domain with the Moz Keyword Explorer tool shows it also ranks highly for many other terms.
At the top of the list are search terms related to the restaurant's name. These are not of much use to us.
Looking further down shows the website also ranks for keywords related to the specific area it is located in, as well as terms about Japanese food.
If you were a competing restaurant in the area, these are the terms you could target for your search engine optimization.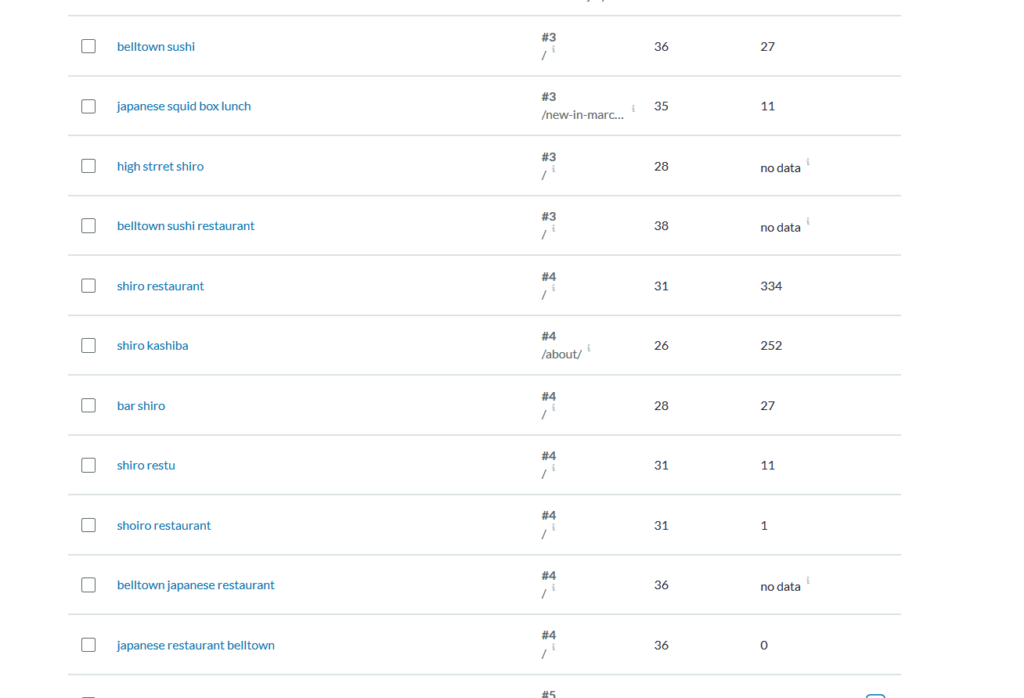 Check the Search Engine Volume
Once you have a list of keywords you need to check the search volume of each one. This will reveal a list of priority terms you can integrate into your restaurant's website.
When you search for competitor restaurants in the step above, the third column shows you the estimated monthly volume for each term on search engines.
To get information about other keywords you can use the Moz Keyword Research tool to search for the monthly volume of specific keywords.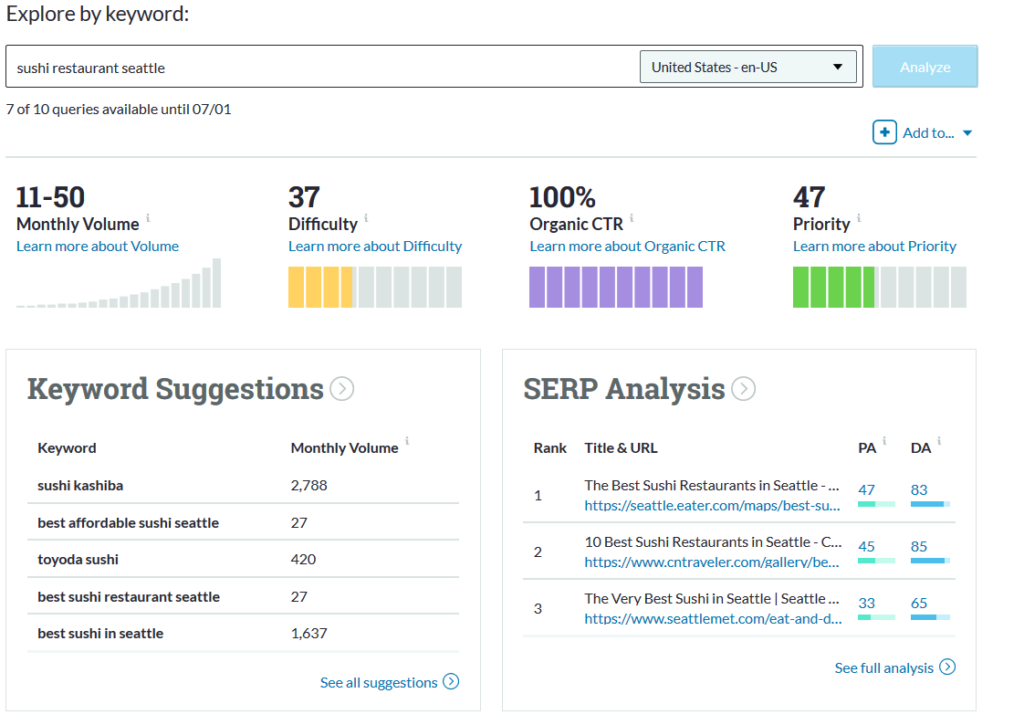 If you run out of free searches on Moz and you don't want to pay for a full subscription, you can use the Google Ads keyword research tool to build your restaurant SEO strategy.
To use the tool head over to Google Ads, sign up for a free account and then click on "Get Search Volume" under the "Keyword Planner" tool. This will show you approximately how many searches a keyword gets each month.
The downside with the Google search tool is the ranges can be quite large.

You should now have a list of keywords and the search volume for each one. Using this data, you can decide which terms to prioritize.
Be aware that some hyper-specific keywords with low search volume may be more useful than broader terms with a higher volume. They will also usually be easier to rank for in search results.
Check the Search Engine Results Page (SERPs)
Now that you know which keywords you want to target, it's time to check the SERPs. This will show you the strategy to use to target each keyword.
Traditional SEO strategies see websites creating original content and link building to rank on page one of Google, but this can be a time-consuming process.
Additionally, many restaurant-related searches are dominated by popular sites like Tripadvisor, Yelp, and local or national publications. This makes it hard to rank a small restaurant website for all but the most niche terms.
By optimizing your Google My Business listing or by getting your restaurant on Yelp, your restaurant's website will show up even for competitive search terms.
First up, let's look at local SEO.
Local SEO for Restaurants
Local SEO will help your restaurant show up on Google and Google Maps when people search for restaurants in your area—for example if they search for "Sushi restaurant Seattle," or "Sushi restaurant near me."
Local SEO is critical because the results appear above all the other listings. Additionally, you do not need an authoritative website to rank. This makes it possible for an independent business to rank higher than larger sites on the results page.
The local SEO results are accompanied by a Google Map embed so the user can easily search for other restaurants. You can see how this looks in the screenshot of the restaurant's Google My Business listing below.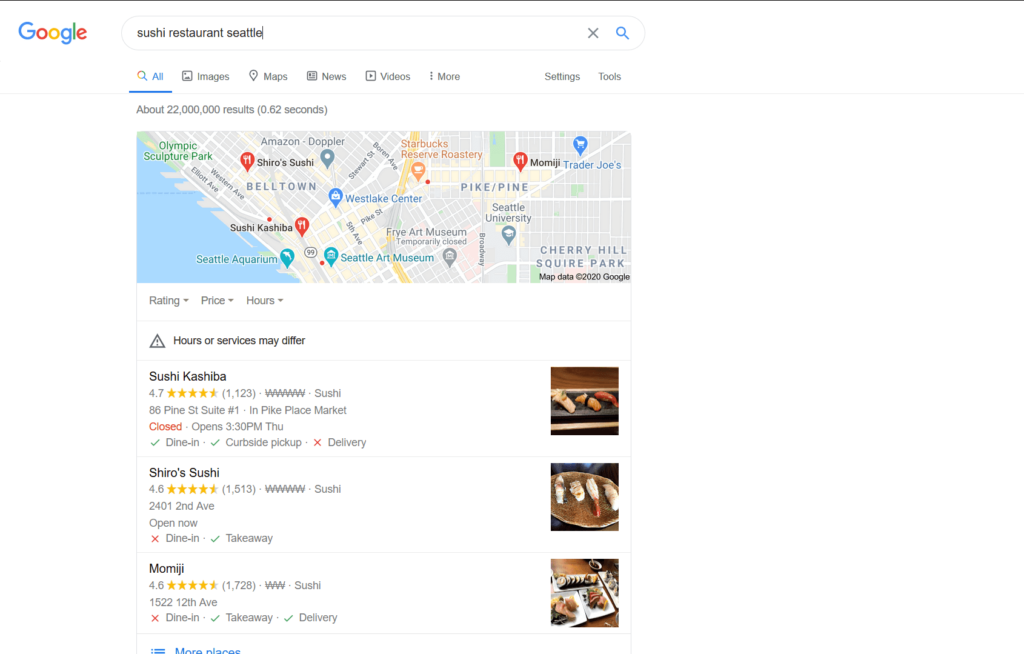 Optimizing your website for local SEO is straightforward. You just have to create a Google My Business listing for your restaurant's website.
Here you enter information about your restaurant such as its address, phone number, opening hours, website, photos, links to your social media platforms and customer reviews.
If your restaurant is in an uncompetitive area, it won't be long before you start appearing in the SERPs.
If there are a lot of restaurants nearby (like in the above screenshot), you'll have to take steps to optimize your listing for local rankings.
According to Google, you can do this by:
Entering complete data
Verifying your location
Keeping accurate hours
Managing reviews
Adding photos

Optimize Your Business Listings on Aggregator Websites
Aggregator websites also commonly rank highly for keywords related to restaurants. On the "Best Sushi Restaurant Seattle" results page, Yelp is at number five and six in the search rankings.
Other websites that may feature in these results include Tripadvisor, Urbanspoon, and Foursquare.
If you can get your restaurant listed on these platforms, potential customers will see your business even if your website or My Business listing does not rank.
The key is to find out which of these websites are in the search rankings for search terms you want to target and then list your restaurant on these sites.
You can find out more about listing on Tripadvisor by clicking here, and more about listing on Yelp by clicking here. It typically doesn't take long for your restaurant to get approved.
Like with Google My Business, you should ensure your profile is completed and manage your online reviews well to get a higher ranking.
Perform Website Outreach
If you notice a publication has a page that ranks for a search term you want to target, it could be worth reaching out and letting them know about your restaurant.
For example, if the publication has an article about the best sushi restaurants, then there's a chance they will feature you.
Some publications have specific guidelines for restaurants or venues that want to be featured on their site.
For example, Time Out New York has a section where you can add a business listing or send in a press release.
For smaller publications, it may just be a case of getting in contact with the editor and sending them a press release.
Any link building you do will also help with the following restaurant SEO step.
Create Social Media Accounts for Your Restaurant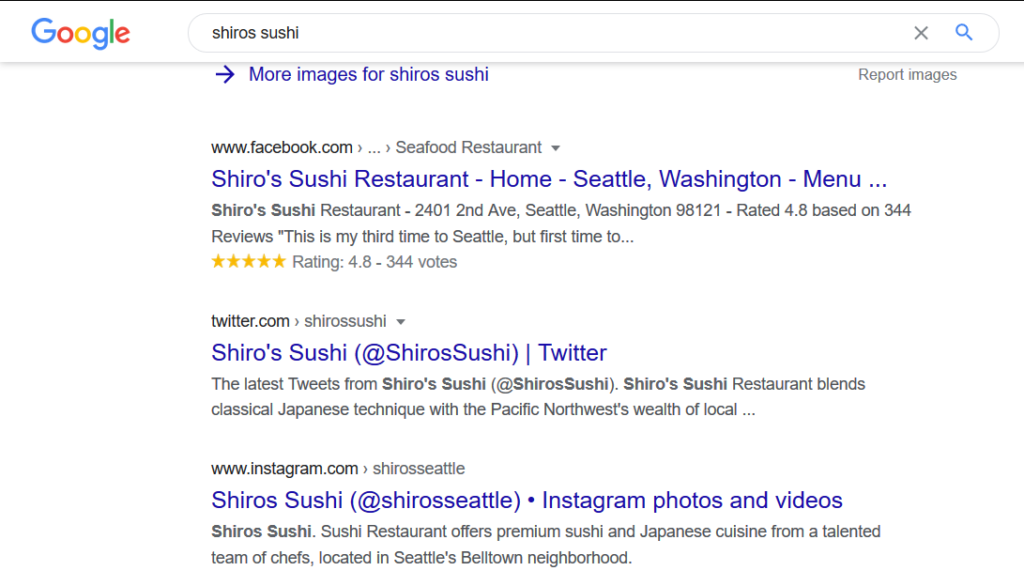 Social media accounts often show up in the SERPs when people search for your restaurant. This means it's crucial to have them, especially if your site isn't up and running yet or if it's new and doesn't rank well on search engines.
Consider making pages for your restaurant on social media sites like Facebook, Instagram, and even Twitter to boost your online presence.
Check out our Guide to Restaurant Social Media Marketing in 2020 for a detailed review of the channels and tactics.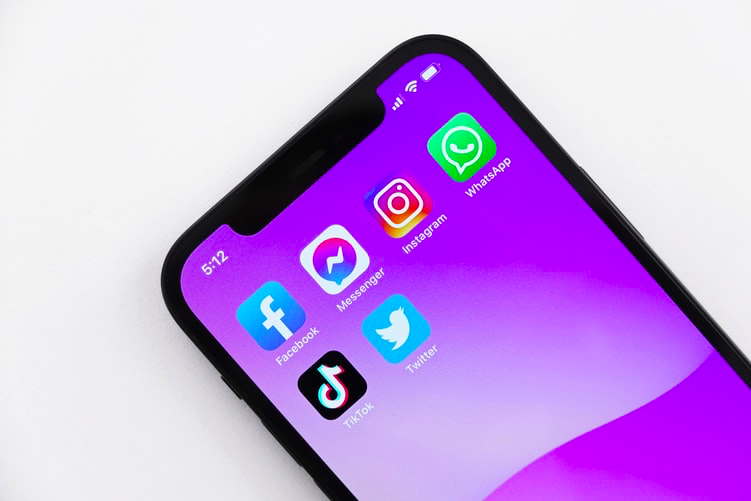 Image: Jeremy Zero/Unsplash
Optimize Your Website for Search Engines
In the above restaurant SEO tips, we've focused on getting your website on search rankings via third parties.
However, you should still put in some effort to rank your website for highly related, less competitive terms.
To get your website to rank, you'll have to take steps to optimize your site for SEO. There are many factors that Google considers when allocating a search ranking. Here are some of the most important ones for your restaurant:
User Intent
Google tries to show the most relevant search results for a term. When choosing which terms to optimize your restaurant's website for, be sure the page you are trying to rank properly matches user intent.
While a sushi restaurant in Seattle may rank for "Sushi Restaurant Seattle," it is less likely to rank for "best sushi restaurant Seattle" as people searching for this term will typically be after a critical opinion or roundup of restaurants.
Therefore, you should target the first term rather than the second.
You can see the type of links Google thinks matches user intent for a keyword by searching for the term and clicking on the pages that rank highly.
Keywords
To let Google know your site is a good match for user intent, you should include the search keywords in the pages you want to rank.
Consider using them in the page title, headings, meta description, introduction, title tags and at least once within the text. You can use a tool like Yoast to guide you on SEO best practices.
Backlinks
Google uses backlinks to decide how authoritative a website is. In theory, websites that people are linking to are more likely to be useful sites on search engines.
Getting backlinks is perhaps the hardest part of any SEO strategy. For restaurant owners, a good outreach program is probably the best idea to reach potential customers.
Consider sending out press releases and building contacts with bloggers and journalists to get them to link to your restaurant's website.
Page Experience
The experience a user has on your page is becoming increasingly important to SEO. Things like slow load times or not being mobile-friendly will result in your website being penalized and banished further down the search results.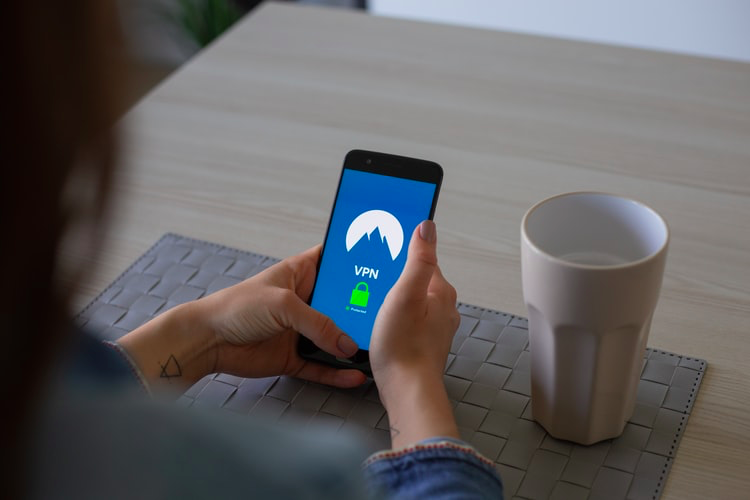 Image: Peter Lagson/Unsplash
Google's PageSpeed Insights tool can help you see how fast your page is and what—if anything—is slowing it down.
Often the fixes are simple things like reducing the size of images or the number of plugins you use on your site.
As for the user experience, accessing your website on a variety of browsers and devices can help you understand if there are any issues. Consider things like:
Is the text easy to read?
Are all images displayed in full?
Do all website features load as you expect?
Can you click on all the right links and buttons?
Is the website optimised for mobile devices?
Boost Restaurant SEO with Schema Markup
Schema markup (also known as structured data) can be thought of as a language for search engines that uses a unique semantic vocabulary. When it gets added to a website, the schema markup creates a rich snippet to help define website content so that search engines can create more informative results for users.
Moreover, schema markup was created as a collaborative project between Google, Yahoo, Bing and Yandex in 2011. You may be wondering how this will impact your restaurant SEO. Simply put, the rich snippets make your website rank higher in SERPs, which has been shown to improve click-through rates.
There are also different data markups for various types of web content, such as articles, restaurants, movies and events. Using schema markups for your restaurant SEO is easier than ever with Google's Structured Data Markup Helper. For a step-by-step guide on how to use this tool, take a look at this link.
Monitor Your Restaurant SEO Results
The final step is to monitor your SEO efforts to check if your restaurant SEO strategy is paying off. While many paid SEO tools offer to monitor specific pages and search terms, for most restaurants the following two free Google tools will be enough.
Google Analytics
Google Analytics provides in-depth data about the people that visit your website and what they do on your site.
Getting it set up is easy and just involves creating an account and then pasting the code on your website. Most website providers make it easy for you to add Google Analytics to your website, although the exact steps you take will vary.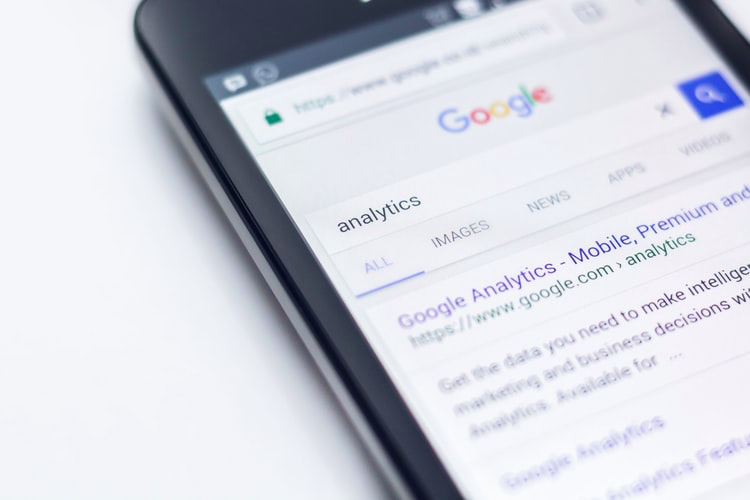 Image: Edho Pratama/Unsplash
Some of the most important things Google Analytics can show you include:
How many people visit your restaurant website
How people access your site, and whether they find it via organic search, direct, social media, referral, or ads.
Which pages they visit.
Where your website visitors are based.
As you build your SEO campaign and efforts, the amount of data you manage will also increase. It can be hard to keep track of the analytics and the large clusters of both unstructured and structured data can appear daunting.
This is where the benefit of leveraging big data analytics comes in. Consider shifting from Google Analytics to software more equipped to handle large volumes if you feel it is necessary.
Google Search Console
Google Search Console gives you a more in-depth insight into how your site performs on Google. Some of the most important things you can do with it are:
Add individual pages to Google so they can be listed.
See how many impressions and clicks your restaurant website and individual pages get on Google.
See which search engine terms you rank for.
Discover site and ranking errors.
Like Google Analytics, setting up Google Search Console is easy with most content management systems. It typically involves signing up to the service then pasting some code onto your site.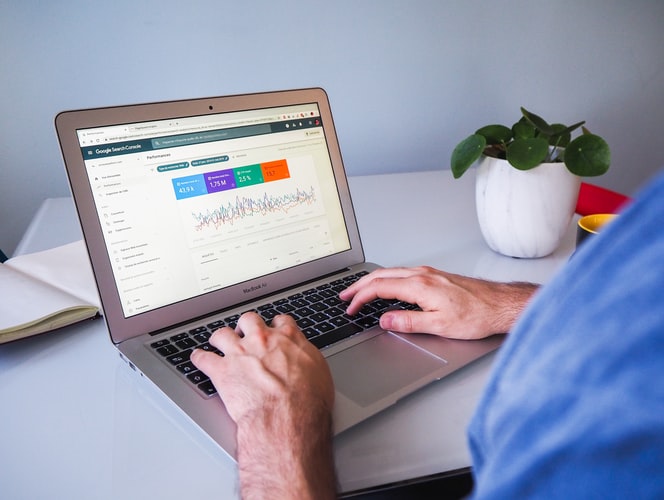 Image: Myriam Jessier/Unsplash
Restaurant SEO: Final Thoughts
Ranking on Google is an excellent way to get your restaurant to show up when people are searching for relevant terms.
Getting your local SEO and Google My Business listing set up is the place to start. You can then fill out your profiles on social media and on various aggregators.
Once you have done this, you can begin to optimize your website to show up in the search engine results for highly targeted search results related to your restaurant.
---