DoorDash Commission Fees: How Much Does DoorDash Charge Restaurants?
How Much Does DoorDash Charge Restaurants?
The numbers – broken down.
DoorDash doesn't disclose their commission rates openly. Reportedly, they can vary from between 10-25% depending on your business and the agreement you sign.
According to one source, the typical rate of commission taken from independent restaurants by DoorDash is around 20%.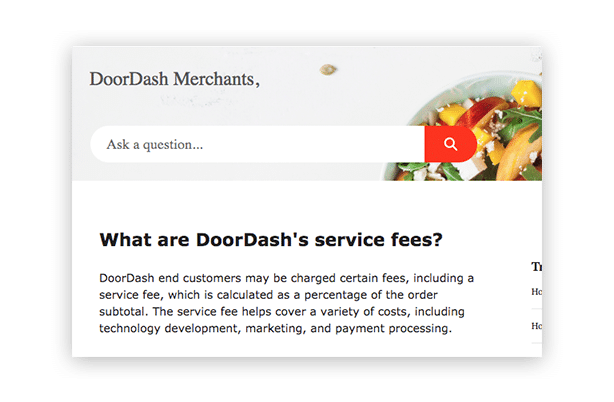 What Alternatives are There to the DoorDash App?
Using AppInstitute, you can build your own takeout app for both Apple and Google Play stores without having to learn any code.
Having your own app is a great DoorDash alternative – with a few benefits you won't get from a third party service.
Here are just a few features you're missing out on: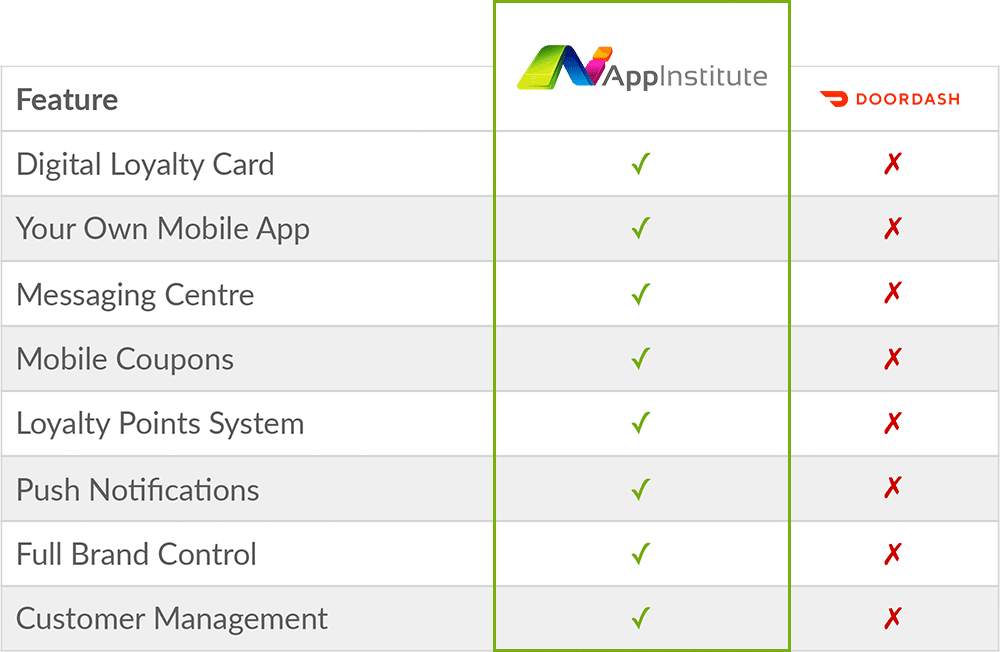 Manage your menu easily with our drag-and-drop editor and add or remove items as your menu changes. Allow customers to add any extras, toppings or modifications and save favourite orders for quick checkout in the future.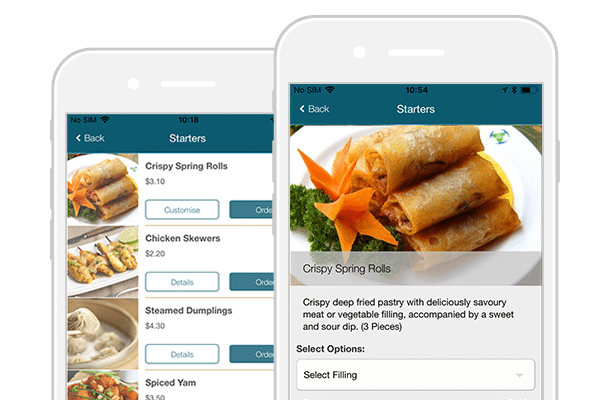 Boost Sales with a Mobile Loyalty Program
Turn one-time customers into repeat business with our suite of mobile marketing functionalities. Whilst aggregator sites like DoorDash encourage once-off business, your own app will keep loyal customers coming back for more.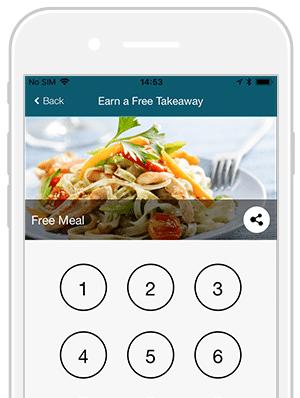 Match Your Restaurant's Branding
Our simple branding wizard allows you to include your restaurant's branding and business information using only your Facebook and Website URLs. Not only does this help you look more professional and credible, but it also allows you to build trust with customers.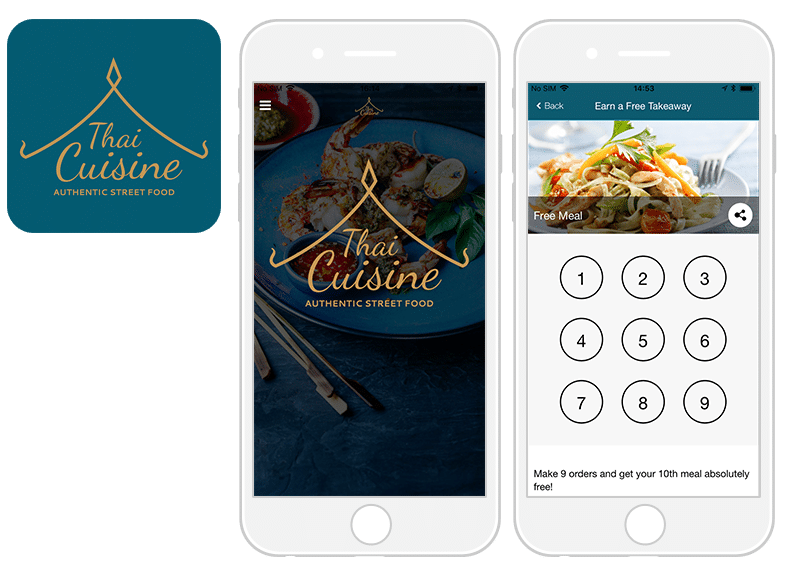 Use Push Notifications to Directly Reach Customers
Push notifications are direct customer marketing channels that let customers know when you've got any food deals, discounted delivery fees or new items on your menu. Utilise geofencing to specifically target people in certain areas and segment your restaurant's audience to deliver more targeted messages.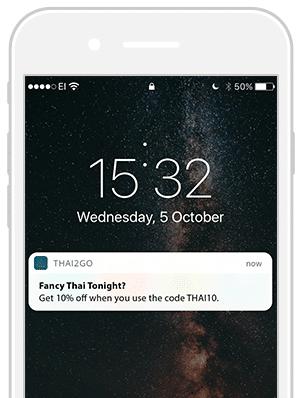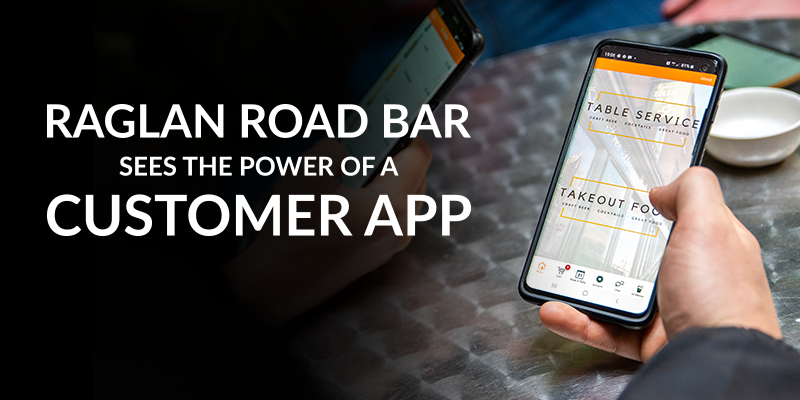 Raglan Road Bar needed a way to generate revenue while the Covid-19 pandemic threatened the hospitality industry.
The bar initially accepted orders by phone or aggregator apps, but soon found the manual payments and commission fees overwhelming.
After researching several options, the owner of Raglan Road Bar decided that AppInstitute was the best solution for its needs.
This was because of our app builder's user-friendliness, templates, loyalty program and contactless ordering services – to name just a few.
Between 4 July and 13 July 2020, this resulted in the following successes:
The app was downloaded 540 times in the first ten days it was available.

The app brought in £10k in revenue, at an average of £1k a day.

The first ten days saw the app process 798 transactions, with an average value of £12.53.

"Operating a bar during the pandemic is unlike anything we've done before. We don't typically provide takeaway or table service, but these two options are now necessary to survive. Thankfully for us, AppInstitute makes it really easy for us to offer both these services to our customers.
-Ged Dowling, owner of Raglan Road Bar
How much commission can I expect to pay DoorDash?
There are three different delivery commission fees depending on how much marketing you want for your restaurant and the size of its delivery area. These plans range from 15%, 25% and 30% for DoorDash and Caviar partners.
Are there any other fees DoorDash charges?
Although DoorDash does not charge an activation fee, certain fees could be applicable for additional products or services. These include:
$6 per week if you opt in for the DoorDash tablet to accept orders.

Promotion fees if you want to include in-app marketing to grow your sales.



If I create an app with AppInstitute, how does it make money?
You can make money from your app by enabling your customers to do more of what usually generates revenue for your business. ie Sell products, food orders, bookings, offer services, all which can be paid for with Credit/Debit Card or PayPal.
Is there a minimum term contract?
There are no lock-in periods with monthly AppBuilder and AppBuilder Pro plans so you can cancel your account at any time. The AppSmart plan requires a 12-month minimum contract.
If I decide to cancel my subscription, what happens to my app?
Your app will be cancelled on the day your account is cancelled and will be unpublished from the Apple App Store and Google Play Store.
Does AppInstitute have any hidden charges?
AppBuilder Pro and AppBuilder Pro+ plans require the creation of your own Developer accounts to submit your iOS and Android apps to the App Stores. Apple charges an annual fee of $99 for this and Google charges a one-off fee of $25.
What can I link my App to (ie websites, databases etc)?
Any web content, or web link can be embedded into the App. ie if you use a web widget like OpenTable for bookings, this can be integrated into your App.
Get an App for Your Restaurant
Get in touch with our team to discuss your requirements
Get an App for Your Restaurant
Get in touch with our team to discuss your requirements
Get your own app to start taking orders without paying commission!