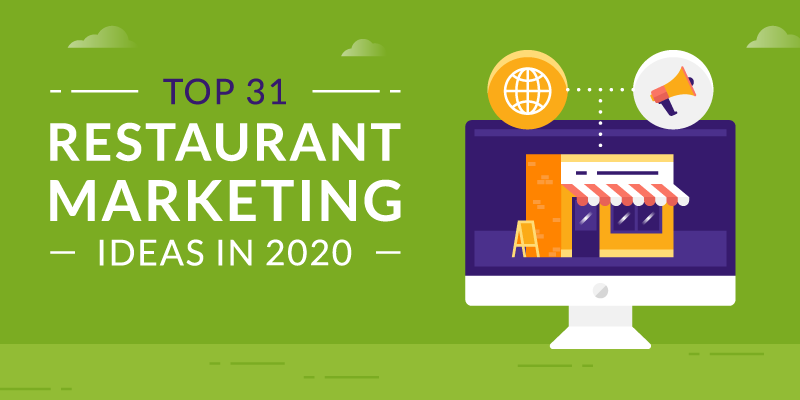 The restaurant business is highly competitive; you can differentiate your business by putting in place an effective marketing strategy.
The first step to successfully marketing your restaurant is to create an in-depth marketing plan (you can see our guide here). This will help you define your brand and ensure you know what your restaurant marketing efforts need to achieve.
This article is a list of 31 different ideas you can use to market your restaurant. These ideas cover the whole spectrum of promotional activities, from getting set-up online to using search and social media, to implementing offline strategies.
Section 1: Website
Create a Great Website
As with any modern business, restaurants must have a website. Your website is where customers will come for information, such as your menu and bookings. It will also act as a central point for your restaurant's marketing activities.
In this post, we looked at 50 great restaurant websites and broke down what each of them does well. It shows there are plenty of things restaurants can include on their website to stand out. However, these are some of the most effective.
Fit the website to the target audience.
Include a menu.
Show high-quality pictures.
Tell the story of your restaurant (more on that below).
Highlight your restaurant's USP.
Let customers book directly.
There are plenty of platforms out there that can help you build a website: WordPress, BentoBox, and SquareSpace are three popular options.
Tell an Enticing Story
Competition in the restaurant industry can be intense. Most restaurants will have competitors nearby with a similar value proposition.
Utilizing your brand's unique story can be an excellent tactic to help your restaurant stand out and make your brand more memorable.
One great example of this is the Indian restaurant Dishoom. In the UK, where Dishoom is based, there is intense competition in the Indian cuisine market. A report from 2017 suggested this would see up to 17,000 restaurants close in the next ten years.
Dishoom is bucking this trend and has recently opened its seventh location. Part of the reason for this is its strong story, which is all about paying homage to an old style of Bombay café called Irani. According to the restaurant's website, Irani were places where those from all walks of life gathered to eat together and share experiences.
While you may tell your story on your website, this isn't the only place it is relevant. Your brand's story will play into all your restaurant marketing efforts.
Use Your Website to Drive Reservations
Many restaurant websites allow customers to make reservations. By making it as easy as possible for customers to make reservations, they are more likely to do so. Automating the reservation process also frees up the staff who would otherwise have had to spend time answering the phone to take reservations.
There are plenty of restaurants that take online bookings. These range from chain restaurants like Pizza Express, to independents like San Diego's Himitsu (pictured below).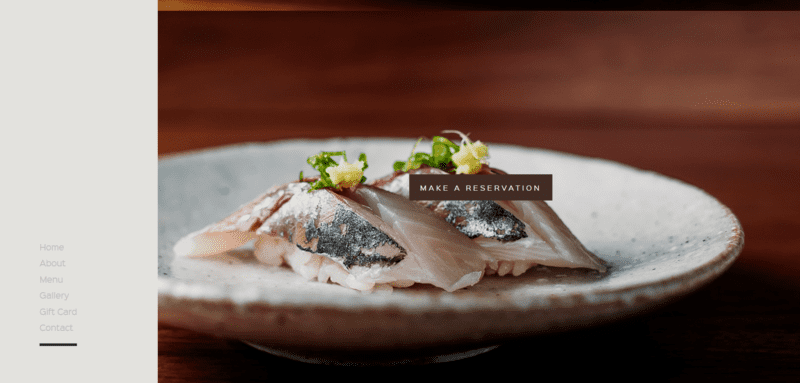 There are many tools available that make it easy for restaurants to offer online reservations, including OpenTable, Tablein, and TableAgent.
Have a Great Online Menu
Eating out is a buying decision. Because of this, you should be sure to give diners the information they need to make a decision.
For restaurants, this means uploading the menu to your website, so customers know what to expect. When you do this, make it enticing to diners. Consider adding high-quality photos taken by a professional photographer and adding well-written descriptions to each item.
Plant Miami does a great job of showcasing its vegan menu on its website as does Home Grown, which includes enticing pictures of every item it serves.
Section 2: Apps
Build a Customer App
As a platform that has helped plenty of businesses build apps, we know how effective they can be as part of a restaurant marketing strategy.
Apps allow businesses to showcase their menu, accept orders, and provide coupons or offers. We found that after 12 months of app adoption, businesses increase both their average spend per order and their average number of orders per customer per month.
Here are some of the ways restaurants can use apps as part of a marketing strategy.
Use a Rewards Program to Encourage Loyalty
Rewards programs encourage repeat customers at your restaurant by giving them incentives to keep coming to your restaurant. The more they spend, the more free gifts they receive. Members of rewards programs have been found to spend more at businesses than non-members.
An excellent example of a restaurant with a rewards program is Chipotle. In this program, customers receive 10 points for every dollar they spend. When they get 1250 points, they get a free entrée.
Of course, you don't need an app to run a rewards program. You can run a simple program with printed cards and a stamp. However, apps make it easy for users to keep track of their rewards and stamps, reducing the chance of loss and engaging users in a more fun way.
Increased revenue per customer isn't the only benefit of better customer loyalty. Loyal customers are more likely to recommend businesses to their friends. This is significant when you consider one study found that nearly half of people speak to friends and family for restaurant recommendations.
Timely Notifications
Restaurants with apps can use push notifications to encourage people to visit the restaurant.
Notifications are an effective way to get in touch with customers. As most people have their mobile device with them at pretty much all times, notifications mean you can get through to customers wherever they are.
According to some studies, push notifications have a 26 percent higher open rate than email. Here are some ways your restaurant could use notifications:
Send reminders about bookings to decrease the chance of no shows.
Send offers to users to encourage them to come to the restaurant.
Use geo-targeting to send notifications to customers when they are nearby the restaurant.
Send notifications at times when users may be considering what to eat. For example, late on a Friday afternoon.
Provide Coupons or Offers
Businesses can use in-app coupons to encourage customers to eat at their restaurants. Vouchers can be used in a variety of ways:
Encourage the sale of certain items, for example, those with a high-profit margin.
They can be used to encourage people to visit restaurants during quiet times or days.
You can use a coupon to encourage people to visit in larger groups.
The app for Outback Steakhouse has a good offer section called the "Offer Pouch." This section includes all the coupons, specials, and rewards a customer can access. The offers have a clear expiry date which encourages customers to visit the restaurant by a specific day.
If you need more inspiration, here's a resource on businesses who are currently utilizing the power of coupons.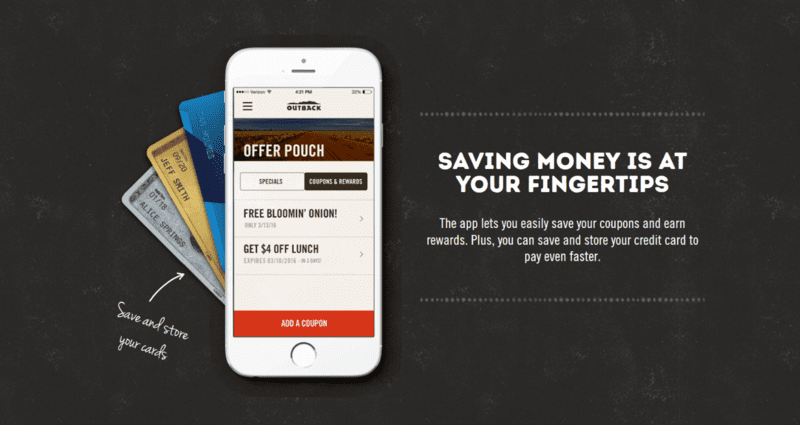 Other restaurants that provide app users with regular offers include Pizza Express, which gives customers free Prosecco on their birthday as well as other personalized offers, and McDonald's, which resets its in-app offers every week to keep things fresh for customers.
In-App Ordering or Reservations
An app is an excellent way to make it as easy as possible for customers to order food or make a reservation.
If they decide to eat at your restaurant, perhaps after receiving a timely notification, being able to order straight from their phone may increase the chances of customers making the purchase.
Check out how App Institute customer The Chippy Antrim has integrated the ability to order food within its app.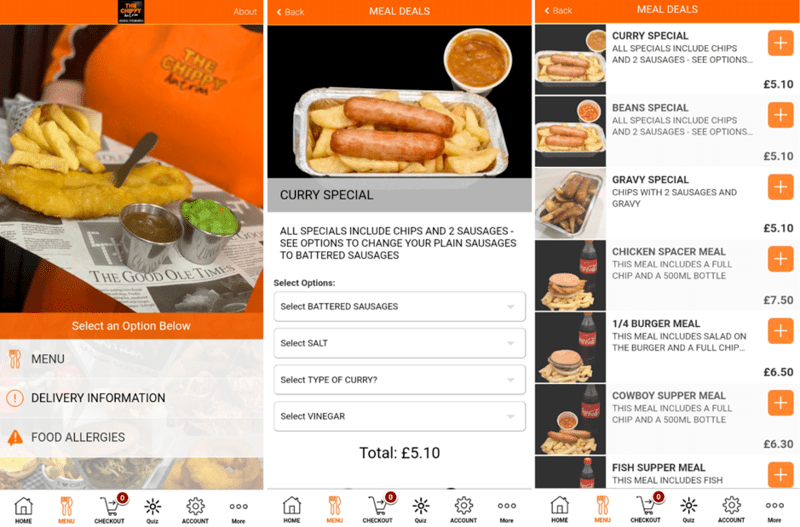 Users can easily browse the menu, select which food they want, and then place the order by credit card all without ever having to leave their phone.
Using the AppInstitute, restaurants can enjoy the functionality provided by apps like Just Eat or Uber Eats while building a personal connection and without the hefty transaction fees.
Section 3: Social Media
Build a Buzz With Social Media 
Social media is the perfect place for restaurants to market themselves. When advertising on social media, you should first consider the best platform. For many, this will be Instagram, although Facebook is also popular. You should then consider how the posts you share will reflect your brand values and attract the correct social audience.
In the following sections, we'll go over some tactics you can use when marketing your restaurant on social media. If you want a more in-depth look at how restaurants can use Instagram, check out this article.
Lyfe Marketing and Thrillax have produced more general guides that you can check out here and here.
Create Highly Visual Dishes
It's no secret that social media users love taking pictures of their food and sharing information about where they have eaten. Restaurants that can take advantage of this are at a distinct advantage and could potentially generate some free advertising.
Perhaps the easiest way to do this is to create dishes with social media in mind. Focus on how your restaurant presents its food, and if there is a way that you could make it more visual.
There are plenty of ways you can gain inspiration. A quick check of Instagram will show you the type of food people are sharing in your cuisine of choice (#italianfood or #burger, for example). Beyond this, YouTube channel Food Insider features a lot of highly visual creations, while Cheese Insider shows that if all else fails, drowning your food in cheese is a sure-fire way to get plenty of hits.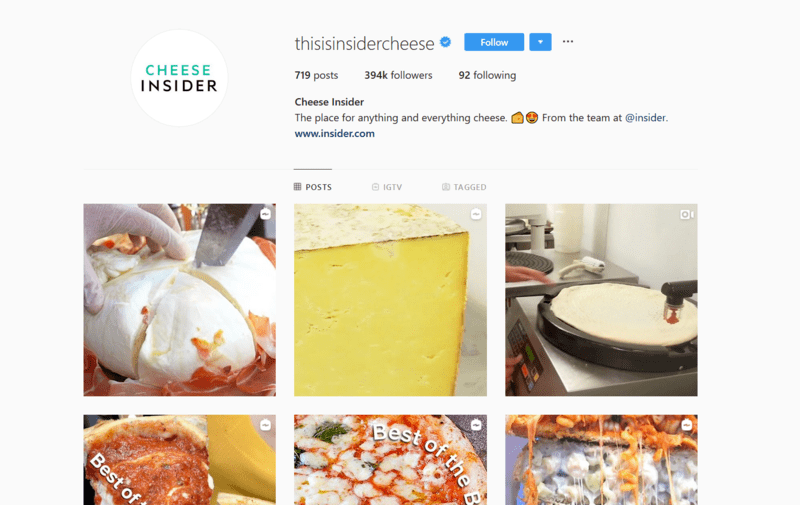 Run Giveaways
Running giveaways through your social media sites can be a great way to encourage your existing audience to come out to your restaurant and spread the reach of your pages. When creating a giveaway, you want it to be something that will both appeal to your customers and be in a form that will encourage them to share the offer.
This example from Che Restobar shows how to use giveaways to encourage existing customers to share your restaurant. The example below shows how restaurants can use social media giveaways to increase followers and shares.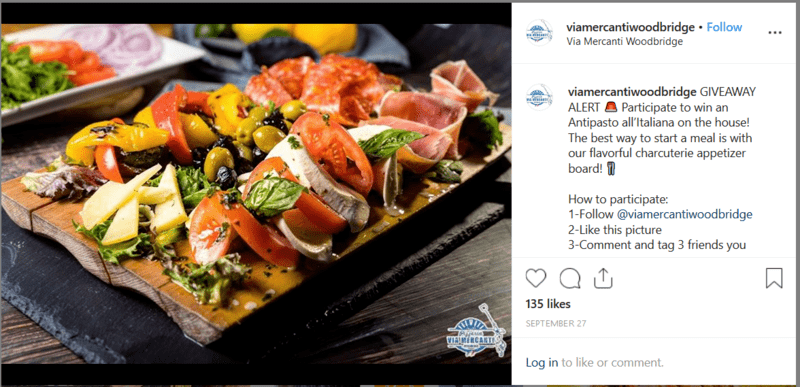 Utilize Relevant Hashtags
Hashtags can help your restaurant gain visibility on social media. Using the relevant hashtags makes it easier for people to search for and find your restaurant.
You can use hashtags on Facebook, Twitter, and Instagram. Instagram is perhaps the best place to use them as the service's visual nature makes it a great place for restaurants and because users can follow specific hashtags (here's how).
Commonly, restaurants use hashtags relating to where they are and the type of food they sell. When choosing hashtags, visit the social media profiles of your competitors to get an idea of popular tags. Check the example below.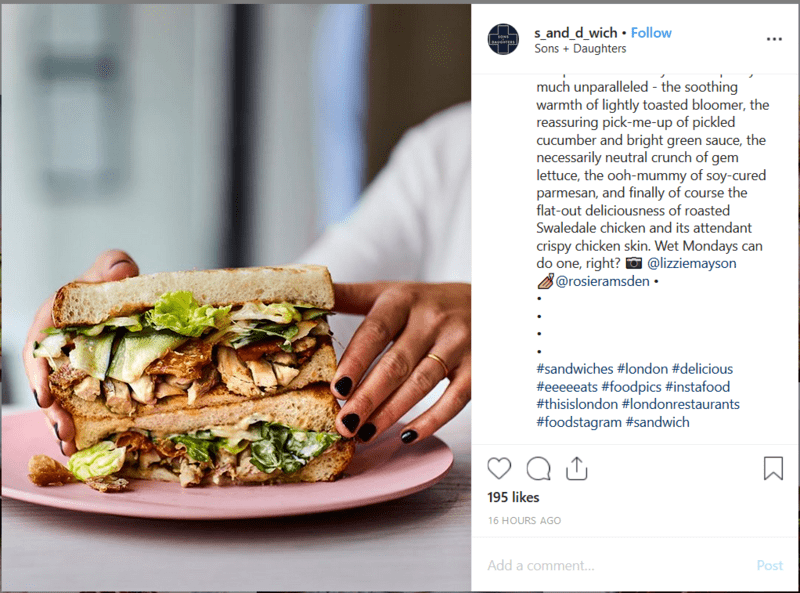 For more information, you can also refer to this Later.com post, which goes into a ton of detail about how to use hashtags in 2020.

Utilize User Content
There are two ways to utilize user-generated content. The first is to reshare content posted by your customers. Many users take great pictures while eating at your restaurant, and by sharing them, you have a free source of high-quality content.
Restaurants can do this on their main feed, although it is also commonly done using Instagram's stories, which feature so brands can stay on-message on their main page. Here is a look at how SweetWafflesandBoba shares customer stories on Instagram.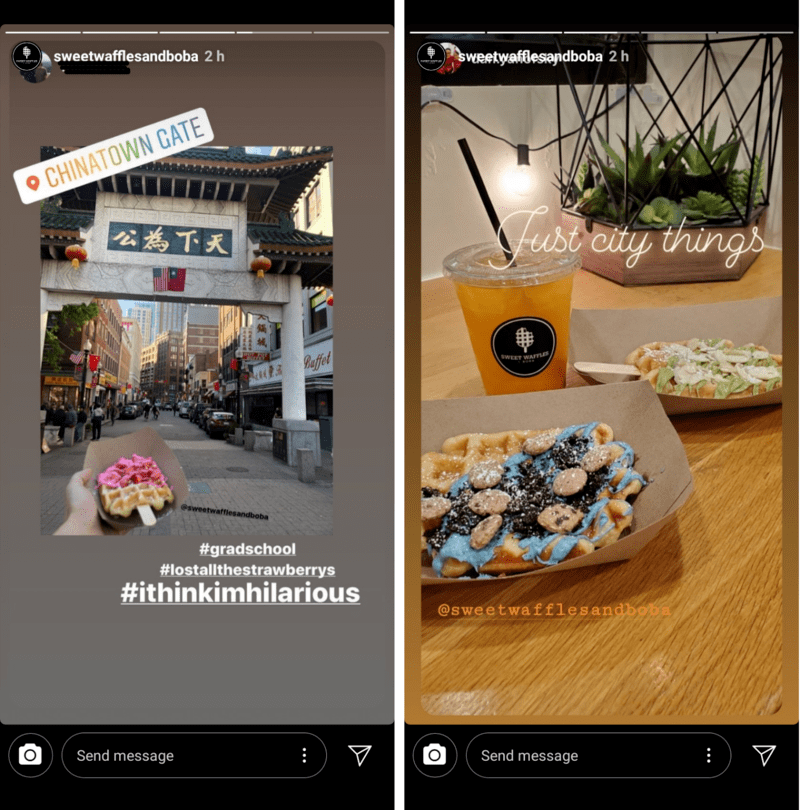 You should always get permission to share user content before sharing, though. Tools like Stackla make this easy to do if you have a large number of users. If not, reach out to people who share photos of your food and ask for permission.
The other way to use user-generated content is to encourage users to take pictures and upload them to their sites in exchange for a gift. This could be a discount, a free dessert, or some restaurant merchandise.
While most of your customers probably have relatively small social media followings, they are likely to be highly targeted, and once you have encouraged a few people to share, your restaurant will have been exposed to a good-sized audience.
Run Paid Ads
Paid social media ads are a good way to extend the reach of your restaurant beyond your current audience.
It can be cheap to run a campaign, and social media targeting features mean you can put your ad in front of the exact people whom you think will be interested in your restaurant.
In short, when creating ads, it's important to:
Be clear about what you want the ad to achieve (social media likes, awareness, restaurant visits, etc.).
Have a clear and appealing offer.
Know your target audience and target the ad to this audience.
Use high-quality images and text.
Test different versions of your ads to see what is effective.
We have a more in-depth guide to social media adverts in this post, as well as one specifically for Facebook that you can check out here. If you want to learn more about advertising on Instagram, Buffer has a great post you can check out here.
Don't Forget Email
Email is a great way for restaurants to contact their customers directly. Email marketing is popular due to its ROI, which some sources suggest can return almost $41 for every dollar spent.
Restaurants can use email marketing in several ways. Promoting food and events is an obvious way. However, simply advertising will soon result in your emails being confined to the spam pile. Instead, encourage customers to open your emails by ensuring each one has plenty of value. This could be in the form of offers, interesting recipes, or stories about the restaurant.
If you're interested in using an email marketing strategy at your restaurant, check out our complete guide to the topic here. Or, take a look at some of the most popular email marketing platforms, including MailChimp and GetResponse.
Section 4: Search Engine Optimization
Master Search Engine Optimization
Getting your restaurant on search engines can be a great way to market your restaurant. It'll ensure people can find your restaurant when they are trying to decide where to eat.
While it isn't easy to get to the first page of Google for high-volume searches, restaurants can use local SEO and their Google Business listing to increase the chances of being found for lower volume searches.
These lower volume searches are often more valuable anyway. While it is highly unlikely that someone searching for "Mexican Food" will ever be able to visit your restaurant, someone searching for "Mexican food near me" is practically begging to find you.
If you want to learn more about SEO, then check out this article which lists nine strategies restaurants can use to show up on Google.
Optimize Your Restaurant for Local SEO
Local SEO helps small businesses get in front of people in their local area. It helps them show up in search results when users search for queries like "restaurants near me," or "Mexican food in Birmingham." Focusing on local SEO can be effective; back in 2018, Google said that 48% of all searches have local intent.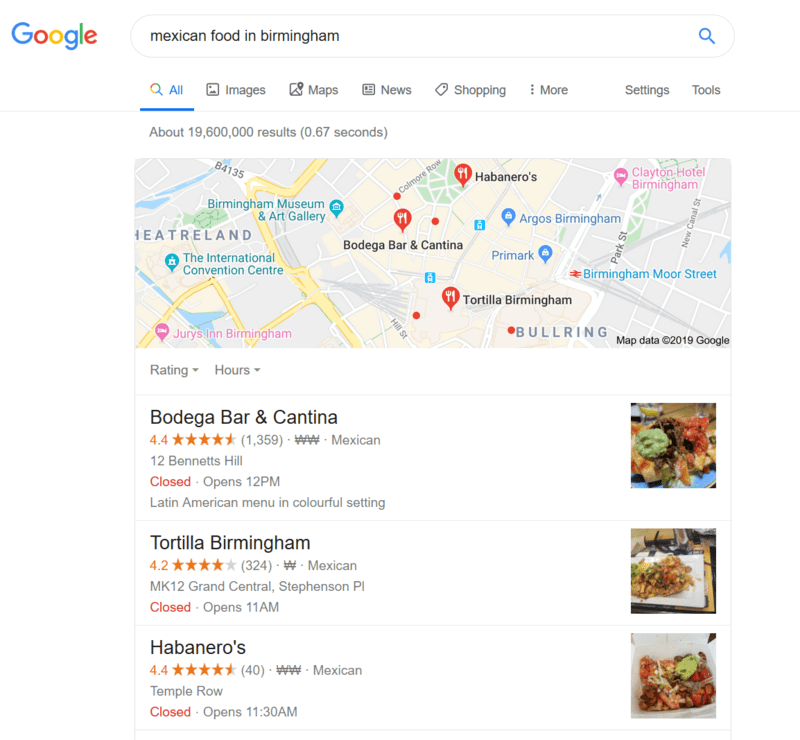 Local SEO takes a variety of different factors into consideration. These include how relevant your service is to the searcher, how close your business is, and what others are saying about your product. Perhaps the most critical part of your local SEO is your "My Business" listing. This listing contains information about your company and service. We go into further detail below.
Google Business Listing
It's easy to set up a Google Business listing; do so at the following link. When you set up the listing, you'll need to enter your business's address, opening hours, website, contact details, and photos. Searchers will then see this information when they come across your business page, alongside customer reviews, critic reviews, and a questions and answers section.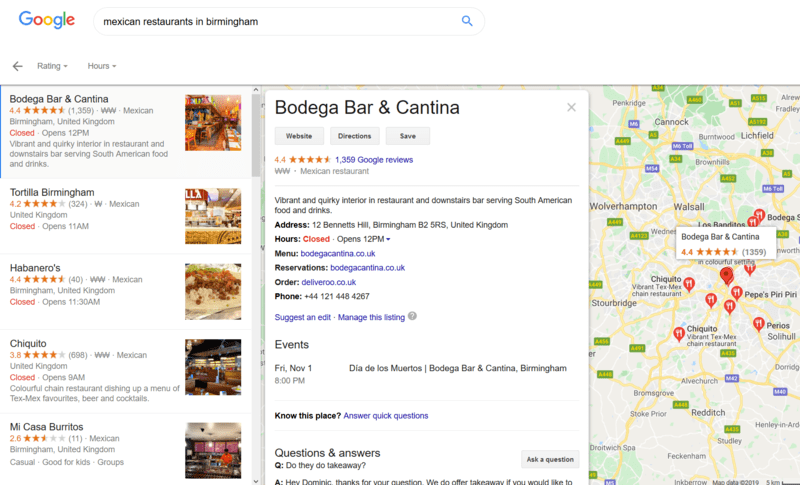 As well as the main Google Search results, this listing will also appear when users search for restaurants on Google Maps.
For more information about Google My Business, check out this in-depth guide on Bright Local or this one on Search Engine Journal for information about how to optimize your listing.

Run Google Ads
Using search ads isn't that common in the restaurant business. However, it does happen (here's a guide from the Digital Restaurateur).
The good thing about using ads is that it puts you at the top of the search results for the term you choose. Choosing the right targeted search term could be an excellent way to get visitors to your site and, ultimately, your restaurant. This will make it more likely that you end up with a positive ROI.
Like social ads, Google ads are pretty cheap to get started with, meaning you could experiment with placing adverts with a few different search terms and with various offers without losing too much money if it isn't effective.
As an example of how to use search ads, check out how Rib Crib target the term "Family restaurant Wichita" in the case below.

Utilize Customer Reviews
According to payments platform Square, the top two ways people decide which restaurants to visit are personal recommendations and online reviews. Online reviews were cited as the most likely form of endorsement by 35 percent of survey respondents.
Of review platforms, 28 percent of people found Google reviews to be their favorite source of reviews. This was followed by reviews on Facebook and then Yelp.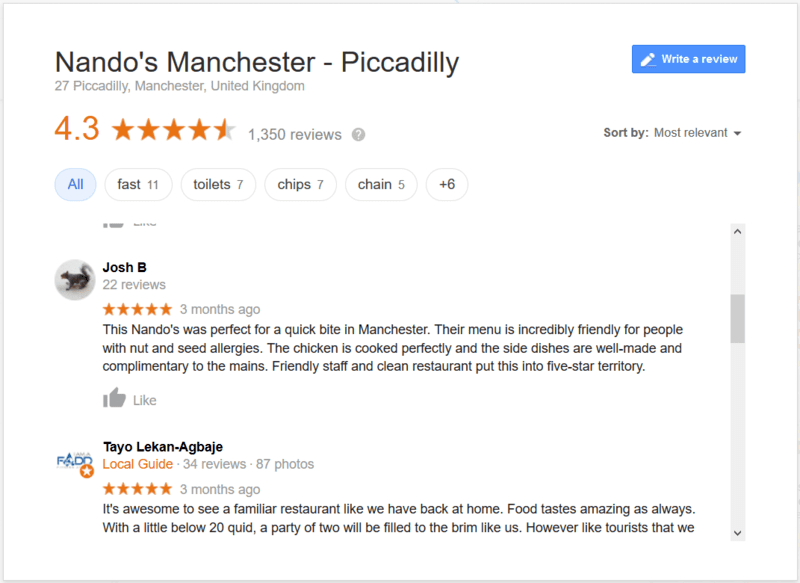 Based on this report, it is essential restaurants get good reviews. While large businesses with plenty of customers will likely get reviews organically, newer restaurants with smaller customer bases may find things more difficult.
You can do several things to help. Ensuring you set up your Facebook and Google business profiles correctly will make it easier for customers to find you and leave reviews. Additionally, to get things started, you can request feedback from your customers.
Section 5: Offline
Deploy Effective Offline Restaurant Marketing Strategies
Many of the tips we've looked at so far have covered promoting your restaurant online. However, offline marketing shouldn't be ignored, and it can be a great way to get your restaurant in front of a large number of people in your community.
It can also be useful if your restaurant mainly targets a group of people who are less literate when it comes to technology.
Offline marketing comes in a variety of forms, from paid ads to media outreach, to the way you present your restaurant to the outside world.
Many of the tips below feature in more detail in our ultimate guide to offline marketing that you can see here, while POSist has a guide specifically relating to offline tactics restaurants can use.
Offer Business Packages
Catering events can be a great way to increase sales. This is because the event will usually require a large amount of food, meaning you'll sell more than you would otherwise.
Businesses especially often require food for events and meetings. To target this type of customer, you should create special packages which will include the food and drink you will sell as well the equipment you will provide.
Subway is a restaurant that offers a catered option – their platters are easy to share, and the food is simple, so there isn't much mess. Meejana is a Lebanese restaurant with a more inclusive catered option that goes as far as to provide staff and entertainers where required.
When it comes to promoting these packages, make it clear in your restaurant that you offer catered services. You can also use your website and social media to promote the service.
Another option could be to take out paid adverts in places with many businesses. The restaurant in the image below promotes its service in the lobby of an office building in Glasgow.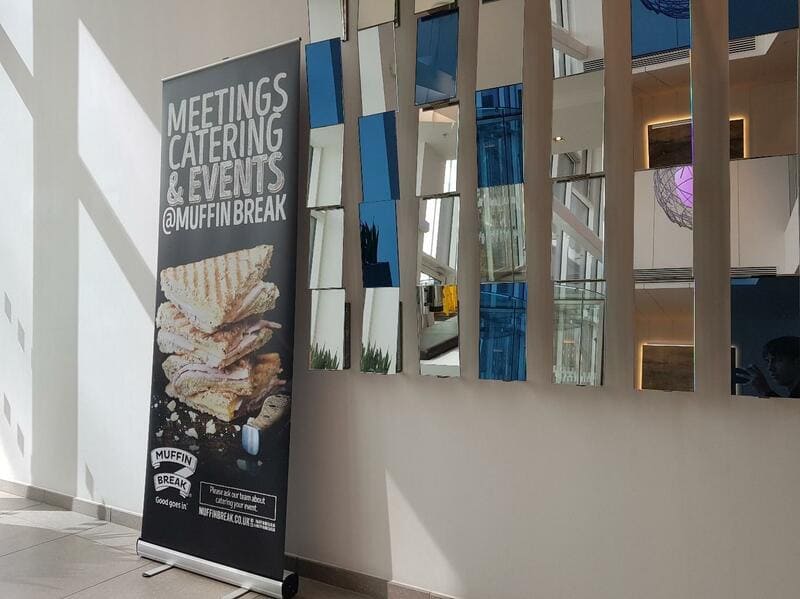 Use Sponsorship
You can use sponsorships in many ways: from associating your name with an event to giving a prize to a raffle, to sponsoring teams or venues.
When it comes to sponsorship, the critical thing is ensuring the organization you are sponsoring has an audience similar to the one you want to target. Examples of this could be a local family restaurant providing a prize to a local school's raffle, or a pub near the stadium sponsoring a sports team.
You should also be comfortable with the fact that once you agree to a sponsorship, your brand will be associated with everything to do with the recipient of the sponsor. You should also ensure the sponsorship fits in with your overall strategy and, while it may be difficult, have an accurate way to measure ROI.
Moz has a useful guide to how small businesses can use sponsorship over on its blog, while GetGist has one specifically related to event sponsorship.
Pay for a Billboard
Billboard advertising could be effective for the right restaurant, and it is something that appears to be growing in popularity with restaurant owners, especially with the emergence of digital billboards.
If you want to experiment with this kind of advertising, perhaps the most important factors are what you include in your advert and where it is. A well-placed billboard near to your restaurant with a good offer could encourage passers-by to visit.
Billboards may also be less expensive than you think. Marketing Donut found the average cost of a billboard advert to be around £200 a week for a large 48-sheet ad or £300 a week for a bus stop on a high-street with high footfall. These prices mean it doesn't require a huge increase in customers for the price of the billboard to become worth it.
One thing to note is the regulations in the area you operate. For example, since 2018 restaurants have not been allowed to advertise junk food on the Transport for London Network.
Attend Events
Attending events and serving your food at these events can be an excellent way to get your food in front of a new audience. Events like food festivals, local celebrations, or music festivals are attended by many people from the local area and often allow restaurants to sell food.
On their own, these are a good chance to earn extra income. However, by making it clear to event attendees that you also run a full-time restaurant, people who attend these events and enjoy your food may be encouraged to visit your restaurant at a late date.
To increase the chances of this happening, think about providing those who buy something at your event stall with a discount or an offer they can take up when they eat at your restaurant. Also, be sure to come armed with marketing materials you can hand out, so people are easily able to find your restaurant again after the event.
Find festivals by searching on Google for events in your local area. Alternatively, providers like TasteFestivals put on shows in major cities around the world.
Send Out Press Releases 
Restaurants can use press releases to gain coverage in local media. To do this effectively, you should first do something that warrants a story. This could be a new or interesting menu or product, an event, a charity tie-in, or anything else you think warrants media attention.
To increase your chance of being featured, consider the following tips.
Find suitable publications. This could be local newspapers, blogs, or magazines. Also, be sure to find the appropriate contact information to use when reaching out.
Write a press release with everything the publication needs to cover the story. This will include quotes, high-quality pictures, and key details.
Consider making yourself available for an interview.
If the press release is about an event, consider sending one both before and after the event takes place. Also, invite the publications to the event so they can cover it in more detail.
For more details about actually creating a press release, check out this post on CoSchedule.
Partner with Other Businesses in the Local Area
Linking up with other businesses in the local area can provide a win-win situation for both parties. With partnership marketing, two businesses with similar audiences promote each other's products to their customers.
Here are some examples of how restaurants could partner with other businesses in the local area:
A restaurant could use products from a local farmers market. They could advertise that they use the market's products. In return, the local market would promote the restaurant to its customers.
A health food restaurant and gym could partner up to provide discounts on each other's products.
A restaurant could serve beer from a particular brewery, while the brewery could brew a beer designed to go well with the restaurant's signature dish.
Put on Events
Sometimes people need a bit of a push to encourage them to come out to your restaurant. One way you can incentivize them is by putting on an event.
There are a considerable number of events restaurants can put on. The one that works best for yours will ultimately depend on your audience. A quiz may not work that well in a fine-dining restaurant, for example.
The key to putting on an event is promoting it (here is our guide to event promotion). Advertise the event within your restaurant as well as on your social media presence and website. You could even send out a press release if the event is particularly newsworthy. Local publishers are often happy to create stories about unique events.
If you want to create an event, but you're stuck for ideas, why not check out our list of 60 restaurant events ideas for some inspiration.
Use a Referral Scheme
We mentioned in a point above about how recommendations from friends and family are one of the top things people take into account when choosing where to eat. One way to encourage this process is to use a referral scheme.
With a referral scheme, customers receive a benefit when they recommend the business to a friend. Sometimes the friend will also receive a discount. This makes it more likely that a customer will recommend the restaurant, as well as increasing the chance that the person being recommended to will take up the offer.
Many restaurants run referral schemes through social media. For example, when restaurants ask diners to share a photo of their meal for a discount. Another simple way to run a program is to provide loyal customers with a discount when they physically bring a friend who hasn't been to your restaurant before. This type of program may work best for smaller restaurants who have a good idea about their existing customer base.
Zizzi is a pizza restaurant that lets customers (or anyone actually) email a friend a £10 discount voucher. If the friend then uses the voucher, the referrer also receives a £10 voucher.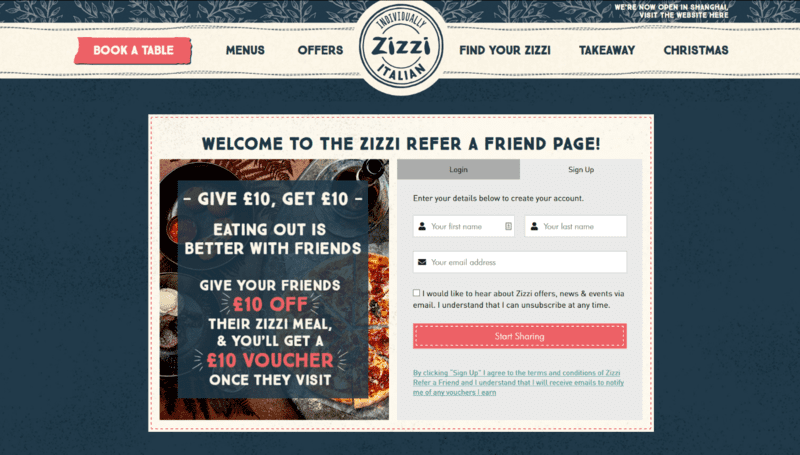 Use Your Window Space
Many restaurants are in areas with high foot traffic. Making your restaurant exterior as appealing as possible can help bring in customers. There are many things you can do to ensure this is the case. Be sure to have a clear sign, for starters.
You could also consider making it visible what type of cuisine your restaurant sells, for example, by posting pictures of food in the window. Including special offers can also help get people through the door.
Rewards Network has a guide to designing effective restaurant signs you can see here.
Mamak, a Malaysian restaurant in Sydney, has a unique way of drumming up interest from passersby. Their kitchen is right next to the window, meaning those walking by can see the chefs creating the restaurant's famous Roti.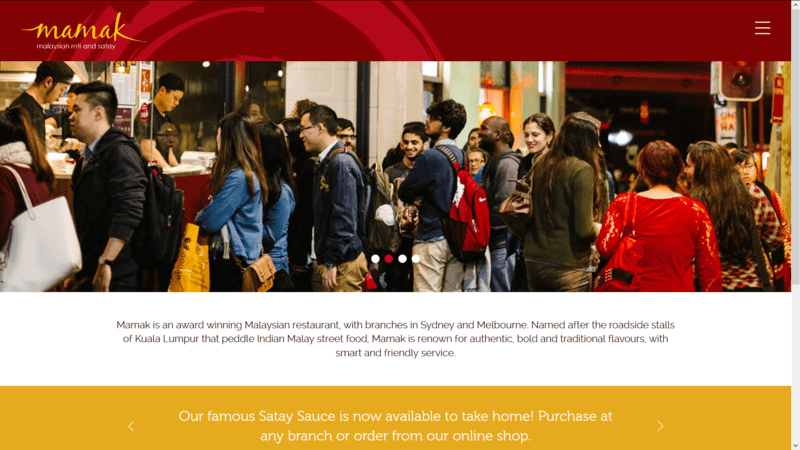 Wrapping Up
In this article, we've looked at a ton of marketing ideas your restaurant could implement. Hopefully, you like the sound of some of them and are inspired to try them out.
---