Make your own Takeaway Food Ordering App
Let customers order food directly from your own branded Takeaway App.
✓ Increase order frequency and size
✓ Improve customer loyalty
✓ Stay top of mind
Start Building Build it for me (FREE)*
*Free Setup, Subscription Required
Make an App for your Takeaway in 4 easy steps

1. Start with an app template
The takeaway template features a gorgeous food ordering menu, checkout system and loyalty program.

2. Brand your app's appearance
Upload your logo and design your colour scheme in seconds using your Facebook page or website.

3. Customise your menu easily
Add your menu items, customise your toppings and upload photos of your dishes with our simple editor.

4. Launch your takeaway app!
With a few clicks, you can launch your app and place it in your customers' hands.






Online Ordering System for Takeaways
Built-in features to boost business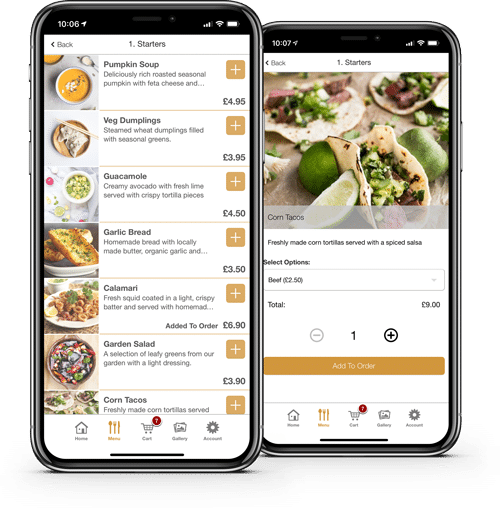 Smart Food Ordering
Build your menu with our simple drag-and-drop suite to create an intuitive food ordering experience for your customers – without having to write a single line of code.
Add all of your dishes and options for extras like toppings, sides and garnishes to give your customers a professional ordering experience.
Your new app's online ordering system will integrate seamlessly with an Android powered wireless printer, meaning you can automatically print orders and send them to your kitchen with ease.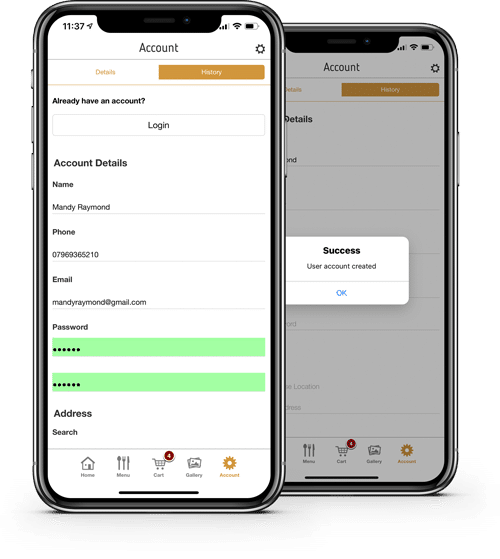 Simple Account Creation
Allow your customers to create their own account and save their favourite meals and orders to keep them coming back for more. Give your users all the benefits of a site like Just Eat, without the margin stretching commission rates.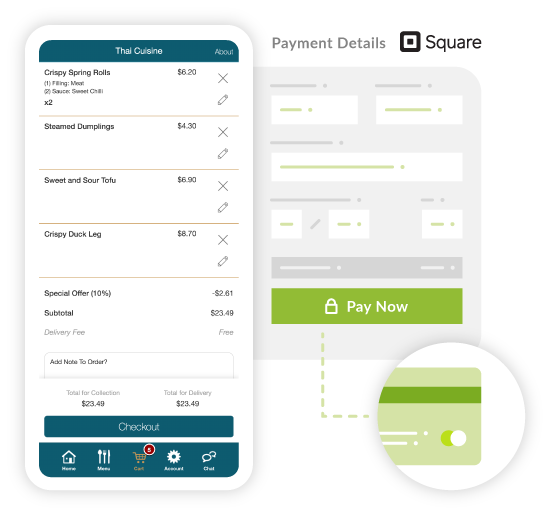 Easy Payment Integration
Take card payments using your preferred payment gateway directly through your mobile app. Our takeaway app builder integrates with a variety of popular gateways, as well as offering the option to take payments through PayPal or cash on delivery.
We're online and ready to help you create your free app right now.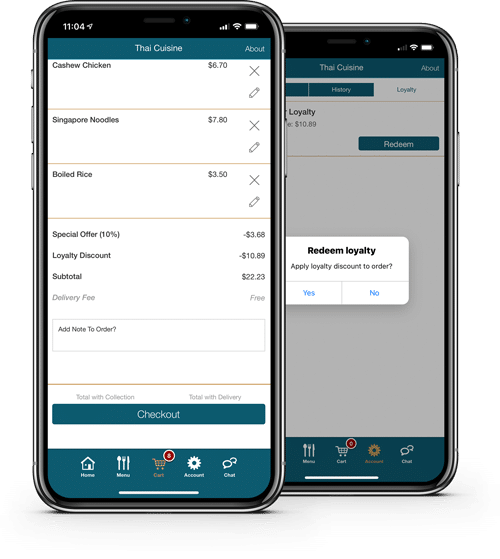 Reward top spenders with discounts at checkout
Incentivise loyalty by offering a discount and check-out for your top spending customers. Simply set up a minimum spend amount and loyalty percentage and give your best customers a reward for their business.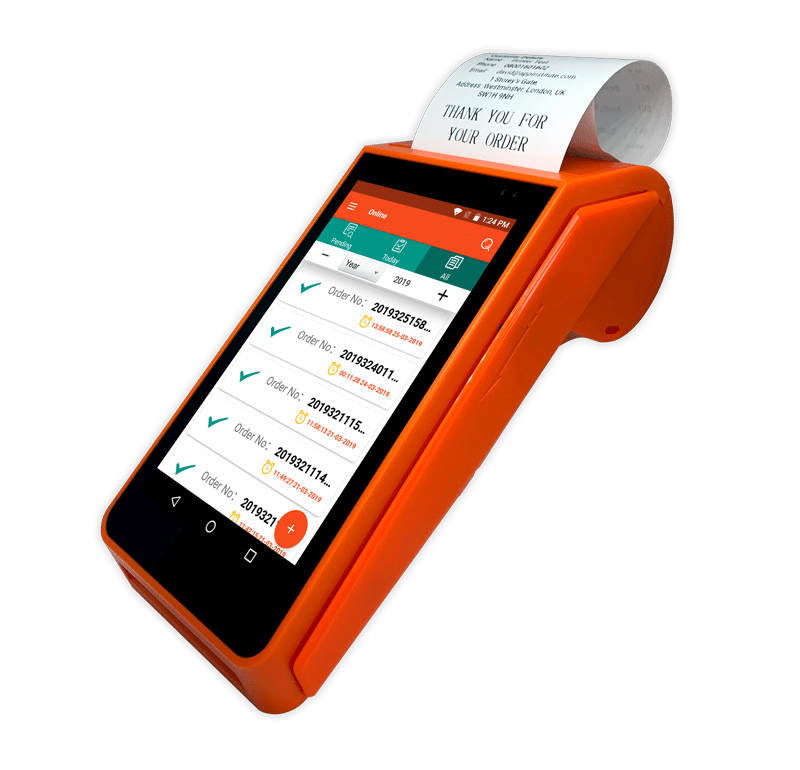 Your own wireless order printer
Our Android powered wireless printer integrates seamlessly with your takeaway app and prints off orders ready to to go to your kitchen – giving you your own online takeaway ordering system.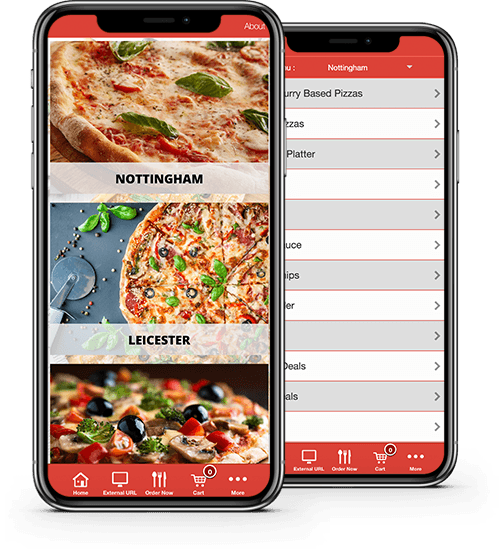 Advanced multi-location support
Does your takeaway have multiple locations? No problem.
Create multiple menus for each location within one app and allow customers to easily find the right location to order from.
Connect your printer to each location to make managing your restaurant chains simple.
We're online and ready to help you create your free app right now.
Grow your business with our powerful app features
Customise your app with any combination of our built in features.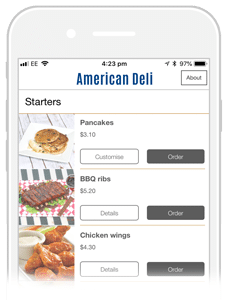 Food Ordering
Perfect for Takeaways and Restaurants. Offer food ordering services from your own app.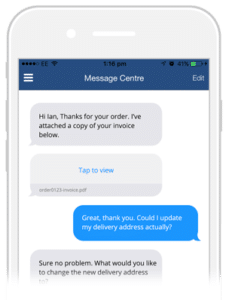 Messaging Centre
Communicate directly with individual app users with your own secure chat centre and send attachments.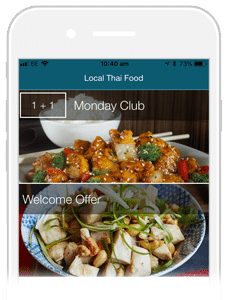 Mobile Coupons
Drive sales and incentivise app downloads with redeemable coupons with set start and expiry dates.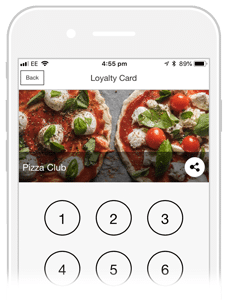 Stamp Card
Customise your own stamp card and even create midpoint offers to keep your customers coming back.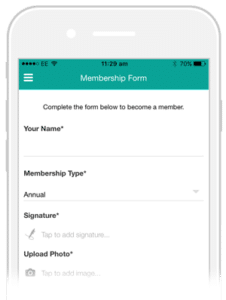 Form Builder
Create a form for anything with features like photo upload, text and signature fields.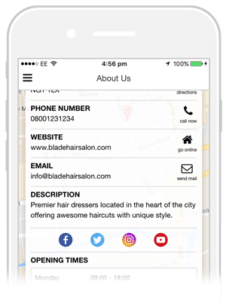 About Us
Provide contact details, directions, social links and your opening hours from one easy to access tab.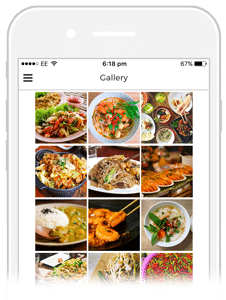 Gallery
Promote your products, staff or events and allow users to rate your photos.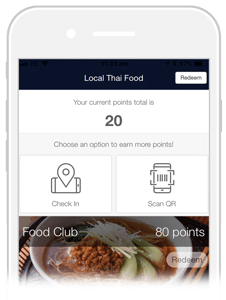 Loyalty Points
Let customers earn points to redeem again rewards by checking into your business.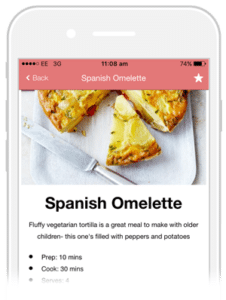 Add Content
Add text, upload images, embed videos or use custom HTML to create unlimited pages of content.
Don't have time to build your app?
We'll do it for you! Hire a pro from £349+VAT FREE (limited time only)
Don't have time to build your app?
We'll do it for you! Hire a pro from $499 FREE (limited time only)
Get in touch to see how we can create a food ordering app for you.