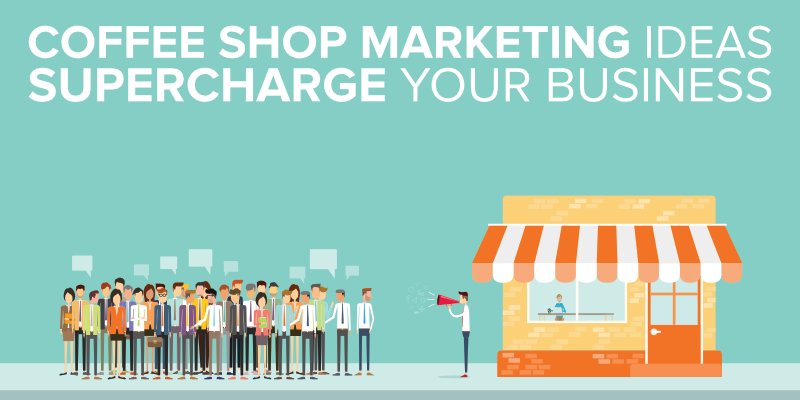 There are so many powerful ways to market your coffee shop that we can't wait for you to dive into this article. We know that most cafe marketing budgets are low, so most of the core strategies we will look at today are either free to implement or extremely affordable. Let's get cracking…
Google
The first thing to do when using Google to market your coffee shop business is to think about how people will find you on the search engine. Google is the place where many brand discovery journeys begin, and it's certainly apt for seeking out coffee shops. Of course, there are other search engines to consider, but we'll focus on the big G because it has such a dominant search engine market share.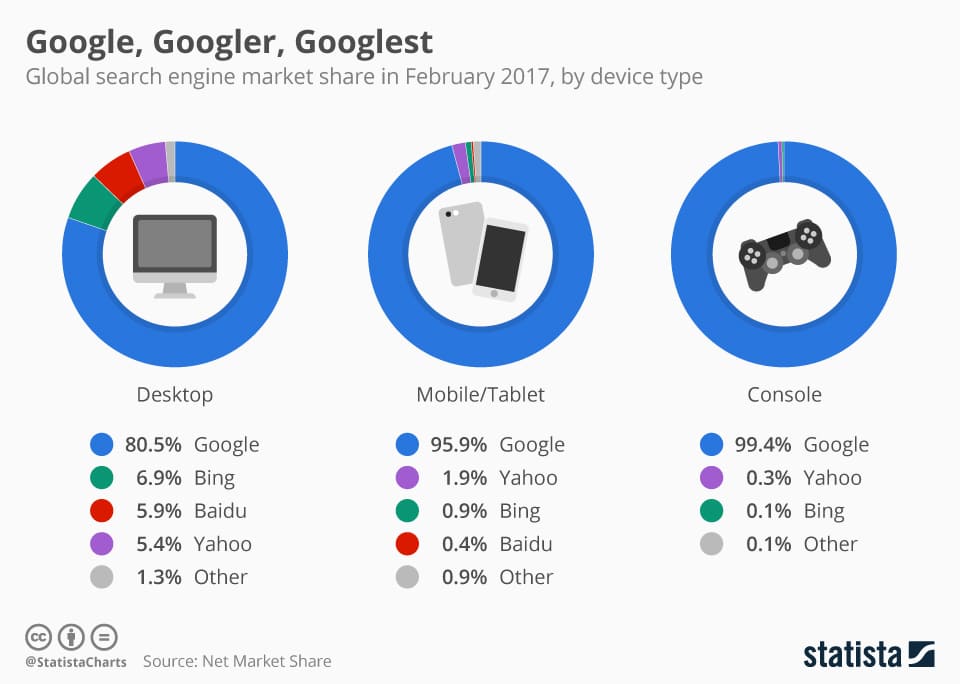 Top tip: It's worth paying attention to alternative engines like Bing as well because it tends to be used by an older audience. There's a tendency to focus marketing efforts on The Yoof, but older people have more money and also have a penchant for hanging out in coffee shops! It's not all trendy hipsters with their Flat Whites, you know.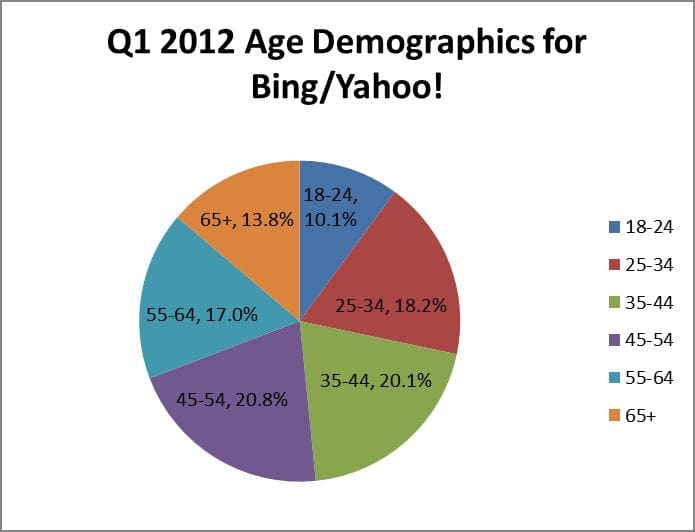 SEO
To market your coffee shop successfully on search engines, you need to pay a lot of attention to search engine optimization (SEO).
The trick is to find the main phrases people type into Google to find coffee shops and include those "keywords" in your content in a natural, unforced way.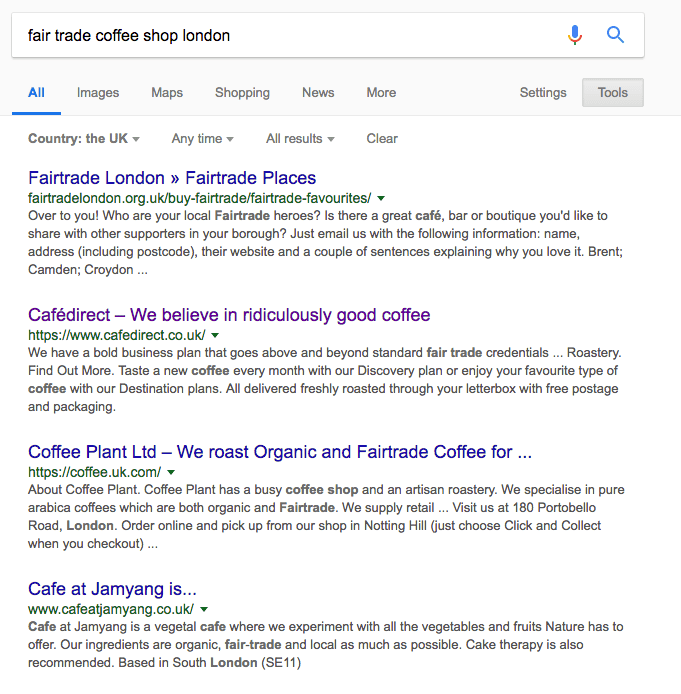 Notice how, in the above example, it's fairly hard to rank for "fair trade coffee shop" because the SERP (search engine results page) is dominated by coffee bean manufacturers. Either that or lots of coffee shops are missing out on the opportunity.
Cafe at Jamyang is doing well to rank on the first page for this term. Notice the easy way they incorporate the keyword in the line "our ingredients are organic, fair-trade and local as much as possible" in their page's meta description (the bit of text under the URL that displays on search results).
Only use keywords if they are useful signposts to users that your page is relevant to their search. Find natural ways to use them or don't use them at all.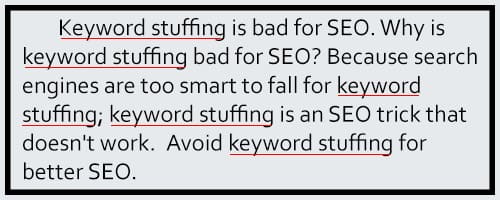 Top tip: "fair trade coffee shop" would be a good term to rank for small and independent coffee shops because of the poor ethical performance of many high street chains and the growing interest in sustainable consumption.
Finding keywords
A quick trip to a site like Wordstream.com will give us a handy list of frequently used search terms…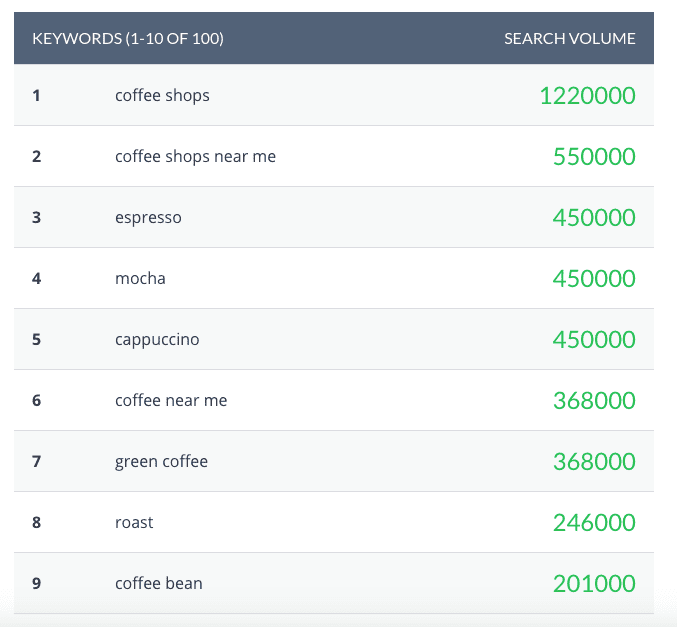 The largest coffee search term is "coffee shops", more than double the volume of the second biggest search, "coffee shops near me".
This is very good news. It means that a majority of coffee search terms are from people specifically looking for coffee shops.
Notice the second largest search term is "coffee shops near me". It's a no-brainer to focus on this term for your marketing. The other useful search term from the Top 100 is #6: "coffee near me" (368000 search volume). A lot of the other keywords are general coffee searches, not necessarily related to finding coffee shops, or searches for established brands like Costa and Starbucks. When using keywords, you should work out which ones will actually bring you customers rather than just getting you high in the rankings.
Google Maps
Given that Google is a major source of brand discovery, as demonstrated by the above keywords, you should put a big focus on getting your Google Maps listing optimized.
Google Business
You'll need to register your coffee shop with Google Business to get listed on maps on the results page.
It's free to do so and it's an absolute priority if you haven't registered already.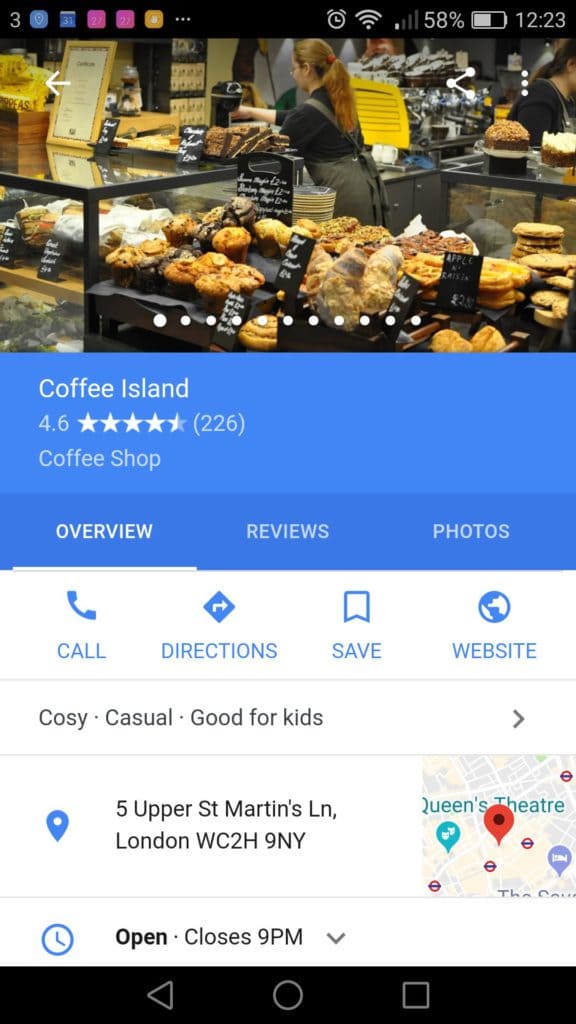 Here's the SERP for one of London's top indie coffee shops, Coffee Island: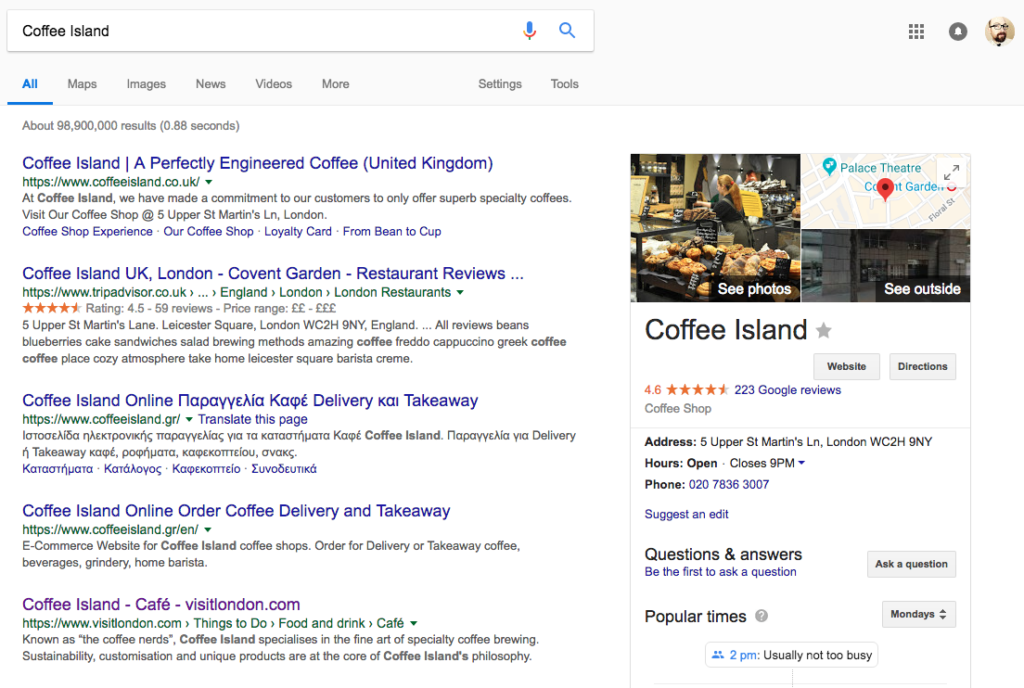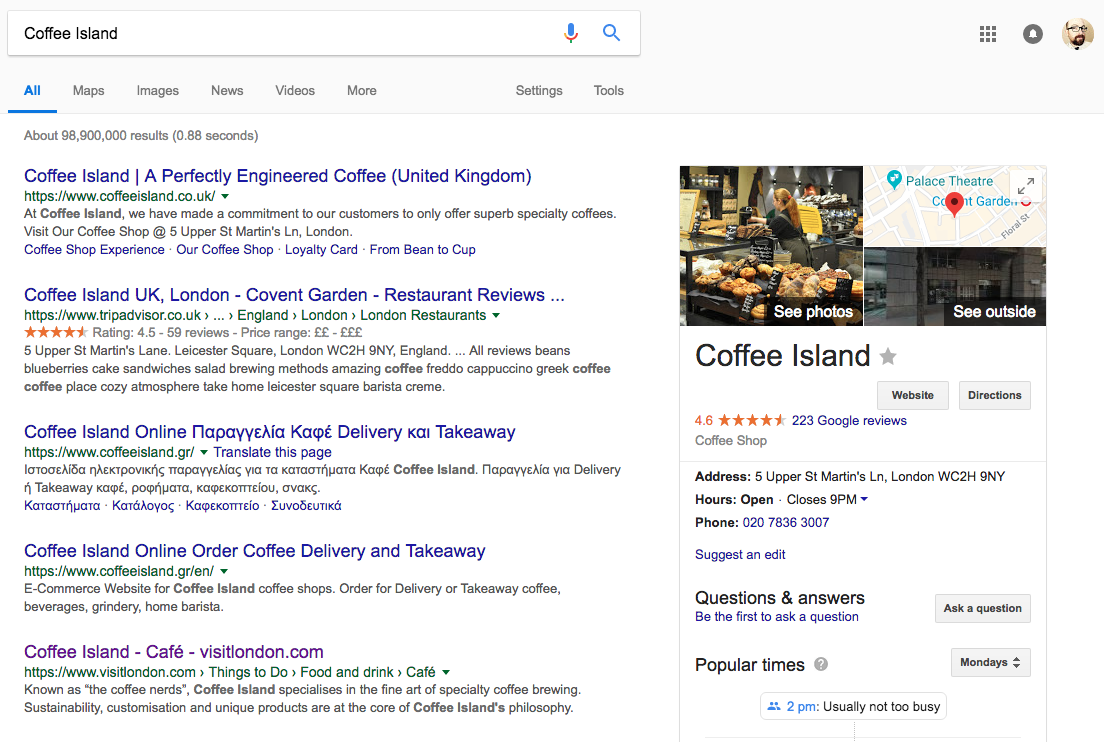 We can see a map thumbnail, photo gallery, opening times, and contact details all in one place. A plethora of 4 and 5-star reviews reinforce the message that this is a popular coffee shop and worth our attention.
The Photos section is particularly useful as a marketing tool. It's an opportunity to show off your shop. If we check out Coffee Island's pics we can see they have a stylish, appealing looking interior decor, and a range of photogenic coffees and snacks.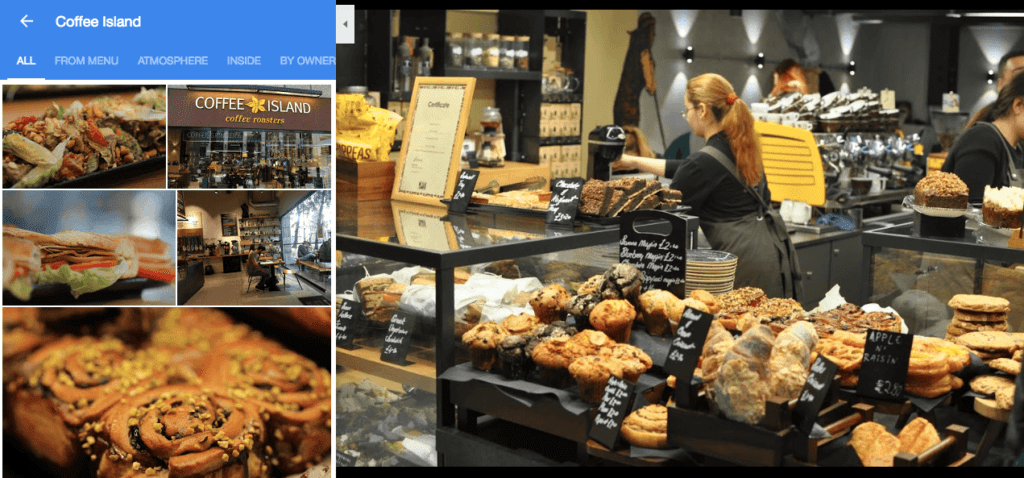 The visual side of marketing your coffee shop can't be overlooked. People make assessments about businesses using their primary senses, and the vibe a coffee shop gives off is very important to customers, even at a subconscious level.
Notice how users can search the photos by categories such as "inside" and "atmosphere".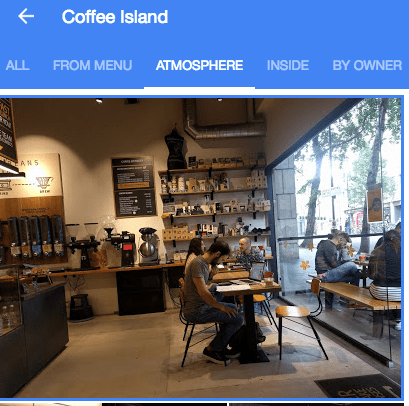 They'll be using these shots as clues as to whether it's worth checking out your shop.
Google likes photos. The more photos you add, and the quality of those photos, helps Google work out if you are a legitimate business or not and will help your search rankings no end.
Top tip: It's worth hiring a professional photographer for a day to take high-quality photos that show off your coffee shop in its best light. The only thing worse than no marketing is shoddy marketing.
---

---
Social media
When it comes to acing social media marketing for your coffee shop it's always worth learning from the best.
Twitter
If we jump on Costa Coffee's Twitter feed we can see they have a nice big cover image to show off their brand, a simple yet well-designed logo, and a branded handle (@CostaCoffee, not @costacoffee123).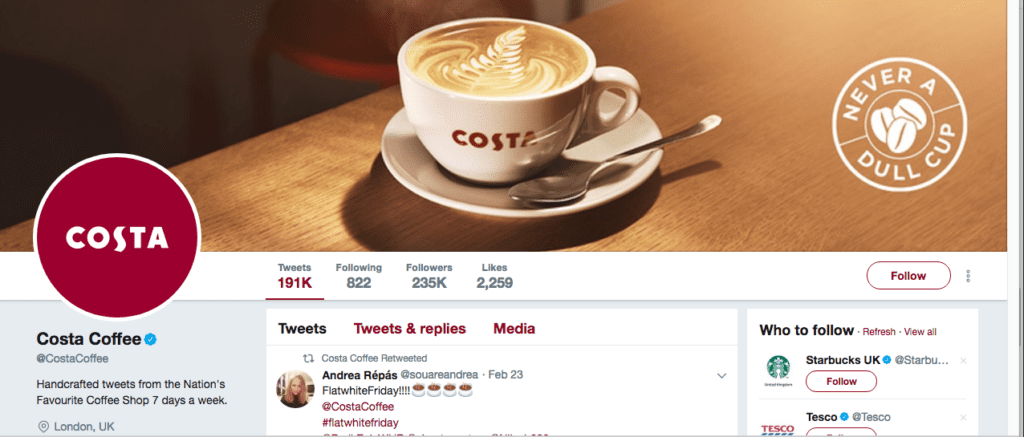 They use their account to tell their followers about their products and offers, but they also make an effort to create a sense of community by retweeting other user's tweets.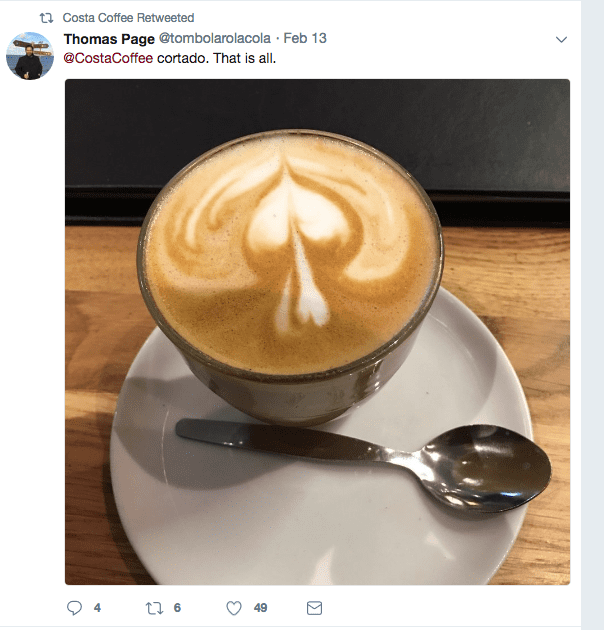 They also take every opportunity to demonstrate that they are engaging with issues of corporate sustainability like promoting their reusable cups.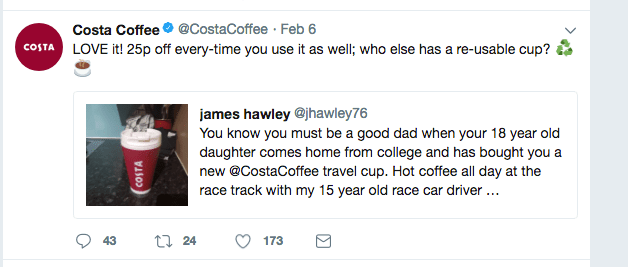 It's important to make your social feeds feel as human as possible. Big brands can often struggle to do this, but this is an area where indie coffee shops can really thrive because they have that more personal touch. Your social feeds should reflect this.
In our view, a lot of indie coffee shops aren't particularly hot on their Twitter use. This is probably because using social media is time-consuming, and most small shops operate using skeleton crews. The upside of this is that if you maximize your Twitter use you can easily stand out against your rivals.
The Steamie is one of Glasgow's top coffee shops and they have an attractive Twitter page that looks very hip.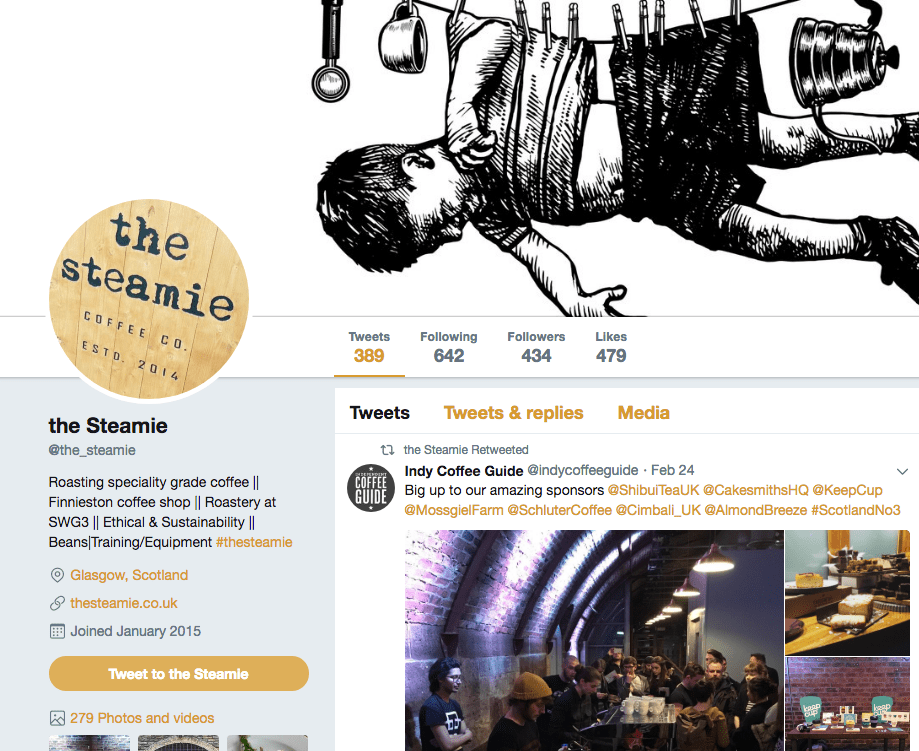 They get a fair amount of love on Twitter.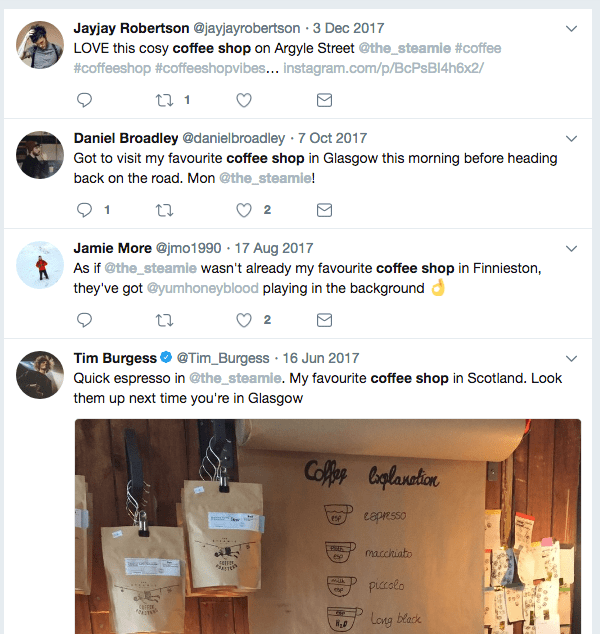 The key trick with Twitter, as with all social media, is to engage with other users.
If you are being shown love on Twitter you should see this as an opportunity to market your coffee shop. Thank people for their comments, and respond with and humor where appropriate.
Using Facebook
Facebook Wi-Fi
Facebook Wi-Fi is a great way to build your Facebook page whilst offering free internet access to your customers.
Having free and easily accessible Wi-Fi is absolutely essential to the health of your business.

You simply buy a Facebook Wi-Fi enabled router for around £60-80 and then customers "check-in" to your page to gain access to the internet.
Competitions
Another great way to grow your page is to run a competition. If we jump on Facebook we can see a good example of competition in action: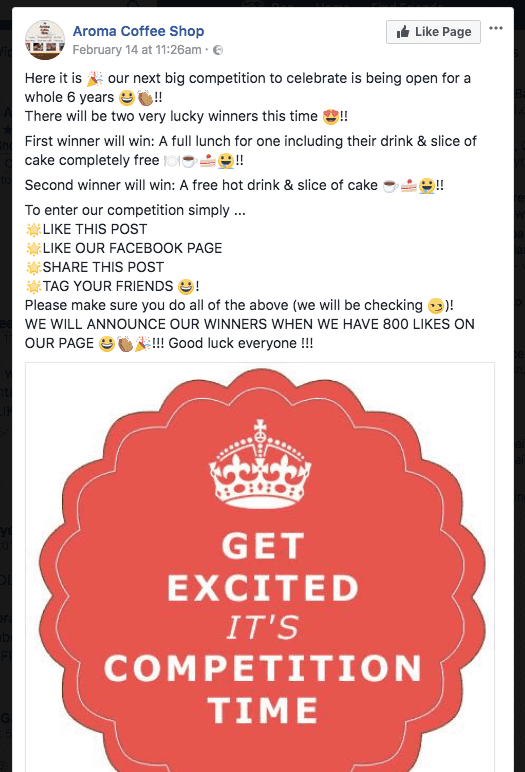 Notice how the Aroma Coffee Shop page is giving away two prizes (a free lunch for the winner and a coffee and cake for the runner-up) in exchange for users…
Liking and sharing the post
Tagging their friends
Liking the Aroma Coffee Shop page
The result is a high level of user engagement with the post.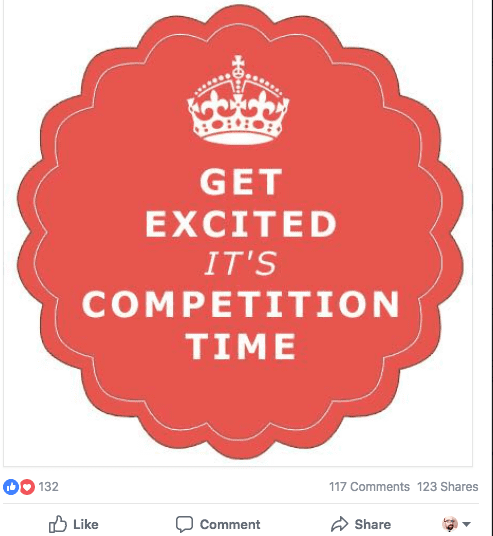 The key thing here is to encourage social sharing. Unless you're paying to promote posts (more on this later), Facebook's algorithm makes it hard to get commercial content shared on timelines. But when users share commercial content themselves, their friends are much more likely to see it. A Facebook competition is a good way to smuggle your content onto timelines whilst also offering value to users (in this case, a chance to win free stuff).
Targeted advertising
Facebook offers extremely targeted paid advertising.
Try setting up an ad targeting 18-55-year-olds in a one-mile radius from your shop. Come up with a special offer to entice people in, like offering a free pastry with a coffee for a limited period.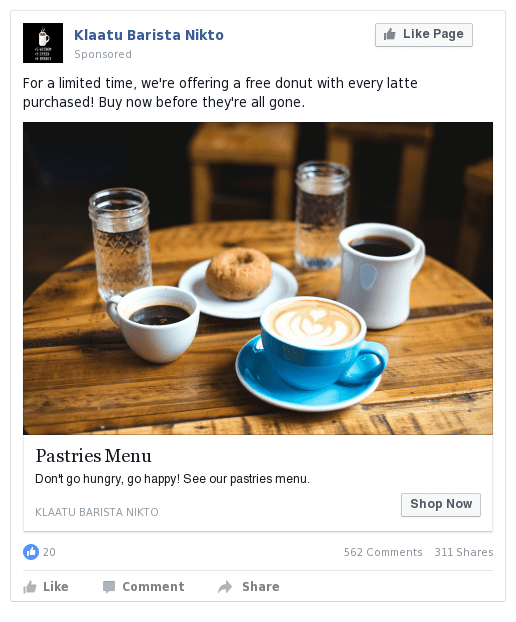 Source
You can also target businesses near your coffee shop with an ad encouraging people to get discounts when they book an order for the office, for example. It's worth experimenting with a few different ads to see which ones get the best results. Check out our comprehensive guide to Facebook marketing strategies for more on this.
Instagram
If we check out The Steamie on Instagram we can see a well put together account with a healthy amount of followers.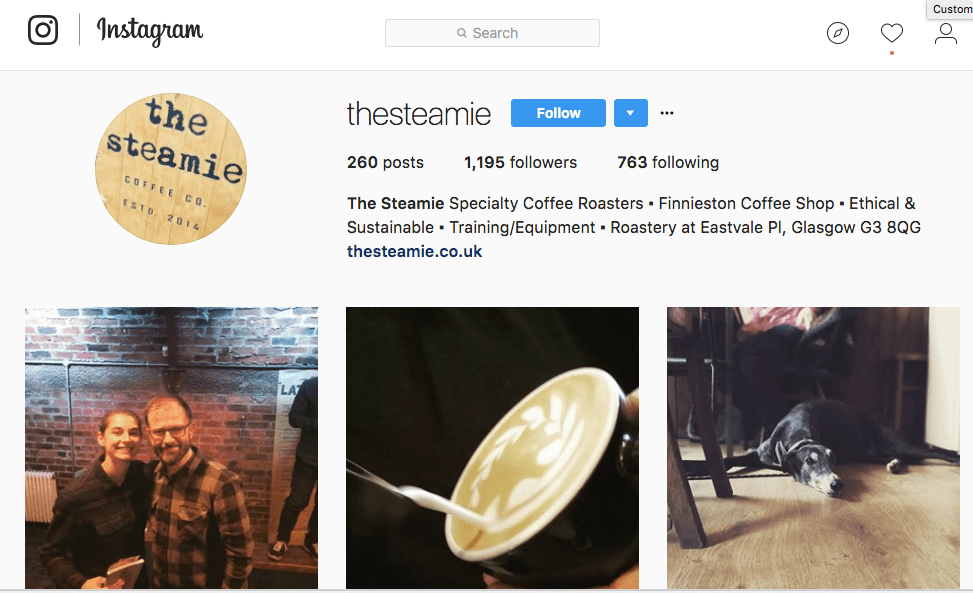 They aren't just using their account for promotion, they're fostering a sense of community by relating to topical events like Valentine's Day.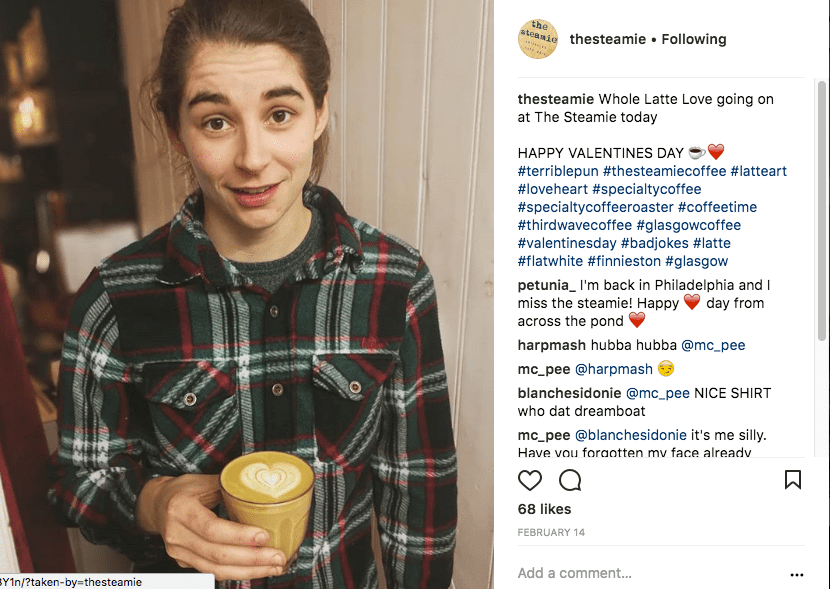 Notice that the posts gain a lot of engagement, such as the comment "I'm back in Philadelphia and I miss The Steamie!", as well as this comment from @distortionplus:

If we check out his account, we can see he's a music producer who describes himself as a "(Good) coffee drinker" and has 700 followers.
The fact that he's promoting The Steamie means free marketing, generated by a free Instagram post.
We can think of people like this (with over 500 followers) as "influencers" who can act as unofficial brand ambassadors.
Top tip: Choose the right handle for your coffee shop's Instagram account.
It should be short and match your brand name as closely as possible. Starbucks' account is @starbucks, Costa Coffee's account is @costacoffee, The Steamie Coffee Roasters is just @thesteamie (it's shorter to make it manageable).
Create a unique hashtag
Again, this should be as branded as possible. The Steamie use #thesteamie. It provides a curated space where images promoting your brand can be located and helps people share your content and spread the word about your establishment.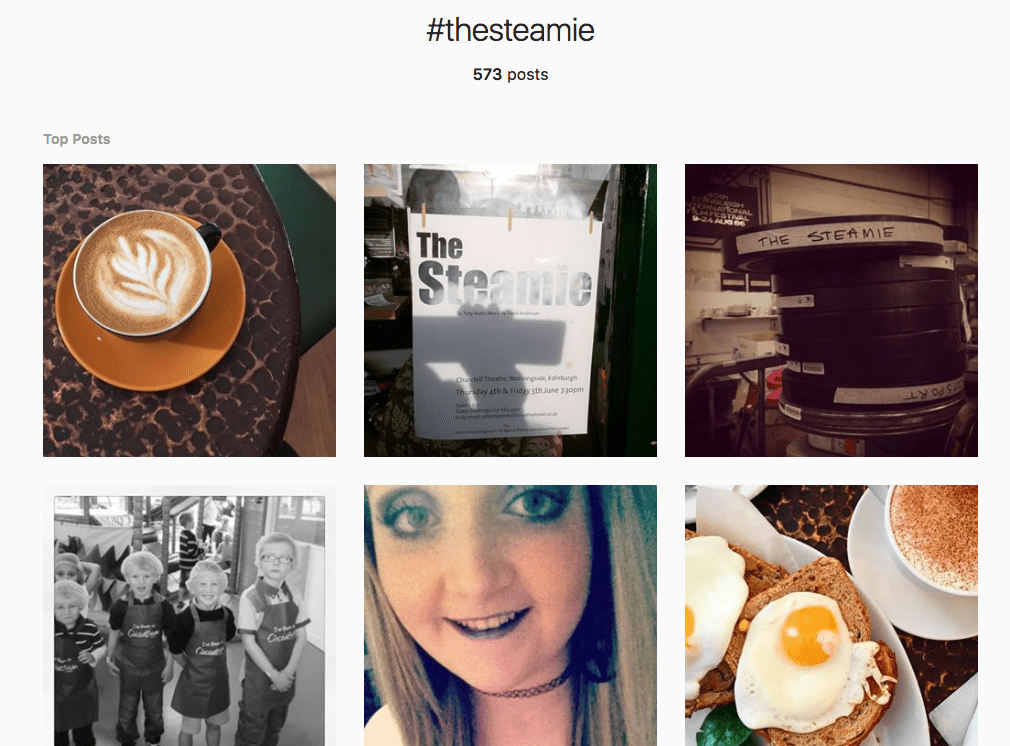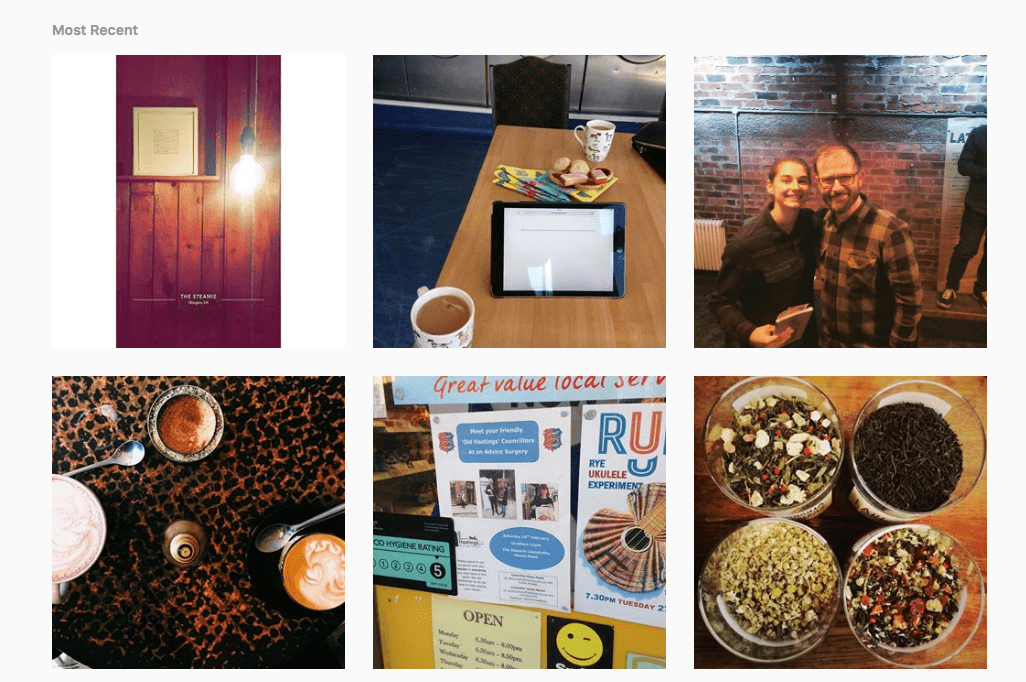 Link your Instagram to Facebook
By linking the two platforms, the images you share on your Facebook page will also be shared to Instagram. This is a useful way to cross-pollinate these two major marketing resources.
Reward social sharing
Given that social sharing means free marketing you want to encourage as many people as possible to spread the word. One way to do this is by rewarding the sharing of your social media posts or rewarding people for posting their snaps to Instagram, etc.
If someone with lots of followers posts about you, you could privately message them saying something like:
"Hey @coffeefan, thanks so much for posting about us on Instagram! We really appreciate you taking the time to spread the word. There's a free cup of coffee waiting for you the next time you drop by, just tell one of our baristas your Ingram handle and it's yours 🙂 We look forward to seeing you soon!"
Customer loyalty
There's often something quite ephemeral about a lot of the people you will be marketing to. It's great when someone pops into your store to buy a coffee as a result of your marketing efforts, and even better when they enjoy their experience so much that they post on social media, recommend a friend and so on.
Let's say that for every 1000 people your marketing reaches, ten of them come into your store. Of those ten, how many are going to come back only once or twice? How many are going to come in every couple of months or "when they're in the area"?
On the other hand, how many of them are going to make a b-line to your store at every opportunity they get? How many are going to rock up before work every morning and order a latte and a croissant? How many are going to pop in each afternoon to work on their novel/electronica album whilst sipping a Latte or three?
What we're driving at is customer loyalty. It should be the main aim of your marketing efforts. Yes, it's great, and important, to drive footfall through the door, but the real holy grail of coffee shop marketing is to foster a dedicated following of loyal customers who will come back time and again, and wax lyrical about your brand to everyone who will listen.
Here are the secret ingredients to creating customer loyalty to your coffee shop (shhh, don't tell anyone):
Have an excellent service (obvs!)
Have a friendly, skilled and attentive staff
Have an attractive venue
have Wi-Fi access (we're deadly serious about this)
Oh, and make excellent coffee
You also need a system in place for both encouraging loyalty AND rewarding it.
Build an app
Using an app is the prime way to foster customer loyalty.
Starbucks had the insight that customers were glued to their smartphones when queueing up to order and then had to put them away to reach for their wallets and loyalty cards.
How many times have you been handed a loyalty card at a coffee shop and then left it at home/put it through the wash?
Well, people always have their phones with them, and they're less likely to mangle them in the Hotpoint.
A DIY app can…
Put all your contact details and venue info in one easily accessible place
Allow you to create menus to promote your product range and pricing
Help customers order and pay in advance
Easily create and manage loyalty schemes
Offer special in-app offers and deals to customers
Create a calendar to share in-store events with customers
You can use push notifications and messages to connect with your customers. These messages can be triggered by factors such as customer location, time of day and customer segment.
Creating an app for your coffee shop is a great way to foster customer loyalty.
If encouraging customers to purchase via a mobile app, consider taking a leaf from Starbucks' book and setting up a dedicated area for mobile orders. This was a response to the fact that mobile buying became extensive they weren't able to deliver their products quickly enough. File that under "A Good Problem to Have".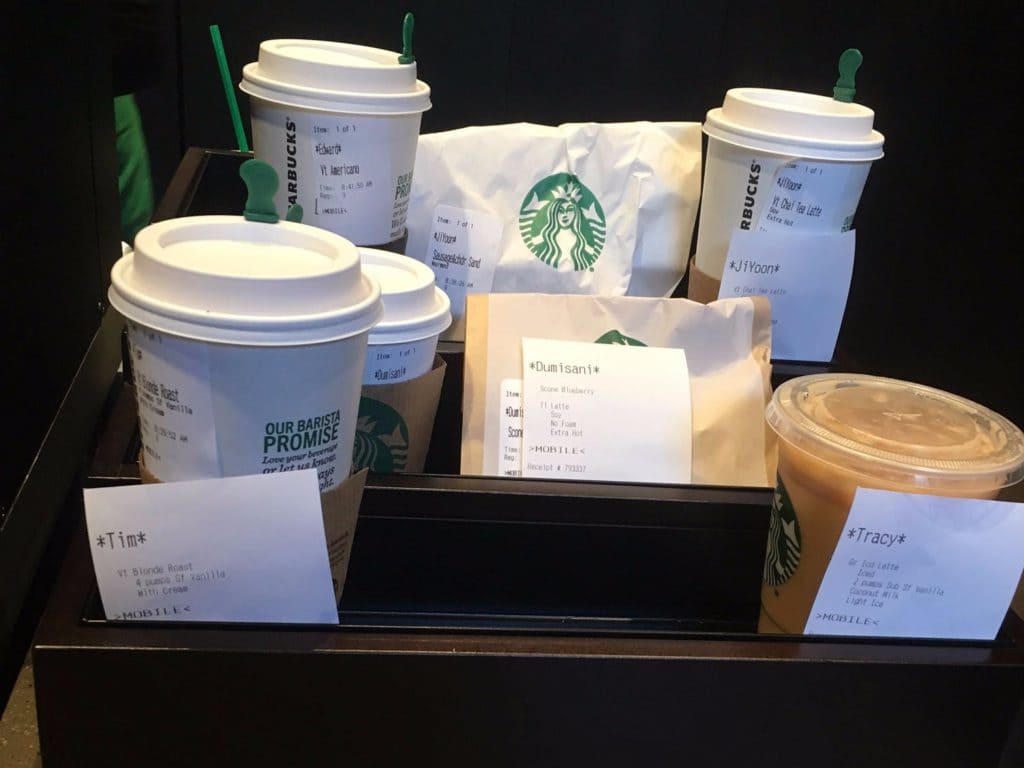 Mobile
The story of Starbucks' app is a good analogy for the importance of Mobile marketing for your coffee shop.
With apps being commonplace among the major chains like Starbucks and Costa, the cutting edge for indie coffee shop marketing is having an app. It will put you streets ahead of the competition in the boutique market.
It's also worth getting your coffee shop listed on specialty coffee apps like Best Coffee. It offers users high-quality coffee shops near them, links to reviews on the popular Best Coffee blog, and details available facilities like toilets, Wi-Fi, table seating and whether venues sell beans.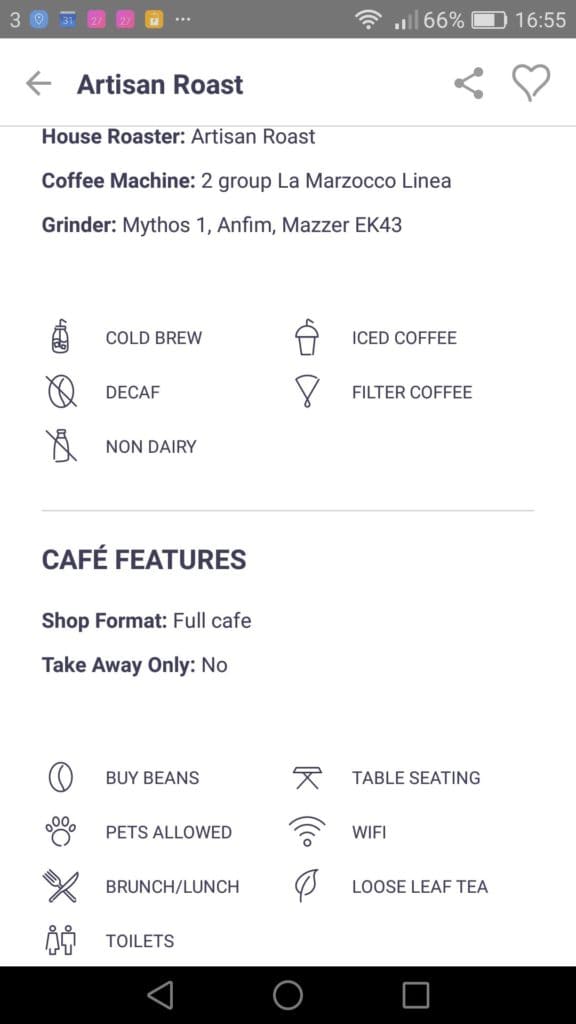 We hope these coffee shop marketing ideas have stimulated your marketing mind and helped orientate you in what can be a confusing journey to successful promotion.
You can dive deeper into the world of marketing your business by checking out our blog which covers everything from app promotion to emarketing masterclasses.
If this article has convinced you of the importance of designing an app for your coffee shop, you can sign up and start testing builds for free with an AppInstitute account. And if you want professional help and assistance you can easily hire us to work on your app for you.
Right, time for a coffee I think…
---