Integrate your Flickr album into your app
Make your Flickr photo album simple to find by displaying your images within your app.
✓ Keep all your photos in one place
✓ Provide more content to app users
✓ Show off your work
No credit card required.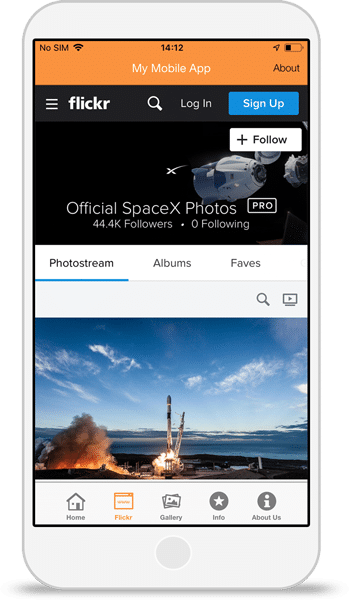 Make an App for your Flickr album in minutes

1. Select a Template
Choose from our wide selection of industry templates or click 'other' to start afresh.

2. Pull in Branding
Enter your Facebook and Website URL and we'll pull in your business info and brand colours.

3. Add the Flickr Tab
Select the Flickr tab to allow app users to access your Flickr gallery through the app.

4. Launch Your New App
Use our simple publish wizard to get your new app up on the Apple and Android app stores.