Integrate your Google Calendar with your app
Create bookable Google Calendar Appointments and connect your shareable calendar within your app for a simple way to allow customers to book a time with you.
✓ Use a universally recognised booking system
✓ Easily schedule in appointments with clients
✓ Integrate one of the most popular calendar systems
Create My Google Calendar App Now
No credit card required.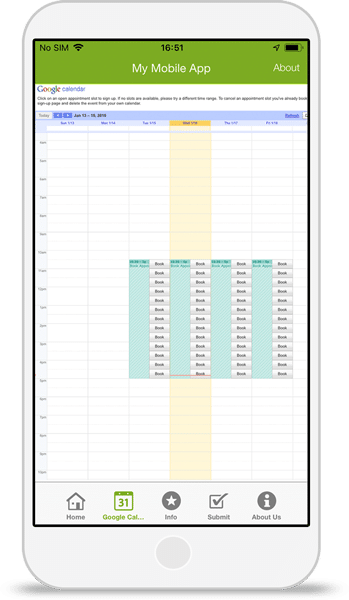 Make an App with Your Google Calendar in Minutes

1. Pick Your Template
Take your pick from a range of different business type templates or start off with a blank template.

2. Brand your app
Simply enter your Facebook and Website URLs to pull in your business information and colour scheme.

3. Add the Google Calendar Tab
Connect your Google Calendar using our easy integration — no coding whatsoever!

4. Make Your App Live
Launch your Google Calendar app in minutes with our simple publish wizard.