Integrate your Instagram feed into your app
Share your Instagram photo stream from a single tab within your app for a distraction free way to promote your brand.
✓ Keep users engaged on your app
✓ Show off your instagram feed to customers
✓ Boost social media engagement and brand awareness
No credit card required.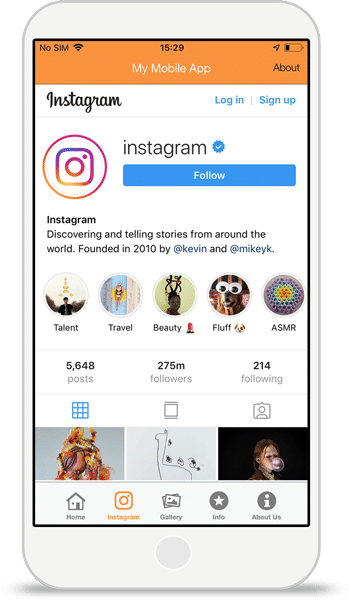 Make an App for your Instagram feed in minutes

1. Select a Template
Pick the template that best suits your business or start from scratch.

2. Get your Branding
Use our branding wizard to pull in colours and info from your website and Facebook.

3. Add the Instagram Tab
Select the Instagram tab to allow app users to access your feed through your app.

4. Publish your App
Get your mobile app on the iOS and Android app stores in just a few simple steps.