Integrate your Magento store with your app
Integrate your Magento powered e-commerce store within your app to provide a seamless mobile shopping experience.
✓ Boost mobile sales
✓ Improve customer loyalty
✓ Easily integrate your store
Create My Magento Store App Now
No credit card required.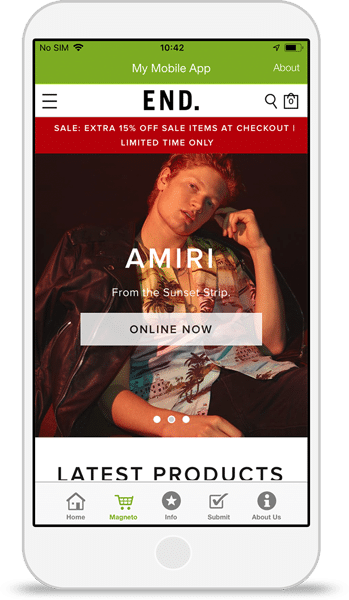 Make an App using your Magento Store in minutes

1. Select a Template
The E-commerce app template is pre-loaded with secure chat, and your business information.

2. Get Your App Branding
Using your existing Facebook Page and Website we pull information and branding automatically into your app.

3. Add the Magento Tab to Your App
Connect your Magento Store using our simple integration — all without writing a single line of code.

4. Make Your App Live
Launch your Magento Store app in minutes. Simply follow the simple publish wizard to completion.