Integrate your Soundcloud with your app
Integrate SoundCloud's powerful audio player into your app and stream audio directly from your app for more control.
✓ Let your fans listen to new songs and projects
✓ Use podcasts for your marketing
✓ Keep users engaged in your app
No credit card required.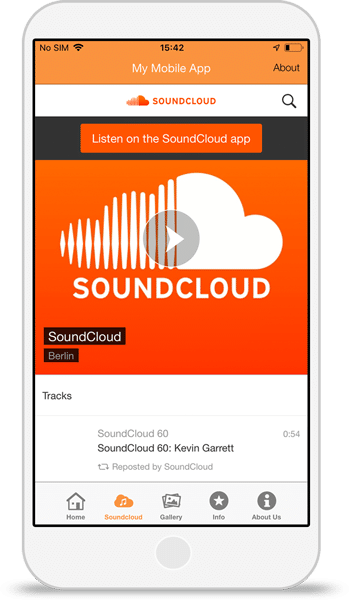 Make an App with Your Soundcloud in Minutes

1. Choose Your Template
Pick from a range of templates to find the best fit for your needs or start fresh with 'General'.

2. Brand your app
Use the AppInstitute branding wizard to pull in colours and business information with your Facebook/Website URLs.

3. Add the Soundcloud Tab to Your App
Connect your Soundcloud account to allow app users to listen to your music or podcasts within your app.

4. Launch your new app
Use our simplified publish wizard to easily publish your new app on the Apple and Google Play stores.