Integrate your Tumblr blog with your app
Add your Tumblr feed to your app for a simple way to keep your community connected to your online blog.
✓ Engage with your followers
✓ Keep users within your app
✓ Promote your blog
No credit card required.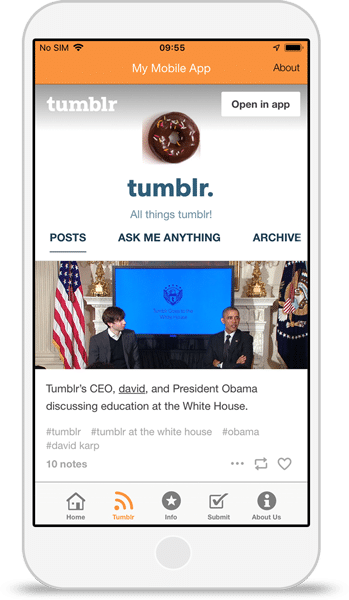 Make an App using your Tumblr blog in minutes

1. Pick a Template
Select the template that best fits what you want from your mobile app.

2. Brand it up
Using your Facebook and Website URLs we'll pull in colour schemes, business info and branding.

3. Add the Tumblr Tab to Your App
Add the Tumblr tab to allow users to view your blog within your mobile app.

4. Publish Your New App
Follow our publish wizard to launch your new Tumblr integrated app onto the iOS and Android stores.