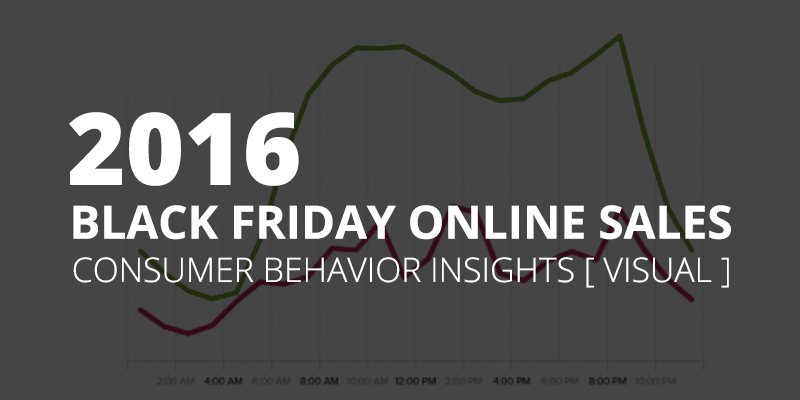 Black Friday is the biggest shopping day of the year in the United States. The day after Thanksgiving has long been declared the official start to the holiday season. Many people have the day off, products start going on sale, people flood malls and shops across the country, and an insane amount of money is spent. But not everybody participates this way, as online sales statistics demonstrate. In 2015, online buying totaled $2.72 billion—an increase of over 14% from 2014. That year saw a 15.4% increase over 2013. Based on this growth curve, it's estimated that 2016's total will be $3.132 billion.
That's a lot of money being spent via desktops, laptops, tablets, and smartphones—money which is being on spent things like desktops, laptops, tablets, and smartphones. Also, clothing, jewelry, TVs, sporting goods, video games, and Werner Herzog film collections. People spend money all day long: the clock turns twelve and the money starts to flow. We thought it would be fun to visualize this flow of money, which is why we don't get invited to a lot of parties. And since our schedules are wide open, we had the time to put the whole thing together, which is what you see here.
It's actually pretty interesting once you know what you're looking at. There are 1000 balls bouncing around the screen, each one representing  $3.13 million. When a ball moves from the center to one of the categories, that's money spent. Each color represents the device used to spend those dollars:
Pink:

Smartphones

Blue:

Tablets

Green:

Desktops & Laptops
---
Copy embed code to your blog:
<link rel="stylesheet" href="https://appinstitute.com/wp-content/plugins/flow/blackFridayFlow.css" type="text/css"> <iframe id="blackFridayFlow" src="https://appinstitute.com/wp-content/plugins/flow/embed.php"></iframe> <a href="http://appinstitute.com" title="app builder">Powered by AppInstitute</a>
---
When you look at the graph below, you can see just how part of the everyday smartphones have become—at least when it comes to browsing for gifts. Smartphones and Tablets represented more than 36% of total sales revenue in 2015 and is projected to drive more than 60% of total traffic to e-commerce websites and contribute around 40% of total sales revenue this year.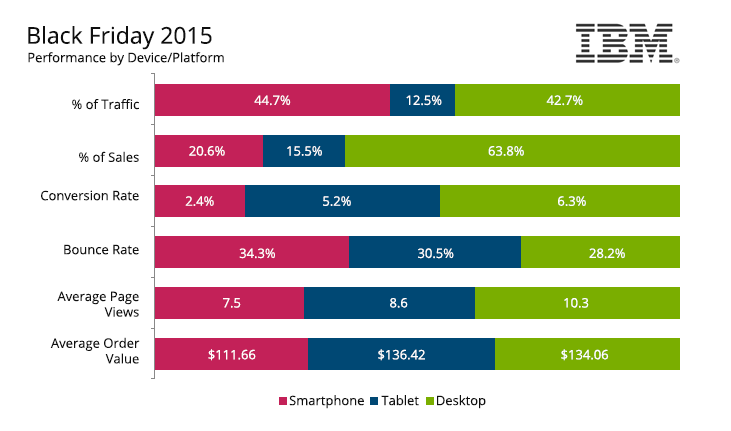 To model the rate at which each million dollars is spent throughout the day, we used a database of over 60,000 consumer apps and three years of customer purchase behaviour. As you can see, the shopping starts almost immediately. The Thanksgiving dinners across the country are done, people are full and tired, and it's so easy to just get some holiday shopping done before they drift off to sleep. It's a slow but steady trickle through the late night/early morning hours. There's a small burst of sales in the 6 AM hour, probably the retail and hospitality workers who are waking up to grind out the longest day of their year.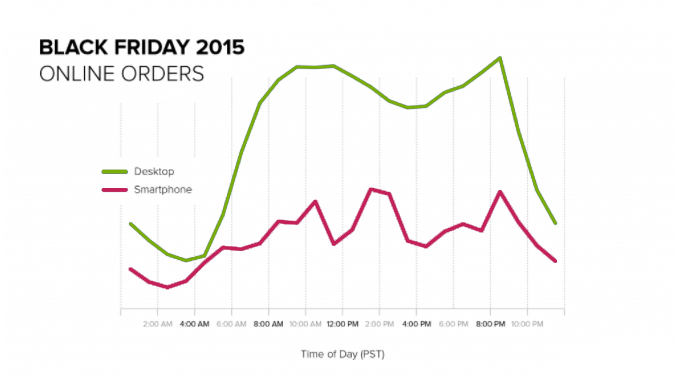 Looking at the graph above, you can see shopping patterns that mimic the waking hours of the average U.S. citizen. If those lines represented activity instead of money, the patterns might not look so different. Things start to get busy around 9 AM, as if getting the shopping done on Black Friday is a job with a schedule. And the spending continues at a pretty constant rate throughout the work day. But what's strange—and what you can only see in the animation—is that there are really noticeable peak times, where all of a sudden millions of dollars scatter across the screen. In the evening and through the night, there are hourly boom periods at 5, 6, 7, 8 and 9 PM, where suddenly money is spent at a furious pace. You would think that with online commerce the timing of things wouldn't matter, but these little sales spikes look like people cramming some shopping in before getting on to things like dinner or sitting down to watch TV.
But don't take our word for it: watch it for yourself. If nothing else, it's downright hypnotic to watch—almost calming. And if you find yourself panicking about the money you're spending on gifts this year, breathe deep and meditate on everyone spending right along with you. 'Tis the season, after all.
---
Sources:
https://www.ibm.com/think/marketing/tag/holiday/
https://www.statista.com/chart/2999/black-friday-in-the-united-states/
http://www.moovweb.com/blog/2015-mobile-holiday-shopping-report
https://arc.applause.com/2015/11/30/black-friday-mobile-commerce-ibm/
http://www.statisticbrain.com/black-friday-yearly-spending/
https://nrf.com/sites/default/files/Documents/NRF-Thanksgiving-Weekend-2015-Consumer-Survey-Data.pdf
AppInstitute Purchase data and usage patterns across 60,000 apps
---