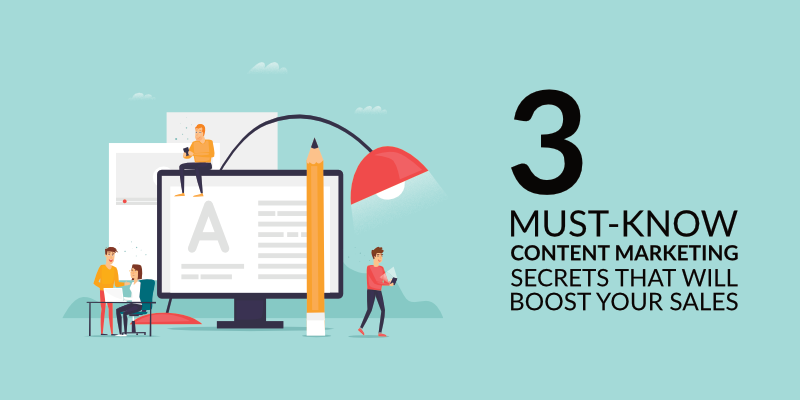 Content is basically the major way you communicate with your customers in the digital age. So it makes sense to say that the way you produce and distribute your content makes or breaks your business. Although perfect content for each business depends on different factors, there are some must-know factors that would work for almost any business willing to increase sales or any blogger willing to make money using content marketing. In this article, you're going to read about three of these must-know factors.
1- Planning and ideation is knowing your audience
Planning and coming up with ideas in any stage of content marketing is intertwined with how well you know your audience. The success of your content depends heavily on how it addresses your audience's issues, interests, hopes, fears, etc. As Consulting.com explains in its comprehensive guide on starting and growing a consulting business, the whole point of having a business is helping people tackle their problems and deliver them from their current state to their desired state.
Some of the most successful ads in the history of marketing and advertising came from a very good understanding of the audience and the product, and plain every-day English. Here's one example by David Ogilvy himself: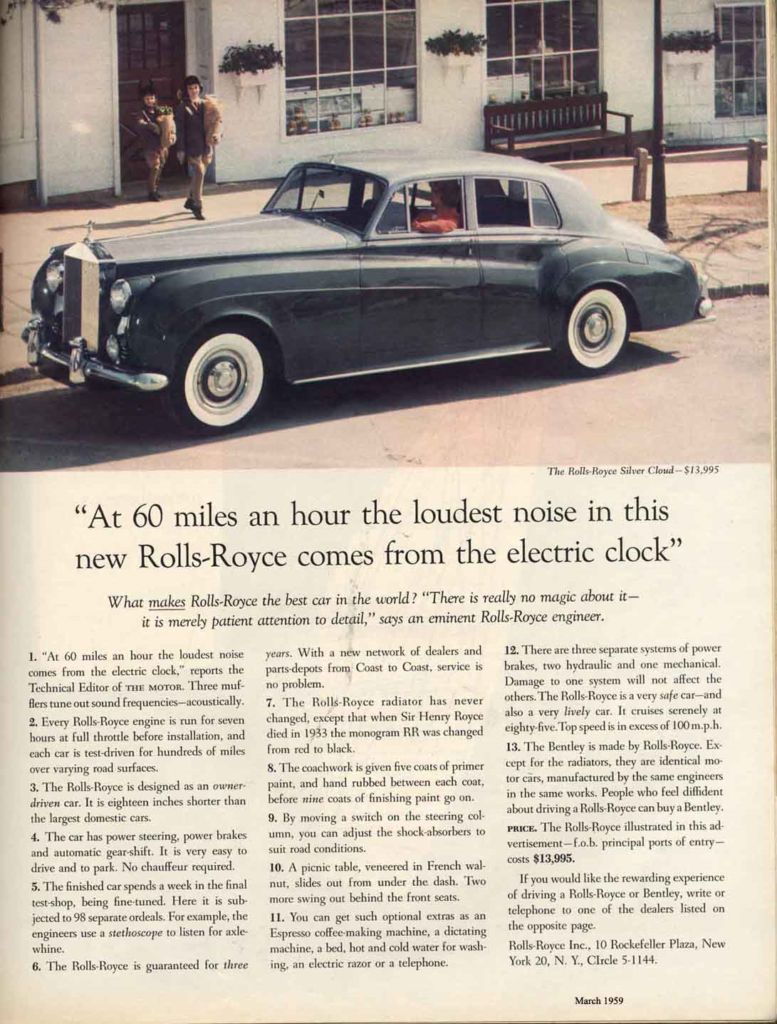 What seems to be a simple copy is the result of weeks of studying the product (the then new Rolls-Royce car) and a sound understanding of what amazes its potential buyers.
Ideation in any phase of content marketing demands a good understanding of your audience. Here are some tips to get to know your audience better:
You need to map out the exact journey your customers go through (awareness, assurance, purchase, installation, usage, updating, etc.)
You need to talk more frequently with your sales and technical representatives and figure out the recurrent pain points your customers are dealing with.
You need to understand your customers' demographic (age, gender, income, etc.) and psychographic features (interests, preferences, hobbies, fears, etc.).
You need to gather information on people's actual experience using your products (by analyzing their queries and complaints, using surveys, asking for reviews, etc.)
As Apolline Adiju explains a full-stack marketer is a great help in getting to know your audience. So finding and working with some of them is a necessity for any business.
2- Sometimes, too much does too little
It might seem reasonable to think that the more content you produce, the more exposure you'll get. After all, you'll cover more topics and keywords. But the thing is in many cases most conversions are traceable to only a handful of blog posts, and it makes more sense to focus on what's already working.
Recently, QuickBooks decided to remove 2000 of its blog posts in order to organize the structure of their website. This was a tough decision especially because producing those pieces cost thousands of dollars for their company.
However, there were many problems with their current content. Many of the blog posts they had were outdated, pointing to pages that didn't exist anymore, or had other issues. And their content team were constantly producing fresh content and could cover the deleted posts in their new ones.
Once they did the content pruning, they saw good results. Their organic traffic raised by nearly 44% and that extra traffic contributed to a 72% increase in signups.
Too little promoting is also a big mistake many businesses make. Social media advertising (such as Twitter advertising), SEO and SEM, and email marketing are among the most popular ways you push your content out for more exposure. According to GoodFirms's latest research on SEO trends and tactics, growing organic traffic is the top inbound marketing priority for businesses.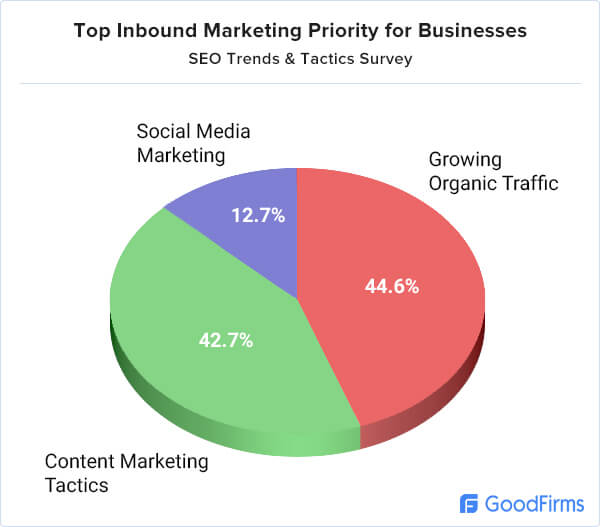 Among the most necessary practices for increasing organic traffic is building high quality links to your keyword-optimized content.There are two ways you can build links to your website:
Work with agencies or freelancers
DIY (do it yourself)
You can assign your link building to an SEO agency. In this case, you'll get more results faster, but what you need to consider before choosing an agency is how trustworthy and reliable they are. You don't want to risk your reputation by working with an agency that relies on shady methods to promote your website. Here's a list of trustworthy and reliable top SEO agencies you can choose from.
SEO trends and tactics research also tells us that producing link-worthy content and guest posting are the most popular link building techniques for a lot of SEO's and businesses.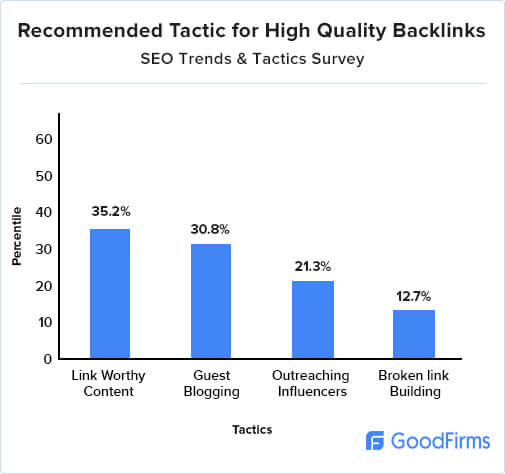 3- Stay out of the content overload
Every body is producing content these days. All of your competitors might be using the same content strategies as you do which might result in the same blog posts, ads, newsletters, etc. What you need to do in this situation is learn how to be different and stay out of the content overload.
There are different ways to differentiate yourself in your niche. Your success here depends on how well you know your market and your competitors.
One way is to take advantage of different content formats instead of just one. Depending on your audience's preferences, you might want to prioritize a particular content format for each phase of your customers' journey. Different kinds of content formats to consider are:
Blog posts, original research, and case studies
Ebooks and whitepapers
Videos
Podcasts
Webinars and presentations
Email newsletters and promotions
Infographics and images
Social messaging
For B2B companies, original research is especially effective. BuzzSumo analyzed 1 million blog posts on the web and found out that 75% of them had no external backlinks, and 50% of them had two or fewer Facebook interactions (likes, comments, shares). Yet one type of content that got a lot of links and shares was "well-researched and evidence-based" blog posts.
According to Andy Crestodina, there are 5 types of research in content marketing:
Experiments
Observation/analysis
Aggregate existing research
Online survey
Phone survey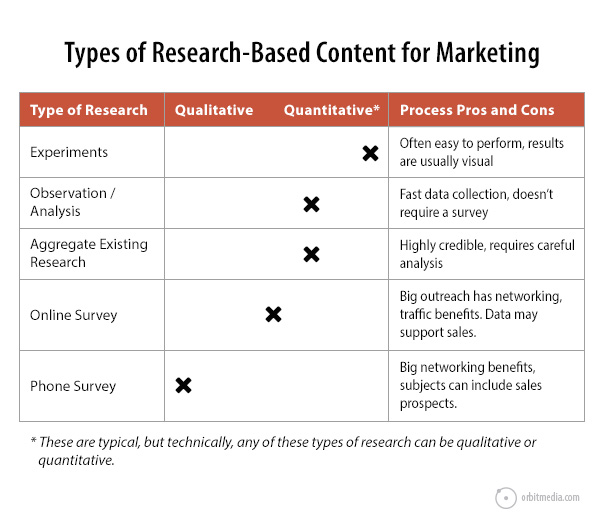 One of the easiest ways to produce original research is gathering the existing data from different sources. Maybe there is already a body of work that you can use and produce new data from and then do an analysis on. For example, I did an analysis on the top 50 business websites of SimilarWeb, a web analytics company, and tried to find answers to 7 questions about their conversion-focused homepage elements:
How many of the top websites have calls to action (CTAs) above the fold?
What CTA types are used above the fold?
How many of the top websites have multiple CTAs?
Do the websites use any social proof (trust icons, testimonials, case studies, etc.) on their homepages?
What social proof types are most prevalent among top websites?
Do they use any videos on their homepages?
Do they offer any content in exchange for visitors' email addresses?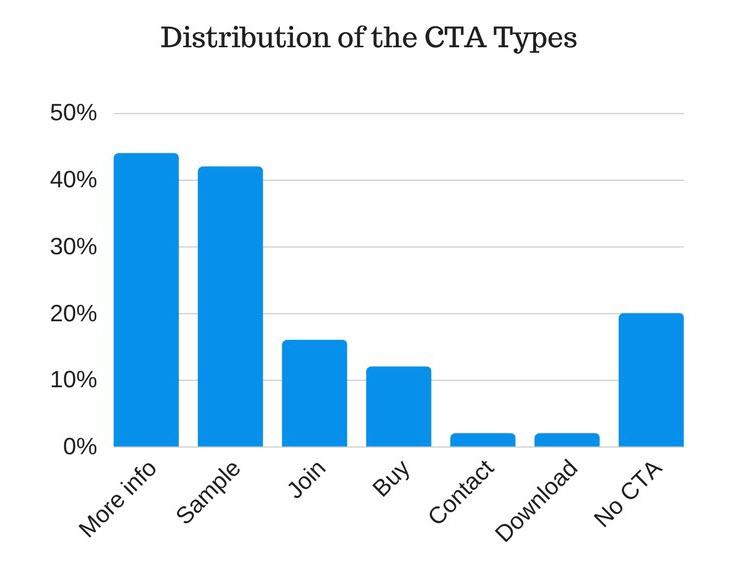 The most common CTA types among top business websites are "More info" and "Sample" types.
Another content format that has a lot of potential for creating a strong trust with customers is social messaging. Buffer's State of Social Report 2018 shows that social messaging apps (WhatsApp, Messenger, WeChat, and Viber) are used more frequently than the social media apps (Facebook, Instagram, Twitter, and LinkedIn). Although social messaging apps have greater potential for marketing, only 20% of marketers have used social messaging for marketing.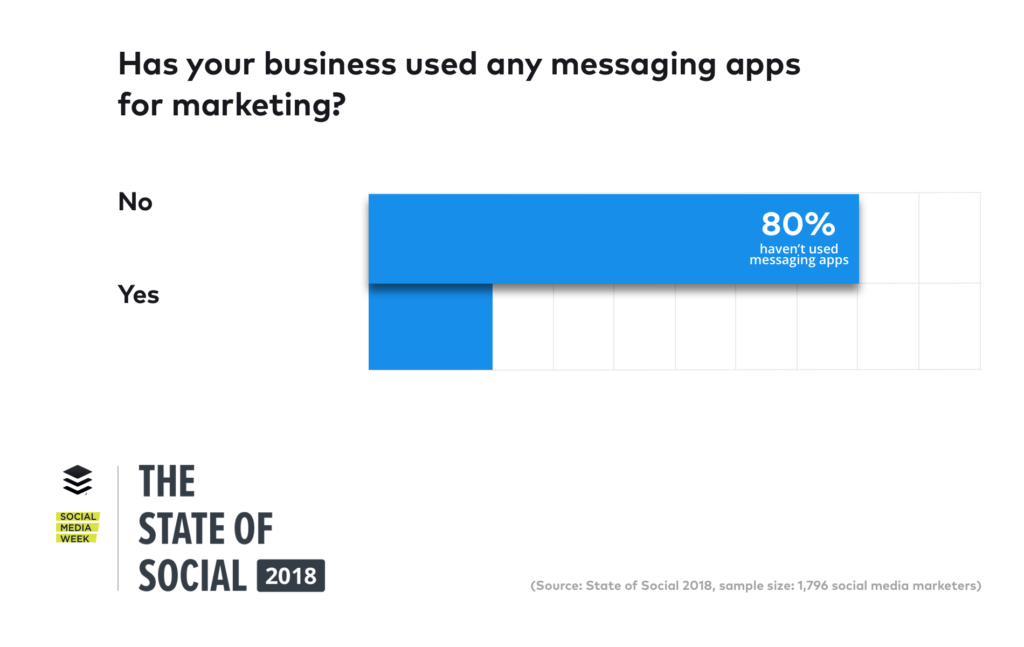 Only 20% of marketers use social messaging for marketing.
Videos are also very popular among people. Results of a survey show that people pay "full attention" to video content and want to see more videos in the future. People watch 1 billion hours of video each day according to FitSmallBusiness's video marketing statistics.
YouTube as the second biggest search engine deserves special attention from marketers. Talking of YouTube as a search engine, you should know that you need to compete with other videos makers in your niche and improve your rankings if you want to see good results. Here's a list of handy Youtube keyword research tools you can benefit from.
A very handy tool for editing photos and videos is Instasize. Instasize's iOS app is free to download and has lots of premium editing features. Make sure to give it a try.
Finally:
Although marketing automation tools have made content marketing seem like a breeze, we still need to make sure our content strategy is planned and performed according to some true and tested rules. Producing content that works demands a lot of researching and a good understanding of your audience, a constant focus on improving and promoting the content that's already working, and a logical diversification in using content formats. Keep these rules in mind and you'll be able to boost your sales in no time.
Author bio: Mostafa Dastras has written for some companies such as HubSpot, WordStream, SmartInsights, and MarketingProfs. What keeps him up at nights is how he can help his clients increase sales with top-tier content marketing. Visit his blog, LiveaBusinessLife, or connect with him on LinkedIn to get him to write for you.
---