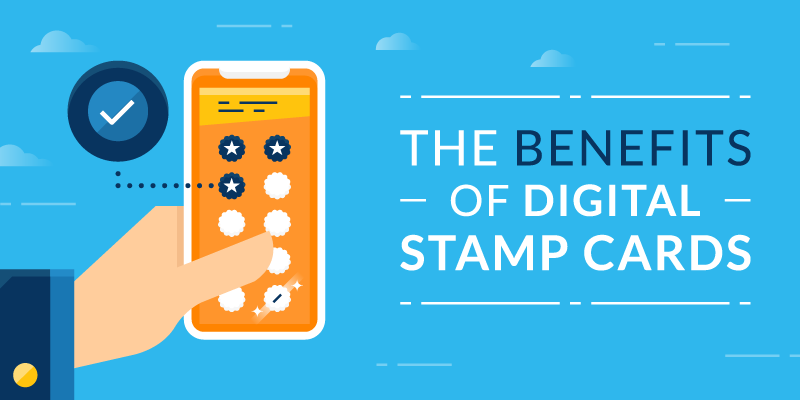 Does your business use a stamp card rewards scheme to build customer loyalty? If so, you could benefit from moving away from a physical card-and-stamp-based program to a system run through a digital stamp card app.
Digital stamp cards simplify the process of running a loyalty program for both the customer and the business. This article will show you how.
How Do Digital Stamp Cards Work?
Digital stamp cards build loyalty in a similar way to traditional card-and-stamp-based systems. Every time a customer makes a qualifying purchase, they get a virtual stamp. Once they collect a predefined number of virtual stamps, they can trade this in for a reward.
It's up to you to decide how many purchases a customer needs to make, as well as what the reward is. You can offer a single gift such as a freebie or a discount, or you can provide multiple rewards that rise in value as customers collect more and more stamps.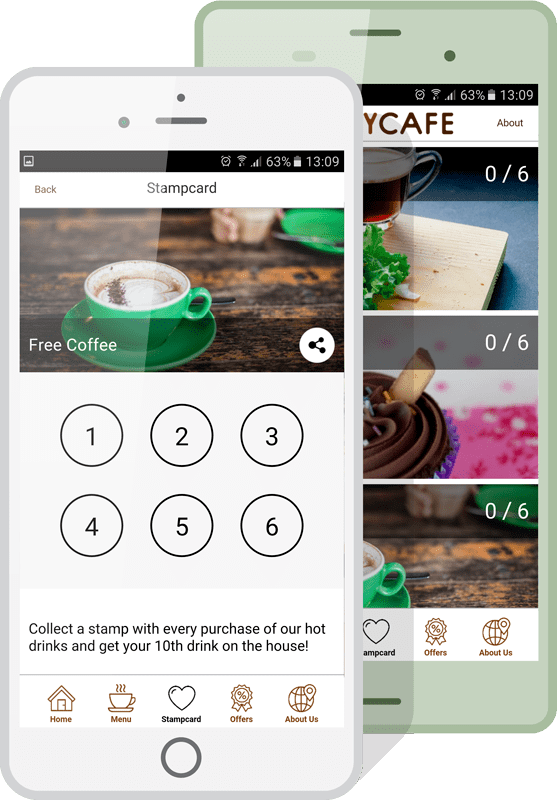 The benefits of this are that the opportunity to receive a freebie or a discount can encourage your customers to make repeat purchases at your business.
An electronic loyalty card differs from a traditional one in that you run the whole process through an app on the user's phone. It's really simple:
Customers download the loyalty app to their smartphone or tablet and register with the loyalty program. You can make it easy for them to download the app by providing clear links or QR codes that point to the relevant app marketplace listing.
Instead of an employee stamping the card when they make a qualifying purchase, the user will scan a QR code provided by your business. This will automatically add a stamp to their card.
When the card is full, the user has to show the card to an employee who will input a password into the device, allowing the customer to receive their reward.
Benefits of Digital Stamp Card Apps Over Physical Stamp Cards
Digital stamp cards benefit both your customers and your business.
The main benefit for the customer is that they no longer have to carry around a physical card. This reduces the chance that they will forget or lose the card and means they don't need to dig around in a wallet trying to find it.
The fact that the card app is on their smartphone—a device they have with them at all times—means there will be no more missing out on collecting stamps because the customer didn't bring their card.
For businesses, the most obvious benefit is that you no longer have to worry about printing out multiple cards or running out of stamps. Instead, you just need to provide a link to the stamp card app so the customer can download it.
This can save the cost of printing out cards and ordering stamps while ensuring that anyone who wants to sign up for the program can do so easily.
However, this isn't the only benefit. Using an electronic app to run a loyalty program means there is a good chance customers will use your app in other ways—increasing brand loyalty and engagement with your business.
Here are some of the other ways users can engage with your business through an app:
You can provide customers with other discounts or offers in the app, encouraging them to visit your business.
Customers can use it to find out information about your business—for example, its location, opening hours, or your menu or products.
Where appropriate, you can even allow customers to make purchases directly through the app.
You can communicate with customers via push notifications. This form of messaging is a great way to share business news and offers as it has a very high read rate.
How to Build a Digital Loyalty Card with AppInstitute
Many business owners worry that creating a digital stamp card app for their business will be difficult, especially if they don't have any programming experience.
This isn't necessarily the case. With AppInstitute's drag and drop app builder, it's easy to create an app in minutes.
AppInstitute provides a template that is optimized for use as a loyalty card program. You just need to choose this template and then fill in your company information using the software. We even link up to your website and social media profiles, so much of this process can be automated.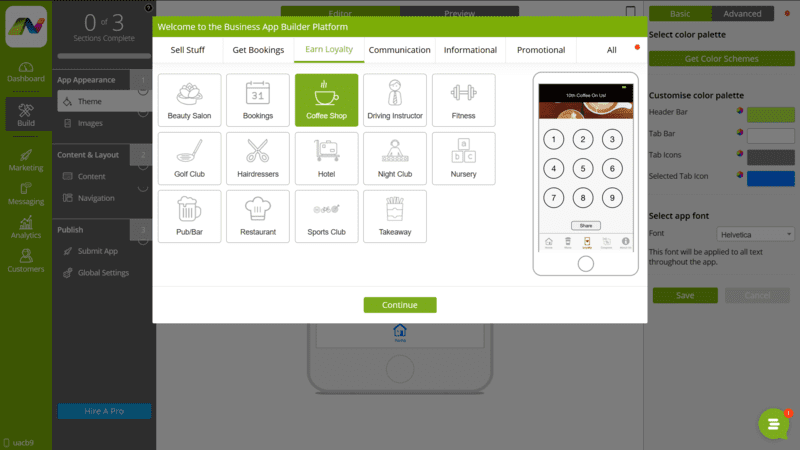 You can customize the following options when creating your card.
The name and description. You can also add a disclaimer to clarify any confusing points.
The number of stamps the customer needs to collect to receive a reward.
You can limit the number of stamps a customer can receive per day.
You can add mid-way point rewards to keep customers interested.
As well as the points card, we have plenty of other features that you can add to your app. These include in-app ordering, menus, and content pages. It's easy to add these features to the app using the app builder.
If you want to try building a stamp card app for your business, you can do so for free over on our homepage. Just head over to this link, click "Build Your App Now," sign up and then follow the on-screen instructions to set it up.
---