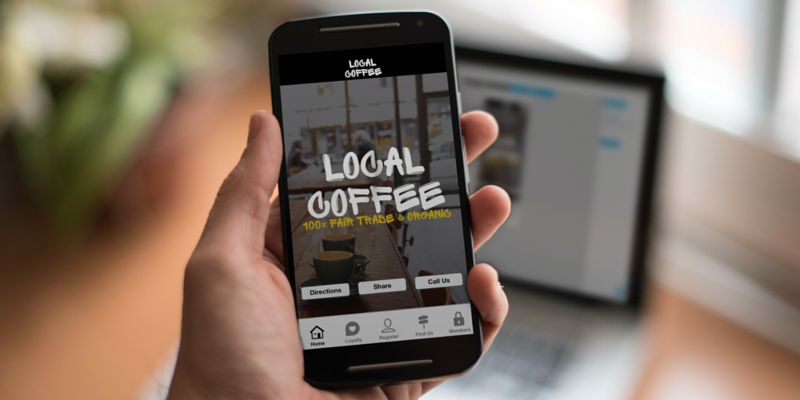 This step by step guide will show you how to make an Android app using the AppInstitute App Maker platform, and you will see how easy it is to develop your own Android app in under an hour. With 80% of internet users owning a smartphone, and 89% of mobile media time happening through mobile apps, it is becoming impossible for businesses to ignore the mobile app market. Mobile apps are not exclusively for e-commerce giants, and you don't need a lot of know-how to make your own Android app. Small and medium businesses have started to discover the power of using mobile apps to encourage loyalty, improve communication, provide timely information and simplify many customer interactions.
While having a mobile app for both iOS and Android devices will help you reach the largest audience, you should at the very least have an Android app. More than 52% of smartphone users in the UK are using Android, and more than 9-million UK shoppers who use their smartphone to make online purchases at least once a month do so using an Android device. Additionally, the Google Play store benefits from Google's superior search function, meaning users will be able to find your app easily, even if they misspell your business name.
For more information on the differences between iOS and Android, read our previously published guide.
How to Make an Android App
1. Create a Free AppInstitute Account
In order to get started on this how to make an Android app guide, you will first need to register a free App Maker account.
2. Set Up Your App
The App Maker Wizard will appear the first time you log in, and to simplify the app creation process you can enter the Facebook Page for your business. Select Skip this step if you don't have a Facebook Page, and you will then be given the opportunity to select your business type instead.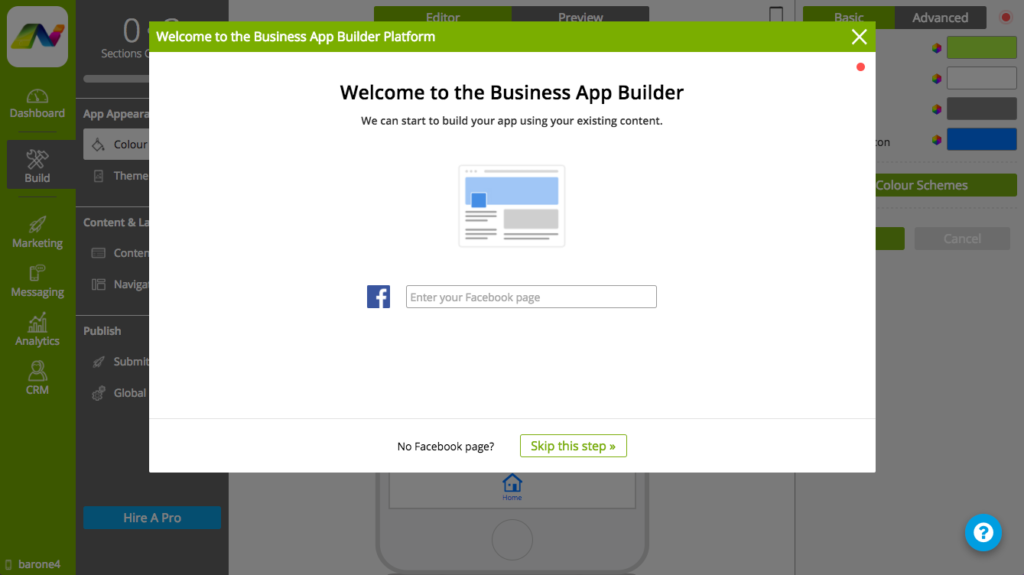 To help choose the best features and tabs for your App you can select your business type from the range of options, or select Other to begin making an Android app using a blank template.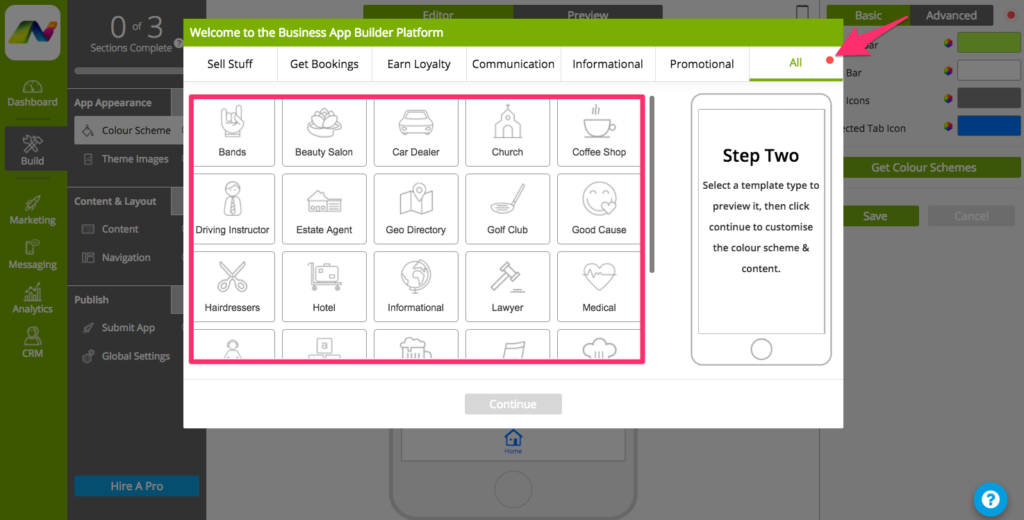 You can brand your Android App's colour scheme to match the colours used on your website. Just enter your website address and click 'Go' – the App Maker wizard will automatically scan your website and suggest a colour scheme for your App! Skip this step if you don't have a website.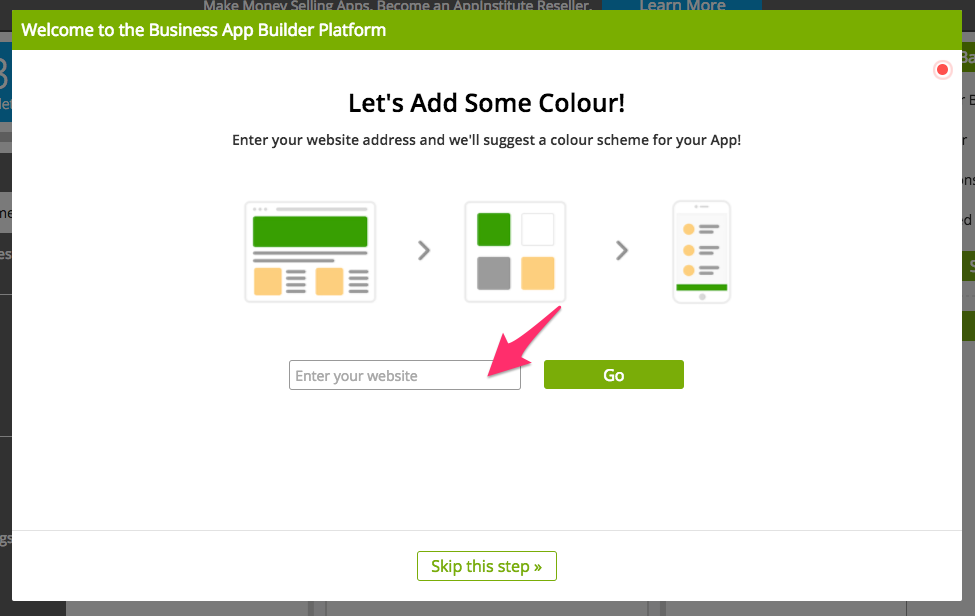 You can preview your new App on your Android device using the AppInstitute Preview App – receive a text with a quick download link straight to your smartphone by entering your mobile/cell number and click 'Continue'.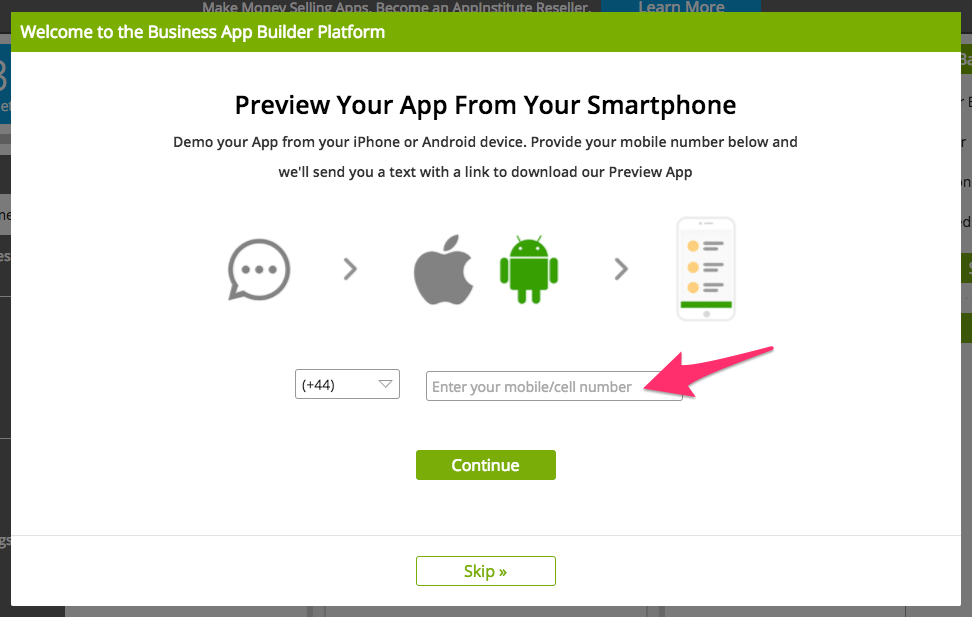 As simple as that, your Android app is now set up, so just click 'Get Started' to begin customising and adding content to your app.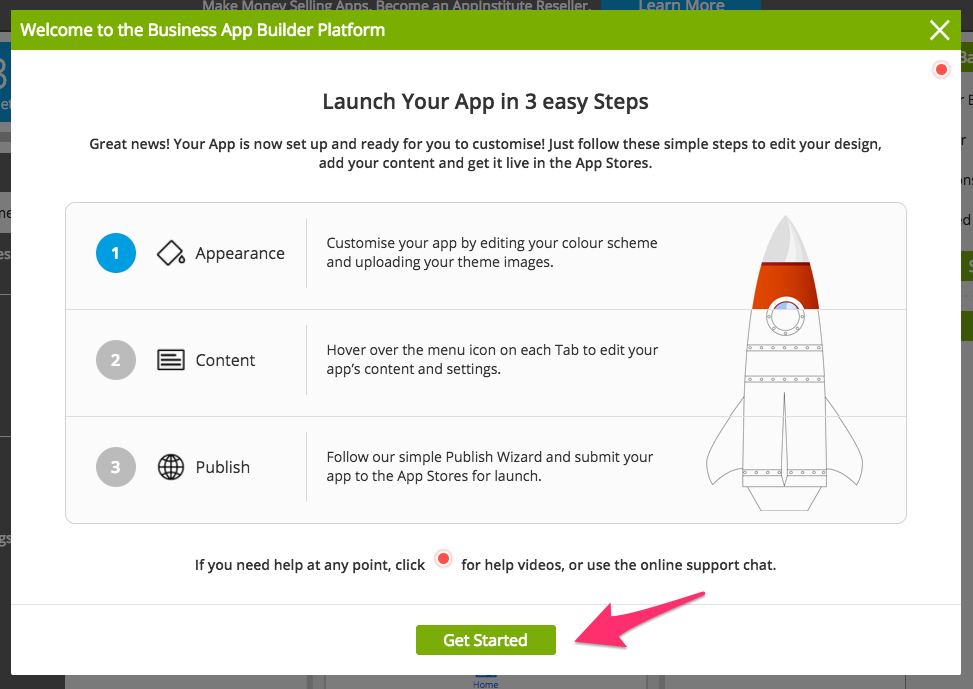 3. Build Your Android App: Launch Your App in 3 East Steps
You will now be able to customise your App from the Build menu. The build menu has all the steps you need to fully customise your app and make it your own, from setting the colour scheme, adding a splash screen image, uploading your app icon and more. These are split into three sections: App Appearance, Content & Layout and Publish.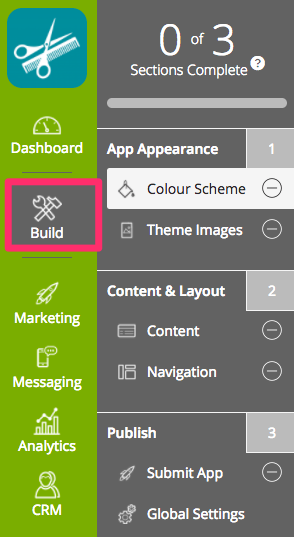 4. Changing Your Colour Scheme
The Colour Scheme section of the Build menu allows you personalise your Android app by incorporating your branding throughout the app. Customising your Android app's colour scheme allows you to modify many elements in your app, from navigational elements, to icons, text, buttons, backgrounds, and the header bar transparency.
The Basic editor allows you to pick a simple colour scheme, or you can select Get Colour Schemes to pick colours directly from your website. Switching between Basic and Advanced will give you more options. Select the element you want to change and then move the pointer through the colour picker and colour slider to set the colour. Alternatively you can enter the RGB, HSB or Hex values for your colours, if you know them.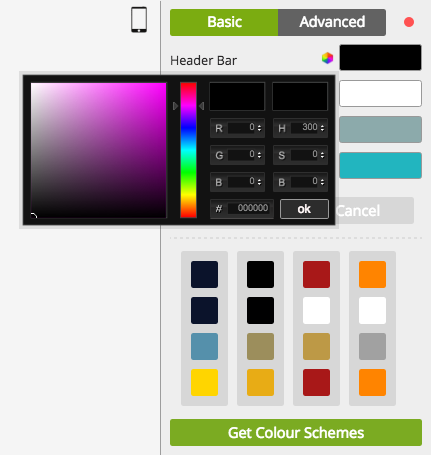 5. Adding Your Own App Icon
The icon for your app is perfect for promoting your brand, but it needs to stand out from other apps too. The average smartphone user has 27 apps installed, and while this has remained consistent for the past 4-years, being instantly recognisable amongst 26 other apps is an essential part of your Android App marketing strategy.
The App Icon section of the Build menu allows you to upload your own app icon image while simultaneously presenting a preview of how your app icon will look on a smartphone, among other apps. The image you use for your app icon should be 1024px by 1024px.
Read Designing Awesome App Icons for tips on icon design.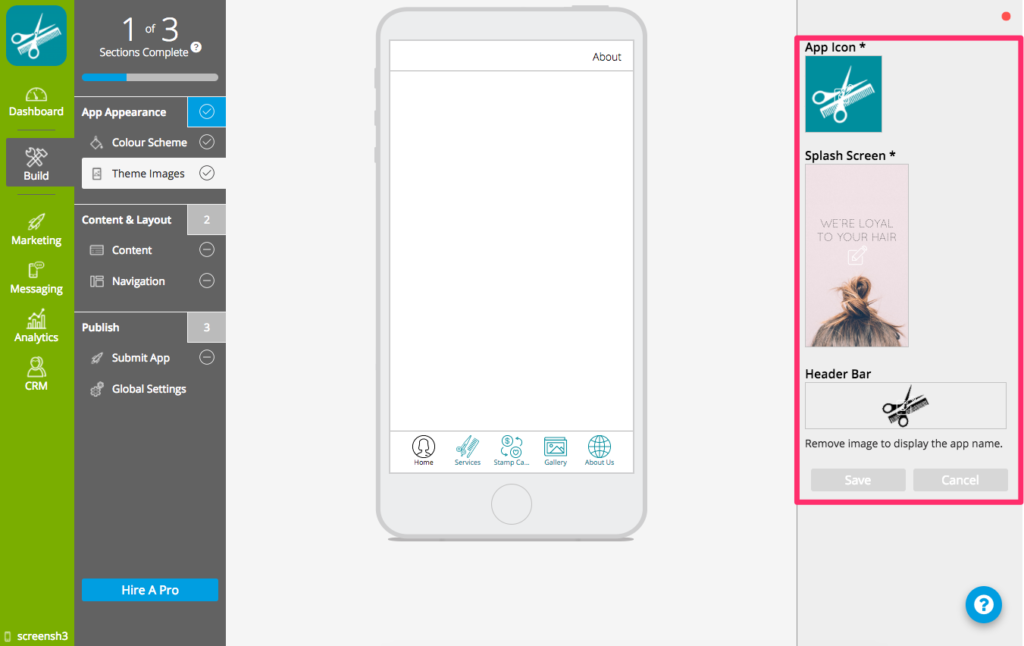 6. Adding Your Splash Screen Image
The splash screen is the first thing users see when they launch your Android app, so it is an ideal opportunity for you to promote your brand. You want to create a lasting impression so that users can't forget you, and so that they immediately recognise your brand every time they see it.
Hover over the splash screen area in the right-hand toolbar and select an image from the Library, or upload your own image from your computer. Always use high-quality images when uploading your own, and use the image editor to crop and resize your image to fit the preview shown.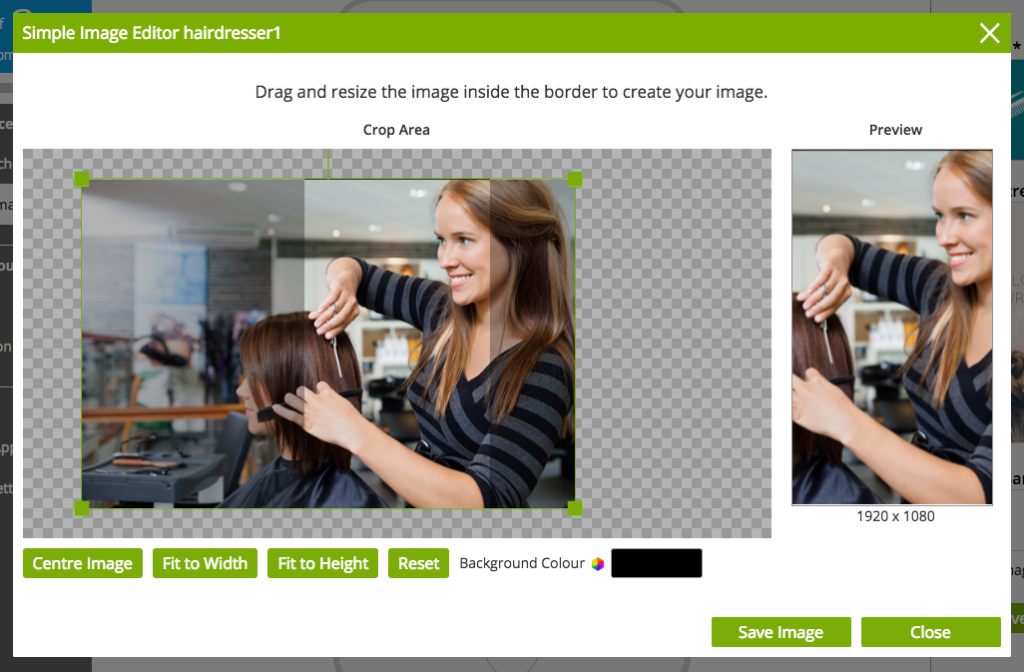 7. Adding Tabs & Functionality to Your App
Once you are happy with your app's appearance, you can move on to the Content & Settings section of the Build menu. The first section allows you to add tabs to your app, with tabs controlling the functionality of your app. Selecting Add Tabs from the right-hand toolbar allows you to browse through all the available tabs, organised by type. Selecting All will display all the available tabs, while selecting the show example link in each tab will display a representation of the selected tab, along with more information.
Tabs you select and edit are not automatically added to your Android app. Instead they will appear in the Inactive Tabs section of the right-hand toolbar. Add inactive tabs to your app by dragging them into the Tab Bar of the phone screen preview. You can rearrange the tabs in the Tab Bar by dragging and dropping the icons into the order you want.
Selecting Add to App will bring up the Tab Setting section, where you can edit the title and icon for the selected tab. Select Continue to edit the content of the tab.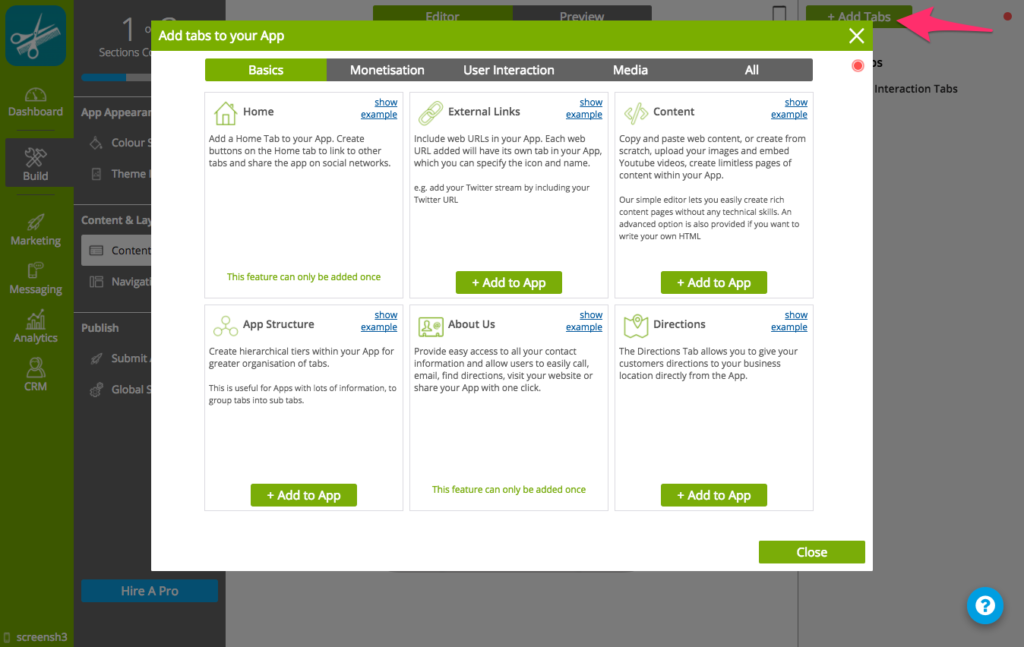 8. Editing Tabs in the Tab Bar
Editing tabs you have already added to your app is as simple as positioning your cursor over the Tab Bar. This will bring up a list of options: Tab Settings is to modify the tab title and icon, Edit Content is to manage the content, and Remove from App is for deleting the selected tab from the app. You can also remove a tab from your app by dragging it from the Tab Bar and dropping it in the Inactive Tab section of the right-hand toolbar. To permanently delete a tab from the Inactive Tab section, hover over it, then select Delete and Confirm.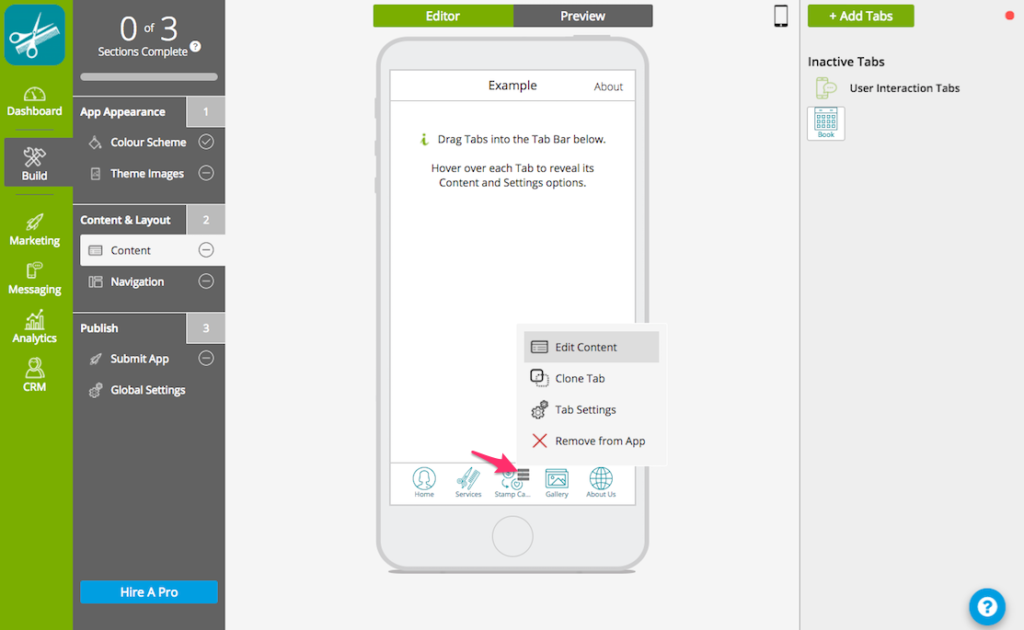 9. Previewing Your Android App
You can preview your app at any stage of the build process by switching from Editor to Preview mode. Hovering your cursor over the phone icon will bring up a QR code that you can scan with your smartphone, or you can download our Preview App. If using the Preview App, select the Members tab to scan the QR code, or login with the Username provided – leaving the Password field blank.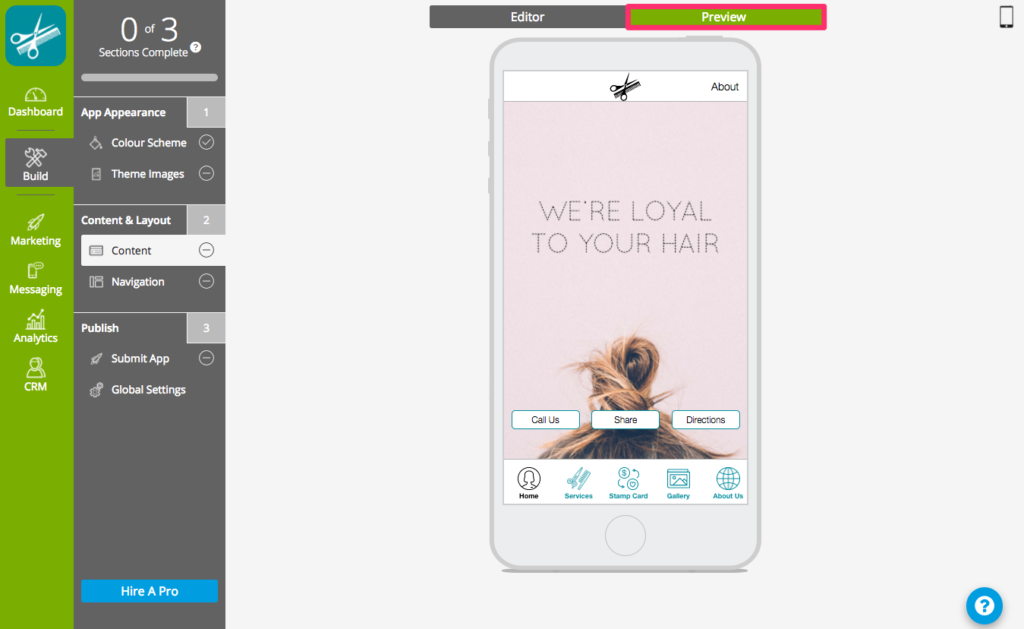 10. Selecting your Menu Navigation Style
Your App's menu style can be customised by selecting from a Tab Bar menu on the bottom of your App or a Side Menu. You can style the appearance even further by customising the Navigation Settings on the right. Use these additional settings to add a transparency to your menu, set the width, remove labels and more.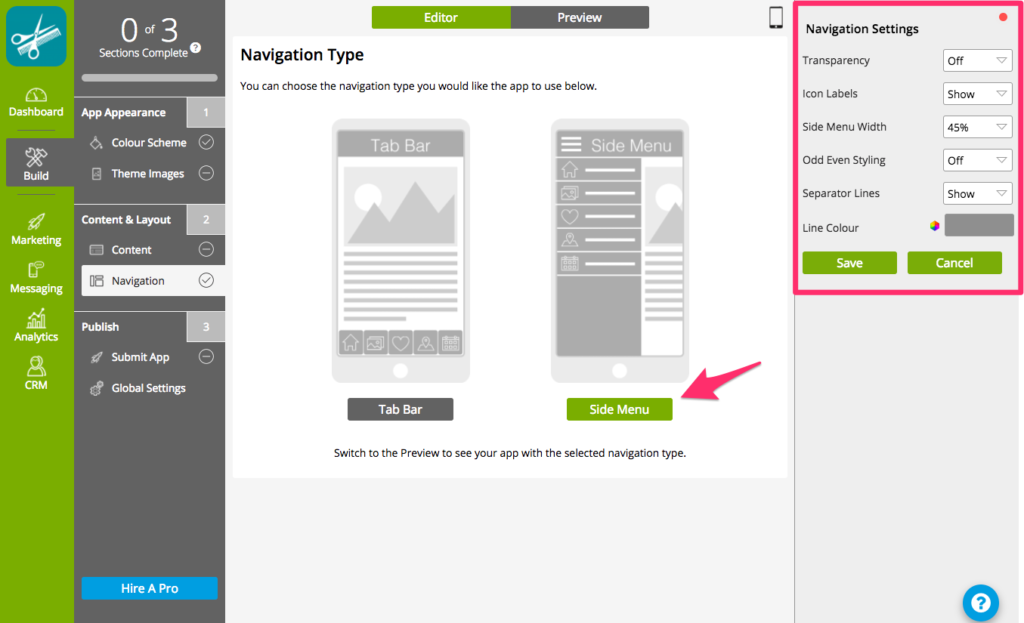 11. Publishing Your Android App
Once you've previewed your app, and are happy with your customisations and content, you should be ready to publish your app. Move to the Publish section from the left-hand toolbar in order to Submit App and then select one of our packages, based on your needs.
Before you can publish your Android app you will need to assign a content rating to your app, and you can read through Google's guidelines on content rating for more information. Additional App Store Information that you will need to submit include:
The app name.

A description for the app.

The category the app falls under.

Screenshots of your app, so that users can see some of the app's functions before downloading it.
Apps submitted via our App Builder platform must be free to download, and they will always list App Institute as the developer. Should you wish to charge users to download your app, or for you to be listed as the developer, you will need to use your own developer account. Google charges a once-off fee of $25 to upgrade an existing Google account to a developer account. Our Google Play Publisher Signup Guide shows how to do this.
Even though Google approves Android apps faster than Apple approves iOS apps, it isn't instantaneous. If you want to see your app live in the Google Play store, and for your business to start benefiting from the app, you shouldn't delay your submission for too long.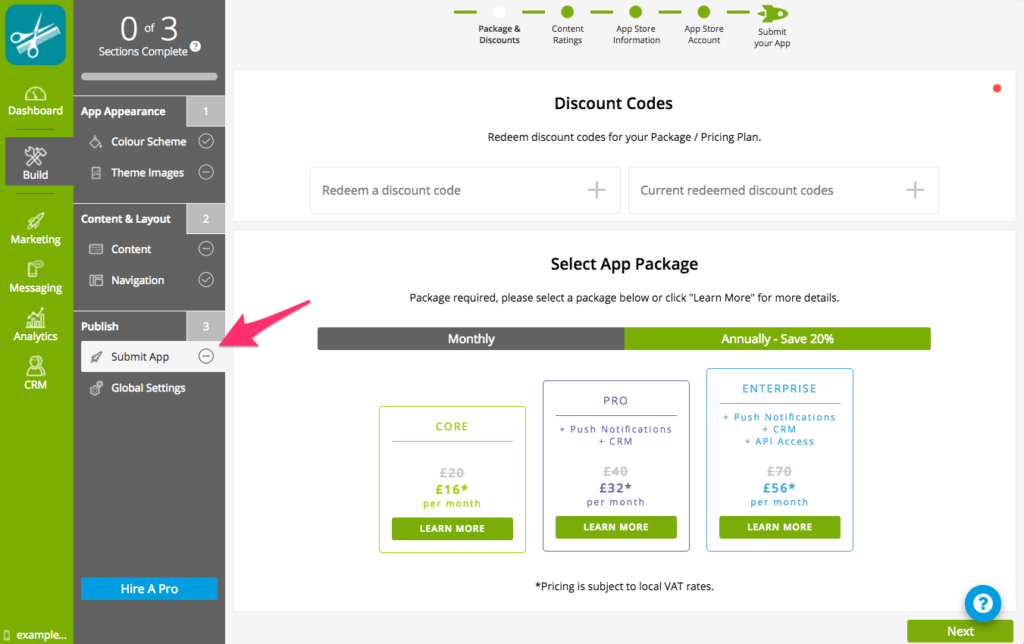 12. The Cost of Making an Android App
Registering an account on our App Builder platform, and using it to design an Android app, is completely free. You only pay for us to host and publish your app, with the costs for this listed on our pricing page. Alternatively, if you find yourself too busy to create an Android app, you can hire a professional through our website or App Builder platform to do it for you.
Many SMEs have previously avoided developing their own app due to the high costs involved, with bespoke mobile apps costing anywhere from £6,000 to £40,000+ to develop. But with AppInstitute's App Maker platform, the cost of developing an Android app is considerably more affordable for small and medium businesses. The AppInstitute App Maker platform makes it easy for anyone to make an Android app, publish it on the Google Play store, manage and update content, send push notifications, and even manage app users within a CRM, all without any coding or tech skills.
---