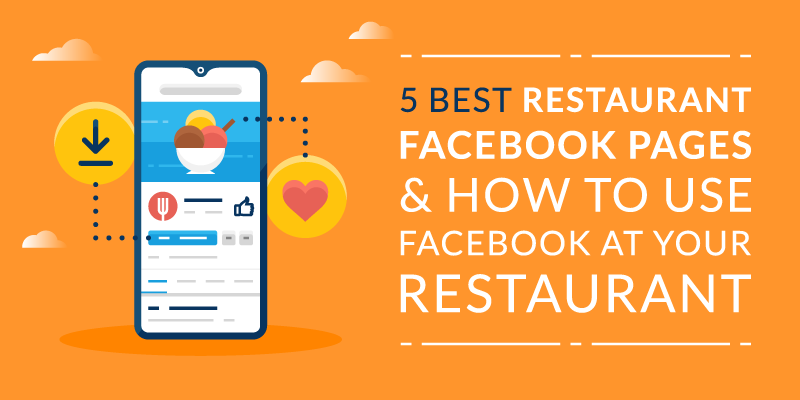 Facebook pages have become much more than just a place to share information about your restaurant and gain followers. They are now more like mini-websites that include all the information that potential customers need to know about your restaurant. This makes them an essential part of any restaurant's social media marketing strategy.
Depending on how exactly you optimize your page, you can use Facebook to:
Increase bookings.
Interact with customers.
Sell merchandise.
Promote your app.
Encourage takeaway delivery.
And more.
In this article, we'll look at what makes a great Facebook page, as well as show five examples of the best restaurant Facebook pages.
What Do the Best Restaurant Facebook Pages Do?
The best restaurant Facebook pages contain all the information that potential customers need when deciding where to eat out. Here are some of the most critical parts.
High-Quality Images
The first thing people see when they come across your page is your images: both your profile photo and your cover photo. Make sure your photos are high-quality and the right size. Types of images restaurants commonly use are:
Logos.
Food pictures.
Interior shots.
Pictures of employees.
Profile Photo: Your profile photo should have a square aspect ratio. But put the focal point in the center as Facebook rounds the corners of the image.
Cover Photo: The aspect ratio of your cover photo changes significantly depending on whether it is shown on mobile or desktop. When choosing a photo, keep the details central — especially if you include text — and be sure to test how it looks before settling on an image.
Facebook says the photo must be at least 400 x 150 pixels. It's also possible to use a video instead of a photo on your cover — number four on this list is an excellent example.
About Information
The about section is prominent on your profile and contains your restaurant's information. Filling this out is mostly self-explanatory, and you can choose exactly which sections to show. Include your restaurant's:
Location.
Website.
Reservation information.
Cuisine.
Phone number and contact details.
Opening hours.
Social media profiles.
Menu.
Restaurant Description Examples
The most challenging part of the About section is the description. Here, you need to write a short sentence or two about your restaurant's main value point.
Below are two excellent restaurant description examples.
We like the first because it focuses on the restaurant's heritage and location — two things that are sure to impress potential customers. The second is good because it uses a positive quote from an interview — something that gives the statement authority.
Sydney Cove Oyster Bar is one of the most historical and iconic venues on the water's edge of Circular Quay and has been serving Sydney's finest seafood since 1988.
British steakhouses and cocktail bars | "Flawless. The best steak you will find anywhere." Giles Coren, The Times.
Call-to-Action

One of the most useful features Facebook offers on pages is the call-to-action button. You can use this to persuade customers to order food, download an app, reserve a table, or call the restaurant. Think about your Facebook page's primary use and create a call-to-action based around it.
5 Best Restaurant Facebook Pages
There are tons of great restaurant Facebook pages out there. These are five examples we like and why.
Trejo's Tacos: Posts with Personality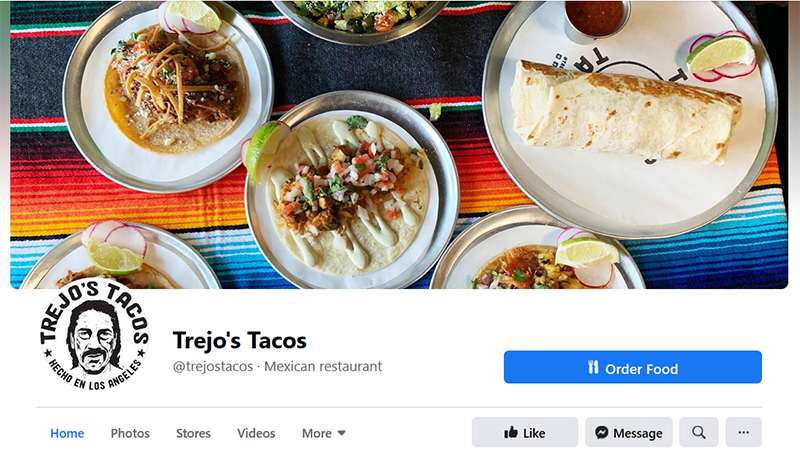 Trejo's Tacos is a Mexican restaurant chain owned by actor Danny Trejo. There are three reasons why we love its Facebook page.
First, it has a good profile and cover photos. The profile image is the brand's logo, which contains a recognizable monochrome image of Danny Trejo. The cover photo is a simple image of the food brought to life by the excellent lighting and the splashes of color in the background.
Next, the restaurant makes good use of the call-to-action feature by including a clear link where you can order food. This is the perfect call-to-action for a fast-casual restaurant.
The best part of the page is its posts. Rather than just sharing images of food, the restaurant frequently updates its page with new content featuring Danny Trejo. While most businesses aren't run by a well-known movie star, it shows how bringing the personalities of those in your business to the forefront can make your content engaging.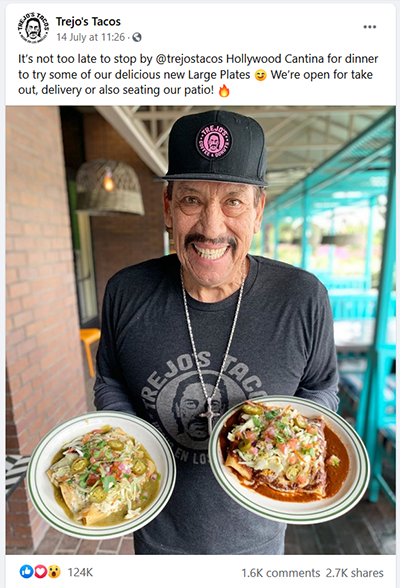 Hawksmoor Steakhouse: Brilliant Cover Image and Valuable Description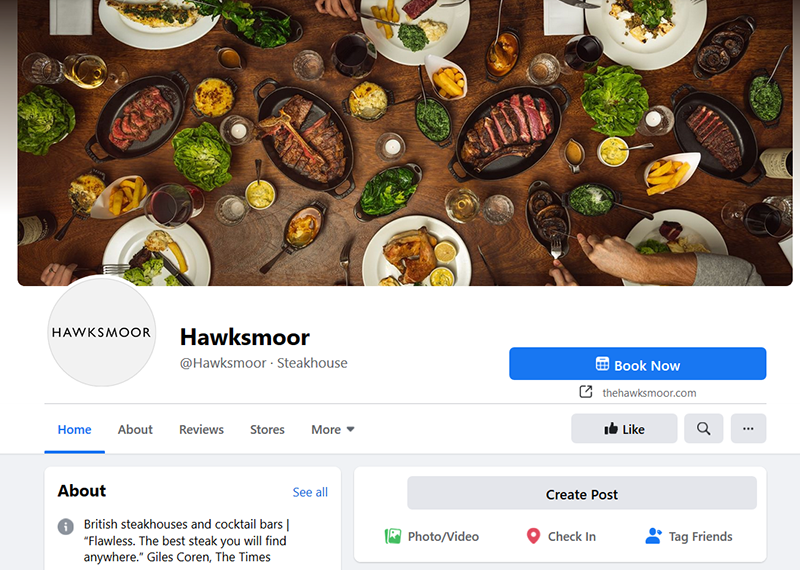 Hawksmoor Steakhouse's Facebook page does two things we like. The first is the cover image, which shows a table set with food from the restaurant. It is a high-quality image with a variety of different types of food.
The photo stands out because it shows the table mid-meal. This gives the image dynamism while also providing a ton of inspiration for people when they choose what they want to eat.
As mentioned in the section above, we also like the description. The restaurant includes a quote from a review from The Times that calls the restaurant "Flawless. The best steak you will find anywhere."
Shake Shack: Good Use of User Generated Content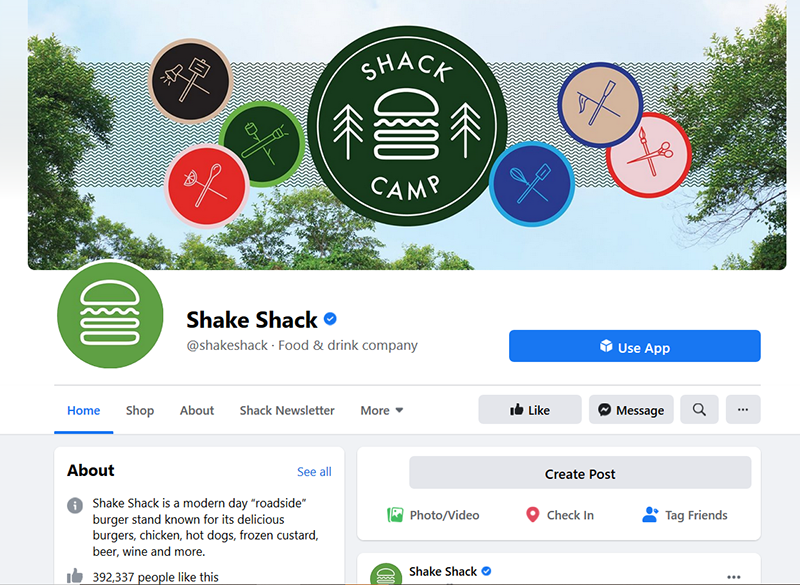 Shake Shack has a great Facebook page that promotes the overall brand, rather than any single branch.
The page does a lot right — we like the description because it gets across the brand's story in just a few words, while the cover and profile photos are instantly recognizable as Shake Shack, despite them not showing any food.

However, the page really stands out due to its use of user-generated content. Many of the posts it shares are photos taken from the Instagram accounts of customers.
This creates authenticity. It may also encourage people who want to grow their following to share pictures of Shake Shack as they know there is a chance the brand's account will share the image.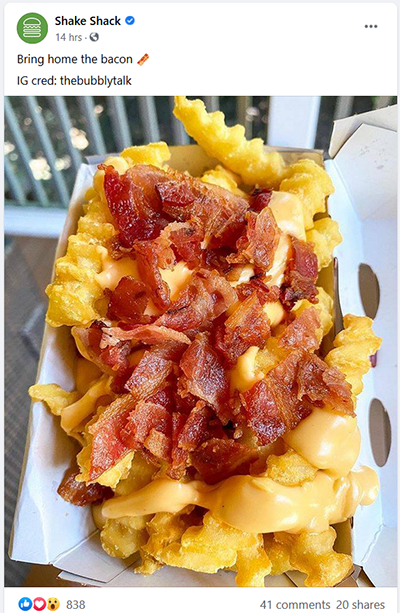 Chin Chin Ice Cream: Driving Merchandise Sales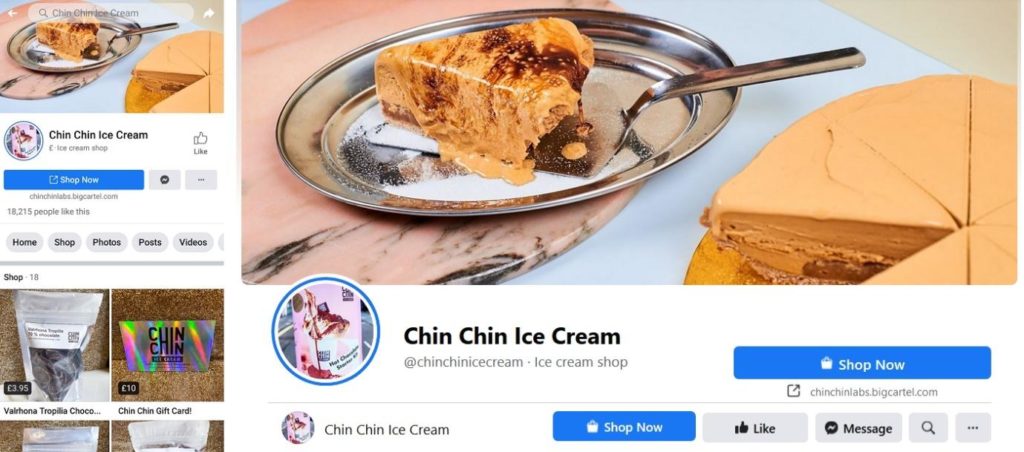 Chin Chin Ice Cream uses its Facebook page in a different way to the other sites on this list. Instead of promoting the ice cream parlor itself, the page pushes users towards its shop where they can buy merchandise, ice cream toppings, and gift cards. Chin Chin Ice Cream may be able to drive more sales and revenue by using the page in this way.
Burger and Lobster: Mouth-Watering Cover Video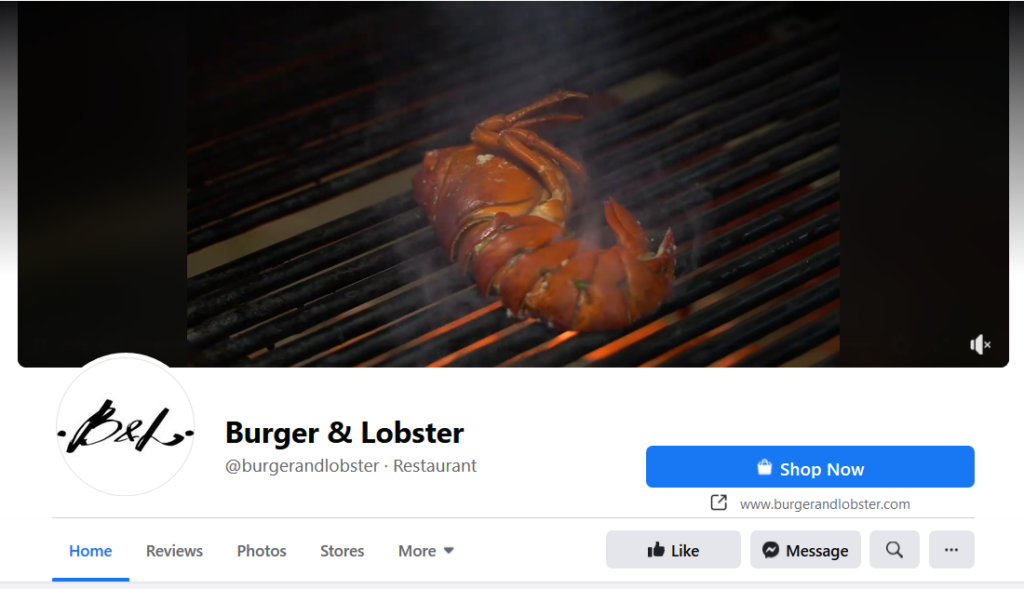 Burger and Lobster's Facebook Page stands out due to the mouthwatering video it uses as its cover instead of a photo. The footage shows food being prepared in the restaurant. It highlights the fact that the food is cooked on a giant grill.
The visual focus of the page is supplemented by the user-generated posts the restaurant shares. The page also makes it easy to book a table or order takeaway via the "Shop Now" call-to-action.
Restaurant Facebook Post Inspiration
Facebook posts are an essential part of any restaurant page. Here are some types of content you might want to share.
Menu Introductions: Restaurants often introduce dishes via Facebook posts. You could show a new meal or an existing dish. Either way, choose a high-quality photo and description to make the food as appetizing as possible.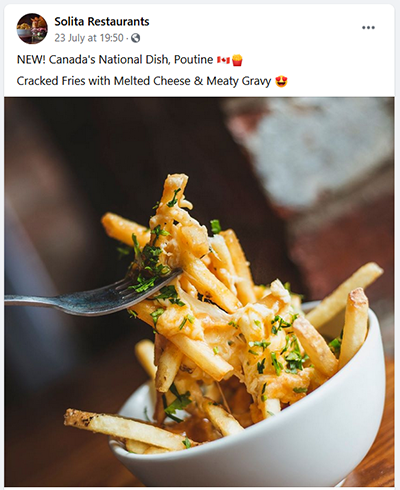 User-Generated Content: We mentioned user-generated content in the above section as it is an excellent way for restaurants to get new photographs. Instagram is an excellent source of this type of content, so be on the lookout for photos you are tagged in and if you like one of the images, reach out to ask if you can share it on your Facebook profile.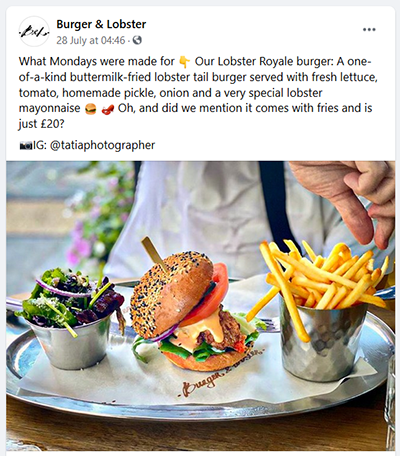 Restaurant News: Keep customers up-to-date by sharing news from your restaurant. Some updates you can share include:
Changes to the menu.
Interior changes.
Different opening times.
Collaborations.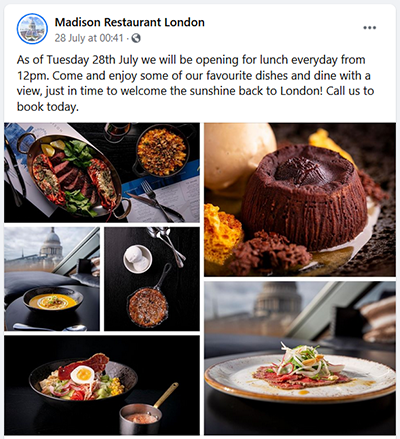 Time-Sensitive Content: Sharing content relevant to trends or things that are happening is an excellent way to connect with customers or profit from the popularity of something else. You could write posts relating to a sporting event, a news story, the weather (see below), or simply celebrating the weekend.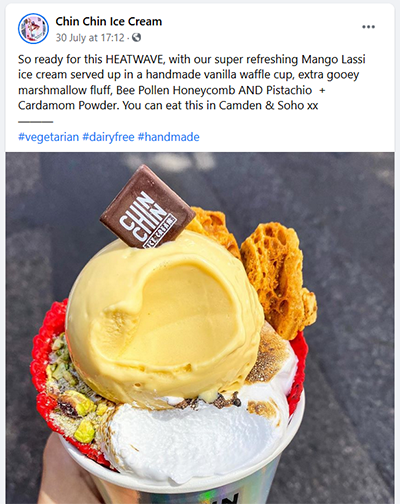 Promotions: Sharing information about promotions is an excellent way to get customers to come to your shop. Another option is to run contests that people can enter by commenting on or sharing the post.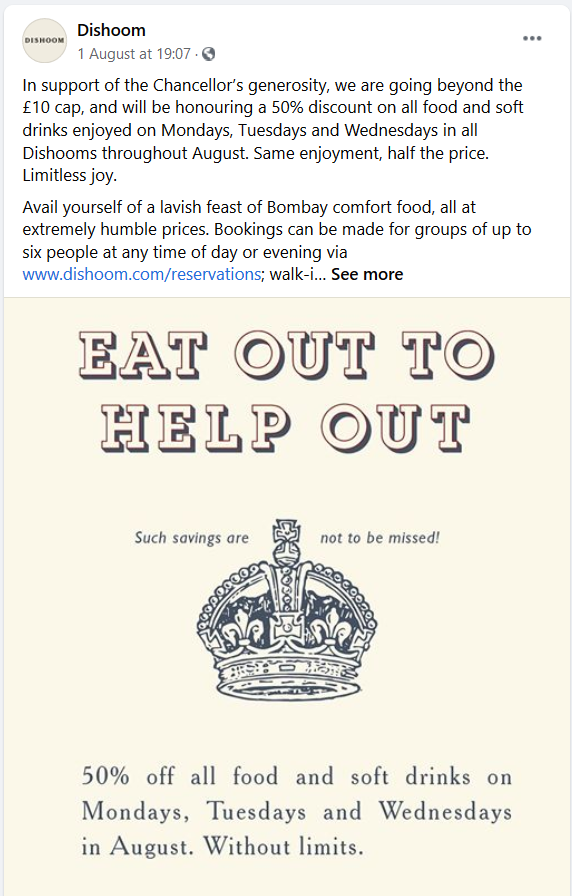 Media Coverage: Be sure to make the most of any positive media coverage your restaurant receives by sharing it on your page. You can also share blogs, Instagram posts, or even customer reviews on third-party sites.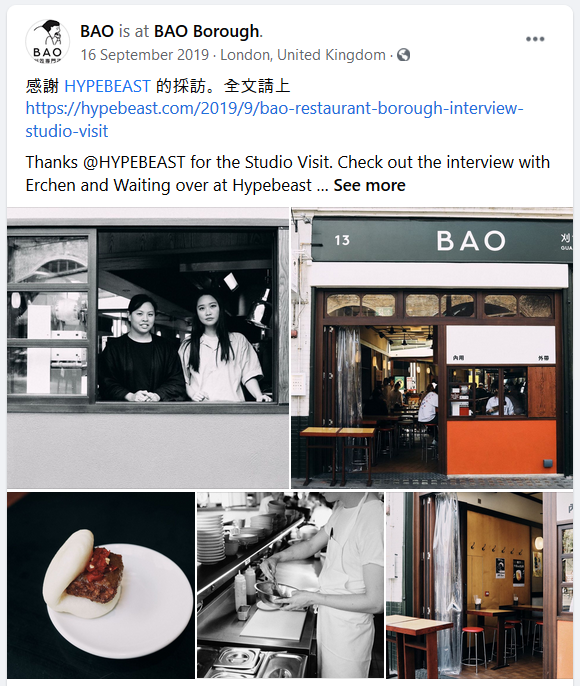 Wrapping Up: Facebook is an Essential Part of a Restaurant Marketing Strategy
The number of people on Facebook means that setting up your page is an essential part of any restaurant marketing strategy. For more information on increasing your reach on social platforms, check out our articles on restaurant social media marketing in general and restaurant Instagram marketing. For more restaurant marketing tips check out top 31 restaurant marketing ideas in 2020.
---