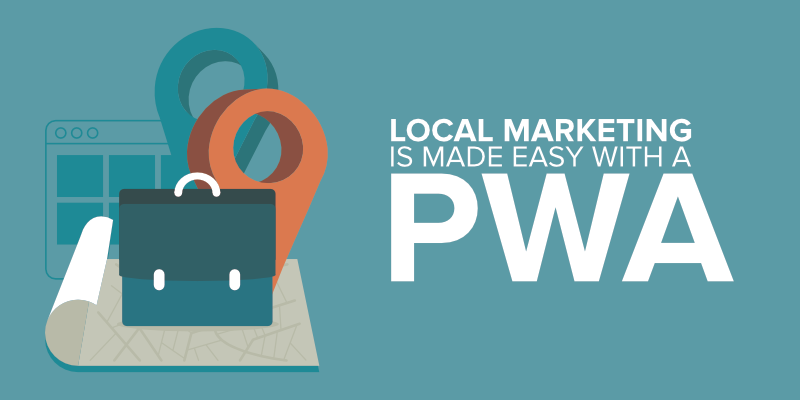 Having an easily accessible digital presence within the area your local business is based is now more important than ever. We are living in a digital world so if you don't have a website, you could be missing out on a significant amount of potential revenue.
There are many ways of creating a digital plan that puts you ahead of the competition, and whilst a responsive website would, not so long ago, have been a great place to start, you now need to offer even more to stand out from the crowd.
Fortunately, there is another option that makes local marketing easy, and it comes in the form of Progressive Web Apps.
Fast & Easy to Operate
With the ever-increasing popularity of native apps, wouldn't it be great if your local business could offer all the great features that come with apps without the expensive development and installation costs?
With a PWA you can.
Offering all of the fantastic features that you've come to expect from an app you'd find in the device's app store, including instant loading, incredibly easy navigation and even push notifications, a Progressive Web App offers even more due to the fact that it is accessed from a mobile browser, in exactly the same way a responsive website is.
Therefore you and your business can avoid the often extortionate costs associated with native apps, before also taking advantage of the fact that you won't have to compete with the many other apps up against you in a congested app store.
There will also be no need for the user to wait for it to download as it can be instantly accessed via the browser and no matter what platform your PWA is accessed on, you can guarantee a memorable mobile experience that is both fast and easy to navigate.
Simple to Promote
For any local marketing campaign, getting people through to your online offering is one of the most important tasks. Whereas many will associate a local business as having a store that they can perhaps visit on a Saturday morning after a busy week at work, you need to push the fact that they can also find your products and services online too.
It is by no means an easy task, yet with a Progressive Web App in your corner, the whole process of driving traffic to your online presence becomes much simpler than if you opted for a native app instead.
PWAs are highly linkable so if you are adding your business to a local online directory or are featured in a publication and want to add a link to your website in the online version, you can direct them through to your PWA.
The fact that users will then end up on something which looks and feels like an app but is accessible like any other website is sure to blow them away and further establish you in their buying thoughts.
Additionally, if you currently operate social media profiles, whether it be Twitter, Facebook, LinkedIn, Pinterest or any one of the other platforms on the market, you can also post links that direct your followers through to your PWA.
This seamless linking and discoverability will compliment your marketing tactics perfectly, enabling you to really highlight how your local business is pushing the boundaries of technology with a digital offering that emanates all the things we love about apps but makes them available in the mobile browser.
Optimised for Google
A further great feature of the Progressive Web App is that it is fully indexable by Google, so in much the same way as a responsive website will appear in a user's search results, your Progressive Web App will too.
So, if you are a local cafe operating in Nottingham for instance, your PWA can be optimised to ensure that when a user searches for 'cafe Nottingham', your web presence appears on the first page of search results.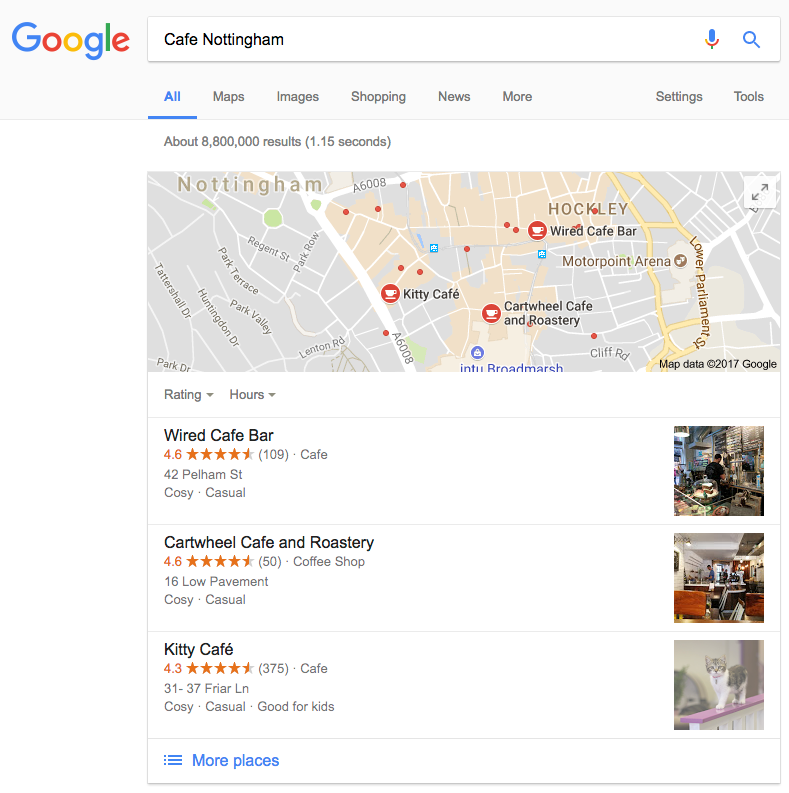 Your PWA could be here!
Imagine how impressive it will look to the user when they land on your PWA from their search and rather than being faced with a slow loading website, they come across an instant loading, app-like experience that they would have expected to come from a traditional app downloaded onto their phone.
There's no doubting the fact that it will leave a lasting impression and, when combined with the improved functionality, will provide an increased chance of you converting them into a sale or enquiry.
Easily accessible contact information
Sometimes when accessing a local business' digital presence, the user is simply looking for a means of contacting the company. Whether that is through a contact number, email address or physical location, if this information isn't readily available, the chances are high that they will go looking elsewhere.
If you're running a slow loading, clunky responsive website, finding this contact information can be difficult. However, with a PWA, this vital contact information is instantly available, meaning you could see an improved number of phone calls, emails and even visits to your store after launch.
In essence, a PWA for your local business can make for a frictionless digital experience for the user and be a great asset moving forward.
An option to provide push notifications allows you to keep potential customers informed of your latest offers, even when they aren't using their mobile browser, and when a user enjoys significant engagement with your PWA, they can be prompted to install a shortcut on their home screen that links directly through to your PWA in much the same way as you would a traditional native app.
If you're looking for the next local marketing trend, get ahead of the game now with a Progressive Web App. Avoid the high development costs that come with native apps, the problems associated with app downloads and updates; instead opt for a Progressive Web App that will perform in much the same way as a responsive website design but with far improved load speeds, the ability to continue to function even in low connectivity areas and numerous app-like features that your customers will love.
To learn more about the PWA features supported by AppInstitute, click here.
---