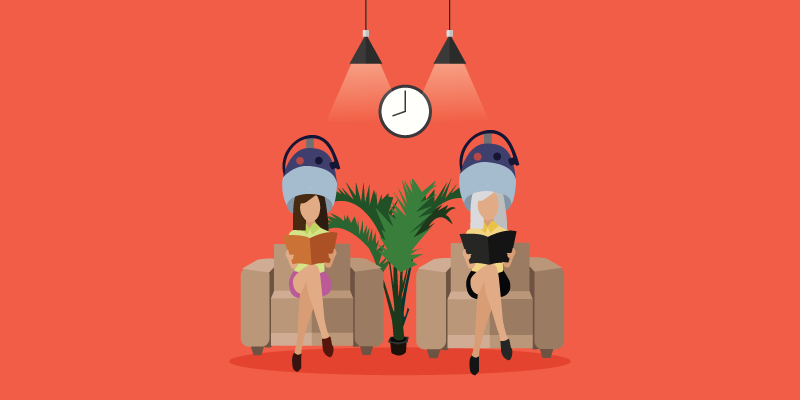 The Salon and Spa is one industry that's based on repeated business. Services like haircuts, massages, pedicure and manicure are considered as frequently required. This industry with quite a few identical competitors is extremely over saturated. Nowadays, a lot of beauty and hair salons have started giving their customers an online scheduling and booking solutions that helps them to access the availability, book their appointment and consult an expert for assistance. By giving your clients access to the mobile app, you are not only showing that you are ready for next level, but you will also provide them exactly what they need. A dedicated mobile app for your business can help you get more clients, unlocks the power of repeat business and customer retention. For small businesses like spas and salons, a mobile app is the easiest way to connect with clients, and it allows opening new marketing channels. A good hair salon app should have following great features to boost business cost effectively.
Mobile Reservations
Through this feature, clients can access mobile reservations linked directly through beautiful built-in calendars. This also helps save your staff some time on the phone and makes it simple for customers to get an appointment conveniently, especially if they are hesitant to call. This feature also lets clients receive notifications via email when appointments are scheduled. Having this feature in your app can be helpful in providing easy appointment management and can help you book more clients and increase repeat appointments. It also implements an optional up-front commitment fee for the appointment.
Loyalty Cards
This fantastic feature is always a hit and fan favourite, and a great way to encourage clients to choose your salon and product over your competitors. This feature in salon app allows you to offer a mobile loyalty program, for example, buy two manicures, and get one pedicure free. If you want to boost your product sales further, you can make a 5+1 card, which gives your client a product for free (shampoo, hairspray, conditioner, hair mask.) Through this feature, you can easily manage your user's coupon activity, provide users with attractive offers with an incentive to return to your business and create different levels of perks to reward your most loyal users better. Remember to focus on the goals of your salon before creating a loyalty card. Will you gain a higher loyalty and return rate by offering free services (haircuts, pedicures, hair dye, and manicures) or by providing the free product? Consider both options thoroughly before finalising your loyalty cards because you never know you might need both. Keep in mind that loyalty cards are part of a long-term strategy to build stronger clientele and increase profit, with time and patience you will eventually reap the benefits.
Special Offers
Push notifications implement a notification system that helps you stay in contact with users. It allows you to drive activity on special promotions, events, deals, and offers. It provides clients with easy updates and important information. During a downtime, if you feel the need to generate revenue, push notifications allow you to generate interest easily and proactively. With the help of this feature, you can also manage your notifications across Android, iOS, Twitter and Facebook. One more interesting thing you can do is you can offer GPS coupons that clients unlock when they check in to the app at your location. Not just, it adds a fun dimension to your business, but it also rewards clients just for visiting your salon.
Style Libraries
Admit it or not, women across the globe like to copy celebrities in our real lives. Whenever they spot their favourite celebrity with a new haircut, women flock to their local salons with a picture of the great hair to duplicate the look. Celebrity obsession is an all-time high trend, and salons make sure not to miss the advantage of new hair looks. You can introduce exciting features to your app like:
Haircut of the Week
Through this feature, you can display numerous trendy hairstyles. Upload a celebrity picture; describe the details and type of style and haircut. Offer hairstyling tips according to their face cuts. Go the extra mile, inspire your clients, encourage them to come in and try something new. Add hashtag with a photo to your social media feed to attract more clients.
Updo of the Week
Special events and weddings are the seasons when updos are especially sought out. Girls are always looking for fun, funky haircuts and new updos, cash these events by posting a weekly updo with styling tips and advice about the hair look.
Appointment Reminders
Every salon must incorporate this feature into their app. Through this important feature, you can send your existing clients reminders of their regular appointments. Act smartly and proactively; you can easily get hold of a segment of clients that might affect your business by visiting another salon. With sheer dedication, you can secure more appointments that may help you boost your yearly revenue.
The benefits are many, and the costs are few. Consider making your own app for your salon if you have not developed one yet. It's entirely up to you whether you want, to begin with just one, or add all five features to your app. It really does not matter how big or small your business is or what business your own, your app with unique features will be a strong tool your clients will love.
If you're in need of more inspiration for your business app, take a look at the 10 Money Making App Trends Your Small Business Should Invest In.
---