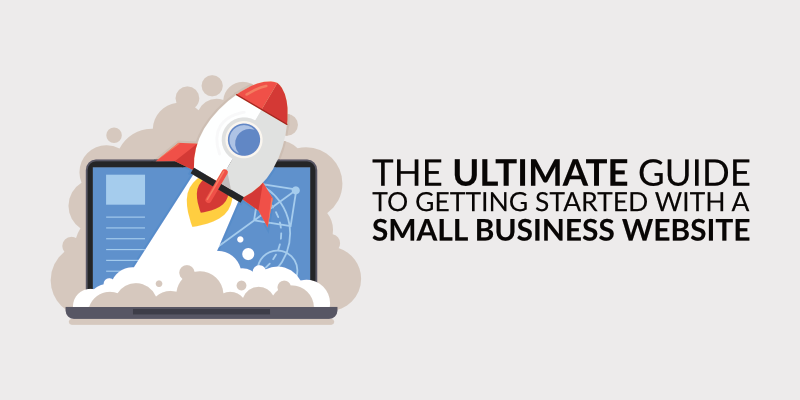 As a small business, your website is going to be a key part of your success. It's the hub of what you do in the online world, and it's how lots of your customers will discover your brand.
First impressions matter, and it's highly likely your costumers will become familiar with your website long before they interact with you on an individual basis (if they ever do).
This means that:
Your website is a virtual ambassador for your businesses
A website is your calling card
It's a key customer discovery route for your brand
It's often where you'll make direct sales
It's a key way in which you will compete with your rivals
The great thing about setting up a website is that it's an incredibly low cost, practically anyone can do it, and if you get it right you can significantly punch above your weight.
The only limitation is your imagination and your time (and/ or budget).
But, there are so many different options available that you need an essential guide to getting started with your business website. So don't worry, that's exactly what we're here for.
Establish your goals
In the same way that your business has specific goals, a brand identity, and so on, your business website also needs to have a specific goal or goals it aims to achieve, and it needs to have a coherent identity.
What sort of website do you need?
Knowing what you want to get out of a website will help you choose the right kind of site to build.
What is your site for?
To sell products and services online (e-commerce website)
To provide info about your company (brochure website)
To publish content to help generate more business (magazine style website)
Let's take a look at these options in more detail…
Building Real Estate Websites
A real estate website needs to provide all details about your real estate company. You should make sure that the website is mobile responsive and follows modern design practices.
In addition, ensure that your website visitors do not struggle to use the website. They should find it easy to navigate through your website without any issues. This can improve your website conversion rate. Users should also find information about all real estate services offered by your company.
Building e-commerce websites
This is essentially an online storefront to help you sell products directly to customers without the need for a brick and mortar store.
An example of a small business e-commerce website: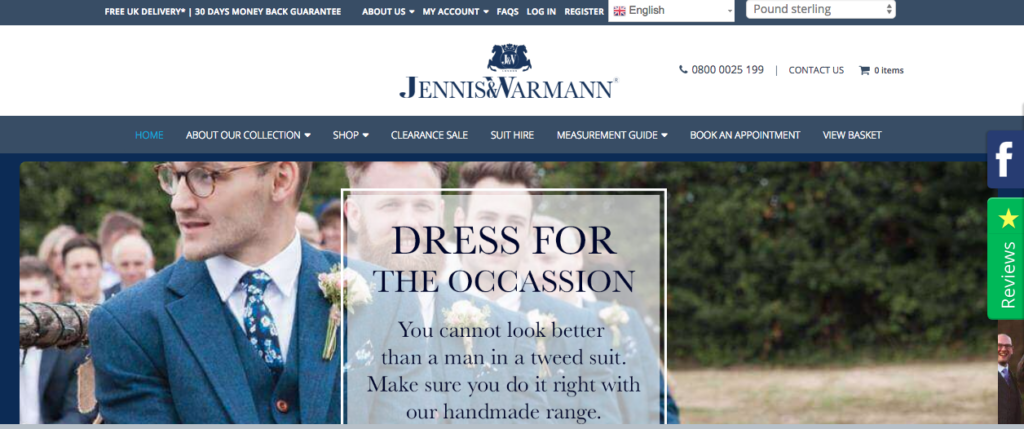 Brochure website
This is a static website that provides information about your services, explains what your company is all about, and directs users to your contact info.
An example of a small business brochure website: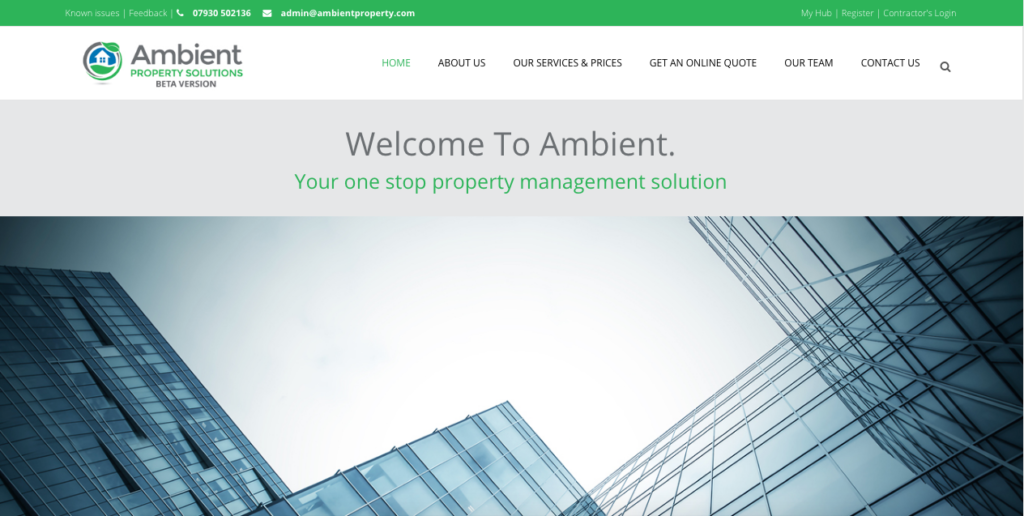 Magazine style website
Magazine style websites are essentially online magazines, or glorified blogs (but in a good way).
They're not necessarily connected to other goods or services, but brands often build news sites with magazine-style content in order to establish themselves as masters of their niche.
For example, Art Touches Art is a blog about film and TV that is linked to film production services.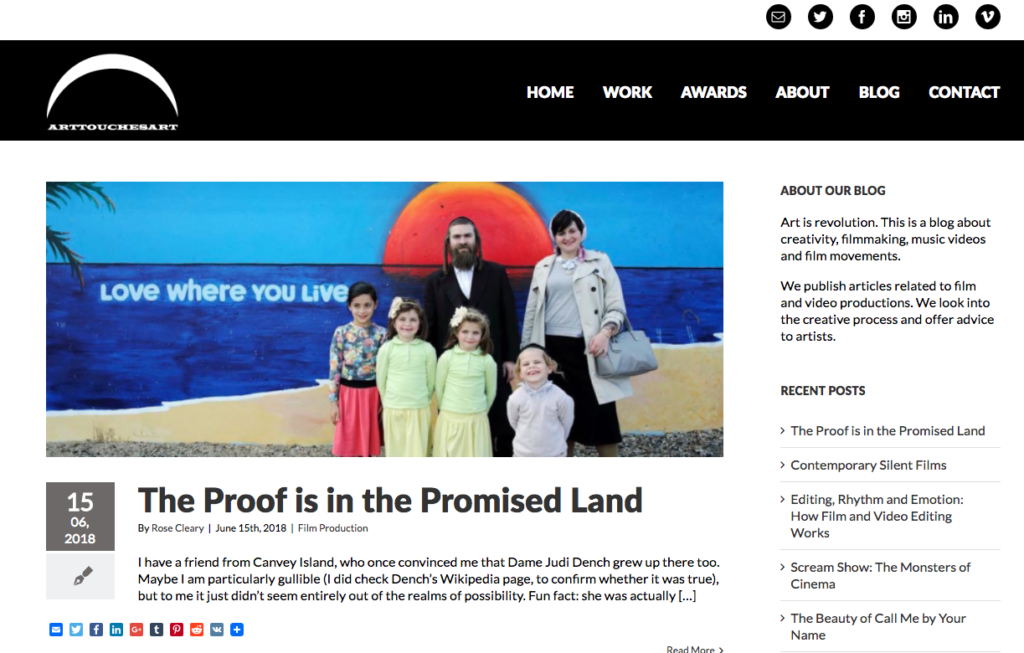 Once you know what kind of site you need, it's time to register your domain.
How to secure your website domain
Choosing the right name for your website is one of the trickiest choices you will make.
A good domain name needs to:
Match your brand name as closely as possible
Relate to your USP
Not use extraneous numbers or hyphens
Use a .com or .co.uk/your country of origin ending. (Avoid .net and .info because, frankly, it looks cheap!)
Once you have settled on a name, you need to check it's available. Go to WHOIS and type it in. If it's not available, tweak it in a way that makes it specific to your brand, for example by adding a location or niche. So if joeblogs.com is taken you could try joeblogslondon.com or joeblogscakes.com.
If it's available, you can buy it from a range of different domain registrars such as…
NameCheap – cheap, easy to use service
Google Domains – slightly above average prices but excellent features
GoDaddy – world's largest registrar with good offers on 2-year bundles
HOWEVER…
Although domain registration (buying a web address) and web hosting (actually publishing site content) are different things that you can buy separately, most domain registrars also offer web hosting packages and vice versa.
To keep things simple, it might be best to find a service provider that offers both functions.
Finding the right web hosting for you
Three very reliable and affordable web hosting sites are HostArmada, TSO Host and Heart Internet which have been recommended to us by small business owners.
But you should do your research and find a deal that suits your needs.
Things to think about:
– Is this a lightweight site with only a handful of pages and no heavy file demands?
– Or are you going to be hosting videos and lots of high res images and fancy flash animations?
Good hosting companies will have a range of different plans for different needs.
Website Personalization is another area to consider, surveys have shown that personalization around the call to action on a website leads to more than a doubling of that CTA being taken.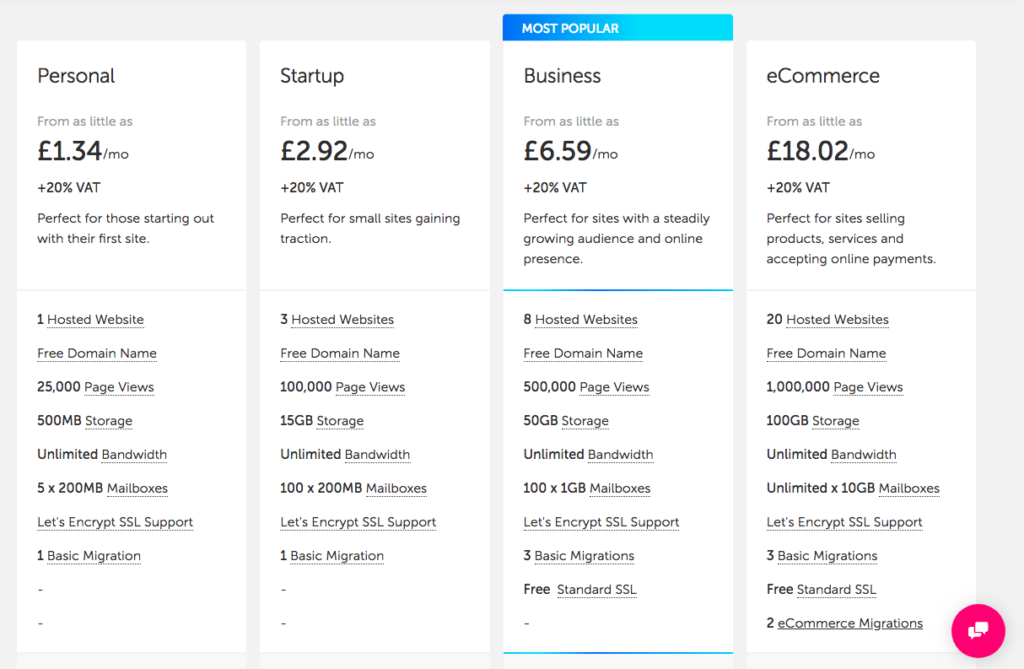 Other things to consider:
How many websites do you need? Just one for your business, or do you have different side businesses or "verticals" you want sites for as well?
Are you expecting lots of page views? A news site would need to be able to handle lots of people browsing it at once, whereas if you run a B2B site you may not be expecting such heavy traffic
Will you need lots of storage space for files, PDF docs, and media attachments?
How many email addresses will you need? Just one generic contact email, or will your team members all need separate email addresses?
How important is site security for you? (hint, the answer should be "very"). Make sure you choose a host with an SSL security certificate.
If you have domains with other registrars or web hosts you can transfer or "migrate" them over to a new host. Check if your host offers any free migrations or else you'll have to pay.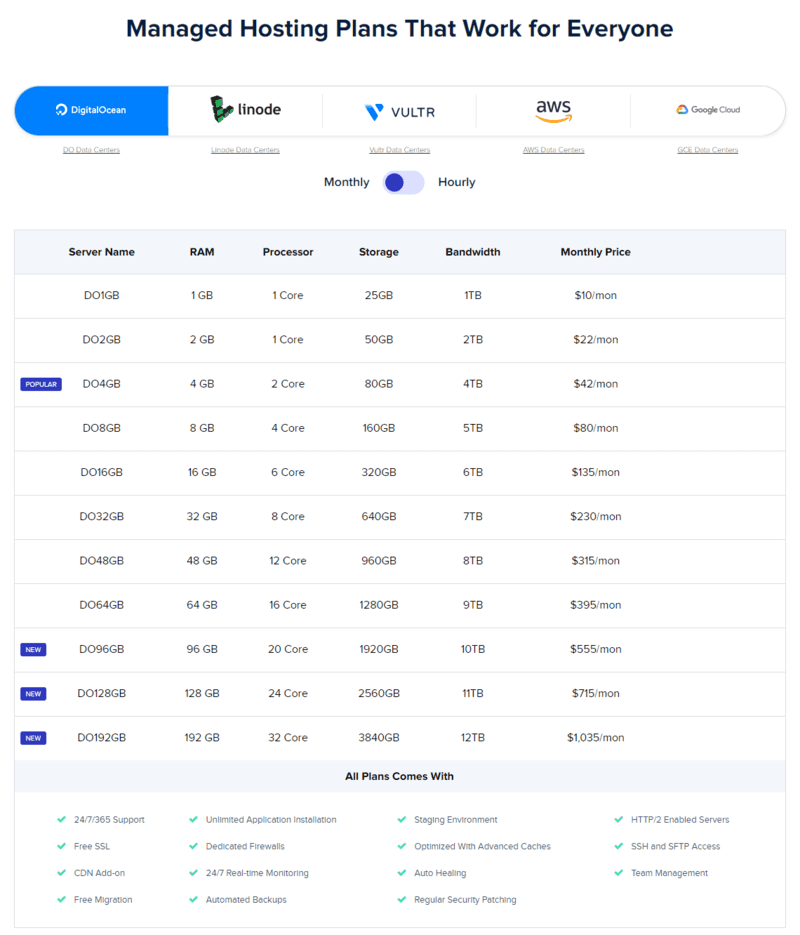 How to design your website
There are various options for designing your website…
Pay for a web developer
You can pay a web developer to build one for you. This is great if you have the budget but not the time, and they can even maintain it in the long run. This does mean you'll be somewhat reliant on them to make changes if (and, to be honest, when) things go wrong, so if you're on a super shoestring budget it's probably best to keep it in-house.
Drag and drop website builders
Alternatively, you could use a drag and drop website builders like SquareSpace, Weebly, 3dcart or Shopify.
Check out Chris Singleton's in-depth Shopify review here.
These tools are great for quickly setting up a website for those with no coding knowledge or experience of content management systems like WordPress.org or Joomla.
Using a content management system
A content management system (CMS) is a tool for creating and publishing content on the web. No programming experience is needed, but you need to be reasonably internet savvy.
There are many free and paid-for CMS tools out there, but the most popular free ones are:
How to decide which CMS to use
In a nutshell, WordPress.org is fairly easy to use, anyone who's relativity computer savvy will soon get the hang of it.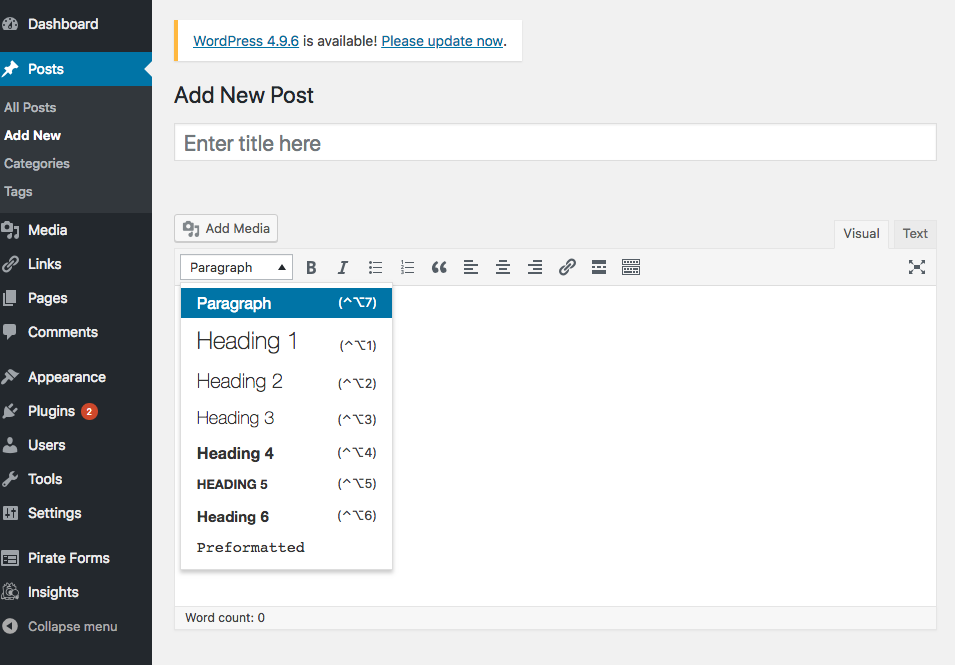 It's also incredibly flexible, with a number of free and paid-for plugins that essentially add different functionality to your site such as;
Contact forms
Google Analytics reports
PDF file embedder
A number of "themes" are also available which influence how your site looks and how it is structured.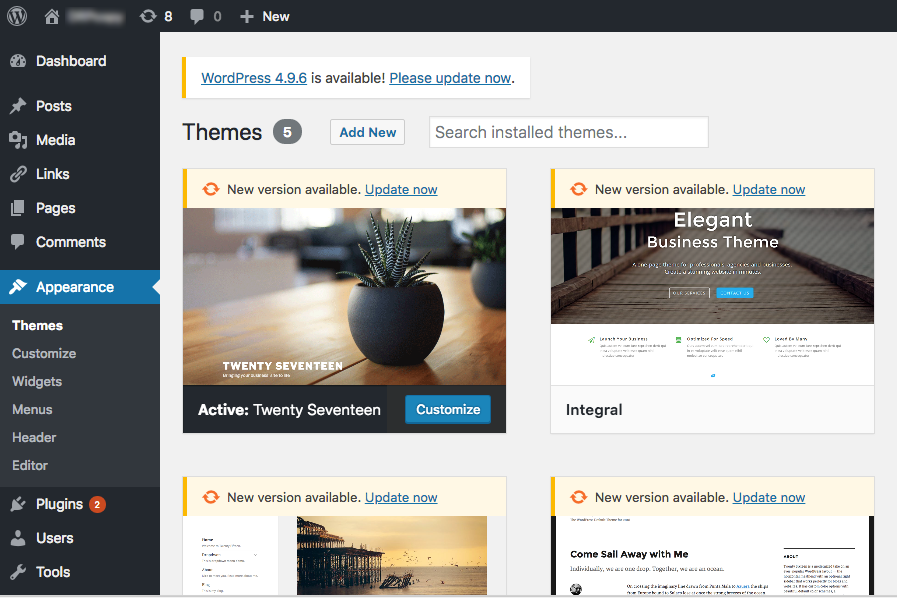 On the other hand, drag and drop options like Squarespace are much simpler and you can do a lot with them, too.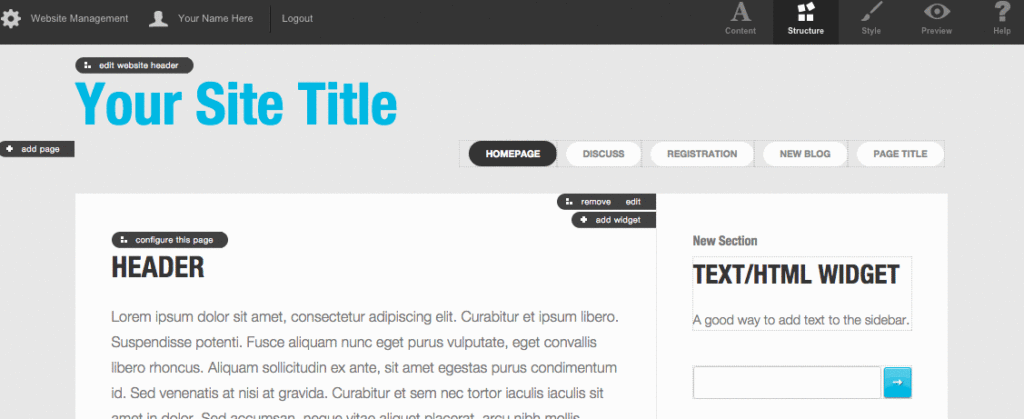 Pick WordPress if you want to have lots of flexibility and you don't mind you or a team member being on hand to manage the site and troubleshoot any issues that come up (drag and drop sites do all this work for you behind the scenes.)
If you're reasonably tech-savvy, using WordPress won't be much of a problem for you and you can rest safe in the knowledge that big brands like Tech Crunch, The New Yorker and Mercedes-Benz are using the same platform. Also, TSO Host has excellent support and their assistants will often do behind the scenes work for you if you ask nicely.
Pick drag and drop CMS platforms like Squarespace or Shopify if you privilege simplicity and ease of use over flexibility and self-management.
To get the best of both worlds you could use one of the many Themify themes for WordPress which offer drag and drop themes to streamline your WP workflow.

Pro tip: if you go for WordPress.org, look for a web host that offers WordPress hosting as part of the package. It'll just make everything much simpler.

Creating content for your small business site
Once you've chosen and registered your domain name and selected a web host provider and content management system to design your site with, it's time for the real creative work to begin.
Start with the basics
A website can be as simple or complex as you want it to be. It's a good idea to start with a basic design with a few key pages, and then build it up from there as needed.
How many pages should my website have?
Some people will tell you that having in excess of 50 pages on your website will significantly increase your search rankings.
However, for small businesses, quality is far, far more important than quantity.
The best thing to do is to take a look at the websites of successful brands in your niche and draw inspiration for your own site.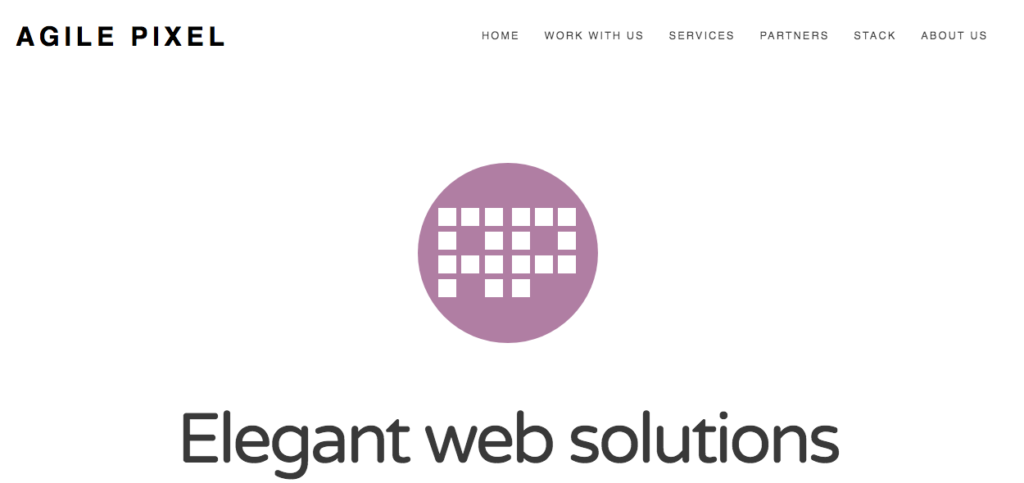 Let your business requirements determine the pages you need.
The 5 basic pages every business site needs:
Homepage – a simple intro to your business
About Us – tells your story and explains why to choose you
Products/ services – the specific breakdown of what you offer
Contact – email, address, and social media accounts
Testimonials – "social proof" that you can deliver
Plan your site structure in advance
Websites need to be structured, with pages naturally linking to each other in an intuitive way.
Each page needs:
A header explaining its purpose
A meta description summarising its contents for search engines
Appropriate use of tags to help search engines organize your content
Well formated text with subheadings and lots of line breaks
A share button where appropriate (this can often be added using a CMS plugin)
It's a good idea to write your page content in a document before plugging it into your CMS. It's easier to see what you are doing, and lets you take a step back and look at your pages from a content point of view.
Designing your homepage
This is the first thing people see when they type in your main URL. You have a very short time to explain to users what you offer them and why they should choose you over a rival. This page should be much shorter than an About Us page.
To work out what to put here, answer the question:
"If this was the only thing you could tell people about your company, what would you say?"
Let's take a look at the homepage of web design company Agile Pixel: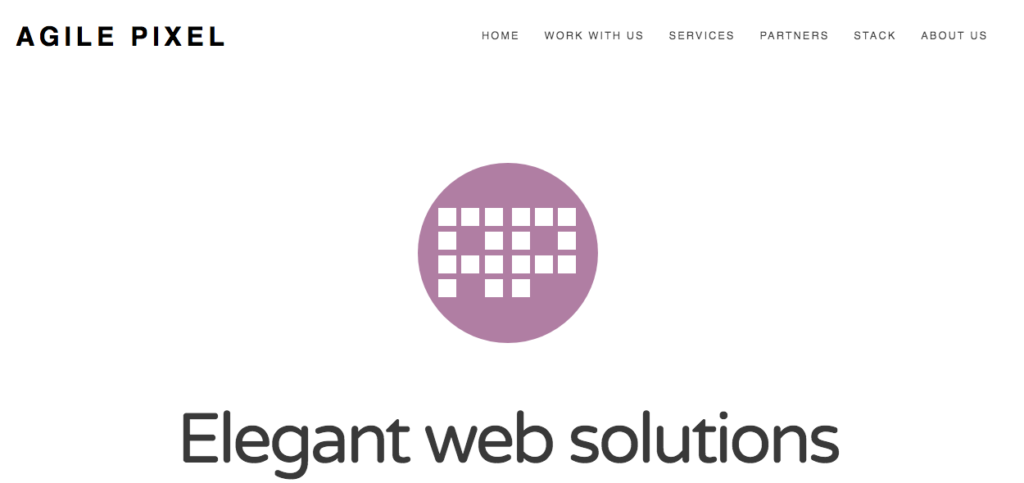 Note the simplicity of the page as it loads. It conveys value in three simple words, "elegant web solutions".
But notice what happens as we scroll down, we slowly unveil a thoughtfully and artfully designed page that walks us through the value proposition in much more detail.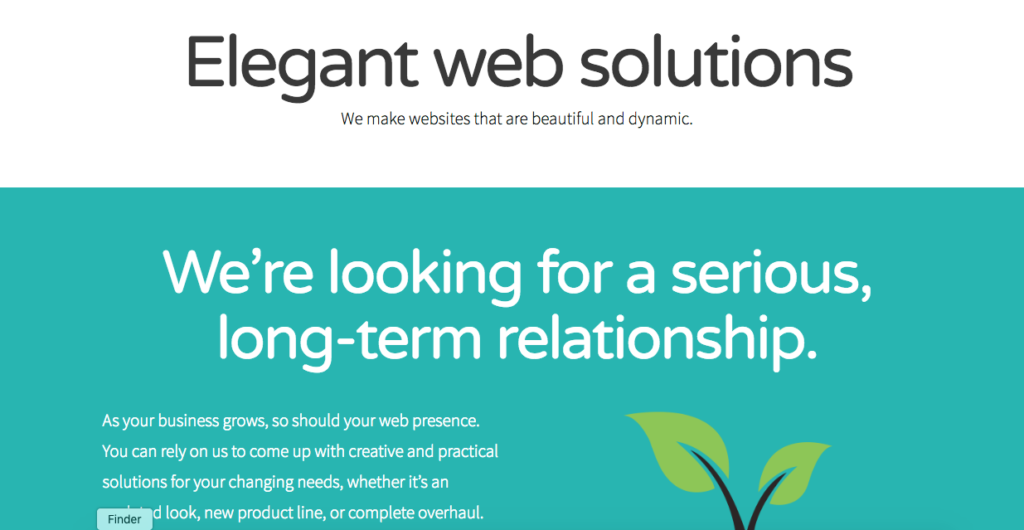 It's worth looking at pages like these before building your own website. It's ok to borrow ideas, but make sure your site has its own unique identity.
Scrolling homepages capture the user's short attention span; if they want to know more, they just scroll down. This increases the likelihood users will "take" to your site and become sold on your value proposition.
On the AppInstitute homepage screengrab below, everything beneath the "build your app now" button is revealed when the user scrolls down.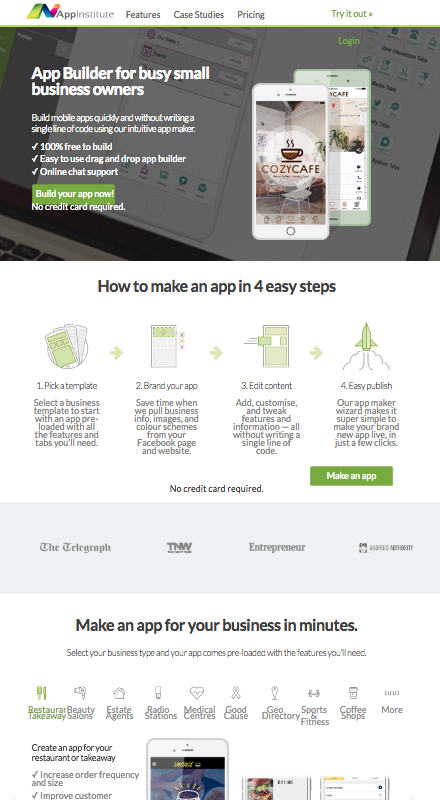 These kinds of scrolling pages are very powerful and there are various types you can choose from.
Writing your About page
After your homepage, your "About" page is going to be one of the most visited pages on your site. This content should go beyond your general value proposition and explain where your brand is coming from, what makes you unique, and why you're passionate about what you do.
Elements your About page should include:
Mission statement
Founders or team members
Value proposition
Call to Action
When it comes to writing an About page, there's no one-size-fits-all formula, but it's worth bearing in mind these factors…
Don't say more than you need to – if it needs to be short, make it short, if it needs to be long, make it long. Ask yourself, does every word count or can I trim the fat?
Be articulate – you need to find the best words to convey what you do. If you need to hire someone to write it, don't scrimp, it's important to get these things right.
Be SEO savvy – don't fill your About page up with clunky search terms, but do organically feed in keywords and phrases that people might use to find your services.
Your Products and Services page
So far, the Homepage and About page have been fairly general; the emphasis has been on enticing people to stay on your site without overloading them with information.
Your Products and Services page will take people deeper into what you do. However, it's still important to write clearly and concisely.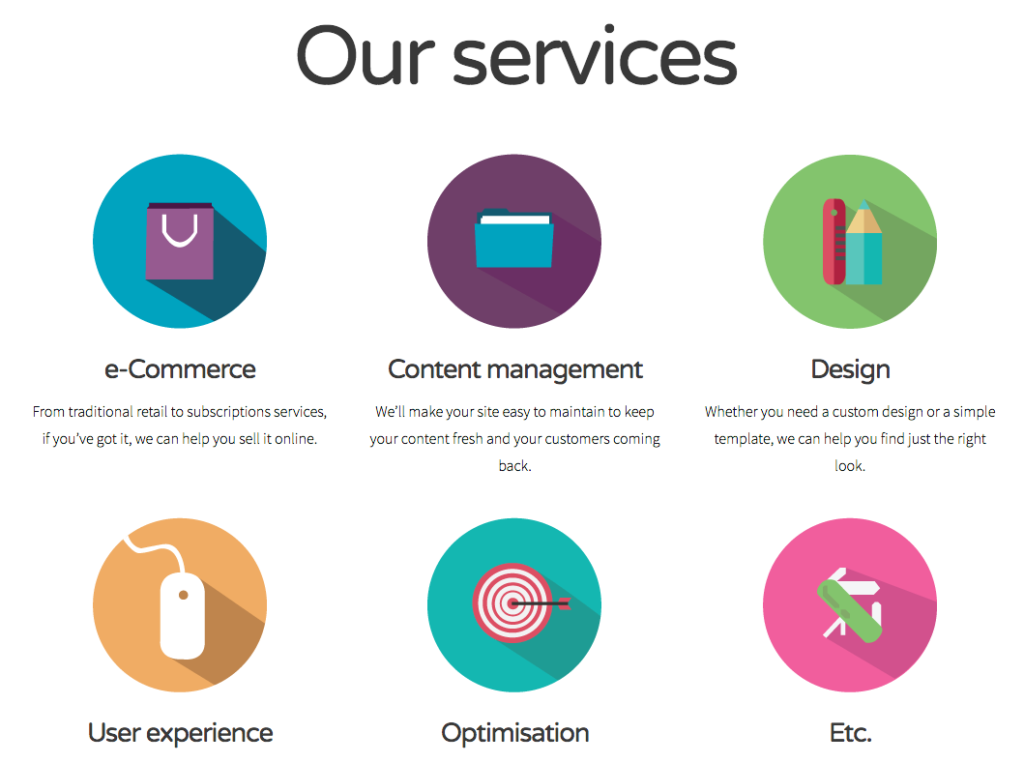 Let your products and services dictate how many words you need to use to articulate them.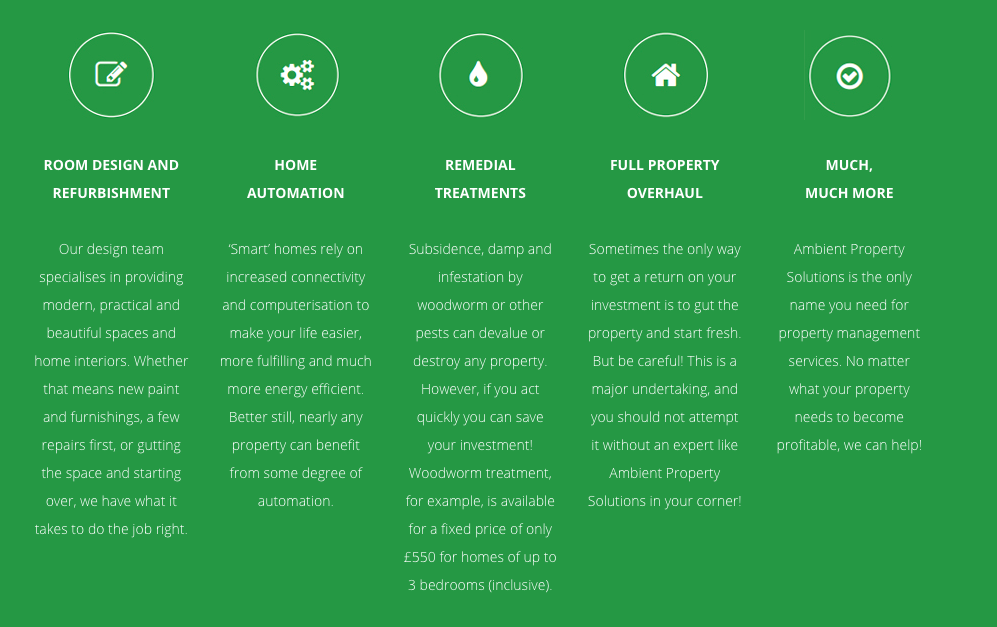 The amount of detail you go into depends on how familiar your prospective customers are with your industry. It also depends on how nuanced your sales pitch is.
Designing your Contact page
All the pages on your site are aimed at selling your value proposition to users and encouraging them to take the next step into your sales funnel.
A typical sales funnel: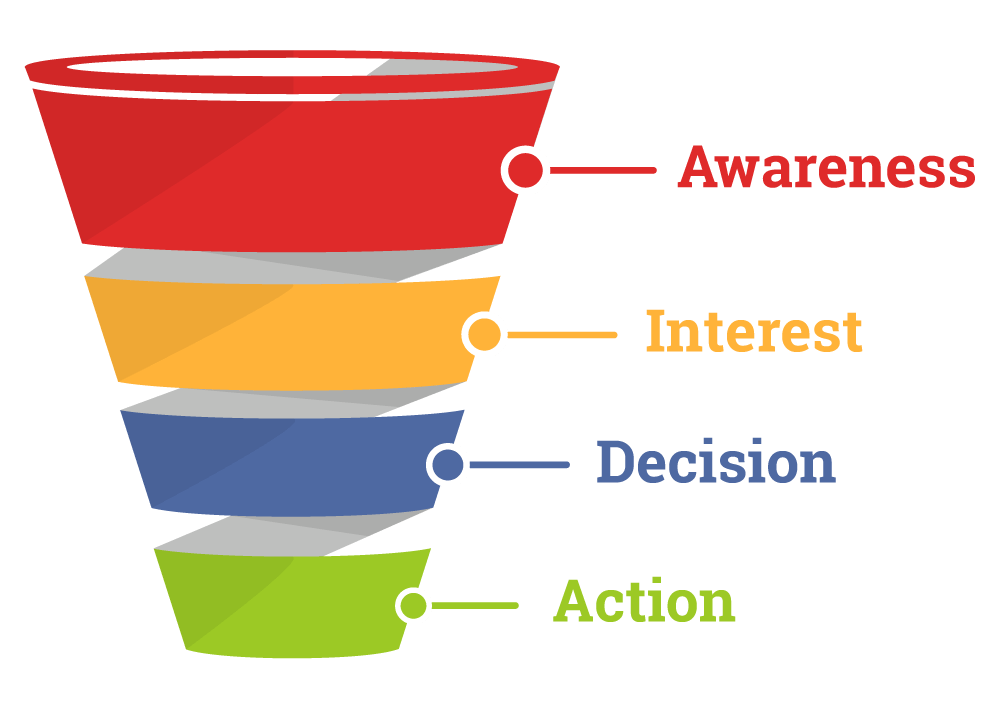 Some businesses, like many B2B brands, require customers to get in touch before selling their services. Others, like e-commerce websites, are able to sell to customers with little or no client-facing work involved.
When designing your contact page you need to think about WHY people will be contacting you.
They might be asking for a quote
They may want to know if you offer a service that's not listed on your site
They may have a query to find out if you can offer a discount, etc.
Have a think about what common queries people may make, and incorporate it into your contact page copy. This copy should manage people's expectations, both in terms of what they can ask you and how you will respond.
Something like:
"Want to know more about our products? We're here to help and aim to respond to your queries within 24 hours."
People should feel like they can contact you if they have any issues, and that you will be responsive. Bear in mind that customer service is very important to people, and sloppy service can put them off your brand permanently. Customer contact is also a great way to close a sale with a customer who's on the fence. Ultimately, great customer service can help you win lifelong customers, so make sure you have an effective contact page.
Creating a Testimonials page
A customer's biggest fear is that they will make the wrong purchasing decision. It's your job to reassure them that they are making the right choice. The best way to do this is with what's called "social proof", evidence that other people have used your brand and it solved their problems.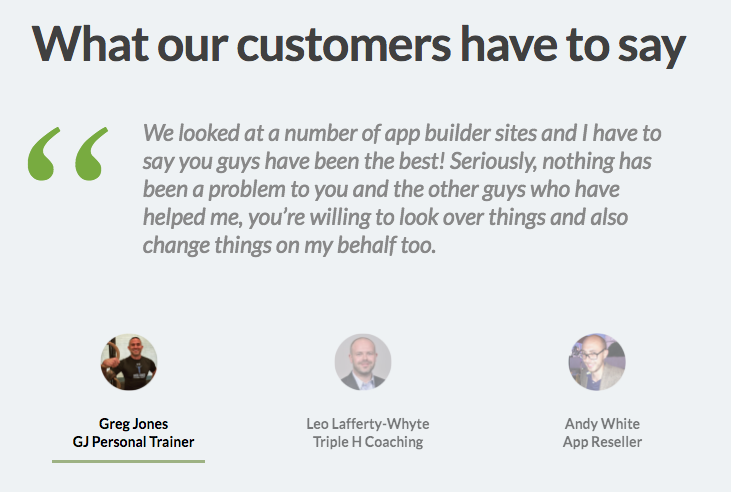 When using testimonials, use the "rule of three"; this means when you list something you should have three items. One or two testimonials imply that you don't have any others or those were the only positive ones you received. Three implies that there are more, but you've only chosen a selection to give an overview of what you can do for people.
Your testimonials could come from anything from Google reviews to user comments left on social media. If you don't have any written testimonials, contact someone who's been impressed with your work and ask them to provide one. People are usually happy to help.
If you don't have any testimonials, don't bother with this page yet, but be sure to add the page when you get some.
Should your site have a blog page?
Not all websites have a blog, but it's definitely worth considering using one.
Blogs take a lot of time and/or money to run properly and you need to publish at least once a week to get your content ranking high in search engine results pages (SERPs).
But if you get it right, your blog will act as a form of free advertising putting your brand in front of potentially millions of people searching for your products. However, blog content has to add value for your customers, if it's just a keyword stuffing exercise it will be a waste of your time and may even harm your search ranking.
Crucial things to check before making your site live
Before your site goes live you need to make sure you've got all your essential pages published and you'll want to make sure you've tested the user experience. All pages need to be thoroughly checked in preview mode.
Writing – is the spelling, punctuation, and grammar faultless?
Forms – make sure these have been tested, and that they are straightforward to use
Images – are they a high enough resolution to look good, but not so big that they'll slow your site down? Are they fully labeled with image titles and alt text?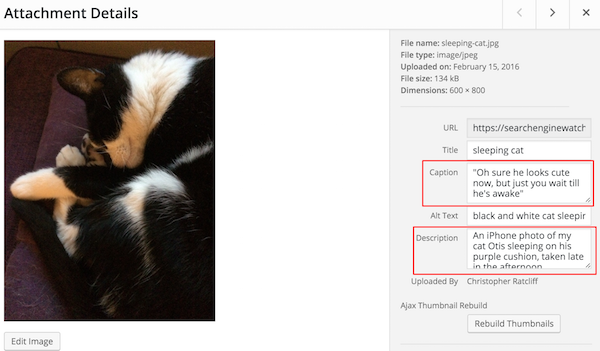 Mobile-friendly – does the site look good on a mobile device, and is it easy to use?
Once you've made these checks, you need to make sure your site is properly optimized. Run it through a site like a Website Grader to check if it's fit for purpose.

It will identify and guide you through solving any problems like slow page load times and compression issues that can hinder your site's performance.
Finding images for your website
The internet is a highly visual medium and people don't just want to read the wall to the wall text. So providing images is essential, no matter your niche.
Images must be:
High resolution
An appropriate size
Professional quality
Fully licensed
Positive
Inspiring or informational
Image licensing
Images have licenses that dictate how they can be used. Make sure you have permission to use them on your site.
Fortunately, there are lots of free resources where you can source high quality, copyright-free images such as:
Unsplash – stunning free images from pro photographers, you don't even need to cite them and your graphic designer can do what they like with them.
Pixabay – hundreds of thousands of free photos, illustrations, vector graphics and videos for your use.
Gratisography – avoid samey stock photos with a range of quirky and inventive images
Don't get overwhelmed…
There's a lot to think about when designing your business website, but don't get overwhelmed. This guide will help you get your site off the ground. Sites are built through a constant process of evolution, and successful brands are always tweaking them to make them better and better.
As long as you follow the advice in this guide you won't make any major mistakes, and as long as you deal with any issues that arise in a timely manner, you'll quickly improve by learning from your errors… which is essentially the only way to learn.
---