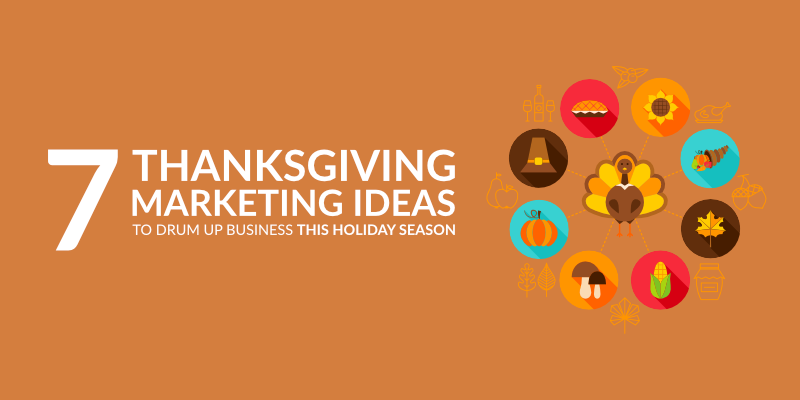 Thanksgiving weekend is around the corner and marketers will soon be scrambling to boost sales and encourage people to do some holiday shopping.
At this time of year, competition is at its fiercest and it can be extremely difficult for small businesses to get noticed.
But fear not, we've put together a list of meaty marketing ideas for you to gobble up so that you can reach your target audience with great thanksgiving offers.
We know how busy you are at this time of year, so for those of you who are in a rush, here's the nutshell version of the thanksgiving marketing ideas:
Now, let's explore each of these ideas in a little more detail.
Use Instagram Stories to bag first-party data
As of June 2018, Instagram Stories has over 400 million daily users.
Instagram Stories is the perfect platform for businesses wanting to share the journey of their brand or to learn more about their audience. You can increase engagement, gather valuable first-party data, and learn the motivations of potential customers.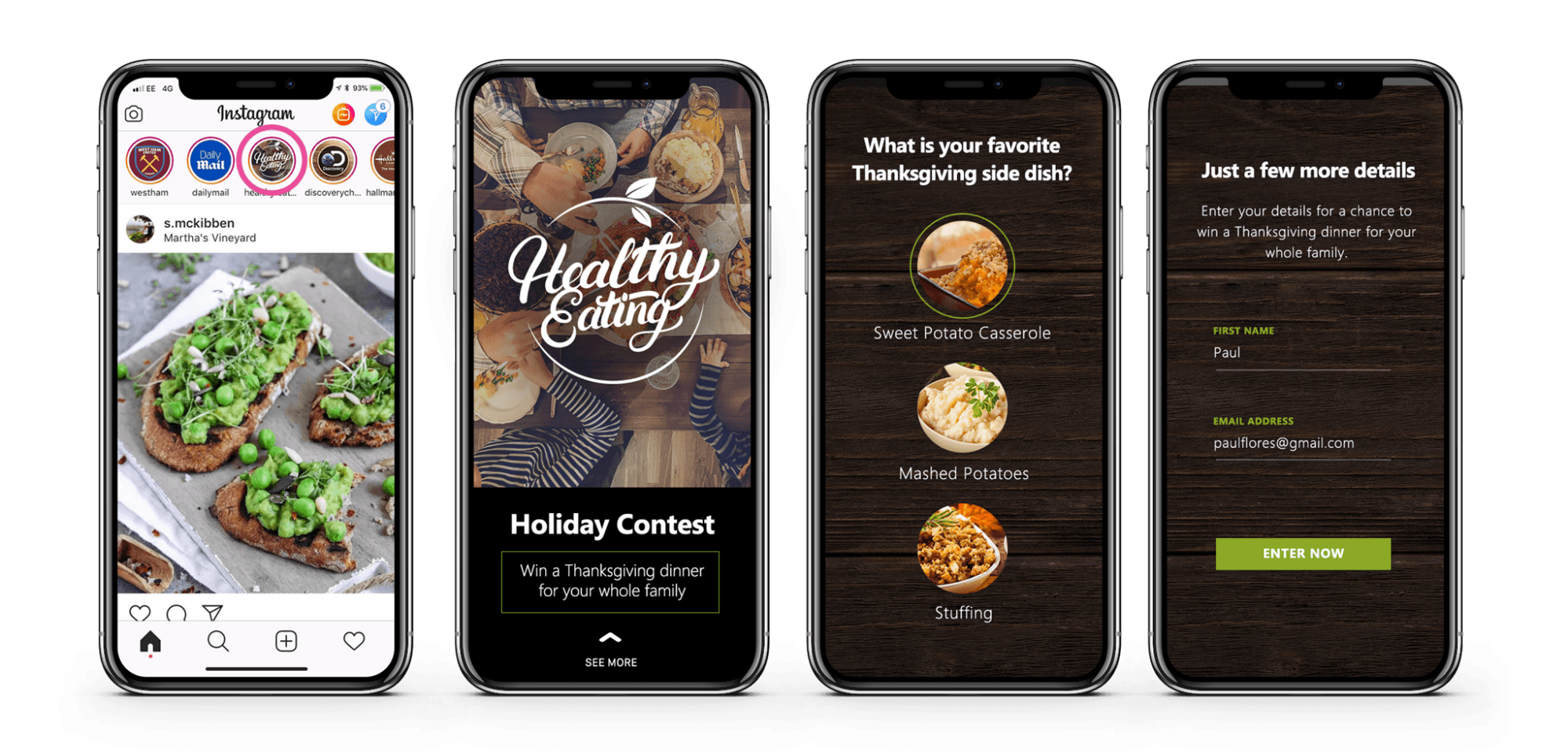 How to do it
Post polls
Create fun, Thanksgiving-themed polls using Instagram stories. Polls are extremely versatile, bite-sized marketing tools that can be used to get direct feedback instantly.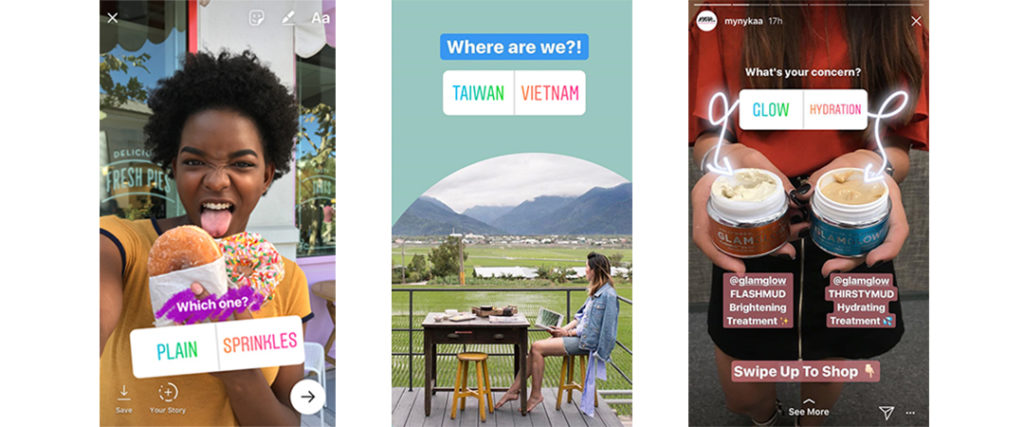 Instagram polls are great because they deliver three-fold. Increasing engagement, raising brand awareness, and providing feedback.
Instagram Live
Instagram Live is for those brave enough to communicate with their audience directly and in real-time. This provides endless opportunities for Thanksgiving marketing campaigns. Focus on providing value and make sure you have a compelling reason to go live.
Add festive CTAs to your stories to drive traffic
Did you know that you can add call-to-action buttons to your Instagram stories? All the user needs to do is swipe up to be transported to the URL of your choice.
If you have a business account with 10,000 followers or more, you can also use the direct link feature which allows you to link to a lead generation form on a landing page.
Let someone else take over
Letting someone else take over your Instagram story is a fun way of generating excitement and adding a fresh perspective to your content.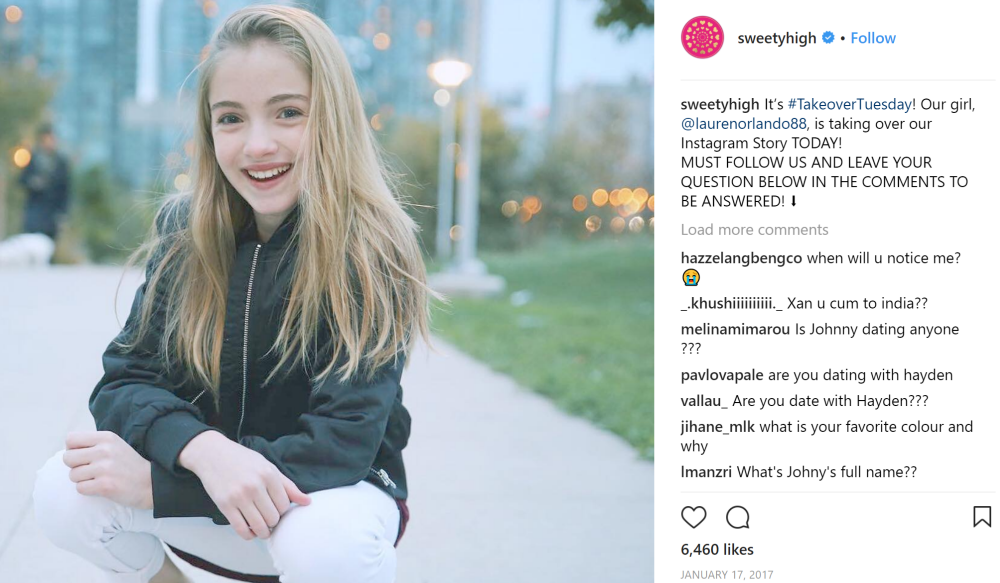 Consider your goal and make a strategic choice. It doesn't have to be a celebrity or even an influencer. You could encourage an employee to take over for example. If you make the right choice and promote the takeover well, you should see great results over the holiday season.
Create a Thanksgiving hashtag campaign
We're not talking about generic #happythanksgiving or #turkeytalk tags here. What you need is a carefully crafted, branded hashtag that will help increase engagement.
But before you start plastering hashtags all over your social media pages, think about how you can provide value to your customers. A great way to do this is to offer free services like personalized thanksgiving-related advice or tips.
Here's an example of how Barnes and Noble created a Twitter hashtag to engage their customers the run-up to Christmas: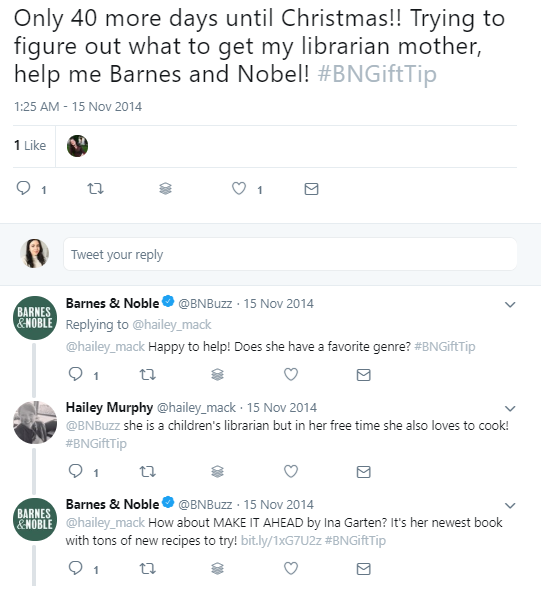 Asking (and answering) customers' questions is a tried and tested way of increasing engagement and the more Thanksgiving engagement you can generate, the better your conversion rates will be.
Don't be tempted to overdo the hashtags though or you will put people off. On both Twitter and Instagram, one or two hashtags is enough: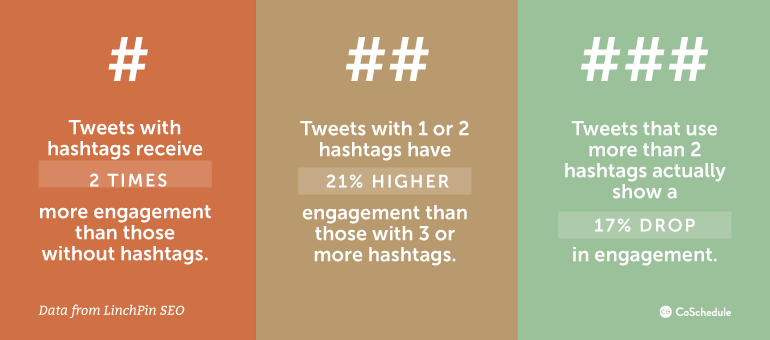 Notice that in the above example, Barnes and Noble have branded their hashtag. It's important that your hashtags are branded because it increases your visibility and helps you to stand out in the sea of Thanksgiving-related posts that flood the feeds every November.
For maximum appeal, keep your hashtags short, simple and easy to understand.
Run a festive competition, challenge or giveaway
Creating a challenge or competition is a surefire way to get people excited about your brand. Contests help to boost your social media engagement and can be useful for building your email list.
Creativity is the key when it comes to contests. Why not encourage people to submit their Thanksgiving wish lists, then give the winner everything on their list as a prize? Challenge people to write a Thanksgiving limerick or haiku, then leverage user generated content by encouraging a short video submission.
You could run a photo caption contest (what is everyone round the table thinking?) or a "paint a pumpkin" competition. Or perhaps you could challenge people to reinvent a classic Thanksgiving side dish by turning it into a dessert.
Give a prize for the best Thanksgiving mascot design for your brand. Or encourage your followers to get creative by decorating familiar holiday items with a branded twist.
If the competitive spirit doesn't appeal to your marketing sensibilities, you can always go the charitable route and help make someone's Thanksgiving weekend a little bit better.
A couple of years ago, San Francisco-based company Wix gave thanks to the local community in the form of free food: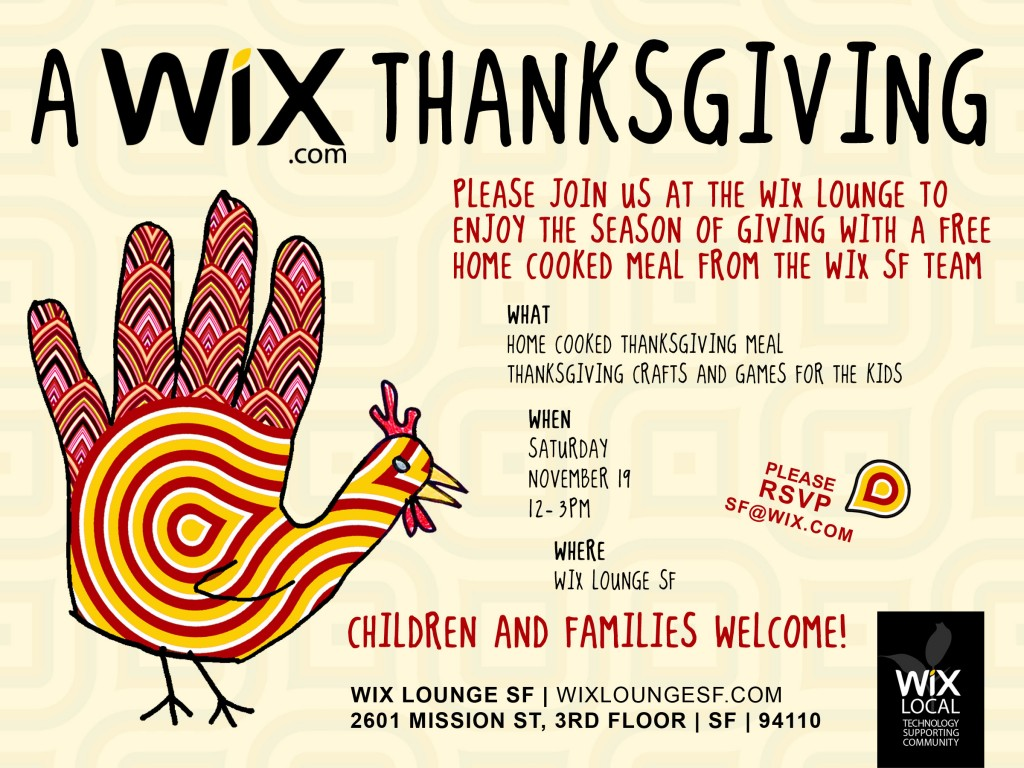 Giving back to the community in this way is very fitting and is a clever way of associating their brand with warm and fuzzy Thanksgiving feelings.
Whatever you choose to give away, make sure that your idea is creative, wows your customers and makes them remember your brand.
Don't be afraid to think big. Zappos absolutely nailed taking the stress out of Thanksgiving travel with a campaign inspired by the Wheel of Fortune game show at Houston Airport.
Learn from the best Thanksgiving marketing campaigns:
REI's #OptOutside:
Emulating successful thanksgiving marketing ideas is nothing to be ashamed of. There are lots of brilliant campaign strategies that small businesses can learn or adopt elements from for their Thanksgiving marketing. Take REI's #OptOutside campaign for example.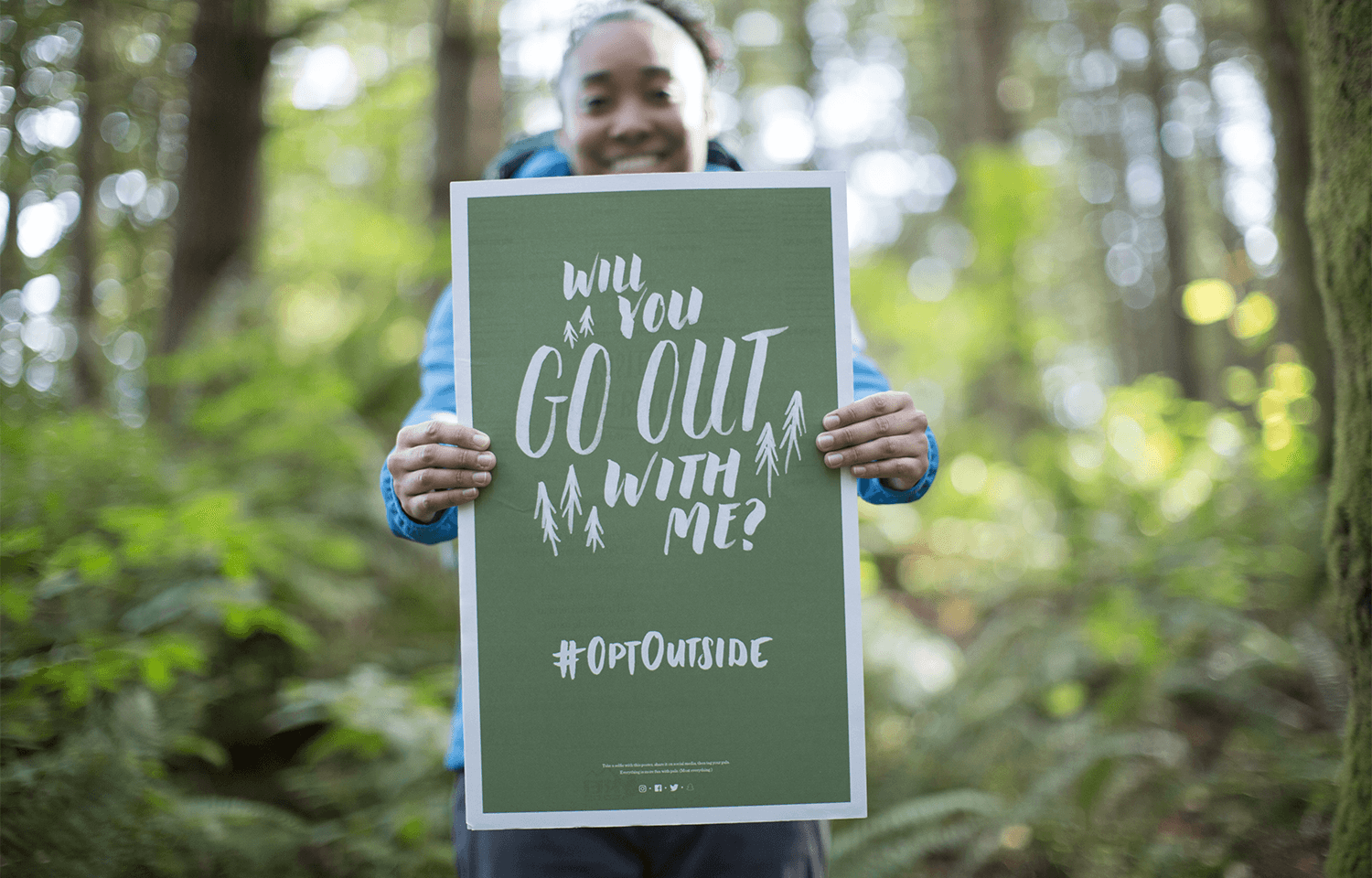 REI created quite a stir when they shunned Black Friday in favour of taking the day off. By encouraging people across America to ditch shopping in favour of a walk in the woods, the company generated over a million posts.
The #OptOutside campaign is a lesson in the value of going against the grain, and it didn't take other businesses long to jump on board. The campaign received attention from some big names, like the National Park Foundation who eagerly adopted it and added their own spin.
Coca-Cola adapted their ongoing Share a Coke campaign to incorporate the holiday by suggesting consumers use the personalized bottles as place cards around the Thanksgiving dinner table.
This idea was a huge success and proves how effective adapting an existing strategy can be. The Thanksgiving version was a huge success and was heavily promoted across Facebook, Instagram and Twitter.
Visit, don't stay
HotelTonight's "Visit, don't stay" campaign tapped into a common Thanksgiving downside: spending time with, how can I put this, erm… eccentric relatives. The campaign, which promoted an easy-to-book hotel room, cleverly combines tongue-in-cheek print ads with an open invitation for people to share their family stories on social media.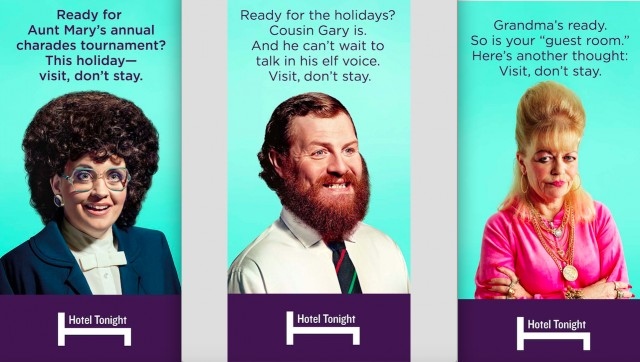 This quirky campaign demonstrates the value of adding a dose of holiday humour and balancing relatability with outside the box thinking.
Hinge – What am I thankful for?
Dating app Hinge harnessed the sentimentality of the festive season with a timely email asking potential users what they were thankful for. They used the opportunity to share information about what they themselves were thankful for, namely the success of a recent re-branding strategy and the significant growth they had experienced.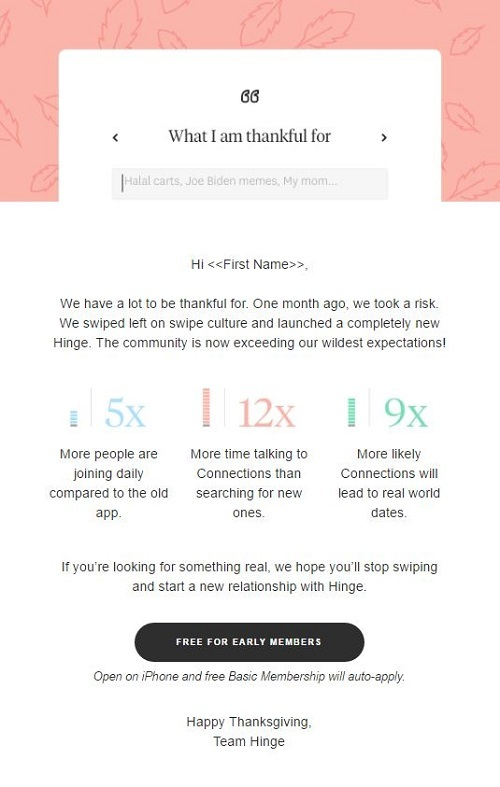 The email capitalizes on the intensified desire to spend time with someone special during the holidays. An effective strategy given that emotional advertising is a highly effective conversion tool.
Host an event
Hosting an exclusive digital event, like a live stream or a webinar, is a perfect way to captivate your audience at Thanksgiving. Especially if your business operates internationally.
Live streams can help increase your engagement worldwide and are an effective way of growing your audience. Periscope, Twitter, Instagram, Facebook and YouTube all have the facilities for live streaming.
Which begs the question, why not combine your local and online marketing?
Hosting a community event is a great marketing tool in and of itself, but combine it with live streaming and you've got yourself in a two birds, one stone type of scenario.
The obvious thing to do to give back to the community would be to host a Thanksgiving meal. But you could also perhaps organize a fair, a convention, a contest or a discussion.
You could even host a charity fundraiser and combine it with a GoFundMe campaign.
Remember, if you are hosting a charitable event, it is important from a marketing perspective to associate yourself with a charity that complements your business. A charity that feeds the homeless might be a good fit for a restaurant owner, and an organisation that provides job training might be a good fit for a tech company, for example.
Whatever the event, be sure that you time it well and that you spread the word across all social media channels to maximize attendance.
Create an app
Everyone loves a good app. So much so that the number of app downloads is set to exceed 352 billion by 2021: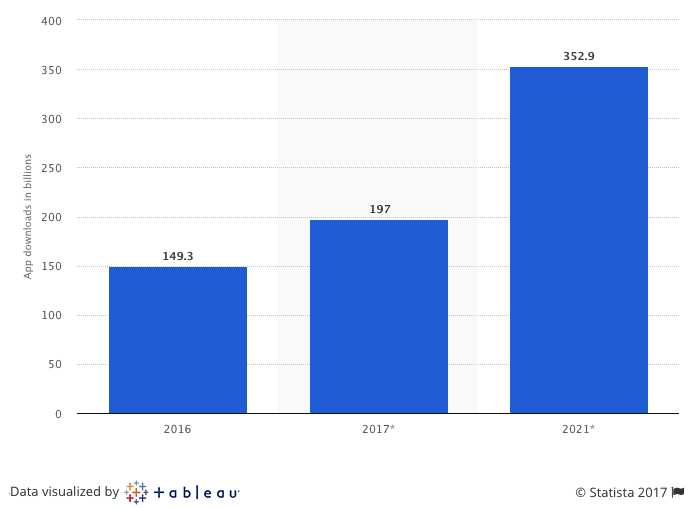 If you don't have an app yet, Thanksgiving is the perfect time to get one. During this hectic time of year, a practical app that helps make life a little easier for your customers is likely to be extremely well received.
Try creating an app that gives your customers recipe tips, helps them to stay organized, or provides ideas for fun, family-friendly activities. Pin the tail on the turkey, anyone?
Creating a helpful or fun app that saves your customers time, money or energy is the perfect way to build relationships and to cultivate customer loyalty.
Having an app can also help you to gather data, increase sales and improve your customer service.
Embrace the spirit of Thanksgiving in your marketing campaigns and you'll make valuable connections that will increase your engagement and help you to grow your business.
Thanksgiving is all about showing appreciation for loved ones and expressing gratitude for the positive things in your life.
From a marketing standpoint, it makes sense to show your appreciation for your customers, so why not send them a personalized email thanking them for their business?
The simple act of thanking your customers in a genuine way can be a very emotional and impactful experience.
You could also express your thanks by offering your regular customers a discount code or even a small freebie. Complimentary gifts can turn loyal customers into brand ambassadors.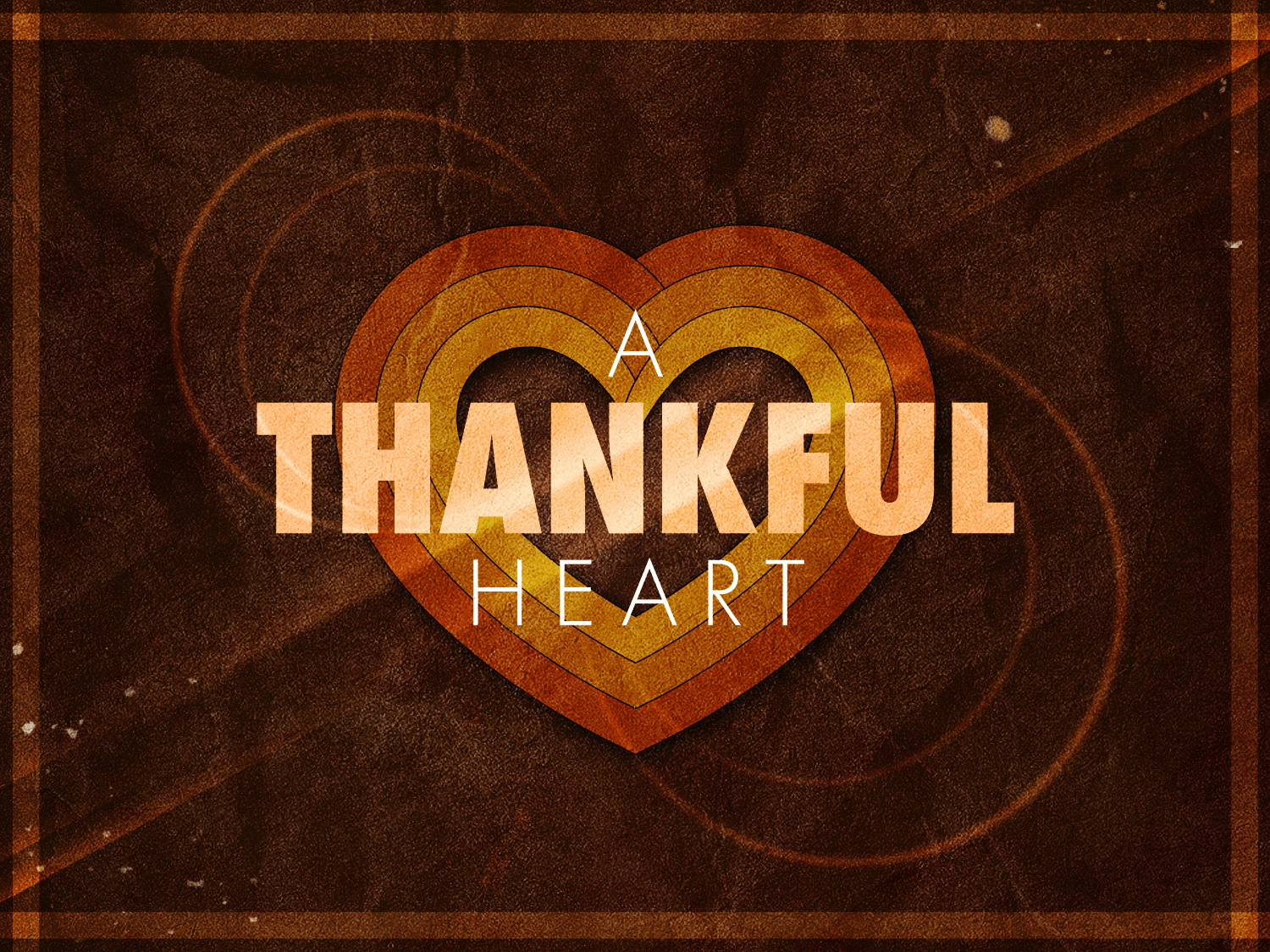 Highlight staff contributions
Thanksgiving is all about people working together. Millennials in particular love a business with a warm and fuzzy work culture, so why not put your hard-working and creative staff in the spotlight this Thanksgiving?
Focus on the contribution your employees have made to building your brand and give thanks to your staff by telling the world how much you appreciate them!
Connecting with your customers in a meaningful way can easily be achieved by sharing your story.
Sharing your own Thanksgiving journey on your website, app and across your social media channels humanizes your brand and allows people to relate to you.
You could choose to share certain relevant aspects of your experience or post your entire Thanksgiving journey from start to finish. The choice is yours.
You might include things like shopping for food, setting the table, organising the menu or decorating your store. Here are some ideas to help you get started.
Ideas for sharing your Thanksgiving journey:
Cooking: What does the cooking process look like for you? Maybe you have a family recipe you can share.
Guests: Who are the people you are sharing your Thanksgiving with? What do they mean to you and why are you thankful for them?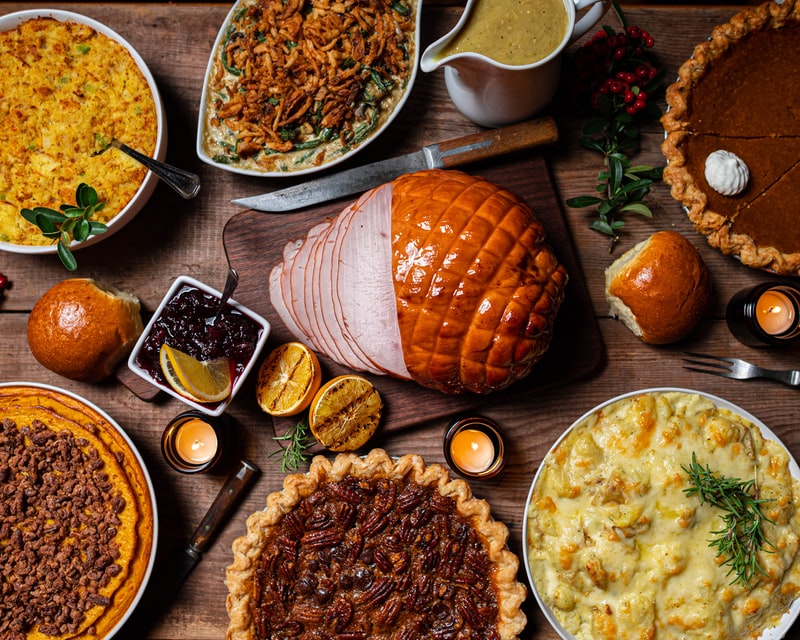 Clean up: How do you handle the post Thanksgiving clean up? Maybe you have some great cleaning tips or a sneaky method to get your children to help out. Or perhaps you just want to share a picture of the huge pile of dishes you need to get through after Thanksgiving dinner!
Thoughts: What does gratitude mean to you? How do you express gratitude? What's happened in the last year that you are grateful for? Have you taken anything for granted that you want to express thanks for? What experiences are you thankful for? What material possessions are thankful for?
Let's wrap this up
So, there you have it. We hope that you enjoyed reading this article and that it's given you some ideas and inspiration for your Thanksgiving marketing campaign. We wish you the best of luck, growth, engagement and a happy Thanksgiving!
---