"Money often costs too much" — this quote by Ralph Emerson signifies the importance of securing your financial details.
In the technologically advanced generation of the day, almost everything has moved online. From finance to sales and whatnot, company's run their daily businesses on the web.
Fraud detection software continuously monitors transactions and events in real-time. They work to detect and prevent fraudulent activities that occur in-house, online, or in-store.
The various fraud detection software detects and prevents unauthorized payments, purchases, and chargebacks.
The various software aids in the prevention of digital payment fraud and account takeover by validating identities. But don't worry. We have compiled a list of financial fraud detection apps and software for you to use.
Top 10 financial fraud detection apps and software
A fraud detection software is used to secure financial transactions conducted over the internet, mobile devices, and phones. The software aids in the prevention of digital payment fraud and account takeover by validating identities.
In some cases, fraud software can help by employing a two-step authentication, as well as detecting malicious logins and bot activity.
For online businesses, using fraud detection software is of utmost importance.
Artificial Intelligence (AI) is increasingly being used in fraud detection software for predictive analytics, which identifies fraud patterns. Further, automation is also used in customer analytics, which detects deviations from a customer's normal behavior. These patterns are examined to detect fraudulent behavior.
Now, let's look at the top 10 fraud detection software.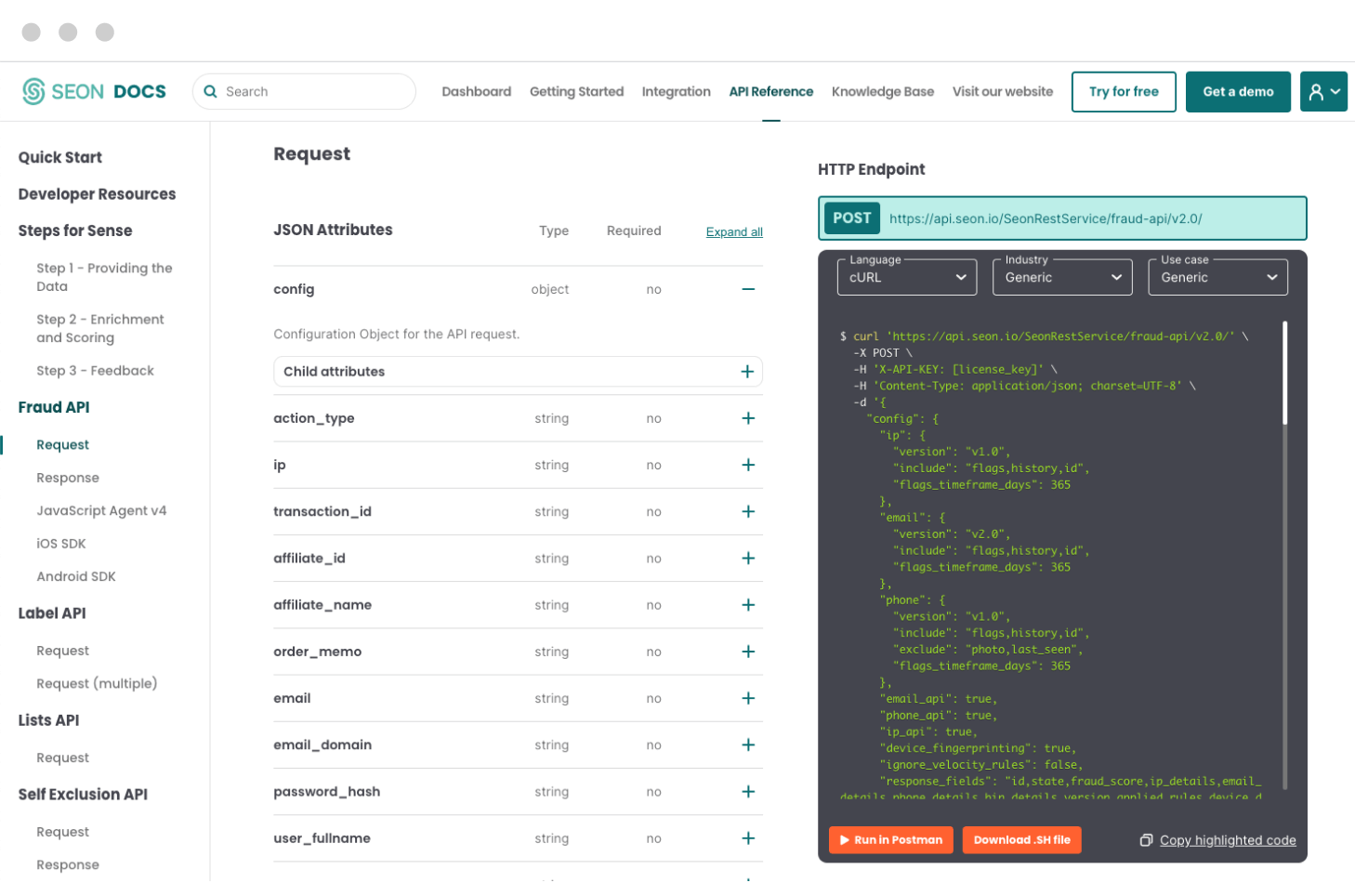 If securing your financial details is your goal, you should never miss using an app or software. There are many app development companies that will help you build an app in minutes.
SEON's fraud prevention tool provides accelerated and AI-driven results, and various plug-in options to integrate and work smoothly. Also, SEON provides a free trial, no setup and support fees, and flexible payment options making it an ideal choice for detecting fraudulent transactions.
SEON's KYC solution provides various digital footprint analysis tools. These tools enable you to instantly classify junk users well before the KYC stage, request additional information from moderate-risk customers, and obtain additional information for a manual review.
Key benefits:
Reverse phone lookup checks for red signals such as whether the phone number exists, whether it is in the correct country, and more.
Reverse email analysis helps to keep a check on unknown email addresses and dubious free domains that should be flagged immediately.
Device fingerprinting determines exactly which software and hardware settings the consumer installs to access your site.
Reverse digital profiling lookup checks where the user data can be found by accessing over 35 platforms and internet networks.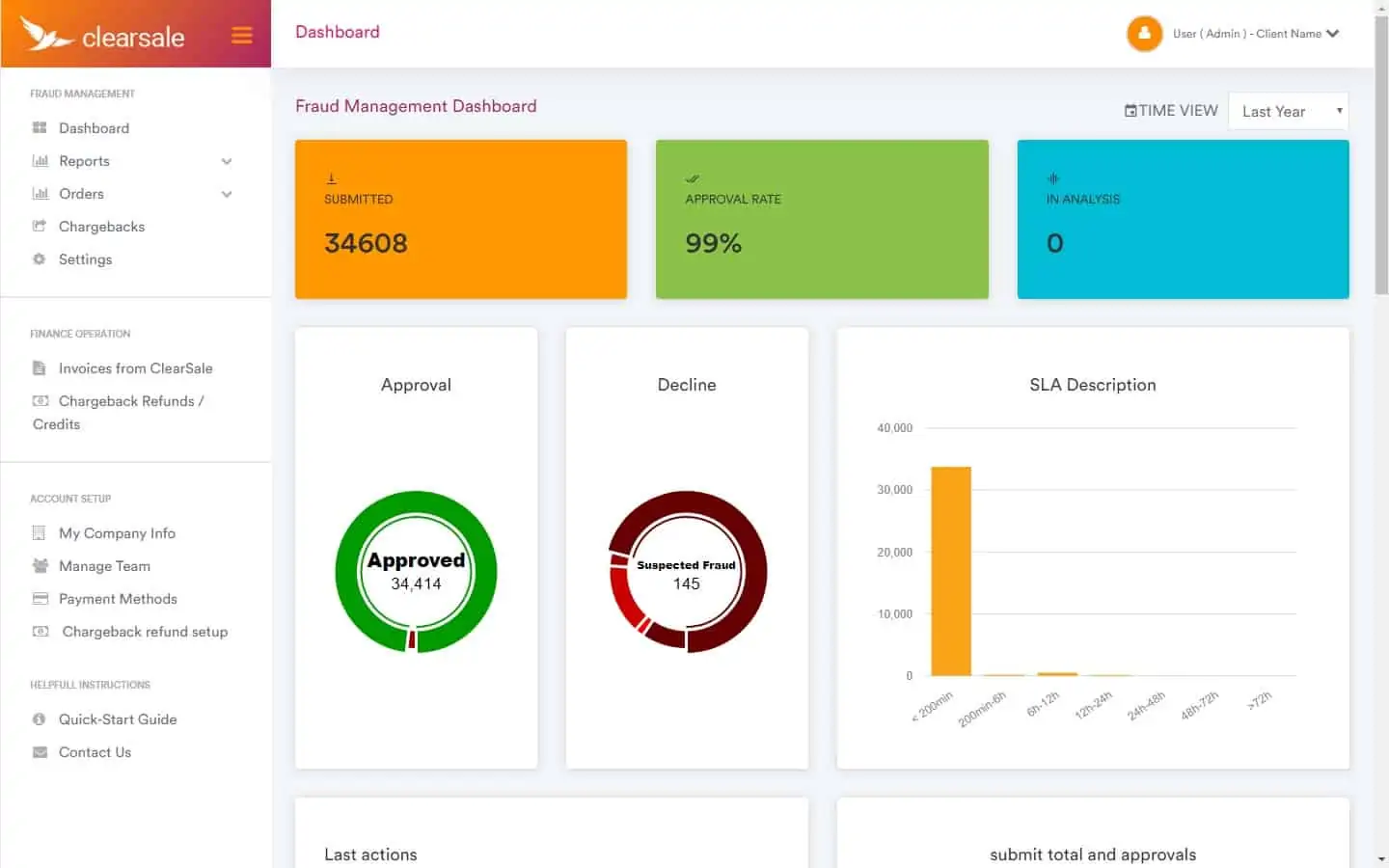 If you are looking for an eCommerce fraud protection service that uses AI, advanced statistical techniques, and a staff of professional fraud analysts to provide the best results, ClearSale is your answer.
The 100 percent compliance enables businesses to resolve all the technical as well as financial issues, ensuring that income is optimized and customers get a richer experience.
CleanSale provides a sophisticated statistical system that checks consumer orders for frequent fraud behaviors. In addition, the algorithm can be tailored to a given firm and has been connected with a technically advanced platform to react to new fraudulent strategies.
Key benefits:
Chargebacks are drastically reduced with almost no false declines
Protection against chargebacks
All data protection laws and regulations followed
Custom reports and a consumer-friendly internet dashboard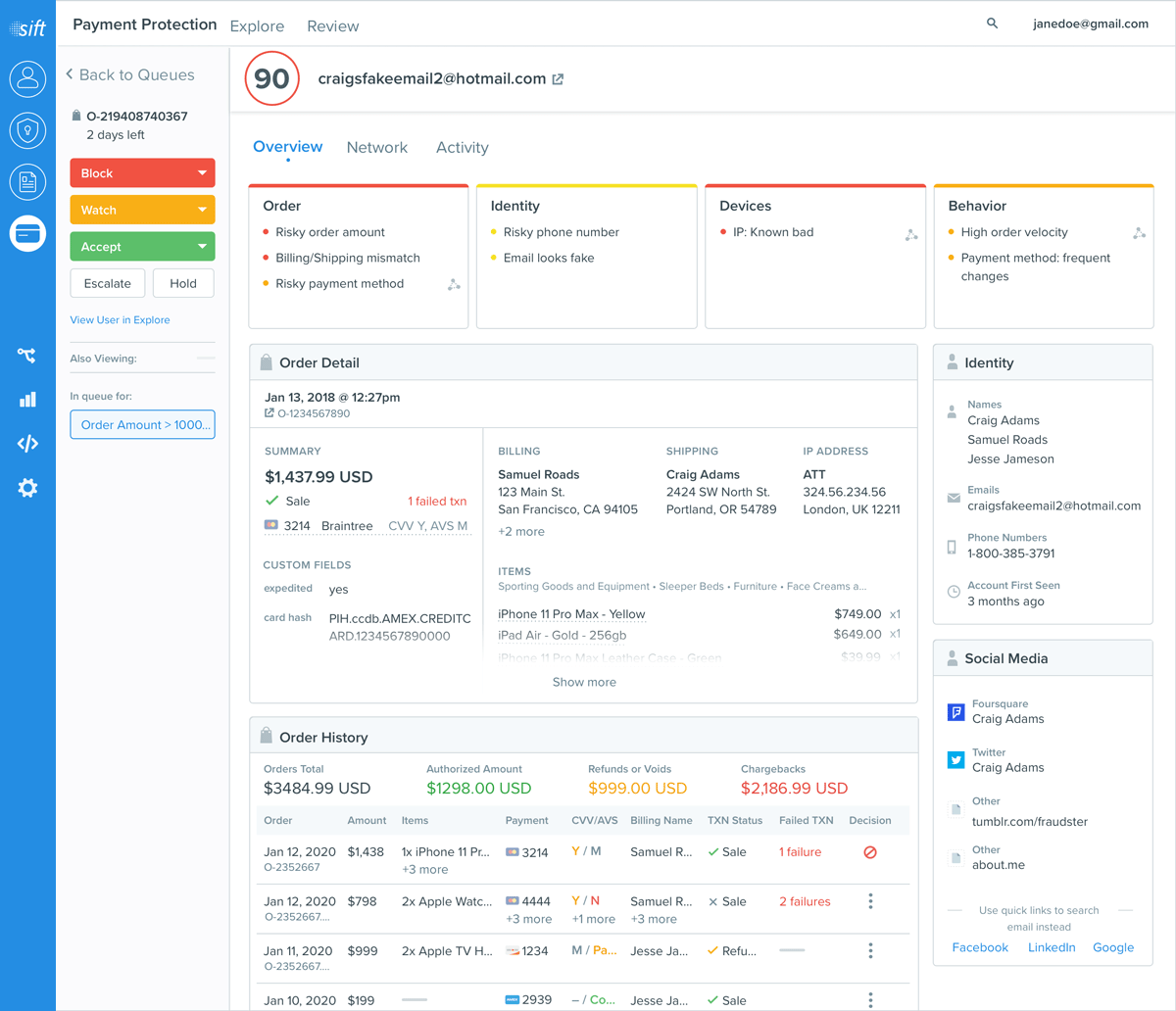 Sift offers a complete digital trusted and safety package. It enables clients to protect their connections while also leveraging real-time machine learning for growth optimization.
Sift offers protections for financial, travel, and eCommerce firms. It brings everything together, from chargeback reduction, transaction fraud protection, and antispam to account hijack protection, and built-in authentication.
For real-time assessment, the software suite uses deep-learning and custom models. It also includes interactive dashboard analytics to track important fraud parameters.
Key benefits:
An unparalleled global data infrastructure
Deep-dive investigation dashboard with a consumer-friendly interface
API connection to biometric devices
A dedicated technical account team for round-the-clock support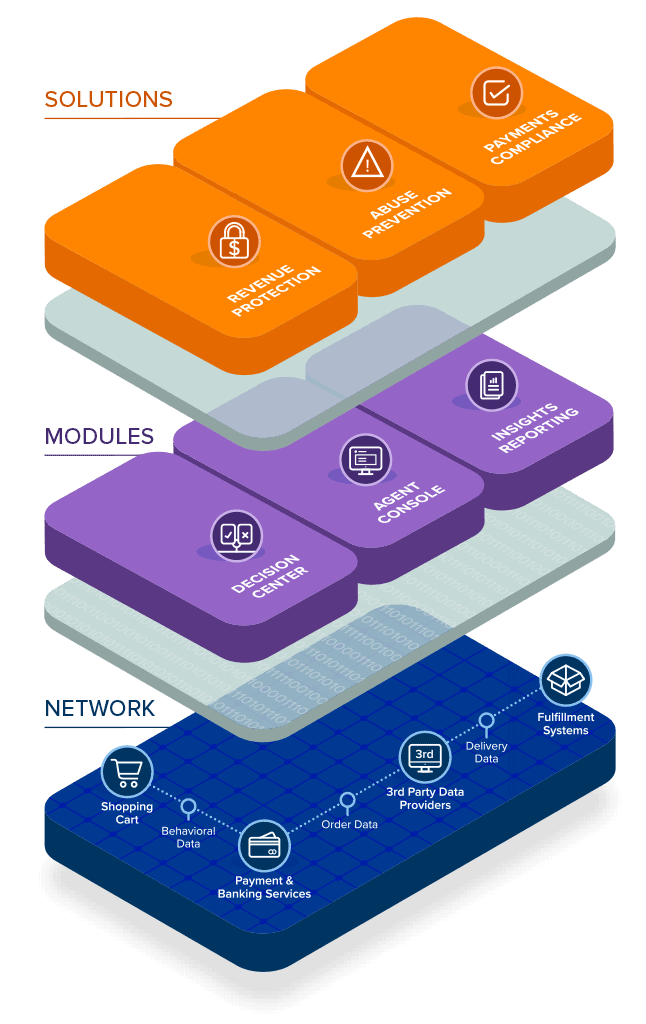 If you own an eCommerce business or are planning to make your own eCommerce shopping app, then you must know how to prevent financial frauds. Signifyd is a platform that has gained an image in the industry for being a leading software for detecting and preventing eCommerce frauds.
Signifyd is powered by commerce secured technology that uses cognitive computing to provide businesses with relevant commerce data.
The platform's decision center detects irregularities, such as account takeover, illegal resellers, alongside promotion misuse instantly. People can tailor their responses to their own business needs. It also gives retailers a single view of all transaction data, allowing them to make more educated decisions.
Key benefits:
Revenue protection ensures your financial security
Merchants are protected from policy abuse by abuse prevention
For a smooth and anti-hack identification experience, conformity is required
AdvaSmart is an AI-powered fraud protection application that helps in thorough research and monitoring platform to highlight actionable credit negative occurrences for early fraud identification.
The software includes an automated decision-making engine with over 1000 data sources and proprietary algorithms.
It uses data analytics to uncover unidentified patterns connected with defaulters by combining over 600 data sources. Further, it gives financial institutions access to the company's real-time financial data for fraud detection and recovery in their corporate loan portfolios.
Key benefits:
Examines your credit and risk susceptibility
Determines how to recover non-performing resources and accelerate the amount of recovery
Virtually watches accounts and valuables for any unusual activity
Reduces the chances of engaging in fraudulent transactions
6. Fcase
Another company that has built a name for itself in the field of financial fraud is FCase, which uses advanced technology to assist companies in the BFSI sector in investigations.
It creates a unified framework for businesses to detect frauds, analyze frauds, financial behavior, and client case management systems.
The system provides a unified perspective of fraud investigations, assisting businesses in preventing future fraudulent activity.
It includes multi-functional synchronization that assists in the development of various strategies to limit such actions and consumer friction.
Key benefits:
Its feature 'feedback fraud findings' provides vital machine learning information
A shared reference model that has a great impact on the company
Enables cross-functional coordination across the board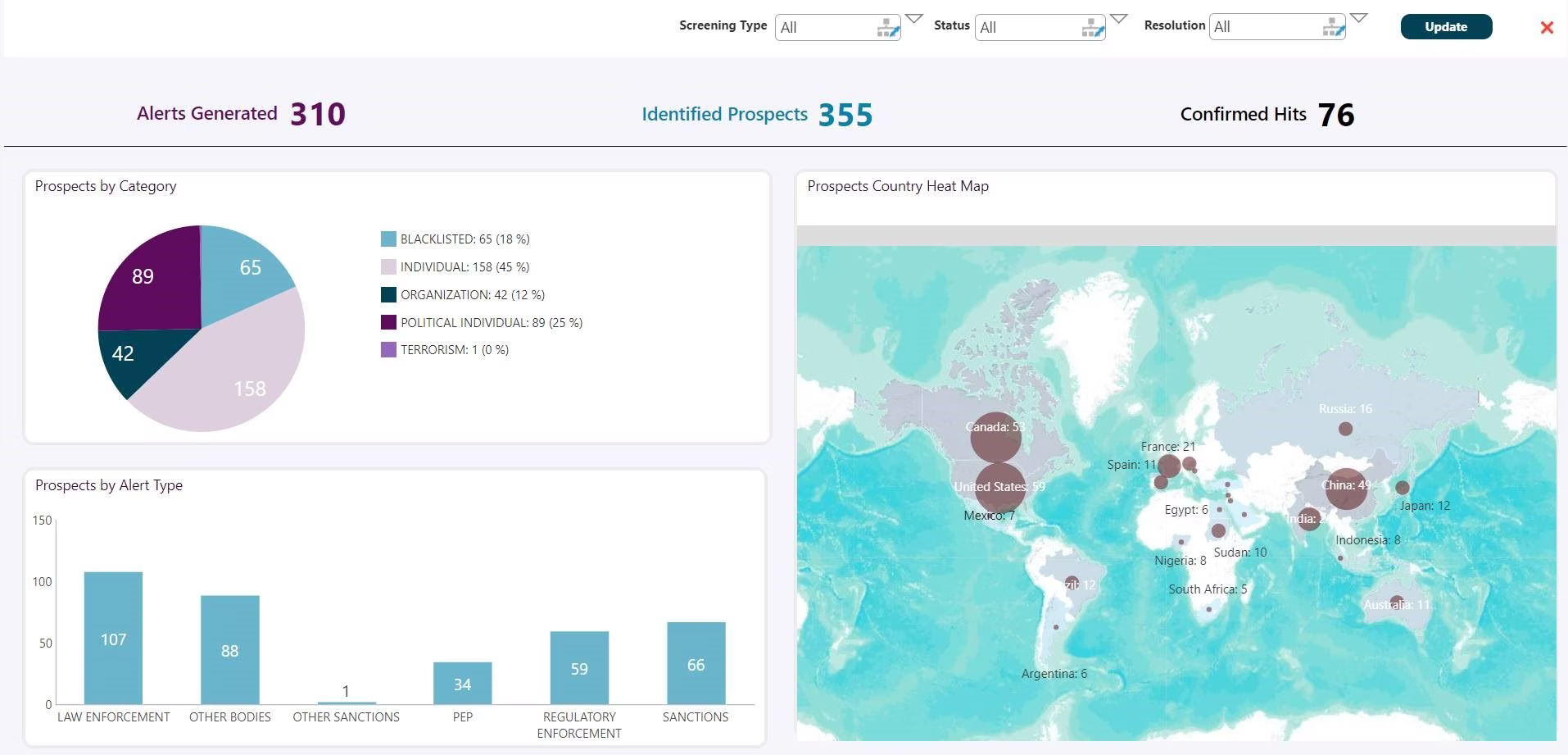 Alessa is a comprehensive platform that supports Anti-money Laundering (AML) compliance and fraud protection. For banks, MSBs, fintech companies, and insurance organizations, the programme uses risk intelligence data and machine learning to control financial crime risks.
Key benefits:
Constant monitoring of measures to detect possible violations
Integrate fraud prevention into your daily activities
Monitoring systems, workflows, and crisis intervention can all benefit from advanced analytics, including machine learning
On-demand testing to assess an entity's risk by entering their information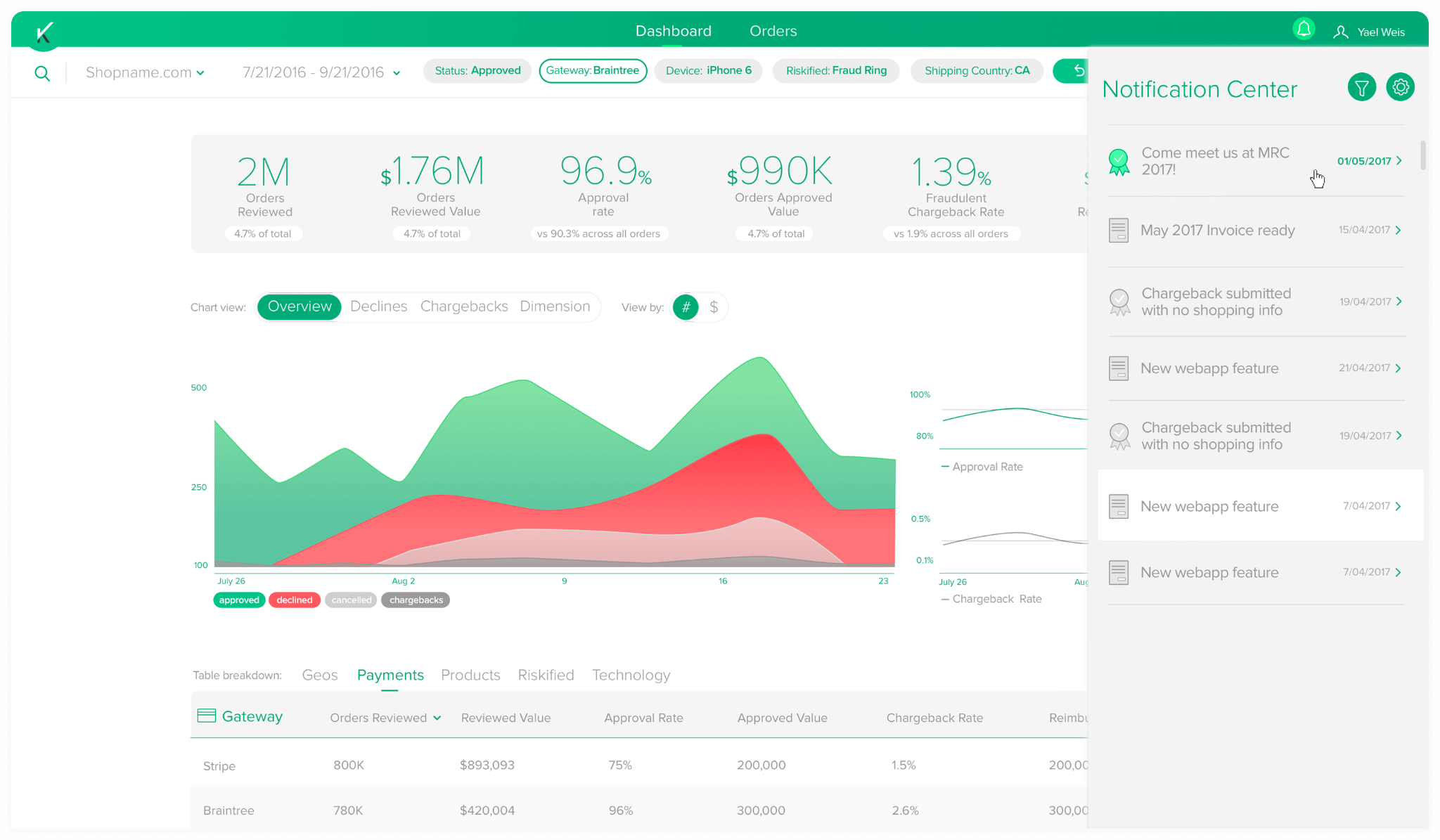 Riskified is a fraud control software that prevents fraud and checks while also increasing consumer conversion rates. From account security and payment authorization to chargeback assurance, this software safeguards client accounts and protects brand reputation.
To detect the malicious actors, it uses a powerful AI engine and over a million online records.
Key benefits:
Bots and bad actors are stopped at the login
Distinguish between legitimate and bad logins, the company uses a techno-savvy AI engine
Recuperate revenue from lost transactions, a thorough risk analysis is performed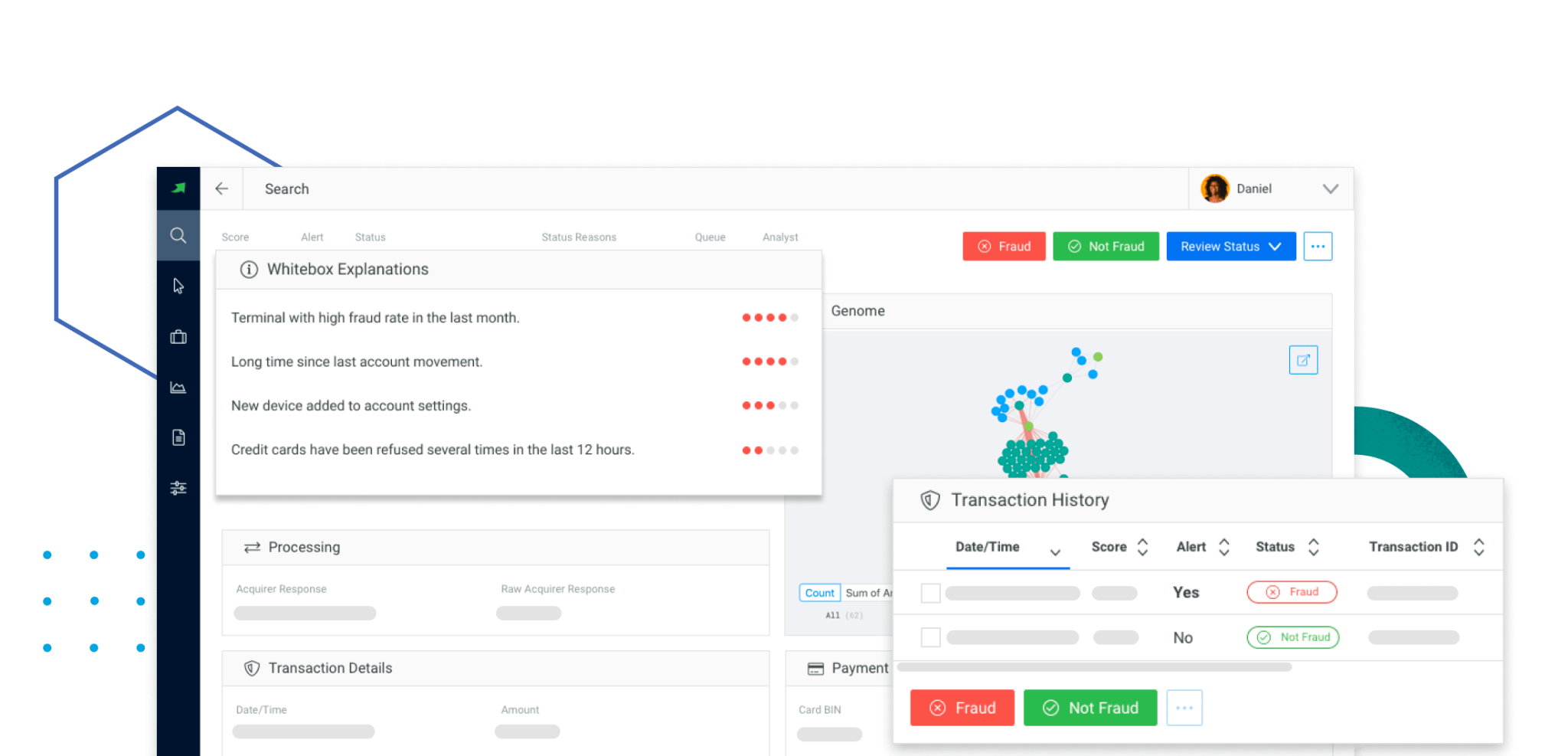 Feedzai, a machine learning-powered fraud prevention program, is another tool that helps banks and organizations throughout the world fight financial crimes. This one-stop system analyzes large data to assist firms to manage and prevent financial crime.
It discovers complicated typologies and depicts hidden linkages between transactions thanks to its powerful capabilities. To understand fraudulent actions, a firm of any size can use Feedzai's powerful machine-learning algorithm and portion profiling capabilities.
Key benefits:
Creates personalized models to meet specific business requirements
Make the decisions based on machine learning to provide seamless customer experiences
Allows clients to benefit from a fine-tuned model performance from day one by utilizing real-time data and analytics to comprehend the consumer journey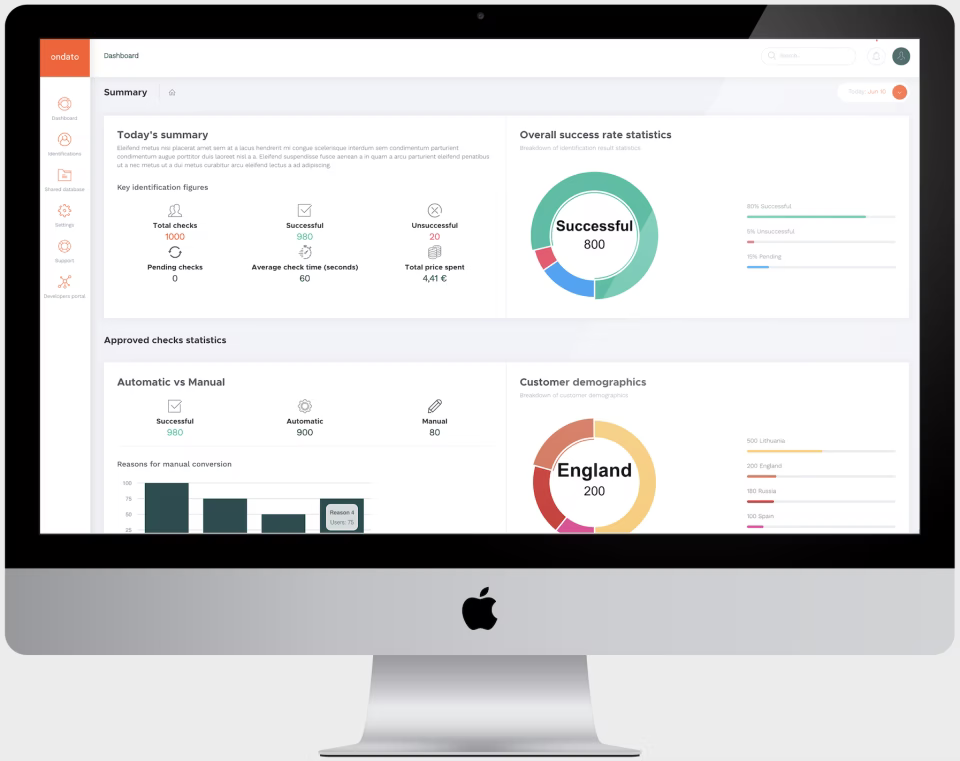 To verify papers and biometric data, Ondato employs the most powerful identification and authentication technologies. Personal and corporate data can also be checked against national and international registries and databases using the platform.
Ondato offers validation identification by submitting a photo or video and following a completely automated workflow with the photo and video verification tools.
Key benefits:
The KYC (Know Your Customer) architecture assists users in confirming their clients' identities to program reduce risk and avoid fraud
Facial biometric authentication, electronic signature authentication, and compliance monitoring are among the prominent services provided
Conclusion
As we move closer to total digitalization, the anti-fraud market is expected to rise in the future years.
With the introduction of AI-integrated systems and increased operational efficacy, fraud detection tools will see accelerated expansion across a variety of industries.
This system is being adopted by millions of businesses. In industries such as healthcare, financial services, retail, insurance, and social security, there are several compliance and risk management mechanisms in place.
As a result, fraud prevention is critical in these highly regulated industries.
Traditional approaches for dealing with growing data analytics are impractical since they are time-consuming and inaccurate. To process real-time data, an automated system such as fraud detection software is required.
Let us know in the Comments section below which of the above software are you planning to implement in your business.
Author bio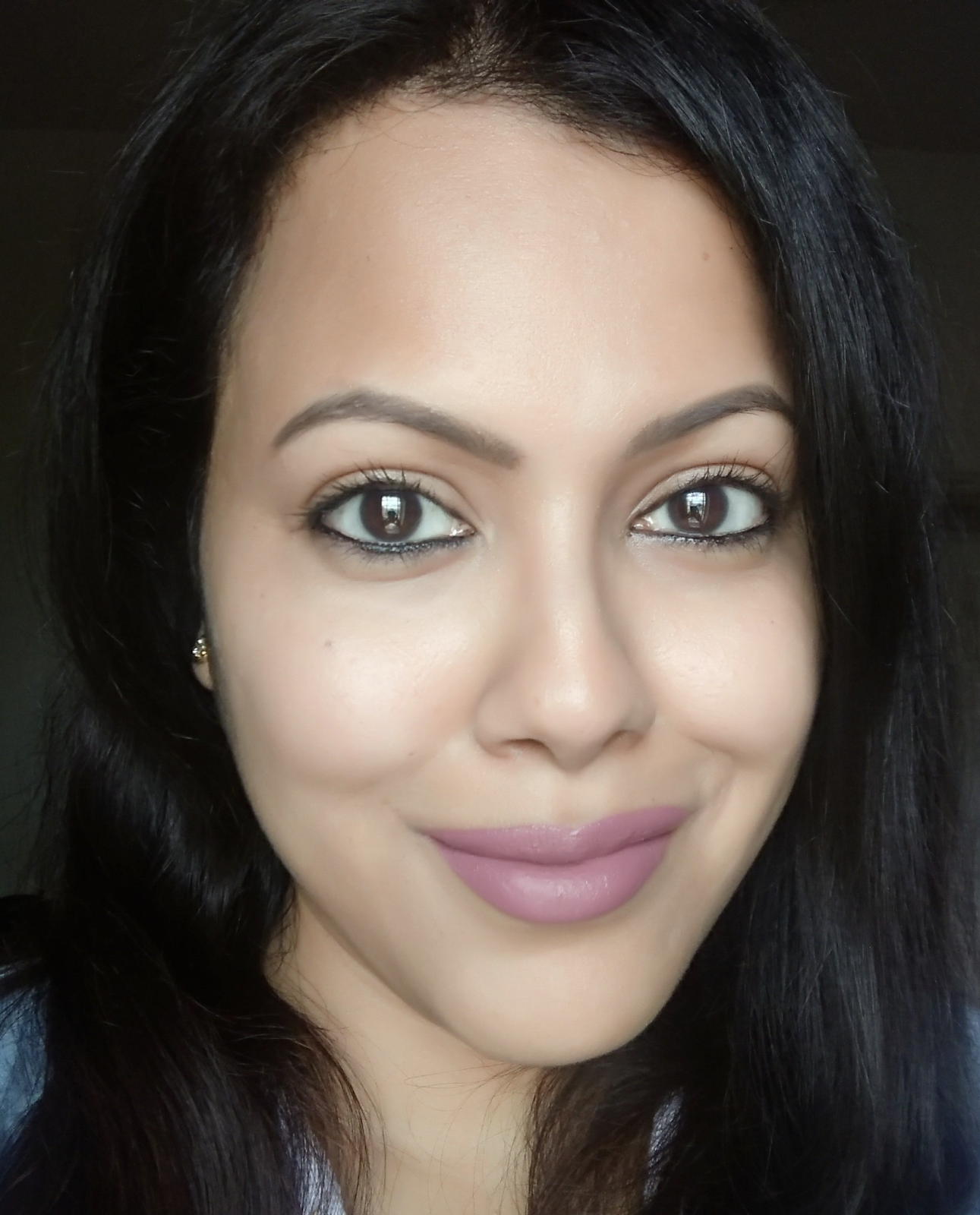 Atreyee Chowdhury (LinkedIn)
Atreyee Chowdhury works full-time as a Content Manager with a Fortune 1 retail giant. She is passionate about helping small and medium business owners and agencies achieve their content marketing goals with thoughtfully crafted SEO content. Be it long form articles and blog posts or website copywriting, email sequences or press releases, she has worked on every kind of format. She loves to read, travel, and experiment with different cuisines in her free time.