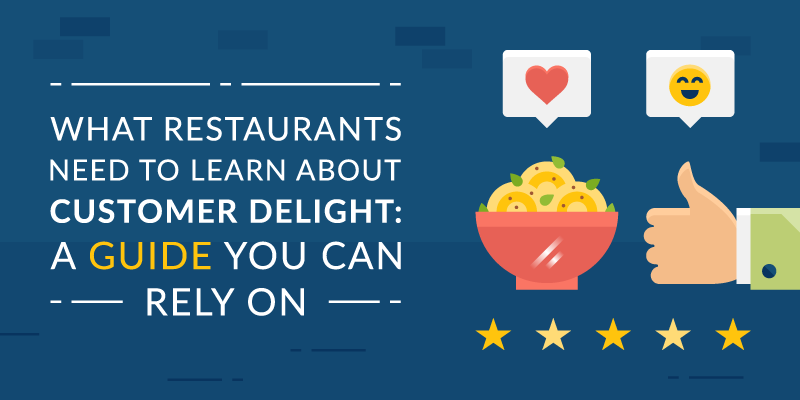 One of the best ways to retain your customers and delight them is to consistently go above and beyond customer expectations. Restaurants rely on brand loyalty and customer delight to stay ahead of their competitors.
Customer delight is an extension of providing a great experience and can help you build your brand and make lifelong fans out of your customers. In this guide, we will learn why customer delight is vital for your business and why it should become the focus of all your strategies. We will also look at how you can delight your customers every time they walk into your restaurant.
Let's dive in!
What Is Customer Delight?
Customer delight is a step beyond providing a good customer experience. It exceeds the customer's expectations of customer service and goes beyond the standard practices to focus more closely on your customers' needs and wishes.
It helps you create a stronger connection with your customers and build long-term value for your brand. People tend to be more loyal to brands that go beyond providing standard customer service and strive for an unforgettable experience.
There are so many ways brands went above and beyond to make their customers' days better. My favorite example is a restaurant in Sydney offered sunscreen to its customers sitting outside on a hot day! It was a great way to show the customers that the restaurant cared about their experience and was finding additional ways to make it even better.
Why Should Restaurants Aim For Customer Delight?
According to a Forbes study, 96% of consumers look at the overall customer experience when choosing a brand. Customer satisfaction is essential in the restaurant industry, where you are offering more than just a plate of food, but also a complete experience.
Customer delight helps you build a loyal following of people who will become long-term patrons of your restaurant. It also empowers you to turn your customers into advocates for your brand and generate word-of-mouth brand awareness that complements your public relations campaigns. People are more likely to trust their friends' restaurant recommendations over advertising, so the importance of creating customers that will vouch for you cannot be overstated.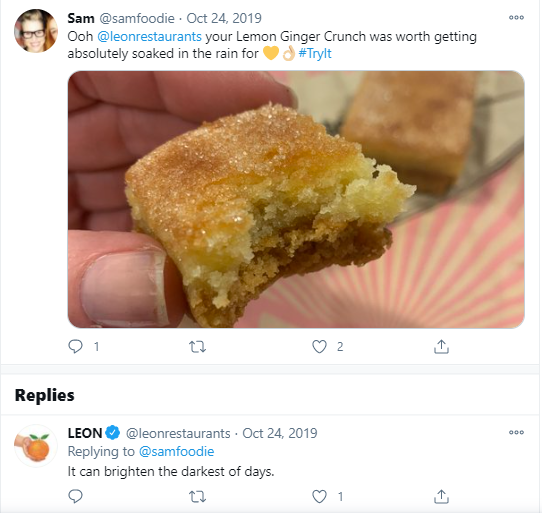 Source: Twitter Sam
When you surprise and delight your customers, some will also take to social media to share their stories. This helps you build your reputation as a brand that walks the talk with real-life examples. It also helps you engage with your audience outside your restaurant, as simply responding to a positive comment to say thank you can improve customers' perceptions of you even further. The Twitter exchange above between a customer and the LEON restaurant chain is the perfect example of a brand aiming for customer delight across platforms.
Benefits Of Customer Delight Practice
When you build your strategies around customer delight, it helps you to streamline your activities to achieve a higher customer satisfaction level. For example, you may aim to provide the best food in town, but with no seat queuing system in place, your wait time could be long. Despite the excellent food, your customers' experience is ruined if they have to wait a long time for a table.
Custom delight practices help you create a remarkable experience from start to finish, giving your customers the complete package. A shift in your approach to customer service is your best bet when it comes to improving customer loyalty.
7 Proven Strategies To Delight Your Customers In Restaurant
Customer delight needn't necessarily involve a complete overhaul of your services or expensive additions to your existing system. In its simplest form, it introduces small elements that focus on the customers' needs to augment their experience. In this section, we'll look at strategies that will allow you to build a loyal customer base.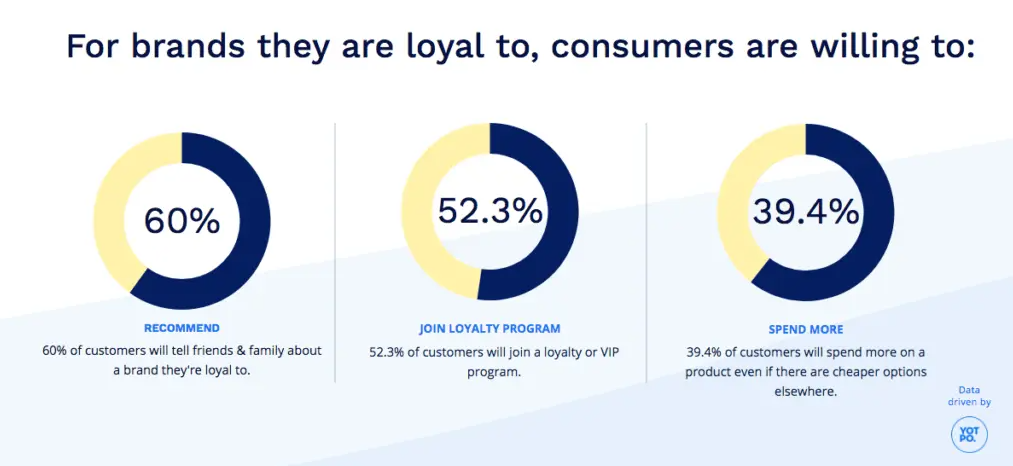 Source: Peer to peer marketing
It could be as simple as placing comfortable sofas in your booths or as complex as using new technologies to cater to a younger crowd. Let us look at seven strategies you can use to delight your customers and exceed their expectations every time.
1. Make your food unforgettable
Food lies at the center of the restaurant experience. While all other elements tie the experience together, the central aspect of the meal is the food itself. Ensure that the food you serve lives up to and exceeds expectations.
Many restaurants play it safe, sticking to the popular menu choices and signature dishes. This approach may work well for some time, but a person who frequents your restaurant often may want something new. Experiment with new dishes, create new twists in old recipes, and concoct new appetizers, desserts, and drinks that will draw in new customers and keep your old ones coming back.
2. Train your staff well
Besides the quality of the food, customers always look for quality of service you provide. Your staff is the most essential part of achieving customer delight. Customers look for everything from greetings to how well they behave. Customers lose patience when their dish is late for 5 mins, but if your staff is well-trained, they can pass the message in the best way possible.
There are three effective ways your team can act as marketers for your brand. But I would suggest more rooted training for your staff. Like, follow everyday rituals, maintain a level of code around the restaurant, communications, and time management. That's why most businesses are choosing restaurant scheduling software that can help the whole team follow a certain schedule and customer delight becomes a priority.
Starting with the first, work with your waiters to come up with better ways to describe dishes. When a person asks about a dish, your waiters shouldn't just respond with a list of its ingredients, but should instead "sell" it to the customer. What makes the dish special? Is it a recipe handed down from your grandmother? Is it something you discovered on a trip? Find a unique selling point and have your waiting staff internalize it.
Second, when your team is more familiar with each of your dishes, they can recommend side dishes or drinks that complement it. Your staff's recommendations help create an excellent dining experience and add to your revenue at the same time.
Third, train your teams about different dietary restrictions and allergies. This will allow them to suggest dishes for customers with special dietary requirements and contribute to a better overall experience. For example, if a customer is allergic to nuts, your wait staff should be able to confidently advise them on which dishes are safe for them to eat.
3. Use technology
Technology can also help you delight your customers by making all aspects of the dining experience smoother and more convenient.
For example, you can equip the waiting staff with handheld devices that replace the standard notepads and bill jackets. Servers can place orders, check in with the kitchen, split checks, and take payments – all without leaving the customers' table. These handheld devices help reduce table turn time and offer quicker service to your customers.
You can also use scannable menus that allow people to take a look at your entire menu using their phones. These menus use QR codes that will enable customers to look at close-up images of the food dishes, add dishes to their order, and pay for their meal through an e-wallet. It's a lot more convenient than holding a printed menu (and, in the era of COVID-19, safer).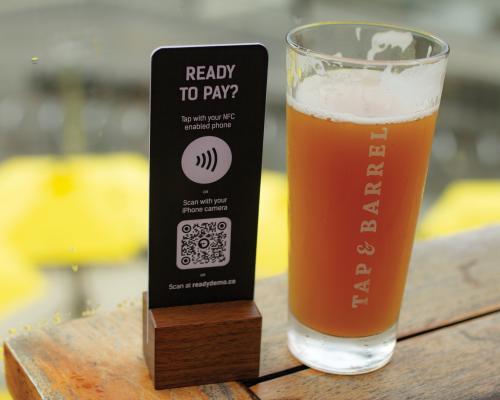 Source: Hospitality Technology
Chatbots are another way to introduce technology and allow you to automate standard queries across online platforms, such as your website, social apps, or food ordering apps like Uber Eats. They help you answer questions from customers about offers, reserving a table, and placing their orders.
4. Listen to feedback
Whether it's positive or negative, you can use feedback from your customers to help improve your service. Encourage customers to leave a review right after they leave the restaurant, while their experience is still fresh in their minds.
Some restaurants have a quick survey form they give the customers while they wait for the bill. If you do not want them to fill out a form by hand, you can send a handheld device to their table, where they could give you a virtual thumbs up or thumbs down. Use the feedback to improve your services, including your menu, customer service, and the ambiance of your restaurant.
If you look hard enough at the feedback, you will see some patterns and common themes emerging. These trends will help you identify areas that need some work. When customers come back to see that their comments led to change, it makes them feel valued.
5. Self-service kiosks
Fast-food chains are increasingly turning to self-service kiosks for quick service. The restaurants have big screens where you can select your meal and pay for it. After using the screen, you simply walk over to the counter to pick up your order. It is an excellent step towards creating a full self-service dining experience.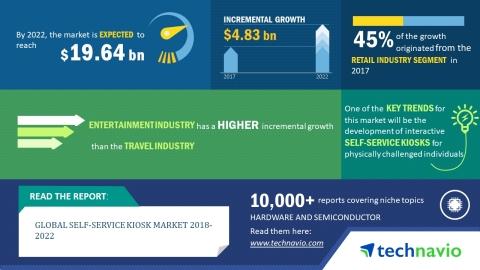 Source: Businesswire
According to a study, the kiosk market is estimated to cross $19 billion by 2022, and the COVID-19 pandemic has further expedited its use. The no-contact, quick-service nature of the platform is a particularly big hit with the younger population.
Self-serving kiosks help free up your staff to do other tasks and help you display your entire menu in one place, letting you cross-sell and upsell with ease. Read this interesting article by Forbes, which talks about how fast-food chains like Wendy's, McDonald's, and Burger King are actively using kiosks to provide better customer service.
6. Loyalty programs
Reward your customers and give them a tangible reason to come back to your restaurant. Loyalty programs are a win-win as they allow you to increase your customer lifetime value. When you give your customers loyalty points, special members-only discounts, and exclusive freebies, they'll have additional reasons to visit your business more often.
Loyalty programs also help you add to your email list, allowing you to stay in touch with your customers and notify them about new promotions and product launches. Aside from using it as a frequent diner program, you can also use your loyalty program to solicit feedback from your customers. Every time they leave a review, you can reward them with a discount or free menu item at no cost.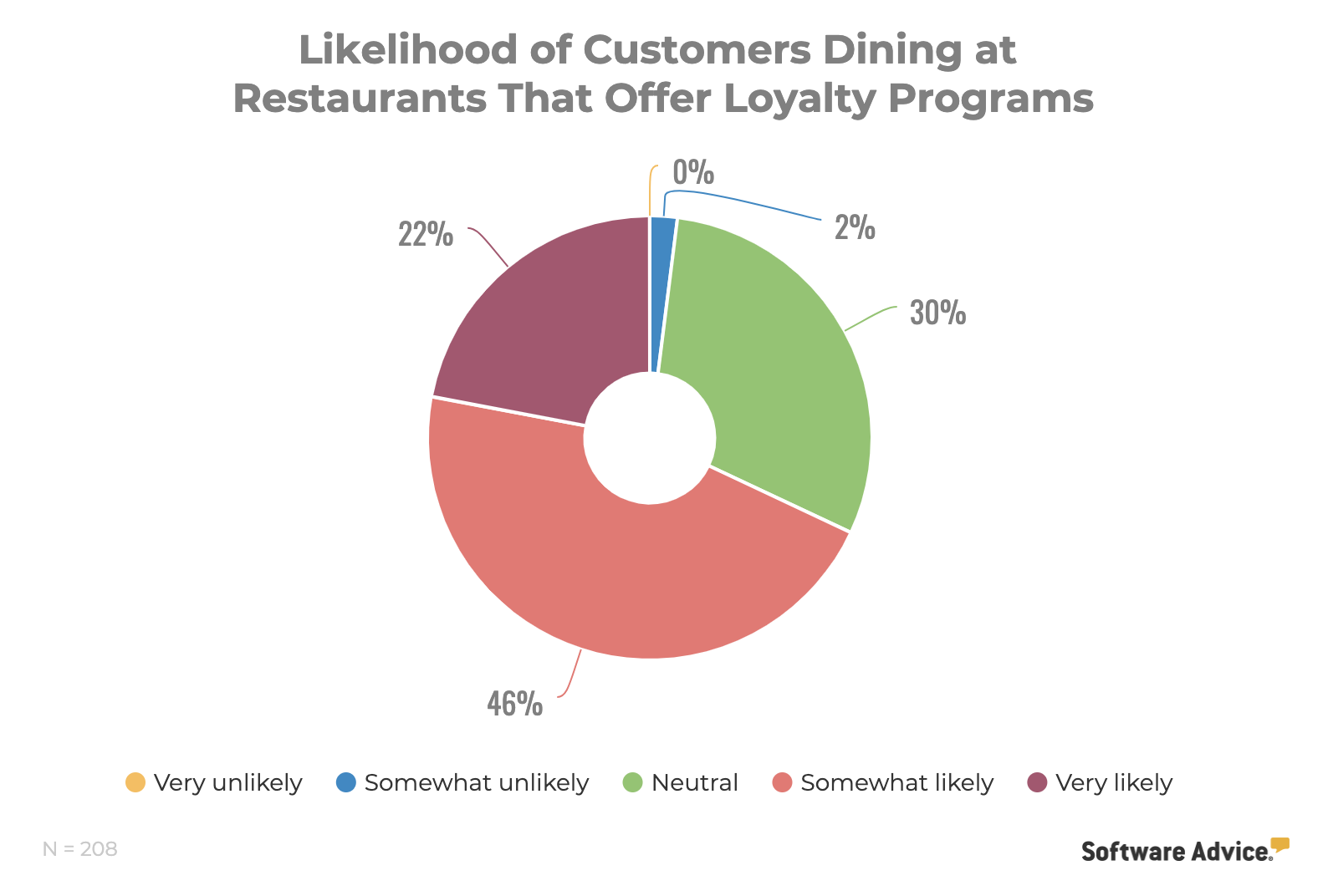 Source: Software Advice
A study by Software Advice estimates that 22% of people are "very likely" to dine at a place that has a loyalty program. You might also want to look into using technology to offer personalized rewards based on your customers' order histories. For example, it's no use offering a meat-based starter to a vegetarian or a free glass of wine to someone who always orders alcohol-free options!
7. Improve your online services
The COVID-19 restrictions have led to a massive shift in the restaurant industry, and online ordering and delivery are here to stay. Invest in improvements to your website for a smoother ordering experience. You can also partner with platforms that allow your customers to order online. GrubHub, Postmates, DoorDash, and Uber Eats allow you to deliver delicious food to your customers' doorsteps in many regions.
Another good way to enhance your online service offering is to add a chatbot to your website which you program to answer simple, common questions (such as what time you open or whether a particular dish contains allergens).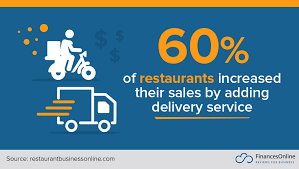 Source: Finances Online
Your online services should also include a reservation system for dining in and take-out customers. You may also go a step further and offer gift cards that can be redeemed both online and in person. All these services help you tap into a broader audience while offering a great experience across all platforms.
Wrapping Up
Customer delight should become the central point of all activities in your restaurant. It helps you create long-term value, get valuable word-of-mouth publicity, and acquire patrons that will support your business through tough times.
Make sure your food exceeds their expectations every time and your team members are welcoming and knowledgeable about the menu. Utilize technological solutions such as self-ordering kiosks, chatbots, and handheld devices that add convenience to the customer experience. In addition, invest in your online presence and offer the convenience of online booking and delivery.
Use these tips to create an unforgettable experience for your customers, and they are sure to return to your restaurant. Ensure customer delight becomes an integral part of all your strategies, and you will have no problem attracting more customers and transforming your restaurant into a must-visit spot!
Author Bio: Owen Jones is the Senior Content Marketer at ZoomShift, an online schedule maker app. He is an experienced SaaS marketer, specializing in content marketing, CRO, and FB advertising.
---