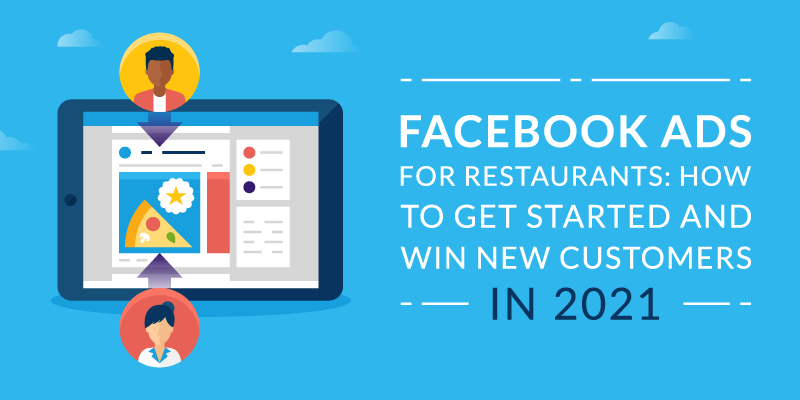 Social media marketing has the reputation of being a way to get big results without having to spend on ads. The theory is that if you create great content and build your audience, you'll attract followers organically.
While this can be true, it doesn't mean you should avoid ads altogether — advertising on platforms like Facebook and Instagram can bring in customers while you also continue to build your organic audience. Or, if you already have success with social media marketing, you can use ads to reach even more customers.
In this guide to Facebook ads for restaurants, we'll show you 11 tips that you can use to begin advertising on the platform.
How to Get Started
Restaurant owners can easily start a Facebook advertising campaign. First, set up your page if you haven't done so already by uploading some images and necessary information about your restaurant. We go into more depth about how to do this on our page about social media marketing.
On your Facebook page, you'll see plenty of buttons asking you to promote your restaurant. Clicking on any of these will take you to the Facebook Ads Manager, where you can begin to create your campaign.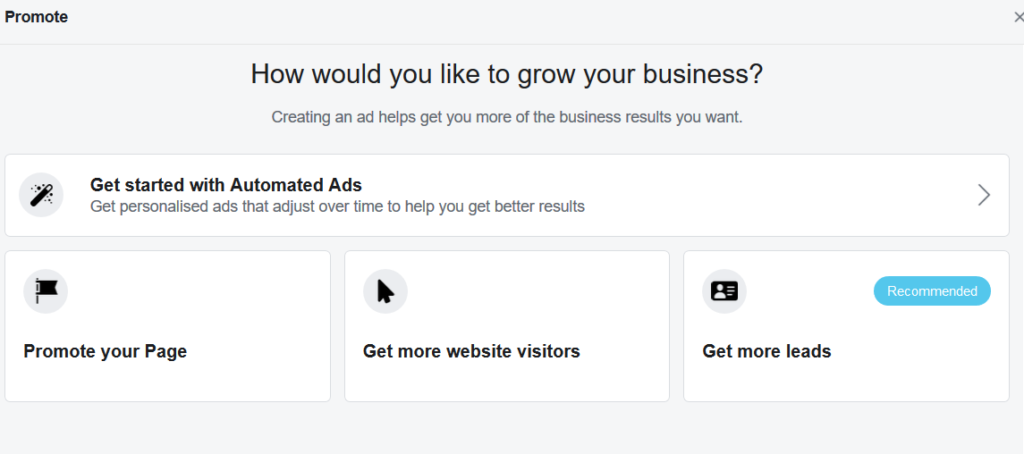 For a restaurant Facebook ad to be successful, you need to get two things right:
The creative part of the ad — This is the text, the call-to-action, the offer, and the images.
How you target your ad — Facebook has in-depth targeting options that let you choose to show your ad to a highly specific audience, and this is the reason why Facebook ads can be so useful.
If you do this well, you'll increase your restaurant's brand awareness amongst the people that are most likely to be interested in visiting.
Facebook Ads for Restaurants: Top Tips
Target Existing Customers
Facebook allows restaurant owners to target their existing customers by uploading email lists to the ads manager and then matching this data to the data of users.
This may seem counterintuitive — if people already know about your business, why should you pay to advertise to them?
The reason is that — because this customer segment is already aware of your brand — you can find success by encouraging them to visit again. As you don't have to spend time (or money) introducing this audience to your business, you can focus on getting them to buy. This means it can be possible to get a good return on your restaurant Facebook ad spending.
Of course, you need to consider the type of ads you show these customers carefully. Try to include something new such as promoting events, showing off new menu items, introducing seasonal specials, or even giving discounts or coupons.
Look at your other social media profiles to see the type of content your followers react to.
Audience Retargeting
"Audience retargeting" is a way of showing Facebook ads to people that have visited your website. These people may have eaten at your restaurant, or they may merely be exploring places to eat. Either way, the fact that they have already been to your site means they have expressed an interest in your business. These people are considered warm leads.
You can create different retargeting strategies depending on the page the potential diner visited — if it was a page about an event, you could show them ads for that same event; if they visited your booking page, you could show them an ad asking them to finish the booking.
Retargeting is considered one of the most effective forms of Facebook advertising. Various studies suggest that not only do those ads have a higher click-through rate than non-retargeted ads, but they also increase the chances that a website visitor will buy.
Create a Lookalike Audience
Another smart targeting option is Facebook's lookalike audience feature. This allows you to target people who may be interested in your restaurant based on them having similar traits to your existing customers.
The way it works is simple: you create an audience using existing customer data, such as email addresses or those who have liked your Facebook page. Facebook then pulls out common characteristics of the people in this audience and shows your ad to potential new customers who also have these traits.
This ensures that the people who see your Facebook ads are those most likely to be interested in your venue.
Remember that ads targeting lookalike audiences may have to be different to those targeting the audience the customer data is based on. The lookalike audience won't have any existing knowledge of your brand, so your ads should focus on brand awareness rather than conversion.


Advertise to People When They Are Nearby
Creating a target audience of people nearby is another effective way to use Facebook ads. You can target people based on the zip code they are currently located in, or promote to new customers within a specific radius of your location.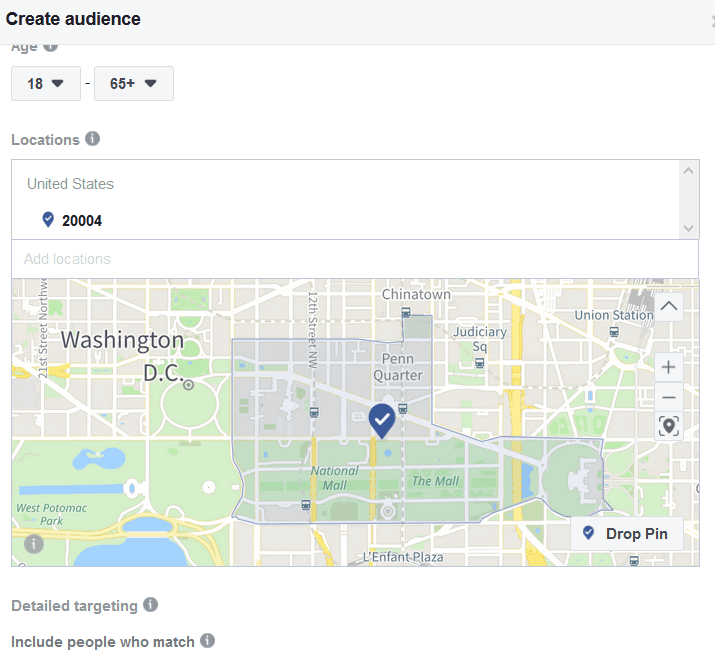 Of course, you don't have to limit yourself to a single zip code — if you want to increase your reach, you can add neighboring areas. You should also be sure to combine location targeting with other targeting options.
There are many ways that this could be useful: a lunch restaurant near office buildings could advertise an offer to workers in the local area, or a family restaurant in the suburbs could promote local events or specials to families nearby.
Target Ads Based on Interests and Demographics
The final type of targeting you should consider is manually creating a target audience based on the demographics and interests that suggest a person will like your restaurant. This will be necessary if you don't have any data about existing customers.
Before you start to advertise in this way be sure to really think about the type of people who you want to attract to your restaurant. Creating in-depth Facebook ads profiles before you start advertising can save a lot of money that would otherwise be wasted on targeting the wrong people.
There are plenty of Facebook ad targeting options that make creating user profiles easy. They are split into demographics, interests, and behaviors.
A family barbecue restaurant, for example, could create an audience of parents with pre-teens who like barbecue and then match this with people in their area.
They can also exclude people who match specific characteristics that suggest they wouldn't be interested in barbecue. For example, maybe someone who has expressed an interest in vegetarian food. Go as detailed as you can while still having a good audience size.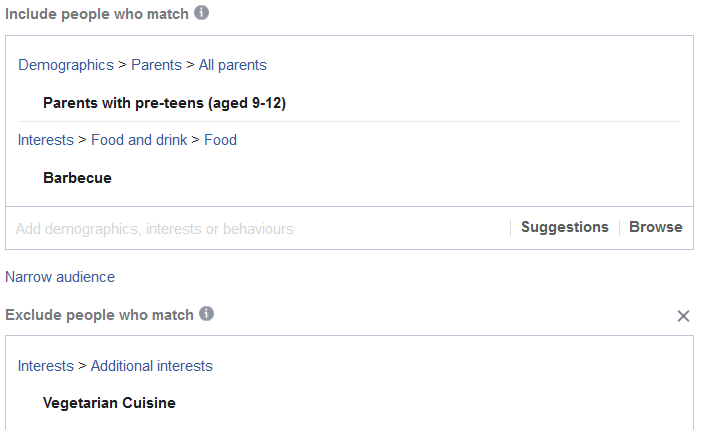 The restaurant should combine this detailed targeting with an offer that is likely to appeal to the customer — something like a discount on a family set menu, or a free dessert.
Make sure you create a different Facebook ad offer for each group of people you target. Even if it takes longer to create separate ads, it will be worth it in the long run if it is more effective at bringing people through your restaurant doors.
When done right this can be a powerful way to use Facebook ads.
Have a Specific Goal in Mind
When creating Facebook ads for your restaurant, you typically want the customer to take a particular action. This should be the first step in a digital marketing sales funnel that ultimately leads to the person visiting your restaurant.
Use Facebook to encourage people to:
Visit your website
Download a coupon
Sign up to your mailing list
Book a table
Sign up for an event
Download an app
Make an order
When creating your restaurant ad, be clear about what you want the person viewing it to do. If you want a customer to download your app, then the image, text, and call-to-action should all be relevant to the offer.
Likewise, you should ensure there is continuity between each stage of the sales funnel. If your Facebook ad encourages someone to sign up for a free drink coupon, be sure to create a specific landing page on your restaurant website dedicated to this offer.
It's also important to keep track of these conversions, so you know the return on your Facebook ad spend.
Restaurant owners typically can't directly attribute social media ad clicks to sales. A customer may see the ad on Facebook, click on it, and then visit the restaurant in person without ever mentioning that they saw the campaign.
Nonetheless, you should still have some way of tracking whether your Facebook ad campaign spend is resulting in people visiting your restaurant. This could be as simple as tracking coupon use, surveying customers, or even just comparing covers pre- and post-ad.
Encourage App Installs
Apps can benefit your restaurant by providing features such as loyalty schemes, reservations, coupons, and in-app ordering without the hefty fees associated with third-party aggregators.
Facebook has an option specifically for encouraging downloads. It lets you create Facebook ads directing people to your app store listing, where the customer can then download your app instantly.
Use Facebook to highlight an offer or discount available to app users to increase conversion.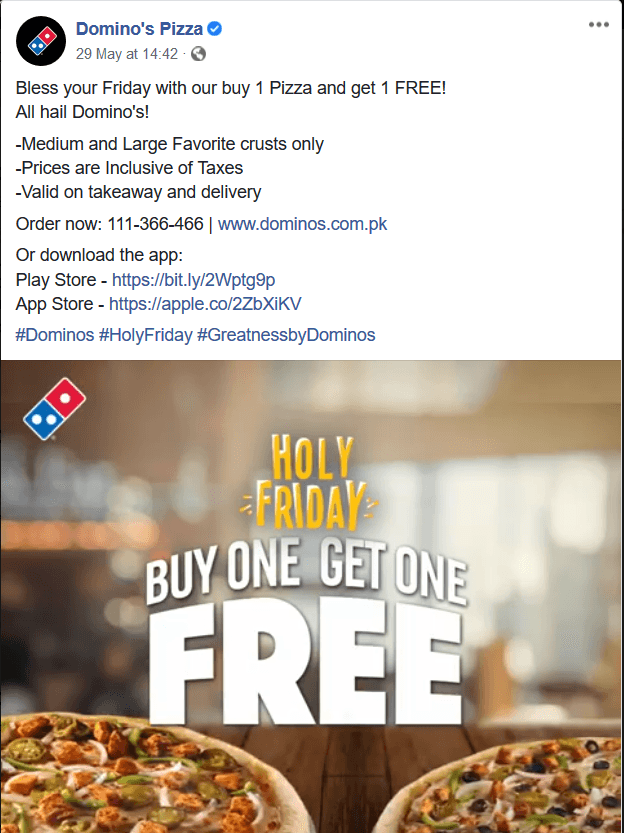 Once people have your app, you can create Facebook ads to encourage them to use it. For example, you could direct app users to your order page so they can make an instant purchase from your restaurant.
Use an Email Coupon
Combining a restaurant Facebook ad with a coupon gives people a specific reason to visit your restaurant.
The key is to be sure that the offer attracts the type of people you target your ad at — university students will react to different offers in comparison to families.
It can also be useful to add a sense of scarcity to your offer. You can do this by limiting the discount to the first 100 people who download the coupon from Facebook. Or by saying that your target audience must take advantage of the offer on a particular day (as per the Taco Bell post below).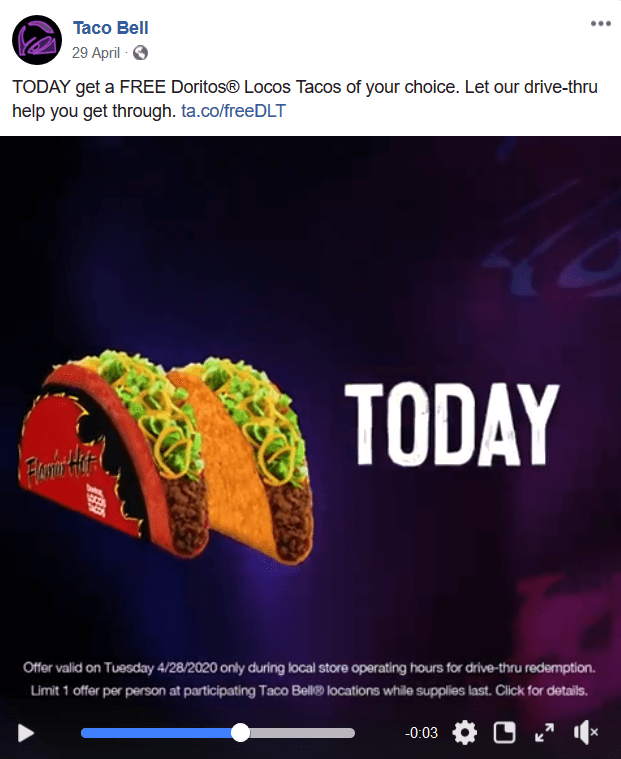 When using coupons, you should direct customers from Facebook to a landing page on your restaurant website where you ask for their email address in exchange for access to the offer. This is a good way to grow your email list and it will allow you to continue to send the customer information about your restaurant. Just include a checkbox on the form that allows them to sign up to receive your email newsletter.
Plus, if you don't have much knowledge about your audience, asking for an email address will also help you build a picture of the type of people who respond to particular offers. You can use this information to optimize future Facebook ads for your restaurant.
Promote Your Ecommerce Store
Facebook has recently introduced a new feature to its pages called Facebook Shops.
This lets restaurant owners create a storefront within their Facebook page. You can use this to sell merchandise, ingredients, meal packs, and more to customers. It's free to use and is also available on Instagram.
In the U.S., you can process your transaction using Facebook's payment system—it's super easy to use. If this isn't available where you are based, you can still direct users to your restaurant website or third-party store to finalize the transaction.
Consider targeting your existing customer base with Facebook ads promoting these products.
The great thing about this is you will know exactly how much it costs to make a sale. The key is to be sure that the cost of the Facebook ads is less than the profit you make on selling an item.
Experiment with different offers, target audiences, and products. Doing so will help you create effective restaurant Facebook ads.
Increase the chance of success by promoting higher price items that have a larger profit margin.
Even if you don't use Facebook ads to promote your shop, it's still worth setting up as it can be a good way to bring in extra revenue.
Tell People About New Services
Restaurant Facebook ads are a great way to introduce a new service.
Imagine your restaurant has started offering food to takeaway. Using Facebook Ads to tell your existing audience will get them up to speed quickly so they can take advantage of your offer.
There are many different types of service you could promote. For example, delivery, catering, mobile order-ahead, a loyalty scheme, and more.
Check out the Facebook post below from Domino's.
In it, the company announce a new offer that gives customers who order online free access to a streaming service.
Promote Events
Facebook makes it easy to advertise events created on the platform. It's as simple as creating an event at your restaurant on Facebook and then promoting the page.
When people see your event, they can click "interested" on the Facebook page if they want to attend. You can then send updates as the event gets closer. And, as an added bonus, you can also use restaurant Facebook ads to sell tickets to your events directly, where applicable.
Combine events with seasonally relevant days or holidays for maximum effect: a sports bar could promote a Super Bowl party, a taqueria could promote a Cinco de Mayo, or a family restaurant could promote a Christmas party.
If you need some inspiration about the type of event you could hold at your restaurant, check out our mega-list of 60 event ideas restaurants can use to bring in more customers.
Use Professional Quality Content
While focusing on your offer and who you target your ad campaign toward is important, you should also think about quality when creating Facebook ads for your restaurant.
Consider getting professional photos taken of your menu. This is a good investment, as you can use this material throughout your restaurant marketing efforts and not just on Facebook ads. You can also spend time crafting the copy for your advert to make it as persuasive as possible.
Don't Forget About Instagram
Facebook owns Instagram, which means you can use the Facebook ads manager to also publish on the latter platform. As Instagram is great for restaurant marketing, advertising on the network is a no-brainer.
If you want to learn more about promoting your restaurant on Instagram, check out our article on Instagram marketing.
Restaurant Facebook Ads: Wrapping Up
Restaurant Facebook ads can be a very effective way to advertise your business; the key is to target your ads at the people who are most likely to be interested in visiting your business, and then include a relevant offer.
Be sure to experiment with your campaigns by adjusting things that aren't working. You can set daily budgets for Facebook ads, which means you can experiment without the risk of costs rising too much. Then — when you find a formula that works — you can increase your spending.
Read more on how to promote your restaurant in our article on Restaurant Marketing Ideas: The Top 31 Ideas to Grow in 2020. We also have a guide about general restaurant social media marketing that you can read here.
Get your own online food ordering system today.
---

</a