Quick response (QR) codes allow you to transfer information, whether it be webpages, phone numbers, or text, directly to any customer who has a smartphone. With a quick scan, QR codes link customers to more information, like menus, product information, and more.
During the COVID-19 pandemic, QR codes increased in popularity, as they allowed people to scan and view menus from their phones, therefore decreasing the transfer of germs on paper menus. After that, they blew up, and now they're used by tons of different companies (and regular people) for a variety of different reasons.
Are you ready to use QR codes for your restaurant or business? Here are 10 great ways to incorporate QR codes into your marketing strategy.
1. Increase Website Traffic
If you want to increase traffic to a particular web page, QR codes are a great place to start. You can place a QR code on pretty much any marketing material, including menus, signs, sandwich boards, and flyers.
If you're holding an event and want to drive customers to the event page, you could put the QR code on the flyer that advertises the event. This makes it much easier for customers to find information quickly, instead of searching for the website themselves. It prevents them from taking extra steps and, in turn, not being interested enough to do the extra work, even if it's only a few seconds. It also prevents customers from forgetting about the event as soon as they walk away. With a QR code, they can sign up before they have the time to forget.
2. Expand Your Product Labels
Labels often don't have enough space to write everything on it that you may want. If you wish to expand upon ingredients or materials used, either can be done using a QR code. Directing potential customers to a webpage with more information will help them learn more about the product. This is also helpful for customers who may want to order online, for example, if you're out of their size or preferred item in the store.
3. Make Your Menu Contactless
One of the most significant innovations during the COVID-19 pandemic was the introduction of QR code menus or contactless menus. Restaurants, bars, and cafes put QR codes on table tents (or directly on tables) and linked those codes to menus. This allowed customers to safely use menus without having to worry about the transfer of germs.
However, contactless menus will likely continue to be used in the future. While print menus have returned to restaurants, there are many customers who would still prefer to view menus on their phones. Contactless menus are much easier for restaurant owners to manage, and they help save owners on printing costs.
4. Add to Your Email Newsletter List
If you're looking to build out your email newsletter list, you can set up a QR to do that for you as well. Having customers sign up for an email list while in-store was previously a challenge, requiring more labor on behalf of the employees. With a QR code, customers can be directed to the right page to sign up quickly.
By adding to your email list, you'll be able to increase the efficacy of your email marketing strategies. Customers who enroll in your email newsletter list will have access to updates, event information, sales, and more!
You can place QR codes for newsletters on flyers, menus, business cards, receipts, and more.
5. Increase Social Media Following
Social media isn't going anywhere, and one of the best ways to increase brand awareness is to increase your social media following. Setting up a QR code to link to your social media accounts makes it easier for customers and clients to follow you quickly.
When customers follow you on social media, you'll be able to communicate with them quickly, alerting them of any deals, events, or promotions you're holding. On top of that, social media is a great way to communicate hour changes, closures, and other important information that customers should know before stopping by.
QR codes for social media can be placed anywhere but are great on loyalty cards, business cards, receipts, and flyers.
6. Promote a Video
Did you create a killer video for your business? Maybe it's a great advertisement or a behind-the-scenes video. Perhaps you made an educational video to help your clients through some sort of process. The options are endless. It can be complicated to direct in-person customers or clients to a video, but a QR code makes that process so much easier.
7. Make Payments Easier
Many businesses are accepting CashApp, Venmo, and other payment methods these days. Your business can use a QR code to direct paying customers to your profile on these applications to streamline payment through these third-party options.
These third-party payment methods are great, as they allow customers to have more options for payment. By allowing customers to pay their way, you'll cast a wider net. Leaving a QR code on a receipt is a great way to make paying with these methods super simple for your customers.
8. Make Phone Calls With a Quick Scan
Instead of typing in a phone number they see on a flyer or menu, customers can quickly scan a QR code and make a phone call in seconds. QR codes are great for saving customers time; removing unnecessary steps like looking up and typing in a number. People don't want to waste their time, so providing them with a quick solution may make them more willing to pick up the phone and make the call.
Phone number QR codes are great for placing takeout orders, contacting customer service, or scheduling appointments. They work well on takeout menus, receipts, flyers, and more!
9. Prompt Online Reviews
Online reviews are the backbone of many businesses. If people give your business strong reviews, it'll attract more attention. If people leave negative reviews, well, it'll drive people away. Unfortunately, most people only leave reviews when they have a negative experience.
By using a QR code, you can make it quick and easy for customers to leave reviews before they even leave your restaurant. With the service fresh in their mind, their review will be more accurate (and they'll be more likely to actually leave one). You can link to your Google My Business page by using a QR code, prompting those who scan it to leave a review. While this is great on its own, it's even better to offer a further incentive, like a discount for their next visit with a completed review.
Positive reviews also increase your local SEO ranking, making it easier for people to find you when they search for businesses near them. If you have a higher rating, your restaurant or business will be shown to more potential customers.
10. Track User Engagement
One of the best things about QR codes is that you're able to track how often they've been scanned and used. Tracking your engagement is incredibly important in marketing, as it allows you to keep track of your marketing efforts better. If something isn't working, you can allocate those funds somewhere else.
Tracking engagement can also help you determine whether or not you're targeting the right audience in your efforts. By using the data associated with QR scans, you can modify and improve your marketing efforts.
Use QR Codes for Your Business
No matter what type of business you run, QR codes are a great addition to your marketing strategy. They make actions easier for your customers, saving them time and making them more likely to engage with your brand! QR codes are an excellent option for restaurants and businesses large and small.
If you're looking to upgrade your marketing strategy, now's the time! Getting started with QR codes is easy, and the return on investment is often significant.
Bonus: Personalized QR Codes on Postcards
Another interesting use case is adding QR codes with personalization tags built into the destination URL, this means when the recipient scans the QR code, they receive a personalized experience on the landing page.
For example using QR codes with personalized Postcards, with the postcard design being personalized to each recipient as well as the QR code leads to creating a hyper-personalized funnel, that increases engagement and delight at each step.
In these examples the postcard personalized images and QR code were created with Hyperise – an hyper-personalization toolkit that not only enables image personalization but also website personalization, so give a simple way to achieve this amazing strategy simply and with one tool.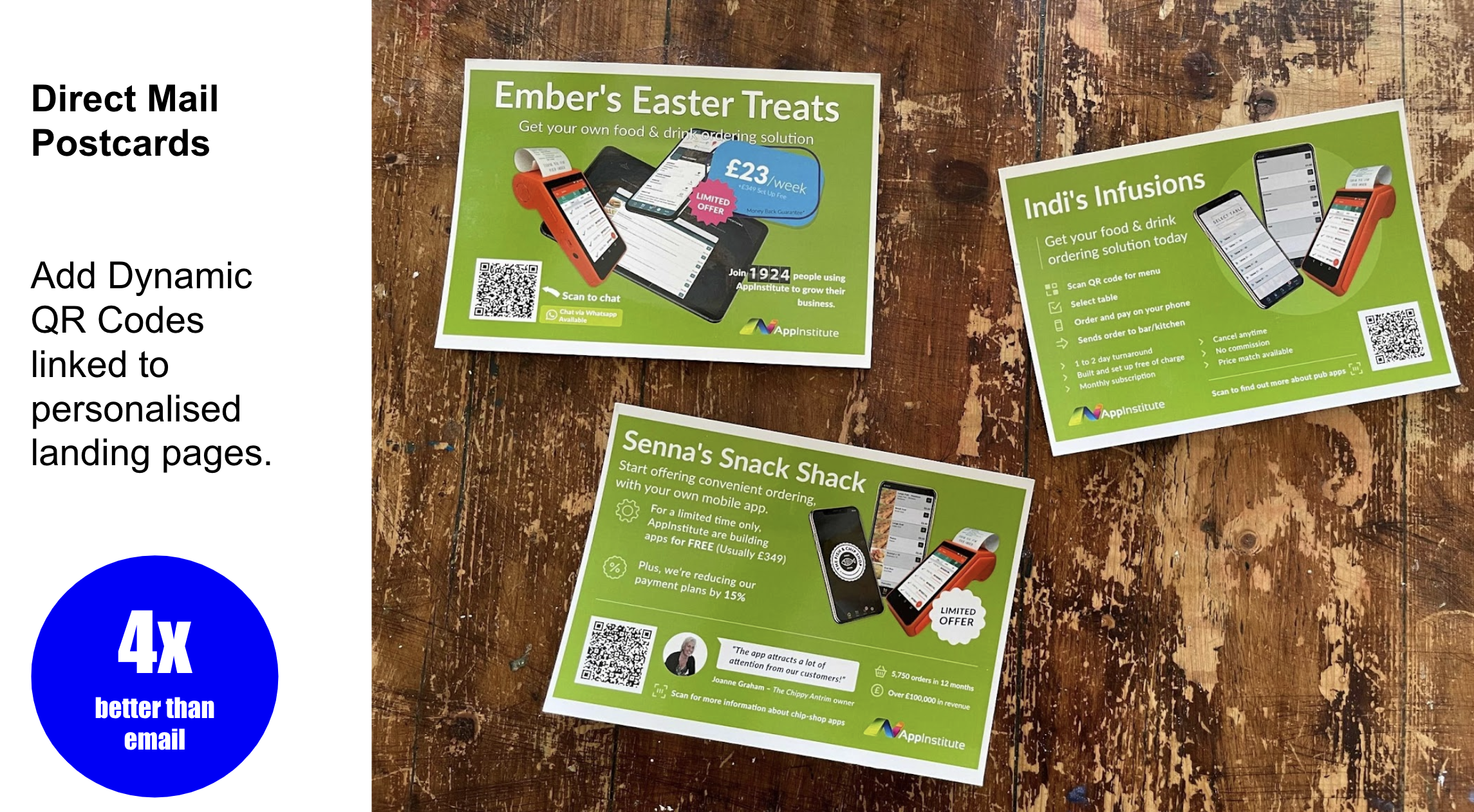 In the case study from Hyperise, they saw a 4x uplift of QR scans, when compared to email clicks from the same campaign, pretty compelling evidence for the personalized QR code use-case.