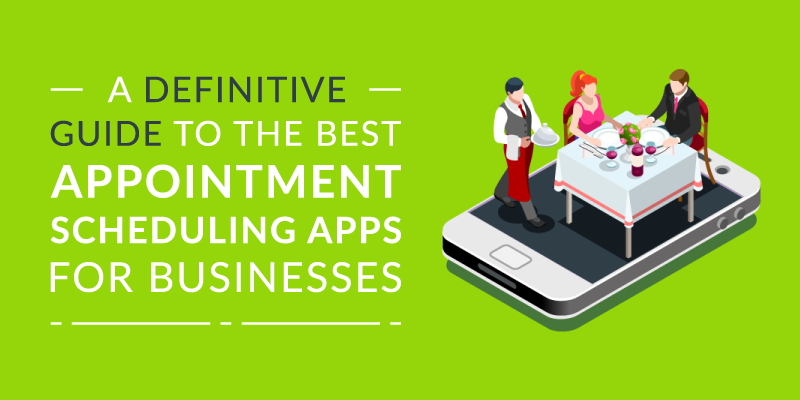 We live in a mobile age where we use our phones more than our computers, and the range of activities that can be done on a mobile device is constantly growing.
Whether you are looking for a convenient way for customers to:
Reserve tables in your restaurant
Book appointments at your beauty salon
Secure a room in your hotel
We will show you some of the best appointment scheduling apps, how to build a scheduling app and the benefits that booking tools will bring for your brand.
Appointment scheduling software won't just streamline your booking process, it will help engage your customers, build loyalty, boost retention, and generate more revenue for your business.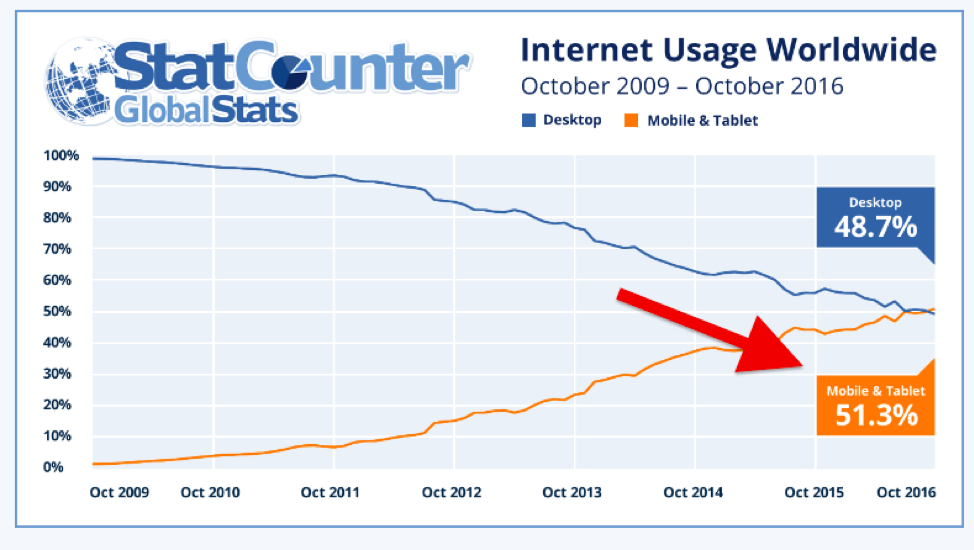 The Facts about Appointment Scheduling Software
An appointment scheduling app allows customers to book, reschedule or cancel appointments with your business.
Booking apps also give you greater visibility and control over your appointments. In comparison to manual booking systems, appointment scheduling software prevents double bookings and allows you to block off times when your services are unavailable.
If you're not sure what all the fuss is about with scheduling software, take a look at the following figures.
According to Hospitalitynet, 49% of direct online hotel bookings are now made on mobile booking software.
In the UK, 45% of people are comfortable researching, planning and booking their travels via mobile, according to Google Consumer Insights.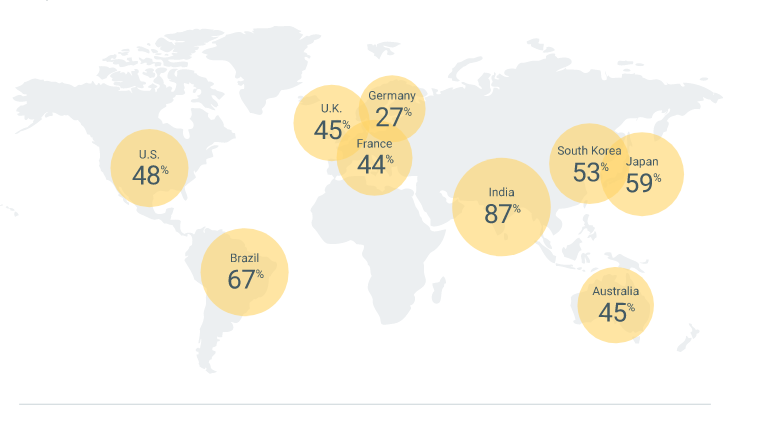 A quarter of people have at least one restaurant app on their smartphone, according to a US survey, and millenials have an average of 2.3 restaurant apps on their phones.
Health and beauty app MindBody reports that someone books an appointment or class every 0.7 seconds.
This means that appointment scheduling apps are here to stay, and you need to get in on the action.
The Benefits of Appointment Scheduling Apps
You want your customers to be able to book your services at any point in their day, and wherever they happen to be.
Often they'll be at work, or won't have a computer with them when they want to book, but it's almost guaranteed they'll have their smartphone with them. Providing them with scheduling software offers a super convenient way for them to make an online booking.
Think about how Uber revolutionised the taxi industry with their super accessible booking app. And now smart taxi firms are providing booking software because people expect a certain level of convenience in a competitive market.
Apps also help take the confusion out of booking. Users don't have to scroll through their contact list to dig out your phone number, nor do they need to trawl through your website to find a booking form. All they have to do is pull up your app and they're good to go.
Here are some of the many advantages of having an appointment scheduling app for your brand:
Easy booking with a streamlined booking form
Offer loyalty points for in-app bookings
Send push notifications and SMS reminders to encourage future bookings
Use geotargeting to trigger booking reminders
Wired Cafe Bar found that building a scheduling app actually boosted their sales, giving them a 22% lift over just 4 months. After Spokes Bike Store built an appointment scheduling app, they saw a 74% increase in enquiries. A massive 34% of their orders are now made through their mobile app.
Which Features Do the Best Appointment Scheduling Apps Have?
When it comes to choosing an appointment scheduling app, it can be challenging to know what to look out for.
To help you decide, we have outlined some of the features that the best appointment scheduling apps should have:
Scheduling: Although this feature may seem obvious, it's important that your scheduling software allows customers to have multiple options for booking appointments, workshops or classes.
Automation: Many business owners use scheduling software because it allows them to automate time-consuming tasks that would otherwise have to be performed manually. Therefore, look out for a scheduling app that automates functions like booking reminders and billing.
Payment processing: Many of the best appointment scheduling apps also act as a point of sale system. This will allow you to easily collect payments and deposits from your customers. Tip: The payment processing features on the best scheduling apps are also user friendly. If the payment feature on your scheduling app is difficult to use, it may deter customers from making appointments and visiting your business. The payment feature on your booking software must also be secure. The last thing you want is for the security of your customers' credit card information to be jeopardized.
Calendar syncing capabilities: How will clients know when your services are available if your scheduling software isn't synced with your calendar? The best scheduling apps can calendar sync, which allows you and your customers to have greater visibility over your business's availability.
What Are Some of the Best Appointment Scheduling Apps on the Market?
If you're looking for an existing online scheduling app, we have outlined some of the best free and premium scheduling apps on the market.
Acuity Scheduling
If you're looking for an appointment scheduling app with customisation capabilities, Acuity Scheduling is the app for you.
With a customised scheduling page, customers can see your business's real-time availability and schedule their appointments accordingly.
Not only can you manage multiple employees and their schedules with Acuity Scheduling; you can also adjust for time zones and send clients automated reminders.
This online booking platform also makes it easy to organise customer data because you can ask clients to fill out forms at the point of booking. This information is then stored in a central location and in a consistent format.
Acuity Scheduling also has various payment plans and also offers customers a seven-day free trial before signing up. The paid plans range from $14 to $45 dollars per month.
Square Appointments 
Square Appointments is an all-in-one system for point of sales and managing bookings and payments.
With Square Appointments, you can manage your availability from within the app, send invoices, activate automated reminders, sync your inventory and set up shipping options.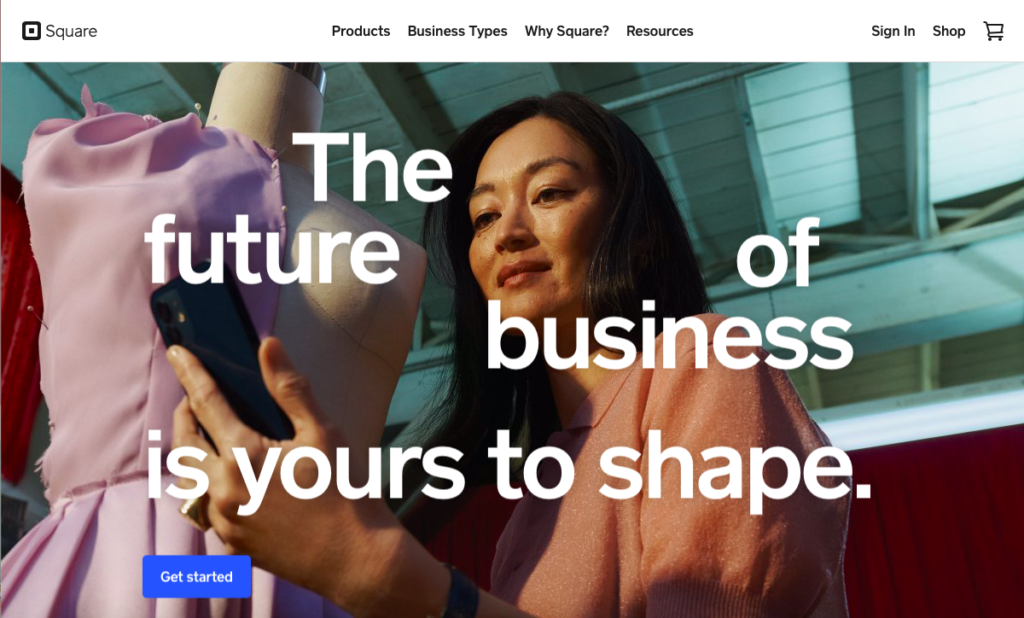 You can also create a free customer booking website and tailor it to reflect your business's unique style.
Square Appointments has a feature on their website that helps you estimate your monthly cost according to how many staff calendars you may need.
Calendly 
Calendly offers scheduling software specifically for meetings. This online booking system uncomplicates meeting scheduling by only displaying your available times across your calendar.
One of Calendly's great features is that it automates everything from appointment reminders to thank you notes.
It also integrates with Stripe and PayPal, which allows you to take payments at the time of booking.
Calendly's basic plan is free for individuals, with premium plans starting at $8 per month.
Genbook 
Genbook is designed for businesses that need to schedule multiple meetings and manage various calendars.
With Genbook's smart calendar you can create, manage and optimise your company's schedule with a few simple clicks.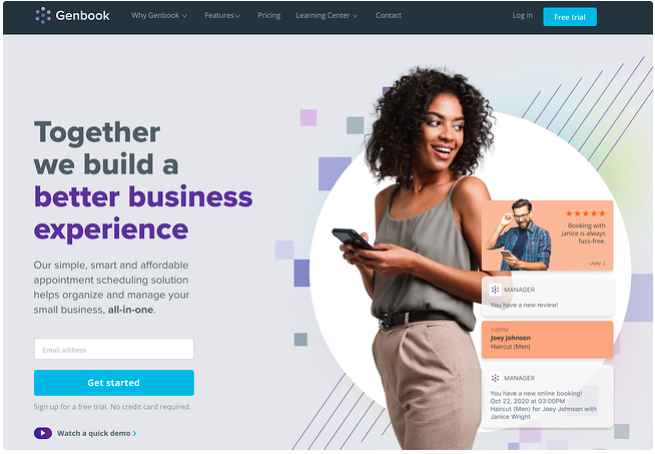 Some of the features of the smart calendar include managing cancellations, double bookings, time blocks, recurring bookings, no-show flags and the ability to split bookings.
Businesses can also take advantage of text communication, email reminders, waitlists, promotions and gift certificates (to name just a few).
Genbook also comes with a built-in Customer Relationship Management (CRM) system that provides you with great insights to maximise your customer's experience.
Genbook's pricing starts at $29 per month for solo entrepreneurs and there are payment plans for teams and companies of various sizes.
SimplyBook.me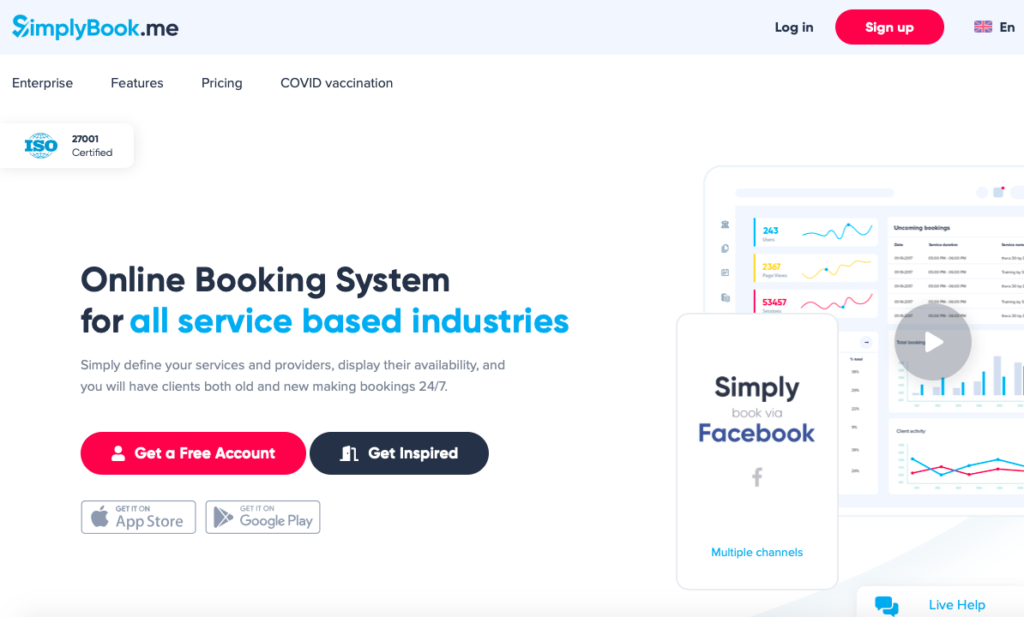 This online scheduling platform is designed for all service-based industries.
Not only can you integrate SimplyBook.me with your existing website, but you can also create your own custom booking page within the scheduling platform.
Among SimplyBook.me's notable features is the ability to accept appointments via your Facebook and Instagram page through a "book now" feature.
Additionally, the platform also allows you to offer classes and events and helps you issue tickets for these special occasions.
SimplyBook.me does offer a free version with limited features, or you can upgrade to their paid plans which start at $9.90 per month.
Appointlet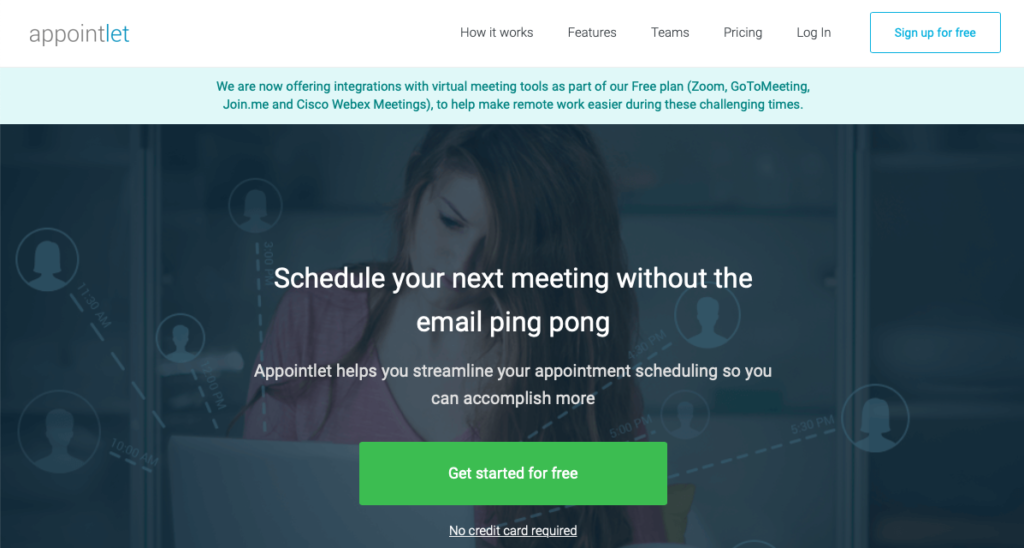 Appointlet has been designed to help you streamline your appointment scheduling so that you can maximise your efficiency.
This scheduling software allows you to customise your appointment schedule and booking page according to your preferences and share it with customers and prospects.
Not only does Appointlet integrate with your website, emails and landing pages, but it also automatically syncs appointments with your calendar.
Although Appointlet is available for free, you can upgrade at $8 per month and have access to bonus features like tracking conversions and Zapier integrations.
How to Build the Best Appointment Scheduling App for Your Business 
App creator AppInstitute makes it easy to build dynamic apps for all business types. If you'd rather build your own online booking app for your business, here's how:
Go to the AppInstitute homepage and click "build your app now". Click "create new app", or select your existing app if you already have one.
Follow the on-screen instructions to set up your app.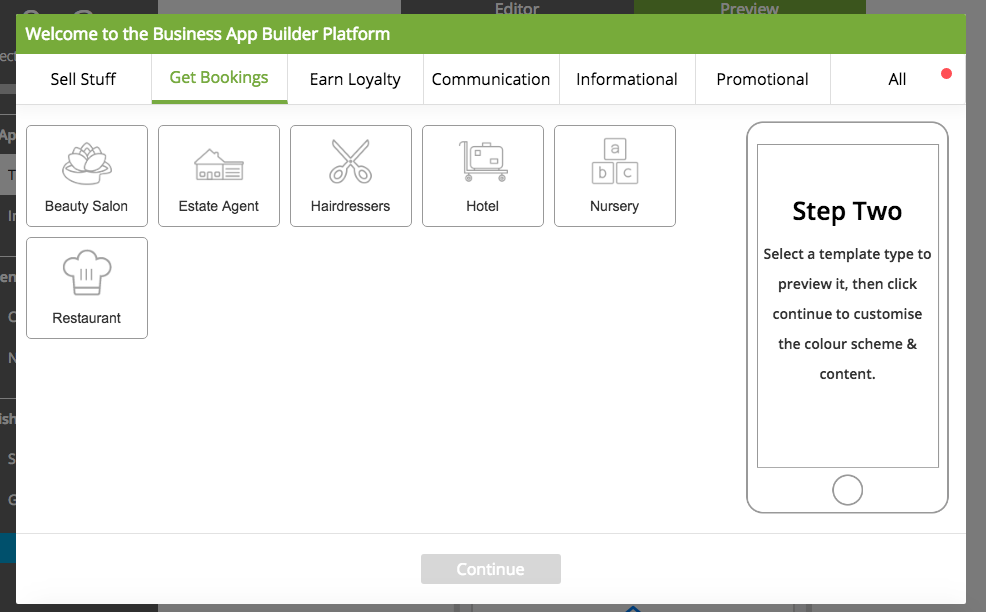 Select one of the "get bookings" options in the menu at the top of the screen, and choose a relevant template for your business.
Use the panel on the left side of the screen to go through each section of your app design, adding images where prompted.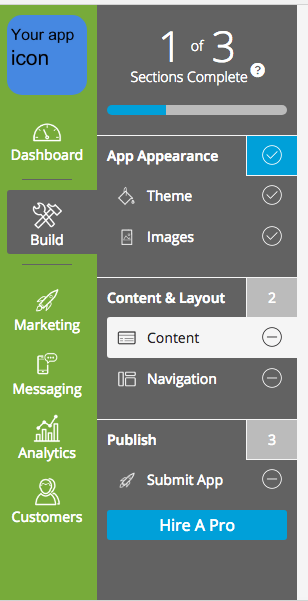 Creating Booking Request Forms
To add booking request forms to your online scheduling platform, select the "content" section in the left panel. This will open up the content interface on the right of the screen. Your app template is stocked with basic sections called "tabs". You can add extra tabs for additional functionality.
At the top of the content panel, you will see an option to "add tabs".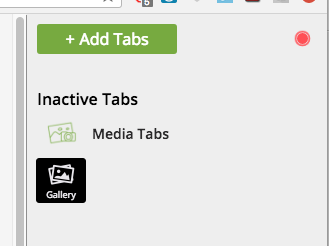 Click it and a screen will pop up with a range of tabs to pick from. Select the "user interaction" option in the top menu.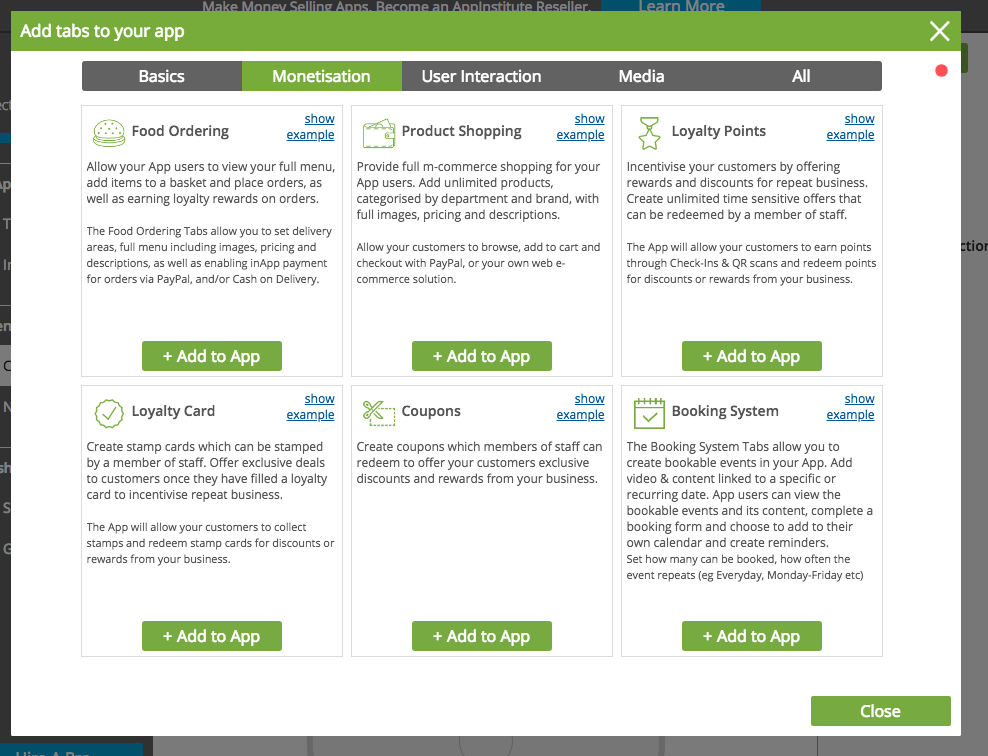 We will use the "forms" tab to create a booking request form in your app.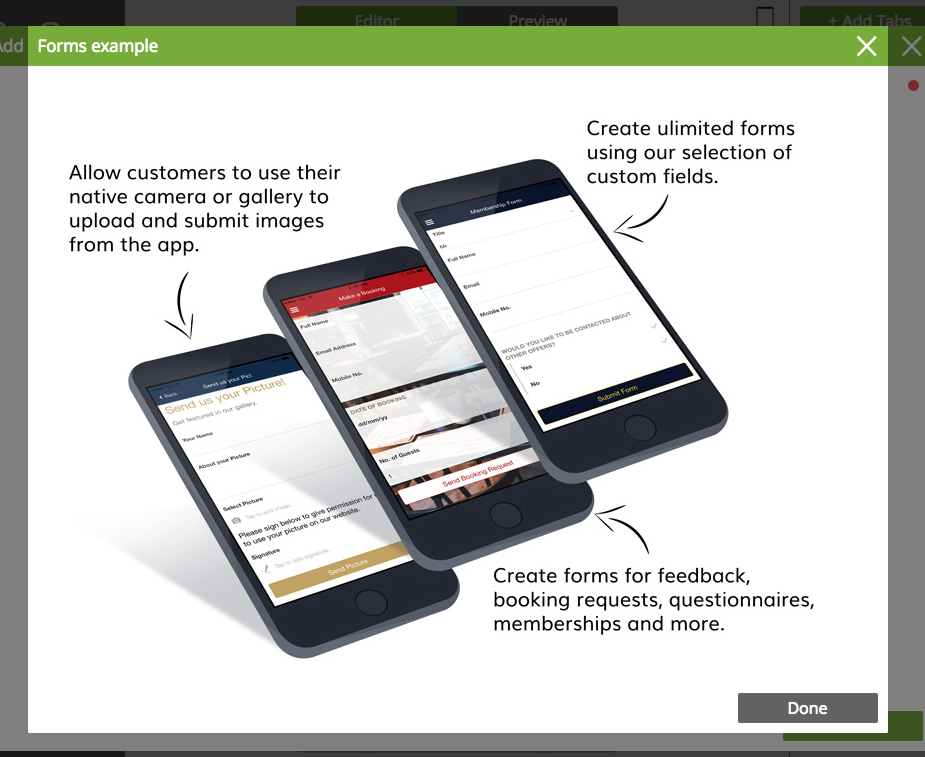 Click "add to app" under the forms option and this will open the "manage form tab".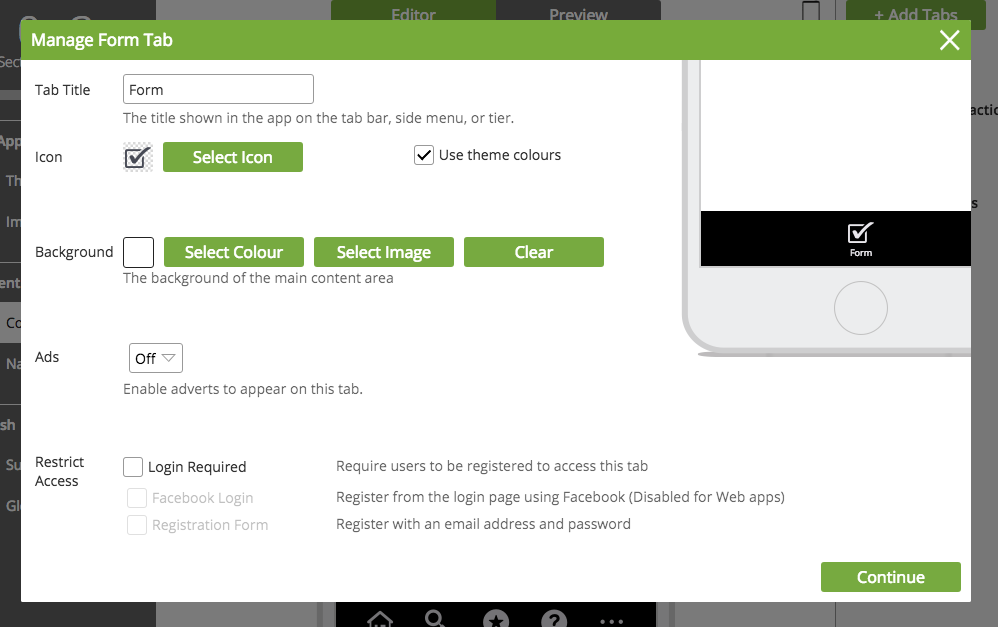 This tab lets you name your form and adjust the colour scheme. It also offers features like whether the contact form requires registration or not.
Click "continue" and you will see a screen that lets you select various form features to add, such as text and number fields, checkboxes and contact buttons. You can also set an automated response message to be sent to users once they have submitted a booking request.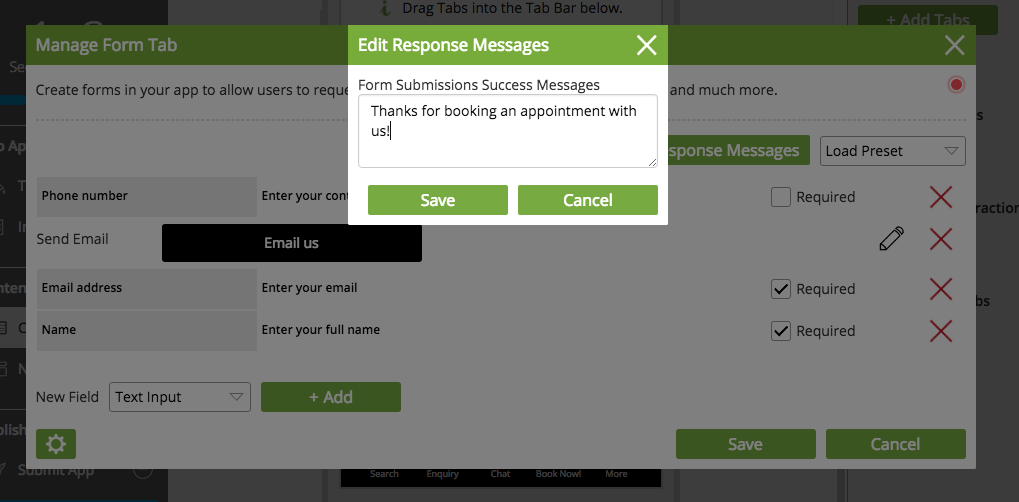 Once you have designed your booking form, you will see it listed as an "inactivate tab".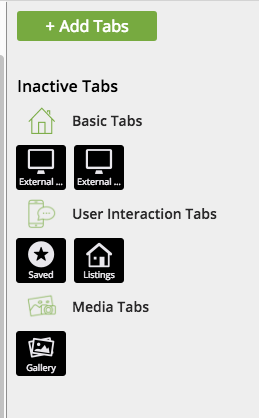 Just drag the booking form tab onto the menu section of the mobile visualiser in the centre of the screen, then move it around to position it where you want it.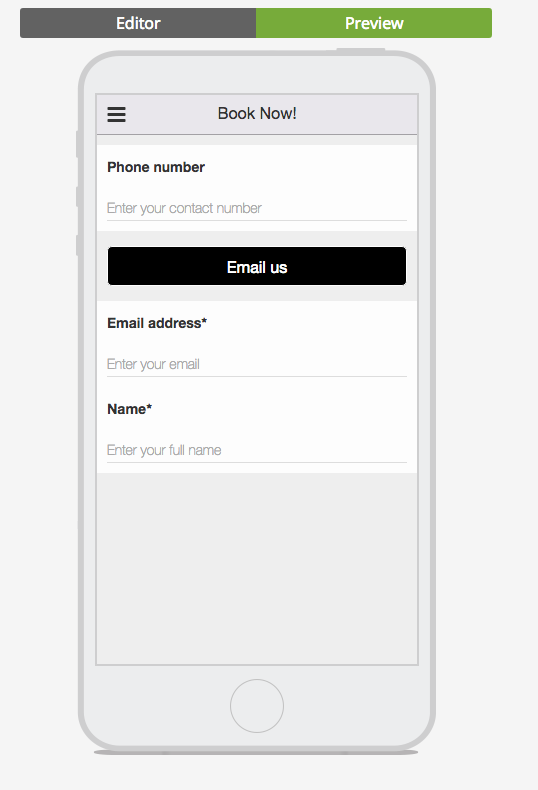 Switch to "preview" mode to see what the app will look like, or hover over the mobile icon on the top right, this will give you the option to demo the app on your mobile device by scanning a QR code.
Create an Online Scheduling System for Your App
To add a booking system to your app, select the "booking system" tab in the "monetisation" menu option.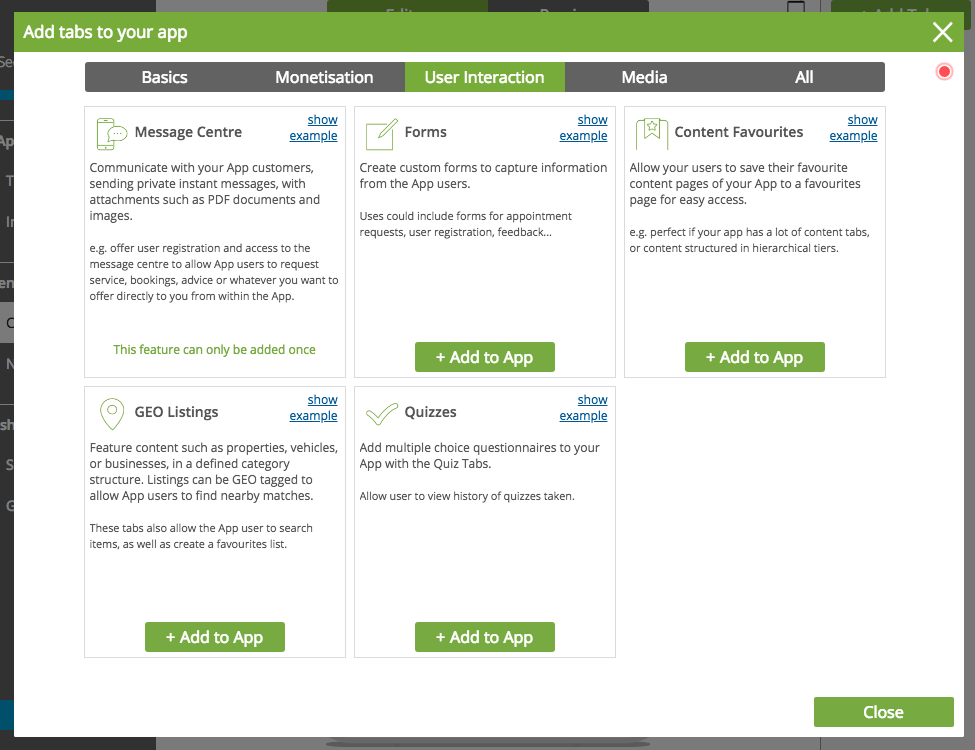 Select "add to app" and you will be presented with a screen that will allow you to create a customised appointment calendar for your users. You can create new calendar events, edit your booking form, offer various payment options, and customise your response messages.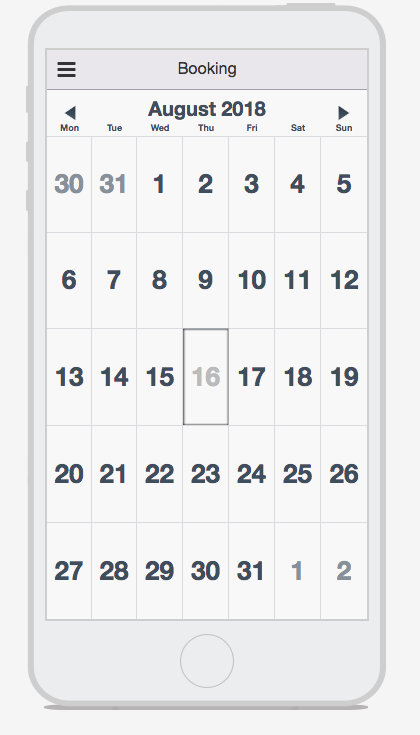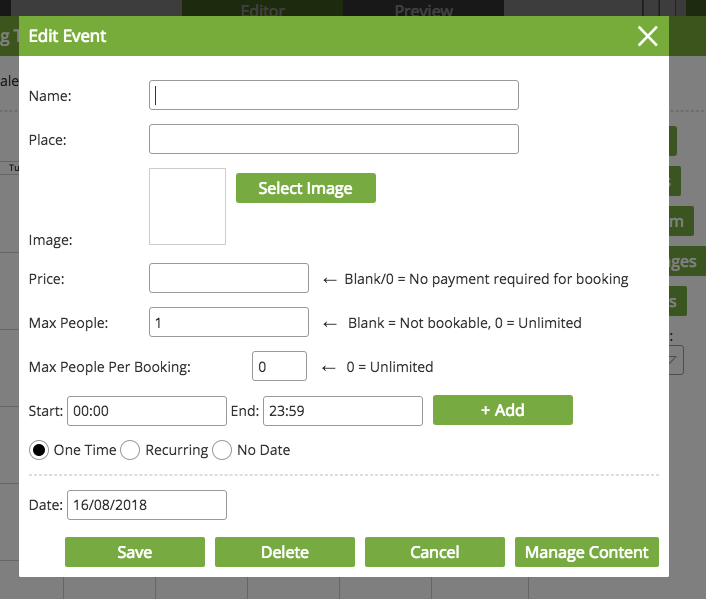 You have the option of creating two different tabs: "booking" and "booked".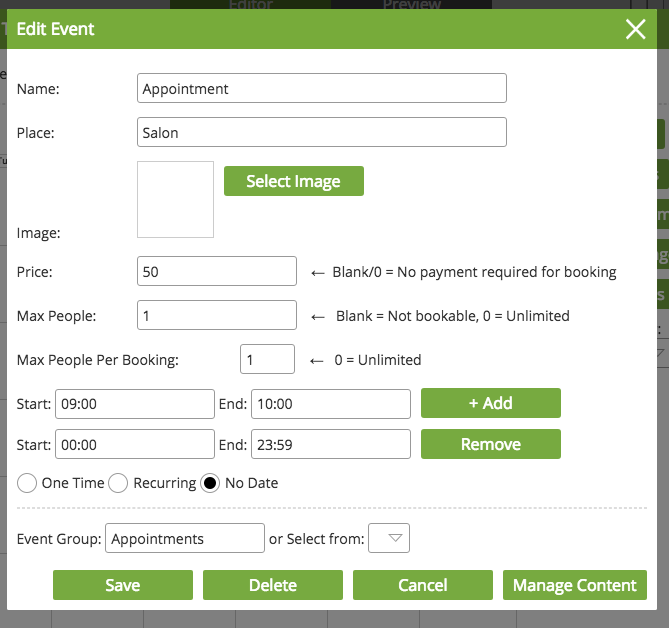 The Booking Tab
The booking tab offers a calendar of upcoming events for your business which will be listed in the app. Select "add event" to create a new event. Enter the event name and location and select an optional image to go with it.
If there is limited space at your event you can set a maximum attending amount. Enter the time and date and select whether the event is recurring or not. The "manage content" section allows you to add additional event info such as images, video, website links and text.
You can also import event info from other booking tabs and edit the booking form to collect the information that you need. Next, you can edit the response message users get after making a booking. Name the booking tab and upload a tab icon in "tab settings".
The Booked Tab
The booked tab shows a list of the users' booked events. You can change the app calendar view to list, calendar, or list and calendar.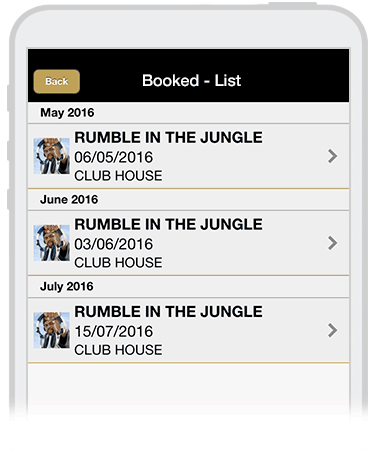 To design the best scheduling software possible, make sure to regularly check its look and functionality in the preview window. Once you're happy with your design, the next step is to download it on your phone via the QR reader in the top right corner.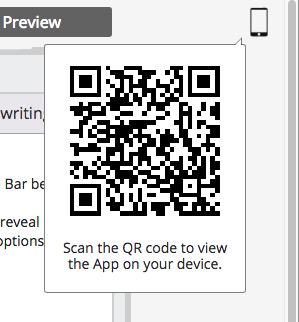 If at any point you want our help, select the "hire a pro" option in the bottom left of your screen.
Once you are happy with your app, select "submit app" in the bottom left of the build screen, and select a plan that suits your needs.
With AppInstitute it's easier than ever to build the best appointment scheduling software, even for a small business.
To find out more about building the right app for your business, get in touch today or take a look at our blog for more app building and marketing advice.
---