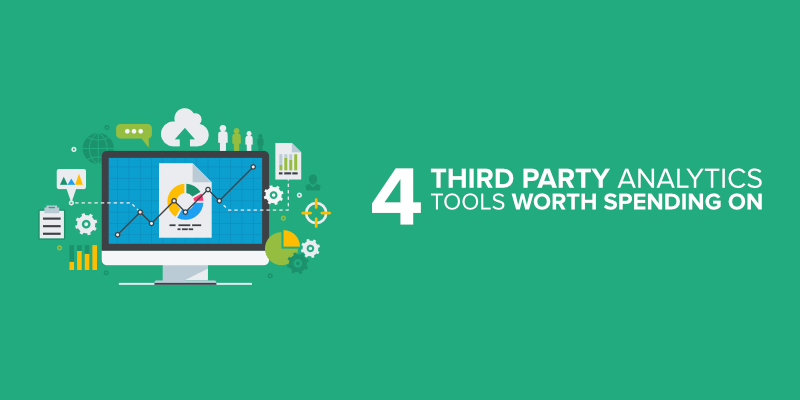 Keeping track on how well your website is performing is essential to the ongoing success of your online presence. By knowing how many people are visiting your website month on month, the channels most visitors are using to get there and what is causing them to leave your site can be the difference between success and failure.
Now there's one big player on the market that can help you on the way to this, Google Analytics, however, the world of analytics doesn't start and end there. Google like to keep some things a little secret, making it hard for you to access additional information and doesn't necessarily do everything that you need it too, which is where some third party tools may be worth investing in to put you one step ahead of the competition.
Here's an overview of four third-party analytics tools out there that we think are worth you taking a look at, and investing in thanks to the benefits they can offer your business.
1. Moz Pro Tools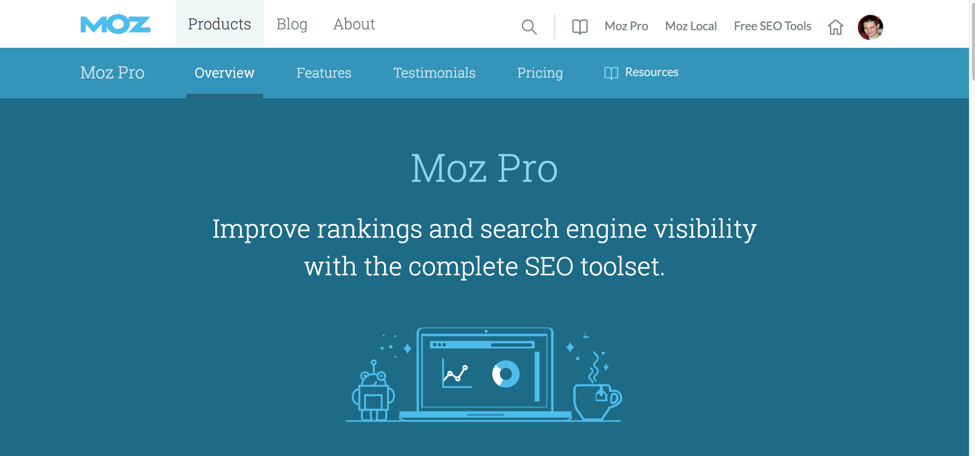 Source
Moz has been a big player in online marketing circles for many years, so any tool they put their name too should give you the confidence that it is high quality and will be worth investing in.
Subscribing to Moz Pro gives you an all-in-one tool to help you on the way to boosting your website's search ranking. It can help you identify SEO opportunities, areas for improvement on your site, track how well your website is growing month on month and much more.
The Crawl Test Tool is just one feature Moz Pro users get the benefit of, which uses Moz's own web crawler, to assess and analyse up to 3000 links on just one URL. If you're looking for anything that could be affecting crawl-ability, such as duplicate content or redirects that could be affecting performance, this does the trick. Additionally, if you want to be sneaky and identify where your competitors are getting their links from, simply pop their URL in and you'll be sent an email with details of every website linking into that URL.
You can get a 30 day free trial with this tool before paid plans start at $99 a month, rising to $599 a month.
2. Website Grader from HubSpot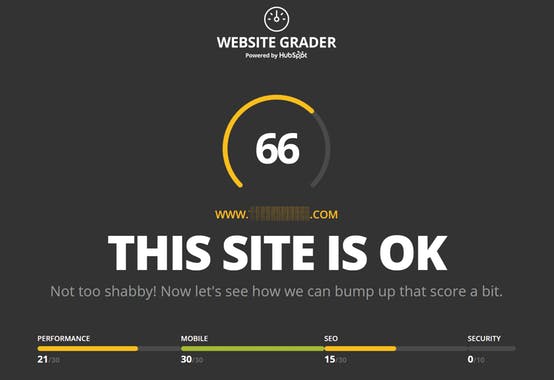 Source
Fancy a free tool that offers loads of information and data on how well your website is performing? HubSpot's Website Grader offers just that and will give your site a score between 1 and 100 depending on how well it performs across the following areas:
Performance: The tool looks at the size of your site, the speed at which it loads and how well it performs from a variety of requests
Mobile friendly: Your website needs to be optimised for mobile in today's society, so the tool will check that it is, how responsive it is and more
SEO: The tool checks to see how easy your site is to find in the search, both by humans and the Google bots that crawl it, by exploring features such as page titles and meta descriptions
Security: The security level of a website is a key element in gaining a potential customer's trust these days, so the tool checks for an SSL certificate; showcasing that your site is safe to use and any information provided is protected.
It doesn't stop there though from HubSpot as there are some paid options for you to select from for even more detailed information. For instance, the Page Performance tool provides detailed information on all the statistics you need to know on how well the pages and posts on your website are doing.
Alongside providing those all-important metrics, the tool goes on to provide you with recommendations on areas of improvement so you can start to see the results you desire.
3. Sprout Social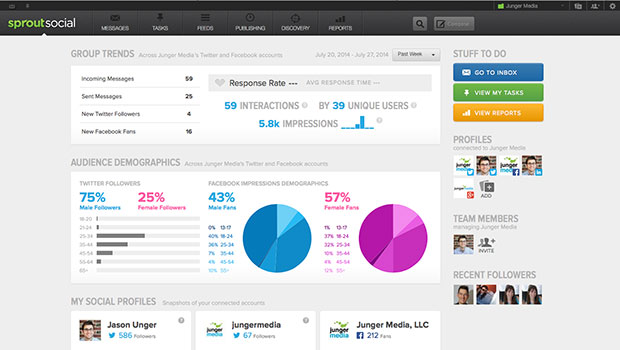 It also important not to forget about measuring how well your social media platforms are performing too, with Sprout Social being an incredibly useful tool to help you achieve this.
Through their analytics package, you can assess how performance across Facebook, Twitter, Instagram, LinkedIn and Google+. With all of the analytical information in one place, you can easily identify what is working well on your platforms, whether certain posts work better on one platform compared to another and if there are types of socially shared content that performs better than others.
After a 30 day free trial, you can manage multiple social media platforms starting at $99 a month.
4. Kissmetrics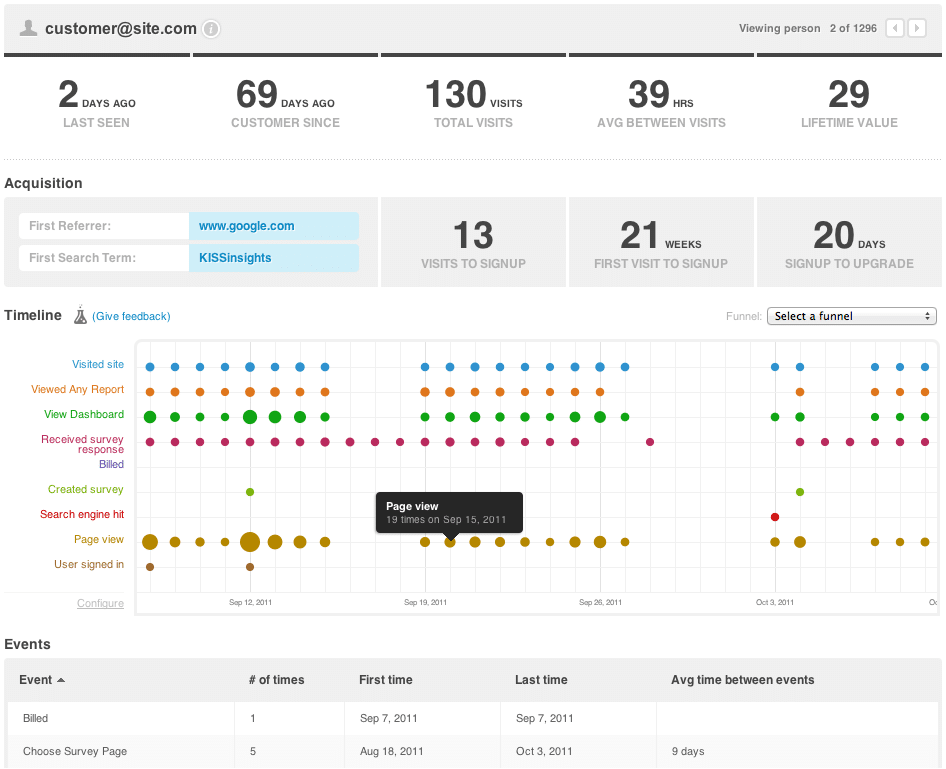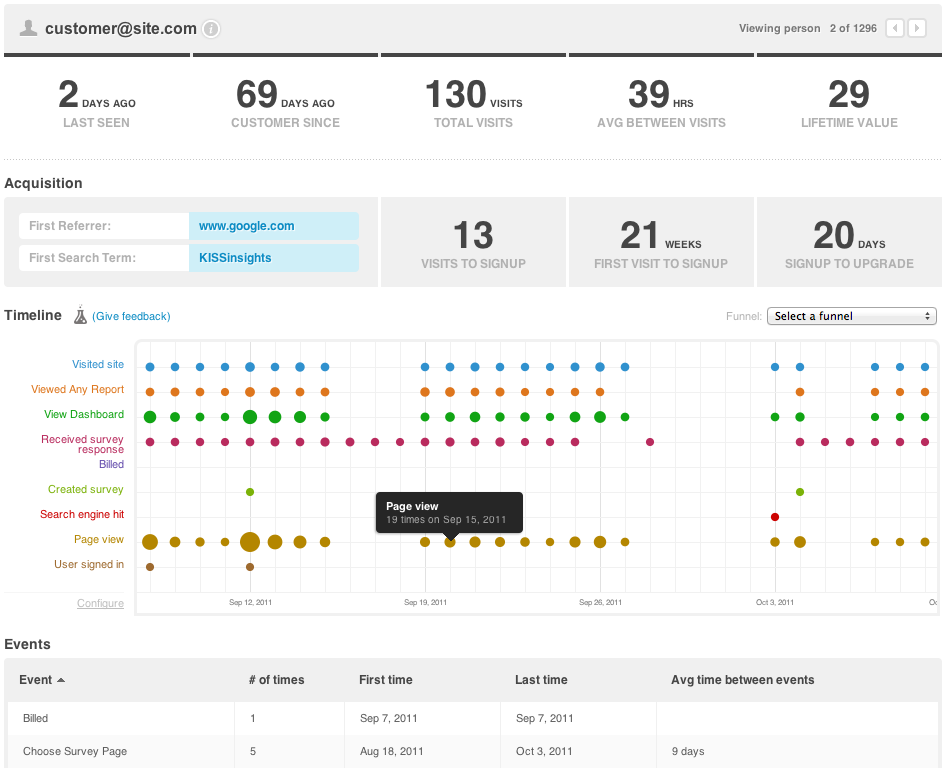 Getting visitors to your website isn't going to keep you in business, you need to make sure they convert- for example by buying a product directly from your site or enquiring about a service you offer.
Kissmetrics, whilst quite a complex tool, can help you analyse your conversion rate optimisation tactics, streamline your future efforts and can be linked to Google Analytics too. The tool integrates with your email service provider so you can review your audience and email out to them in specific cohorts of your choosing.
Through the tool, you can learn more about the journey that your customers have taken through your website, conduct some A/B testing to try out new things and work out the return on investment from the campaigns you are running.
You'll easily be able to identify what is working as well as areas where you're falling down, so you can make the necessary changes to move your business in the right direction.
From the performance in those all-important search engines that drive the traffic to your site, your social media channels that boost awareness and engagement and your conversion rate optimisation tactics to encourage users to buy or send a service enquiry, keeping track on how well you are performing across all of these areas is imperative.
Whilst you'll no doubt use Google Analytics as your base for information on your website's performance, taking the time to view and assess some of the third party options on the market, like those listed above, could make a huge difference in helping you identify even more areas where improvements can be made and your business grow even further.
---