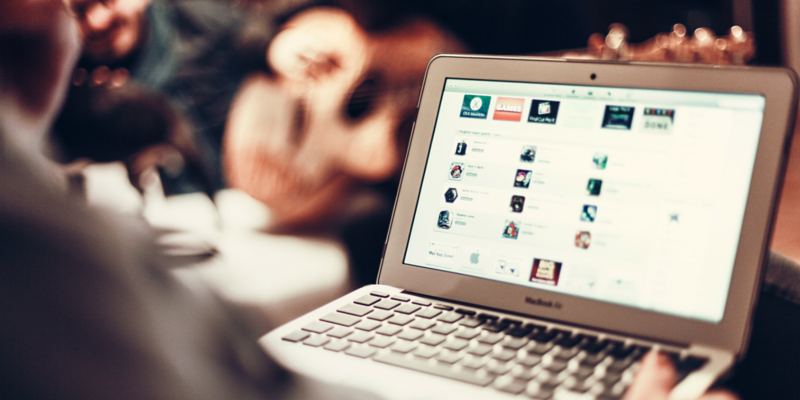 40% of smartphone users browse for Apps in app stores.  App Store search still remains a popular way of finding new Apps. But how App Store Optimisation is often overlooked when trying to generate more downloads. What they don't realise is, ASO can be the tipping point between getting tons of downloads and getting almost none.
To properly optimise your App Store page for the best App discovery, there are a number of things you need to think about…
Great Name = Great First Impression…
Along with your App Icon, your App name will be the first thing the user sees, so first impressions are everything. Catchy, memorable, recognisable and informative. Remember these factors when naming your App. Including some leading keywords in your title will give the potential user a better idea of what your App does.
App titles that contained keywords had a 10.3% higher ranking than those without it.
Here's how you can Leverage Your App Name To Get More Downloads.
Do Your Keyword Research
There are tons are online ASO tools to help you find the right keywords to use in your App Store page keyword list. Get your keywords right and people will discover your App.
A common mistake that people make is choosing keywords based on how many searches the keyword gets. Instead, prioritise keyword characteristics by RELEVANCE, COMPETITION and then SEARCHES.
How relevant is your keyword to your App? If someone searches using this keyword, just how likely will they be to download your App? Be specific. If you have a dog groomers App, the keywords "dog groomers" is much more specific than just "dog".
Competition – Ranking at #634 on a keyword that receives a couple million searches a month is useless because nobody is going to scroll that far just to find you. Instead, search for keywords that you have a chance at ranking in top 10 for.
Then, if those two characteristics are similar, you can think about choosing your keywords based on the number of searches they receive.
Write An Effective App Description
As mentioned above, the right keywords generate the best results out of Google and Apple's algorithms. However, it isn't bots that are choosing whether or not to download your App. It is actual people who want to learn more about your App and hopefully download it.
You usually have to tap "More" to read the full description so it's important that your first 2 or 3 sentences hook them in. Therefore, put the most important information in there first, a couple of sentences that explains what your App does and why it's the best one of it's kind.
Once your App is live, it's likely that you'll be making the odd change or two every now and then. So change your app description along with it to keep it up to date.
Pick The Correct Category (or Categories)
Part of ASO, and getting more App downloads, is making sure you're putting it in the right category. Though this isn't as important as your keywords, app icon and screenshots, it's definitely something not just to be brushed over.
The App category is usually obvious, but it can sometimes end up falling into a few. Apple reviews each chosen category to make sure that it's correct. Putting it into a category that it clearly isn't will only result in your App being rejected.
Upon publishing your App, you can choose two categories, so make the most of it and choose the ones most relevant.
What Are Your Competitors Doing?
Keep an eye on what your competition are doing on the app stores. This will give you a good idea of what you should and shouldn't be doing. You might discover keywords you've been missing!
But copying your competitors isn't the answer. Don't just use measuring tools. Remember your common sense, and update your App store page respectively.
App Screenshots = Another Advertising Opportunity!
Most people will simply screenshot the main pages in their App and use these as their App store screenshots. Sometimes this works just fine. But why not make the most out of the space you've been given?
It is, essentially, another advertising platform that you have the freedom to do what you want with. Your screenshots should tell a story and highlight your App features in the most effective way. I'm creating a list of some awesome tools for generating App Store screenshots, so keep your eyes peeled.
Make A Lasting Impression With Your App Icon
Together with your App name, your App Icon is one of the first things the potential user will see. You want to leave a lasting impression, therefore you need to make sure your first impression is an effective one.
An awesome App Icon doesn't necessarily mean you're guaranteed more downloads, but it does mean customers are more likely to explore your App details, such as your App description and your fantastic App screenshots – both mentioned above.
Here are some key things to consider:
Your icon doesn't really need words; that's what your title/description is for,
Stay simple; try and focus on one single thing, such as your business logo or a symbol that people will recognise,
Keep it consistent with your App – the colours, images and fonts – you'll be more memorable this way!
Do you need to make an App Icon? Try these Free Online Logo Creator Tools.
The Importance of App Reviews + Ratings
App Store search algorithms take users ratings and reviews into consideration. Higher ratings = higher ranking in search results. Reviews and Ratings are automatically available for any App published to the Apple and Google Play's App Stores.
To get good reviews and ratings, you want to make sure people are impressed by your App and can't live without it. This is down to the user-experience and how useful it is to their everyday life. Loyal users will give you reviews, so ask them nicely and give them a little something in return.
Potential users pay attention to current users' experiences with Apps. It's considered an important factor when choosing to download an App or not. The reviews section on Google Play, in particular, is very prominent. Highlight the positive reviews and reply to the negative ones straight away.
For information on SEO, check out our 101 guide.
---