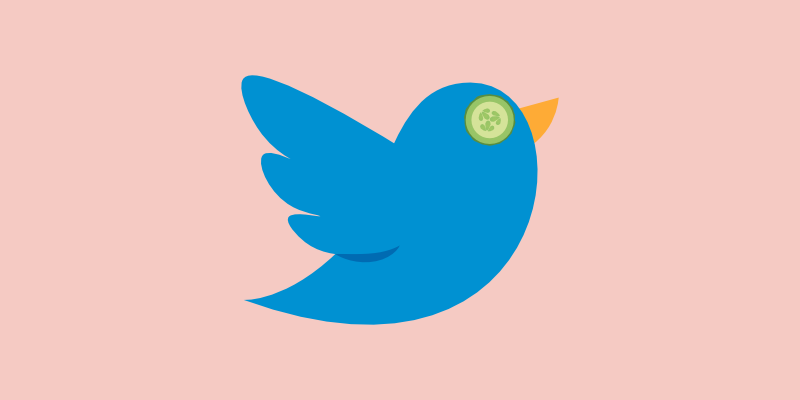 If you're looking for some inspiration on how to achieve better engagement with your followers on Twitter, check out some of the great things these beauty salons across the country are doing on the platform at the minute.
Rush Hair & Beauty
With 55.5 thousand Twitter followers, Rush Hair & Beauty are smashing their Twitter marketing strategy. They offer a great mix of videos promoting new products with commentary from their staff, links through to great blog posts to drive traffic to their website and images from in and around their 95+ salons nationwide so potential customers can get a real feel for what they can expect when visiting.
Imagery is the order of the day for Rush Hair & Beauty on their Twitter profile, so whether it's stylish shots of their salon's interior, meet the team pics to get some familiarity early doors or some pics of their stylists in action, you'll know what to expect from the salon when it comes to booking an appointment.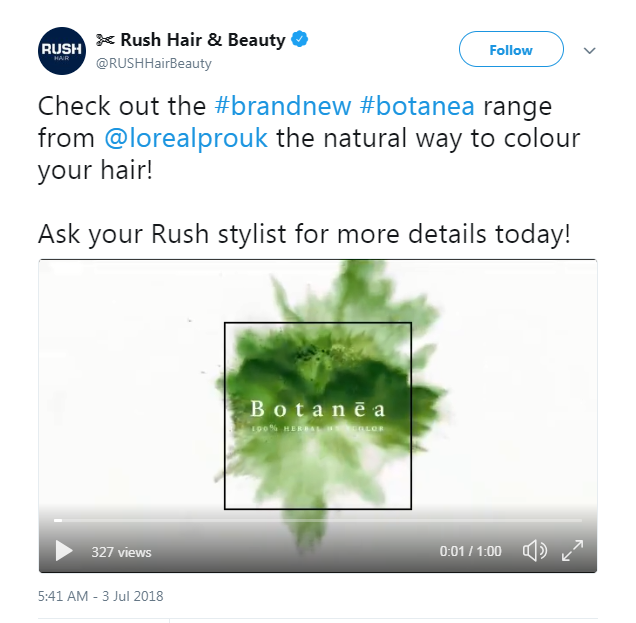 Neville Hair & Beauty
There's nothing like a celebrity endorsement to help boost business, and Neville Hair & Beauty are enjoy plenty of mentions from celebs including former X Factor presenter Kate Thornton.
On browsing through the salon's profile, you'll quickly notice that much of their content is generated elsewhere, with them simply retweeting all the great feedback and mentions they get from customers, magazines, fashion shows and much more.
By getting your beauty salon out there and letting people know you're on Twitter, you too may also be able to make the most of content from others by retweeting all the positivity that comes flooding in.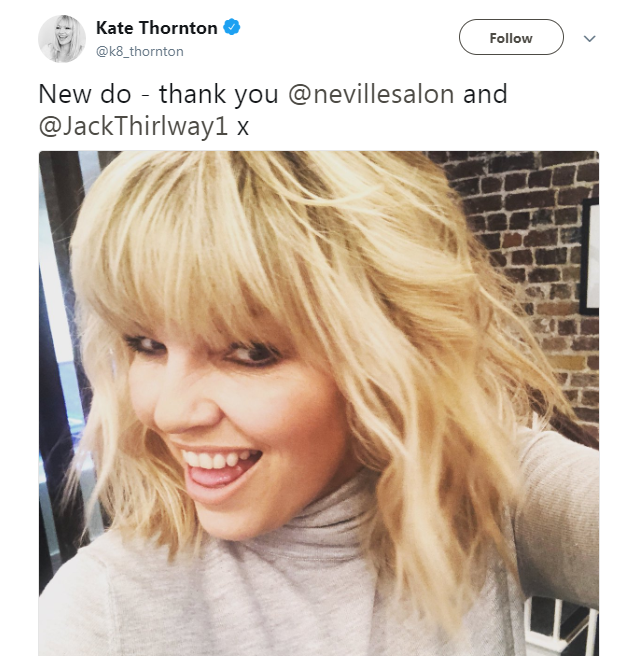 Geddes Hair & Beauty
When considering how best to use your social media platforms, before and after shots are some of the best ways to showcase all that you can do.
This from Geddes Hair & Beauty is a great example of what a client's hair looked like before the salon went to work and the stunning masterpiece that was created afterwards; what's stopping you from doing exactly the same thing?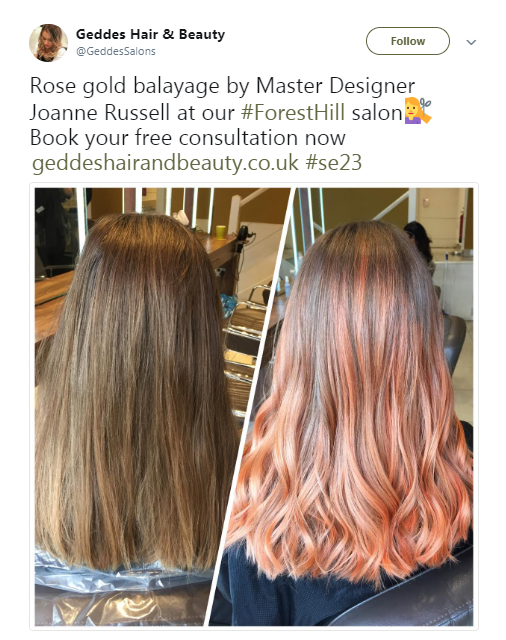 Millionhairs
Social media is a great place to shout about your latest offers, or even offer exclusive deals to your followers.
If you have a day of the week that is generally pretty quiet, why not create an offer that encourages more customers through the door, like Millionhairs have done with this offer on a half of full head highlights?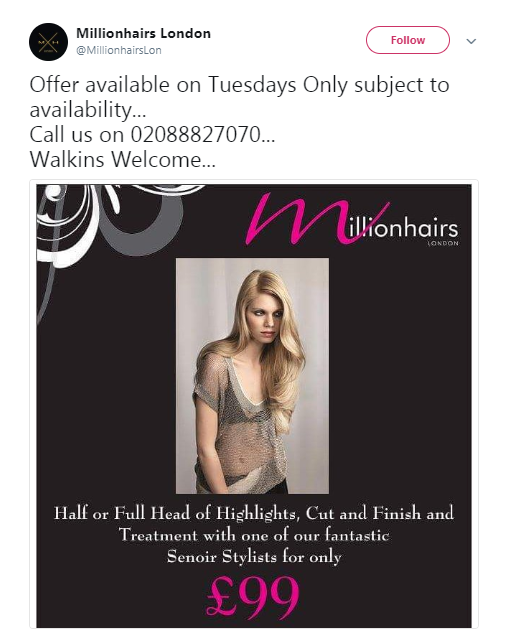 Jo Hansford
Keep people coming back to your profile by running a series of posts over the course of a day or few days, like Jo Hansford salons have done here with their summer hair care tips.
They've also used hashtags in their posts to reach as wide an audience as possible, so not just their followers can see their posts but also anyone else who searches on Twitter using a particular hashtag.
You could do a series of posts on a wide range of subjects, from top winter styles to how to give a salon style massage at home!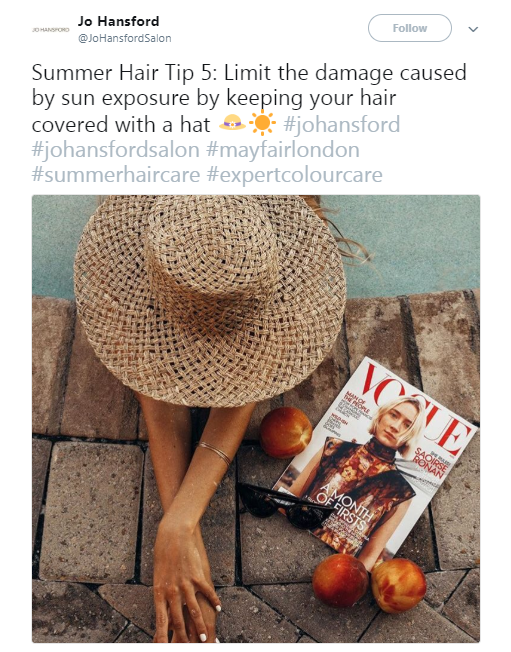 Q Hair & Beauty
If you've won an industry award that you're proud of, why not make it the first thing people will see when coming across your Twitter profile? It's exactly what Q Hair & Beauty have done in their Twitter bio, promoting the fact that they were named 'Ultimate Salon' at the National Salon Business Awards.
An award is a great sell to prospective clients, and showcases how you must be doing something right, so is likely to help you get more bookings in your appointment book. Don't be afraid to shout about your awards, you'll have worked hard to earn them so letting people know about them is certainly deserved!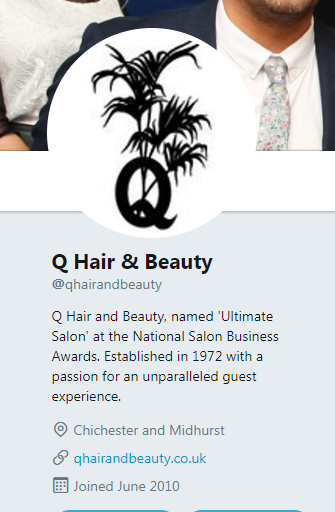 Larry King
If you want a sure-fire way of attracting new customers, getting involved in the celebrity circuit and working with big name fashion publications is a great way to go.
Larry King salon in London have done just that, styling Jarad Leto's hair for the front cover of GQ Magazine and are hairdressers to a number of other big name celebrities too including David Gandy, Lindsay Lohan and Cara Delevingne.
Remember, if you do work with any celebrity clients, mention them in any of your tweets as a retweet from a happy celebrity customer to their thousands or even millions of followers could have a hugely positive impact on business.
Influencers are key players on social media these days, with many businesses paying thousands for a big name celebrity to mention them in a tweet, however if you're the trusted hairdresser or beauty therapist of a celebrity, you have one foot in the door already. You have a relationship with the celebrity already and they trust you, so are far more likely to naturally recommend you and your salon to their many followers.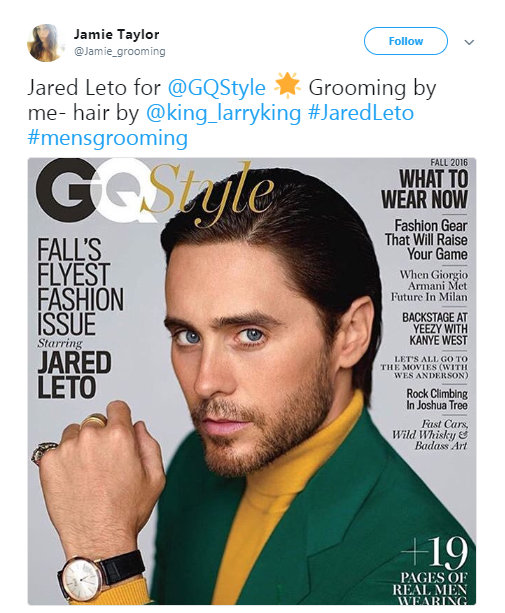 Glasshouse Salon
If you're launching your own product, Twitter is a great place to do it as you can share directly with those who follow your account so therefore already have an interest in your salon and what you do.
You can share photos, videos, staff opinions and much more when launching your product, just like Glasshouse Salon have done on the platform.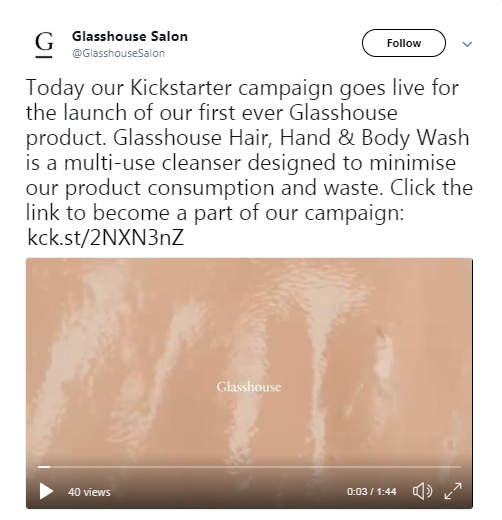 The great thing about social media as a whole is that you'll get honest feedback almost immediately, whether that's on the product itself or the way that you've gone about promoting it. There will be good and bad feedback, but you'll be able to take on board what your followers are saying and make any changes or adjustment to your product or campaign accordingly.
When launching a Twitter profile, be sure to check on what competitors in your local area are doing and further afield so you can get some inspiration on the types of content that works, based on numbers of likes and retweets, as well as what doesn't seem to be so popular.
Before you know it, your profile will be racking up the followers and your salon will be killing it on Twitter too!
---

Want more marketing advice for your Beauty Salon? Boost Business with These Beauty Salon Marketing Tips.
Or if you're a hairdresser, check out The Ultimate Hair Salon Marketing Guide!