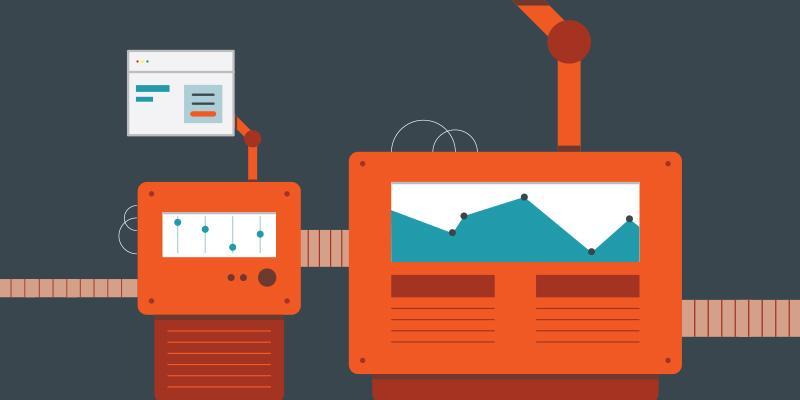 In the digital marketing environment, automation is not merely a wish list item, but a legitimate necessity for any marketer seeking efficiency. However, automation comes down to a matter of budget for many marketing teams, as CRMs, content managers, and other tools can quickly run up a hefty bill. Not only that, but the financial investment is continuous, coming at a monthly cost that can take a chunk out of your budget.
Small businesses understand this perhaps better than anyone, as they have specific needs and a marketing budget with little room to spare for luxury (and overpriced) tools. For this reason, we've compiled a list of valuable marketing automation resources designed specifically with small businesses in mind. These tools will boost your effectiveness and productivity — without breaking the bank!
For All-Around Automation
Not all marketers enjoy having to build a mishmash collection of automation tools to deal with; some would prefer a single, more generalist tool that they can master to cover most bases. The ones listed here are suited for just that.
Note: If you're not quite sure if it's really worth making the move and investing in a marketing automation program, this article covers the four signs to look for.
Now back to that list…
What it is: A CRM specifically for small businesses, offering a set of marketing automation tools as well as email marketing and social media integration features. The Sales, Marketing, and Operations Suites essentially provide wholesome coverage of your entire funnel, including project management, email campaigns, sales analytics, social media marketing, workflow management, and more.
Best features: The all-in-one nature of GreenRope is probably its strongest asset! Instead of seeking out compatible tools to exchange information, you can keep the bulk of your automation under one roof.
The price tag: GreenRope offers 7 plans ranging from $149 to $699 based on the number of contacts on the plan. Plans are also customizable if your needs exceed 50,000 contacts. Standard account setup is $399, while premium account setup, which includes an hour of consultation with a marketing consultant and an onboarding manager, is $499.
What it is: We are BIG fans of HubSpot products for their affordability and accessibility, and the freemium versions of their software have our vote as the perfect suite of products for a small B2B business looking to get started with automation at no cost.
Best features: On the Marketing side – lead capture pop-up forms, contact database and conversion analytics. On the Sales side – email automation complete with templates and tracking, meeting scheduling, call logging, and deals.
What we like about it: The visual organization of your sales pipeline in the software makes tracking deals much simpler, and its customization is very user-friendly. The lead pop-up forms are key to capturing potential lost leads who land on your site but aren't ready to buy.
The price tag: The free version is generous with its basic features. Additionally, the $50-a-month Pro Sales package removes some features limitations and adds sequences, prospects, and meetings features to your tools. Just beware the price will increase substantially after November 1, 2017. (You can check out this article on the topic to learn more about the top features that make both the free and paid versions of Sales stand out.)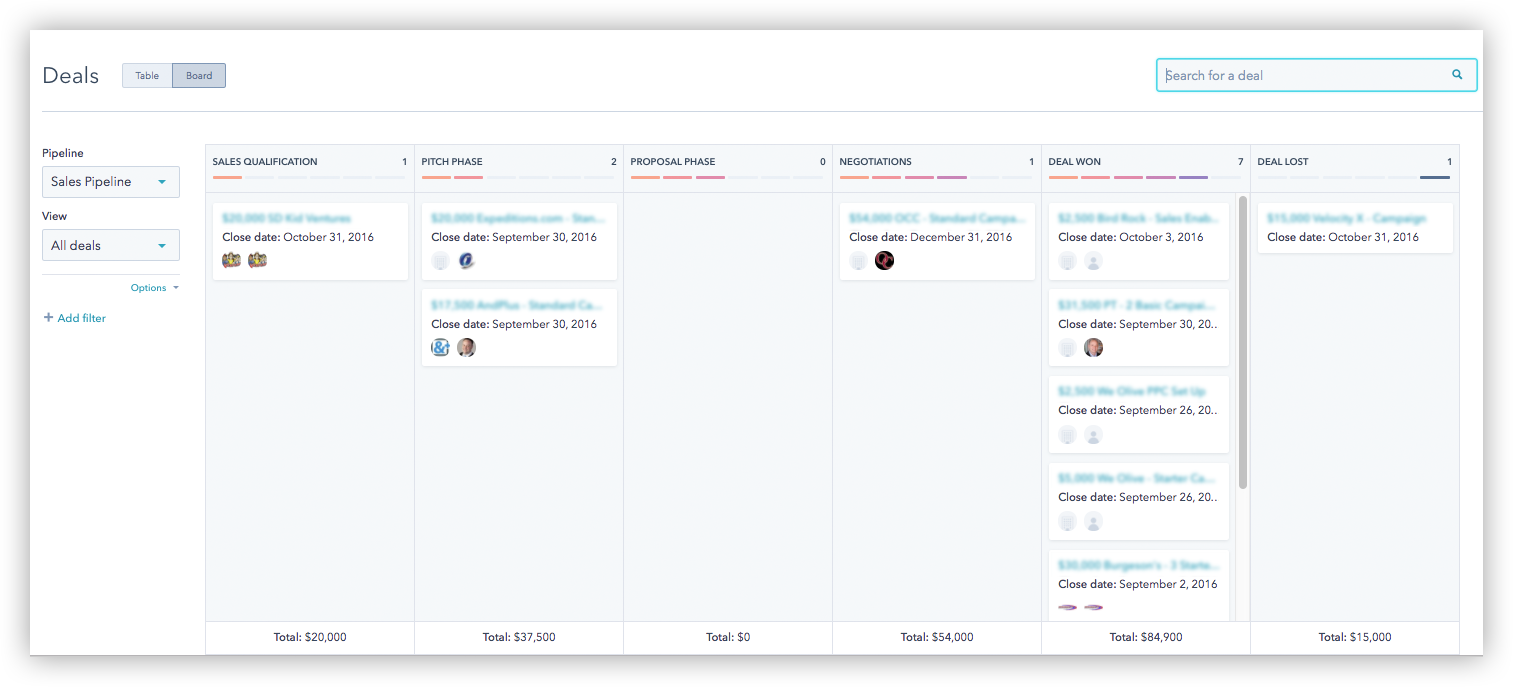 What it is: A marketing automation platform that makes it easy for ecommerce marketers to target, personalize, measure and optimize email and Facebook campaigns.
Best features: Integration with eCommerce platforms and Facebook Advertising, abandon cart emails, advanced segmentation, and email throttling.
What we like about it: The seamless integration with eCommerce platforms like BigCommerce and Shopify allow for email attribution reporting and micro-segmentation based on store activities.
Price tag: The base price (400 contacts) is $25 per month plus $25 per 600 additional contacts, up to 45,000 contacts.
What it is: Aritic PinPoint is a full-stack marketing automation platform for growing business having landing pages, lead scoring & tracking features with CRM & Social integration.
Best features: It has landing page, lead scoring, lead tracking, lead nurturing, email campaigning features with mobile optimized interface, CRM and Social integrations.
What we like about it: Aritic PinPoint integrates with CMS, like WordPress, Drupal, has bi-directional native CRM integration with Salesforce, SugarCRM, Dynamic CRM, Zoho CRM and social media platform integration with, Facebook, Twitter, LinkedIn, Google Plus, Foursquare, Instagram. Aritic PinPoint is perfect for a marketing team to get going from day one. It is user friendly and is easy to understand in seconds.
The price tag: Starting Price starts from $19/month for Lite, $99/month for Professional, $149/month for Enterprise.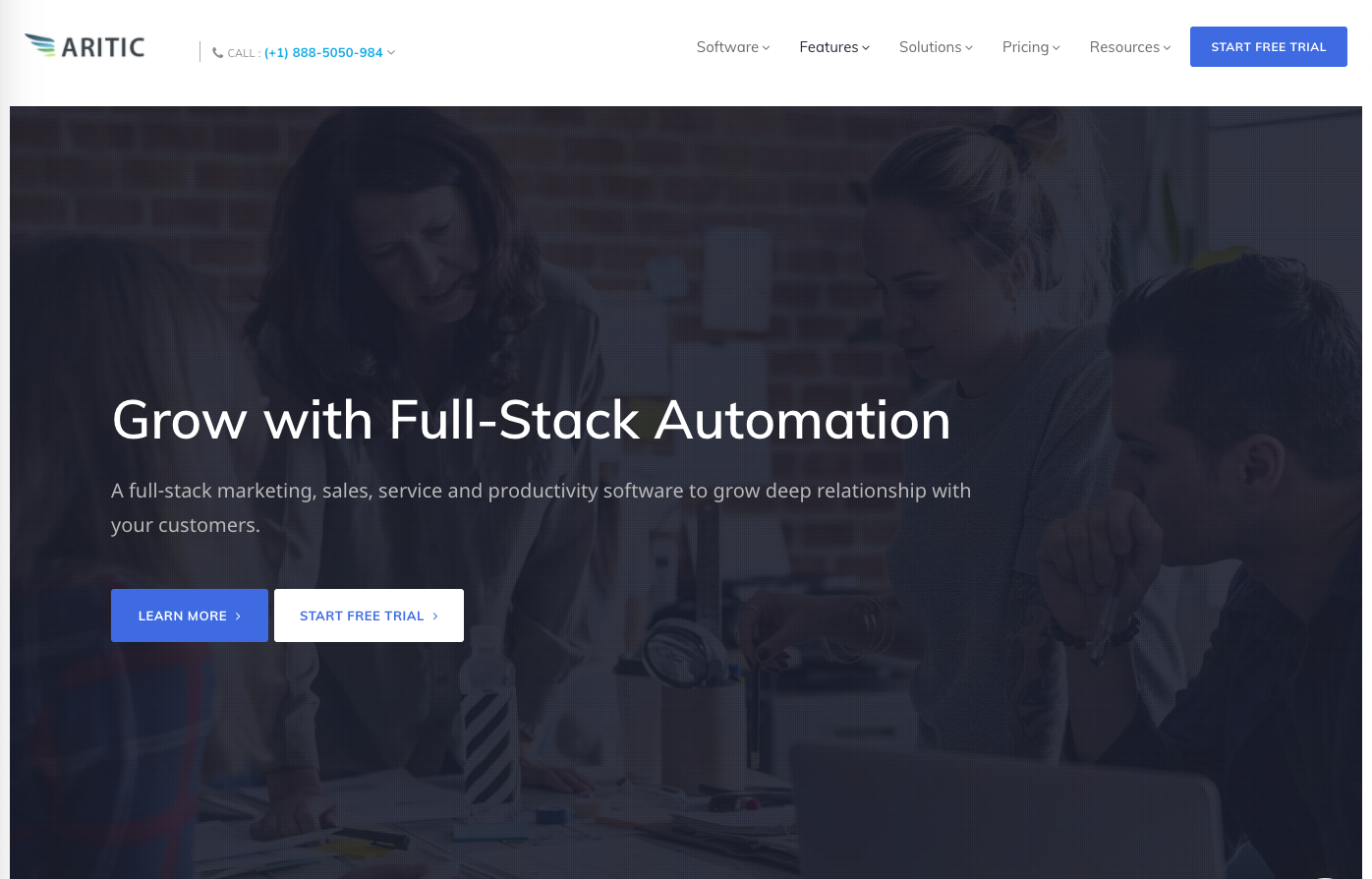 What it is: User.com is a full-stack marketing automation software for turning your visitors into happy customers.
Best features: User.com allows you to gather information about your prospects, communicate with them via live chat, chatbots, gather contact information by using popups, send automated emails and SMS and much more.
What we like about it: The tool makes it easy to create automated paths where you can pinpoint the moments your leads receive messages. It will save you time and make sure your communication is consistent. 
The price tag: Right now available in Freemium Starter Pack – 100% free, includes modules like: Chat, CRM, Knowledge Base and Calendar.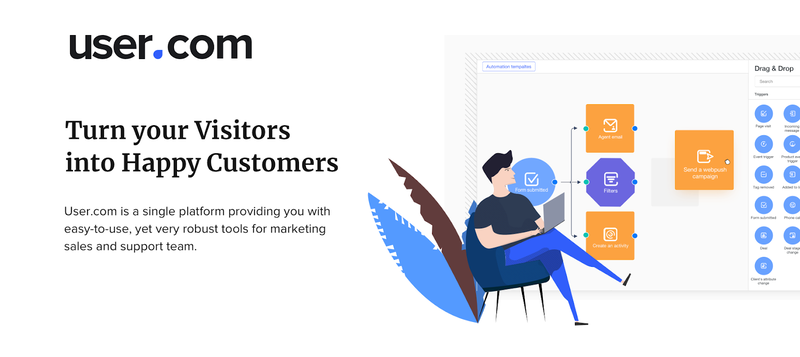 For help determining which marketing automation platform best fits your business' needs check out this handy comparison guide.
For Social Media
Social media is a crucial component of a company's modern marketing strategy, particularly for a small business that needs a low-cost way to increase its reach. Your social media requires a lot of strategic attention, which is why the actual execution should be as streamlined as possible.
This is why automated social media management tools—like the ones below– are great for juggling all of those platforms and the re-Tweets, shares, and general post scheduling involved.
What it is: A social media management dashboard with ROI analytics and convenient access to all of your social platform marketing in one place. Everything from content curation to scheduling is covered.
Best features: Security and compliance tools are a great way to secure your brand, assisted by access to a large number of integrations. The "contests" feature, which builds a variety of contest-based campaigns on your channels, is a unique asset.
The price tag: The Free plan gives you access to message scheduling and 3 social profiles, fulfilling its role as social media manager. Paid plans come at $19, $99, and $499 a month with features like analytics reports, app integrations, social certifications and training. A custom-solution Enterprise plan also exists with varying pricing.

What it is: A content manager and social media scheduler; Spokal can "smart schedule" posts on your social calendar with the help of tracking capabilities.
Best features: The ability to set ratios, limits, and categories to create as much manual control or automation as needed. Additionally, this tool learns what your audience engages with most and schedules more frequent re-posts of the higher-performing content.
The price tag: Plans start at $29 per month with Social Starter. For more team members, more social accounts and clicks, and an unlimited content library, consider the Social Pro or Social Team plans at $49 or $99 respectively.
What it is: Essentially, a search engine for Twitter hashtags along with their relations and influencers. Hashtagify uses web-like visuals to simplify the keyword research process.
Best features: Management of "definitions" of specific hashtags and thoughtful analytics of factors like usage patterns. The site has also recently added Instagram-tracking capacity, which is available on the paid plans.
The price tag: The hashtag search tool is free and fully accessible on the Hashtagify website. However, the Personal, Business, and Enterprise plans are also offered at $10, $59, and $299 monthly. These include access to the full Hashtags Encyclopedia with tiered levels of analysis, tracking, and assistance.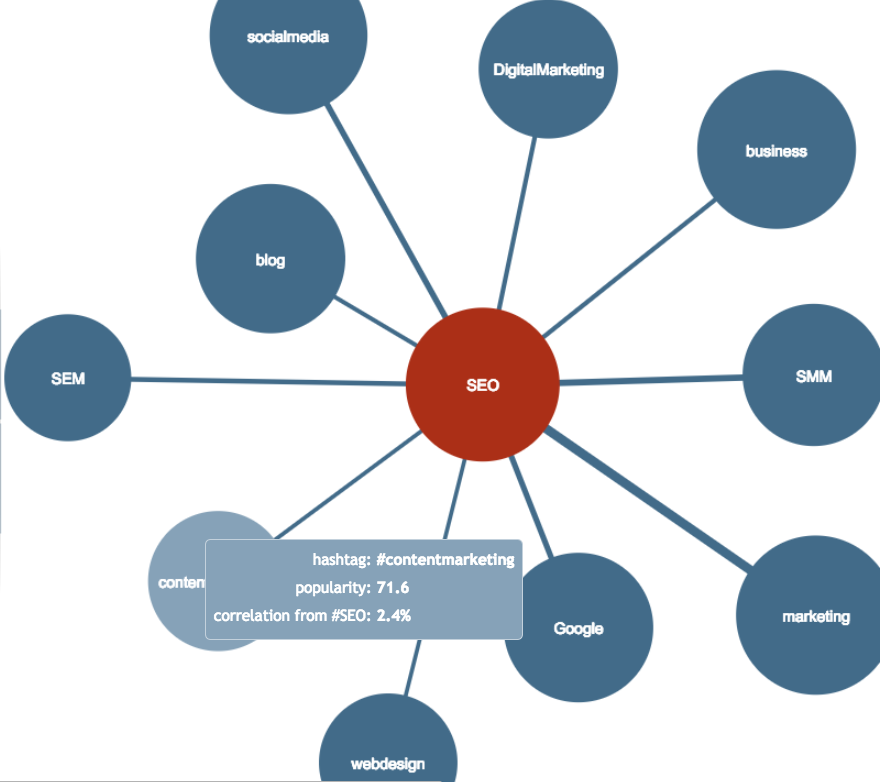 What it is: A social media management platform and "a simpler and easier way to schedule posts, track the performance of your content, and manage all your accounts in one place." Buffer specializes in calendar scheduling, multi-platform posting, and content analytics.
Best features: Posts can be queued for publications at optimal times based on analytics. Multiple user access to an account is also handy, though a feature that requires a paid plan.
The price tag: "Individuals" plans come in a free and $10 monthly version. "Teams and agencies" plans can be small, medium or large at $99, $199, or $399 respectively. Plans vary in the number of social accounts, additional team members, and scheduled posts per account; plans for individuals also lack social analytics.
For Content Marketing
Content creation can be one of the biggest headaches for a marketer, because the success of so many other elements of your campaign revolves around it. These resources are designed with content research and management in mind, so you can feel more confident about creating relevant and timely content that reaches your audience in all the right ways.
For more on how to approach content creation, try this article that goes over 3 things you need to know to build an effective content marketing strategy.
EpicBeat
What it is: A content research tool that also allows you to follow, share, and analyze content. In this way it's similar to BuzzSumo, but has been praised for the deeper level of insight provided by its metrics.
Best features: Tabs which allow you to find a community and influencers around a topic. EpicBeat's "applause" feature also totals activity from a variety of social media sources (likes, upvotes, etc.) to help gauge audience engagement with a particular content piece.
The price tag: Unlimited access to trend searches is completely free. If you find that the features of EpicBeat Plus are worth paying for, there is a choice of a $49 monthly or $490 annual payment.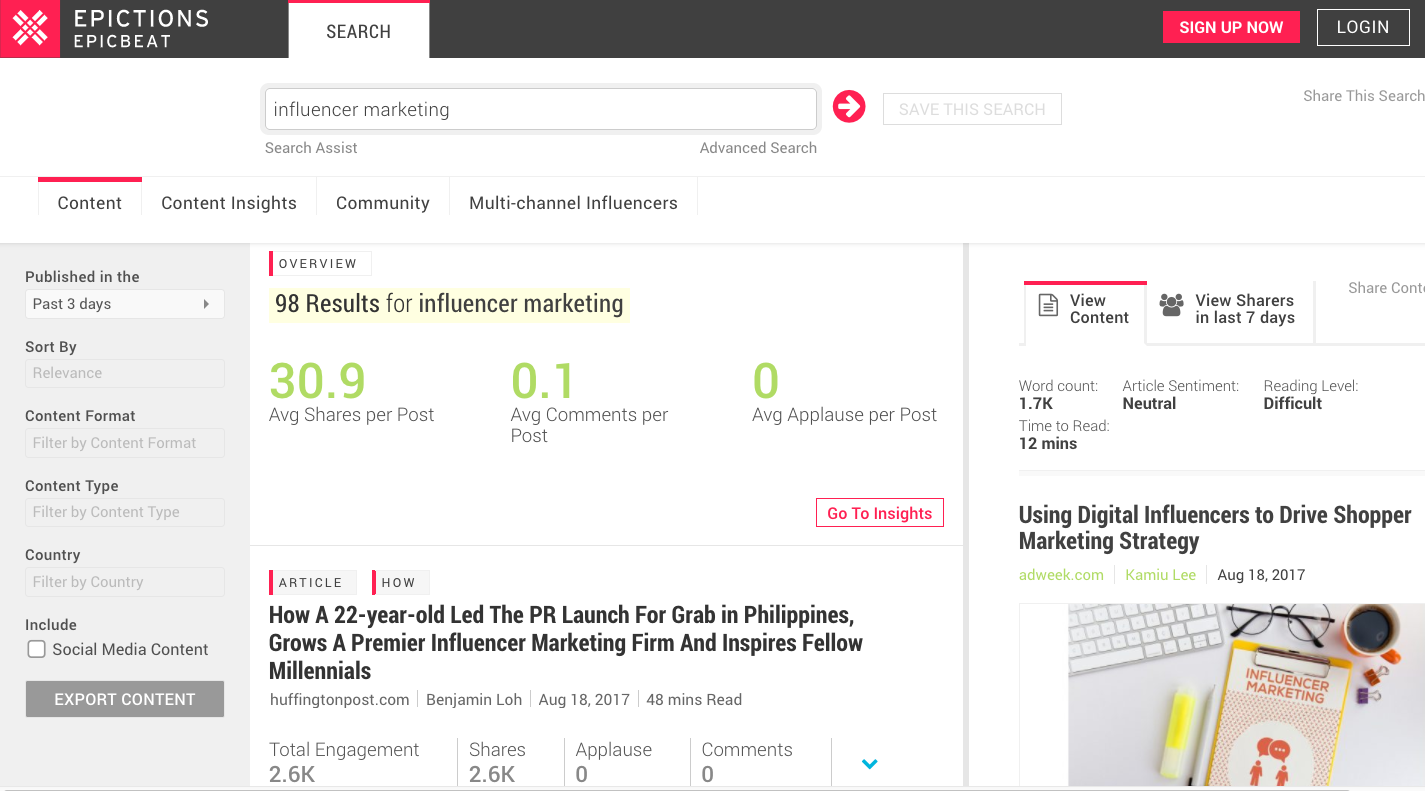 What it is: WordPress has become well-established as a blogging tool, but it also functions as a publishing platform and a very decent CMS (content management system).
Best features: The ability to tailor everything from loading speed to analytics capabilities to supported content format with a huge range of plugins– some of which are featured in this article! Additionally, the AP allows you to create highly customized themes for your blog.
What we like about it: Content management; with SEO optimization and mobile compatibility, WordPress is an underrated organizational force to be reckoned with.
The price tag: For the most part, a free account will provide you with everything you need. For those looking for more storage space, site monetization, and advanced design customization, personal, premium, and business plans are available at $4, $8.25, and $24.92 monthly.
What it is: Feedly is what's known as a feed reader, a platform which gathers content of your subscribed websites, blogs, Youtube channels and RSS feeds in one place. For marketers that would like to stay on top of trends and follow experts in the industry without getting blasted with hundreds of emails or having to check their bookmarked sites daily, this is a game-changing resource.
Best features: Google news keyword alerts for real-time tracking, as well as shareable content collections to "help others discover great feeds while reinforcing your or your company's digital brand."
The price tag: The basic version is free; with the Pro or Team plans, costing $5.41 and $18 per month, you can receive unlimited sources and feeds, sharing, integration with various apps, and some other features.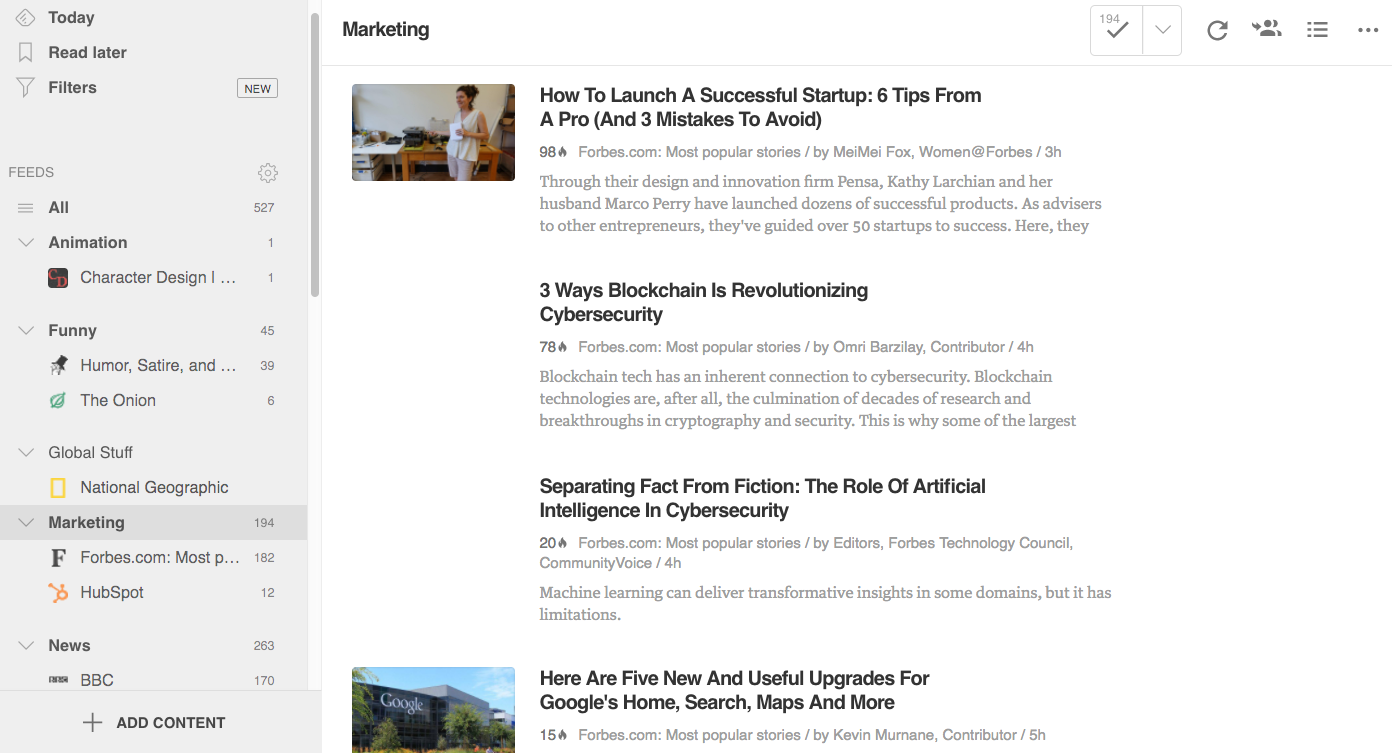 What it is: As you may already know, Bloomberg is a major global provider of financial data, analytics, news and media. Its website offers all of this information within a searchable database.
Best features: The search bar! It may seem incredibly simple, but the results are sorted into topics, people, companies and quotes, and suggestions in-page as you type up a keyword; this comes in handy for efficient research.
What we like about it: Though it may not seem directly relevant to marketing automation, this is an invaluable resource for conducting forum research and generating smarter content.
The price tag: Free!
What it is: A unique visual keyword research and content analysis site. Answer the Public touches on the same principles as Google's autocomplete feature with better visualization in an advanced way.
Best features: The "questions" and "prepositions" categories are a great way to organize types of searches, not to mention the user-friendliness of the visual design.
The price tag: Free!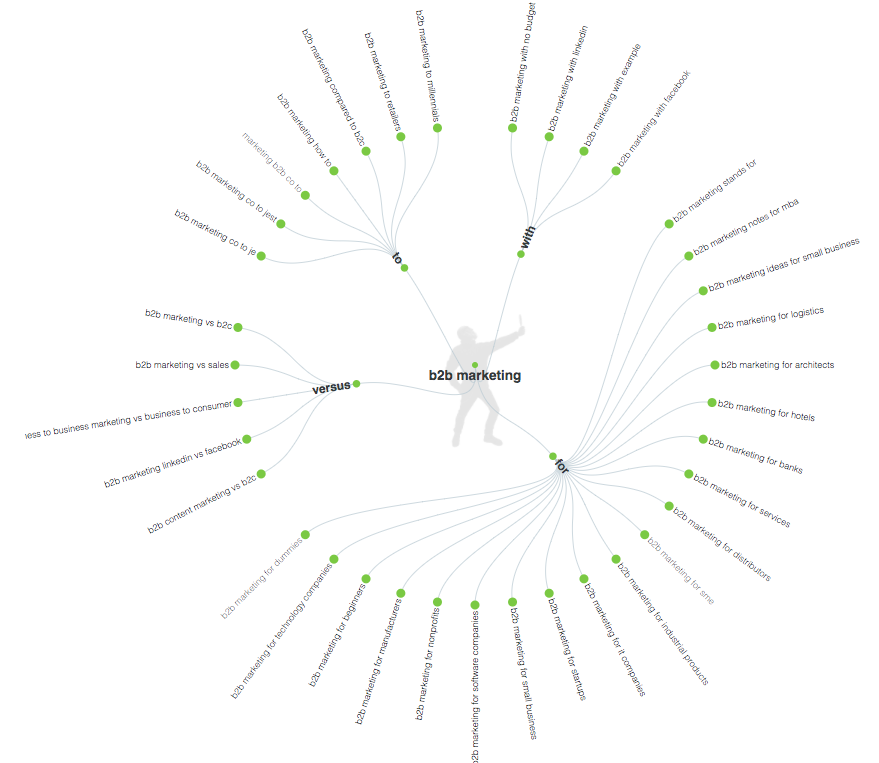 With this set of tools under your belt, you can feel free to focus on the more creative elements of your marketing– without worrying over the dilemma of either breaking the bank or scheduling all of your Twitter posts by hand. If you want more information on marketing and sales tech and tools check out The Definitive Guide to Marketing Automation.
And if you have any suggestions of your own for great automation tools your small business has used, leave a comment below – we'd love to hear from you.
About the Author:
Tammy Duggan-Herd, Ph.D. is the Marketing Manager at Campaign Creators, a conversion focused digital marketing agency in San Diego, CA. She is a psychology researcher turned marketer. Tammy has excelled rapidly in the digital marketing space, contributing industry-changing ideas utilizing her background in applied social psychology and data analytics.