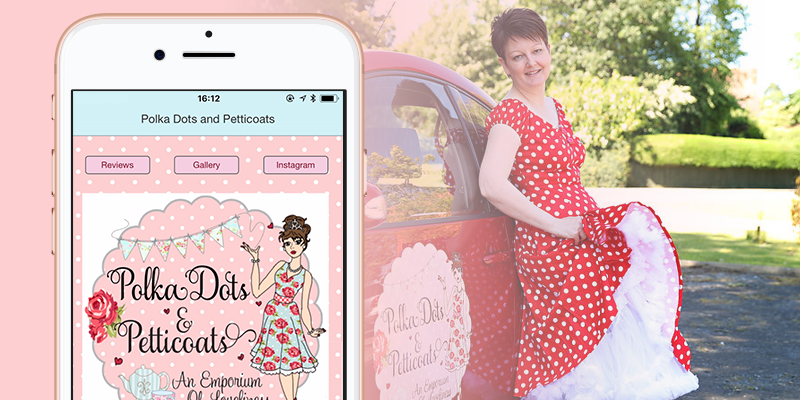 At AppInstitute, we're lucky enough to work with a wide range of different businesses on a day-to-day basis. It's awesome to watch these small businesses grow and embrace the power of mobile marketing through the apps they build on our platform. One of those businesses we spoke to recently was Polka Dots and Petticoats – a vintage clothing and homeware retailer based in the UK.
We caught up with Jackie to learn a little more about how she made her business – and her app – such a great success.
Jackie, could you tell us a little bit about yourself and your business? What is your background – and what do 'Polkadots & Petticoats' do?
Polka Dots and Petticoats is just over 4 years old and started from my dining room table! Up until recently, it was a one-woman business, but things have grown significantly in the last 12 months and I am now employing 3 people. We are primarily an online business offering vintage style dresses, petticoats and clothing, as well as homeware, lighting and candles, giftware and accessories. We operate from our offices in the Suffolk countryside. We also have a 'Dress Room' where customers can book an appointment and come and try on any of our dresses in the privacy and comfort of our offices, without worrying about high street parking, crowded shops etc. It's a very feminine based business with a vintage style.
What needs within your business initially made you decide that you wanted to get your own mobile app?
When we created the App just over 2 years ago, there were a few similar business on social media and I was looking for something which would give us the edge. Something different and to make the website accessible to all our customers on the go. I thought building an App would require thousands of pounds worth of investment, so was delighted to find it was much more affordable
Did you have any previous experience with building apps before you tried AppInstitute? How did you find using the app builder?
I can get by with computers and did build my own website, but I am in no way an expert. I was a bit worried creating the App would prove to be too difficult to achieve, but AppInstitute's system made it easy. There was always someone on hand via the online chat to help if needed, and response times were always excellent. They still are. It did take me a couple of days over a weekend to focus on it and build it into a useable app, but it was time very well spent. Apart from a few minor changes, I have not had to change any major aspects of the App and it continues to be perfect for my use and for our business, even as it has grown bigger.
What benefits does your app provide to your customers? What kind of feedback have you had?
Customers can access the App and shop wherever they are without having to go through a browser to get on the website. It's quick and easy for them – whatever time of day or night. The feedback has been fantastic and all our regular customer use it all the time. We offer additional discounts and product notifications with the push notifications, ensuring customers don't miss out on the latest news and offers.
What would you say to businesses who don't have an app currently, because they don't think they need one, don't think they can afford it or are worried they don't have the technical skills?
In the current climate and with all the advances in technology, I would say it is essential to have an App. It offers the best way to keep engaged with your customers, offers them an easy way to link to your business with minimum effort and is VITAL to maintaining good sales levels. It is completely affordable – any business who isn't using one is missing out.
With over 7,000 downloads, your app has been a real success. Can you share some advice on how you promoted your app?
We have around 34k followers on Instagram, and 15k on Facebook – we used social media to launch the App and continue to mention it regularly so that those who weren't aware of it, can download it and use it. We have links to the Apple and Google Play downloads on our website.
How do you keep your customers engaged with the business using your app? (What features within our platform do you use to help achieve this?
We use the push notifications for regular updates, and offer a loyalty scheme to gain points as they shop.
Do you think having your own app makes you stand out ahead of competitors?
Absolutely, no question at all. It is an essential method of marketing and makes people 'appy' !!! 🙂
Any final thoughts on working with AppInstitute and making an app for your business, or anything coming up you'd like to plug?
As a result of our relationship with AppInstitute, we later found out about, and signed up with Appointedd to offer our customers a bespoke online booking system for our Dress Room appointments. It's perfect for us. The booking system is live and in real time making it easy for customers to see what is available – through the App – and book their appointment in just a few clicks. If we hadn't originally built the App, we wouldn't have subsequently been introduced to Appointedd, which has helped improve our customer interaction as our business has grown.
We are now preparing to launch a new range of vintage style wedding dresses in early 2018, and are confident the App will play a big part in the launch and marketing of this new aspect of Polka Dots and Petticoats! I can't imagine the business without the App – and am sure it wouldn't have grown as quickly without it.
---