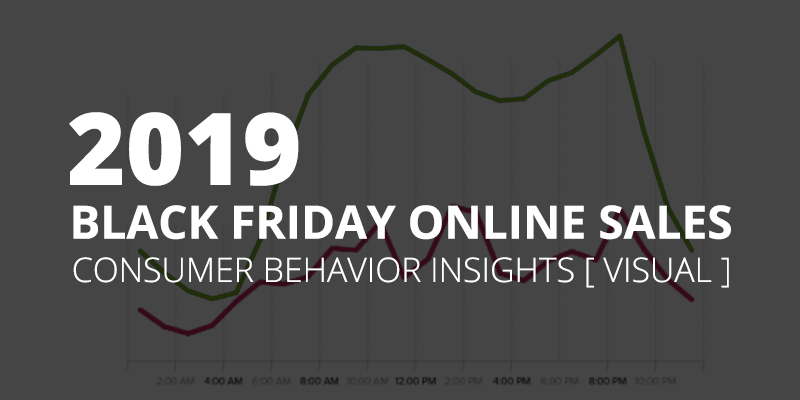 Each year Black Friday gets bigger and bigger according to our black Friday stats. What began as a single Friday of super sales to kick off the holiday season after Thanksgiving has accelerated into a seasonal event all of its own.
And since Cyber Monday's day of online deals was bolted on at the other side of the weekend Black Friday has now become a weekend of sales worth billions of dollars worldwide. As Black Friday 2019 rolls around some retailers are even offering a whole week of Black Friday deals.
There are loads of juicy Black Friday stats to get your marketing department salivating, such as…
Black Friday is set to bring in $7.5bn in 2019, up from $6.2bn in 2018.
Cyber Monday is much more profitable than Black Friday itself in terms of online revenue. This is great news for digital marketers running online stores.
Cyber Monday 2019 is set to be the first $9bn day in e-commerce revenue and an increase of nearly 19% since last year.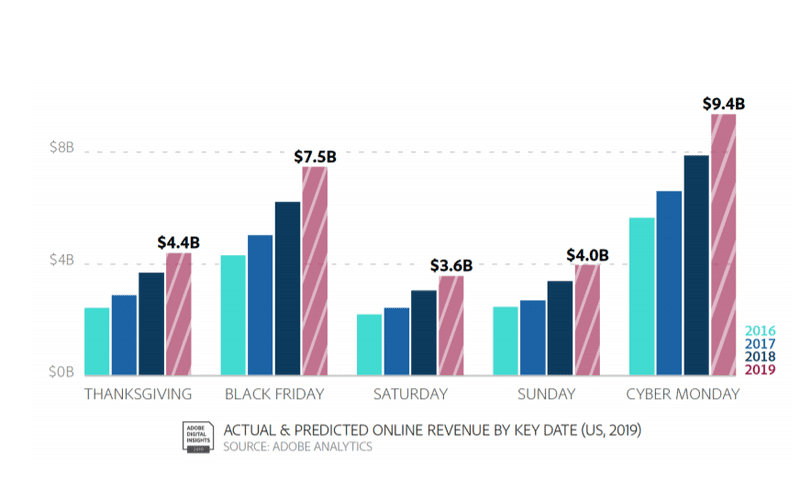 Research from Adobe reveals the stunning fact that if retailers made the smartphone checkout process as streamlined as the desktop experience they would be able to unlock and extra $12bn worth of smartphone sales. That's more than the total revenue of Cyber Monday.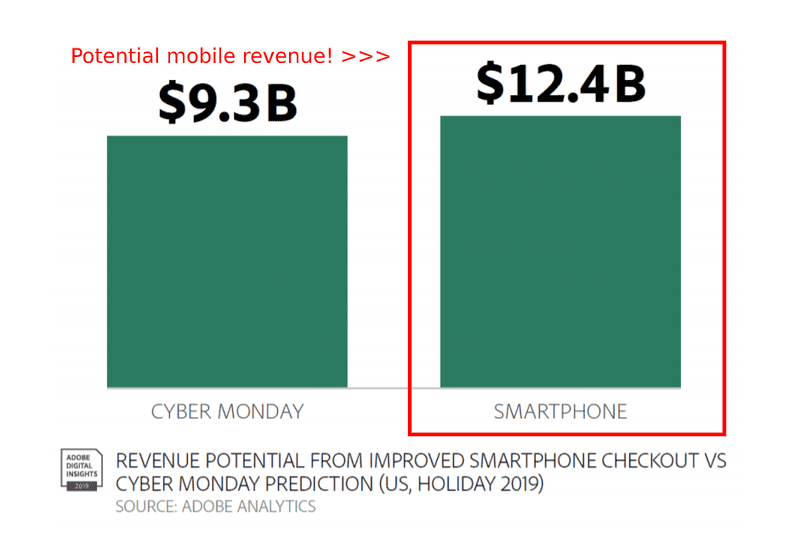 But sometimes the best way to get to grips with stats is to visualise them. That's why we've created this incredible visualisation of Black Friday stats and user behaviour across mobile and desktop to show you just how important this sales event is for your business.
Copy embed code to your blog:
<link rel="stylesheet" href="https://appinstitute.com/wp-content/plugins/flow-2019/blackFridayFlow.css" type="text/css"> <iframe id="blackFridayFlow" src="https://appinstitute.com/wp-content/plugins/flow-2019/embed.php"></iframe> <a href="http://appinstitute.com" title="app builder">Powered by AppInstitute</a>
The pink dots represent purchases made by Mobile devices.
Purchases made by Tablet are illustrated with blue dots.
Desktop purchases are represented by green dots. Total purchases are also tracked.
As the virtual clock ticks through the 24 hours of Black Friday, you can see the dots move from the centre pile of cash to the relevant retail categories such as clothing, tech, and jewelry.
The shopping patterns show that every hour of the typical working day (and a few early hour variants) is an opportunity for unprecedented levels of consumer spending.
The data used for the black Friday stats is pulled from trillions of user visits to more than 4,500 retail sites over the holiday period. The live animation shows you not just the volume but also the rate of sales, which is a fascinating peek under the hood of Black Friday sales.
Black Friday and Cyber Monday marketing tips
There's everything to play for this coming Black Friday. So let's take a look at how you can make the most of the historic levels of consumer spending that is set to kickstart the 2019 holiday period.
Start early
It's important to have a Black Friday marketing plan in place at least a couple of weeks before the day itself. If you are planning to send out marketing messages in the week before, you should start 3 weeks earlier. Many brands have their Black Friday strategies planned a year in advance, so you can't start too early.
Set measurable goals
What do you want to get out of Black Friday this year?
Do you hope to increase your sales by 5, 10, 15%?
Do you want to increase the average spend of your customers?
Is there a particular product line you want to shift?
Set 3-5 achievable goals and make a note of how you will know if you've hit them. Maybe by increasing the average spend by 3%, or reducing cart abandonment rates by 10%.
Adapt your strategy each year
It's a good idea to reflect on your previous year's Black Friday marketing campaign and look at what worked and what didn't.
For example, which of your digital channels saw the most traffic and engagement? Is there anything you can do to build on these successes this year? What channels need a bit more attention?
Get the word out on all channels
Black Friday is about tapping into a very simple motivation from consumers: to get the gifts and products they want at fantastic prices.
This means Black Friday marketing is about making your products look as appealing as possible and telling all your audience all about your offers. All your marketing communications need to show that you will be able to delight your audience with your offers this year.
Your marketing should be bold, clear and get directly to the point. This is not the time for 'brand building', it's the time for pushing your products out through as many channels as possible. Black Friday shoppers are hunters and you need to provide them the hunting ground with the promise of great rewards.
Plan your emails strategically
A big part of Black Friday marketing is about reaching out to your existing audience about your deals. This means it's less of a hard-sell to convert them. But you need to make sure you have planned your email campaign so your users aren't bombarded by emails but are taken on a journey.
From letting them know about your plans, to pointing them to particular offers, and rewarding them for clicking through into emails by giving them codes they can only access via email. You want to start by slowly drip-feeding them info and then ramping it up as the day approaches, with some well thought out and useful emails on the day itself.
Engage social media conversations
If you go to a social media site like Twitter and type in 'Black Friday deals' you will find brands talking about their offerings. You'll be surprised by how much engagement these posts can get from audiences.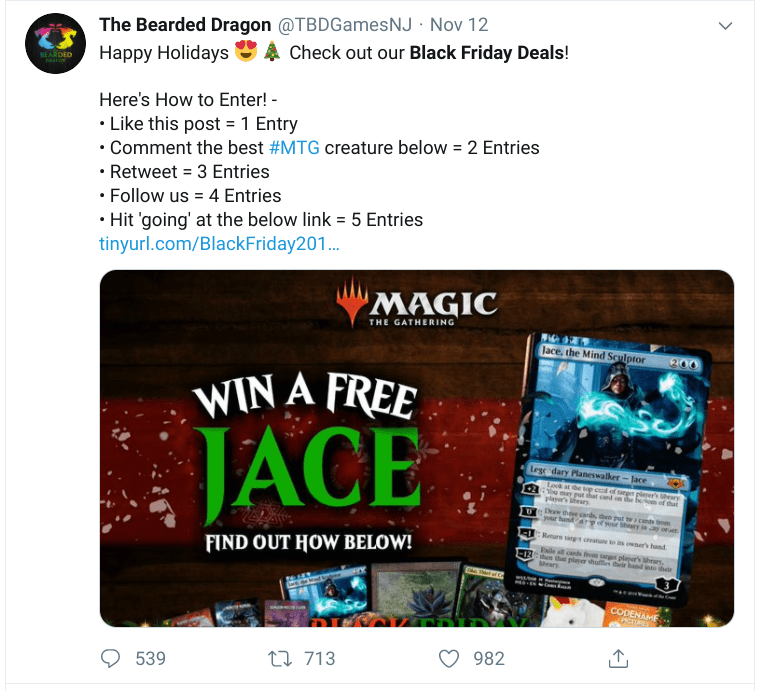 Perhaps less surprising is that brands don't take the time to respond to their post engagements. This is a wasted opportunity to turn engagement into potential sales, so don't be afraid to talk to people on social media about your offerings.
Reach out to journalists and bloggers looking for deals
There's a whole industry of sites and resources dedicated to finding their audiences the best Black Friday deals.
Journalists and bloggers are on the lookout for offers they can tell their readers about. You will need to get in touch with them about a month in advance as that's when they will start compiling their lists.
If you look through social media you will probably even find journalists to get in touch with, like this one: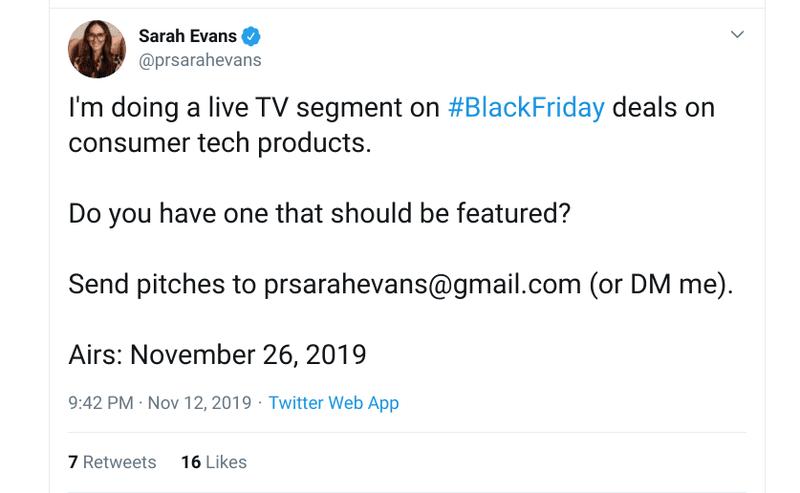 Black Friday marketing isn't just about speaking to people on a mass scale, it can also be about well placed direct conversations with key journalists or influencers.
Improve your mobile user experience (UX)
Once you've won people over with your Black Friday marketing you need to make sure you deliver a user-friendly experience that doesn't lose you, customers.
People need to be able to easily navigate your homepage to get to the right product ranges for them. Your search fields and menus need to be optimised for mobile screens. Product lists and filtering need to be top-notch. And your products need to be attractively and clearly presented to work optimally on mobile screens.
Use Exit-Intent Popups
What if you could tell when a user is about to leave your page and reach out to them directly? Well, you can with Exit-Intent Popups. They pick up on micro signals that your user is about to bail on your site and present them with a popup to win them back. Usually, this is a discount or special offer, though this is up to you.
When it comes to Black Friday you are probably already offering them discounts so you'll have to think creatively about how to win users back.
This could be the offer of free shipping if you're not offering it already. It could be that you point them in the direction of popular items, or hook them up with your customer service team to see if you can help them further. You can even encourage them to download your app or join your mailing list to hear about future offers.
Improve the mobile checkout experience
Marketing isn't always about creating demand, it's also about making it as easy as possible to translate demand into actual sales. The simple reality is that not as much attention has gone into mobile checkout processes as it has been on desktop.
People have less patience when browsing on their phones. Sites can be harder to navigate, there's less visible screen area at any given time. Also having multiple browser tabs open at once is much more clunky than on desktop. It's important to take all possible steps to avoid cart abandonment.
So you need to make sure you have removed all barriers to entry to your checkout. Don't force users to sign up to accounts before they buy because this can be a big turnoff.
And don't hit users with unexpected shipping costs at the last minute if you can possibly avoid it. Consumers hate 'price shock' and it can drive them away just as you're about to seal the deal.
Crucially, your checkout experience needs to be as smooth and fast as possible. Any kind of interruption to 'flow' will send users crashing out of your mobile checkout. You need to find and ruthlessly remove any clunky or pointless elements to your checkout process.
Selling through apps is the future
One of the trends we've seen with user behaviour during the Black Friday period is a move away from desktop to mobile and tablets.
There's lots of evidence that consumers prefer the experience of shopping through apps than direct through a traditional website.
Last year there was a massive surge in downloads of retail apps on Black Friday as consumers sought to make their shopping experience as streamlined as possible. Last year saw a 16% increase in first-time users of the top 10 shopping apps compared to the previous year. And there was a 9% increase in overall downloads of shopping apps in 2018, representing around 1.8 million new downloads.
If you want to unlock the huge potential takings presented to savvy mobile retailers you should build a mobile app for your brand. An app is a communication channel, loyalty scheme and online store all rolled into one.
There's not just one type of app, you can customise it work perfectly with your own retail niche, so it's just as flexible as a website but it means your consumers are only a thumbs reach away from your brand.
Black Friday is also a great way to get more downloads of your app, for example by offering users unique app-only offers.
Take action now
The point of this article isn't just to show you the amazing synchronised dance of shopping activity that takes place on Black Friday and Cyber Monday and give you tips for perfecting your marketing strategy. It's also about motivating you to take action because as our black Friday stats show, the event will be even bigger this year.
There's still lots you can do to make the most of Black Friday but you need to start now.
So start planning your email campaign, make sure your online checkouts are watertight, and start building your retail app. You might be amazed by the results.
---