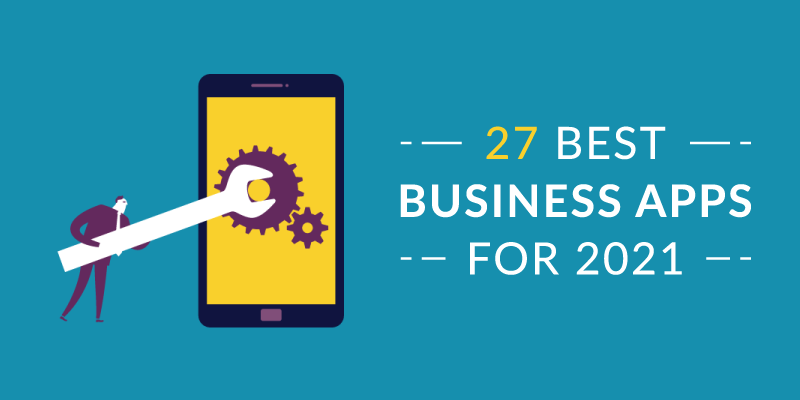 As a small business owner, you must have a handle on everything. Whether that be managing the finances of your company, recruiting staff or project management.
Trying to manage all of these processes is especially challenging thanks to COVID-19 and the subsequent rise of remote working.
This is why many small business owners rely on business apps and productivity tools to ensure their employees can work efficiently from anywhere in the world.
In this article, we have outlined some of the best business apps to help streamline day-to-day operations and boost productivity. Be it team organisation or finance management, we've covered it all.
Let's get started!
Best Small Business Apps For Project Management and Productivity
Basecamp
Basecamp is geared towards companies that work remotely. With this small business app, you can divide your work into separate projects and keep all communication, contributors and documents in one central folder.
Moreover, each project contains all the tools employees need to work collaboratively. This includes a message board, automatic check-ins, schedules, to-dos and even a real-time group chat.
With Basecamp, managers can keep track of their team's workload with access to tasks that are overdue and upcoming projects. After a 30-day free trial, Basecamp charges a $99 monthly fee.
Included in this fee are all of Basecamp's features, plus unlimited projects, users and no per-user fees.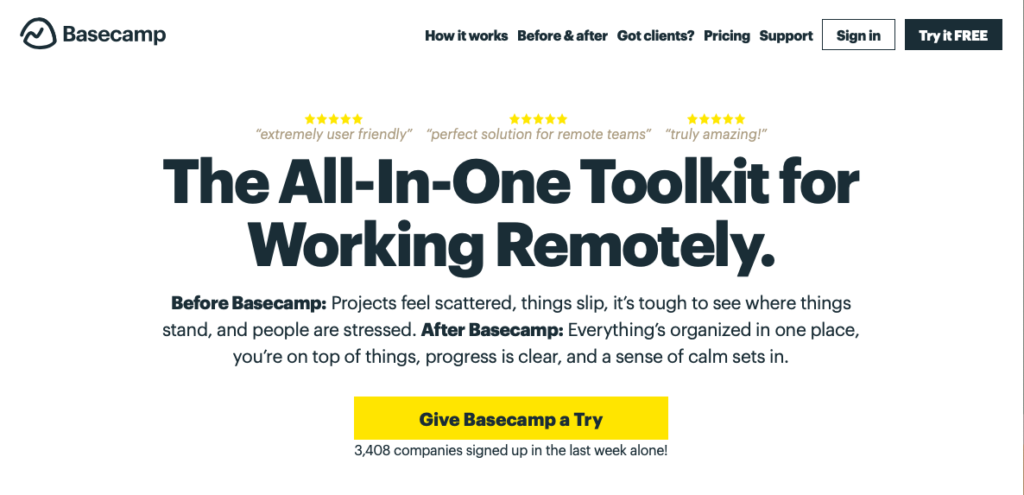 Asana
Asana is a workflow management tool that can help your business stay organised and connected through task lists and timelines. This gives teams an overview of which tasks are a priority and when their work is due.
Better yet, Asana is also compatible with over 100 integrations such as Google Calendar, Dropbox, Slack and Outlook (to name just a few).
Asana also has a useful reporting feature that gives you access to real-time charts to share project statuses, identify potential issues and keep track of your team's progress.
Asana offers various payment options, ranging from basic to enterprise plans. Although Asana's free package will get you far, premium plans start at £9.49 and offer extra features like custom fields, milestones, and private teams and projects.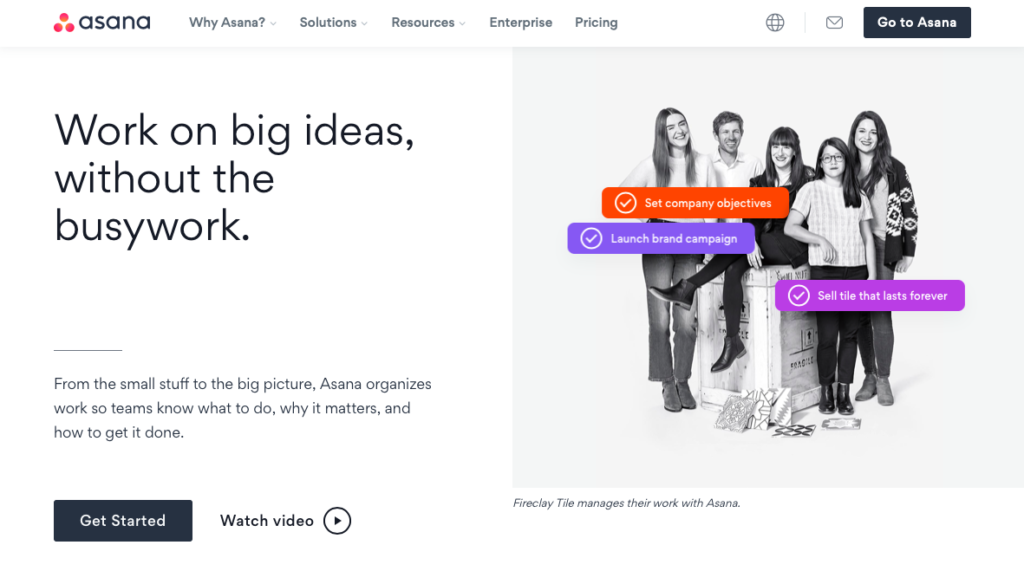 Trello
Whether your business works from a high rise building or at home, Trello helps teams organise and manage projects all in one convenient place.
Trello's card-based system allows you to create, assign and monitor different tasks to your employees to make workflow processes more efficient.
A built-in feature called Butler automates tasks like creating lists, surfacing upcoming deadlines for the team and scheduling assignments.
Trello also integrates with work tools such as Slack, Dropbox, Google Drive, Evernote and Confluence.
In addition to a free package for individuals and smaller teams, Trello offers a "business class" plan for $10 per month. Companies with 100+ employees can contact Trello's sales team to get a price for their enterprise option.
Toggl Time Tracker
Toggl timer tracks every second of your day and makes sure you're spending it correctly. This makes it a must-have project management app for anyone including lawyers, doctors, consultants, business owners and anyone who needs to log billable hours.
It enables you to track multiple projects in the form of colourful graphs, attractive timesheets and sync your contact numbers and details with other project management apps.
It can be used by everyone in the organisation, and it's easy to organise employees by dividing them into groups.
The basic version of Toggl is free and supports up to five users. The paid version enables unlimited users and allows them to set billable rates, share time reports, access comprehensive dashboards and enjoy other great features for $9 per user, per month.
Evernote
If you're looking for a business app to help you with your note-taking, then Evernote is well worth a try.
Forgetting your journal will no longer be a problem, as Evernote syncs all of your notes to your devices so that you can access them anytime.
Additionally, Evernote has a scanning feature that allows you to keep all of your important documents and business cards in a safe place.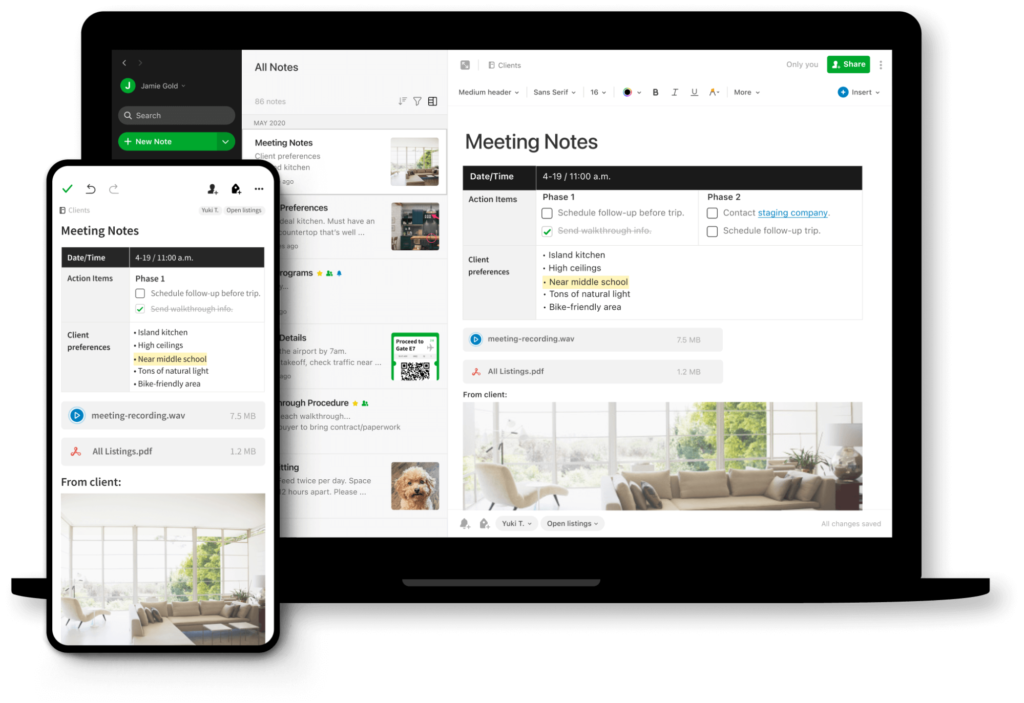 Image: Evernote
You can also use the web clipper tool to save information from the internet through screenshots and tag them so that they can quickly be retrieved.
Evernote is also more than just a journaling tool. You can embed images, audio, scans and PDFs to your notes. If you prefer taking notes by hand, Evernote can scan your handwritten notes with its built-in camera.
Evernote offers a free plan. However, from $7.99 users have access to a premium version which is designed to boost productivity.
Best Small Business Apps for Finance and Accounting Management
QuickBooks Online
QuickBooks Online is a cloud-based accounting app that is perfect for helping small businesses manage their bookkeeping.
Whether you are a freelancer, small business or midsize business, QuickBooks has features for all of your accounting needs.
These features include profit analysis, tracking income and expenses, creating invoices, inventory management, tax deductions and payroll.
QuickBooks Online also has various pricing plans after a 30-day free trial that start at $15 for freelancers and $25 for small businesses.
FreshBooks
FreshBooks is an accounting app that focuses on invoicing, time tracking, payment management, expense tracking and much more.
Not only does FreshBooks make managing your cash flow easier, but it also allows your team to collaborate on projects and produces easy to read reports.
Moreover, FreshBooks helps you get paid faster because it allows you to accept credit card payments online so that you can receive automatic deposits.
With the FreshBooks mobile app, you can stay in touch with your customers and take care of your accounting from anywhere.
FreshBooks also offers a 30-day free trial, with paid versions of the app starting at $7.50.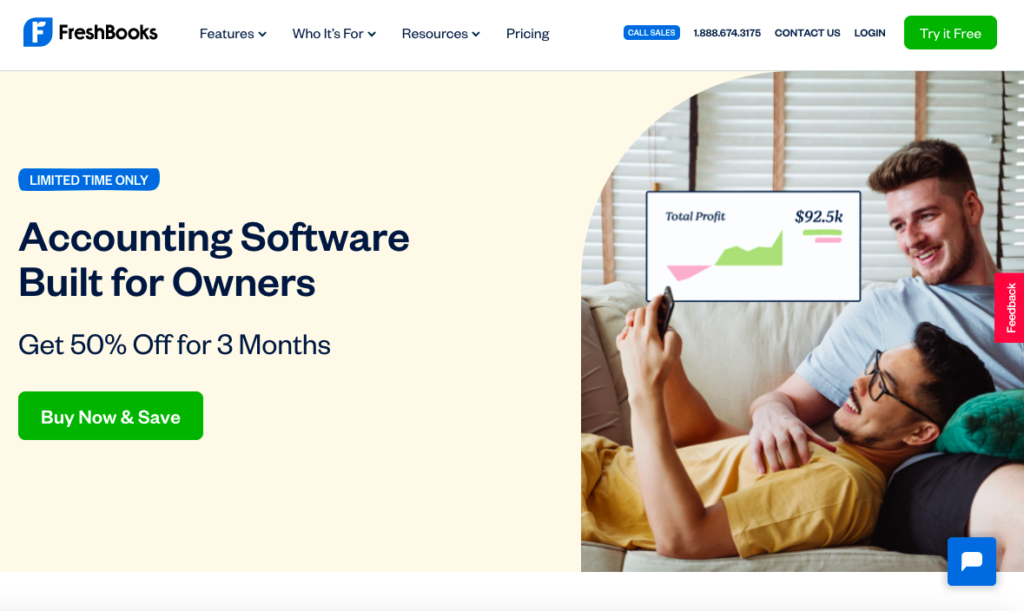 Xero
Xero's accounting software is designed to simplify everyday business tasks for small businesses, accountants and bookkeepers.
Not only does Xero help you pay your bill and claim your expenses, but you can also process your VAT returns and connect your bank accounts to set up bank feeds.
Moreover, Xero allows you to look up customers and suppliers to see a full history of sales, invoices and payments. Xero also lets you conduct multi-currency accounting.
This means you can process payments in over 160 currencies and have access to accurate exchange rates and currency conversions.
New users can access Xero's features for free for 30 days after which paid plans begin at $20.
Wave 
Wave is a free accounting software app that helps you manage and understand your company's income and expenses.
This small business app lets you create and send invoices with advanced features such as automatic payments and recurring billing.
Wave also allows you to create invoices from your mobile device and sends instant notifications so that you know when an invoice has been viewed or gets paid.
Additionally, Wave's automatic reminder feature will send your customers an email when their payment is due. The accounting software also allows you to add credit cards and bank details to get paid faster.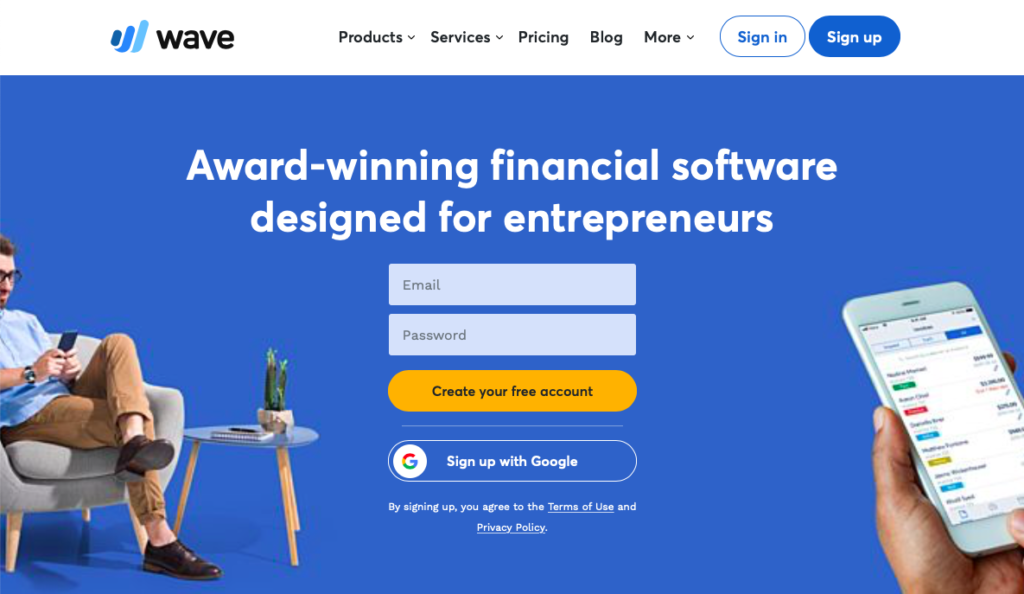 Best Small Business Apps for Team Communication 
Slack
If you are looking for the most tried and trusted communication app on the market, then Slack is a good choice for your business.
This platform allows you to create communication channels, video conferences, send instant group messages and break off into one-on-one meetings.
These channels also provide you and your team with shared visibility on work being done so that everyone in your business is on the same page.
Slack also lets you share channels with people outside of your organisation so that you can collaborate on projects together.
Moreover, there are also 2,400 apps available for download on the Slack App Directory to make your team more productive.
Slack has limited features available for free, with payment plans starting at $6.67 per month for premium features.
Microsoft Teams or Skype for Business 
Microsoft has recently replaced Skype for Business with Microsoft Teams. This communication platform has chat, audio and video call features.
As the name suggests, Microsoft Teams makes it easy for employees to work together because they can share documents, videos, photos and meeting notes.
Microsoft Teams is also a great choice for businesses of any size because it allows up to 250 to join a meeting. If you're on the go, Microsoft Teams is also available as a mobile app so that you can stay in touch with your team wherever you are.
If users upgrade to a premium version for $5 per month, they can integrate Microsoft Teams with other programs like OneDrive, Outlook and Access (to name just a few).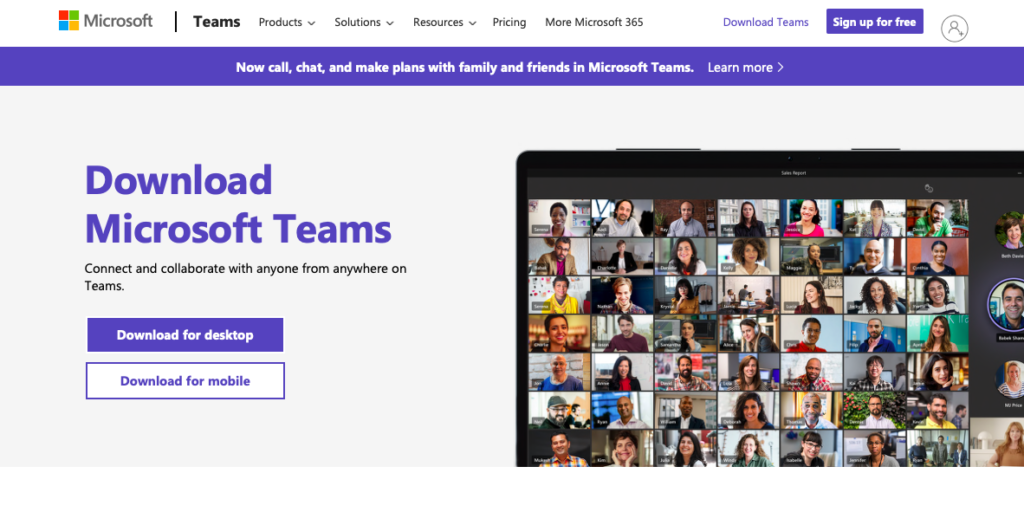 GoToMeeting 
Whether your business works remotely, or simply needs a program for conference calling, then GoToMeeting is a good solution for you.
Not only can you use GoToMeeting for video and mobile conferencing, but you can also record your meetings, take notes and use the built-in transcription tool.
GoToMeeting also allows you to share your screen with participants in conference calls and schedule meetings within the app.
Similar to Microsoft Teams, GoToMeeting is also available as a mobile app.
You can also choose a personal meeting room option and brainstorm ideas with your conference call participants using the virtual whiteboard.
GoToMeeting offers users a 14-day free trial and paid plans start at $14 per month thereafter.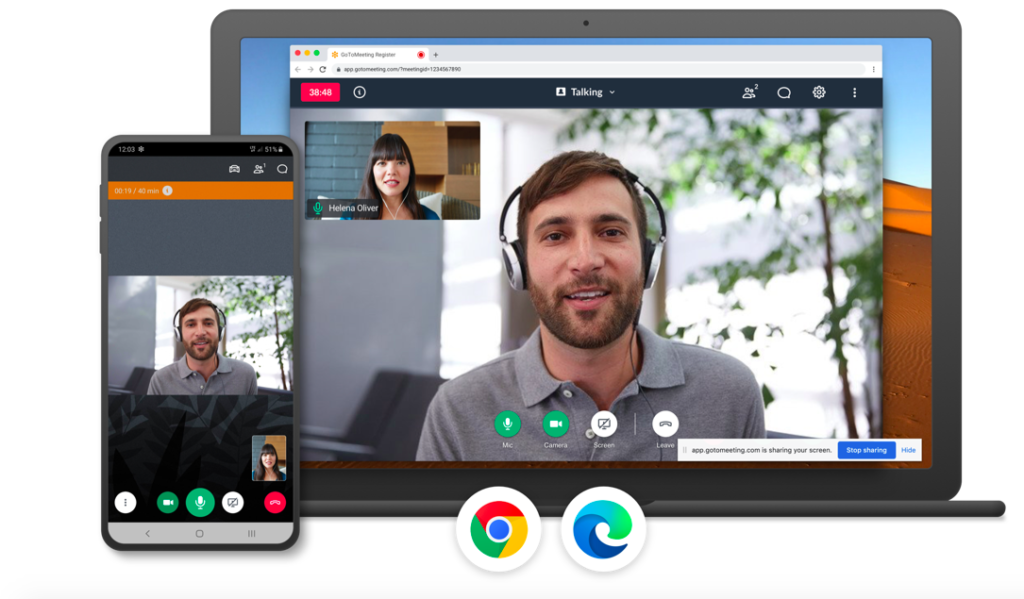 Image: GoToMeeting.
Best Small Business Apps for Payments and Point of Sale (POS)
Square
Square is a great point of sale system for both iOS and Android users and lets you process payments from wherever you are.
This app is used by millions of small businesses to accept credit card and online payments, and track their sales and inventory.
Square also allows users to send and receive money through a mobile app and the point of sale system lets customers make payments through their mobile devices.
If you are looking for a bespoke solution for your business, you can build custom features with Square's scalable platform.
For Square's basic plan, it will cost you 2.6% plus $0.10 for every mobile, chip and magstripe card payment.
Venmo
Venmo is a mobile payment solution and is owned by PayPal. With this app, you can make and share payments with friends and approved businesses.
In comparison to PayPal, Venmo allows its users to share and like payments through a social media-type feed. Don't worry though, the payment amounts are hidden!
Users simply link their bank account and debit/credit card to their Venmo balance and can transfer money using phone numbers, email addresses or usernames.
Venmo will charge users a 2.9% fee plus $0.30 per transaction.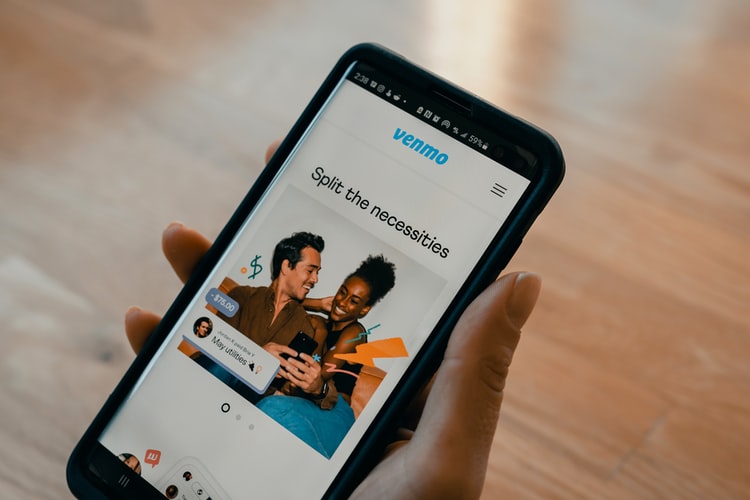 Image: Tech Daily/Unsplash.
Melio
Melio is a web-based payment platform that allows users to make bank transfers and debit card payments for free.
For small business owners and entrepreneurs, Melio is a great solution to make payments and manage the business' cash flow.
All users need to do is add the payment details (either by uploading a photo or connecting QuickBooks online), pay by card or bank transfer and choose their preferred payment delivery option.
Melio also has a payment scheduling option so that you can set automatic payments and not have to worry about missing a payment again.
Although Melio offers users a free sign up, monthly subscription and payment processing features, it does charge 2.9% for receiving credit card payments.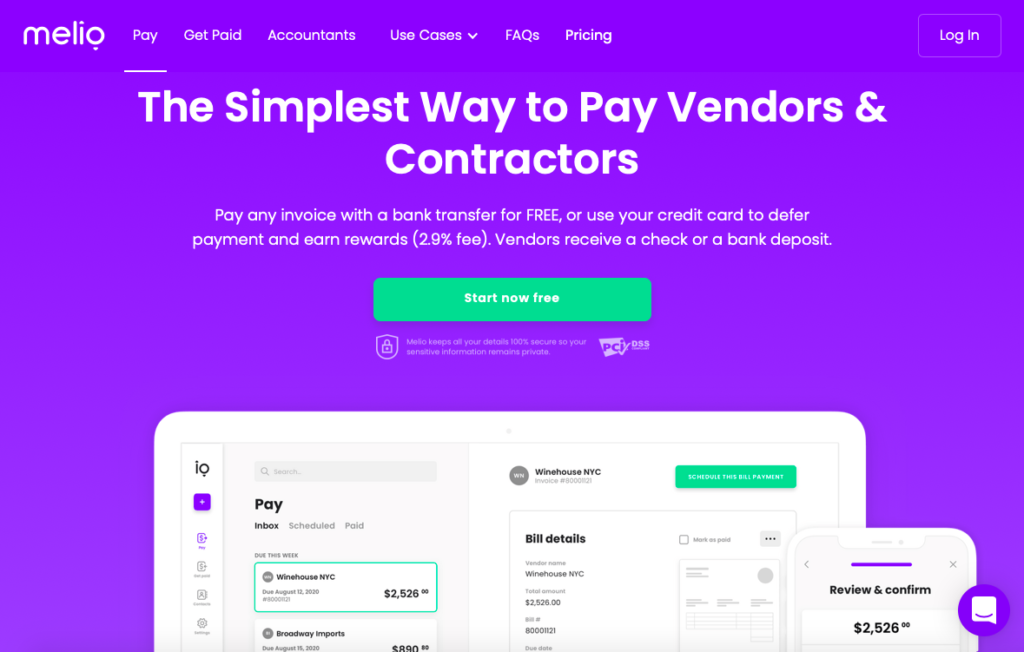 Dwolla
For businesses that need to accept payments via bank transfers, Dwolla is another great option.
With Dwolla, you can create customer profiles to send and receive funds, and verify their identity for future payments.
Additionally, Dwolla allows you to accept or request payments and set up recurring transactions. Once you have accepted the payment, Dwolla allows you to transfer the money to your account for free.
Dwolla has plenty of payment options for users to choose from, with different features available within each plan.
Alternatively, you can set up a custom pricing plan that will vary depending on your company's needs.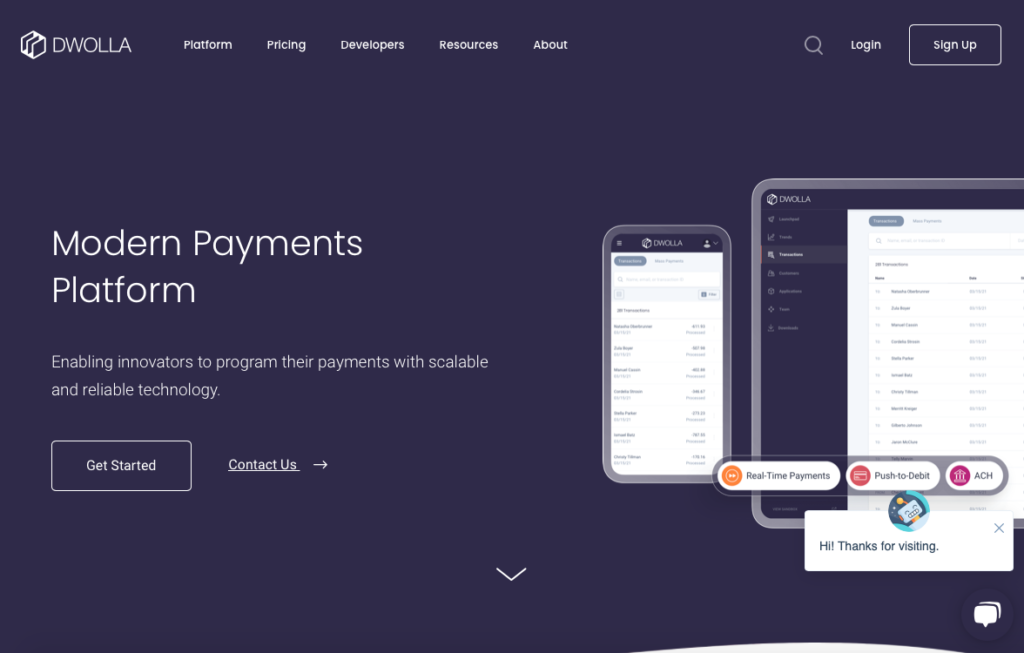 Best Small Business Apps for Managing Inventory 
Sortly
If you're looking for user-friendly inventory management software for your business, then Sortly is right for you.
With Sortly, you can scan and update your inventory with QR or barcodes and easily and configure alerts to keep track of your stock levels and important due dates.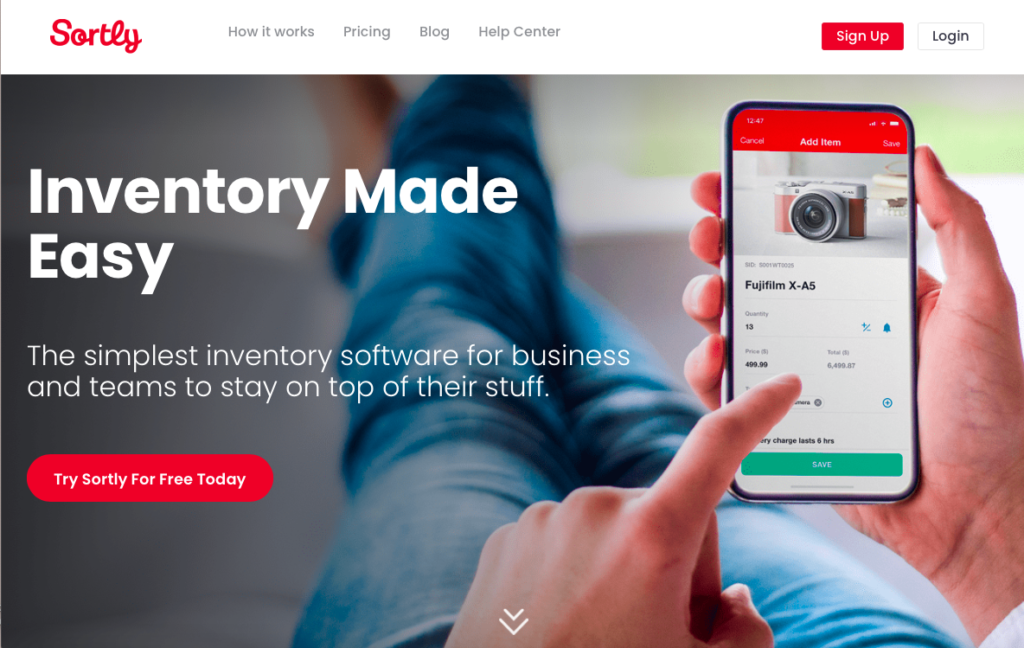 Another great feature of Sortly is the ability to manage your inventory on any computer, smartphone or tablet.
Sortly is also used by the medical, construction, IT and real estate sectors for staging inventory management.
Sortly offers a free version, with payment plans starting at $49 per month after a 14-day free trial of premium features.
SOS Inventory 
Small businesses looking for inventory or order management and manufacturing for Quickbooks Online should look into SOS Inventory.
This inventory management software integrates with QuickBooks to reduce the risk of data duplication.
For businesses with multiple locations, SOS Inventory lets you see how much stock you have left in each facility.
SOS Inventory also allows you to track inventory by serial number and the cost history of each item. This is helpful so that you can see the profit and loss of each item.
Users can sign up for a free 14-day SOS Inventory trial, with payment plans starting from $39.95 per month.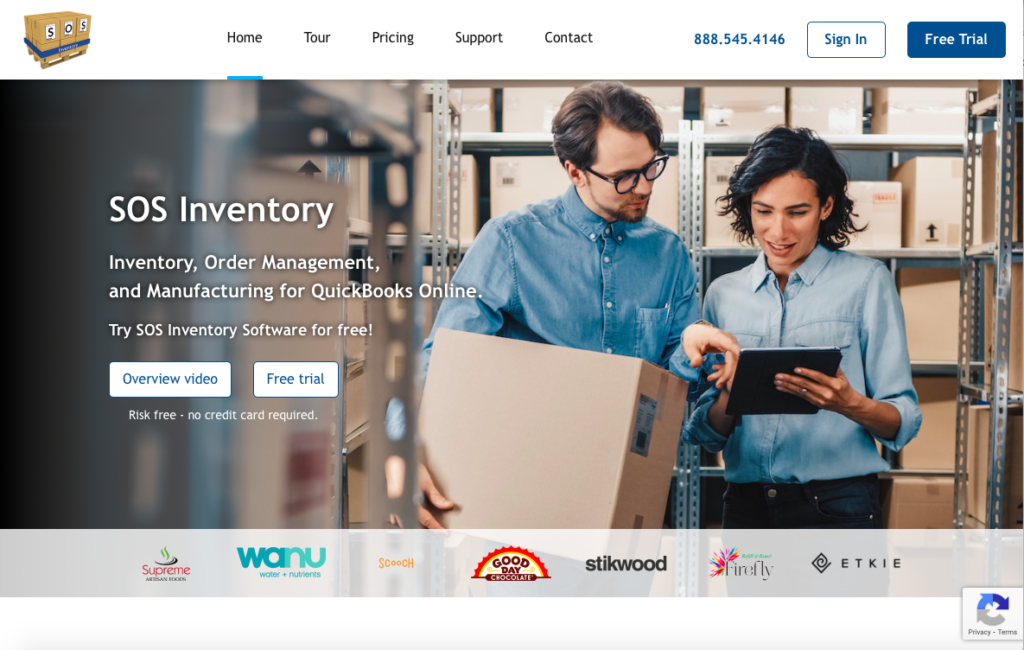 Delivrd
Delivrd is an inventory collaboration platform that not only helps you manage your stock, but also alerts you when inventory is low and helps you see which of your products are most profitable.
This platform is also useful because you can export all of your data and upload it to your accounting software or spreadsheets for important presentations.
As a small business owner, it's also important that you are able to estimate your future spend.
Delivrd can help you with your demand and spend forecast so that you can plan your expenses better.
With cloud access, you can monitor distribution and operations from wherever you are, identify blockages in your sales pipeline and improve customer experience.
Delivrd offers basic inventory management for free, while advanced features cost $49.99 per user per month.
Other useful business apps
Dropbox for Business
Dropbox is a cloud storage service that is designed to help you manage the storage of your documents, images and videos.
This business app is also great for team collaboration because your staff can access and share work from any computer, mobile device or web browser.
Dropbox is also a safe and easy way to deliver confidential files to your team and clients. This is because the platform allows you to create custom passwords and expiration dates for your work.
The standard Dropbox payment plan begins at $15 per user per month, but you can create a customisable payment solution for your team.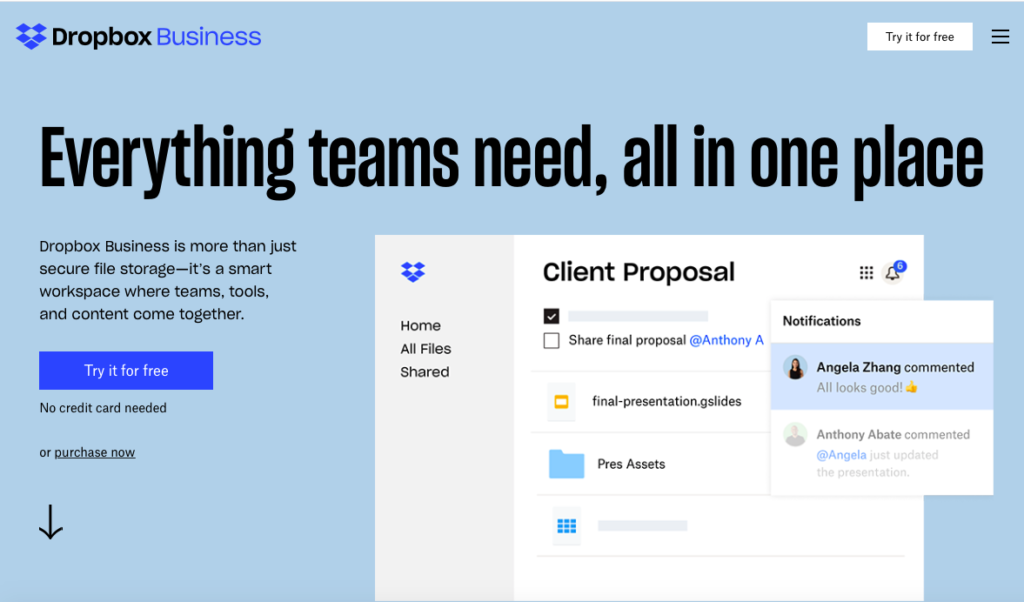 Spendee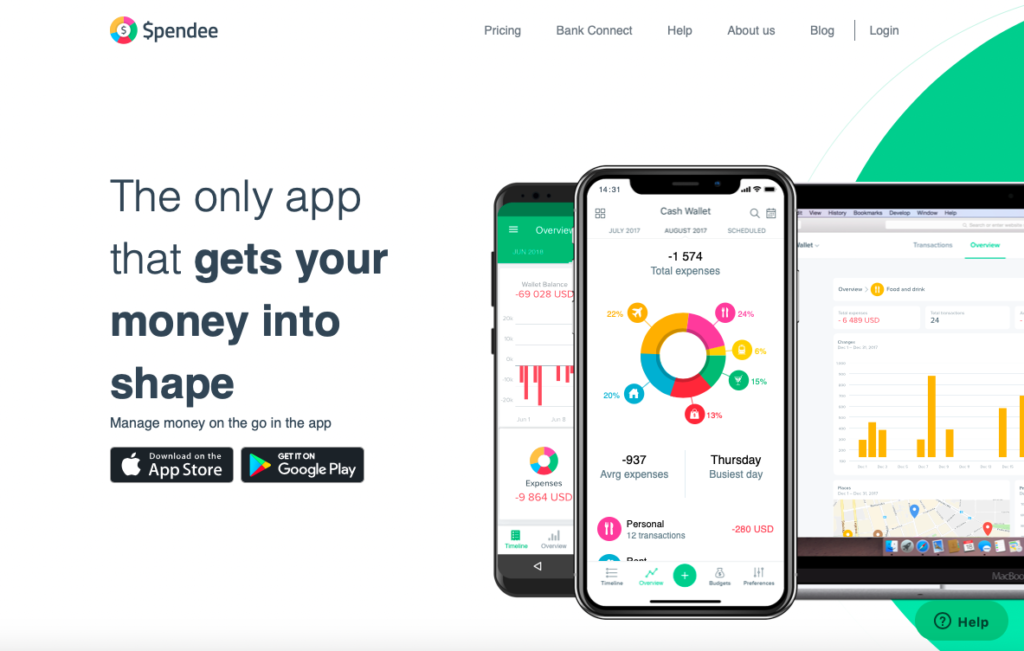 Spendee helps you understand your business spending through infographics.
Using data analysis is a smart way to keep a track of your spending and helps you to manage your finances better through simple financial infographics.
Spendee allows you to create categories for your spending, such as travel, and food and drink. You can then create a budget to prevent you from overspending within that category.
For business owners that travel regularly, Spendee also allows you to manage money in multiple currencies.
Portal by Pushbullet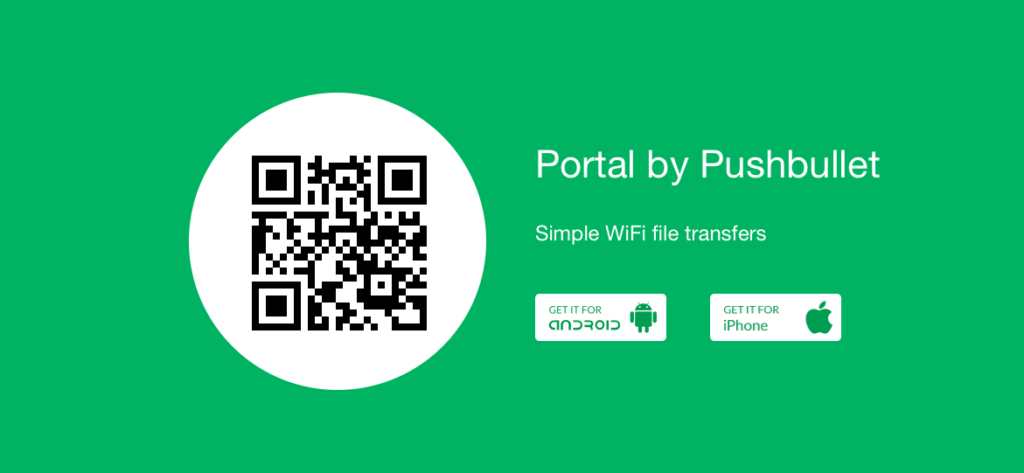 Portal by Pushbullet allows you to drag and drop all your photos, videos and files from your computer and transfer them to another device via WiFi.
It's simple, quick and easy. The best part is that files over 1 GB in size are transferred very quickly since the app does this over your WiFi connection.
LinkedIn Job Search 
Now you can find job opportunities and grow your business right where you are.
Not only does LinkedIn help you find your dream job, but it also helps you find the right people for your business in just a few clicks.
LinkedIn allows you to post jobs on the app and it will use insights from the community to match your job to relevant candidates.
Changing job roles or advertising new positions can be sensitive. That's why your connections on LinkedIn will not be notified about your activity while using the job search app.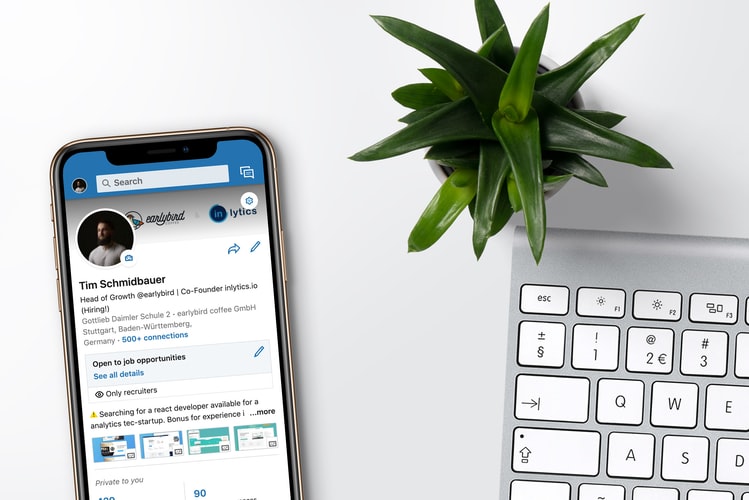 Image: Inlytics/Unsplash
Grapholite
Grapholite is for making fun and colourful infographics, business graphics and technical drawings, allowing you to create presentations or work on the go.
It has a rich set of built-in themes that act as a springboard for creating more advanced designs.
Payment plans for Grapholite start at $49.99 per month, with other plans available for bigger teams.
Careem
Careem is a subsidiary of Uber and is based in Dubai, with operations running in over 15 countries and over 100 cities. This includes the Middle East, Africa and South Asia regions.
The website was originally used for online car bookings but Careem has since evolved to become a ride-hailing service for everyday use.
This is a great option for a reliable cab service that is also cheap, hassle-free and comfortable.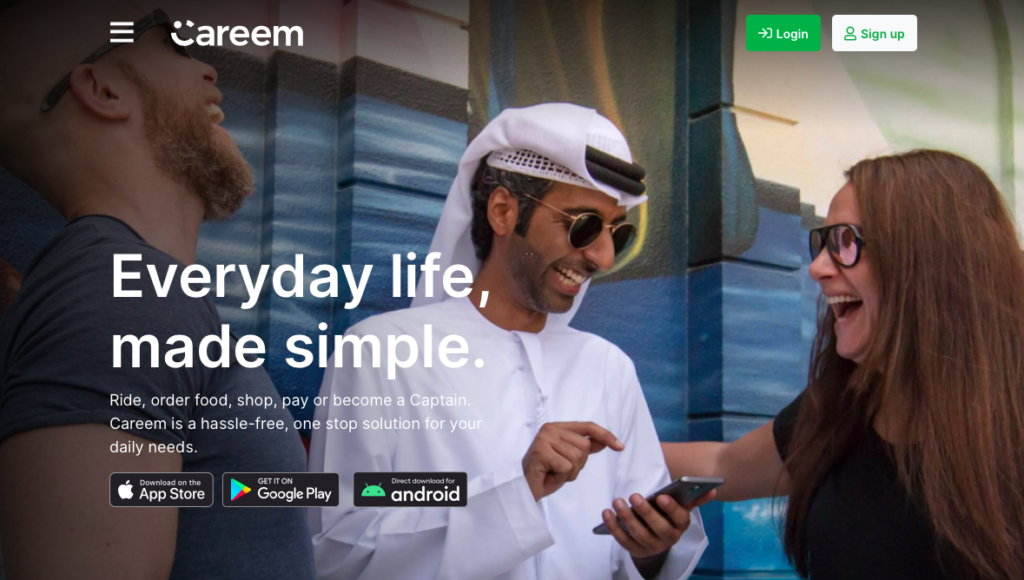 Robin Hood 
If you want to trade stocks and make investments with zero commission, download this app now.
With every stock you trade, you get to save $10 which is a great incentive to trade more. The best part is, you can save money at the same time.
The Robin Hood app also makes it easier for you to manage your assets because everything you need to keep tabs on your portfolio is located within the app.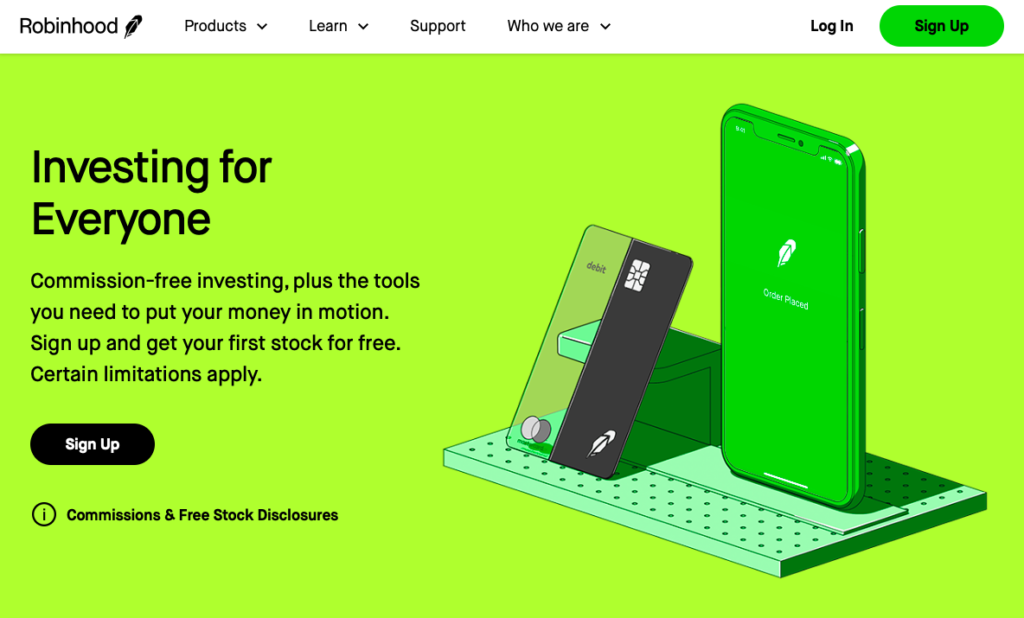 Business Apps: Final thoughts 
These best small business apps help you save time, improve your finances and manage your workload through their simple layouts.
We hope that the business apps mentioned in this article can help you make better, more informed decisions in your daily life.
If you are looking for a bespoke solution, click here to find out how to build your own business app.
Are any of your favourite apps listed above? If not, let us know and we will try to get it featured here.
Read more about the latest and greatest app trends and see how your business could make money with apps.
---