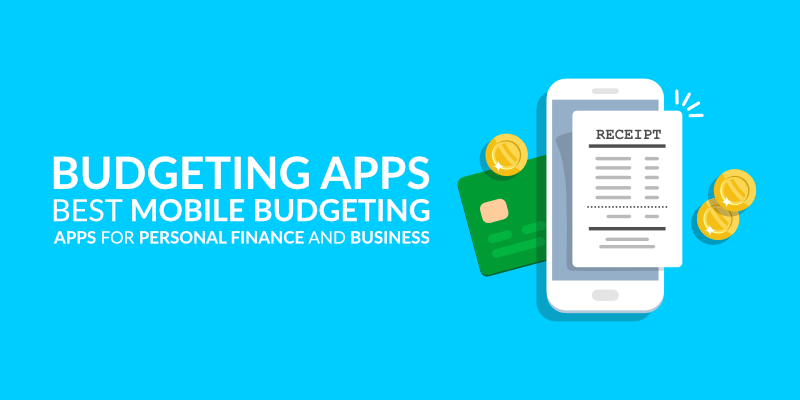 Keeping track of your spending and setting budgets can be a great way to save money. However, it can also be difficult. This is doubly so if you have to manually record purchases to keep track of your personal finances.
The best budgeting apps make it easy to see where your money is going. Many of them link directly to your bank accounts, giving you a ton of insight into what you are spending your personal capital on. They also include tools to help with financial goals and investing.
This article will explore some of the top-ranking budgeting apps on the App Store and Google Play Store. These best budgeting apps have at least 1,000 reviews on each platform and have been rated at least 4 out of 5 stars by users. Let's get started!
What to Look for in a Budgeting App
There are plenty of budgeting apps to choose from, each with a slightly different take on the best way to save you money.
However, the most basic budgeting apps link to your bank accounts and credit cards to track your purchases.
Many budgeting apps will also organise your spending into different categories so you can see exactly where your money is going.
While many of the best budgeting apps share features, the right one for you will depend on a number of factors. Here are some of the things you might want to look for in a budgeting app:
Choose a Budgeting App That Links to Your Bank Accounts
To make budgeting apps as useful and simple as possible, you'll want to choose one that can link to your bank accounts. This will show you exactly what you are spending your money on.
While most of the apps allow you to do this, some of them only link to banks in certain countries. Others only allow bank account linking on premium plans.
The apps also allow you to manually input your account data and spending. If you do this, you'll still get access to all the app's other features. However, it could be a lot more work and the data may be less accurate.
Calculators
Calculators are essential budgeting tools. They eliminate the lengthy process and provide accurate answers for faster personal finance tracking and reporting, saving time and effort. Examples include PAYE calculators, self-employment calculators, and mark-up and mark-down calculators.
A PAYE calculator can help determine how much tax and other contributions will be deducted from your wage or salary under the 'pay as you earn' scheme. As the term implies, a self-employment calculator can help determine an individual's taxes based on the running self-employment tax rates. On the other hand, mark-up and mark-down calculators can help business owners determine their products' new price lists.
Expense Tracking
A key feature of many of these budgeting apps is they show you how much money you have spent, as well as what you have spent your money on.
By using spending categories, the apps let users identify monetary black holes (do you really need that daily coffee and bagel?) and reign in your spending in these categories.
Some budgeting apps also compare your spending in a given month to your average, which allows you to see if you are spending more than you usually do. Another useful feature is when apps identify recurring bills and subscriptions you may want to avoid.
If you are a small business owner or a freelancer, expense tracking has another benefit; you can use the apps to track business expenses and write them off when it comes to tax season. If you want this feature, you'll need an app that lets you upload images of receipts.
Financial Predictions
Some of the apps feature financial predictions that estimate how your current spending and income will affect your future net worth.
This is particularly useful if you have a certain goal for your personal finance, such as buying a house.
Financial predictions let you know early on if your spending habits are helping you reach your goals.
Set Budgets
Other than helping you track your spending, most budgeting apps give you the ability to set an overall budget, as well as different budgets for categories of products.
This is especially useful if you have linked your bank accounts as it will show you exactly what you have spent your money on as well as how much money you have left in each separate budget.
Device Compatibility
Determine if the budgeting app is downloadable on your device. Some apps may work only for Android devices, while others only for iOS. The budgeting app's compatibility with various operating systems and devices can provide you with the utmost convenience.
Free Trial Or Version
Try a budget app with a free trial or version to help you test if the tool is suitable for your personal financial management. While free trial apps have limited features or plenty of advertisements, you'll have an idea of how the basic stuff works, allowing you to test several apps before spending on a premium-based subscription.
Weigh Up the Costs
If you're budgeting you want to keep an eye on how much things cost, right? The apps selected for this article are either completely free, have a free version or offer users a free trial before signing up.
How much you are willing to spend on a budgeting app will depend on the value you feel you get. If you think spending $20 will help you save significantly more than that, then it may be worth making the purchase.
If not, perhaps go for a cheaper option. Another thing to note is that some of the free options may make money by advertising or suggesting new financial products.
The Best Budgeting Apps
Let's take a look at some of the best budgeting apps on the market. We'll look at features, pricing and see some pretty unique ways to budget.
The Best Budgeting App Overall: Mint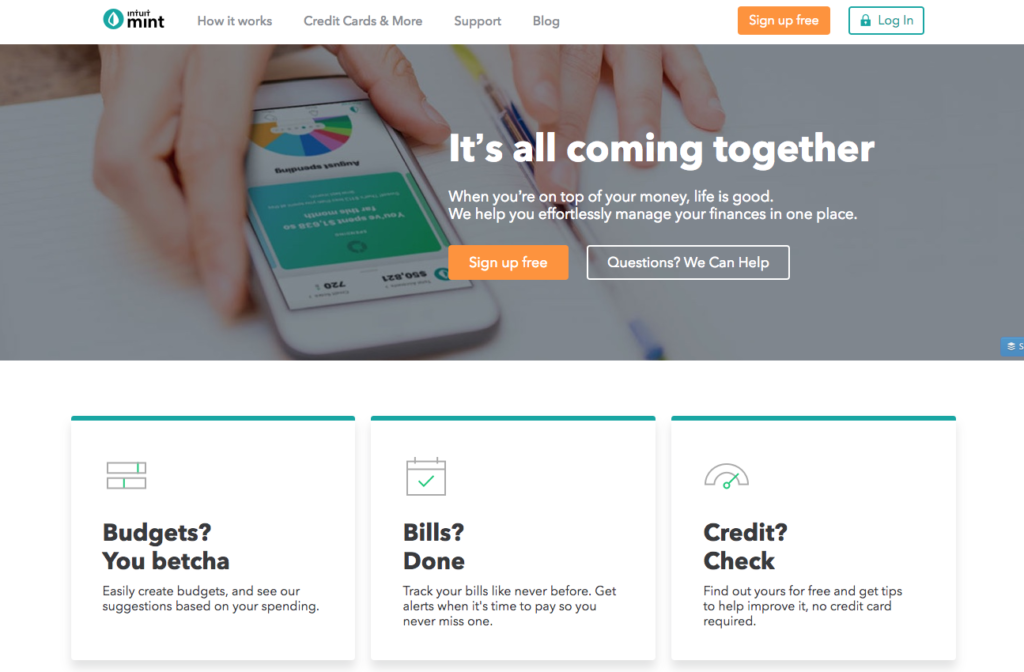 Mint is a popular budgeting app that has plenty of features to help you control your spending. This budgeting app splits your expenses into categories such as shopping, bills and transportation.
It helps you track where your money goes by linking all your financial accounts to the app. You can also use Mint to create budgets that will alert you if you need to cut your spending.
Additionally, Mint keeps an eye on your credit score (and offers insights on how to improve it), investments and net worth. You can also set reminders for your bills, so you don't miss payments and get hit with a fine.
Mint only supports banks and financial institutions in the U.S. and Canada. While there are reports of people getting some functionality in the U.K., it may be best to choose a different app if you live in the U.K.
For Zero-Based Budgeting: YNAB and EveryDollar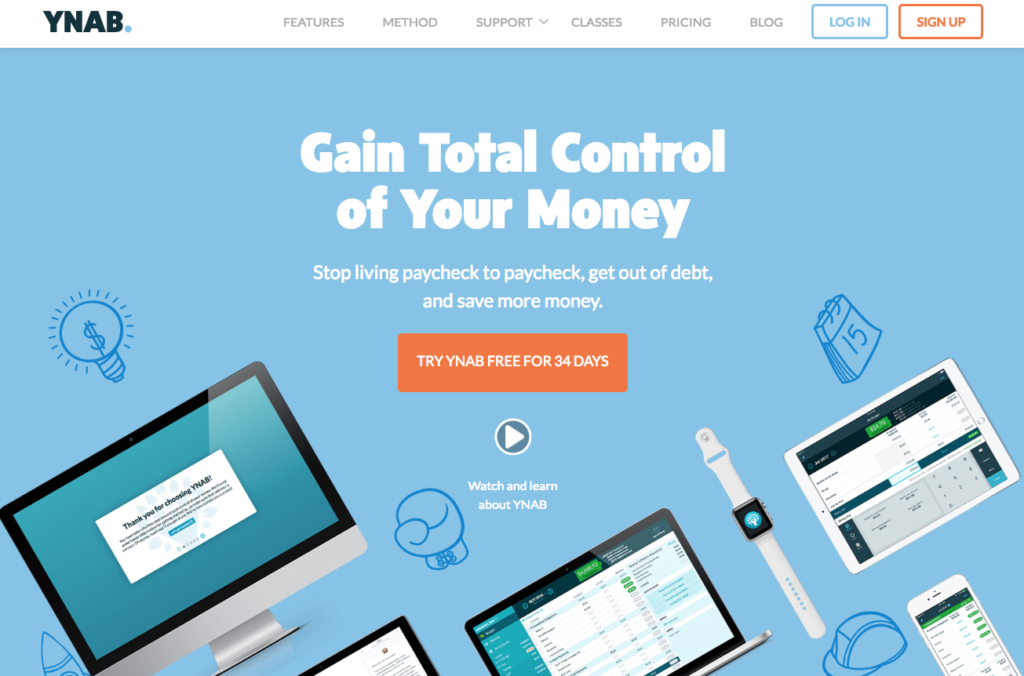 You Need a Budget (YNAB) is based on the zero-based budgeting system. This means that budgeters allocate all of their money to their expenses, savings and debt repayments.
The ultimate goal is that your income, minus your expenditure, equals zero at the end of the month.
YNAB also lets you link your bank accounts and then create a budget based on your expenses. Expenses can be chosen from three categories including immediate obligations (rent and utility bills), true expenses (medical, auto maintenance, debt payments, goals), and just for fun.
This budgeting app includes reporting features that show things such as your overall net worth, and your "Age of Money" — a feature that lets you know how far in advance your current balance covers you for.
YNAB requires budgeters to make a financial investment of $84 per year, or $11.99 a month after a 34-day free trial.
EveryDollar is tailored for zero-based budgeting and helps users create a monthly budget and track their expenses.
The free version of this budgeting app requires users to manually enter their transaction and track it according to their budget.
For $129.99 per year after a 14-day trial, budgeters have access to an upgraded version of EveryDollar called Ramsey+.
This upgraded version gives users access to premium budgeting features for a more automated experience.
The Best Budgeting App to Prevent You from Overspending: PocketGuard 
The PocketGuard budgeting app connects all of your bank accounts, credit cards, loans and investments, and helps you find a better deal on your monthly service costs.
Better yet, the app's savings feature allows budgeters to regularly transfer money from their linked bank account to a non-interest account.
Moreover, budgeters can create spreadsheets to track their spending history and make graphs of spending trends.
PocketGuard is the budget app for you if you're looking for something that is easy to set up, follows what you're spending on recurring bills and finds opportunities for you to save money.
The Best Budgeting App for Wealth Management and Spending Tracking: Personal Capital
This free budgeting app is primarily used as an investment tool, but also includes features to help you track your spending.
For example, Personal Capital allows you to connect and monitor your cheque, savings and credit card accounts, as well as IRAs, mortgages and loans.
The app also allows you to list your recent transactions by category and offers a net worth tracker and portfolio breakdown for the budgeter' investment portfolio.
Remember good old-fashioned paper envelope budgeting? GoodBudget is based on this system and allows users to track spending by dividing their monthly income according to different spending categories.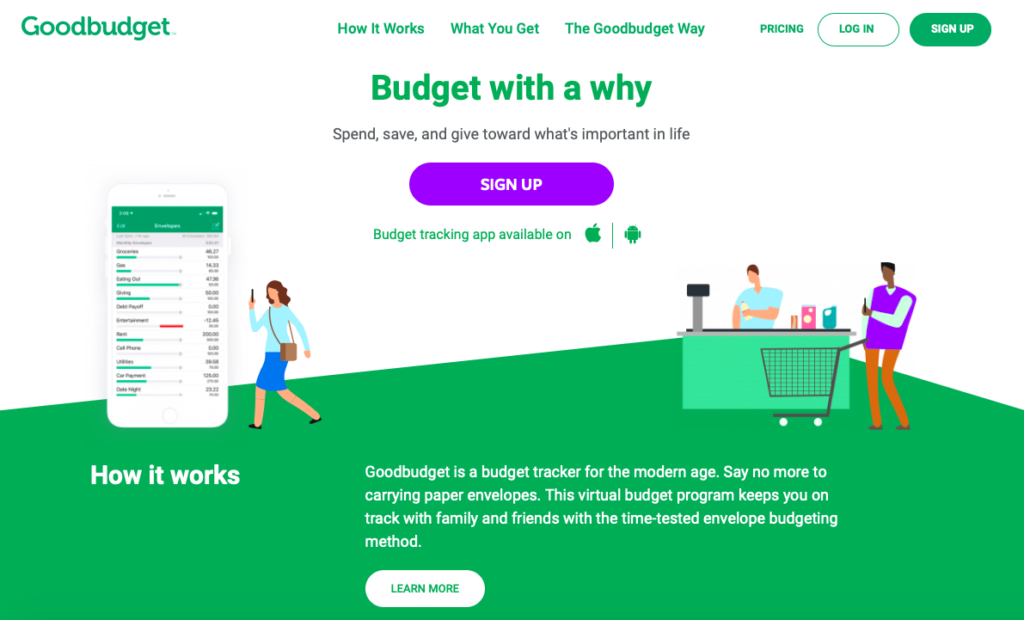 GoodBudget also allows users to sync and share budgets so that family members or partners can access the same account and share a budget.
Unlike the other budgeting apps mentioned in this article, users have to manually add their account balances and other personal capital information.
After users have entered this information, they can organise their money into spending category envelopes.
GoodBudget is a free budgeting app, but for $7 per month or $60 per year, budgeters have access to a range of premium features.
For Budgeting with Your Partner: Honeydue
Honeydue is a free budgeting app that makes it easy for couples to stay on top of their cash flow by helping them track spending.
This budget app allows couples to categorise their expenses, set monthly limits and set alerts when these limits are nearly reached.
Honeydue also has an in-app chat feature that allows couples to communicate about their expenses and send emojis.
With Honeydue, couples can also avoid penalties with bill reminders that will nudge users when it's time to make payments.
Other Best Budgeting Apps: 
Money Dashboard 
TheMoney Dashboardapp is free and calls itself the UK's best personal finance app.
Get started by picking savings goals such as buying a home, paying off debt, or making a big purchase.
You then link your bank accounts so the app can automatically keep track of your spending and show you where your money is going.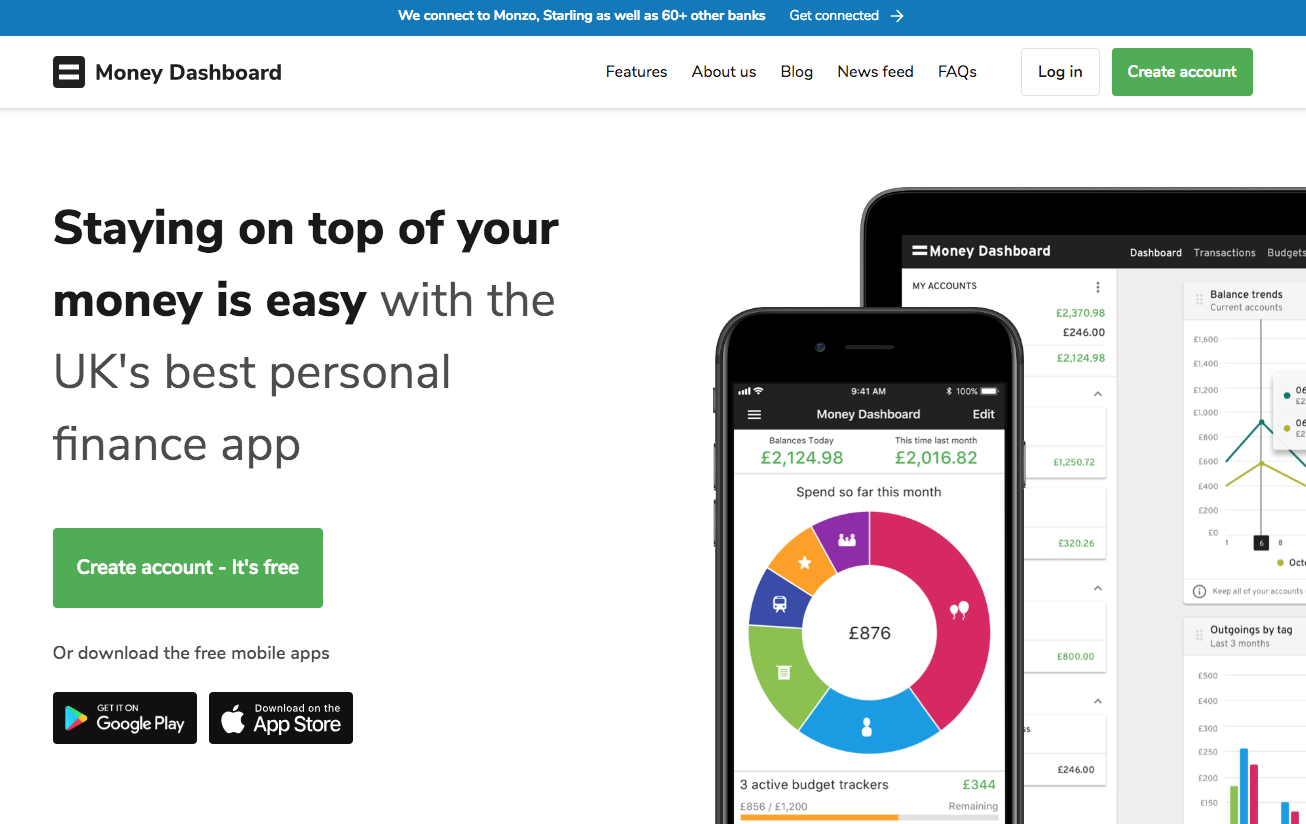 The dashboard displays money you have already spent and, more importantly, categorises everything, so you know what you have spent it on.
You can then set various budgets for different categories to help keep your spending under control. The app shows how close you are to reaching each of these individual budgets, as well as when you go over.
There is also a planner feature that makes predictions about how much money you will have in the future based on your income and expenses. If you don't like what you see, you can adjust your spending.
Pocket Smith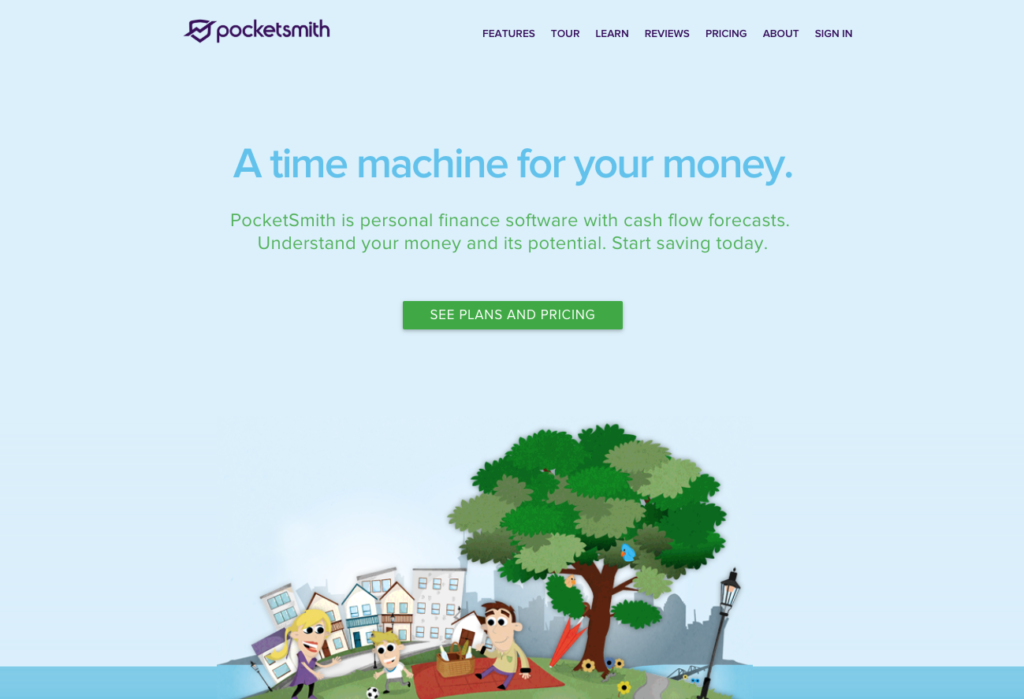 PocketSmith is a budgeting tool that helps you keep your money organised. You'll first have to import your bank accounts (either manually or automatically depending on your plan). You can then categorise your transactions, before creating budgets and spending forecasts.
Once you are set up, PocketSmith will make reports that compare how you are spending compared to previous months.
PocketSmith connects to over 12,000 global financial institutions, meaning it can be used throughout the world.
PocketSmith has three payment options: a free version, a premium plan that costs $9.99 per month, and a super plan that costs $19.95. The premium options allow you to automatically import your bank accounts and set unlimited budgets.
Moneybox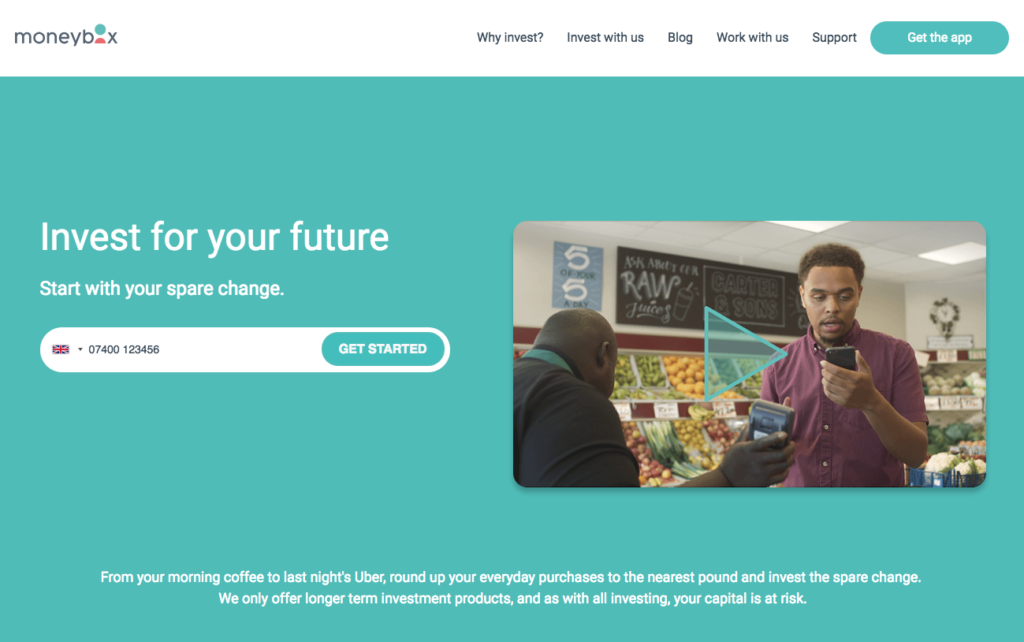 Micro investing is a concept whereby through making small (micro) deposits to your savings account, you will be able to quickly increase the amount of money you can save. Moneybox makes this easy.
The headline feature is something called roundups. If you turn this on, every time you make a purchase with a linked card, the money will be rounded up to the nearest pound and automatically invested in the fund you choose.
For example, if you buy a coffee for £1.80, Moneybox will round the price up to £2 and send the 20p to your investment accounts.
Each purchase you make will appear in the app. You can choose to either invest the difference or ignore it if you would rather keep the money.
The total will be shown in the app, and at the end of the week, this will be invested in the account you choose. You also have the option to invest in several accounts with different risk profiles.
Moneybox is available in the U.K. and costs £1 per month, although this is free for the first three months. There is also a fee of 0.45 per cent of the value of your investments per year as well as the fees associated with the funds you choose.
If you live in the U.S. or Australia, Acorns offers a similar service to Moneybox. Check it out here.
Toshl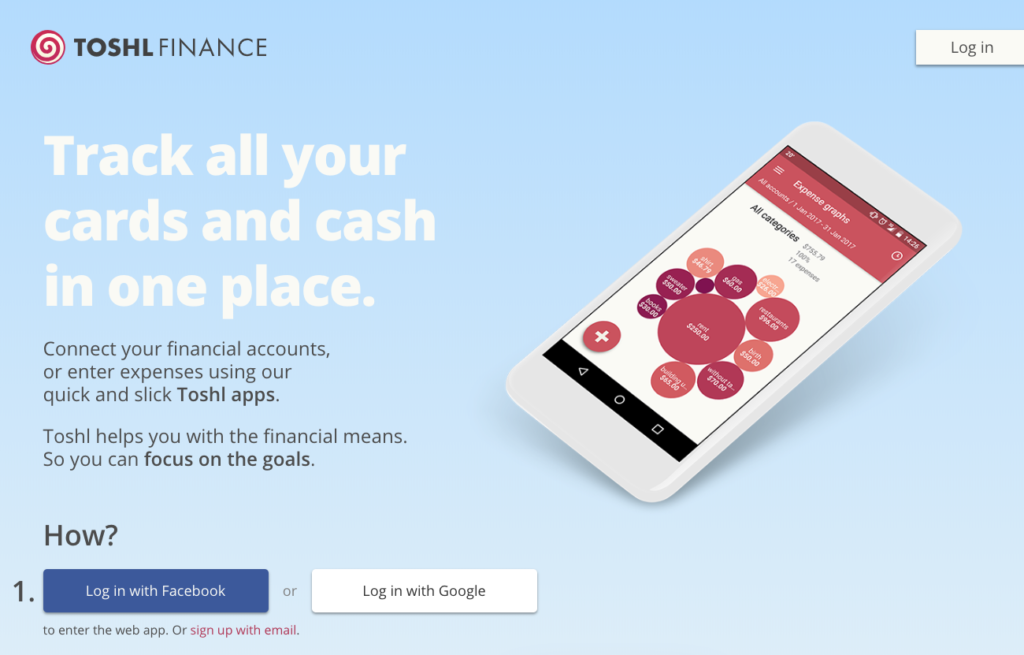 Toshl is a budgeting app available around the world in both web and app form.
It has a ton of currencies to choose from, and you can link banks from multiple countries, as well as cryptocurrencies and online services such as PayPal and Payoneer. This allows you to get a full view of your finances.
Getting signed up is easy, and Toshl guides you through the initial steps including linking your accounts, setting up your budget, and creating budgets for specific categories. Once you've done this, Toshl shows your spending in various nicely designed flow charts that clearly demonstrate how you spend your money.
Toshl is available for free, although you can only link two financial accounts and set two budgets using this option. You also won't get access to features such as planning graphs, reminders, or receipt photos.
For full access, you'll need either a subscription to Toshl Pro, which costs $1.67 per month or $19.99 every 12 months. Toshl Medici also costs $1.67 per month and can be billed once for $59.99. Both these subscriptions are available for less if you buy for either 12 or 36 months.
Xero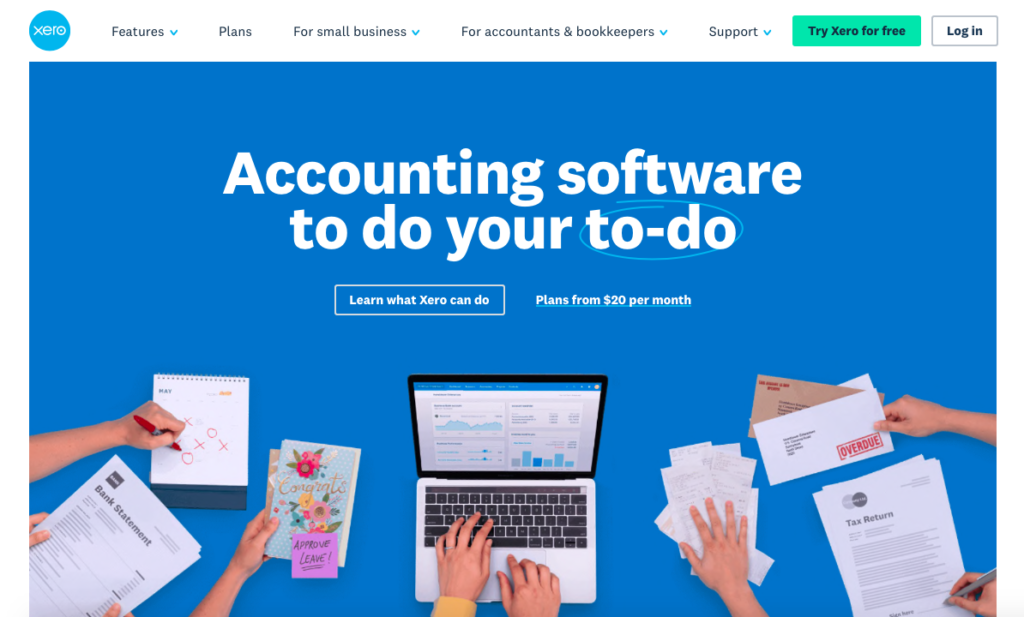 Xero is one of the best budgeting apps and accounting services for small businesses. It allows businesses to keep track of cash flow by automatically importing transactions from linked bank accounts.
It can also help with paying bills, payroll, and invoicing. Like many of the personal budgeting apps on this list, you can also keep track of expenses. You simply take a picture of receipts and the app keeps track of these records — perfect for tax season.
Xero offers users a free trial as well as several pricing options, starting from $20 a month and going up to $40. However, some of the features such as payroll software, projects, and expenses, need to be bought as extra add-ons.
Conclusion
If you are in need of a budget app, we hope this article has helped you find the right app that tracks your spending and manages your personal finance.
We'd recommend trying a few different apps and see what works the best for you – the key to successful budgeting is consistency.
With that in mind, the best budgeting apps are those that motivate you to log in and keep tabs on your finances.
It may take a while to find the right app for you, but it's worthwhile so don't give up on the search. Good luck!
---