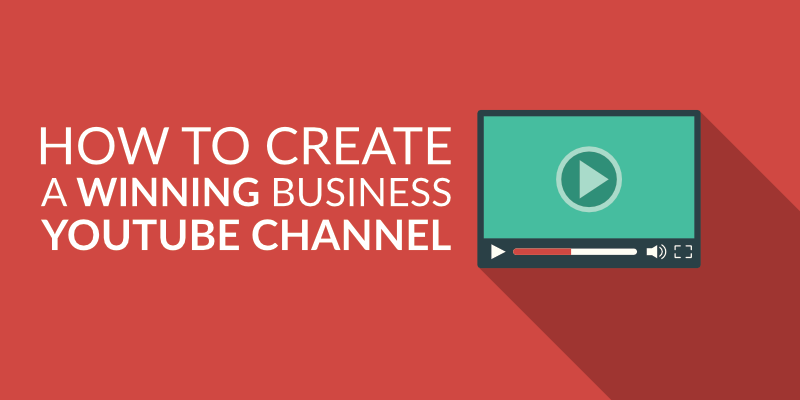 With three billion searches per month and 400 hours of video uploaded every minute, YouTube is the world's second-largest search engine. For many business owners, it's an ideal medium for marketing.
Whether you're looking to build your brand, find new buyers or educate your customers a YouTube channel may be the answer.
A lot of people are put off, thinking:
"Making a great video is too difficult."
"YouTube seems complicated."
"It's just for trendy young people."
"It's a bit niche."
YouTube is not only effective but with new technology creating engaging videos is easier than ever before, meaning it's a great time to start creating a YouTube channel for your business. We've developed this guide to get you started. In it you'll find some practical tips and plenty of inspiration. Now, let's get cracking.
The Business Case
Before we dive into the details of setting up a YouTube channel for your business let's think about the why? It's true that setting up a YouTube channel is easier and more powerful than ever but, as with any marketing, can take time to see results, so you need to have a compelling reason to get started.
A good business case should clearly outline:
Why you are starting the channel.
How you will track success.
A basic initial hypothesis on the type of video that will work.
Some examples of similar use cases that are effective.
Once you can answer all four points, it might be time to get set up. Let's look at an example of a simple but effective business case for a now successful channel – Cupcake Jemma, the YouTube persona of London bakery Crumbs and Doilies. The channel now has hundreds of videos and 1.3m subscribers, but it had to start somewhere. Let's take a look at how Cupcake Jemma may have responded to the questions above when launching the channel.
Why are you starting this channel?
To build our brand, showcase our cakes and build a following. We will monetize this by increasing order volumes and building the owner profile that can open up other revenue streams like books, merchandise or online courses.
How will you track success?
Initially, subscribers and video statistics (viewing numbers and times), clicks through to the merchandise store www.cupcakejemma.com and sales from that store.
Do you have a basic initial hypothesis on the type of video that will work?
We think recipes will be the most successful type of video and we'll also include behind the scenes videos to build a relationship with subscribers.
Are there some examples of similar use cases that are effective?
General Cooking:
Cake Recipe Channels:
A quick analysis shows that a Cupcake YouTube channel is a viable business model and would give you plenty of ideas to get started. Of course, just because it's viable doesn't mean it's going to be easy, but it's really important to know the business logic is sound.
Great Examples of Business YouTube Channels
Let's take a look at some different YouTube channels that have been effective.
Brand Building
Lots of big brands use YouTube to enhance their brand image; a good example of this is the Danish toymaker Lego. You can find their 6.3 million subscribers YouTube channel here.
Lego has found YouTube to be a good medium allowing them to:
Showcase their products.
Bring characters to life in animated stories and news pieces.
Showcase tips and tricks for building Lego structures.
YouTube offers Lego a platform to provide user content that can't be delivered across any other medium. For Lego, brand is everything, as demonstrated by their film and video games exploits. Their YouTube channel allows the company to continue drip-feeding engaging video content to fans and is another tool that strengthens the brand.
A second example is Nike Football. This channel has 2.8 million subscribers and demonstrates how effective YouTube is for marketing. The channel brings together a unique set of user experiences:
A range of Nike promotional material in one place.
Highlight from Nike Academy matches.
Interviews.
Product Videos.
It's an engaging page where a user can watch hundreds of videos that are entertaining and strengthen the Nike brand.
Educational
Educational videos are the perfect fit for YouTube. Justin Guitar operates successfully in the guitar tuition niche. The channel has 833,000 subscribers and hundreds of videos.
The channel drives users to the website where videos can be watched. In this case, YouTube is an effective tool to generate more potential users to the website where they can be monetized by selling a wide range of products.
The Set-Up
Hopefully, we've convinced you that YouTube is a good marketing medium for the right business and give you a foundation for judging the business case. Now let's take a look at some of the basics of actually creating your YouTube for a business channel.
The Basics
You're going to need a Google account to set up your YouTube channel; you can use an existing one or set one up specifically for the channel (here's a link for setting up a Google account).
Once you've decided on the Google account you're using head over to YouTube and in the top right-hand corner click 'sign in'.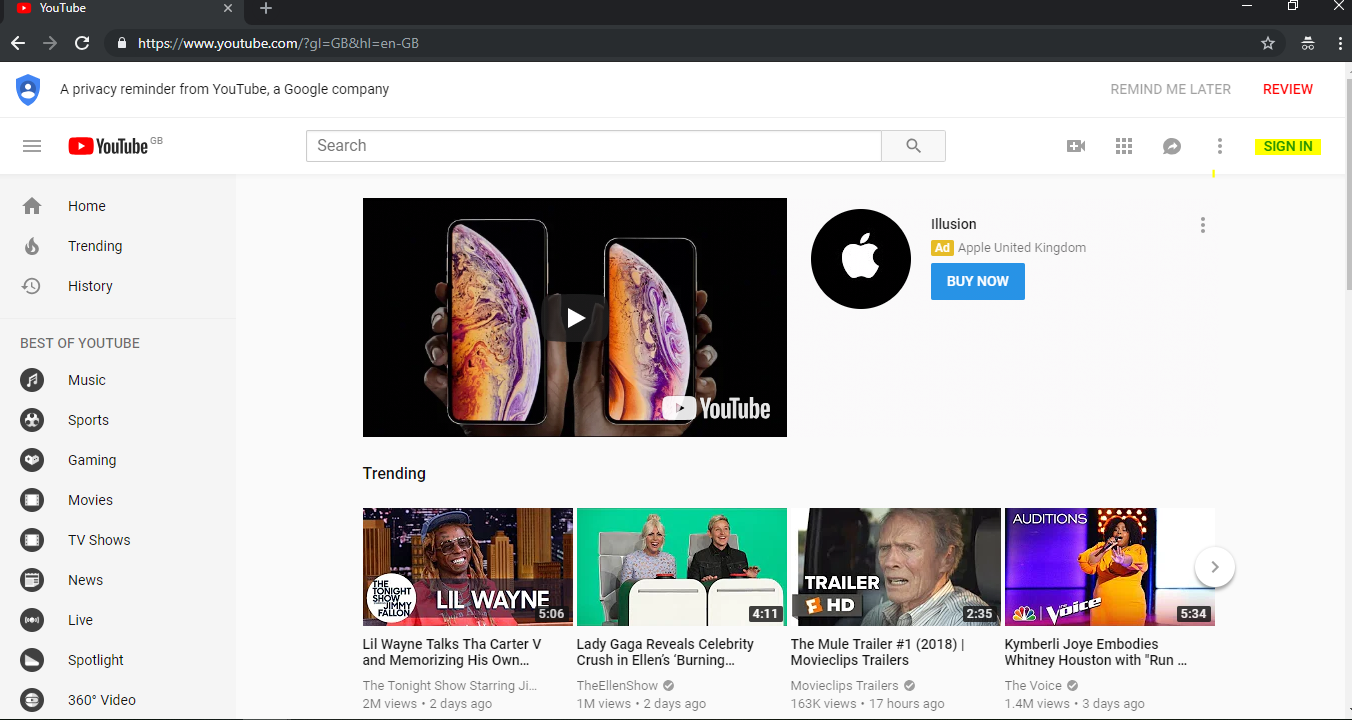 You will then be prompted to sign in. Use the details for the Google account that will be associated with the YouTube channel. Note that the channel can be called something completely different to the name of the Google account.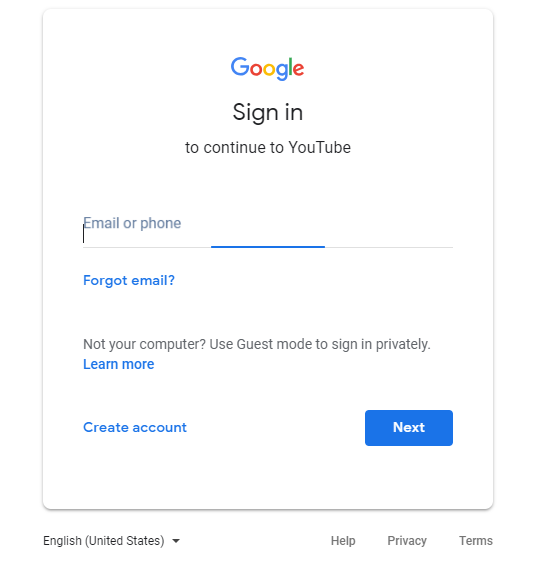 The account you link to only has relevance from a housekeeping perspective – do whatever is easiest for you.
Once you've logged in, click on the top-right icon and in the drop-down hit 'My Channel'.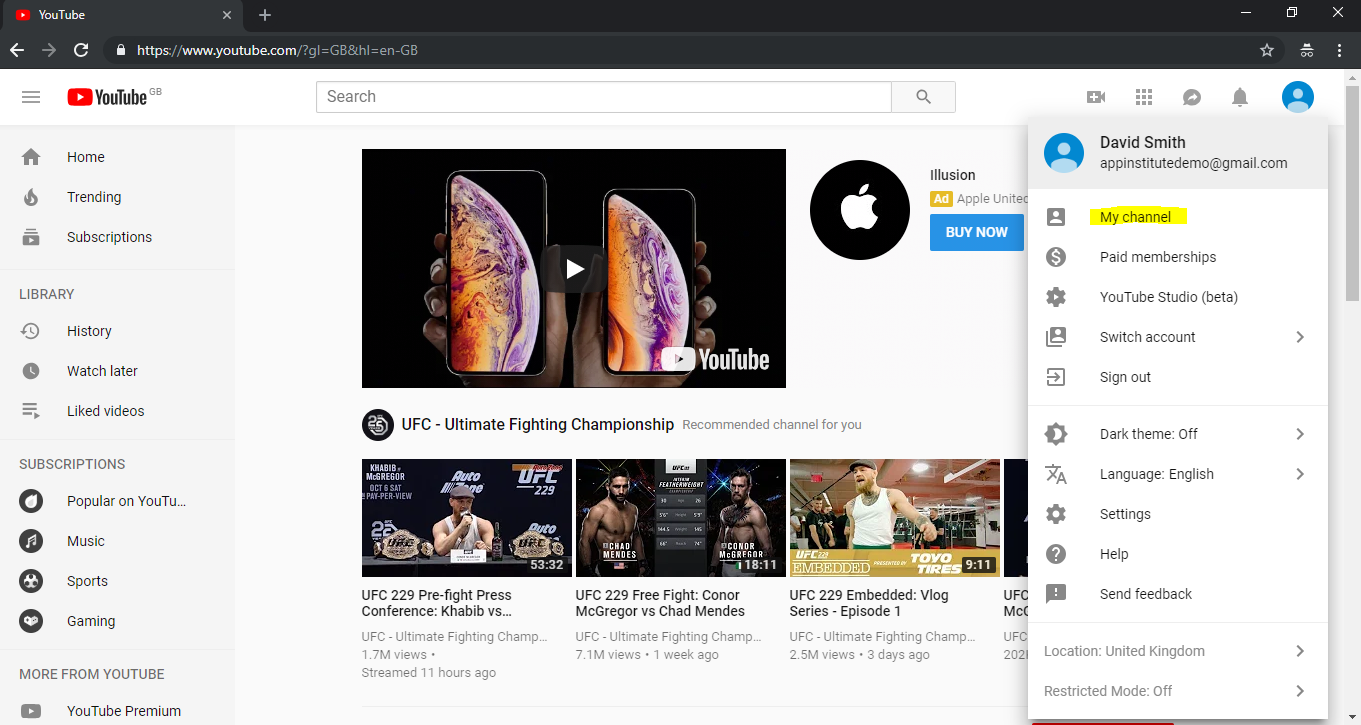 This will pop open a box that invites you to
'Use YouTube as…'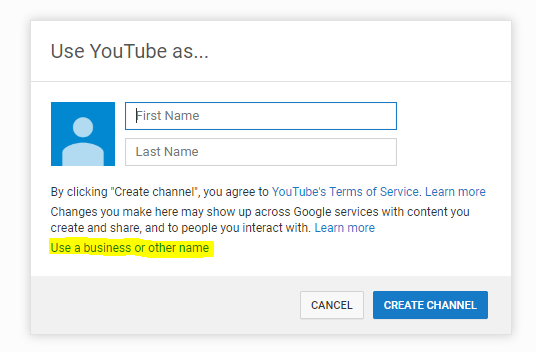 You can use your name in the main box or click 'Use a business or other name' below. Most businesses use a business name but if the business is an extension of your brand your name may be relevant.
This will open a window inviting you to add a 'Brand Account Name'. Add your name and click 'Create'.

And you're good to go.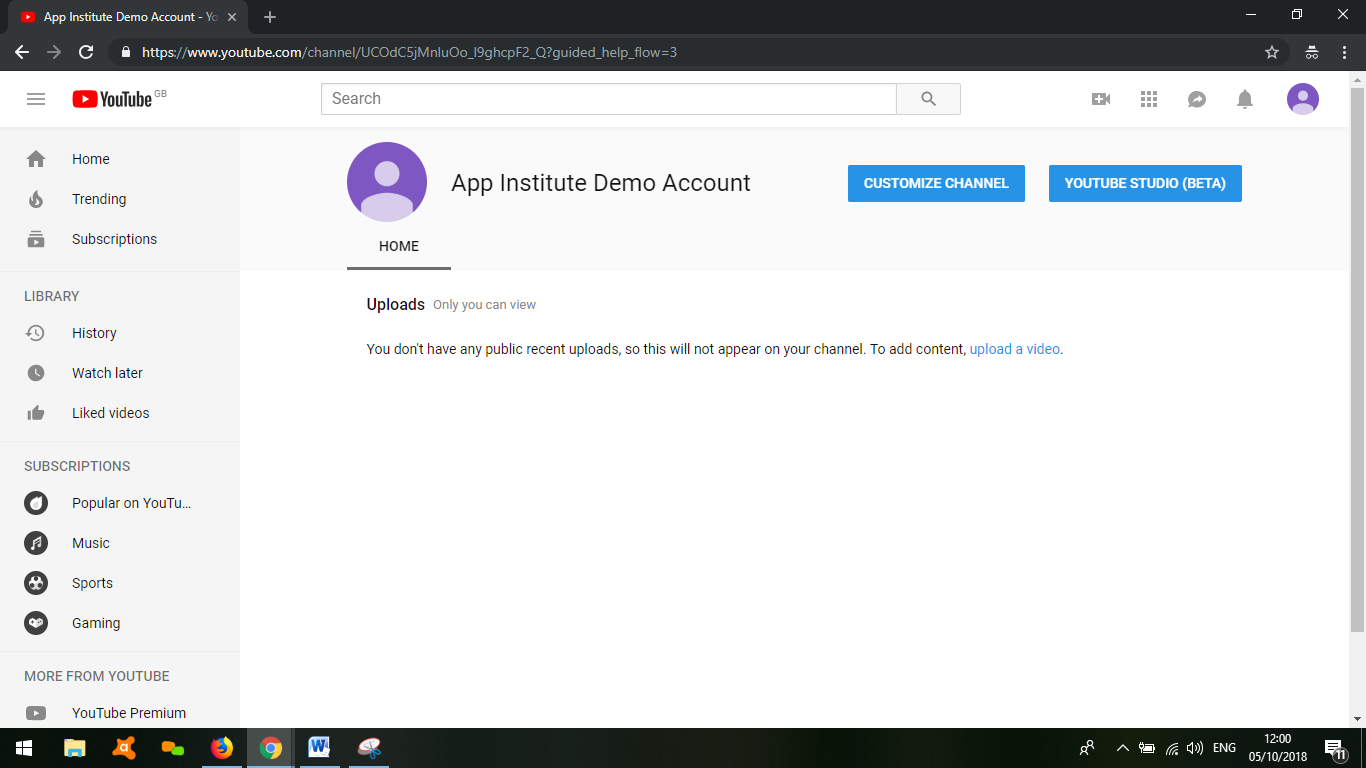 The Look and Feel
YouTube is a very visual medium so getting the homepage looking great is an essential first step.

You can add a logo and a backdrop. YouTube help has more information on this; make sure you also check the image file and size guidelines (I've added them below for convenience).

Here are a couple of examples of clean and simple YouTube homepage art.
Cupcake Jemma's is simple, clean and friendly.

An incredibly popular channel with cool artwork is VSauce.

If the design isn't for you, then use Upwork or 99designs to hire someone for the design aspect. Don't underestimate this part – it's a visual platform, so you need to spend time making it look good.

About Section
YouTube calls this a channel description, and it's a space for you to give an overview of your channel. It's important for a couple of reasons – it incentivizes visitors to become subscribers, and it can help you appear in YouTube search results.
In the YouTube search results, the first 150 characters are displayed so this should entice visitors and optimize for the YouTube search engine. The Jimmy Fallon search below is an example of the YouTube search results.

A good channel description should include:
A clear introduction to what features the channel has to offer.
An explanation of the benefits a user will get from visiting the channel.
A clear call to action that drives subscribers.
Links to your homepage, see below.

On-Page Optimisation
Optimization falls into two main buckets:
Attracting visitors.
Ensuring visitors return.
Attracting Visitors
General SEO principles apply to YouTube. You need to optimize your page so that it is clear to the YouTube algorithms what content you are displaying. These steps will get you started in the right way.
Analyze User Behaviour
In the SEO world, there is a debate about building heavily optimized content for search engines versus simply writing great content. As search engines increase in sophistication, you need to do both. Ensure you write great content but be diligent about optimizing it so that it shows up on search engines. An important first step is analyzing user behavior, so you know what people are searching for.
Quora is a good way to assess how much interest there is on a topic and what people's pain points are. Let's say you wanted to set up an online course offering Google Sheet Support, searching Quora for Google sheets would give you an insight into what questions people have and allow you to look at the type of answers being written.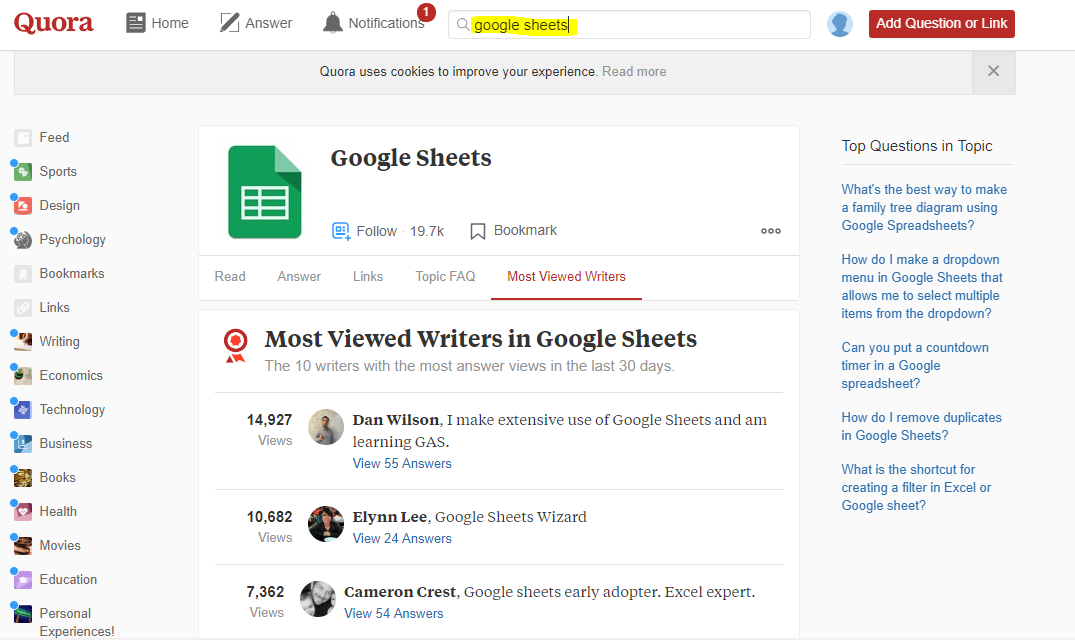 This will help you determine if there is a demand for your idea. You can then think about positioning your business to address customer questions effectively.
Another useful tool is Google Trends; it helps gauge how interesting the audience is finding a topic. Knowing what people are searching for will help you develop content that satisfies these searches. Start by adding the topic to the search bar.

Then click on the 'YouTube Search' which is nested under 'Web Search'.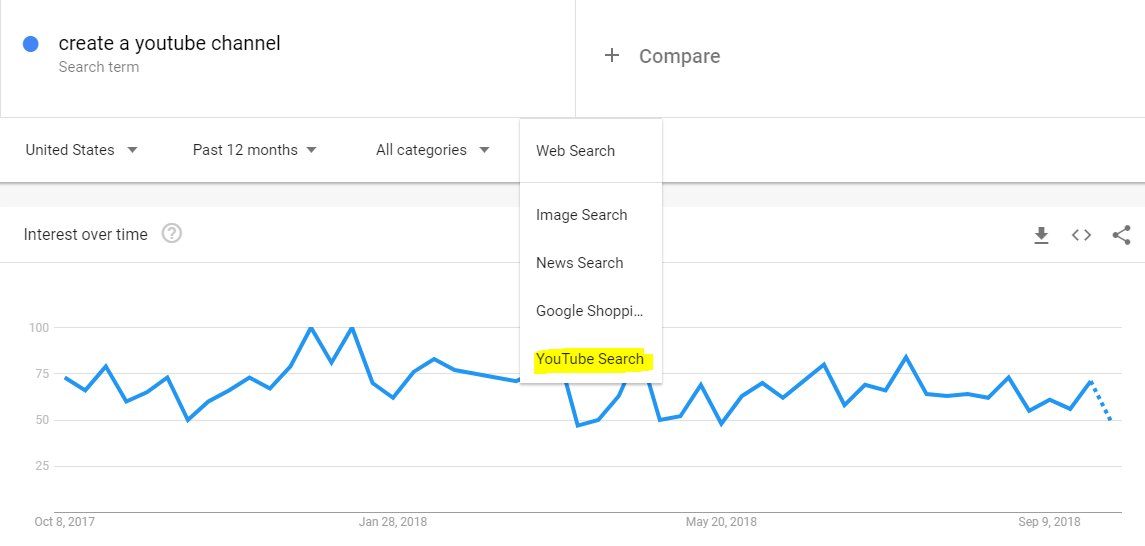 On the results page you can cut the data in different ways:
Country
Time Period
By sub-category
Compare with other terms
You can see data that looks at specific terms and pick terms that are growing in popularity.

There are many ways to analyze user behavior and whatever technique you use to make sure it's focused on determining the demand for a topic so you can be sure there is an audience for the content.
There are a number of tools that can give deeper insight into search volumes and how difficult terms are to rank for. Moz and Ahrefs are two respected solutions.
Video Optimisation
The principles are much the same to optimizing a blog post. Let's look at five of the key optimization techniques. We're going to look at:
Video Title
Description
Tags
Thumbnails
Transcripts
The first one is optimizing the video title; the idea is to include the keywords or phrases you're looking to rank for in the 70 characters title. YouTube will pick up similar terms, for example, 'test' and 'exam'. With all SEO there is a fine balance between writing for people and for search engines. Ideally, you want to do both.
As a starting point take a look at titles for similar videos that are performing well and if it's appropriate and you feel confident humor often works well. Popular recipe channel Tasty creates good headlines; they are compelling, aimed at keywords and clear.

The second tactic is including keywords in the description. You have 5000 characters to play with, so you can be a little more natural in how you include the keyword, with all that space you can also add multiple keywords. You can also include links to other relevant content. As with all optimization, it should seem relevant and natural to the audience.
The third tactic is adding tags to videos, which can help your video appear in related searches. There is a 500-word limit, and you can use this space to add related terms. It's questionable how much this really helps, and no one really knows – it certainly can't hurt.
You can see the tags for a YouTube page by pressing CTRL+U which will bring up the underlying code and then CTRL+F and type 'keyword', helpful when you're snooping around competitors. It will look something like this.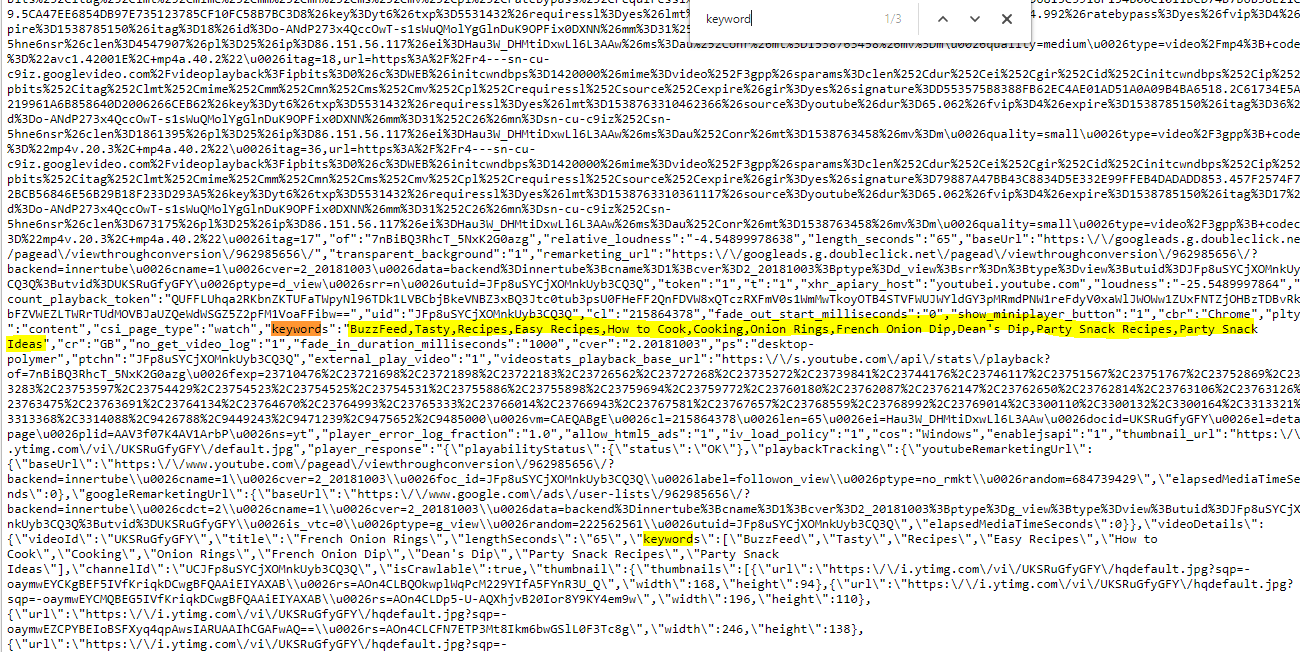 The fourth tactic is thumbnails and they're important for enticing users to click. YouTube's ranking algorithm almost certainly factors click-through rate. Here are some examples of thumbnails that capture viewers:
The well-known brand has a fun and friendly thumbnail strategy.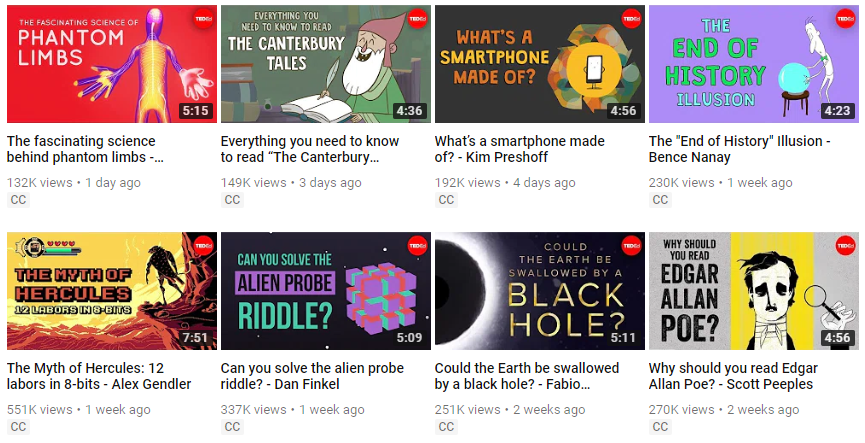 BuzzFeed's series of short videos of people in relatable situations has a consistent thumbnail policy. They use pictures of people facing everyday problems – it's designed to make you wonder about the people in the thumbnail, so you click and find out more.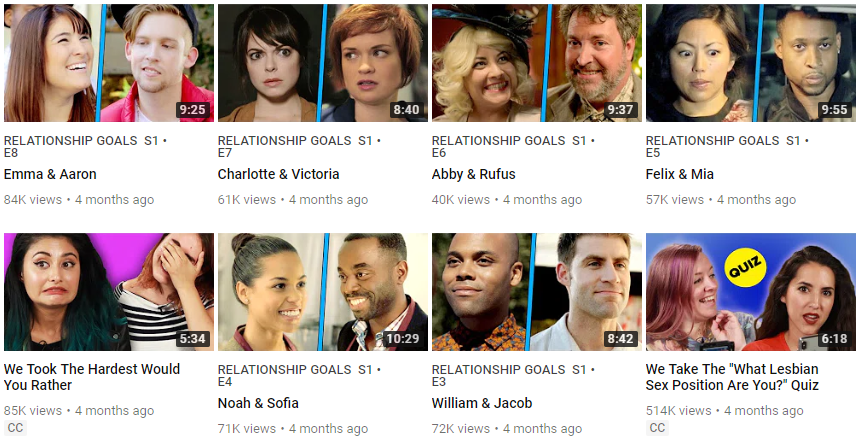 The final tactic is to optimize your transcripts. Google has some tips for creating a transcript file that is worth a close look. The key point is that you can use transcripts for YouTube SEO but do this by producing accurate transcripts rather than just adding keywords. This means your focus should be on making sure keywords are mentioned in the video.
Make Sure Visitors Return
The bottom line for YouTube business channel success is making sure visitors return. You need to make your content a) exceptional and b) targeted at a genuine need. It's worth reminding ourselves what works – according to Statista these are the YouTube channels with the largest subscription bases. Granted, most of these aren't conventional businesses (although they will have a commercial element) but it's useful to see what works well on YouTube to spark inspiration.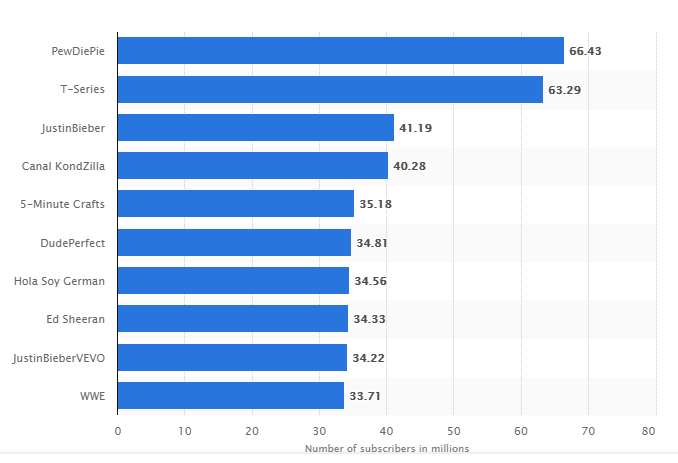 We're going to look at eight tactics for making your business YouTube channel a hit.
Have a Signature Production Style. This tactic has been used by TV producers for years, and the point is to make viewers comfortable with your style, so they know what to expect. This can be achieved in a number of ways: title, intro music, style of video, length of the video, the content of the video and closing section. Familiarity helps build your brand.
A clear value proposition. This is just a fancy way of saying that your videos should offer a ton of value. That value proposition could be anything but ideally tap into a big audience need. These are some examples:
Easy to follow DIY videos for people with no experience.
The best goals from around the world for football fans.
Advanced Excel tips for finance professionals.
Post regularly. This means you'll appear in more searches, improve your YouTube SEO and get viewers accustomed to watching.
Use a hook to keep people viewing your videos. With YouTube, there is a world of opportunity, and literally millions of videos to watch. You only have a very short window to keep people watching your video. A keyword here is curiosity: you need to make the viewer think that watching will be useful and/or entertaining.
Take a look at the video below from popular business speaker Gary Vaynerchuk. His channel GaryVee has 1.6 million subscribers. Vaynerchuk offers hard talking advice on business, and the video below is a good example of a good hook. He says:
"Imagine athletes stopping every time they heard people booing them or talking s**t."
It's designed to get people agreeing and get people on board immediately – they'll think 'no of course athletes don't stop…ah, and I get it I shouldn't care either…but I do? How is this guy going to make me stop caring? I want to hear more.'
<Embed this link to the video here>
End screens. These should lead to the promotion of other videos and/or calls to action that engages the audience further. You need to make the transition to the end screen as natural as possible so viewers stay on the video. If it just cuts abruptly this tells the viewer the video is over and they can move on – so keep it integrated.
Have different types of videos on your platform. As we've already mentioned different videos will engage different audiences, and some people will enjoy engaging across all of your videos. There is a tactic called "hub, hero and help" that covers three types of video.
Hub videos: These are about engaging with your community. That could be answering questions, encouraging audience participation or showing a behind the scenes look at your business.
Hero videos: These videos tend to be topical and highly shareable; they're normally about recent events, the Olympics or Valentine's Day.
Help Videos: These videos drive search traffic and are developed to address audience needs like advice or 'how to' videos.
Off-Page Promotion
This is a series of tactics to drive viewers to your Business YouTube channel. You are only limited by your imagination.
Promoting your business channel on your other channels (blog, email signature, email list), contributing to other communities like Quora and Facebook, sponsoring events and appearing on other channels are all good tools. There will be a lot of trial and error in promotion until you find a medium that works.
Don't be afraid to be creative here. An interesting PR angle, appearing on a radio show or handing out flyers dressed as a Panda may all be right for your business in the race for subscribers.
A word of caution: don't get addicted to novelty. Using mainly tried and tested techniques like building your profile by contributing helpfully to the community, generating links from high authority sites and being a guest contributor should all be your focus.
YouTube Ads
Unsurprisingly, YouTube advertising works in much the same way as Google AdWords; you can read more and get started here.
The medium allows you to select a video to promote, choose a title and description. Once you've built the video advert you need to decide where to send clicks – this can be to your YouTube channel or website. Then you can set a daily budget and target audience.
While these ads are simple to set up, a lot of people waste time on paying for traffic because they haven't built a campaign focused on the audience they're attracting. Make sure that there is a clear reason why your target audience will click on your video. Once they've clicked on your video, have clarity on what you will do with their attention. Sell them something, add them to a mailing list, add them as a subscriber.
As an example, Lego took advantage of people searching for 360-degree videos by building a video advert that appeared when people type in "360" video. This is effective because Lego has 360-degree videos that are impressive. I'd guess Lego has stipulated this appears on searches for a certain demographic or people that have been engaged with Lego (like me when writing an earlier part of this article). The video is designed to pique user interest and build their subscriber base.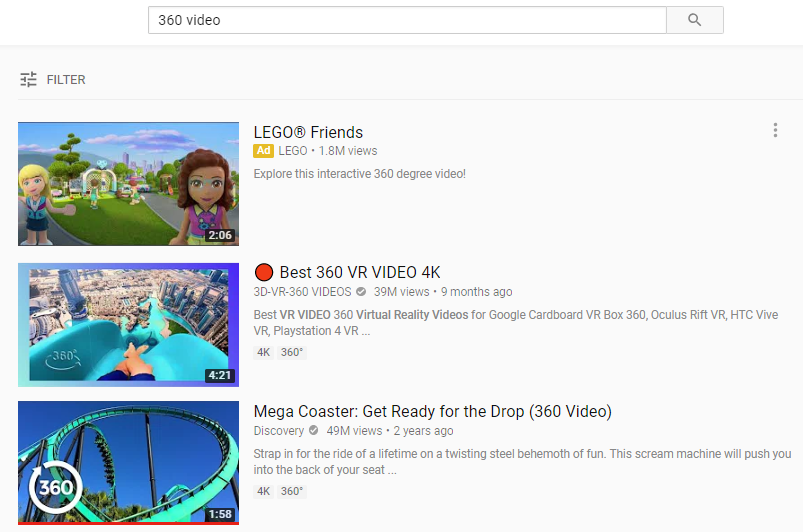 Conclusion
Setting up a business YouTube channel offers an incredible medium for many businesses. The most pressing question for you should be: Is YouTube right for my business? The second question is: Do I have the resources to realize my vision for the channel?
Building and running a YouTube channel is time-consuming, so make sure your answer to the above questions is yes and yes.
If you are convinced of the business case and plan to press ahead, we'd advise getting your hands dirty and experimenting. It will likely take some experimentation before you get into a groove of producing content that delivers results. Every polished YouTube channel you see today had humble beginnings so don't be put off. As a medium, YouTube is set to grow, so go and get started.
---