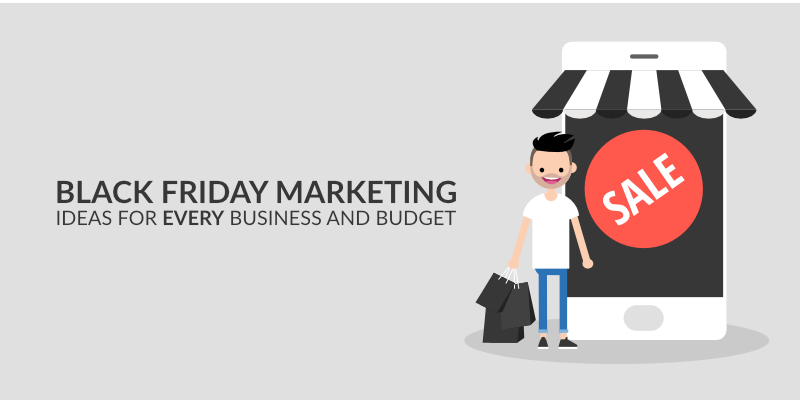 Black Friday was commonly known as the day where retailers would go back into the "black" following a year of operating "in the red". At a loss, in other words. The term didn't come into widespread use until the 1980s. Since then, the day has evolved into a key event for many businesses – across both sides of the pond. 2017 online sales hit £1.39 billion in the UK alone, up 11.7% from the previous year. Every business can benefit from participating in a Black Friday promotion. There's a significant increase in spending on Black Friday compared to normal shopping days – as much as £7000 per hour in some cases. But with so many businesses jostling for attention, your Black Friday marketing ideas need to be nothing short of spectacular.
Black Friday brings some unique challenges for business leaders. There's standing out from the crowd, offering unique deals that attract the most sales on the day, and ensuring your supply chain can withstand the added strain. Black Friday takes place in November, straight after Thanksgiving. Your Black Friday marketing planning should begin by October at the latest, in order to make the most impact.
Your marketing campaigns will be influenced by your budget, your target customers and whether your business is online only or bricks-and-mortar. It's not just retailers who can benefit from some Black Friday marketing. Restaurants, subscription services, course providers and many others can offer Black Friday deals – if you sell something, you can benefit.
To get you started, here's some ideas that will suit every need and budget. Use these as a starting point and inspiration for your own marketing campaigns.
Marketing for before Black Friday
Produce a gift guide
Black Friday is a popular day to grab some Christmas bargains, because it takes place little over a month before Christmas Day. To entice potential customers and highlight specific products, it's worth creating a gift guide that champions some of your best products and Black Friday discounts. These don't have to be traditional gift guides (for your dad, for teenagers or for your mother-in-law, for example) but can also be more specific, such as a gift guide for football fans, animal lovers or aspiring chefs. Using specific terminology for your target audience will help you rank on search engines for those results. The phrase "fitness gifts for him" will attract more relevant customers than just using "gifts for him".
Your Black Friday gift guide could either be collated through categories and tags on your website, or standalone blog posts and even Pinterest boards. You can also do a mix of every method and promote your gifts even more.
Be media-savvy
Once you know what promotions you're running and what products are discounted, reach out to any journalists who might be interested. Many publications now feature Black Friday discount guides for their readers, and landing on one of these could drive a lot of customers to your store or website.
Journalists usually start researching potential discounts to feature around a month or so before the big day. So you'll have to begin outreach now. Email any journalists who previously covered Black Friday deals, or monitor the #journorequest feed on Twitter. Bloggers also cover Black Friday deals for their readers. Some publications are industry-specific, some will only feature technology and gadgets, others only cooking or baking equipment. Make sure your Black Friday discounts are relevant to the journalist and publication you're contacting.
Plan your Black Friday email marketing campaign
A whopping 1.5 billion emails are sent on Black Friday on average. Email overload on Black Friday and the weeks beforehand can really impact your open and click rates. Your emails will have to be top-notch and highly targeted. Therefore, you'll need to plan your email marketing campaign at least a month in advance, including initial introductory emails, follow-ups and on-the-day communications.
If you don't already have an email list, start building one now by promising exclusive discounts and sneak peeks of offers. You could set up a VIP group that the first 100-200 subscribers obtain access to. Target any customers who have purchased within the last 30 days as your business will be fresh in their minds. You could also run some banner ads to attract people from other sites to visit your website and sign up. Likewise, if you have a physical store, invite people to sign up at the check out.
Run a Black Friday email campaign that gets people excited for the day. Tell them some of the offers they could expect, or offer an early-bird access for loyal customers. Clothing retailer Scandi Mini offered early access to any customers who signed up to its newsletter during Black Friday in 2017.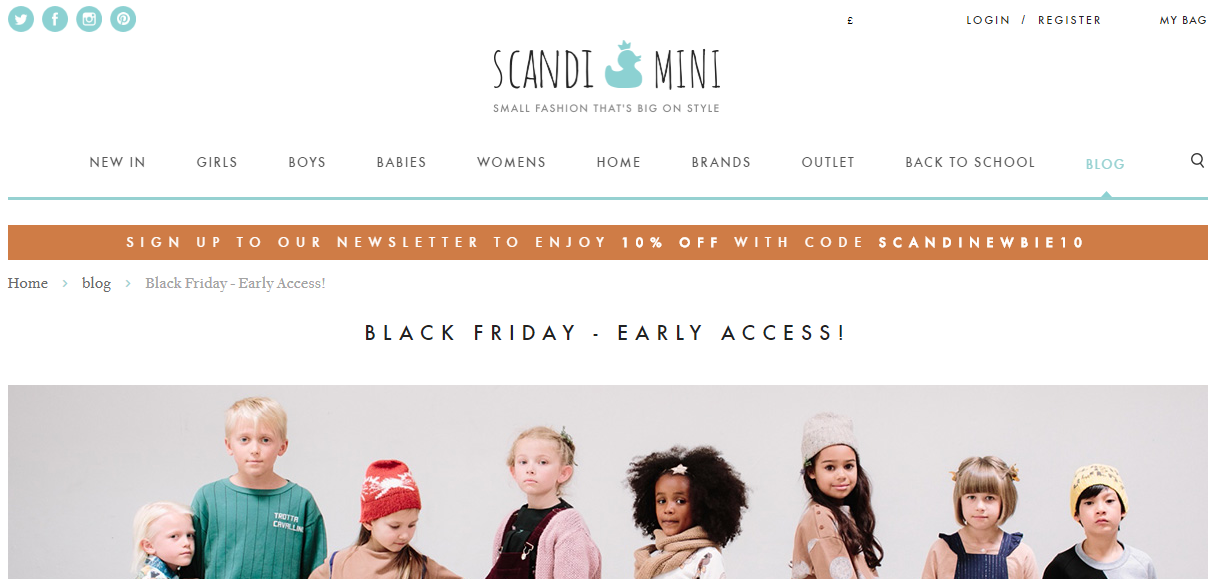 On Black Friday itself, email specific deals to customers to encourage them to keep checking back online. You can release discounts every hour or so, in a similar style to Amazon on Prime Day.
Your subject lines need to be attractive on Black Friday because there are so many promotional emails for customers to sift through. Put your discount in the subject line so customers know instantly how much they'll save. Make it time-dependant too, so people feel the urgency to open and click your email. Something like, "50% off ceramic cookware until 4pm" gives enough information for users to decide whether to open and click through to the deal.
Time zones are another consideration, especially if you have a global business and mailing list. Every target audience will be online at different times, so it's worth running a few emails before Black Friday to understand the best times for your business. If sending emails beforehand, you can also include an "Add this event to your calendar" section that directly links to your store.
Segment your mailing list based on the types of products your customers have bought, how often and their location/time zone. That will keep your communications super-specific and will cut through the noise on Black Friday.
Offer a sneak peak
This is a relatively easy Black Friday marketing idea and it can tie into your email marketing and other campaigns as well. You could create a short video or GIF off products that will be on offer and then share this on social media and via email or blogs. This will build anticipation for your offers on Black Friday. As a double whammy, you can offer a sign-up for exclusive email discounts to further build your mailing list.
Other marketing channels that can work for sneak peeks are website banners, programmatic ads and push notifications via an app. If using social media, make sure you use specific hashtags such as #blackfriday #cybermonday #sale #blackfridaysale and #blackfridaydeals to get your posts in-front of the right people.
Make it known
A major step in a successful Black Friday campaign is making the deals well known beforehand. That includes a mix of PR, email marketing, social media, blogs and banners on your website.
When someone lands on your website or walks in-store, they need to know that any Black Friday promotions are time-limited and not just an everyday price. Don't use generic terms like "sale price" or "discount price" on Black Friday. Instead, use "Black Friday price" or "Holiday price" so people understand it's only running for a day.

On-the-day Black Friday marketing ideas
Consider exclusive products
If you have some new products launching around Black Friday, consider making them exclusively available for the first time over the holiday. That'll boost the day's sales.
A countdown timer on the product page can add urgency to sales. Make sure that you include some information on the product stating that it is a Black Friday exclusive deal. It'll encourage people to buy now rather than later.
Offer a 'Deal of the Hour'
Similarly, you can offer an hourly deal that keeps surprising your customers and encouraging them to return to your ecommerce store or website throughout the day. This is shown well on Prime Day, when Amazon runs lightning deals that unlock every few minutes.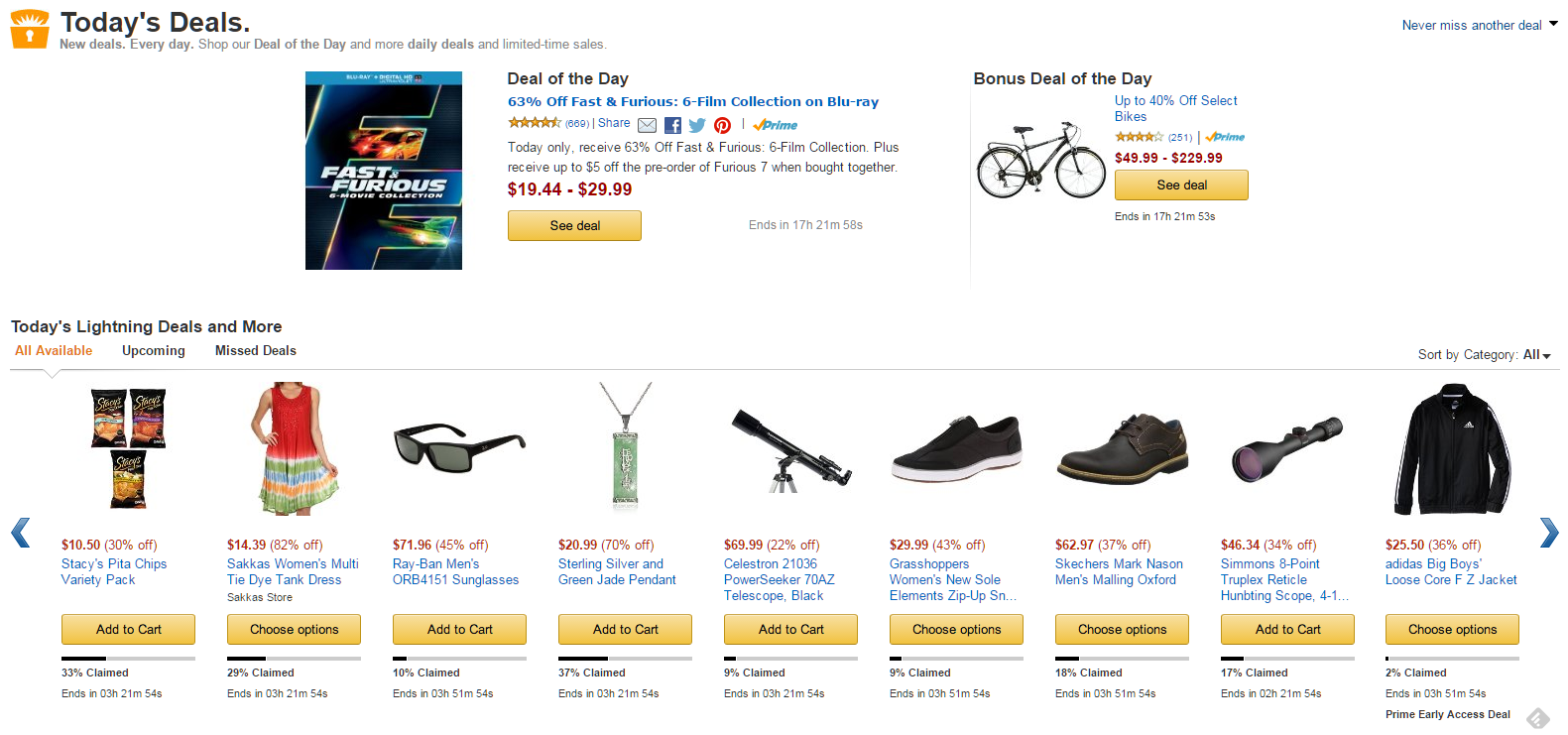 But don't just offer one or two hourly deals. Keep a discount on other items too, to encourage people to buy across your store. If items are discounted 25% on your website, then your Deal of the Hour could double that, to 50%.
Promote your hourly deals on the front page of your website, as well as social media and via email – if appropriate.
Flash sales can be highly effective, in some cases leading to a 51% growth in web traffic and a 236% increase in revenue. However, if you are a sole trader and don't have a team behind you, then offering an hourly deal might be too resource and time intensive for you.
Offer a free gift or shipping
Offering a free gift or shipping on Black Friday can reward customers for spending over a certain amount – or for purchasing from your store in the first place. Items that work best for this style of promotion are generally easy to pack and ship with a larger order. Consider small items like bracelets, power banks or gloves.
This doesn't just apply to retail stores, but restaurants and cafes could take part too. In 2017, U.S. based Cumberland Farms offered a free hot drink to every customer for 24 hours.
Don't just stick to Black Friday
Black Friday has become such a popular holiday, that several businesses have extended sales beyond the day itself. The Monday following Black Friday, known as Cyber Monday, is a growing sales day for online businesses. Many ecommerce stores and even some physical retailers, extend their sales over the entire weekend as a result.
Extending your sale beyond 24 hours can draw in more customers and sales, drawing in more revenue throughout the weekend. However, it could cannibalize some sales on Black Friday itself. You could also run some Black Friday tasters, deals that come out a week or so before the holiday.
Make sure your infrastructure and supply chain can handle Black Friday to the best ability first. Once you've got that day prepared, you can begin working on extending your sale to the week beforehand or the weekend after. If this is your first Black Friday sale, stick to just the day first to iron out any problems before committing to a longer sale period.
Increase online ad spend
During Black Friday, the number of businesses advertising on social media and via banner ads will increase. This will drive up the cost-per-click for your adverts and could mean that it appears to less customers during the holiday. Increase your budget a few days before Black Friday to give your ad enough time to optimise for conversions and allow you to tweak it before the event.
Consider getting live chat on your website
Live chat can make-or-break a sale on Black Friday. Especially if your products are a bit complicated, such as bicycles. PlanetX is a specialist bike store that offers a live chat function for customers to pick the right bicycle.
On Black Friday, you're likely to have an influx of customers who are contacting you about products or offers. Live chat will respond quickly to these customers before they leave your website.
Another potential idea to stop people leaving is to include any common questions (to do with shipping and returns, for example) in a dedicated Black Friday FAQ page.
Create an air of mystery…
Surprise is a marketer's best weapon. Zembula allows you to add scratch cards or other interactive offers to an online store. These interactive experiences offer something a bit different and more eye-catching for customers. Adding them at the checkout, or as someone leaves your page, can encourage them to remain and spend more.
Get an app or on the apps that matter
Shoppers spent almost 45 million hours in shopping apps during Black Friday. Apps are clearly big business during the holiday, so it's worth investing in a dedicated one for your business, or at least being included on the top shopping apps. These are Amazon, Wish, Etsy, and Zulily, according to a 2017 AppAnnie survey.
Having a dedicated app on Black Friday can offer exclusive discounts and information to users. It can also promote hourly deals through push notifications.
Remarket to cart abandoners
Cart abandonment is a huge problem for online retailers, but more so on Black Friday when there are so many deals and stores to choose from. Remarketing to abandoned basket customers can be very effective.
Click and open rates for cart abandoned emails are usually quite high. 45% of emails are opened, 21% of emails are clicked on and over 10% of customers will go on to complete their purchase. Alternatively, you could remarket via programmatic ads as customers browse on other websites.
Welcome pop-ups on your homepage
Welcome pop-ups that appear as soon as a customer clicks on your homepage can encourage people to sign up to a mailing list for future offers. Because customers are looking for deals on Black Friday, they may be more open to signing-up for future bargains. Pop-ups are also a good last-minute promotion that you can implement, if you've left your Black Friday marketing a bit late. Optinmonster offers an easily installed plugin that works on most websites (on WordPress).
Make it a team effort with other businesses
Smaller businesses might struggle to be heard over the noise created by large, global chains. But partnering with other local small businesses can give you an edge. Plan a joint shopping event in your area to attract customers, or split the cost of an advertising campaign. Shout about your local businesses on social media and cross-sell with other businesses. Make Black Friday about more than bagging deals from large businesses, and take inspiration from Small Business Saturday's marketing ideas.
Keep your landing page all year-long
If you've spent time and resources in building and optimising a Black Friday landing page, why stop using it after the event?  61% of Black Friday deal hunters begin searching online for their purchases before the weekend of the holiday. Having an existing landing page with some holding copy about your yearly Black Friday event can be a good way to get on their radar. You could even ask them to sign up to your newsletter to be notified of your Black Friday sale. Make sure your landing page follows best practice (it's been A/B tested and is mobile responsive) plus it should feature evergreen content or have regularly updated copy.
Creating a new landing page every year means your SEO begins from scratch as well. That means your landing page is less likely to appear at the top of search results for Black Friday deals. Establishing a consistent yearly landing page can improve your ranking – just look at Currys PCWorld, that has a year-long landing page for Black Friday that always ranks highly in UK search results for the holiday.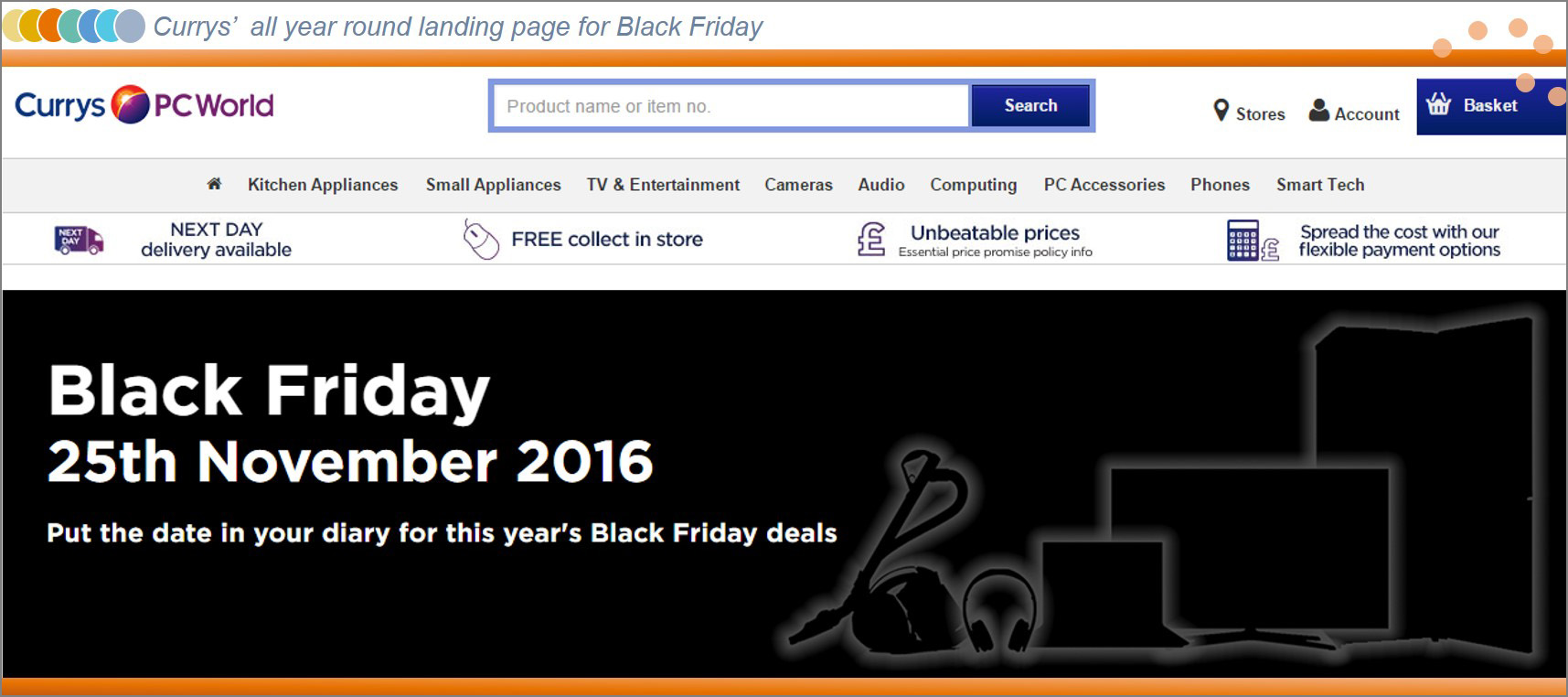 Cross sell and upsell different products
Upselling and cross-selling are great ways to sell more products to customers who are already browsing and purchasing from your store. Create combinations of complementary products that someone might be interested in, a dress with a necklace, shoes and handbag, for example. You could even partner with other businesses to offer some of their deals and vice versa.
Social media is a powerful way to spread the word about your Black Friday sale and also invoke some FOMO in your customers. Create a contest where shoppers can upload their Black Friday bargains under a specific hashtag or tag, and then use this content on your own social media to show the many deals you have on offer. The winner of this competition could get further discounts or even an all-expenses shopping spree. Plus, it'll encourage people to buy something from your sale if the competition prize is particularly impressive.
In-store you could set up some areas where people could specifically post that they are shopping with you to win prizes of unlock an exclusive discount. Finally, influencers might be keen to share some discounts with their followers, especially if you have an existing relationship or they are fans of your brand.
Sometimes, Black Friday isn't for you
Of course, for some businesses taking part in Black Friday doesn't really tie into their marketing strategy. Luxury brands, for example, might not feel that Black Friday discounts fit with their branding. Other businesses might find that discounting throughout the year works more effectively than on Black Friday.
The key is to always begin with your business goals and marketing objectives. If your target audience are unlikely to be swayed by Black Friday deals, then perhaps the holiday isn't suitable for you. There are other ways to take advantage of the holiday, however.
Black Friday profits or sales across the weekend could be donated to charity, for example. This might resonate well with Millennial shoppers, who are known to be more driven for social good compared to older generations. In 2017, the Ethical Superstore donated to a local food bank on every order over £30. One Mama One Shed donated all Black Friday profits to Alzheimer's Society, and Montezuma's donated to charity instead of discounting its products.
Not taking part in Black Friday could actually lead to more attention and press coverage. Asda didn't take part in the holiday in 2016, an action that made headlines across the UK when it was announced.
Black Friday marketing must start now
If taking part in the holiday, time is fast running out to plan and implement a successful campaign. There's a lot to get sorted, from creating mailing lists and campaign materials, to agreeing on partnerships or planning a physical event. Plus, many businesses have been working on it all-year-round, so you're already playing catch up. To make Black Friday a success for your business, you cannot leave your marketing to the last minute.
---