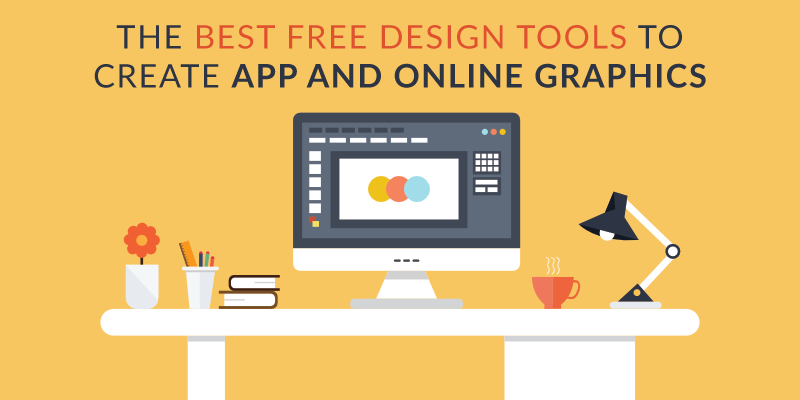 So you've decided to create an app for your business… great choice! You'll soon be reaching out to a whole new audience as you put your business at the cutting edge of technology, but first, you need to develop it.
You'll undoubtedly want your app to look great and portray your company in the right way, so for that, you'll need a variety of fantastic graphics.
From icons to headers, splash screens, custom buttons and much more, it can be difficult to know where to start when it comes to their design, but fortunately, there is a range of great, free design tools out there that can help you along the way.
Whether you have experience in design or are a complete novice, the following design tools enable you to create fantastic looking graphics no matter what your experience level.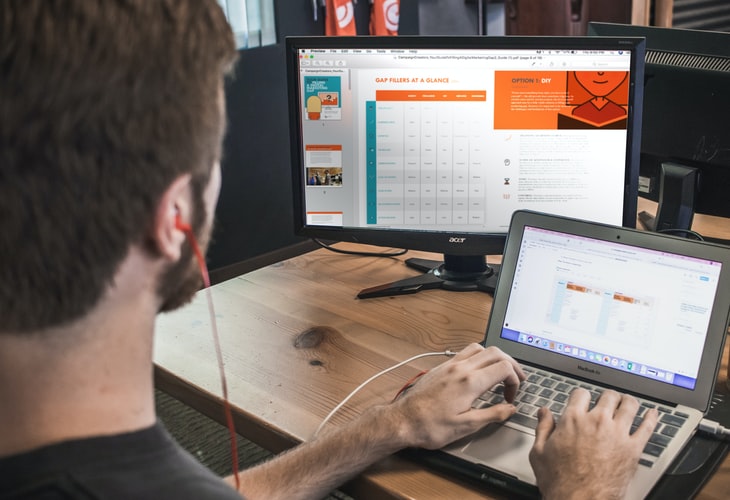 Image: Campaign Creators/Unsplash. 
Free Templates
Canva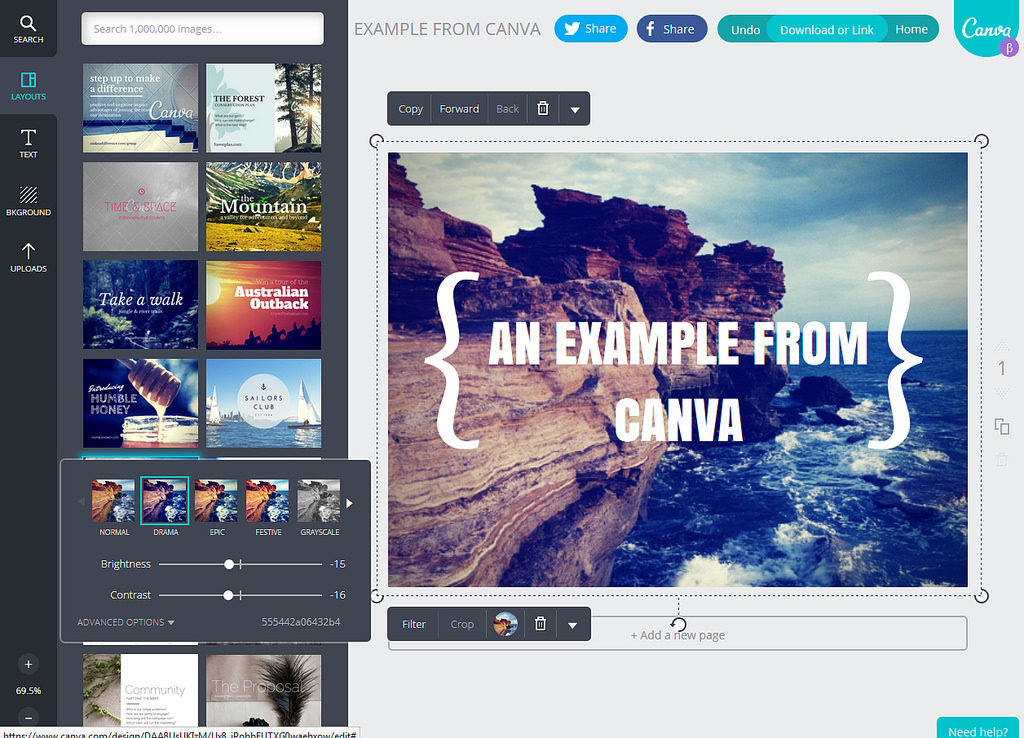 Canva is one of the most popular free design tools out there, and with its easy to use drag and drop functionality, great choice of templates and illustration options, it's not hard to see why.
With Canva, it really doesn't matter if you haven't designed anything before as the straightforward drag and drop interface lets you add text, uploaded images or graphics from their extensive library anywhere onto your base design.
You can use Canva as a tool for creating the following content:
Social Media: Canva has free templates to create beautiful Instagram and Facebook stories, posts and covers.
Personal: Users can choose from a variety of invitations, cards, resumes, postcards and even t-shirts.
Business: From presentations, websites, logos and invoices to business cards, Canva has it all.
Marketing: There are also appealing templates if you need to create an infographic, posters, flyers, proposals or newsletters.
Education: For all your educational content needs, Canva offers great lesson plan templates, certificates and class schedules.
Additionally, you can choose one of their preset sizes or select your own to ensure the finished graphic fits perfectly into the designated space on your app design.
With over 10 million active users, Canva makes the job of designing graphics fun and easy, and what's even better is that it is completely free to use; giving you access to over 8000 features, a large proportion of their stock library and 1GB of memory.
Klex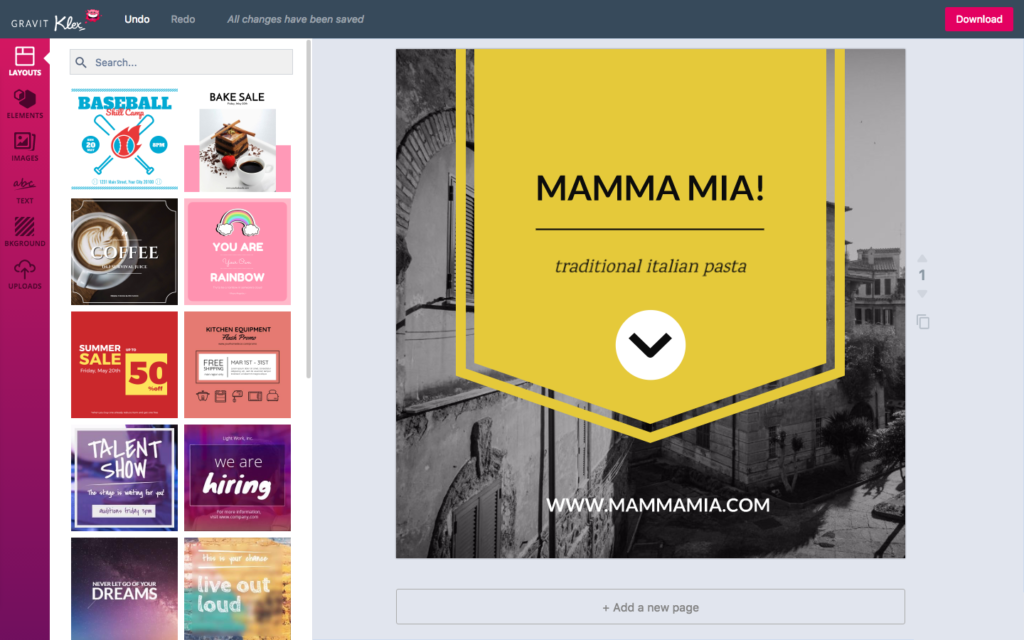 If you want to create great-looking graphics at speed, Klex is the platform to do it on. This design tool hasn't been designed with professional designers in mind, therefore for all you design novices out there, this is a great place to start.
You can choose from a wide variety of existing templates as well as a plethora of design tools, effects and fillers. There's then a choice of fonts if you want to add text to your designs alongside some fab customisation options too.
To dip your toe into the design world, Klex is a great tool to mess around with and we can guarantee that you'll surprise yourself with the quality of the results you produce.
HubSpot's 15 Free Infographic Templates 
HubSpot offers users free, easy-to-use infographic templates for PowerPoint and Illustrator.
The 15 customizable infographic templates can provide you with some much-needed inspiration to design your own infographics in PowerPoint or Illustrator.
Better yet, HubSpot's customizable infographic templates show you how you can work with a theme, design icons and shapes, create a colour scheme and use fonts for design.
Easelly
Easelly is another online infographic design tool. Users have access to thousands of images and infographic templates and can also have one of Easelly's designers create a design for them.
There are even articles and webinars created to inspire users to make beautiful designs. Easelly is perfect for teachers, students and business owners who need to take complex information and turn it into an easy-to-follow format.
Easelly also has various premium plans for students, individuals and businesses.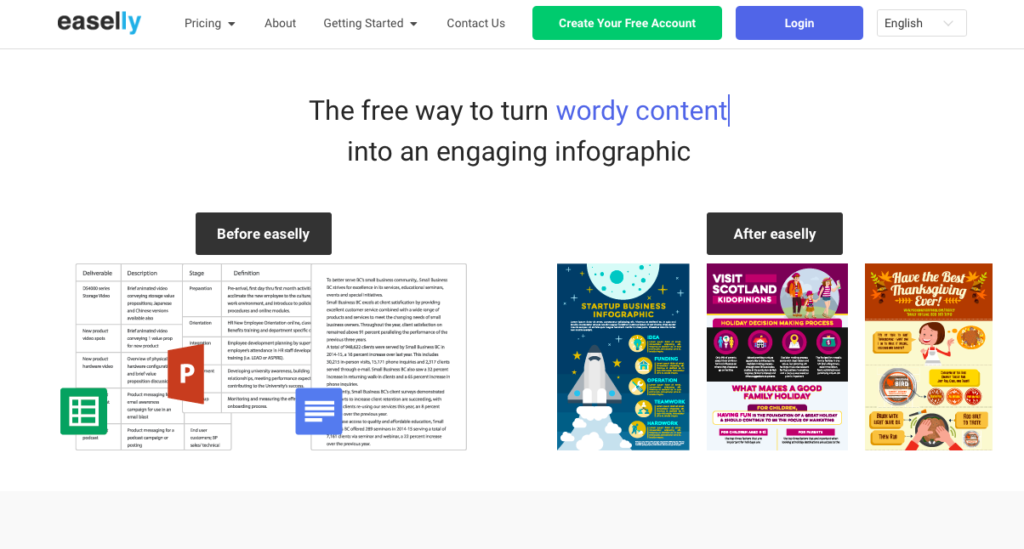 Pablo
If you're looking to create engaging social media posts for your app or business, Pablo by Buffer is the tool for you.
Users can search through over 600,000 free images to create social media graphics and posts that are guaranteed to catch the attention of their followers.
Snappa 
As the name suggests, Snappa allows users to easily create online graphics for social media, blogs and ads in no time at all.
Snappa also allows users to choose from thousands of pre-made templates, fonts, vectors and stock photos. This online design tool also allows users to resize photos for various social media platforms.
Additionally, Snappa allows users to upgrade to a premium version of the program and has different prices for individuals and teams.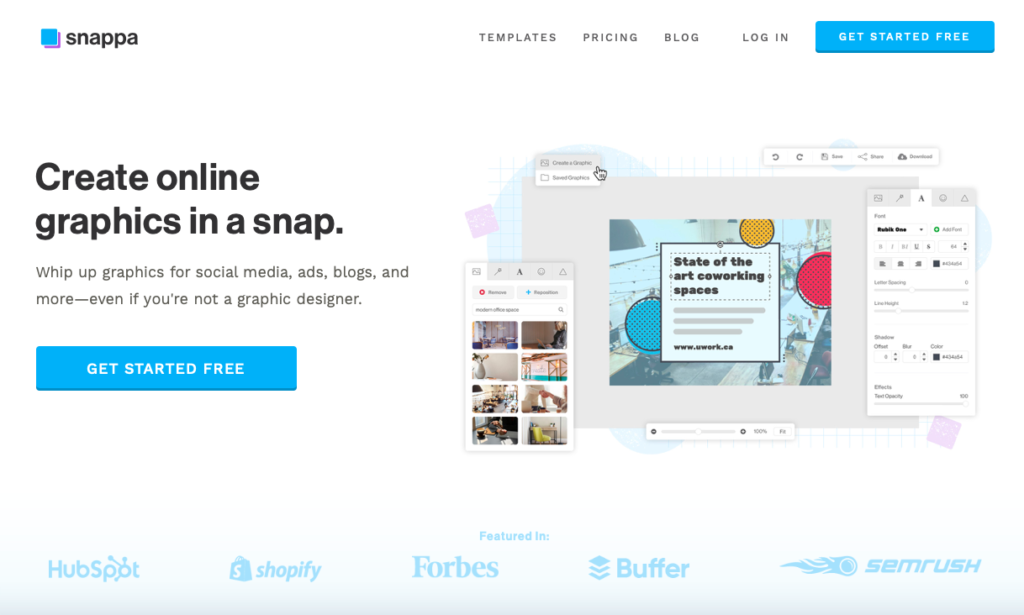 Free Font Design Tools
Pro tip: don't forget about your font designs!
When creating an app or online content, don't forget that fonts play a major role in user experience.
Many of the free design tools we have mentioned in this article come with thousands of built-in fonts for you to choose from.
Remember to look carefully at the free font design tools and keep the end-user in mind to create an easy-to-read and attractive app interface.
Free Photo Editing Platforms
Adobe Photoshop Express
Can't afford Adobe Photoshop? No problem. Adobe Photoshop Express is a free photo editing and collage-making application.
It is available on iOs, Android and all Windows devices with Windows 8 and above. Adobe Photoshop Express is a nifty program with a drag and drop feature to quickly edit and transform photos.
Although users have many of the same features that are available on Photoshop, there is also the option to upgrade to premium features to make more advanced edits.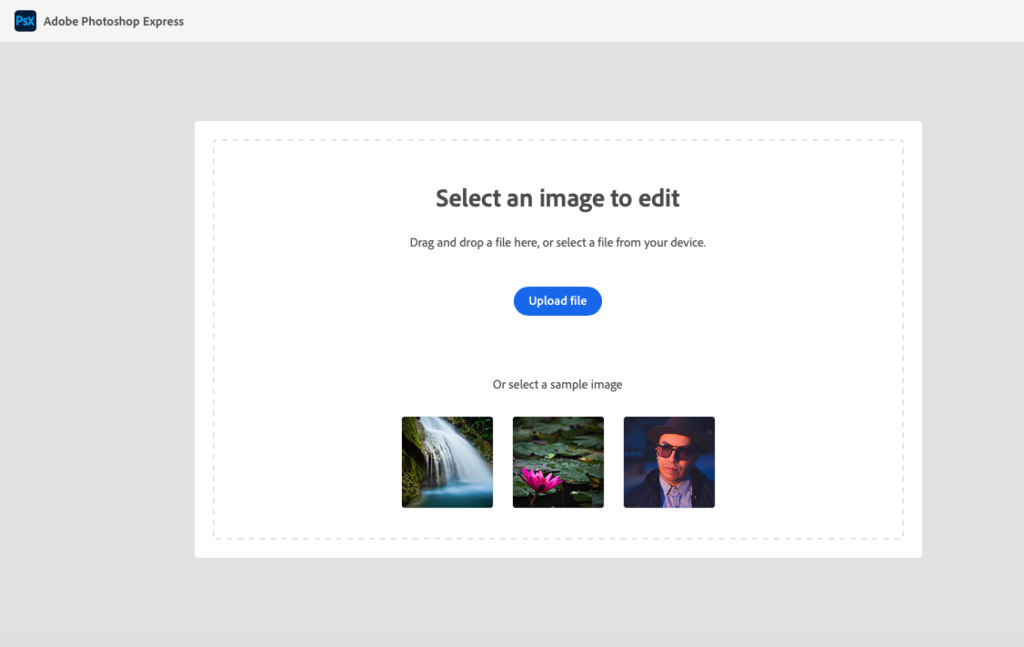 Pixlr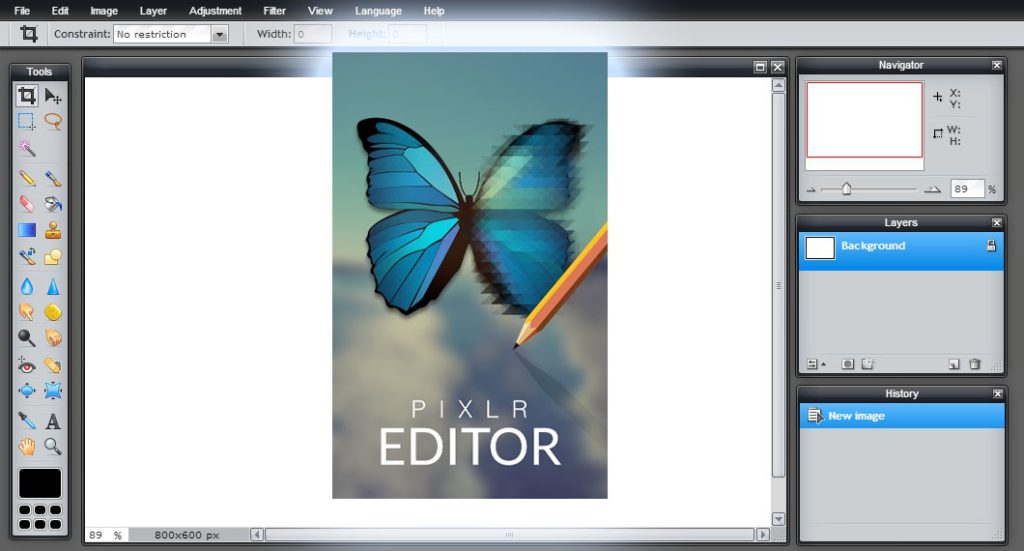 If you're looking to use photos within your new app, Pixlr enables you to edit and play around with its various effects, overlays and borders. It is an app available on both iOS and Android, so you can upload any photos directly from your phone.
This photo editing tool has over 600 effects to choose from to add to your photos, as well as being able to do everything else you'd expect from a photo editor such as cropping, resizing, whitening and removing the increasingly common red eye.
If you've used Photoshop to work on photos in the past, you'll soon get to grips with Pixlr as its interface is very similar and arguably more straightforward to use.
Fotor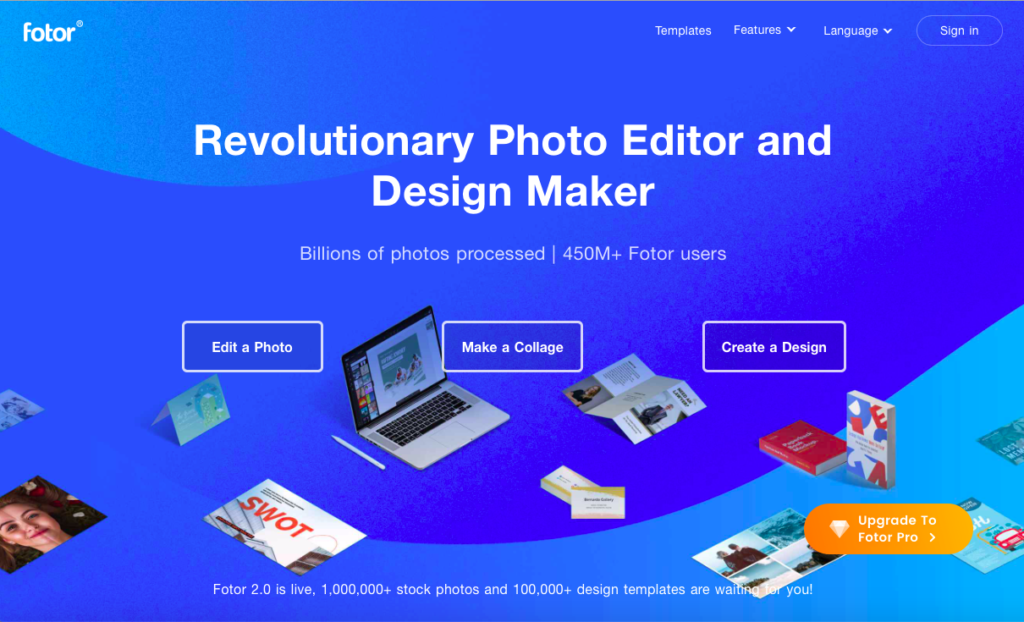 Fotor is an online photo editing platform that is available on any mobile device or desktop software.
Users can also enjoy thousands of stock photos, design templates, tutorials and guides to get the best out of their images.
BeFunky
BeFunky is a great online design tool if you are looking for a photo editing platform with a range of graphics, frames, effects and textures.
If you're looking for a platform that can easily edit photos, create engaging graphic designs and photo collages, then BeFunky has all of the tools you need.
BeFunky also has a variety of tutorials and inspiration for users to learn design tips and make the most out of the platform.
There is also an option for users to have access to BeFunky Plus, which starts at $4.99.
GIMP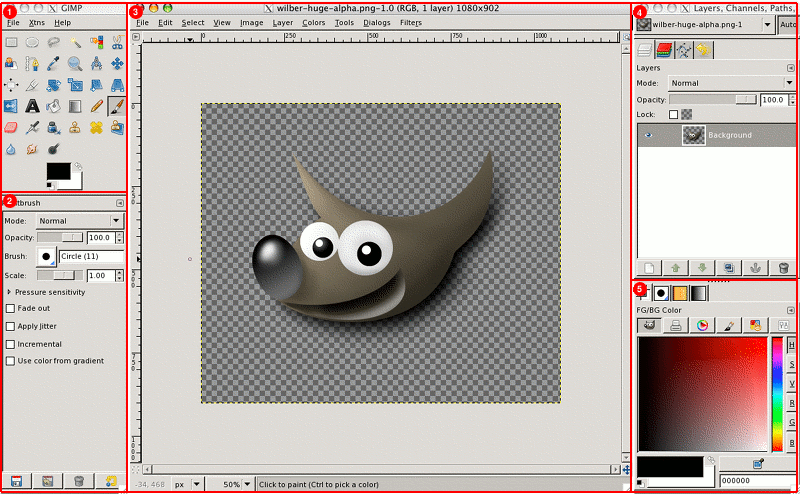 GIMP (GNU Image Manipulation Program) is open-source graphic design software that an increasing number of people are migrating over to from Photoshop.
The interface is different in many ways, however, there is a version that replicates Photoshop's look and feel, making it easier to move from the old to the new.
You then have access to a full suite of tools to help you make incredible looking graphics, including the trusted favourites like painting tools, cloning, colour correction and enhancement.
What's also great is that the development team have created a product that offers compatibility with all of the popular file formats, therefore making it easy to upload any existing graphics that you want to make amendments to.
Free Vector Design Software 
Gravit Designer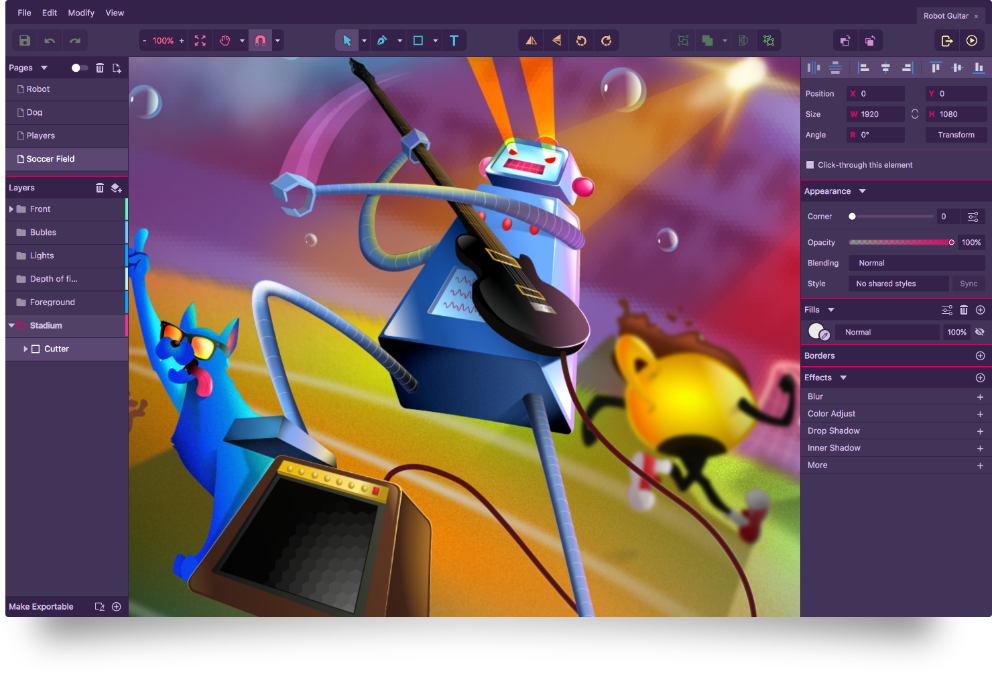 A great choice for designing splash screens and vector graphics for your new app, Gravit Designer is clean and easy to use, with an interface that will adjust to exactly how you need to use it.
There is a great choice of tools for you to take advantage of, including a knife tool, blending modes and much more that will go a long way in helping you to create stunning vector graphics that will perfectly complement your new app.
This free graphic design tool is well worth playing around with as you get to grips with the many different elements to it, however, with a little investment in time you can make the most of all that the software has to offer.
Inkscape 
Inkscape is a free online vector graphics editor used to create vector images in Scalable Vector Graphics (SVG) format.
Moreover, Inkscape offers several features for illustrations, logos, cartoons and typography which makes it perfect for app developers, too.
The best part is, Inkscape is absolutely free.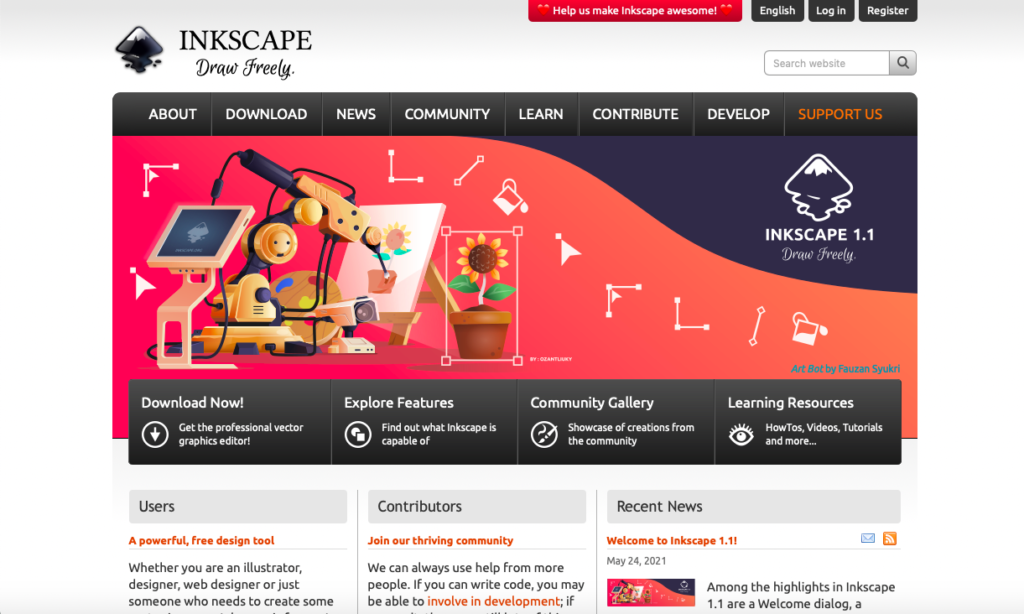 Vectr
Vectr is another free graphics software that allows users to easily create high-quality vector graphics.
Additionally, Vectr's design tools allow users to create blur-free logos, website mockups and presentations.
Another great feature of Vectr is that it allows for team collaborations so that designers can work on designs and projects together.
Free Colour Tools 
When designing your app, elements of your website or social media graphics, you need to keep your colour palette and branding consistent. Luckily, there are free design tools that can help with this.
Colourmind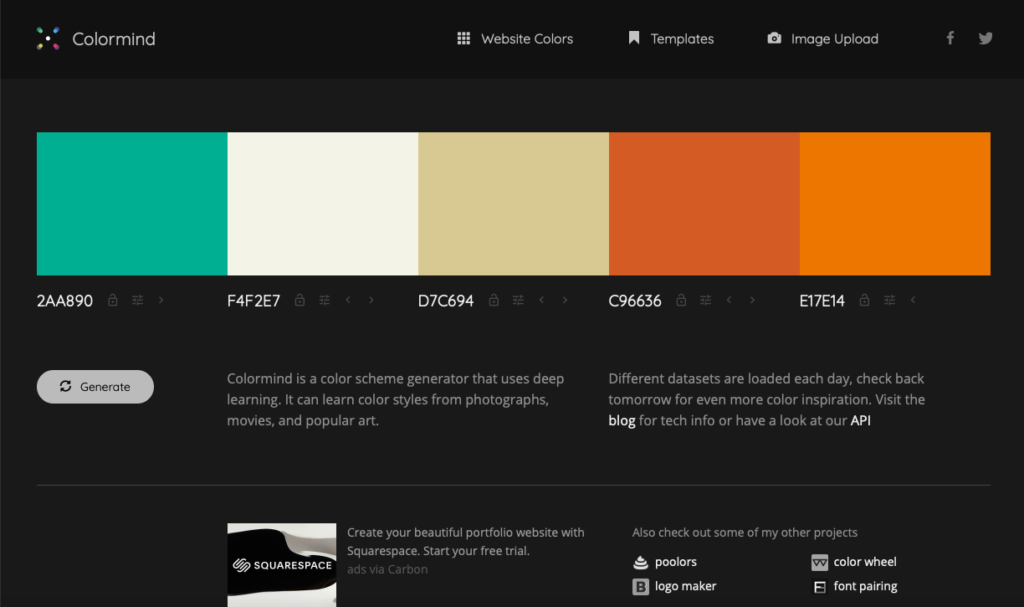 Colourmind is a colour scheme design tool that uses deep learning. This free online software can learn colour styles from photographs, movies and even popular art.
Better yet, Colourmind is updated each day with new datasets and has a variety of templates for users to choose from.
Coolars 
Coolars is another design tool that allows users to create their own perfect colour palette or be inspired by thousands of other colour schemes.
If you have no idea what your colour scheme should be, Coolars will give you recommendations and access to their HEX codes.
This colour scheme design tool is also used by well-known companies like Walt Disney, Netflix, Dropbox and Apple, to name but a few.
ColorZilla 
If you are a web developer or graphic designer, ColorZilla was designed for you. This free design tool is a Google Chrome and Mozilla extension to help with colour-related tasks.
ColorZilla includes an eyedropper tool, a gradient generator and a colour picker. This design tool allows you to get a colour reading from any point in your browser, adjust it and add it to another program.
Free Stock Photo Platforms
The next design tools your app or web content needs are free stock photos. Here is a list of websites where you can get high-quality stock photos for free:
Unsplash 
Unsplash is a website that is dedicated to sharing free stock photos under the Unsplash licence.
Users looking for high-quality stock photos can go onto the Unsplash website and search through and download images by over 207,000 contributing photographers.
On the Unsplash website, you can also find professional photographers in your area that are available for hire.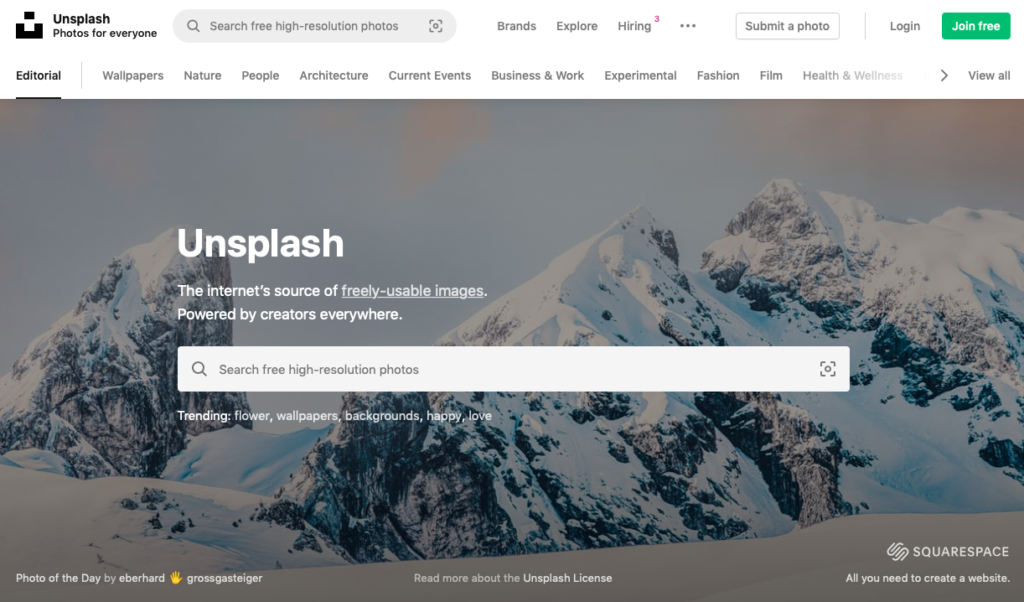 Burst
Burst is another website where you can download free, high-resolution images and is powered by Shopify.
Not only are Burst's photos perfect for blogs and websites, but they are also great for commercial use.
Burst's website also allows users to scroll through collections of images if they are unsure of what they are looking for.
Vecteezy
Vecteezy is an online platform that allows users to download free vector art, stock photos and videos.
Furthermore, Vecteezy's network of contributors continuously add free content to the website so you have tonnes of content to choose from.
Users can also join the pro version of Vecteezy to unlock a range of features, from unlimited downloads and priority support to access to the entire library of images.
Free Design Tools to Show Off Your Work
Behance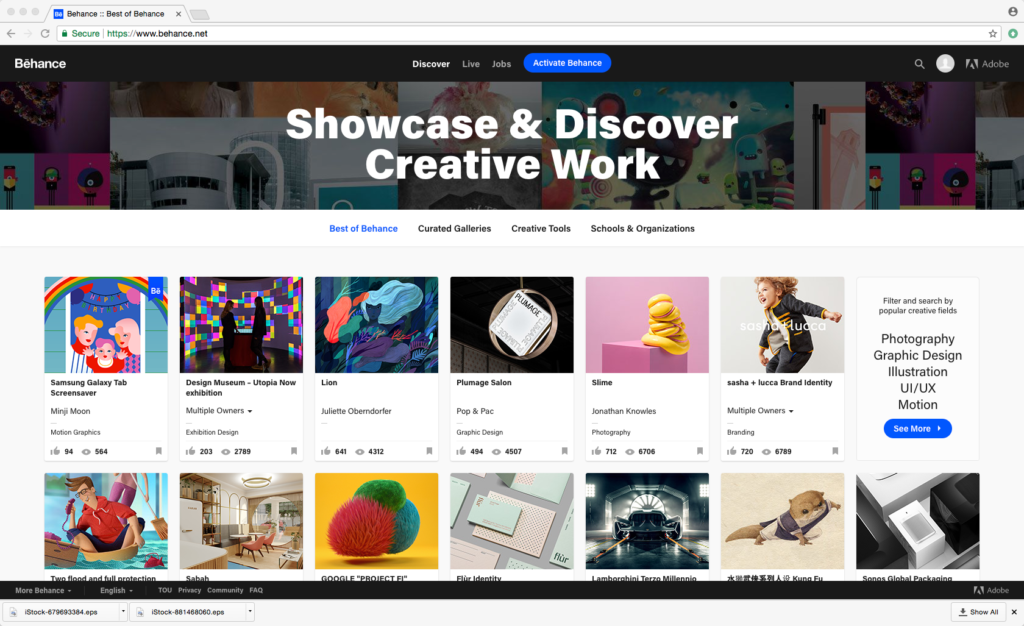 Whilst not necessarily design software as such, Behance is a great place to look for inspiration and see what your peers are creating.
Behance gets millions of views each month, so if you have a design that you're particularly proud of, you can add it to Behance for all to see too.
You can then browse through thousands of designs by searching across a range of categories for further inspiration on what might look great within your new app.
Creating graphics for your app doesn't have to be a scary process, so even if you've never designed anything before in your life, there are plenty of easy to use tools that enable you to produce designs that exceed your expectations and add a real touch of quality and uniqueness to your app design.
Dribbble 
Dribbble is a social networking platform for digital designers and creatives.
Individuals in this field can use Dribbble as a design portfolio platform and recruiting website to find job opportunities.
There is also plenty of inspiration for those who need it and users can browse through upcoming live workshops.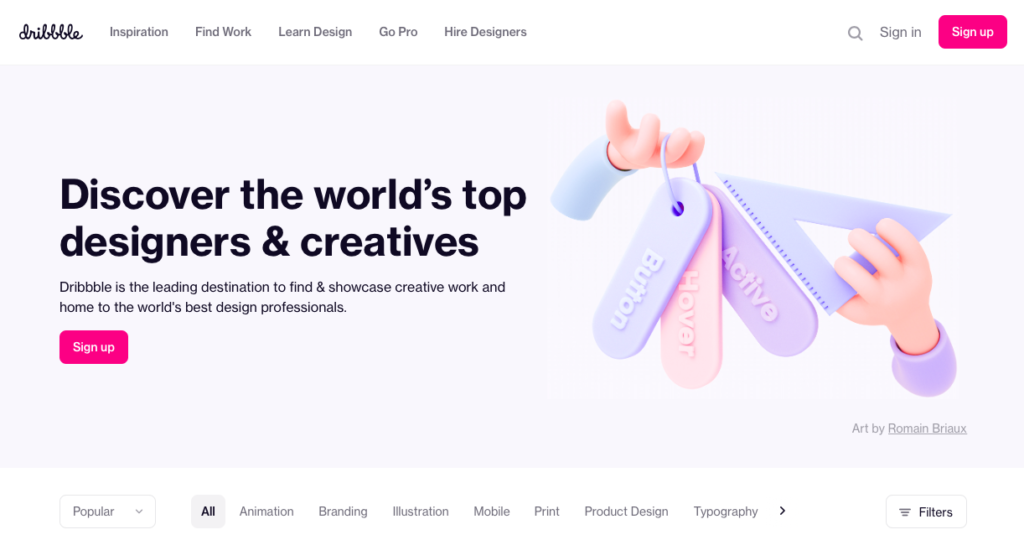 ---