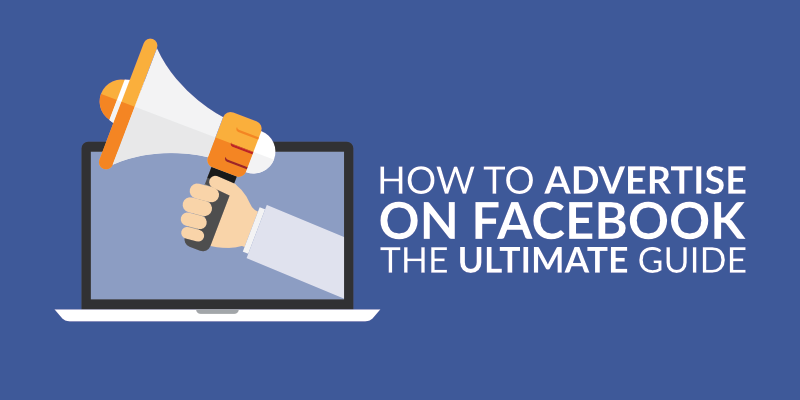 Facebook is a hugely popular platform for digital advertisers. Estimates suggest it has a 19.6 percent share of all digital adverts in the U.S. This is second only to Google which has around 37.2 percent of the U.S. market.
There are some very good reasons for Facebook's popularity. The platform allows you to target ads to a very high level. It is also simple and cheap to get started with. If you are a small business, these two factors make it a very appealing prospect.
However, despite the process being relatively simple, it can still be daunting to post your first advert.
This post will tell you everything you need to know about creating an effective Facebook advertising campaign; from planning to publishing.
Why Advertise on Facebook?
There are several reasons Facebook is so popular as an advertising platform. Here is a look at some of them:
Advertising on Facebook is easy. Creating and managing adverts is all done on the Facebook Ad Manager. Using this platform, businesses can go from nothing to having an advert up-and-running on Facebook in no time at all.
Businesses are already familiar with Facebook. Many companies already have a Facebook page set up. Even if they don't, the owners almost certainly have a personal page of their own. This means businesses often don't have to go through any additional sign up process and they are familiar with how the platform works.
Facebook advertising can be done on almost any budget. Businesses can start advertising on Facebook for just a couple of dollars a day. Campaigns can be run for pretty much any length of time. This means it doesn't have to cost much to advertise on Facebook.
Extreme targeting. Due to the amount of info Facebook has about most of us, Facebook adverts can be targeted to an almost terrifying degree. Got a product that you think will be a hit with male, university educated, single, movie lovers, aged 20-25 in London? Facebook has your back.
Huge user base. According to its own stats, Facebook had 1.49 billion users daily active users in September 2018 and 2.27 billion monthly active users as of 30 September. That's around a third of the entire population of the world. If these numbers weren't ridiculous enough on their own, then you can also add in all of Instagram's users to the total. Facebook owns Instagram and Facebook adverts can also be shown on this platform.
How to Advertise on Facebook – Getting Started
Here we go. This is how to get started with advertising on Facebook. From start to finish.
Where is the Facebook Advert Manager?
The first step is logging on to Facebook. The second step it heading over to the Facebook advert manager.
Luckily, Facebook doesn't make this difficult. Pretty much any page on Facebook has a number of ways that you can enter the Ad Manager — just look for a "Promote" or "Create an Ad" button.
If you can't see this, then perhaps the easiest way is to click the arrow at the top right of your Facebook homepage and then click on "Manage Ads." This will take you to the advert manager which should look something like the picture below.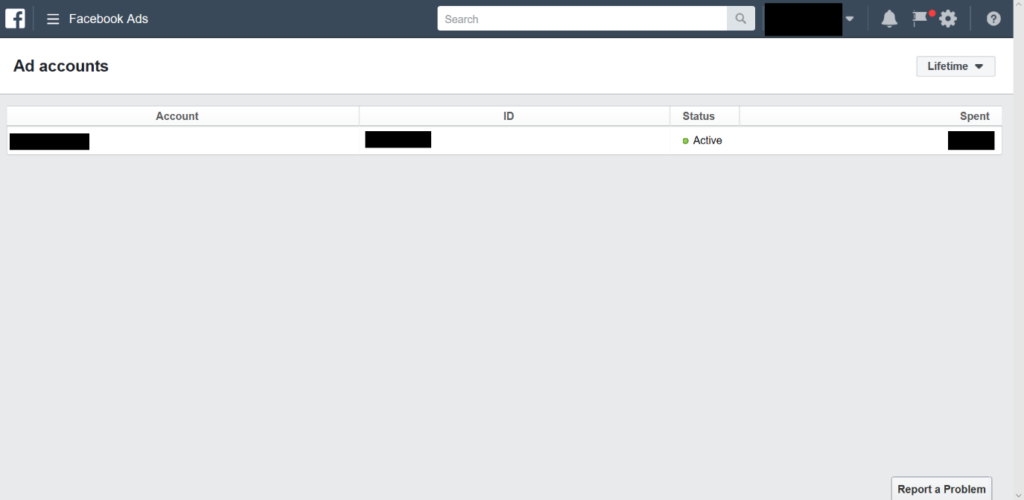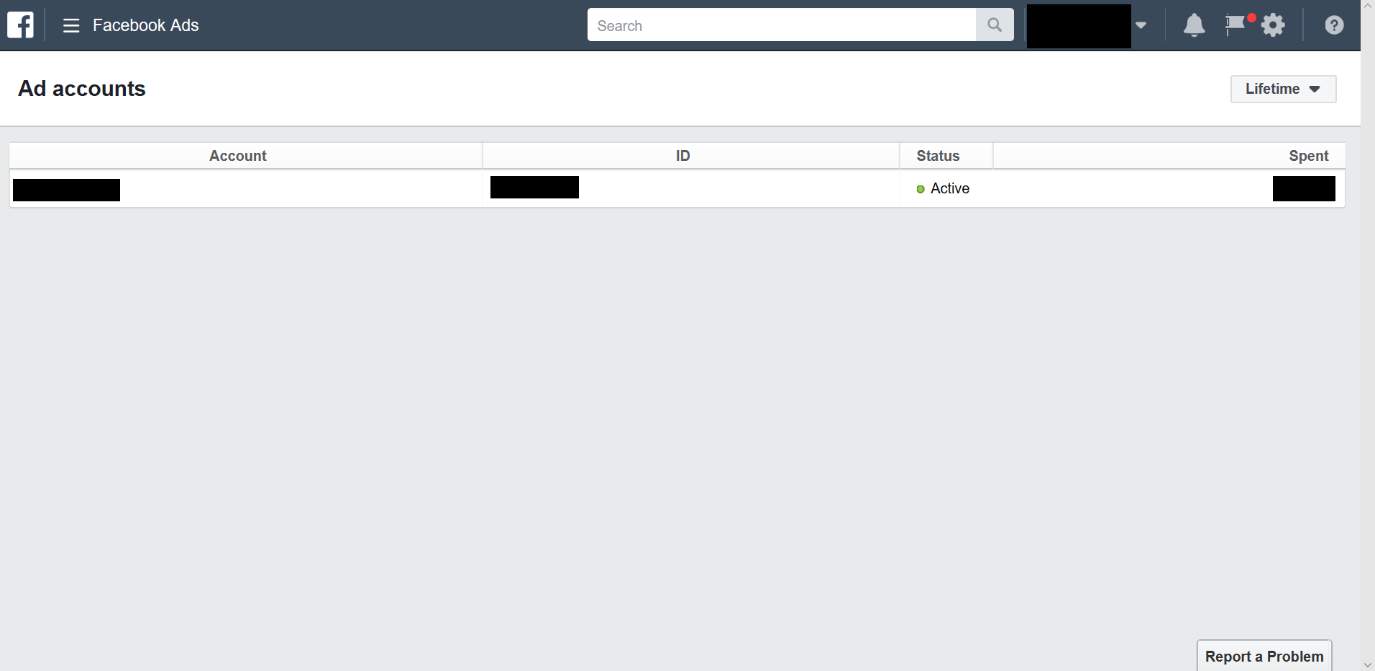 Alternatively, you can enter a slightly simpler version of the ad manager by heading to your business's page and then clicking "Manage ads" at the top of the screen.
Here, you'll be able to see an overview of how all your existing Facebook ads are doing (if you have any), a section that allows you to create new ads, and a section where you can create new audiences.
It should look like the picture below.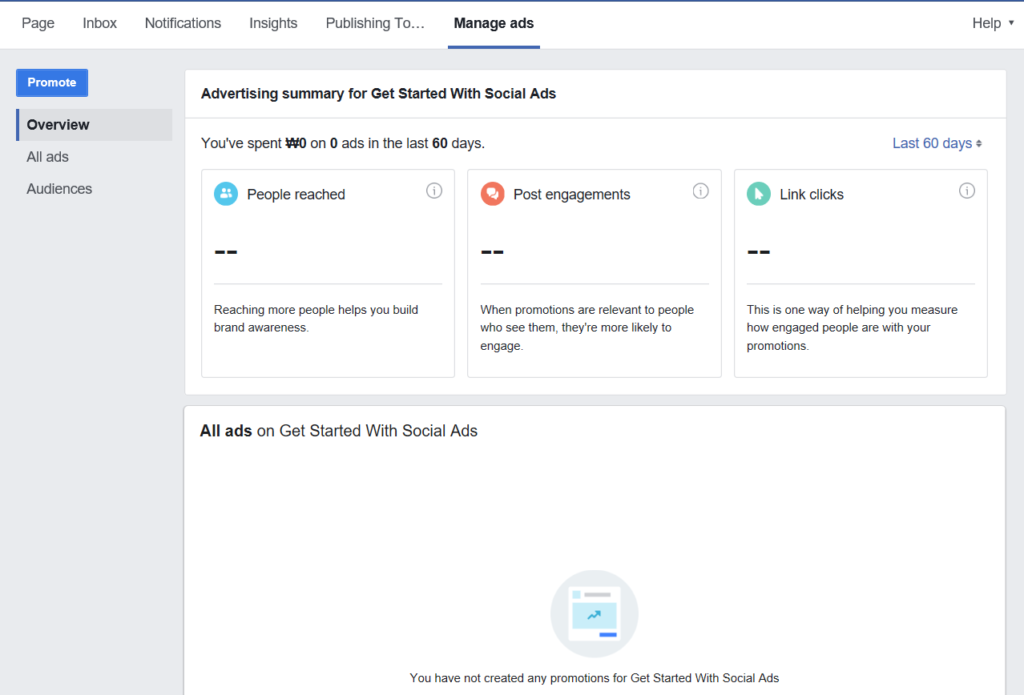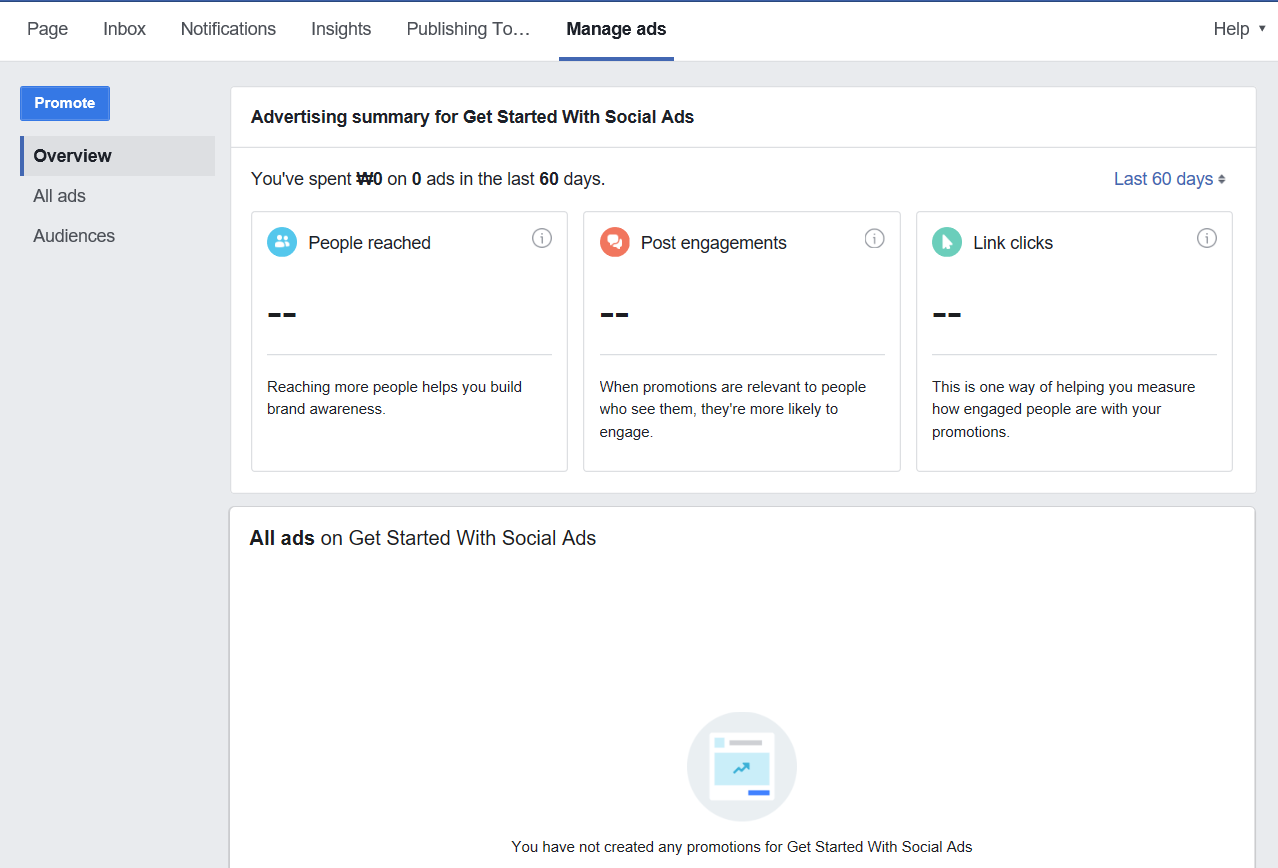 While both ways will allow you to create ads, the first choice we mentioned above offers more options for your advert. Because of this, this guide will focus on creating an advert using the first option.
How to Choose a Campaign Objective
Once you're in the Ad Manager, the first thing you need to do is click on the account you want to use to make an ad. Once you have done this, you will see a list of all your previous. From here, you can press the green "Create" button to start making a new advert.
Next, you'll be asked you what your marketing objective is. Objectives are broken down into three different types. The objective you choose will allow Facebook to help you make an advert that will fulfil this goal.
Having a solid goal for your campaign is very important. If you are unsure what to choose here, it is probably best to take a step back and begin to think about what exactly it is you want your Facebook advert to achieve.
The three categories you can choose from are:
Awareness – To help generate interest in your product.
Consideration – The next step. To encourage people to think about your business and want to find out more. This can include things like getting people to your website, or installing your business's app.
Conversion – The final step. To get people to purchase your product or service.
The picture below shows a list of the different types of goals in each category.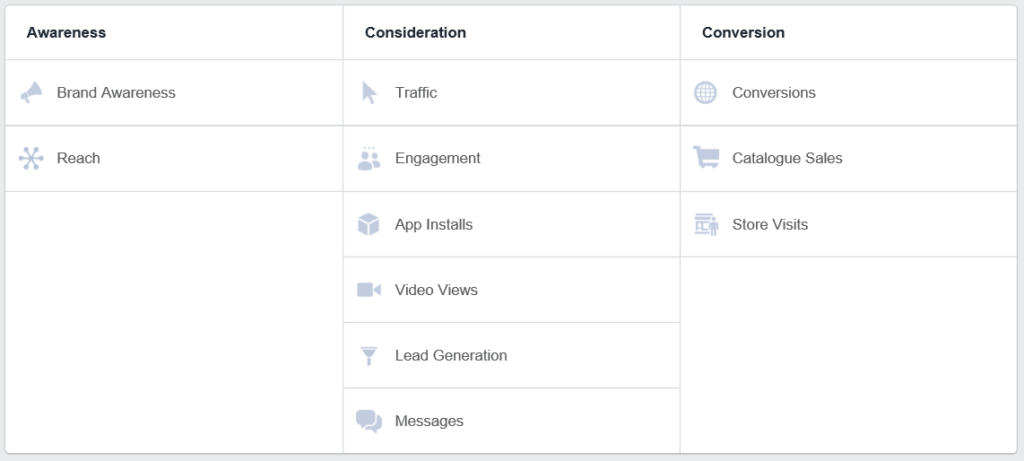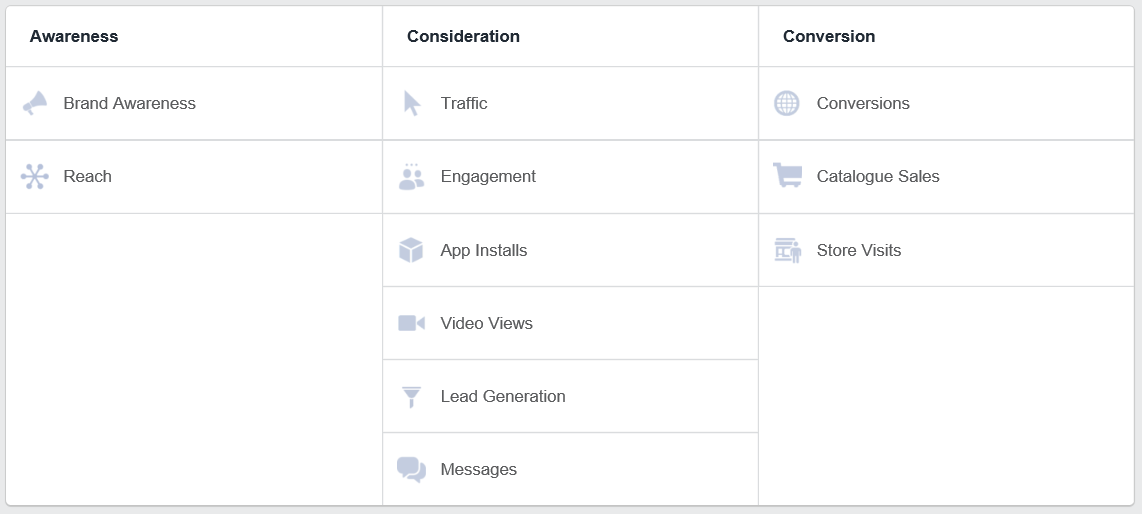 Once you select the goal for your advert, you will be asked to name your campaign. You will also be given the option to create A/B tests to help you optimise your adverts. Essentially, this means creating two different versions of an advert so you can see which one is most effective. It can be a useful tool to gauge the effectiveness of each advert.
There is also an option to choose budget optimisation. Facebook says if you choose this option it will spread your budget out across all your adverts to help you get more results.
Decide Your Target Audience
Once you have your objective sorted, the next step is to choose your audience. With Facebook, it is possible to choose a very specific type of audience based on a huge number of criteria.
If you already have a good idea about your ideal customer, this detailed targeting should help give your advert the highest possible chance of success.
If you don't yet know who your ideal customer is, now could be a good chance to go back to the drawing board and think about who you are aiming your product — and therefore your adverts — at.
HubSpot has a fantastic guide about how to do this that you can check out here.
Assuming you already have a target audience in mind, you can set about using Facebook's audience tool to select who you want to show the ad to.
This can be done within the advert creation tool itself. It you are likely to run a number of different adverts, it may be worth creating some different target audiences using the "Create an Audience" tool in the Facebook Ad Manager. You can then simply select one for each ad you make.
As for the process of creating an audience you'll first have to give your audience a name. You can then select from the following categories:
Gender
Age range
Location
Detailed targeting: Interests, demographics, behaviours
While the first three options are all self-explanatory, the "Detailed targeting" section is where things get really interesting.
Here you can choose everything from education, to political views, to the types of food and drink that people enjoy. It's impossible to get a screenshot of this due to just how many options there are, but let's just say that it covers pretty much any interest and demographic.
It is also possible to exclude certain types of people if you don't think it will be effective to target them. For example, if you have a product that you are aiming at fans of Barcelona FC, you can make it so your advert won't be shown to Real Madrid fans.
---

---
Set a Budget and Duration
Next you have to set a budget for your campaign. The great thing about Facebook ads is that it is possible to create an advert with pretty much any amount of money.
First, choose a daily budget. The higher your budget, the more people will see your advert. You then have to decide how long you want to run your ad for, or if you want it to run continuously.
In terms of what you can expect for your money, it will likely vary quite a lot depending on your industry. This 2018 report found that the average cost per click on Facebook is $1.86. However, it went as low as $0.45 for apparel adverts and as high as $3.77 for finance and insurance adverts.
The cost will also vary depending on the type of advert you choose, where your audience is located, their age, and where the advert is displayed.
The good thing is that when it comes to making your campaign, there should be no surprises. Facebook has provided a nice tool to tell you exactly how much your campaign will cost based on your daily budget and the amount of time your ad will run for.
Choose Where Facebook Will Show Your Ad
While Facebook recommends you use automatic placements, you can also specify where you want Facebook to show your adverts.
The first thing to decide is whether to show your ad on mobile, desktop, or both. If you choose mobile, you can also decide whether you want the ad to be shown specifically to iOS or Android devices.
Next, choose where you want the advert to be shown on Facebook and if you want your advert to also be shown on Instagram and Messenger. Using the tool, you can also see a preview of how adverts look on each platform. Here are some of the options:
Feed
Instant articles
In-stream videos
Right column
Suggested videos
Marketplace
Stories
Instagram Feed and Stories
Messenger Inbox, Stories, and Sponsored Messages
You can also choose to place adverts on the Facebook Audience Network. This means your ads will be shown outside Facebook on its partner sites.
Here is a look at some of the most common placements:
The advert placement most of us think of when we think of Facebook adverts is likely to be the News Feed.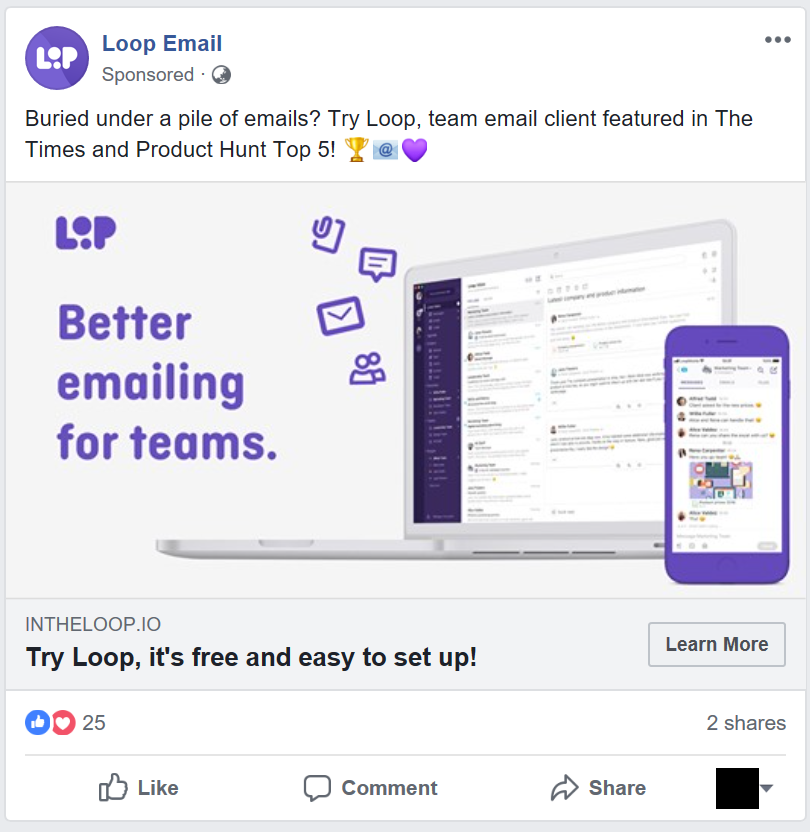 These ads can be effective as — other than a "Sponsored" tag — they appear naturally in the users' news feed. These ads can appear both on the desktop version of Facebook and the mobile version. They are also flexible and can include video, pictures, events, or boosted posts.
In-stream Facebook ads are a relatively new addition to Facebook's ad placement options. If you choose this option you will be able to place an advert in the middle of other videos that Facebook users are watching.
In-stream ads show up when the video the user is watching has been played for 60-seconds or longer. This type of advert is thought to be effective because they show up when a consumer is likely to be focused on what is going on their screen — not passively scrolling like they may be when viewing the news feed.
The Right Column is the section to the right side of the user's News Feed.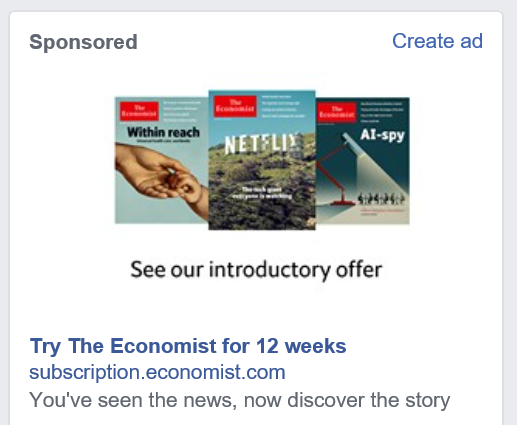 Because these adverts don't show up in places where users are generally looking, they can receive lower engagement than other types of advert. However, this is offset by the fact that clicks on these ads are often cheaper than clicks on ads in other locations.
Stories ads are another relatively new type of ad, here's how they work.
When Facebook (or Instagram) users view stories, they automatically play one after the other. Stories ads are placed in between user stories. They are shown in the same format as user stories, meaning the user experience is not interrupted.
These ads can last for up to 15 seconds. However, there is one big downside. Story ads can be instantly skipped by the user. Unlike on video ads, users don't have to wait a set amount of time before skipping.
The Fun Part: Creating Your Ad
Next, you have to actually go ahead and create the advert you will use. Assuming that you aren't simply boosting a post or event that is.
In general, each advert consists of text, a visual aspect, a link, and a call-to-action. The exact options on offer to you will depend on your goal.
In terms of media, here are the options you will likely have available.


Single image – An advert that uses just one image.
Video – An advert that uses a video.
Slideshow – A looping video with up to ten images.
Carousel – Two or more scrollable images or video.
Collection – A mix of image and video.
Once you have decided the type of media you will use, you have to upload it to the advert tool on Facebook.
While it is probably best to make the image or video for your advert outside of Facebook, the ad manager does have a simple tool for editing photos. This allows you to do things like add filters, text, or stickers to your image, as well as crop it to the correct size.
Facebook supports the following aspect ratios:

However, in order to maximise the size of your advert, the company suggests you use one of the following aspect rations depending on where your advert will play. This is because it will ensure it is displayed as large as possible on the user's screen, making it more likely they will see — and potentially click on — your advert.
Use 4:5 (or 1:1) if you want your advert to feature in the Facebook (or Instagram) News Feed.
Use 1:1 if you plan to use the video carousel format.
Use 9:16 for stories.
Use 16:9 for in-stream videos.
Don't worry if you don't think you'll remember this. When you are choosing your media in the Ad Management section, Facebook will tell you the ideal size and ratio for the type of advert you have selected.
It is also possible to use a different image for certain advert placements. For example, you could choose one image to be used on the News Feed where a square image works better, and a different image for use in Stories where a longer image works better.
If you don't choose this, Facebook will automatically crop your image for use in the adverts.
Extra Tools Provided By Facebook
To make it easy to create an effective advert, Facebook offers the following tools:
If you are struggling to find high-quality images of your own, then Facebook allows you to use stock images provided by Shutterstock. There are a ton of images available, all you have to do is search for and then select one.
However, the best Facebook ads grab the attention of the viewer. The more you can do to make your image stand out, the better. The image should also be relevant to your brand and the product you are selling.
Because of this, while it may be tempting to use one of the Facebook stock images, unless there is something there that is really going to resonate with your audience, it's probably best to use your own image.
Turn Picture into a Video
Another cool option is that Facebook allows you to turn an image into a video. This is a feature that is super easy to use — all you need to do is upload some photos. It could be well worth experimenting to see what you can create.
When making a video, you can choose from either square or vertical templates. Vertical templates will be useful for stories, while square templates may be more useful in the News Feed.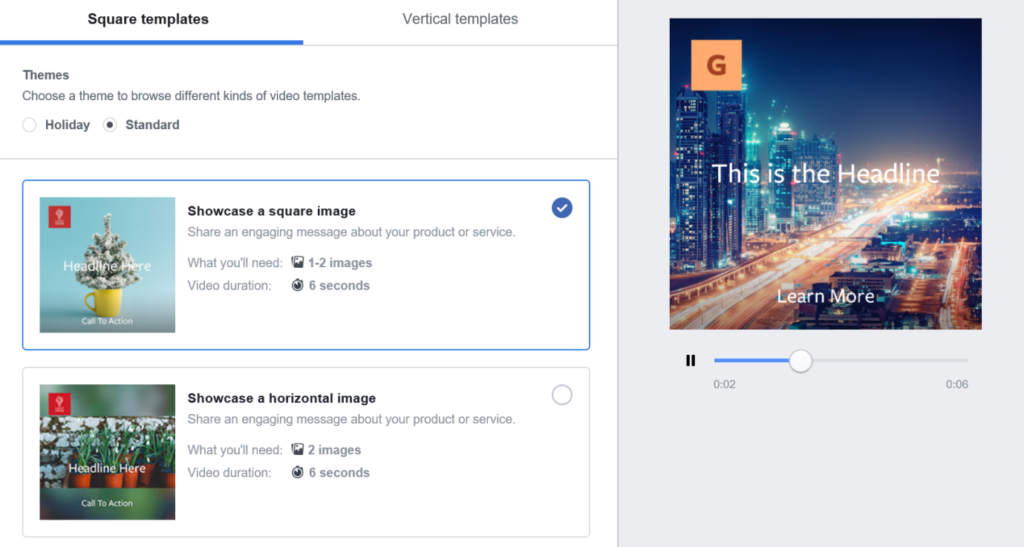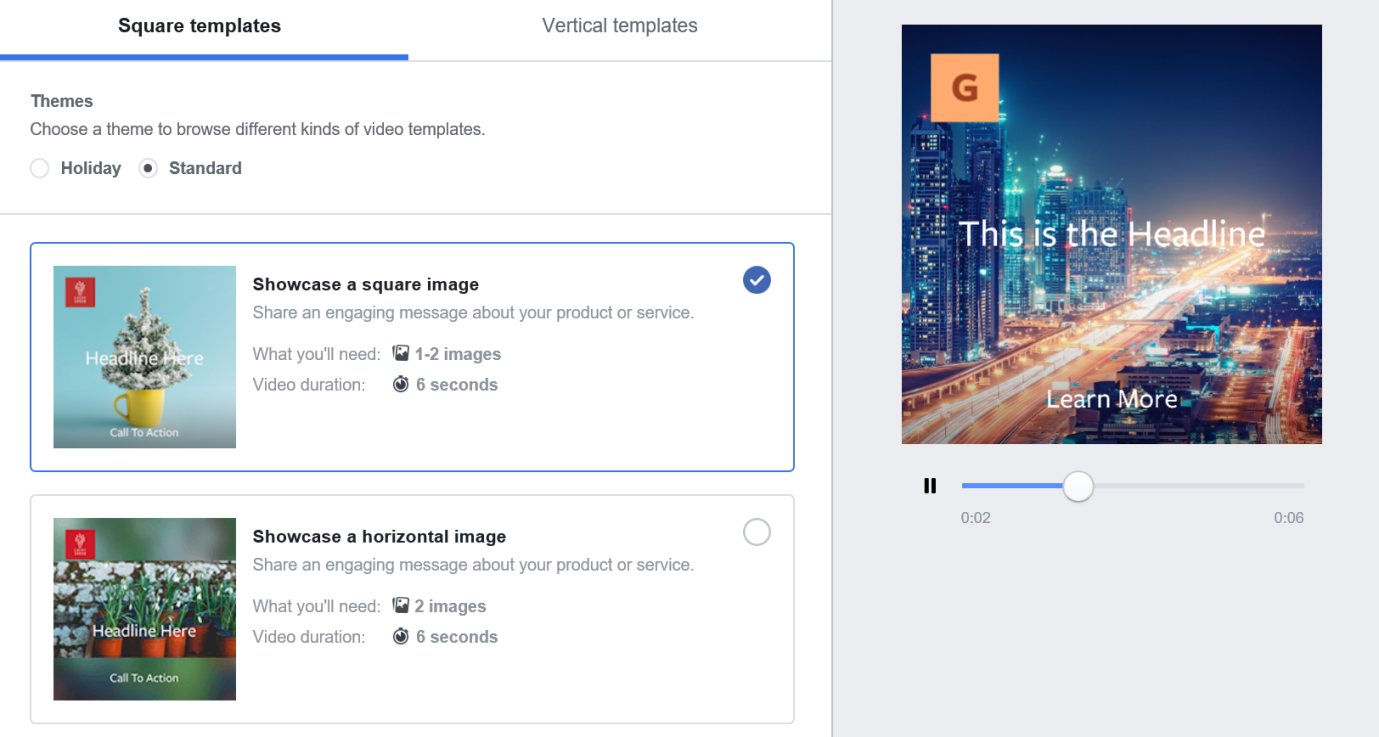 The videos themselves are obviously pretty simple. Facebook will just scroll slowly across your image and show a combination of your headline, text, and call to action.
Perhaps the most interesting use of the feature is for e-commerce. Stores can promote either single or multiple products in order to help generate sales.
Nailing Your Text, Link, and Call-to-Action
As you've already decided on your campaign objective, you should know where you want your advert to link to. Depending on the type of advert you choose, this will likely either be your website or potentially your businesses Facebook Page.
You'll also have to choose the text that you want Facebook to show above your advert as well as the headline. The headline will be shown beneath the picture, while the text will be shown above the post.
Finally, you can choose a call-to-action. Facebook offer a ton of different ones that you can use. The call to action will be shown in a button at the bottom right of the post. You can see how everything will be laid out in the image below.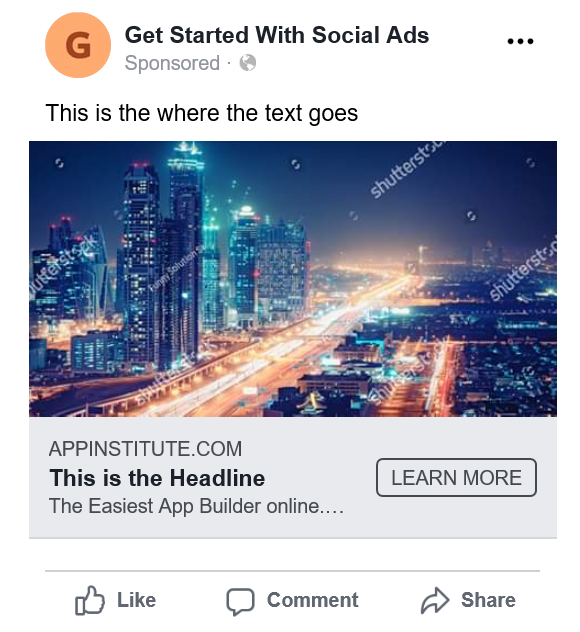 The Final Step: Pay for Your Ad
Now you have created your advert, the final step is to pay for it. Once you have done this, Facebook will check the advert and then set it live. Once it's live, you can keep an eye on how it is doing in the Ad Management section of Facebook.
Conclusion
There you have it. A guide to creating an advert on Facebook all the way from choosing an objective to publishing your first advert.
Of course, this is just the beginning, really. Now you have the chance to take advantage of Facebook's analytics tools to see exactly how your advert is performing and make changes to it if you think it is needed.
---