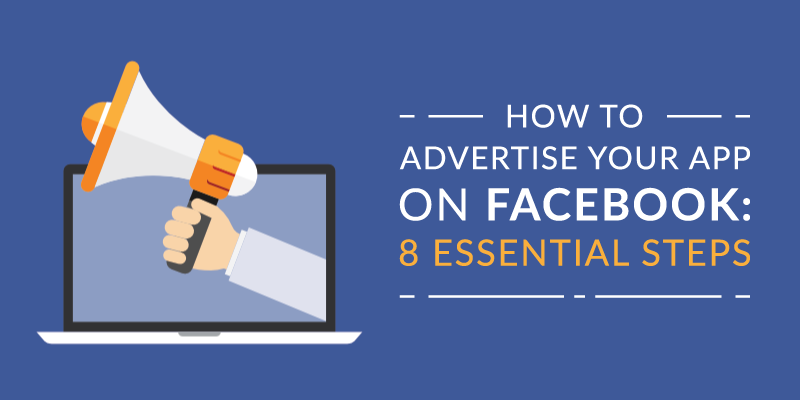 Facebook is a hugely popular platform for digital advertisers. Estimates suggest it has a 19.6 percent share of all digital adverts in the U.S. This is second only to Google, which has around 37.2 percent of the U.S. market.
There are some excellent reasons for Facebook's popularity. The platform allows you to target ads to a very high level. It is also simple and cheap to get started.
For mobile app publishers, Facebook offers interesting features specifically designed to attract app installs. You can link directly to your app listing and target mobile app ads based on the user's exact device or operating system.
This post will tell you everything you need to know about how to advertise your app on Facebook, from planning to publishing.
Why Advertise Your App on Facebook?
There are several reasons Facebook is so popular as an advertising platform. Here is a look at some of them:
Advertising on Facebook is easy. Creating and managing adverts is all done on the Facebook Ads Manager. Businesses can go from nothing to having an advert up and running on Facebook in no time at all.
Specialized features for app downloads. There are features within Facebook Ads specifically designed to encourage mobile app installs. Your ad can direct customers to your app store listing and specifically target mobile users.
Facebook advertising can be done on almost any budget. You can advertise your app on Facebook for just a couple of dollars a day. Campaigns can be run for pretty much any length of time. This means it doesn't have to cost much to advertise on Facebook.
Extreme targeting. Due to the amount of info Facebook has about most of us, Facebook adverts can be targeted to an almost terrifying degree. Got a product that you think will be a hit with male, university educated, single, movie lovers, aged 20-25 in London? Facebook has your back.
Huge user base. According to its own stats, Facebook had 1.49 billion daily active users in September 2018 and 2.27 billion monthly active users as of 30 September. That's around a third of the entire population of the world. If these numbers weren't ridiculous enough on their own, then you can also add in all of Instagram's users to the total. Facebook owns Instagram and Facebook adverts can also be shown on this platform.
How to Advertise an App on Facebook 
Here's how to advertise a mobile app on Facebook, from start to finish.
1. Open Facebook Ads Manager
The first step is logging on to Facebook. The second step is heading to the ads manager.
There are several ways you can access this page. The easiest is to head to Facebook.com/business and choose the option for "Create an Ad" in the top right corner.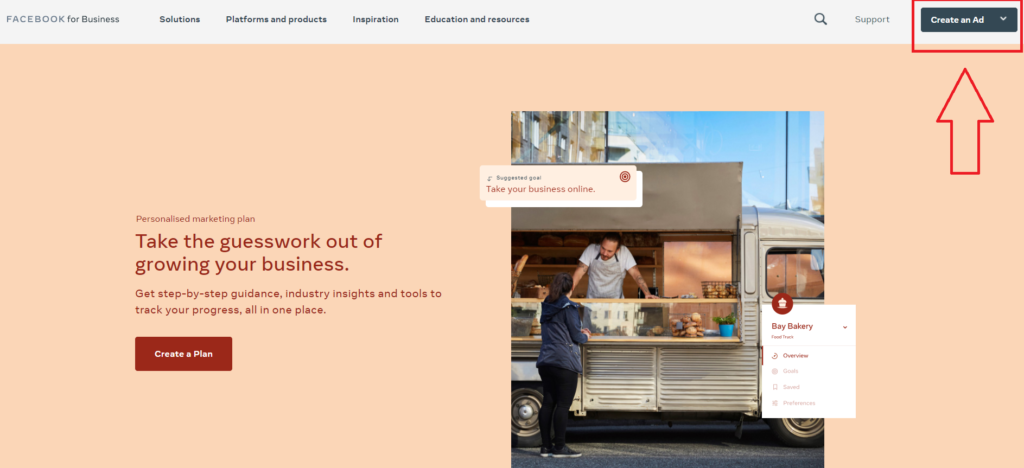 You can also access the ad manager by heading to your business's Facebook page and clicking one of the links asking you to promote your page.
2. Create a New Campaign
There are several ways you could promote a mobile app. You could direct people to a landing page on your website or ask theme to sign up to a mailing list for a pre-order.
For the majority of app publishers, the most appropriate campaign objectives are to either:
Create app install ads that prioritize downloads.
Create a campaign that encourages existing users back to the app. For example, an eCommerce store app could promote new products in the store.
These are the two campaign objectives we'll focus on in this article.
Facebook has a dedicated option for app installs. Just select it from the list in the "Create a new campaign" section.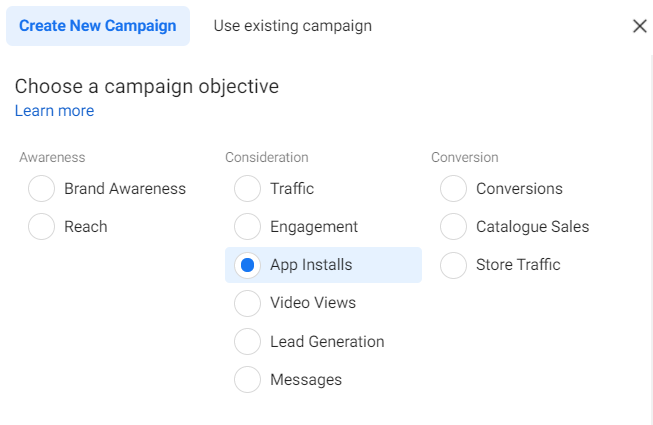 Once you hit this button, you will need to create a campaign type. You have two options:
Create an automated campaign.
Create a manual campaign.
Here is some more information about each one.
Automated Campaign
Creating an automated campaign is the easiest way to start using Facebook Ads to promote your mobile app. It uses a simple setup process and then automates ad delivery, continually optimizing for conversions.
It's perfect for people who are new to Facebook Ads or have minimal time to optimize their campaigns manually.
You just need to:
Choose your audience. Automated campaigns have fewer audience options than regular ones. You can choose the country, language, and app store.
Upload images, headlines, and text. Facebook will test these variations and show the most effective ones to specific audiences.
Set a bidding strategy and budget. Facebook will work within these parameters when optimizing your campaign.
The site's algorithm will take care of everything else. Once you're up and running it will optimize your campaign, showing your ads to as many relevant people as possible.
Find out more about automated campaigns here.
Manual Campaign
If you choose to create a manual campaign, you'll have to set up your Facebook Ads yourself. This provides more flexibility about how you promote your mobile app, but will also require more work.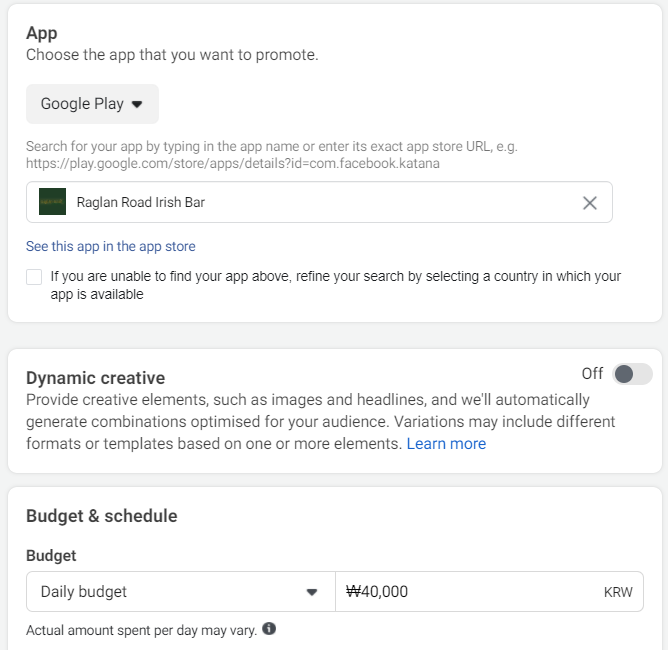 The first steps you have to take are:
Add a link to your app on Google Play or the App Store. Use the Facebook Search tool to find your app. At this point, it can be beneficial to link your app to your Facebook account.
Set a daily budget and schedule. Facebook will try to spend your entire budget every day. But the exact amount it spends will vary depending on your other settings.
The rest of this article will show you how to promote your app on Facebook via a manual campaign.
3. Set Up Ad Targeting
With Facebook, it is possible to choose target custom audiences based on a huge number of criteria.
If you already have a good idea about your ideal customer, this detailed targeting should help give your advert the highest possible chance of success.
If you don't yet know who your ideal customer is, now could be a good chance to go back to the drawing board and think about who you are aiming your product — and therefore your adverts — at.
HubSpot has a fantastic guide about how to do this that you can check out here.
Assuming you already have a target audience in mind, you can set about using the audience tool to select who you want to show the ad to.
This can be done within the advert creation tool itself. If you are likely to run a number of different adverts, it may be worth creating some different target custom audiences using the "Create an Audience" tool in Ad Manager. You can then simply select one for each ad you make.
As for the process of creating a target audience, you'll first have to give your audience a name. You can then select from the following categories:
Gender
Age range
Location
Detailed targeting: Interests, demographics, behaviors
While the first three options are all self-explanatory, the "Detailed targeting" section is where things get really interesting.
Here you can choose everything from education, to political views, to the types of food and drink that people enjoy. It's impossible to get a screenshot of this due to just how many options there are, but let's just say that it covers pretty much any interest and demographic.
It is also possible to exclude certain types of people if you don't think it will be effective to target them.
4. Choose Where to Show Your Ads
Next you need to decide where to show your app ads.
You can choose from the following platforms:
Facebook.
Messenger.
Instagram (Facebook owns Instagram, and they both use the same ads manager).
Within Facebook partner sites and the audience network.
You have granular control over where you show your app ads within each platform. You can show them in the feed, in stories, in articles, and more.
Facebook also has an automated option. If you choose this, the algorithm will select the best places to show your mobile app based on your budget and then optimize accordingly.
5. Choose Devices
Facebook lets you choose specific devices and operating systems to show your ad to. This can be useful in many ways.
For example:
Mobile apps that require phones with a lot of power to work—like games—can target new devices or the latest versions of Android/iOS.
You can target your mobile app towards specific features phones are missing. For example, a camera app with pro features could target phones known to lack advanced camera features.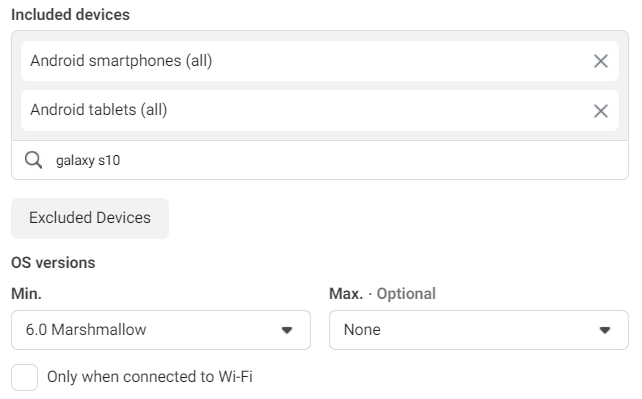 Another device-related option is to only show ads to people who are connected to a Wi-Fi network. This is useful if your app has a large file size and you are worried that people won't download your app when they don't have Wi-Fi.
6. Choose Which Type of Conversion to Optimize For
Next you can choose how to optimize ad conversion. You have three options:
Link clicks: Facebook will show your ad to people most likely to click on the ad link.
App installs: App install ads show the campaign to people most likely to install the mobile app.
App events: The ads manager will show the ad to people most likely to take action in an app. For example, add an item to a cart, subscribe, or start a trial.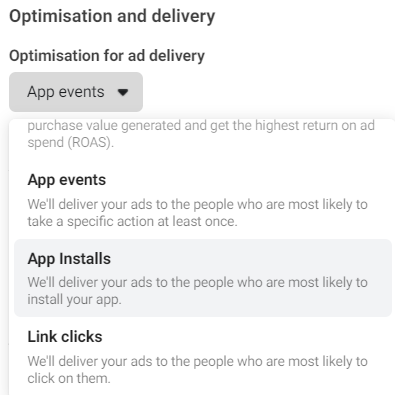 Implement the Facebook SDK
If you want to optimize your app for events, you have to register it with Facebook and then implement the Facebook SDK. This enables you to track when people perform specific events in your app.
You can do so within Android Studio or Xcode (or both), depending on which OS your app uses.
Once the SDK is installed, it will automatically log certain events. You can also manually set up your mobile apps to track custom events if the event you want to track isn't logged automatically.
You can find full instructions for installing the SDK and setting up app events on Android here or on iOS here.
7. Design Your Ad
Next, you have to create the advert you will use to promote your app.
Your app creative consists of two main parts: visual media and text.
Once you have created and uploaded each part of your ad, Facebook will automatically use this media to create different variations of your ad for all the placements you chose.
Media
App publishers have several different options for the type of media they will show. This includes:
Single image – An advert that uses just one image.
Video – An advert that uses a video.
Slideshow – A looping video with up to ten images.
Carousel – Two or more scrollable images or video.
Collection – A mix of image and video.
Below is an example of an ad that uses a video to promote the app.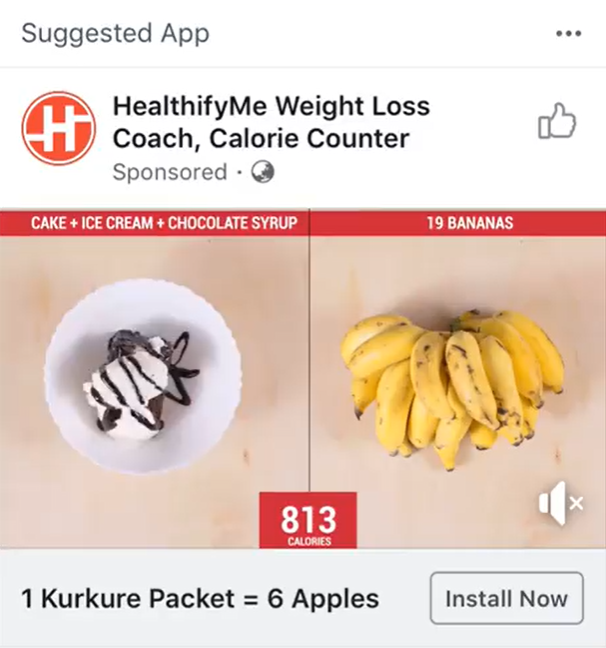 Once you have decided the type of media you will use, you need to upload it to the advert tool.
While it is probably best to make the image or video for your advert outside of Facebook, the ad manager does have a simple tool for editing photos. This allows you to do things like add filters, text, or stickers to your image and crop it to the correct size.
Facebook supports the following aspect ratios:

To maximize the size of your advert, the company suggests you use one of the following aspect ratios depending on where your advert will play.
This will ensure it is displayed as large as possible on the user's screen, making it more likely they will see — and potentially click on — your advert.
Use 4:5 (or 1:1) if you want your advert to feature in the Facebook (or Instagram) News Feed.
Use 1:1 if you plan to use the video carousel format.
Use 9:16 for stories.
Use 16:9 for in-stream videos.
When you are choosing your media in the Ad Management section, Facebook will tell you the ideal size and ratio for the type of advert you have selected.
It is also possible to use a different image for certain advert placements. For example, you could choose one image to be used on the News Feed where a square image works better and a different image for use in Stories where a longer image works better.
If you don't choose this, Facebook will automatically crop your image for use in the adverts.
Playable Ads for Games
When promoting an app game, you have the option to create a playable ad. This type of ad is a video with a call-to-action button that invites the user to try the game.
If the user clicks this button, they can play your game from within the Facebook app. There's an app install button that takes them to Google Play or the App Store if they like it.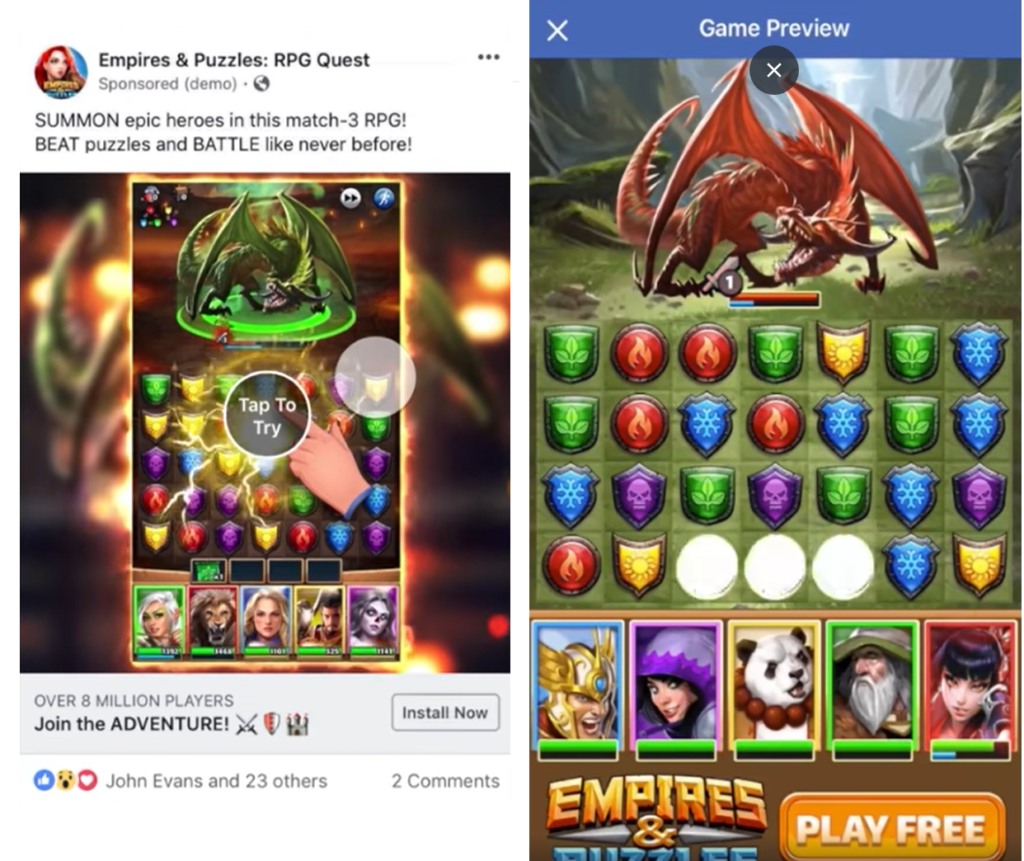 Nailing Your Text, Link, and Call-to-Action
You'll also have to choose the text that you want to show above your advert as well as the headline. The headline will be shown beneath the picture, while the text will be shown above the post.
Alongside good targeting and media, the copy you use in your ads can play a large part in conversion. You should spend some time getting this right.
Here are some factors to consider when writing your ad content:
Who you are targeting the ad to.
The main benefit of your app.
Spelling and grammar.
Your offer.
Make sure each section relates to one another. The headline, call-to-action, and text should all be related to your app's main selling point.
If you aren't confident with your writing skills, you can hire a copywriter to create the ad for you.
While this will cost money upfront, a well-written ad can lead to more installs.
8. Pay for Your Ad
Now you have created your advert, the final step is to pay for it. Once you have done this, Facebook will check the advert and then set it live. You can then keep an eye on how it is doing in the Ad Management section of the site.
Be Sure to Optimize Your Ad
There you have it. A guide to advertising your app on Facebook, from choosing an objective to publishing your first advert.
But remember, creating and publishing your mobile app ads is just the start. Once your ad is live you can take advantage of Facebook's analytics tools to see exactly how it performs and make changes as necessary.
It won't be long before you're attracting the app installs you need to make your product a success.
---