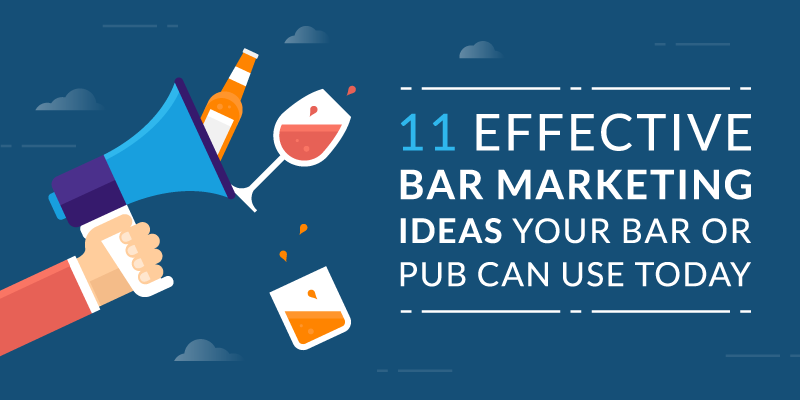 There are many bar marketing ideas you can use to promote your bar or pub. These strategies can help with everything from attracting new customers to ensuring your existing ones keep coming back for more.
In this article, we've gathered eleven of our favorite marketing ideas for bars and pubs. They include:
Using social media
Interacting with your community
Increasing your online presence
Building customer loyalty
These ideas can be used by both established companies looking for a revenue boost and new venues that want to start their business with a bang.
We've included both on and offline bar advertising ideas. Choose the ones that you think will be the best fit for your business.
11 Top Bar Marketing Ideas
Show Off Your Bar on Instagram
Instagram is a great way to advertise your bar on social media. You'll get in front of a large audience and it's free to use, which makes it a great bar marketing idea for those on a budget.
The key to Instagram marketing is to regularly post content that will interest new customers. Post a mixture of regular posts and Instagram stories.
For example:
Images of food or drinks
Images of your interior
New menu items
Offers
Contests
Content from other local businesses
Funny memes
Perhaps the best way to discover relevant content is to look at other bars and pubs to see what type of content they produce.
You can tag other accounts or add relevant hashtags to increase the potential reach of a post.
AppInstitute customer Raglan Road Bar has a great Instagram account that they use to promote their venue to potential customers and existing ones. They share a good mix of promotional and funny posts that their customer base is likely to enjoy.
Check out some of their content in the screenshot below.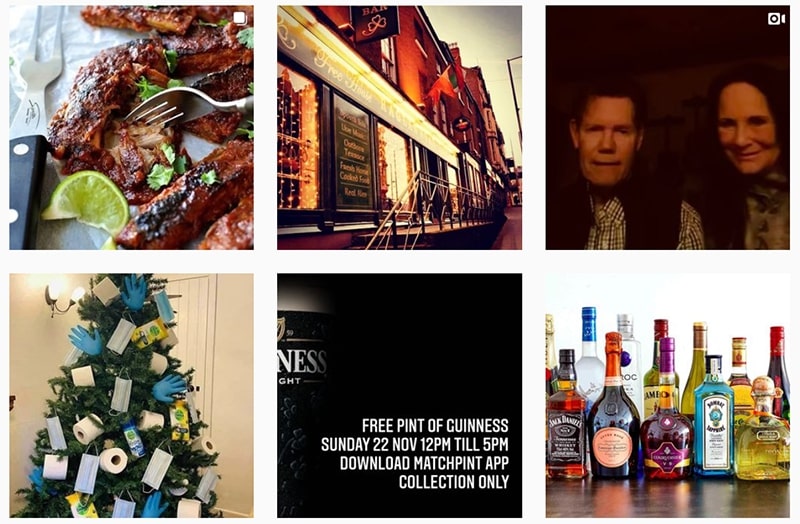 Instagram is also a great place to interact with your audience. Build relationships with regulars by replying to comments or sharing user posts or stories when they tag your bar.
Instagram Influencer Marketing
You can also use Instagram to find influencers who can help build your audience. Just search for local foodie accounts and send them a message requesting a partnership. Local influencers with targeted followings of people in your area can be surprisingly affordable.
This article on Medium looks at local influencer marketing in more detail if you'd like to explore this strategy further.
Similar to influencer marketing is partnering with other local businesses. Promoting each other's companies on your separate accounts can be a good way to increase reach if you can find a non-competing business with a similar target audience. We explain this in detail in the section below.
Instagram is one of the most powerful marketing tools for pubs and bars and this section has only touched the surface. This article about restaurant Instagram marketing goes into much more detail, and most of the strategies are relevant to bars as well.
Make Your Bar Easy to Find on Facebook
Using Facebook is one of our favorite bar marketing strategies.
The key to promoting your bar on Facebook is having a well-optimized profile. This will make it easy for customers to find your bar's page and then give them all the information they need to decide to drink at your venue.
The below profile for Fool's Gold New York is a great example.
The about section contains:
Contact information
Opening hours
A description
Tags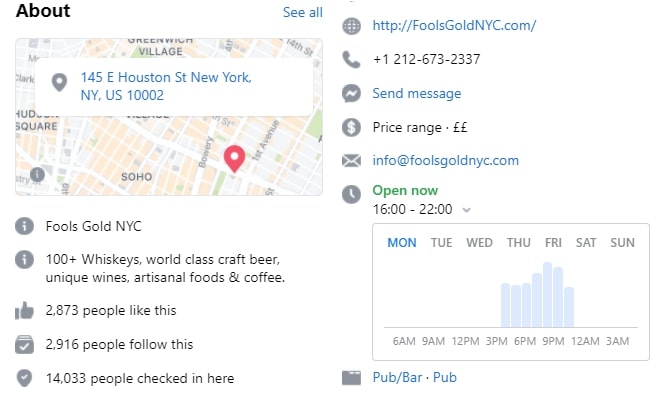 Meanwhile, the bar frequently posts updates about events and other relevant news.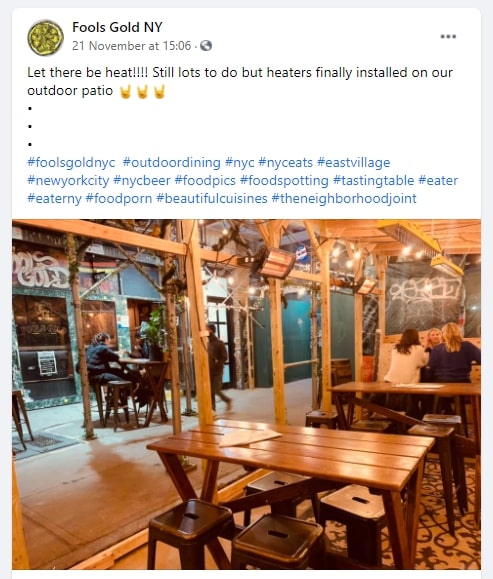 The bar even has a solid reviews section where it scores 4.6 stars out of five. Not bad!

Beyond optimizing your profile, there are several ways that bars can use Facebook for marketing.
Some of the most important are using Facebook ads, interacting with your community, and making use of Messenger's automated customer service features.
You can find out more about all these ideas in our article on Facebook marketing for restaurants. Many of the techniques can also be used by bars.
Build Loyalty with a Rewards Scheme
As a bar owner, you know the revenue potential of having regular customers. Introducing a loyalty scheme is a good way to incentivize customers to stay with your bar.
One way to do this is via a digital stamp card.
The idea is simple. Every time a customer buys a drink or spends over a certain amount of money, they get a free stamp. When they reach a predefined number of stamps, they get an award.
It's a good type of program for several reasons:
Customers are familiar with the idea and instantly know how it works.
It's an easy program for bar workers to implement.
Managers and owners can easily look at the profit they make on each drink to create a program that is a win for both the bar and the customers.
If you'd like to learn more about implementing a rewards scheme at your bar, AppInstitute can help. Click here to find out more about how an app with a rewards scheme can benefit your bar.
Understand Your Unique Value
The key to marketing your bar or pub effectively is understanding its unique value and making it stand out.
For some locations, this will be easy to do. A sports bar is a great place to watch sports. People will naturally visit this type of bar when they want to watch a match.
Likewise, specialty beer, cocktail, or gin bars all have a particular value proposition that their customers understand.
If you aren't sure what your unique value is, think about why people visit your venue. You could even ask your regular customer base if it includes people you trust.
Use Your Unique Value in Your Marketing
Once you know your value, you can capitalize on this knowledge. Do this by creating new products or events your customers love. Consider promoting them on social media or within your bar.
Grimm Artisanal Ales is a bar that knows its value and promotes it well. Each of its Instagram posts introduces a new beer.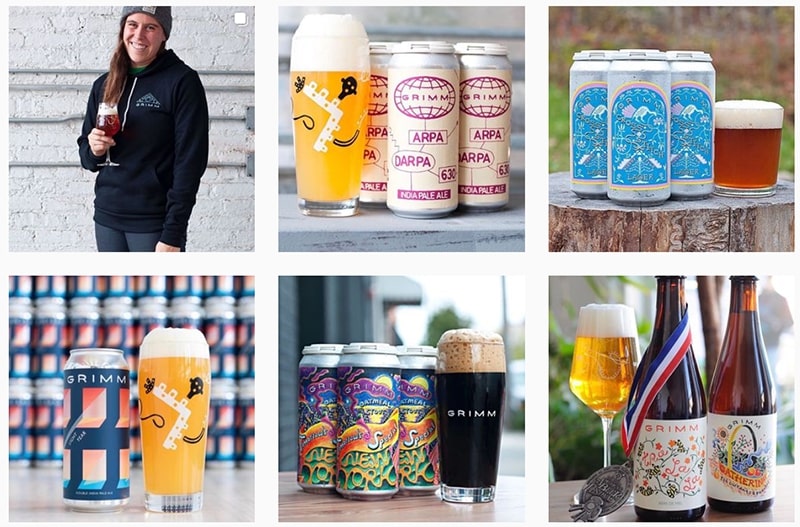 This specialization and clear value proposition has also helped it gain coverage in the press. For example, it's featured as one of Time Out's best New York bars.
Continually releasing new products customers love is also a good way to keep people coming back to your business.
Attract Attention with Events
Events can be a good way to promote your bar or pub.
Use them to get people to your venue on days that are usually quiet. A pub quiz, happy hour, or a concert can turn an otherwise slow Tuesday evening into a booming day for business.
Events are a good way to promote your bar via word-of-mouth. People talk about the event to those in their network, which can result in more people discovering your business.
Promoting your event on social media can make it easy for customers to share information with their friends. Facebook even has a specific feature for creating events.
If your event is noteworthy enough, you could send out press releases to local publications. If they cover it, you'll get even more exposure.
Look for local newspapers, entertainment guides, bloggers, or social media influencers who may be interested in attending
What Type of Event Should You Run?
This will mainly depend on the target audience of your pub. Bars targeting young people may find that theme nights or live music are big draws.
Other bars may favor quizzes, food and drink pairing sessions, open mic nights, or guest speakers.
Creating an event doesn't have to be complicated. It could be something as simple as "Taco Tuesday" or showing sporting events.
If you want more event marketing ideas, make sure to check out our article on 60 different event ideas you can use at your business.
Create Your Google My Business Profile
All bars should create a Google My Business listing. It makes it easy for the search engine to show information about your business when people use Google Search or Google Maps.  It's also one of the simplest online bar marketing strategies to implement.
Here's how it looks in the Google Search results: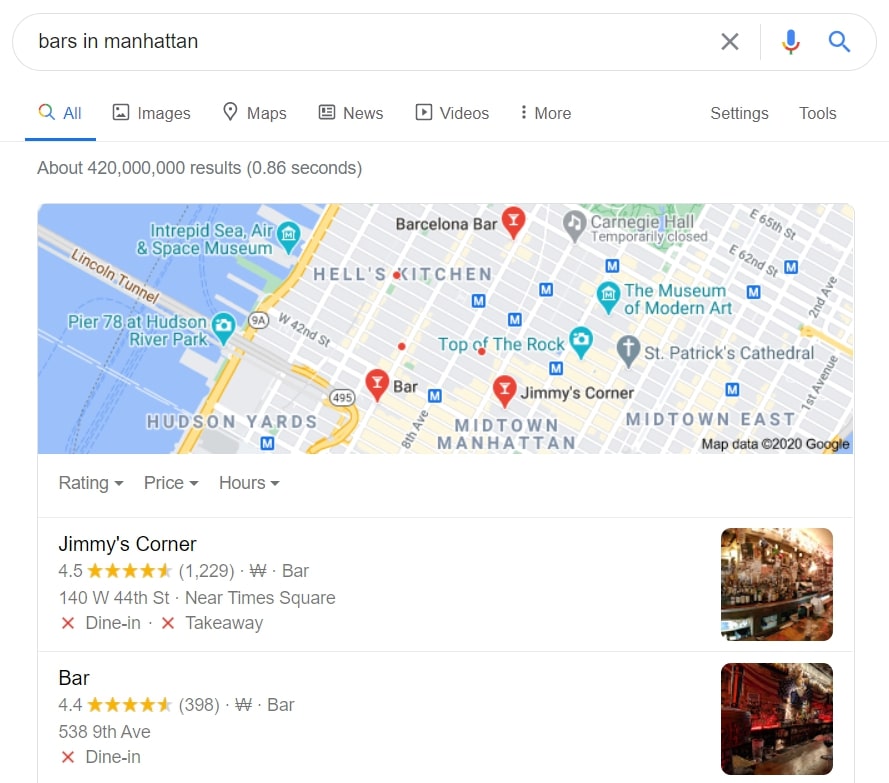 And here's how it looks on Google Maps: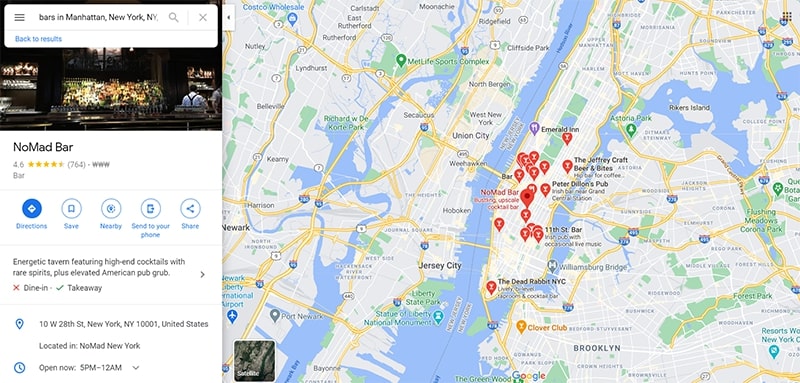 Much like your Facebook Business page, your Google listing contains everything potential customers need to know about your bar.
Include:
Opening hours
Images
Contact details and website
Address
Customer reviews
Description
This is important because people often use Google to search for new places to visit. Having your profile set up ensures that when someone searches for a relevant query, your listing will appear.
How to Increase Your My Profile Rankings
There are things you can do to increase the chance of your profile showing up above others. Google uses relevance, distance, and prominence when deciding which businesses to show.
You can improve your chances of showing up for relevant searches by:
Adding complete, accurate business information to your profile so Google knows exactly what you offer.
Verifying your location.
Managing your customer reviews and responding to them when necessary.
Having more reviews can affect your ranking, so requesting more from customers may help.
Improving your bar's general online presence via links to your website and articles in the press.
Creating your profile is one of the easiest bar marketing strategies, and it's completely free. You can do so via this link.
Use Coupons and Offers to Attract Customers
Coupons and offers are one of the oldest bar promotion strategies, but they are still a great way to make your prices more attractive and encourage people to visit.
They can help:
Encourage people to try new things.
Attract people to your bar on otherwise quiet nights.
Get larger (more profitable) groups through the door.
Point customers towards items with a high profit margin.
The most difficult part of this type of bar marketing is how to let customers know about the offers.
The good news is you have several options.
Promote your offers via posts on social media. Asking people to comment on or share the post to redeem the reward can increase your organic reach. Or promote the offer via ads.
Use an app to provide customers with offers. You can refresh your deals every week to encourage people to keep using your app (and keep visiting your bar). Combine this with in-app ordering and loyalty schemes for a powerful combination.
Promote your offers in your bar. Put up signs or boards with the day's specials. While this won't attract new customers, it may encourage people in your bar to spend more.
Bar promotion ideas don't have to be as simple as giving money off. It can also be anything that your customers will find interesting.
For example, Heritage London used social media to promote its new drinks menu.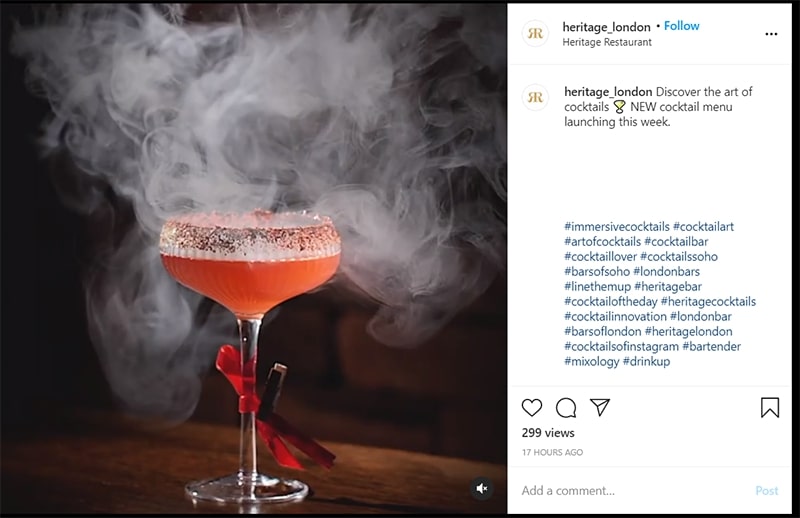 Create Local Business Partnerships
Business partnerships are a low-cost bar marketing strategy.
You just need to pair up with another business that has a similar target audience to yours and promote each other.
The key is finding a way to make sure that the marketing strategy and offer benefit both companies.
Here are some ideas for partnerships you could try.
Pair up with a food business to create a limited edition product. You can then promote the product across both your audiences.
Work with local restaurants to offer discounts to anyone who can provide a receipt showing they visited the other business. This will tell more people about your business and also give people a reason to visit.
Organize events with other bars, such as pub crawls, parties, or small festivals.
Think about where your pub's strengths lie and use this to your advantage.
Become Involved in the Community
Getting involved in the local community is a great way to promote your bar, especially if you tend to serve a tight community of locals.
First, let's have a look at some traditional ways you can help out the community.
Sponsor local events. While you may have to pay to do this, if you choose the right event you can get your business in front of a highly targeted local audience.
Sponsor teams or groups. Provide discounts or free access to event space for local groups or sports teams if they agree to hold meet-ups at your bar.
Lend your expertise. Look out for talks where people may be interested in hearing about your expertise as a business owner and manager of a successful bar. Or maybe you have special skills such as making cocktails or brewing beer that people would love to learn about.
A great way to get involved in the local community is to become active in local Facebook groups.
If you provide value to the group, you'll start to build relationships and people may recommend your bar to others.
Build a Direct Way to Contact Your Audience
You may think that in a world of search engines and social media you no longer need a direct line of communication with your customers.
However, while you can get by without it, collecting customer contact information is still a good bar promotion idea.
Consider this: when businesses first started using Facebook, the platform would show posts to most of their followers. Now, We Are Social says only around 3.41% of your audience see an average post. This is a huge reduction in the marketing effectiveness of the platform.
The point is that you don't own your audience. If you rely on social media to connect with people, you are always at risk of an algorithm change affecting your business.
There are many ways that you can connect with your audience.
Email Marketing
Email marketing is a common part of a bar marketing plan. It's great because, if you can avoid the spam folder, email is a good way to communicate directly with customers. You can create a newsletter that provides updates about your business, gives special offers, and alerts people to events.
Build an App
Building an app is another way to connect. When customers download your app, you have a direct path into the palm of their hand. Send out notifications to alert people to important information about your pub, or provide them with discounts.
Text Messages
You could even collect phone numbers and send out regular text messages, although people may find this intrusive.
Don't be afraid of using multiple methods of communication; for example, building an email list and an app. After all, the more ways you have to communicate with your customers, the less reliant you'll be on any single platform.
Create a Bar Website
Our final bar marketing idea is to create a website for your business.
Having a website has several benefits.
First, it's an easy way to tell the world more about your business. You can post information about your menu, events, apps, offers, and more.
A website is another great way for people to find your bar on search engines. Using Search Engine Optimization (SEO) strategies will increase your visibility online and can be a powerful bar promotion tool.
You could even use your website to sell merchandise or products. Toronto-based bar Barvola has an online shop where it sells a selection of craft beers, wines, merchandise, and even groceries.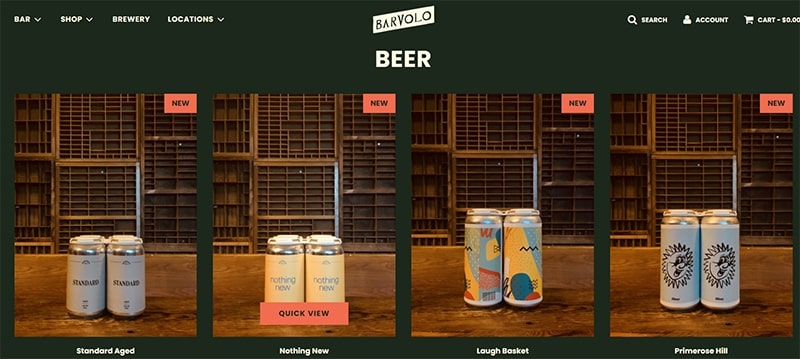 Creating a website is easier than ever before. Use a website building platform such as Wix, Squarespace, or WordPress to build a site quickly and cheaply.
Bar Marketing Can Help Your Business Stand Out
This list contains some of our favorite bar marketing ideas.
Making your bar or pub stand out can be tough, but implementing some of the strategies on this list will help. However, if you're serious about growing your business you should combine these ideas as part of a comprehensive marketing strategy.
If you want to learn more about bar marketing, click here to see our pubs and bars archives, or here to see how building an app helped Raglan Road Bar take in £10,000 in just ten days.
---