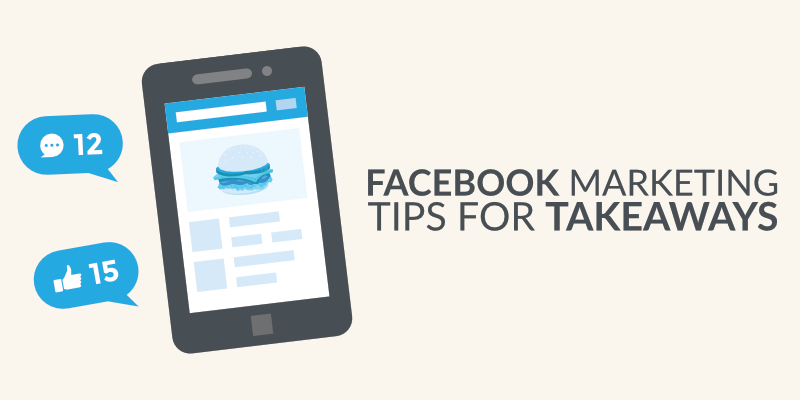 Friday and Saturday nights see people up and down the country order in their favourite takeaway, whether that's a Chinese, curry or pizza, something a little different like Thai or Mexican, or the good old British fish and chips.
With so many people enjoying a weekly takeaway and over 39 million Facebook users in the UK, if you operate a takeaway, why not use this platform to target your audience, keep them coming back for more and reward those who do?
But how do you go about this and what marketing tactics can you utilise on the world's largest social media platform to attract new customers and keep those who already enjoy your great food?
Fortunately, we're on hand to provide you with a few tips that enable you to integrate Facebook marketing into your existing takeaway marketing strategy.
Offer something valuable for free
Social media users like to think they are getting something exclusive for free, so if you have a fantastic recipe that you're willing to share, why not offer it to your followers? It could be one of your curries, the way you create the perfect crust on your pizzas or how to get the perfect batter for your fish.
If you have the time, why not create a short video showcasing exactly how the recipe is done so people viewing it can see it just how easy it is to create one of their favourite takeaway specials in their own home?
Follower of the week
A fantastic way of boosting engagement and encouraging your followers to stick with your social profile is to select a follower of the week and do a very public thank you on your profile.
As a special reward, why not considering offering them a free takeaway to really say thank you? You can then encourage them to take a photo of them eating it at home or in your takeaway when they come to pick it up, which you can then share with your other followers to prove to them that a 'real' winner really is chosen each week.
Encourage engagement by asking questions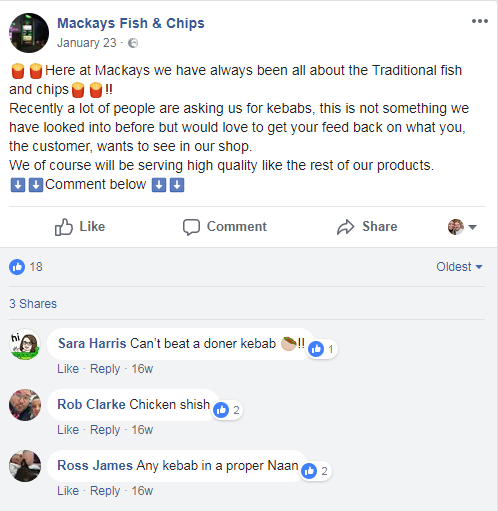 Once you have a solid following, it's important to make them feel worthy and that they can actually have an impact on what you do and how you serve your customers.
If you're considering adding a new item to the menu, ask your followers what they think to the idea and whether it would be something they would order. If you want to know which dish on your menu is the most popular, simply ask your followers and wait for the answers to roll in.
Your followers have taken the time to like and follow your page, so they are more than likely going to be more than happy to put their opinion across if they know you are going to listen and act on what they say.
Share interesting facts
People like to have a laugh and be really intrigued by what people are talking about on social media, so use interesting facts to quickly get their attention and thinking about something they may never have even considered before.
If you run a fish and chip shop, ask your followers how many potatoes it takes to make enough chips for a busy Friday night, before wowing them with the answer later on in the evening. You could also track how many miles your delivery drivers do on a busy Friday and Saturday night?
As well as providing some interesting facts, the information you put out there can also show your followers how busy and popular you are too!
Show off your team
When you pick up the phone to order your favourite takeaway, you very rarely get to see the person at the other end or the team behind the scenes who actually cook your food.
Facebook lets you show off your team so, from the person that takes the order over the phone, the chefs that work their magic or the delivery person that gets your food to you on time, give them their opportunity to be front and centre.
You could do short videos profiling them and what they do at your takeaway, or ask them some questions to find out more about them and what their favourite takeaway is.
With many social media users being voyeurs who like to be sneaky and see what's going on behind the scenes, showing off your staff working hard in your setting can make them very special and as if they are a part of it all.
Remember to respond to all correspondence
Alongside posting lots of updates, it's important to remember to respond to anyone who comments or asks a question, whether it be good or bad.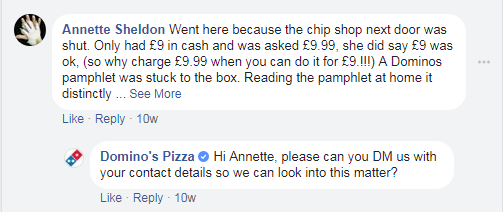 As well as wanting to engage with followers through your Facebook profile, you want them to know that you are engaged to, which can be shown perfectly by swiftly responding to any comments that come in.
If a customer isn't happy with any aspect of your service, remain calm and encourage them to take the conversation over to a private message so you can resolve the complaint as quickly as possible without everyone else being able to see it.
Share your good news stories
If you get awarded a certificate for the best food in the region, are featured in the local newspaper or get the results of your latest food hygiene inspection, use Facebook to promote such good news to all those who like and follow your page.
You'll have worked hard to be rewarded with such good news, so sharing your awesomeness will encourage others to do the same, helping to spread the word about what you do and what you've achieved.
Facebook can be a great platform to drive your takeaway business forward, so if you haven't set up your page yet, sign up today and start experimenting with some of the tips outlined above to see the positive impact it can have on your business.
You might also like: How Much Does Just Eat Charge? Just Eat Commission Calculator
---