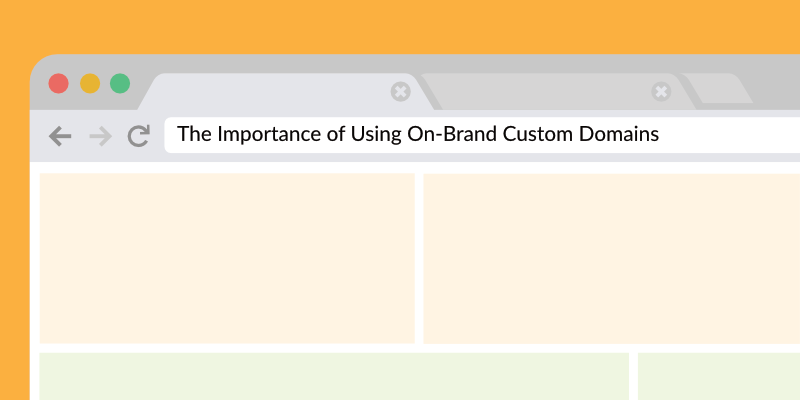 A website is a very powerful tool for marketing your brand to the ever-growing online population, but today as more businesses compete in the online space, expectations for websites have grown.
To gain the trust of your prospects and look professional online, you need to meet these expectations and one of the most basic and imperative elements is having a custom domain which showcases your brand.
There are lots of situations where you or your business present themselves online, but are unable to automatically share a link or domain that features your brand. You might be selling your wares on Amazon or Etsy, where your products are hosted on the marketplace's website. Or perhaps, you feature on the website of a third party review site or news publication. For some, they may still be hosting their online presence using a free address they received when setting up their blog on wordpress.com and bloghost.com.
But having an on-brand way to direct people to your online content is important. That's why platforms like LinkedIn, Facebook and YouTube give users the ability to edit their account URL so that it features their name. Brand visibility and awareness are hugely important for any organizations trying to establish a presence online. Showcasing your name across your social media accounts, apps, websites and blogs is essential to building trust online and leting your audience know they are in the right place to interact with your brand.
Linking to your own domain makes your brand easily identifiable, credible, memorable and more appealing. And today it is something that modern consumers expect. Here are some of the benefits of using a custom domain:
Brand visibility and recognition
URLs are the touchpoint that connect your business with the rest of the online world. Whether you are linking to your app, homepage or a deeper web page on your site, your brand should be visible.
When visitors see something like 'wordpress.com' within your domain, they might assume that your brand is somehow related to that – or is too small time to host its own site. This dilutes your brand's image and makes it hard for a visitor to remember your website.
A custom domain will be more memorable and make an impact on the minds of potential customers. Big brands wouldn't be caught dead with someone else's brand on their URLs. Though it's a subtle, an on-brand domain is a great way to make your small business look professional, trustworthy and show that you're here to stay.
Trust and credibility
Trust and credibility is important for any business looking to convert visitors. Using custom domains to share content online, to host your website or app can impact your bottom line simply because more visitors will feel comfortable handing over their credit card details. With a free domain, visitors to your website are more likely to assume that you either can't afford your own domain or that you don't take your business seriously. On-brand URLs show visitors that you are investing in your brand and plan to stick around.
When visitors know your business is credible, they'll be more likely to subscribe to your services, purchase your products, and refer you to their friends or relatives. That's why The AppInstitute allows small business owners who are building apps with its tool to set up a custom URL for their apps. Branding is important even no matter what stage your business is at..
Customized emails
When you own a custom domain, you can incorporate it into your business' email addresses. These look more professional and can easily boost your brand's status. Generic email addresses can be associated with spam and phishing sites, so they won't garner trust or clicks with your mailing list and might even land your emails in the spam folder.
One survey of consumers in Ireland found that 64% have little to no trust in businesses that use free emails, like Gmail, to interact with their audience. This shows just how important it is to consumer trust.
It's easier to find your business online
A custom domain will make it easier for your customers and referred visitors to find your business in search results. All your Google rankings and incoming links are tied to your domain. Search engines, particularly Google, prefer to link to root domains instead of domains from providers – and Googler's prefer to click on them too.
More click-throughs
Whether they're in emails or on social media, wherever your links appear, having your brand name on them means you're more likely to get a click from potential customers. Generic short links are often associated with spam, while extremely long links can be off-putting. Neither are likely to intrigue consumers to click through.
When sharing links to locations other than your homepage, you can use a custom link shortener like Rebrandly, which allows users to share branded short links. Rebrandly's research shows that using branded short links, which include a custom domain and a keyword after the slash, can increase click-through rate by up to 39%.
So when you want to share extremely long URLs or link to a third party website, you can continue to be on-brand and encourage clicks to your content.
More control
If you're using your own domain for your website, it will give you the freedom to change it easily. whether you need to create a subdomain or simply to redirect visitors to another page. If you're using a custom domain for your short links, it gives you the control to edit or delete them as needed. You also control who can create short links with that domain, so no spammers can gain access and your audience can associate your brand with quality content.
It is evident that having an on-brand custom domain for your website is integral in making your brand stand out and inspires confidence in online consumers. It's a simple change requiring a small investment that will benefit your brand's image in the long-term. Use a custom domain to host your website, promote your app or to create on-brand short links.
It may seem like a small factor, but often, a lack of branding in these key places will set off alarm bells for web browsers.
Bio: Louisa McGrath is a content manager at Rebrandly, the URL shortener empowering marketers to put their brand on their links. She can be seen blogging around Dublin city center, except on Sundays when she stays in to pore over the newspapers.
---