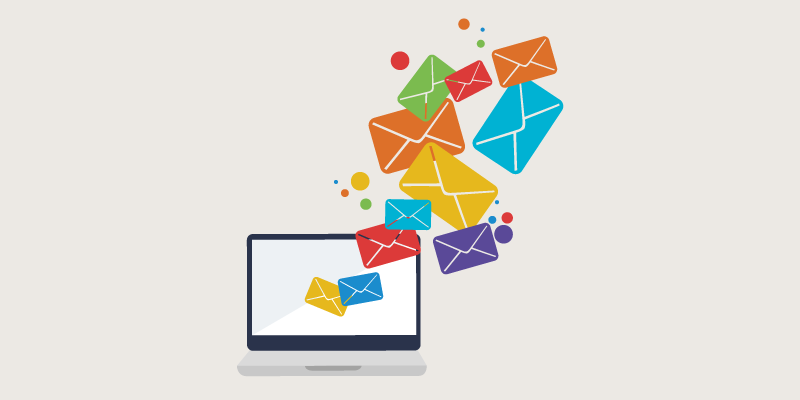 Email marketing is currently more popular than a ticket to Hamilton; and thanks to a variety of strategies, and the huge amount of data online business have access to, it is likely to stay that way for some time. In this article we will take a look at several of these strategies, along with how they have been employed by leading brands in their own campaigns. The great thing with these and other campaign strategies, is that you can easily mix and match them, with the only rules being that each campaign:
Must look great in the most popular email clients, and on smartphones.

Must include a strong call-to-action.
Growing Through Exclusivity
Exclusivity is an underused strategy in email campaigns, which is odd since it is a powerful way in which to increase subscriptions, opens and sales. However, it is important to find a balance, where the exclusivity is enticing enough to drive new subscriptions, without alienating anyone uninterested in subscribing.
Anthropologie's exclusivity strategy begins with their email signup form which tells you that you will "get the scoop on new arrivals" and more.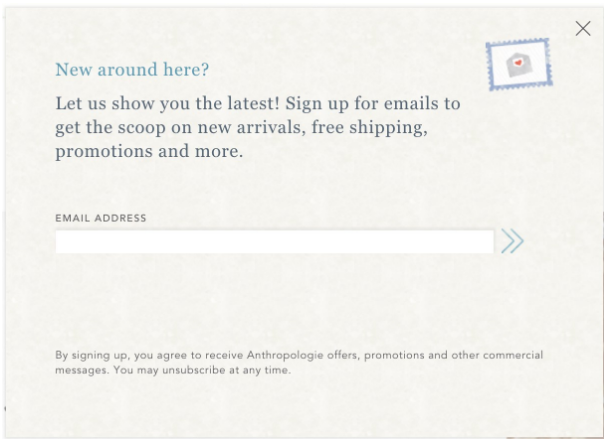 This promise is kept, with subscribers receiving an email mid-month, giving them full access to the following month's new arrivals.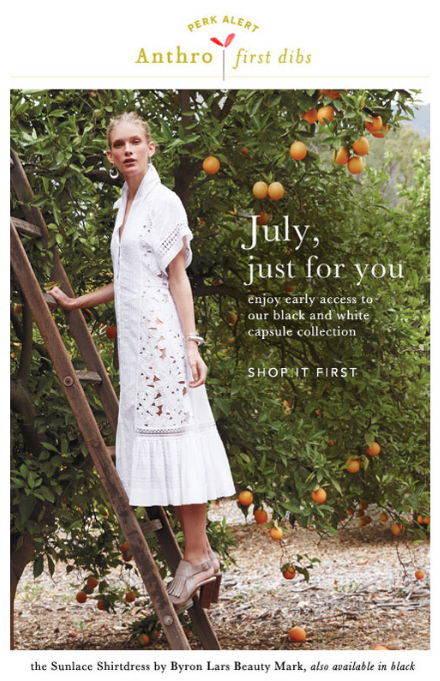 The exclusivity isn't absolute, with anyone who has the URL being able to access the collection too. But unless you're willing to wait for someone to share the URL (and the free shipping code), you're probably going to sign up.
Growing Through Referrals
Having your existing customers refer you to their friends is a form of social proof: it is customers telling friends that they trust your brand, and are happy with your service, and your products. Like asking for feedback, it helps if the process is simplified, and offers a reward – to both your current customers, and any new customers they send your way.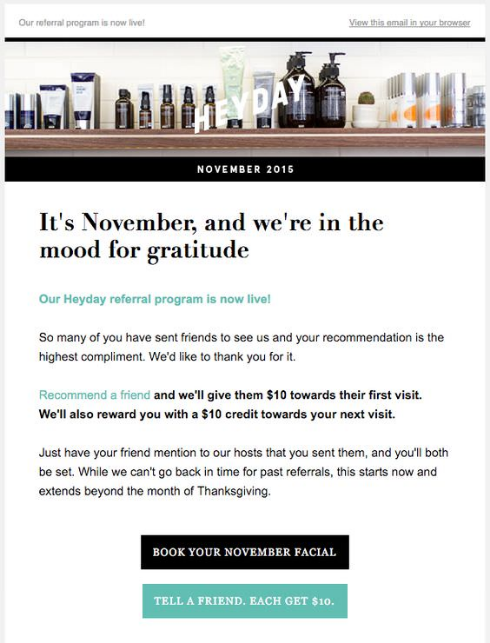 Heyday's once-off campaign not only explains clearly how their new referral program works, but it also offers a sincere apology for not being able to apply it retroactively. Oh, and they also mention that the program is not time limited.
Asking for Feedback
Social proof is an extremely powerful tool for any business: it is the digital equivalent of word-of-mouth. However, getting social proof sometimes requires you to nudge your clients, by asking them to rate or review any items they bought. Doing this in the form of an email is acceptable, but it should be incredibly simple for them to respond.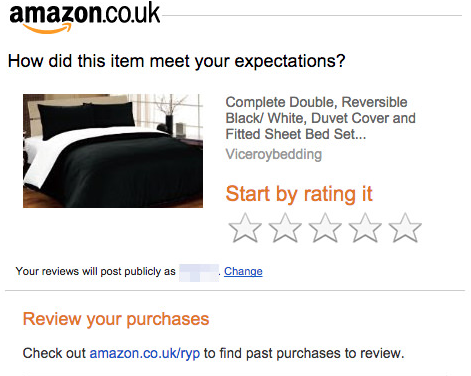 Amazon has always made it pretty easy for their customers to rate (and review) items they've purchased, with a simple email sent a few days after your purchase is delivered.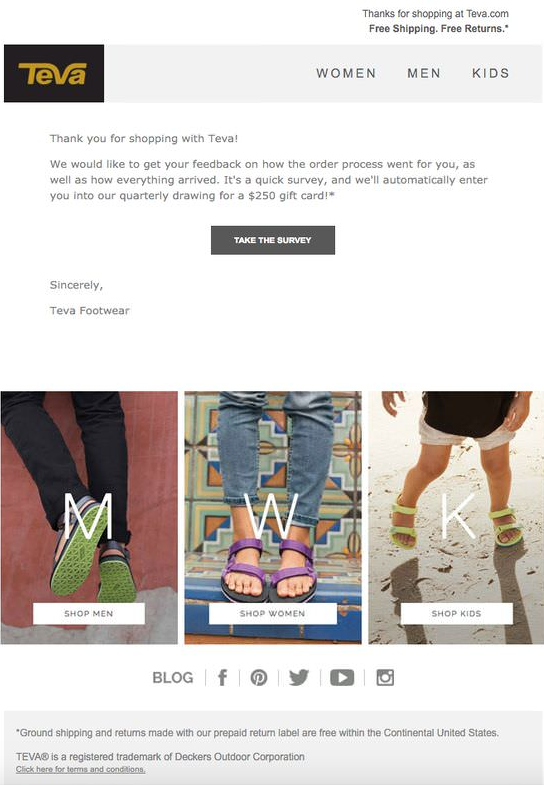 Teva asks for feedback on the actual ordering process in the form of a survey, but note that they do state it is a quick survey, they include a direct link to the survey, and they even incentivise it by offering the chance of winning a gift card.
Answering What Next?
It is easy to fall into the trap of keeping your welcome email – sent to new subscribers or customers who have registered on your website for the first time – super simple. You probably thank them for signing up/registering, and tell them how frequently they can expect to hear from you; but what about suggesting some next steps to them? They have just established a relationship with you, so now is your chance to strengthen that relationship, and maybe even generate a sale.

Bespoke Post's welcome email simply explains the Bespoke Post box and subscription service (with direct links to each), before ending with links to their online store and blog.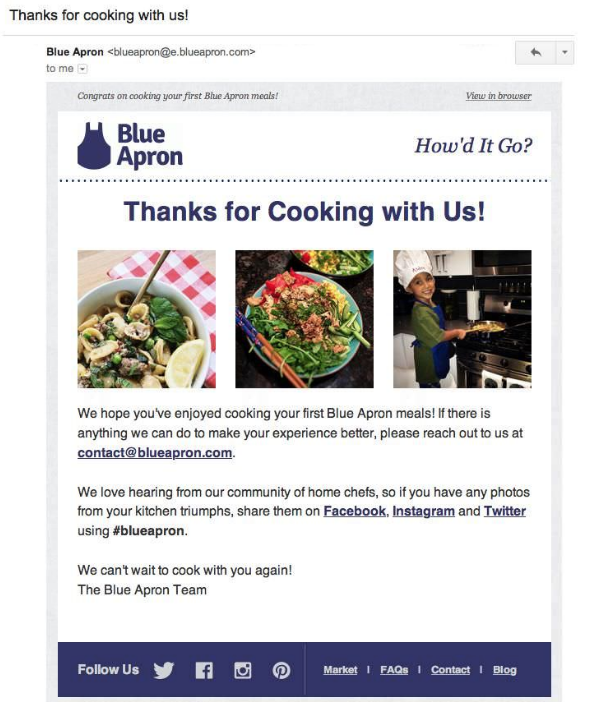 Blue Apron takes it a step further by sending an email after you have used their product and service for the first time, inviting you to engage with them and their audience on various social networks.
---

---
Triple-A and the Inverted Pyramid
Some email campaigns require a fair amount of copy, but for campaigns that are intended to drive sales, less is definitely better. It helps to design these campaigns using the inverted pyramid method, and triple-A – attention, anticipation, and action.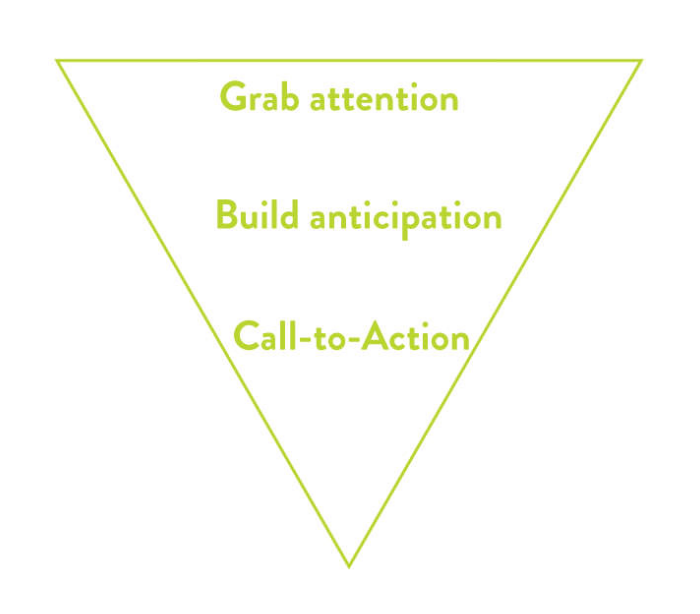 Even though Birchbox's email contains multiple sections, each one clearly incorporates the inverted pyramid: grabbing attention, building anticipation, and ending with a call-to-action.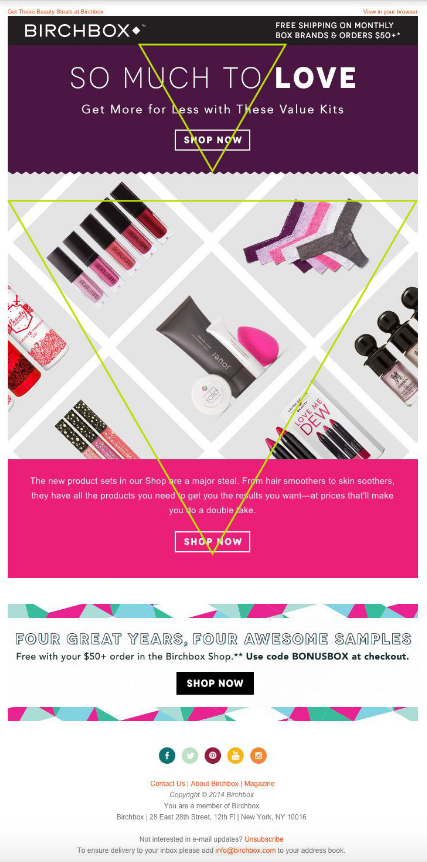 So even if a subscriber doesn't scroll past the first section, they're still being directed to taking some form of action.
Using Squeeze Campaigns
Browsing a physical store might result in the shop assistant following you like someone with abandonment issues, but if you decide to leave without buying anything, there isn't much they can do. The same is not true for an online store, where not only your purchase history is known, but also when last you visited, and which departments you frequently browse. This information can all be used to trigger various email campaigns, including squeeze campaigns that encourage you to visit the store again, browse new arrivals, or to complete a transaction you abandoned prior to checkout.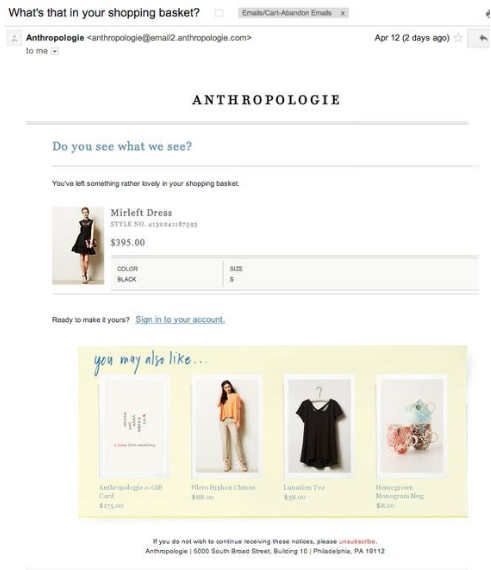 Anthropologie takes a very simple approach to reminding you that you left something in your shopping cart, while cleverly suggesting a few other items you might like,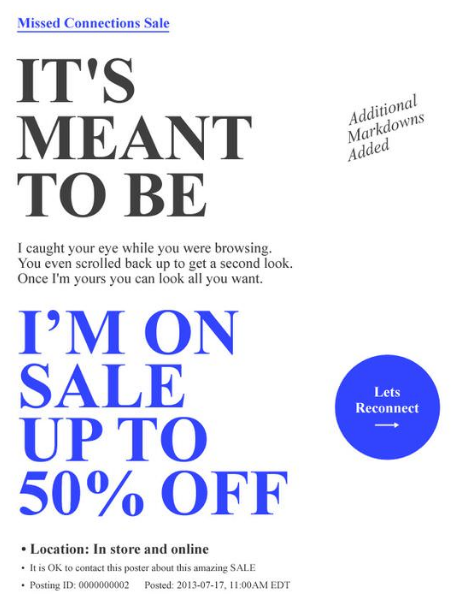 while Need Supply Co. uses humour to point out that something you previously viewed is now on sale.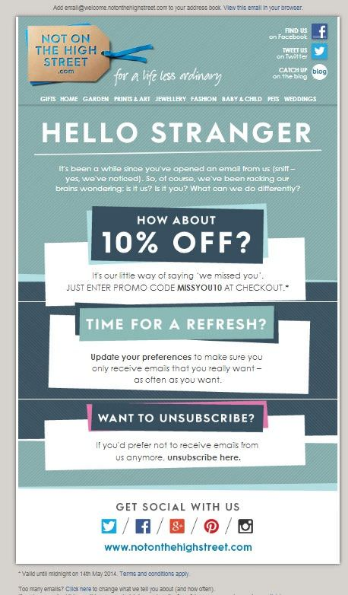 Finally, Not on the High Street has a squeeze campaign that is triggered whenever a subscriber has not opened several emails.
Reminding Subscribers of Special Events
Special events are not limited only to the holiday season, but can include Mother's Day, Father's Day, Birthday's, and even the anniversary of their first purchase from you. And while it is common to include a special offer with these campaigns, it isn't a requirement, and the campaign can simply be used to highlight products relevant to the event. What is important is that these campaigns state when orders need to be placed by to accommodate your standard shipping times.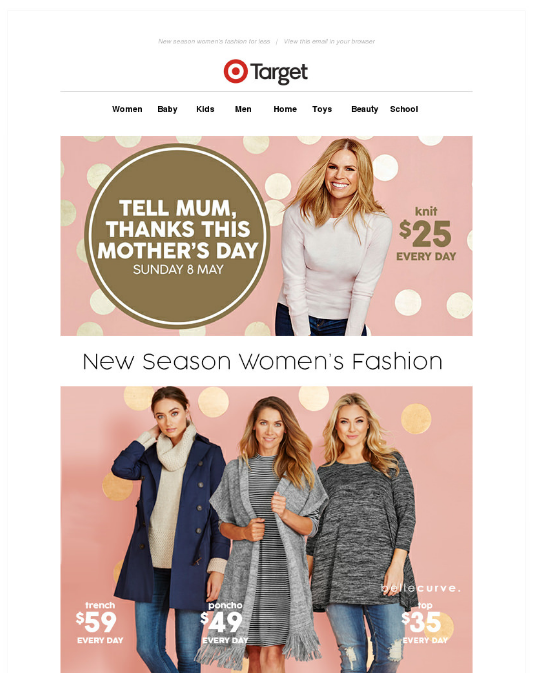 Target used Mother's Day to simply highlight women's fashion, with prices but no special offers,

while Philosophy's Father's Day campaign lists three different order by dates, depending on the type of shipping selected.
Keeping Your Lists Properly Segmented
Depending on how much information you collect from customers during the registration process, it is possible to segment your lists quite accurately. But it helps to remember that a customer's profile can change over time, making it necessary to collect new information.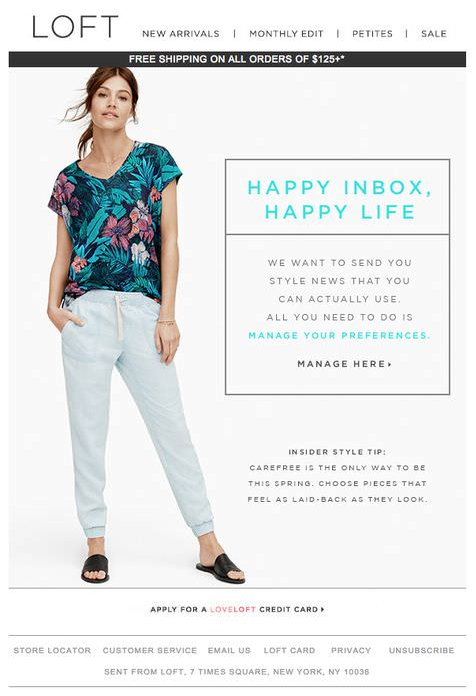 Loft frames their request in the form of wanting to send you "style news that you can actually use",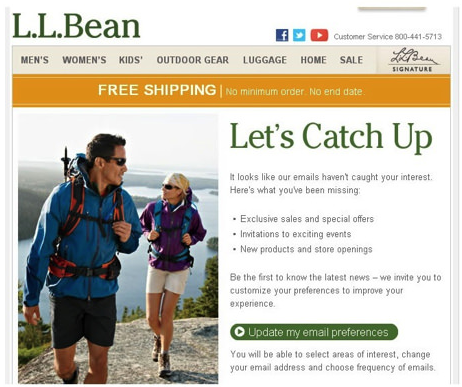 while L.L. Bean states they want to improve your experience, while listing exactly what you can customise.
Conclusion
There are many more strategies you could employ in your own email campaigns, which will help ensure that your messages stand out without being too formulaic. However, the most important advice for anyone running an email campaign is to find what works best for you: what is it that your customers/subscribers respond to?
If you're looking for more ways to supercharge your online marketing efforts, check out this handy Digital Marketing Guide with 31 essential tactics for small businesses.
---