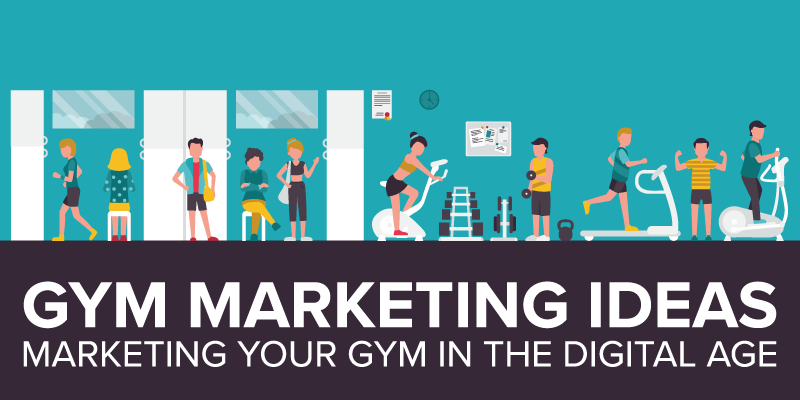 When it comes to anything important in life it is crucial to have an end game in sight. The same applies to gym marketing. What are you hoping to achieve by marketing your gym? Do you want to increase members? Raise brand awareness? Retain existing customers for the long term?
Sit down with a pen and paper (or a laptop screen) and write down your aims for the future. Knowing what you want to achieve is part of the battle and will help to streamline your thoughts so that you are not trying every marketing technique in the book in the hope that one works.
Once you've decided upon your goals your next step is to go on to learn more about your audience. This will influence your marketing techniques and the platforms that you use to attract them.
Knowing Your Audience
Who visits your gym most regularly? Are you known as a lifting gym or do you have crossfitters lining up at your doors? Or maybe you're an all-encompassing gym with lots of cardio machines to appeal to mums hoping to lose a little bit of weight. Tailoring any advertising campaigns at who you attract (or who you hope to attract) to your gym is the first step in success. Mums on a weight-loss plan may be interested in toning tables, for example, so offering deals on these may be one way to get them to visit. Crossfitters will most likely be concerned with their form, so offering discounted personal training on form and technique is likely to appeal. And how about the lifter? How many times have you been in a gym and heard a guy say 'I'm going to have to leave this gym because I've outgrown the weights?' Being the gym that offers the heavier weights and shouting about it from the rooftops is one way of getting and retaining these guys.
Timing Is Everything
When considering advertising campaigns, timing is crucial. If you're aiming at those looking to lose weight or tone up then marketing in time for summer. Those campaigns that yell 'Get your summer bod now' will need to be planned well in advance and realistically implemented no later than 12 weeks before summer begins to catch attention at the right time. The same can be said for the holiest of days in the gym calendar January 1st. Everyone feels a little bloated after the Christmas binge so ensuring that you have a winter campaign ready to hit the reader in time for those New Year's Resolutions is a great way of boosting your membership. Be sure to check out the other gyms in the local area to see what promotions they are offering to make sure that your deal is competitive.
Online Presence
It's thought that over 70% of potential customers check out a business' credentials online before deciding to part with their hard-earned cash, so it is more important than ever to ensure that you have a website that reflects your company image and the values that you as a business stand for.
You should have already done some audience research earlier to discover who is using your gym, and so creating your website with these people in mind is the perfect starting point. So, what to put on your site? Well, as a minimum you should have basic business information on there such as your contact details, the hours you are open and details on your facilities and classes you run. You also want your audience to find what Google calls 'valuable content.' This is content that allows your audience to actively interact with your site such as videos, photos or blog posts. Having high-quality content such as this will help your page rank more highly on Google searches and increase site visibility.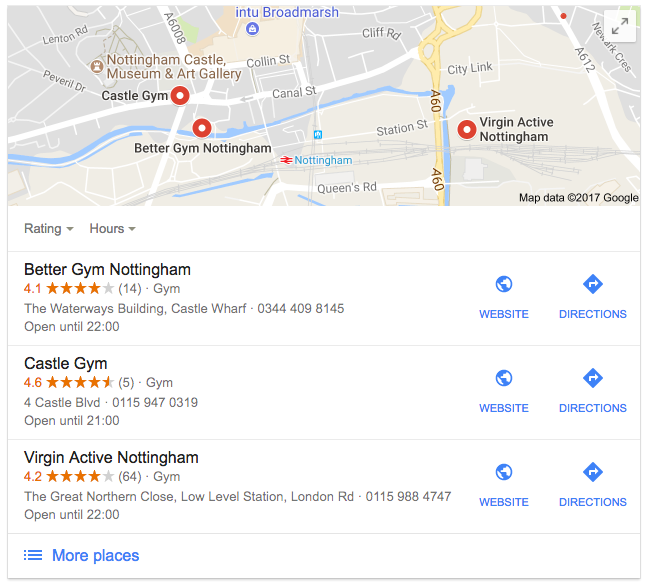 The local pack for 'Gyms in Nottingham'
If you're struggling to think of what content to put on your site how about creating blog posts discussing nutrition and meal plans or videos of exercise techniques? The latter can be incorporated into your website or for even larger viewer gains and made available using a site widget that links your YouTube channel. Pay attention to YouTube's comments section where you can see if your videos are a success or not and keep an eye out for questions on form or particular exercises in the comments. This should give you plenty of things to film and also improve your Google ranking too.
Lastly, consider a free pass signup page where potential customers can blag a free day's training just for giving their information (which you can use for marketing purposes later). Make sure to advertise your free training day on your social media pages to ensure that you get the best response possible. Offering something for free makes your site visitors more likely to part with their information, and if you request the right stuff (name, address, email address, date of birth, telephone number and exercise needs are the most obvious ones) you can tailor your future contacts to each individual for a personalised touch that is more likely to receive a good response than a generic email.
Those that sign up for a free training day probably already interested in your gym (or at least A GYM) so make sure that you woo them by meeting them in person when they arrive and showing them all your gym has to offer. Combine this with a press release in the local area and you're likely to see an increase in footfall for very little expenditure. You can also try aiming this at the press a little further afield by sending it to the websites of those publications in the nearby area. Try to find a specific person or department to send it to so that your efforts won't have been wasted. If a press release gets stuck in a generic bulk email address it may not be seen until your event is over and done with.
Social Media
Social media is essential for marketing nowadays and encourages two-way conversation between you and your followers helping you to nurture productive long-term bonds. Do bear in mind though that if you list your business profile on the major social media platforms such as Facebook, Twitter and Instagram you will have to find the time to update them regularly to retain your existing followers. Here is why you should use these platforms:
Facebook
There are over 700 million Facebook users worldwide so this gives you a great chance of finding an audience for your gym. Unlike some other social media sites, you can create a custom page which removes the wall page enabling you to put your own branding and contact details right on the first page people see for a professional look. Use your Facebook page to update followers on your latest offers, any special events that may be happening and post lots of photos of your facilities to tempt people in.
Twitter
Similarly to Facebook, people can follow you and see all of your posts The huge bonus of Twitter is the ability to communicate in real-time with your followers which can showcase your customer service skills to the max. One downside of Twitter is that your tweets are restricted to 140 characters meaning you have to be concise with your message. It does, however, have the advantage that Twitter users can see your tweets without following you allowing your business to reach a wider number of people than any other social media site.
Instagram
Instagram feels like it was made for gym marketing. It's filled with beautiful people and delicious foods so it's no surprise that you're likely to find your target audience on here. Adding pictures of your staff, your facilities and videos of exercise techniques to Instagram makes you seem approachable and is a great way of gaining a bigger following online and influencing a tech savvy, fitness focused audience. Make sure that you follow other businesses in the area and network on Instagram with them regularly so that they can return the favour for a mutually beneficial arrangement.
One way of getting extra interest in your social media pages is to offer a rewards scheme for your gym members which rewards points for interaction on social media – 10 points could be given for example for liking your Facebook page or 20 points for tagging you in Instagram. These points can then be redeemed against discounts in gym membership or your own branded merchandise in return for their interactions with you being visible on their social media page. This is a wonderful way of gaining new followers from your member's friends list.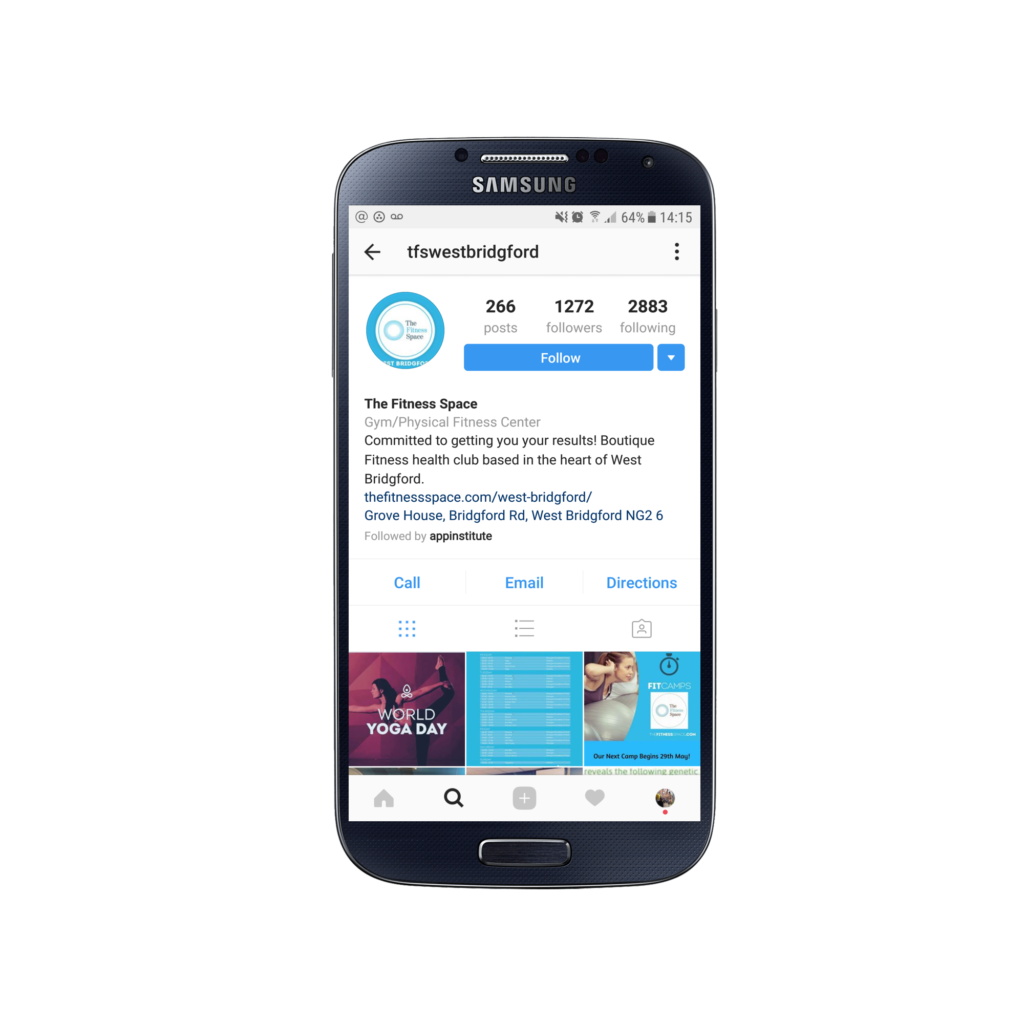 The Fitness Space regularly shares updates about classes and dietary advice for its followers.
An App
One of the easiest ways of dealing with your social media accounts and communication with your customers is to build your own gym app. All you need to do is choose a template from the selections and all of your social media, website and business information will be ported through to the app, retaining your branding in the process. One of the main advantages of a using a personalised app is the ability to communicate with your customers in real time and post updates on the latest discounts to tempt people into visiting your gym. You can even create a loyalty function which allows you to assign points or discounts to your members when they meet certain conditions. Or how about improving your class attendance? This is child's play with an app, which will allow you to send push notifications to remind your members of upcoming class starting times to make sure they're never late again.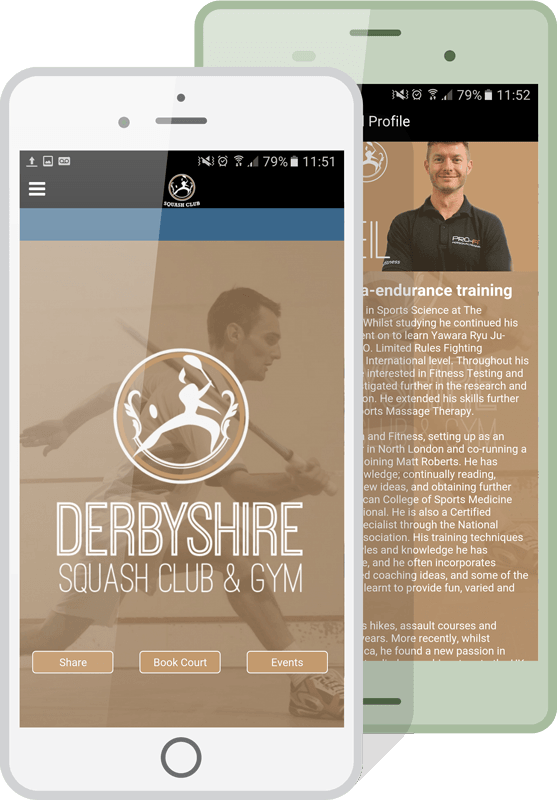 The Last Word
We hope that you've enjoyed reading about some of the marketing techniques you can employ when promoting your gym and have considered how these tools and techniques can assist you. Remember though that while this guide is designed to be a decent starting point you will need to keep abreast of new technologies and new marketing techniques in the future to keep ahead of the pack.
---